.
Largest Cocaine Seizure In New York In A Quarter Century – KWBE
.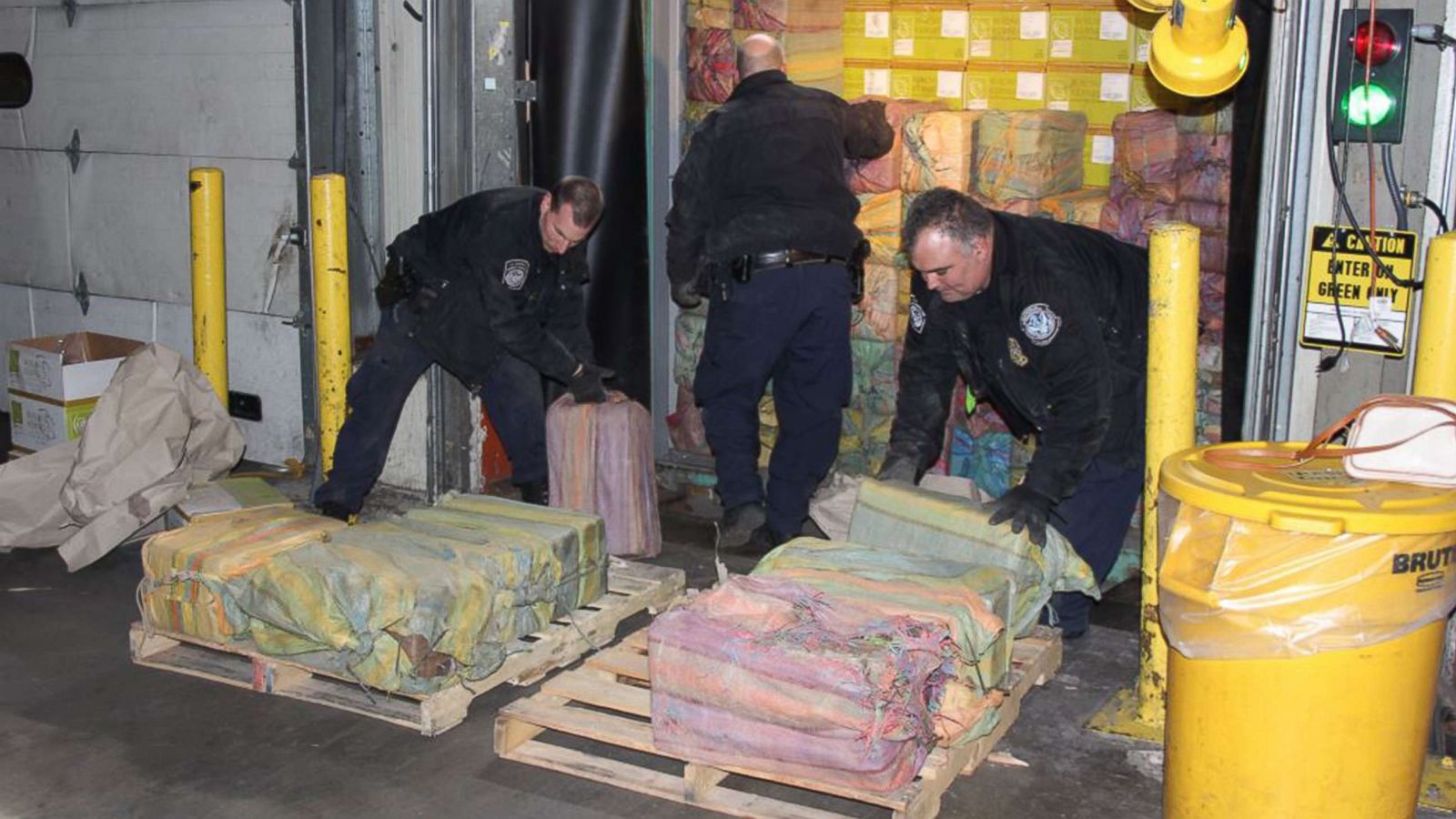 .
The crates said dried fruit from Colombia. There was no indication that they were holding tens of millions of dollars' worth of cocaine but that is what federal agents said they discovered in the biggest coke bust in New York in a quarter century.
After what was described as a routine interdiction, the agents said they found 3,200 pounds of cocaine in a shipping container that arrived at the Port of New York and New Jersey on Feb. 28. The drugs had an estimated street value of $77 million.
"This is a significant seizure, in fact it is the largest cocaine seizure at the Port of New York/Newark since May 1994," said Troy Miller, director of Customs and Border Protection's New York Field Operations…
MORE
.
—————————————————————————————
.
Florida Cop Allegedly Used Police Database to Try And Get Dates With Over 100 Women – Law & Crime
A now-former Florida cop recently resigned over allegations that he used the department's database to get dates and have sex with nearly 150 women over the course of the past six years, according to an internal affairs investigation.
During a news conference on Thursday, Bradenton Police Department Chief Melanie Bevan said that 36-year-old Leonel Marines consistently misused his badge and the sacrosanct information contained in the police database for his own selfish ends.
"Unfortunately, we have discovered an employee–who has since resigned–who betrayed the trust of this department and the citizens of Bradenton and who failed to uphold the standards that I strictly enforce," Bevans noted.
The investigation was spurred by a citizen complaint filed against Marines in June of last year. According to Bevans, "a chance, brief encounter" in a parking lot led Marines to follow a young woman home…
MORE
.
—————————————————————————————
.
Covington Boy's Lawyers To Hit CNN With $250+ Million Lawsuit This Week – PJ Media
.

.
In an interview that aired on Fox News Sunday night, lawyer L. Lin Wood said he is filing a lawsuit against CNN Monday or Tuesday for more than $250 million over the news outlet's alleged "vicious" and "direct attacks" on his client, Covington Catholic High School student Nicholas Sandmann.
On Twitter Saturday, the lawyer suggested that the amount could be around $275 million.
Wood, an Atlanta-based attorney who specializes in aggressive defamation suits against the media, was hired by the Sandmanns to bring justice to Nick, whose name was dragged through the mud after a short video clip showing a confrontation between Native American activist Nathan Phillips and the Covington Catholic boys in Washington, D.C., went viral…
MORE
.
—————————————————————————————
.
Amid Surge In Knife Violence, British Supermarket Chain Pulls Kitchen Knives Off Shelves – PJ Media
In the face of rising knife violence rates in the UK, supermarket chain Asda will no longer be selling individual kitchen knives. This comes on the heels of the company's decision in 2016 to securely package all knives after a customer was stabbed inside a Poundland, another British grocery chain.
For their part, Poundland stopped selling knives altogether last year.
The grocery chains aren't entirely incorrect – England does have a growing knife violence problem. However, regulating knives won't stop the violence. And, boy, does England have a growing knife violence problem.
Over the first three months of 2019, England, with a population of just under 56 million, has seen 41 people killed by a knife based on this BBC report. According to the LA Times, "There were 285 knife homicides in England and Wales from April 1, 2017, to March 31, 2018, the highest number since comparable records began in 1946."…
MORE
.
—————————————————————————————
.
'To Me, Capitalism Is Irredeemable' And Other Dim-Witted Things AOC Said This Weekend – SooperMexican
.

.
Alexandria Ocasio-Cortez just keeps getting stronger by saying the abjectly stupid crap that Democrats actually believe but have been too shy to admit in public.
For instance, this idiocy about capitalism:
"Capitalism is an ideology of capital – the most important thing is the concentration of capital and to seek and maximize profit," she said during an interview at the South by Southwest conference in Austin, Texas, according to Bloomberg News.

"To me, capitalism is irredeemable," she added, arguing that capitalism's goals come at a cost to people and the environment, Bloomberg reported…
MORE
.
—————————————————————————————
.
Trump To Cut $4 Billion In Domestic Programs, Elimination Of Legal Services Corporation – Washington Examiner
President Trump's fiscal 2020 budget proposes a massive nearly $4 billion cut in programs the White House calls useless and bloated including the popular Legal Services Corporation that uses federal money to provide free legal help to the poor that the administration believes is a local issue.
Of 10 targeted programs, four would be eliminated, fulfilling a 2016 Trump campaign promise to kill wasteful agencies.
Many of programs and agencies have been sharply criticized for years for misusing American tax dollars, including for Netflix subscriptions. One, the Bureau of International Labor Affairs, helps unions in Colombia organize, said the White House.
The proposal also calls for the end of federal land buying to add to its ownership of 700 million acres, instead focusing on bolstering firefighting and national park restoration. The elimination of the Legal Services Corporation, which the administration has threatened before, would save taxpayers nearly $400 million…
MORE
.
—————————————————————————————
.
Finland's Entire Government Resigns Over Failed Welfare State Reform – Fox News
.

.
Finland's entire government resigned Friday after the governing coalition failed to agree on the welfare state reform, just one month before elections were due to be held.
Juha Sipila has been the country's prime minister since 2015 after forming a three-party governing coalition with two other right-leaning parties, including the small populist Blue Reform Party, a group that was once part of the eurosceptic True Finns but split up amid divisions over immigration policies.
"I take the responsibility for the failure. It has been a huge disappointment to me," Sipila said during a news conference, adding that the reform in the works "had been one of our most important projects."…
MORE
.
—————————————————————————————
.
Ethiopian Airlines Flight Crashes Just After Takeoff, Killing 157 – USA Today
An Ethiopian Airlines flight crashed shortly after takeoff from Ethiopia's capital on Sunday morning, killing all 157 people thought to be on board, the airline and state broadcaster said, as anxious families rushed to airports in Addis Ababa and the destination, Nairobi.
It was not immediately clear what caused the crash of the Boeing 737-8 MAX plane, which was new and had been delivered to the airline in November, records show.
The state-owned Ethiopian Airlines, widely considered the best-managed airline in Africa, calls itself Africa's largest carrier and has ambitions of becoming the gateway to the continent.
It said 149 passengers and eight crew members were thought to be on the plane that crashed six minutes after departing Addis Ababa on its way to Kenya's capital. The crash occurred around Bishoftu, or Debre Zeit, some 31 miles south of Addis Ababa, at 8:44 a.m.
The airline later published a photo that appeared to show its CEO standing in the wreckage…
MORE
.
—————————————————————————————
.
Rio Grande Valley Border Chief: We Have Intercepted Migrants From 40 Different Countries, Including Bangladesh, Turkey, Romania And China – CNS
.

.
Rodolfo Karisch, chief of the U.S. Border Patrol's Rio Grande Valley Sector, told the House Homeland Security Subcommittee on Oversight, Management and Accountability on Thursday, that the Border Patrol in his sector has intercepted illegal aliens trying to enter the United States "from 40 different countries, including Bangladesh, Turkey, Romania and China."
"I want to provide some perspective on the challenges facing our men and women at the Southwest border," Karisch told the committee in his opening statement.
"Though I cannot speak for all of the components of Customs and Border Protection, I can provide a first-hand account of the complex border-security environment and ask for your assistance in helping our frontline men and women…
MORE
.
—————————————————————————————
.
Trump's 'Hire American' Policy Delivers Fastest Wage Growth Since 2009 – Breitbart
President Donald Trump's "Hire American" policy pushed Americans' wages up by 3.4 percent in the last 12 months, according to employment data released March 8.
"We're seeing wages rise more than they have at any time for a long, long time," Trump told reporters. He added:
The big news, really, was that wages went up. And that's great for the American worker. That's something people – I don't know if they ever expected to see it.
Vice President Mike Pence said, "wages are rising at the fastest pace in nearly a decade, and more Americans are working today than ever before in the history of our country."
Americans' wealth-creating productivity is also rising much faster than under former Presidents George W. Bush and Barack Obama. Productivity rose 1.8 percent in 2018, up from 0.2 percent in Obama's last year, because higher wages are pressuring employers to buy the labor-saving machinery that will help Americans produce even more wealth…
MORE
.
—————————————————————————————
.
Jussie Smollett Indicted On 16 Felony Counts By Grand Jury – The Hill
.

.
"Empire" actor Jussie Smollett was indicted on 16 felony counts by a grand jury in Cook County, Illinois, on Thursday, according to court records. ABC 7 Chicago reported Friday that the State Attorney's Office in Cook County confirmed Smollett's indictment, which was returned by a grand jury Thursday.
Smollett initially was charged with one felony count of disorderly conduct for filing a false police report last month. According to ABC 7, each charge carries a possible sentence from probation to up to four years in prison. Smollett pleaded not guilty to the disorderly conduct charge.
A spokesman for 20th Century Fox Television and Fox Entertainment told The Hill that the network and studio had no comment on the development…
MORE
.
—————————————————————————————
.
Pentagon To Activate "Transgender" Military Ban After Federal Judge Removes Block – Daily Caller
A federal judge removed a bar on President Donald Trump's ban on transgender individuals serving in the military Thursday as litigation in the case moves forward.
U.S. District Judge George Russell ruled Thursday that an injunction should not stand, reversing his earlier decision, CNN reported. A final decision on the case, however, has not been reached.
Persons diagnosed with gender dysphoria who have undergone hormone therapy or gender reassignment surgery cannot enlist in the military under the ban, CBS News reported. Those who have been diagnosed but have not gone through treatments are still eligible, and transgender personnel currently serving will not be barred from continuing to serve.
The Department of Justice (DOJ) is "pleased this procedural hurdle has been cleared," according to a statement, CNN reported. "The Department of Defense will be able to implement personnel policies it determined necessary to best defend our nation…
MORE
.
—————————————————————————————
.
Tranny Manning Arrested For Refusing To Testify In WikiLeaks Case – Business Insider
.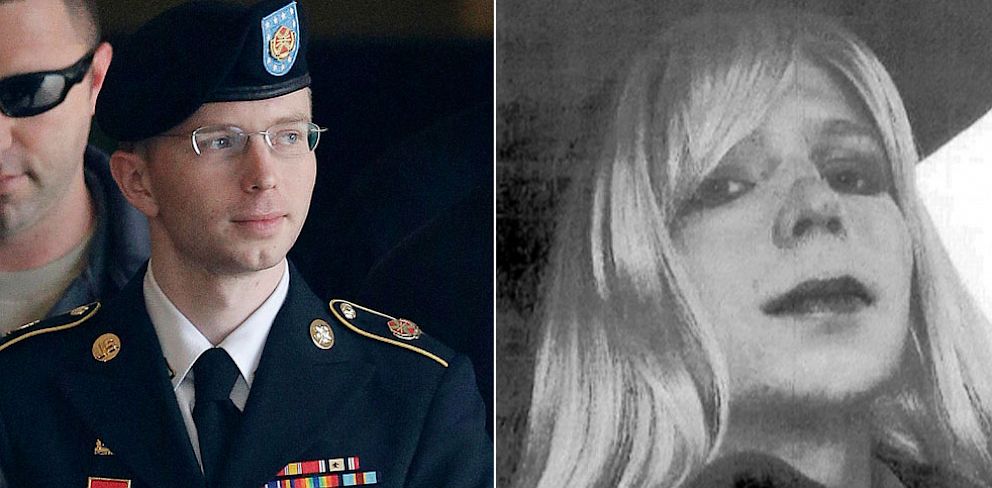 .
Chelsea Manning, the former U.S. army analyst and whistleblower who leaked troves of classified material to WikiLeaks in 2010, was arrested again on Friday after he reportedly refused to testify in front of a Virginia grand jury about his interactions with WikiLeaks and its founder Julian Assange.
"I've found you in contempt," Judge Claude M. Hilton told Manning at the public ruling, according to the Washington Post. He said Manning will be jailed until "either until you purge yourself or the end of the life of the grand jury."
Manning said in a statement on Twitter that he was summoned to appear before a secret grand jury on Wednesday…
MORE
.
—————————————————————————————
.
House DemoNazis Pass Measure In Support Of Illegal Alien Voting – Washington Times
House Democrats voted Friday to defend localities that allow illegal immigrants to vote in their elections, turning back a GOP attempt to discourage the practice. The vote marks a stunning reversal from just six months ago, when the chamber – then under GOP control – voted to decry illegal immigrant voting.
"We are prepared to open up the political process and let all of the people come in," Rep. John Lewis, a Georgia Democrat and hero of the civil rights movement, told colleagues as he led opposition to the GOP measure.
The 228-197 vote came as part of a broader debate on Democrats' major legislative priority this year, HR 1, the "For the People Act," which includes historic expansions of voter registration and access, as well as a major rewrite of campaign finance laws.
The measure would have had no practical effect even if it had passed. Illegal immigrants – and indeed noncitizens as a whole – are not legally able to participate in federal elections…
MORE
.
—————————————————————————————
.
16-Hour Blackout Plunges Socialist Hellhole Venezuela Into Darkness – News Nation
.

.
Much of Venezuela plunged into darkness, creating chaos as people struggled to navigate their way home amid what appeared to be one of the biggest blackouts yet in a country where power failures have become common.
The power outage began on Thursday just as commuters were leaving work. Hundreds crammed the streets of Caracas, forced to walk because subway service was stopped. A snarl of cars jammed the streets amid confusion generated by blackened stoplights.
President Nicolas Maduro blasted the outage as an "electrical war" directed by the United States in a statement on Twitter. His information minister, Jorge Rodriguez, said right-wing extremists intent on creating pandemonium by leaving the South American nation without power for several days were behind the blackout, but he offered no proof…
MORE
.
—————————————————————————————
.
Tensions Soar After Chinese Boat Rams, Sinks Vietnamese Vessel In Disputed Waters – Zero Hedge
Tensions in the South China Sea are once again soaring after a Vietnames fishing boat reportedly came under attack by a Chinese vessel near the contested Paracel Islands, a Vietnamese official said Friday. According to the Australian Associated Press the dangerous incident has sent tensions in the region to "a new high".
The Vietnamese boat was fishing near Discovery Reef some 370 kilometers off Da Nang in Paracel island chain when according to Hanoi government officials it was rammed by the presumably larger Chinese vessel.
The fishing boat capsized, leaving five Vietnamese crewmen clinging to the side of their upturned vessel for two hours before they were rescued by another nearby fishing boat.
Crucially, the Paracel archipelago is an intensely disputed island chain and territory, claimed by both Vietnam and China, the latter which took control of the islands in 1974. It's known as Xisha in Chinese and Hoàng Sa in Vietnamese…
MORE
.
—————————————————————————————
.
Leftist School Bus Assistant Attacks Child For Wearing Trump Hat During Hat Day – Gateway Pundit
.

.
A middle school bus assistant was caught on surveillance video abusing a child and ripping off his Trump MAGA hat.
Gunnar Johansson, 14, said kids were allowed to wear hats to school if they made a donation to the March of Dimes. But the bus aide didn't like his choice of hats so she attacked him and ripped it off his head.
WPTV reported:
Surveillance video on a Martin County school bus shows a bus aide yelling at a student to take off a Trump hat, then grabbing it off of his head. Now, the Martin County Sheriff's Office is investigating whether the bus aide committed a crime…
MORE
.
—————————————————————————————
.
Magic Wand Update: Trump Regains Every Manufacturing Job Lost By Obama Regime – CNS
The United States added another 4,000 manufacturing jobs in February, with employment in the manufacturing sector climbing from 12,830,000 in January to 12,834,000 in February, according to data released today by the Bureau of Labor Statistics.
Since President Donald Trump took office, the U.S. has added 479,000 manufacturing jobs and manufacturing employment has now reached a level not seen since December 2008, the month before President Barack Obama took office.
In December 2008, the month before Obama's inauguration, manufacturing employment was 12,850,000. In January 2009, when Obama was inaugurated, it dropped by 289,000 jobs to 12,561,000.
Manufacturing employment in the United States eventually dropped to a nadir of 11,453,000 in February and March of 2010. In December 2016, the last month before Trump's inauguration, there were 12,355,000 employed in manufacturing in the United States…
MORE
.
—————————————————————————————
.
DemoNazi James Clyburn Utters Most Insane Defense Yet Of Jew-Hating Muslim Slag – Daily Wire
.

.
Democrats have been falling over themselves to try and defend Rep. Ilhan Omar's (D-MN) anti-Semitism, but House Minority Whip James Clyburn (D-SC) might have just taken the cake.
Clyburn, in an interview with the Hill's Mike Ellis, basically told descendants of Holocaust survivors and those who were put in Franklin D. Roosevelt's Japanese internment camps to "check their privilege".
The Hill described Clyburn's comments thusly:
Clyburn came to Omar's defense Wednesday, lamenting that many of the media reports surrounding the recent controversy have omitted mentioning that Omar, who was born in Somalia, had to flee the country to escape violence…
MORE
.
—————————————————————————————
.
Leftist Nightmare Update: Researchers Estimate Over 100,000 Migrant Women Will Be Sexually Assaulted on Way To U.S. This Year – Breitbart
Crime data shows that roughly 2,600 migrants will be murdered and roughly 103,000 will be raped or assaulted during their 2019 migration to the United States, says an estimate prepared by Steven Kopits, president of Princeton Policy Advisors.
"We estimate 80,000 migrant women were raped or coerced into sex during 2018, rising to 103,000 on higher migrant numbers in 2019," said a statement from Kopits, whose predictions of migration increases been repeatedly validated by the eventual numbers. "These are persons… Incidents could be up to 50% higher."
Alongside the murder and rapes, Kopits predicted 34,000 kidnappings, 21,000 cases of forced labor trafficking, and 106,000 robberies during 2019.
Kopits argues that the massive level of brutality could be sharply reduced if the United States expanded the current blue-collar guest workers programs. For example, the H-2B program brings in roughly 80,000 guest workers from Jamaica, Mexico, Honduras, and many other countries for manual labor at resorts, hotels, restaurants and forestry firms…
MORE
.
—————————————————————————————
.
Vegans Accused Of Killing Piglets In Stampede While Trying To Cuddle Them – Daily Caller
.

.
A horde of 200 vegans stormed a farm in Lincolnshire, England, to protest animal cruelty but caused a stampede that crushed piglets, according to the farmer.
Farmer Sylvia Hook said the mob of vegans from the "Meat the Victims" group distressed her animals while storming Sandilands Farm in their rush to cuddle newborn piglets, causing two of them to get crushed and killed. The crowd reportedly damaged farm property, frightened Hook's family, caused injury to two other animals, and sowed chaos by cuddling piglets that did not want to be held and then placed them in the wrong pens with the wrong sows.
"About 50 of them all piled into a farrowing house, immediately the sows are jumping up and down," Hook said, according to The Telegraph…