.
Man Faked His Kidnapping To Avoid Paying A $50,000 Super Bowl Bet – Breitbart
Police in New York claim that a man arranged his own kidnapping as a means to avoid paying off on a $50,000 Super Bowl bet.
The New York State Police report that when North Tonawanda resident Robert Brandel was found in a parking lot north of Buffalo, he told them that he had been kidnapped by two men from his Super Bowl squares betting pool. Brandel said they robbed him of $16,000 and left him tied up in a van for two days, CBS News reported.
Police found Brandel in Newfane, New York, on February 27 laying in the back of his truck with a rope around his neck and duct tape wrapped around his hands and ankles.
But an investigation reportedly found that Brandel put in several fake names in a Super Bowl squares game imagining that he would win and rake in the cash. Instead, he lost and owes the pool $50,000.
Instead of getting out of his betting debt, police arrested him and charged him with filing a false police report and fraud…
MORE
.
—————————————————————————————
.
Red Bernie Hires Illegal Alien As Press Secretary – Washington Examiner
.

.
Sen. Bernie Sanders' new deputy national press secretary likely won't be eligible to vote in the 2020 election due to what she says is her status as an undocumented immigrant.
The hiring of Belen Sisa, an Arizona leftist activist, was announced Wednesday evening. Sisa, who says she was brought to this country illegally from Argentina by her parents at age six, is currently protected from deportation under President Barack Obama's Deferred Action for Childhood Arrivals, or DACA, program.
Despite her immigration status, Sisa has remained active in liberal politics over the years. In 2016, she worked as a page to the Arizona delegation at the Democratic National Convention and in Latino outreach for Sanders' 2016 campaign…
MORE
.
—————————————————————————————
.
Left-Wing Terrorist Who Punched Conservative Activist In The Face Is Finally Arrested – Campus Reform
UC-Berkeley said Friday that it has arrested the suspect in the recent violent attack against a conservative on campus.
The school identified the suspect as Zachary Greenberg. This is the first time that UC-Berkeley has publicly named the suspect who on Feb. 19 was caught on video punching Hayden Williams, a conservative and employee of Campus Reform's parent organization, in the face. At the time, Williams was helping conservative groups recruit new members.
"Today, an Alameda County Superior Court Judge issued a warrant for the arrest of the suspect in the matter involving a February 19 assault on Sproul Plaza. Zachary Greenberg was arrested by the University of California Police Department (UCPD) on the warrant and booked into jail at 1 p.m.
UCPD will formally present the case to the Alameda County District Attorney's Office for consideration of the filing of criminal charges. Once the matter is presented and reviewed by the District Attorney's Office, additional information will be made available…
MORE
.
—————————————————————————————
.
U.S. Airstrike Kills 26 More Al-Shabaab Terrorists In Somalia – The Hill
.

.
The U.S. military said Friday it killed 26 fighters from Islamic extremist group al-Shabaab a day earlier in an airstrike in Somalia.
U.S. Africa Command (Africom) said in a statement that the Thursday airstrike targeted the fighters in the Hiran region, where the U.S. military also conducted a pair of strikes earlier this week that killed 55.
This is the U.S. military's 24th airstrike in Somalia so far this year.
The announcement follows a trio of deadly car bomb explosions Thursday night in Somalia's capital, Mogadishu. At least 30 people were killed and dozens more injured in the attack, which has been claimed by al-Shabaab, an al Qaeda affiliate…
MORE
.
—————————————————————————————
.
Virginia Democrats Elect Their First Islamist Anti-Semite – Daniel Greenfield
While Virginia Democrats were debating whether to oust Governor Northam for wearing blackface, Lt. Governor Justin Fairfax over alleged rape and Attorney General Mark Herring for also wearing blackface, a much more blatant example of contemporary bigotry by a Virginia Democrat had come to light.
It received virtually no coverage by the media.
Ibraheem Samirah, running in a special election for a seat in the Virginia House of Delegates, had his social media history exposed. Aside from the usual rants about Israel, Samirah had posted that the Jews had stolen his grandfather's land and "washed off as the Promised Land for Jews only (using the Torah and Zionist ideology, a 3000 yo religious book and a 100 yo Jew-only philosophy.)"
Samirah's hatred for Israel wasn't news. The Jordanian Muslim BDS activist had co-founded a chapter of Jewish Voice for Peace (a misnamed pro-terrorist hate group…
MORE
.
—————————————————————————————
.
De Blasio And 'Co-Mayor' Wife Have Wasted $1.8 Billion Of Taxpayer Money – New York Post
.

.
Who's got a billion to burn? Well, Bill de Blasio for sure. But also mayoral spouse Chirlane McCray, who has just been revealed as a world-class boondoggler in her own right.
Hey, the family that preys together stays together, right? And it's only (your) money – even if it is quite a lot of it.
McCray is the proprietress of ThriveNYC, a mental-health-related something-or-other created four-plus years ago to give a little heft to the conceit that Bill and Chirlane were elected as co-mayors – which is nonsense on stilts.
That is, once upon a time, first spouses were content to pretend to be in charge of prettifying highways and things…
MORE
.
—————————————————————————————
.
Alleged Threats, Bribes, Prostitutes: Growing Scandal Threatens To Bring Down Canada's Trudeau – Breitbart
Former Canadian Attorney General Jody Wilson-Raybould gave a bombshell testimony accusing Prime Minister Justin Trudeau and other officials of "veiled threats" to force her to drop a case for political purposes.
Ms Wilson-Raybould gave testimony before the Canadian House of Commons justice committee for several hours on Wednesday, speaking out against members of staff and Prime Minister Trudeau attempting to interfere with an investigation into the SNC-Lavalin corporation, The Globe and Mail reports.
Accusations that the prime minister and the Prime Minister's Office (PMO) interfered with the SNC-Lavalin investigation first emerged on February 7th.
The engineering company, which is based in Quebec, was accused of engaging in bribery in Libya in efforts to secure lucrative contracts in the country. Since the accusations were made public, further allegations have revealed that the corporation may also have gone as far as paying for prostitutes for Saadi Gadhafi…
MORE
.
—————————————————————————————
.
Israel's AG To Indict Benjamin Netanyahu For Bribery, Fraud, And Breach Of Trust – Bloomberg
.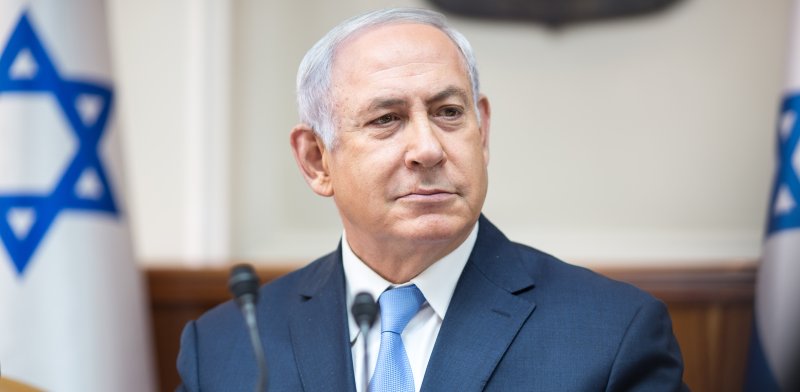 .
Israeli Prime Minister Benjamin Netanyahu was notified Thursday that the attorney general plans to put him on trial for bribery, fraud and breach of trust, following a two-year investigation that has galvanized a serious election challenge and could speed the end of his political career.
The draft indictment, while expected, sent tremors through Israel's political landscape, coming just 40 days before what's shaping up to be a closely fought election. It's the first time a sitting Israeli leader has ever come so near to criminal charges.
Before any indictment is filed, Netanyahu is entitled to a hearing to present his side of the story and try to change Attorney General Avihai Mandelblit's mind, a process that could take months…
MORE
.
—————————————————————————————
.
Green New Deal? Biggest U.S. City To Go '100 Percent Renewable' Lost Millions On Solar, Wind Contracts – Daily Caller
As Congress debates the Green New Deal resolution to transition the U.S. economy to "net-zero" greenhouse gas emissions, a Texas town struggles under the growing financial burden of going green.
Georgetown has spent $30 million since it began its transition to 100 percent renewable energy in 2016, and, now, city officials are lashing out at local reporters and a conservative think tank for scrutinizing the cost to taxpayers.
"The entire 100 percent renewable claim is misleading," Bill Peacock, vice president of research conservative Texas Public Policy Foundation (TPPF), told The Daily Caller News Foundation.
TPPF has been holding public hearings with angry Georgetown residents since last fall. The group also called out the city's renewable energy claim that it runs solely on renewable power…
MORE
.
—————————————————————————————
.
Republican Group Files FEC Complaint Alleging Alexandria Occasional-Cortex's Campaign Team Illegally Funneled Thousands Of Dollars To Her Boyfriend Through An Allied PAC – Daily Mail
.

.
A conservative non-profit has filed a Federal Elections Commission complaint against Democrat Alexandria Ocasio-Cortez, alleging the freshman congresswoman's campaign team illegally funneled thousands of dollars to her boyfriend through an allied political action committee.
Lawyers for the Coolidge Reagan Foundation asked the FEC to review the matter on Wednesday after questions about AOC's campaign finance activities were raised earlier this month.
On February 20, GOP political consultant Luke Thompson unveiled screenshots of FEC records via his Medium page showing the congresswoman's campaign paid $6,191.32 to Brand New Congress LLC, a progressive PAC and consulting firm that hired Cortez's boyfriend, Riley Roberts, as a marketing consultant during the fall of 2017 not long after Cortez's campaign began…
MORE
.
—————————————————————————————
.
Teacher Brittany Zamora Had Sex With Boy In Classroom While Other Student Watched – Arixona Republic
An alleged illicit sexual relationship between a Goodyear teacher and her 13-year-old student started with a message on a school app.
Las Brisas Academy elementary teacher Brittany Zamora asked her sixth-grade students to message her on an online instruction app called Class Craft because she was going to be bored at school one day.
But police say a message from one male student quickly turned into flirting and then evolved into a sexual relationship between the then-27-year-old and her barely teenage pupil.
Records obtained by The Arizona Republic provide additional detail about Zamora's alleged sexual misconduct with the student. Video, police interviews and Zamora's arrest captured on body-worn cameras describe how Zamora and the boy had sex multiple times in her car and classroom – once with another male student in the room.
The two even sexually touched each other while oblivious students watched a video, records show…
MORE
.
—————————————————————————————
.
Woman Claims Planned Parenthood Doctor Said They'd 'Break The Baby's Neck' If Born Alive – Daily Wire
.

.
In the wake of New York's late-term abortion laws and the Democratic Party's refusal to protect babies born alive in a botched abortion, pro-life advocacy groups have been working around the clock to inform the public that babies are indeed at risk of being murdered in full-view on an abortionist's operating table.
A recent video from Pro-Life Action Ministries features a woman admitting to having an abortion doctor promising to "break the baby's neck" if she were to have a botched abortion.
According to LifeNews, the woman was 22 weeks pregnant at the time she visited a Planned Parenthood in 2017, saying she chose to keep her baby after it survived an injection of digoxin designed to stop the heart…
MORE
.
—————————————————————————————
.
'Sometimes You Have To Walk': Trump Scraps North Korea Summit Deal – Reuters
U.S. President Donald Trump said he had walked away from a nuclear deal at his summit with Kim Jong Un in Vietnam on Thursday because of unacceptable demands from the North Korean leader to lift punishing U.S.-led sanctions.
Trump said two days of talks in the Vietnamese capital Hanoi had made good progress in building relations and on the key issue of denuclearization, but it was important not to rush into a bad deal.
"It was all about the sanctions," Trump said at a news conference after the talks were cut short. "Basically, they wanted the sanctions lifted in their entirety, and we couldn't do that."
The United Nations and the United States ratcheted up sanctions on North Korea when the reclusive state undertook a series of nuclear and ballistic missile tests in 2017, cutting off its main sources hard cash.
Trump and Kim cut short their talks, skipping a planned working…
MORE
.
—————————————————————————————
.
Twitter Legal Warns Michelle Malkin That Her Mohammed Cartoon Tweet Violates "Pakistan's Blasphemy Laws", Which Are Punishable By Prison Or Death – Gateway Pundit
.

.
Twitter legal sent conservative firebrand Michelle Malkin a warning last week that her Mohammed cartoon tweet violated Pakistan's "blasphemy laws."
The specific blasphemy laws Michelle Malkin violated are punishable by life imprisonment or death and Twitter happily delivered the death threat to her.
"I've been #SiliconValleySharia -ed. Here's the notice Twitter's legal dept sent me last week, warning me to get legal counsel because anti-blasphemy Muslim zealots complained that my Mohammed Cartoons tweet violates Pakistan's laws," Malkin said in a tweet on Wednesday with a screenshot of the warning.
Michelle Malkin then stated that she responded to Twitter's legal team seeking answers…
MORE
.
—————————————————————————————
.
Johnny Manziel Banned From Canadian Football League – Chicago Tribune
The Canadian Football League ended its relationship with Johnny Manziel on Wednesday, with the league saying the quarterback "contravened the agreement which made him eligible to play in the league."
The Montreal Alouettes released Manziel, 26, and the CFL told its teams it would not approve another contract for the embattled quarterback.
"We are disappointed by this turn of events. Johnny was provided a great deal of support by our organization, in collaboration with the CFL, but he has been unable to abide by the terms of his agreement," Alouettes general manager Kavis Reed said in a statement. "We worked with the league and presented alternatives to Johnny, who was unwilling to proceed."
The CFL's move again leaves Manziel with an uncertain football future. The Cleveland Browns selected the former Heisman Trophy winner with the 22nd pick in the 2014 NFL draft. He started eight games in two years, but his play was inconsistent…
MORE
.
—————————————————————————————
.
James O'Keefe Exposes Facebook Targeting Conservatives Via New Facebook Whistleblower – Right Scoop
.

.
James O'Keefe has done it again. A Facebook insider has come forward to O'Keefe as a whistleblower and reveals how Facebook is actively targeting conservatives.
In the video, this Facebook whistleblower reveals that there's a 'deboosting' algorithm that's been applied to conservative sites on Facebook. She even provides the documentation to prove it and says she's seen this applied to conservative pages that belong to The Daily Caller, Steven Crowder, and Mike Cernovich.
Crowder has had a heck of a time with both Youtube and Facebook in the past. Now we know why.
Of course, O'Keefe caught up with the author of the deboosting algorithm and he was not interested in talking…
MORE
.
—————————————————————————————
.
Woman Who Assaulted MAGA Hat-Wearing Kid Turns Out To Be An Illegal Alien; Is Arrested By ICE Agents – Howie Carr
The woman who assaulted a Falmouth man last Monday at a Mexican restaurant over his red "Make America Great Again" hat is in the country illegally and was arrested Tuesday morning by Immigration and Customs Enforcement.
Falmouth police arrested Rosiane V. Santos, 41, on Feb. 15 after she allegedly assaulted Bryton Turner, 23, of Mashpee, who was wearing a MAGA hat
"The minute I walked in and sat down, the woman [Santos] said something to me, she said, 'What does your hat say, what does your hat say,' and I showed her, " Turner said on the Howie Carr Show on Friday.
"She goes, 'Why would you wear that here?'," he said. "And I said, it's America and I can wear this hat wherever I want."
Turner said Santos told the bartender to poison his drink.
Falmouth police officers responded after the bartender called 911 and arrested Santos…
MORE
.
—————————————————————————————
.
YouTube Deplatforms Retired Navy SEAL Who Exposed Tribal Elder Nathan Phillips' Stolen Valor – PJ Media
.

.
YouTube last week deplatformed a YouTube channel that specialized in exposing Stolen Valor cases. "Stolen Valor," of course, refers to cases where dishonorable pretenders are caught making fraudulent claims of military honors they didn't earn.
Retired Navy Seal Don Shipley has made it his life's mission to expose these shameless charlatans. His channel had 232,806 subscribers at the time it was taken down and had been in operation since around 2008.
He told PJ Media that he thinks his channel was taken down because he had "outed Nathan Phillips," who had "masqueraded as a Vietnam vet." Shipley confirmed that he'd been "booted off YouTube" in a post on his "Extreme SEAL Adventures" Facebook page on February 21…
MORE
.
—————————————————————————————
.
9th Circuit Gets Another Trump-Picked Judge, After White House Bypasses Consultation With DemoNazis – Fox News
The Senate on Tuesday confirmed President Trump's nominee to be a judge on the liberal 9th Circuit Court of Appeals in a party-line vote – and, in a historic snub, the White House ignored the input of the judge's two Democratic home-state senators in the process.
The aggressive and unprecedented move to bypass the traditional "blue slip" consultation process and plow ahead with the confirmation comes as the Trump administration seeks to systematically erode left-wing dominance on the key appellate court, which Trump has called "disgraceful" and politically biased.
With a sprawling purview representing nine Western states, the appellate court has long been a thorn in the side of the Trump White House, with rulings against his travel ban policy and limits on funding to "sanctuary cities."
A lawsuit is currently pending before the 9th Circuit concerning Trump's emergency declaration over border security…
MORE
.
—————————————————————————————
.
Pakistan Shoots Down Two Indian Air Force Jets Amid Escalating Tensions – Weekly Standard
.

.
Pakistan today said it shot down two Indian jets and captured pilots as rising tensions threatened to ignite a new military conflict between the rival nuclear powers. Islamabad said the Indian Air Force planes had crossed the boundary between the two nations in the disputed territory of Kashmir.
Two pilots from one of the planes were said to have been captured. One bloodied airman was seen on video being arrested by Pakistani troops in a clip shared on social media. Pakistan's civil aviation authority subsequently shut its airspace to all commercial flights.
Today's developments came a day after India launched a pre-dawn air strike on what it claimed was a terrorist training camp in Balakot, in Pakistan-controlled Kashmir…
MORE
.
—————————————————————————————
.
Judge Rules Male-Only Draft Unconstitutional Now That Women Are In Combat Roles – Circa
A federal judge in Texas has ruled the male-only requirement for draft registration unconstitutional now that women are allowed to have combat roles.
Judge Gray Miller of the Southern District of Texas made the landmark decision on Feb. 22, ruling in favor of the the National Coalition of Men, Anthony Davis and James Lesmeister, the plaintiffs who brought the case to the court in 2017. Miller's decision hinged on the Department of Defense's policy change allowing women in combat roles in 2015.
"While historical restrictions on women in the military may have justified past discrimination, men and women are now 'similarly situated for purposes of a draft or registration for a draft,'" wrote Miller, citing Rostker v. Goldberg, a 1981 Supreme Court case that upheld the male-only draft.
Current law requires all men ages 18 to 25 to register with the Selective Service System, which documents the records of those who would be eligible for a potential draft…