.
San Francisco Has More Drug Users Than High School Students – Hot Air
The San Francisco Chronicle reported last week that the city now has more hardcore drug addicts living there than it does high school students.
San Francisco has more drug addicts than it has students enrolled in its public high schools, the city Health Department's latest estimates conclude.

There are about 24,500 injection drug users in San Francisco – that's about 8,500 more people than the nearly 16,000 students enrolled in San Francisco Unified School District's 15 high schools and illustrates the scope of the problem on the city's streets…

"There is an opioid epidemic in this country, and San Francisco is no exception," Deputy Director of Health Dr. Naveena Bobba said.

The problem is particularly visible in the Tenderloin, where police reported more than 600 arrests for drug dealing last year. And where 27 suspects were booked into County Jail for dealing drugs in the first 20 days of the new year…
MORE
.
—————————————————————————————
.
Mexican Government Busing 1,700 Caravan Migrants To Unsecured Texas Border Area – Breitbart
.

.
Coahuila officials deployed 49 private buses and dozens of police vehicles to help transport and safeguard more than 1,700 migrants to an unsecured part of the Texas border. The caravan recently departed from Honduras.
Over the weekend, hundreds of migrants began arriving in southern Coahuila as state officials began setting up temporary shelters and providing food. Governor Miguel Riquelme oversaw operations at one of the camps. The official count from Sunday stood at 1,674 migrants.
In Nuevo Leon, a border state just east of Coahuila, officials outfitted shelters for 1,400 as smaller groups of caravan migrants began to arrive on their journey to the Texas border…
MORE
.
—————————————————————————————
.
Proud Boys Founder Gavin McInnes Sues Communist-Run Southern Poverty Law Center For Defamation, Employment Discrimination – PJ Media
On Monday, Gavin McInnes, founder and former leader of the Proud Boys, filed a lawsuit against the Southern Poverty Law Center (SPLC) for defamation, invasion of privacy, costing him valuable business partnerships, and aiding and abetting employment discrimination against him in violation of New York law.
"Mr. McInnes brings this action against SPLC for defaming him by use of the SPLC Hate Designations, and publishing other false, damaging and defamatory statements about him, as alleged in detail below; for its concerted, obsessive and malicious actions taken to 'deplatform' Mr. McInnes; for its tortious interference with his economic opportunities; and for intentionally interfering with his contractual relationships by causing, inter alia, the termination of Mr. McInnes's employment, an almost complete deplatforming and defunding and subjecting him to employment discrimination based on his lawful non-employment recreational activities," the lawsuit states.
Ron Coleman, a lawyer who is representing McInnes, broke the news on Twitter…
MORE
.
—————————————————————————————
.
Super Bowl? What Super Bowl?: New Orleans Newspaper Trolls NFL, Rams With Front-Page Headline – Sporting News
Saints fans will forever be livid their team did not make the Super Bowl because of the now infamous no-call late in the NFC championship game. The entire city, in fact, is heartbroken and bitter their beloved Saints were denied a spot in the big game. Just check out this headline in Monday's edition of New Orleans' award-winning newspaper, "The Times-Picayune."
.

.
"Super Bowl? What Super Bowl?" the front-page headline reads. The paper's sports headline continues the trolling on its sports page lead, referencing the Rams' failure to score a touchdown in the 13-3 loss to the Patriots.
"What do the Rams and the Saints have in common? Neither scored a touchdown in Super Bowl LIII."…
MORE
.
—————————————————————————————
.
ICE Snags Hundreds Of Illegals With 'Pay To Stay' Scheme – Zero Hedge
Immigrations and Customs Enforcement (ICE) netted hundreds of illegal immigrants after setting up a fake university, according to the The Detroit News.
The University of Farmington had no staff, no instructors, no curriculum and no classes but was utilized by undercover Homeland Security agents to identify people involved in immigration fraud, according to federal grand jury indictments unsealed Wednesday.
Eight student recruiters were charged with participating in a conspiracy to help at least 600 foreign citizens stay in the U.S. illegally, according to the indictments, which describe a novel investigation that dates to 2015 but intensified one month into President Donald Trump's tenure as part of a broader crackdown on illegal immigration. – The Detroit News
Dubbed operation "Paper Chase," the scheme used undercover Homeland Security agents to identify recruiters and entities engaged in immigration fraud – which collectively received $250,000 in cash and kickbacks to located students to attend the university…
MORE
.
—————————————————————————————
.
North Carolina Oral Surgeon Accused Of Sexually Abusing At Least Four Female Patients Under Anesthesia – L:aw & Crime
.

.
North Carolina oral surgeon Michael Lee Hasson, 55, was arrested Thursday because he allegedly abused at least four female patients who were under anesthesia, according to the Wilmington, N.C. Police Department. He faces three counts of sexual battery and one count of second-degree forcible sex offense.
Cops locked him up on $1.25 million bond. Authorities said more charges are forthcoming. The patients were between 17 and 21 years of age, police said. Prosecutors and the defense argued over the bond amount in a court appearance on Friday, according to WECT.
"Mr. Hasson graduated from Hoggard High School," defense lawyer Woody White said in court. He argued that the three sexual battery charges – misdemeanors – didn't justify the high bond because of lack of evidence…
MORE
.
—————————————————————————————
.
Pentagon Sending 3,750 More Troops To Mexico Border – Fox News
The Pentagon announced Sunday the deployment of 3,750 more active-duty troops to the U.S. border with Mexico. The deployment will raise the total active duty forces to approximately 4,350.
"Additional units are being deployed for 90 days, and we will continue to evaluate the force composition required to meet the mission to protect and secure the southern border," the Pentagon said.
Roughly 2,400 active duty forces are currently at the border. A large number are going home and being replaced by the new deployment. The announcement comes as a congressional committee seeks to reach a deal on border security funding to avert another partial government shutdown.
President Trump has hinted at declaring a national emergency if the deal doesn't include funds for a border wall. The lack of an agreement on funding for a border wall closed portions of the government for 35 days…
MORE
.
—————————————————————————————
.
Los Angeles Is Dealing With A Deadly, Flea-Borne Typhus Outbreak – Daily Wire
.

.
The city of Los Angeles is suffering from an outbreak of a "middle ages" and "pioneer days" disease – typhus – typically found in homeless populations.
The outbreak began in October, according to CNN, with 57 cases of the flea- and flea feces-borne disease in downtown Los Angeles, not typically a hotbed of rare diseases. That was up from around 6 cases over the summer, all found in people "experiencing homelessness."
According to L.A. public health officials, there were more than 120 reported cases of typhus in 2018, and that number is increasing steadily in the first months of 2019.
A local NBC affiliate says city officials assumed that the disease would remain largely within the homeless population…
MORE
.
—————————————————————————————
.
Philly Democratic Majority Leader, IBEW Boss And Other Officials Indicted On 116 Counts Of Misusing Union Funds – Washington Free Beacon
One of Philadelphia's most powerful union bosses and the city's Democratic majority leader stand accused of embezzling funds from the workers they claimed to represent.
The Department of Justice indicted International Brotherhood of Electrical Workers (IBEW) Local 98 boss John "Doc" Dougherty Jr. and several other union officials, as well as Democratic City Councilman Bobby Henon, on corruption charges. They face 116 counts of misusing of union funds to serve their own interests rather than those of their members.
"When union leaders misdirect the organization's money for personal gain, they're breaching their obligation to members – and breaking the law," Michael T. Harpster, special agent in charge of the FBI's Philadelphia division, said in a statement. "Such corruption must not go unchecked. No matter how long it takes, the FBI and our partners will investigate and work to hold accountable unscrupulous union and public officials."
The indictment accuses the union officials and Henon, a labor official and the city council's majority leader, of using union coffers as a personal piggybank…
MORE
.
—————————————————————————————
.
Cops Found 'Legally Justified' In Shooting Armed Antifa Terrorist In The Head – Zero Hedge
.

.
A police officer who shot the leader of a militant Antifa group was "legally justified" in a January 11 shooting at a Eugene, Oregon middle school.
Charles Landeros, 30, was fatally shot in the head by officer Steve Timm at the Cascade Middle School, where Landeros' daughter is a student. Landeros can be seen on bodycam footage pulling a gun during a struggle with Timm and another officer, Aaron Johns following a custody argument.
Landeros went to the school that day over a conflict with his daughter's mother. He had enrolled the girl in the school earlier that week without telling his former spouse, but school officials later learned that the girl's mother had the sole authority to decide which school the girl attended…
MORE
.
—————————————————————————————
.
FBI Hid Proof That Hillary's Emails Were Attacked Multiple Times As Far Back As 2011, But Used A 2016 DNC Incident As their Case For Mueller Probe – Gateway Pundit
The fairy tale that the Russians hacked the DNC's emails in 2016 in an effort to help candidate Trump win the Presidency led to the corrupt Mueller investigation.
Per a review of evidence provided by the FBI we know that Hillary's emails were hacked as early as 2011 and Hillary was warned about these attacks. Overall, Hillary and the FBI appear to be covering up the facts.
The Mueller sham is unconstitutional and a crime on numerous counts. The mainstream media (MSM) won't tell the American people and the world that the entire scam was built on and runs on numerous lies. A recent review of events related to Hillary Clinton's emails further indicate that the entire Mueller sham was built on a series of lies covered up by the FBI.
Hillary wasn't suddenly hacked by Russians in 2016. We don't really even know if Hillary's emails or the DNC's emails were hacked by the Russians at all. We don't even know if the DNC's emails were hacked…
MORE
.
—————————————————————————————
.
Virginia Democrats Want Governor Northam Out By Monday – KTVB
.

.
Virginia Democratic lawmakers accelerated efforts to force embattled Gov. Ralph S. Northam to resign by Monday, after he admitted to wearing blackface more than 30 years ago. The renewed push comes as delegates and state senators feared the crisis of confidence could reach a fever pitch and interfere with the passage of critical tax legislation before a Wednesday deadline.
The strategy, according to three Democratic aides with knowledge of Saturday's discussions, involved Attorney General Mark R. Herring, D-Va., calling for the governor's resignation – a step Herring took less than two hours after the news conference.
"It is no longer possible for Gov. Northam to lead our Commonwealth and it is time for him to step down," Herring said in a statement…
MORE
.
—————————————————————————————
.
CNN Falsely Labels Virginia Governor Ralph Northam As 'Republican' During Segment On Blackface-KKK Yearbook Photo Flap – Fox News
CNN – the network that promotes the hashtag #FactsFirst – mislabeled embattled Virginia Gov. Ralph Northam as a Republican on Friday during a segment about the Democrat's apology for his racist 1984 medical school yearbook photo.
The photo showed two men holding beers – one dressed in blackface, the other in a KKK robe – but Northam never made clear which one was him.
The CNN chyron that mistakenly called Northman a Republican aired Friday during "Anderson Cooper 360," the nightly show hosted by Anderson Cooper. The segment focused on a video in which Northam apologized for the nearly 35-year-old photograph.
"My fellow Virginians, earlier today I released a statement apologizing for behavior in my past that falls far short of the standard you set for me when you elected me to be your governor. I believe you deserve to hear directly from me," Northam said in a video he posted on Twitter…
MORE
.
—————————————————————————————
.
Trump: People Are 'Dying All Over The Country' Because Of Nancy Pelosi – Breitbart
.

.
In a preview clip of an interview that will air Sunday on CBS's "Face the Nation," President Donald Trump blamed "people dying all over the country" on House Speaker Nancy Pelosi (D-CA).
Trump said, "Well, I think that she was very rigid – which I would expect – but I think she's very bad for our country. She knows that you need a barrier. She knows that we need border security. She wanted to win a political point. I happen to think it's very bad politics because basically, she wants open borders. She doesn't mind human trafficking or she wouldn't do this."
He added, "She's costing the country hundreds of billions of dollars because what's happening is when you have a porous border and when you have drugs pouring in, and when you have people dying all over the country because of people like Nancy Pelosi who don't want to give proper border security for political reasons she's doing a terrible disservice to our country."…
MORE
.
—————————————————————————————
.
Pennsylvania Identifies Over 11,000 Registered Non-Citizen Voters – Zero Hedge
Pennsylvania state Rep. Daryl Metcalfe called on the state Wednesday to immediately purge 11,198 noncitizen voters who were confirmed as registered to vote despite not being eligible, reports the Washington Times.
State Rep. Daryl Metcalfe, a Republican and former chairman of a House government oversight panel, said the administration of Gov. Tom Wolf, a Democrat, belatedly acknowledged the large number of noncitizens in communications over the past two months.

"I believe that we need to take action and have those people removed immediately from the rolls," Mr. Metcalfe told The Washington Times. "They were never eligible to vote." – Washington Times
Metcalfe and Wolf sparred over the data after Metcalfe made a right-to-know request under state law which the Wolf administration objected to – going to court to try and keep it hidden from the public…
MORE
.
—————————————————————————————
.
DemoNazis' 2019 DHS Spending Bill Opens The Border To Migrants – Breitbart
.

.
The House Democrats' proposed 2019 homeland security budget reopens the nation's southern border to migrant inflows, while it also dangles the promise of cheap labor in front of GOP legislators and donors.
The draft budget adds $1.75 billion in extra border spending to President Donald Trump's $58.7 billion budget request for the Department of Homeland security in 2019, according to a copy published by the Washington Post.
But Democrats' draft bill does not include any funding for the wall, and it uses the extra money to help migrants bypass border protections and then win jobs in the U.S. labor market…
MORE
.
—————————————————————————————
.
Winning: January Sees Fastest Rise In Factory Orders Since December, 2017; Manufacturing Activity Edges Higher – Business Standard
The country's manufacturing sector activity edged higher in January as companies continued to scale up production and employment, driven by the fastest rise in factory orders since December 2017, a monthly survey said Friday.
The Nikkei India Manufacturing Purchasing Managers' Index increased from 53.2 in December to 53.9 in January, indicating stronger improvement in the health of the goods producing sector.
This is the 18th consecutive month that the manufacturing PMI remained above the 50-point mark. In PMI parlance, a print above 50 means expansion, while a score below that denotes contraction.
According to the survey, the increase in factory orders was the strongest seen in 13 months. Besides, favourable economic conditions, strengthening demand and sales growth also picked up in January…
MORE
.
—————————————————————————————
.
MAGA Update: U.S. Gains 304,000 Jobs At Start Of 2019 As Firms Continue To Hire At Blistering Pace – Marketwatch
.

.
The U.S. gained 304,000 new jobs in January – the biggest increase in almost a year – in another show of strength for an economy that's still growing soundly even in the face of more headwinds.
Economists polled by MarketWatch had expected a modest gain of 172,000 nonfarm jobs, but mainly because hiring in December had seemed so strong. Instead the government slashed its original estimate of new jobs in December to 222,000 from 312,000 as part of an annual update based on newly available information. That's the largest monthly revision since 2010.
Still, the economy has added an average of 241,000 jobs a month since November, marking one of the best stretches during a nearly 10-year-old economic expansion…
MORE
.
—————————————————————————————
.
As Petition Nears 300K To Impeach Rep. Rashida Tlaib, Evidence Exposes Her Lies About Residency To Run For Office – Washington Standard
The petition to impeach Talaib is nearing 300,000, and as it does, evidence has been obtained that proud, Islamist, Palestinian, anti-American representative Rashida Tlaib lied about her residency to run for office by registering to vote at a false address.
Now, it's one thing when a reporter says that Tlaib lied about her address, as many people will claim bias, which every single reporter or commentator has when they write or report. It's another thing when her father says that she lied, and this is the basis for the petition to impeach her as she does not represent the district that she allegedly won, and I say that loosely given the massive amount of voter fraud.
First, from Patrick Howley at Big League Politics on the evidence that we now know about concerning Tlaib's lies to become a US representative.
1. Rashida Tlaib registered to vote at a false address as she embarked on her first political campaign…
MORE
.
—————————————————————————————
.
Amputee Vet Brian Kolfage: Breaking Ground On The Wall In 'Couple Of Months' – Breitbart
.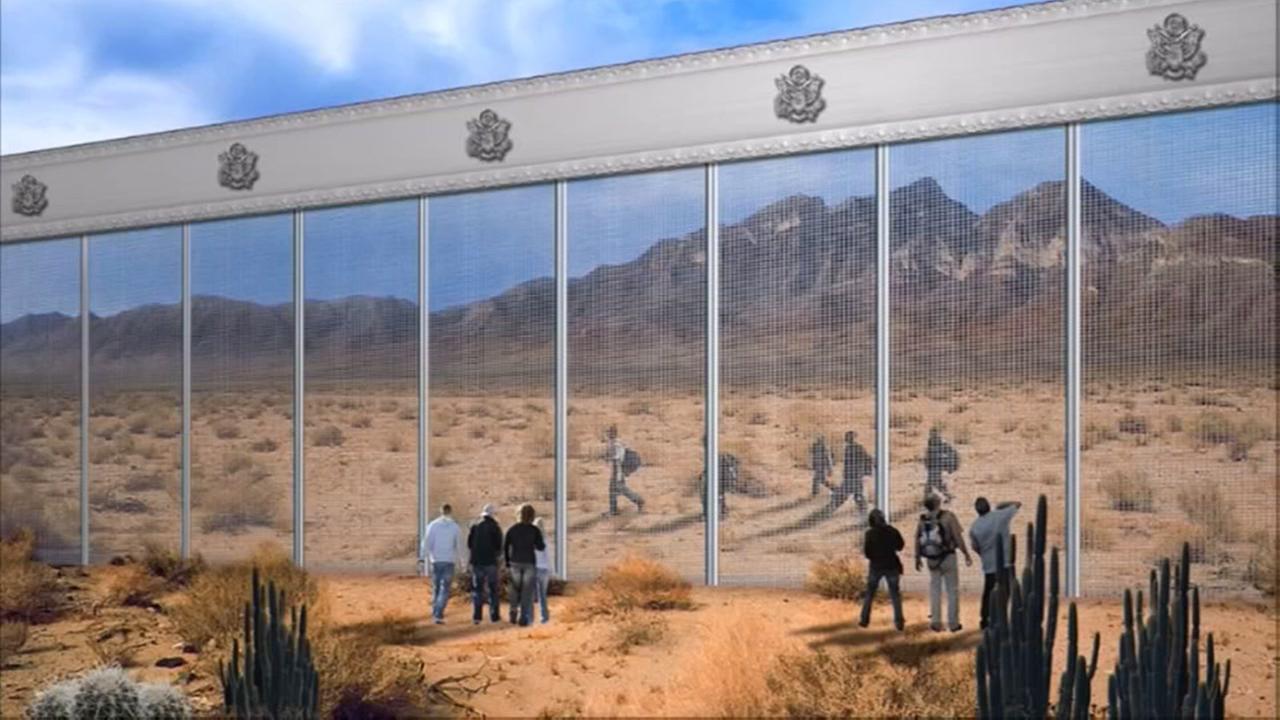 .
Brian Kolfage, the Air Force triple amputee veteran who founded a non-profit organization to build the wall at the southern United States border with private donations, said he expects to break ground in the next couple of months.
Kolfage told Breitbart News in an exclusive phone interview on Thursday, "We're moving forward with the wall. I've got some land owners who are ready to rock and roll, and want us to start slapping up some wall."
"We should be able to break ground in the next couple of months, we hope, according to our experts," he said.
Kolfage founded We Build The Wall, Inc. earlier this month, after raising more than $21 million dollars on GoFundMe…
MORE
.
—————————————————————————————
.
House DemoNazis Reject GOP Proposal To Block Raises For Federal Employees Guilty Of Sexual Misconduct – Washington Free Beacon
House Democrats on Wednesday rejected a Republican proposal to add a provision that would block federal employees who were disciplined for sexual misconduct to receive the same pay raise as the rest of their colleagues.
Republicans attempted to add the provision to legislation proposed by Democrats to give federal workers a 2.6 percent raise. The Republican proposal was to simply stipulate that workers disciplined for sexual misconduct be exempt from the raise.
"During calendar year 2019, no increase in pay as authorized under this Act may be provided to any Federal employee who has been disciplined for sexual misconduct under chapter 75 of title 5, United States Code, or any other provision of law," read the Republican proposal.
Despite receiving support from 17 Democrats, the proposal was rejected in a 216-206 vote.
A spokesperson for House Republican leader Kevin McCarthy (Calif.) slammed the bill ahead of the vote to adopt the amendment on sexual misconduct…