.
Woman Accused Of Pulling Knife On Man In Dollar Store After He Complained She 'Farted Loudly' – Miami Herald
Passing gas in public is often embarrassing. But for a Dania Beach woman, doing so while waiting in line at a Dollar General store led to her arrest on a charge of aggravated assault with a deadly weapon without intent to kill.
It's what police say she did after a man in line complained about the act that led to the charge.
According to a Broward Sheriff's Office complaint affidavit, Shanetta Yvette Wilson, 37, was in the checkout line at the Dollar General store on 120 S. Federal Hwy in Dania Beach on Sunday evening. John Walker, the customer standing next to her, got into a verbal dispute "in reference to the defendant farting loudly," according to the affidavit.
Wilson allegedly pulled a small "lock back knife" from her purse, "opened the knife and told the victim she was going to 'gut' him," the police report said. While doing so, she pulled back her right hand with the knife as if she was going to attack the victim with it, the report read…
MORE
.
—————————————————————————————
.
CNN Contributor Marc Lamont Hill Calls For Destruction Of Israel, Endorses Palestinian Violence – Breitbart
.

.
CNN Contributor Marc Lamont Hill told the United Nations on Wednesday that Israel should be replaced by a Palestinian state, and defended the Palestinian use of violence against Israel.
Hill was speaking at the "U.N. International Day of Solidarity with the Palestinian People," which provides an annual platform for extremist rhetoric against Israel. He was present to express his views as an "invited representative of civil society."
Hill referred to the founding of Israel in May 1948 as "the great catastrophe," borrowing the term "Nakba," which is used by Palestinians. (He neglected to mention that the Palestinians had joined the surrounding Arab states in 1948 in attacking Israel with the intention of destroying it, and killing or expelling the Jewish population.)…
MORE
.
—————————————————————————————
.
Pennsylvania School Bus Drivers Sue Feds For Preventing Them From Voting To Leave Leftist-Controlled Union – Washington Free Beacon
Pennsylvania school bus drivers are suing the federal government for preventing them from holding a vote to cut ties with their union.
A pair of drivers at Krise Transportation in northwestern Pennsylvania led a campaign to cut ties with Teamsters Local 397 after souring with their representation. Their efforts gained nearly universal support form their fellow workers; 24 of the bargaining unit's 28 employees signed a petition to hold an election on maintaining the relationship with the union.
The National Labor Relations Board (NLRB), the federal government's top labor arbiter in charge of monitoring union elections, killed any hope of that vote, according to a new lawsuit.
An agency policy prevents decertification elections from taking place within a "reasonable period of time" following a settlement agreement between an employer and a labor organization, a doctrine known as the "settlement bar" rule. Krise settled a case with Local 397 in March, two months before workers petitioned to vote the union out…
MORE
.
—————————————————————————————
.
Dow Soars More Than 600 Points On Interest Rate News; Biggest One-Day Gain In 6 Months – WPTV
.

.
Federal Reserve chairman Jerome Powell gave investors reason to cheer on Wednesday when he suggested that the Fed may slow down its interest rate hikes. The Dow surged on the news and closed up 600 points, or more than 2%, in midday trading. The S&P 500 and Nasdaq each rose about 2% as well.
Powell reassured investors that the Fed wouldn't risk killing off economic growth by continuing to aggressively raise rates next year.
"Our gradual pace of raising interest rates has been an exercise in balancing risks," Powell said during a speech at the Economic Club of New York. "We know that moving too fast would risk shortening the expansion…
MORE
.
—————————————————————————————
.
Mexico To Grant Highest Honor To President Trump's Son-In-Law Jared Kushner – Sun Daily
Mexico will bestow its highest honor for foreign nationals on US President Donald Trump's son-in-law Jared Kushner for his role in saving the country's free-trade agreement with the United States and Canada.
Kushner, an influential White House adviser, will receive the Order of the Aztec Eagle for shepherding the negotiations to reach a new version of the deal, despite Trump's blistering criticism of the original North American Free Trade Agreement (Nafta).
"Mr Kushner played a fundamental role throughout the process," the Mexican foreign ministry said in a statement. "His involvement was crucial in beginning the renegotiation of Nafta, avoiding a unilateral exit by the United States, and his constant and efficient involvement was key in reaching a successful conclusion."
Trump had threatened to axe the 24-year-old Nafta, calling it the "worst trade deal ever" and a "rip-off" for American workers…
MORE
.
—————————————————————————————
.
House DemoNazis Nominate Mentally Deranged Nancy Pelosi To Be Next Speaker – CNBC
.

.
House Democrats nominated Minority Leader Nancy Pelosi to be the next House speaker on Wednesday, giving the longtime party leader a vote of confidence amid rebellion from some members of the caucus.
She still needs to win a majority in a roll call vote on the House floor on Jan. 3, when her party will take control of the chamber for the first time in eight years. Some Democrats expect to oppose Pelosi's bid for speaker after calling for new leadership.
Pelosi earned the nomination by a 203-32 margin Wednesday. The 32 votes of opposition would be enough to sink her bid on the House floor, but some of those members will likely support her in January…
MORE
.
—————————————————————————————
.
Eternal Darkness Of The Leftist Mind – Lloyd Marcus
Folks, I continue asking myself, why do leftists think so differently from the rest of us?
Oprah Winfrey said she is an "open-minded" Christian who does not believe Jesus came to die for our sins. In other words, Oprah rejects the Gospel. "For God so loved the world, that he gave his only begotten son that whosoever believes in him shall not perish, but have everlasting life." (John 3:16)
Oprah says Jesus is not the only way to heaven. As a self-proclaimed follower of Jesus, how can Oprah reject what he said? "I am the way and the truth and the life. No one comes to the Father except through me." (John 14:6) I find it amazing that Oprah believes she can rewrite God's plan for salvation to fit the agenda of herself and her leftist gurus. Oprah is free to believe whatever she wishes, but why call herself a Christian?
Celine Dion believes it is wrong to perceive babies as male or female at birth…
MORE
.
—————————————————————————————
.
Lying Leftist Assclown Al Gore To Host 24-Hour TV Special On Fake Global Warming – Washington Times
.

.
Al Gore will host a 24-hour broadcast special on climate change next month featuring an array of celebrities and musical performances by artists that include Moby and the Goo Goo Dolls.
The former vice president on Tuesday announced the eighth annual "24 Hours of Reality: Protect Our Planet, Protect Ourselves," which will be televised in more than 125 countries and streamed live online at 24HoursofReality.org, according to a news release.
The special will include performances by Moby, the Goo Goo Dolls, Sting & Shaggy, Jeff Goldblum & the Mildred Snitzer Orchestra, among others, as well as celebrity appearances by Jaden Smith, Bill Nye, Téa Leoni, Claire Danes and Cody Simpson.
"Our health depends on the health of the planet," Mr. Gore said in a statement…
MORE
.
—————————————————————————————
.
Illinois DemoNazi Says She Wanted To Pump A 'Broth Of Legionella' Bacteria Into Republican Colleague's Water Supply – Chicago Tribune
A Democratic state lawmaker said she wanted to pump a lethal "broth of Legionella" bacteria into the water system of a Republican colleague's family, during heated remarks on the Illinois House floor over a bill aimed at helping families of more than a dozen residents at the Downstate Quincy veterans home who died of Legionnaires'.
The bill would raise limits on damages in some state Court of Claims cases from $100,000 to $2 million, which could affect the victims' families, who allege the state was negligent in the deaths that resulted from outbreaks at the veterans home over the past three years.
Gov. Bruce Rauner rewrote the proposal over the summer to reduce such caps on damage awards to $300,000, but lawmakers voted Tuesday to override him.
During the House floor debate over the proposal, Republican state Rep. Peter Breen of Lombard questioned some of the plan's details, contending the state doesn't know how much it will cost…
MORE
.
—————————————————————————————
.
78-Year-Old Samuel Little Confesses To 90 Murders – KNXV
.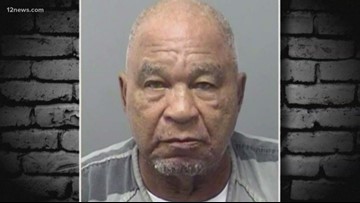 .
A 78-year-old man has confessed to 90 killings, and investigators are saying he could be one of the most prolific serial killers in U.S. history. Samuel Little is currently being held in a Texas prison. Investigators have confirmed 34 cases so far, and the FBI said in a news release Tuesday that more are pending confirmation.
The killings Little has claimed responsibility for include a black female in Cincinnati, Ohio in 1974 and a white female in Covington, Kentucky in 1984, according to the FBI.
Little said he met that second victim in Columbus, Ohio and disposed of her body somewhere in Northern Kentucky. Neither of those confessions had been corroborated by law enforcement as of Nov. 15…
MORE
.
—————————————————————————————
.
WikiLeaks Launches Legal Fund To Sue The Guardian Over 'Fabricated' Assange-Manafort Story – Breitbart
The Guardian made a series of post-publication edits to the headline and body of a story that claims former Trump campaign manager Paul Manafort met with WikiLeaks founder Julian Assange in 2013, 2015, and 2016 after the whistleblowing publisher denounced the story as fake. WikiLeaks subsequently announced a legal fund to sue the newspaper.
Shortly after attacking the Guardian's story, WikiLeaks announced on Twitter the opening of a crowdfunding campaign to cover the cost of a lawsuit against the newspaper.
"Remember this day when The Guardian permitted a serial fabricator to totally destroy the paper's reputation," said the organization's official account on Twitter. "WikiLeaks is willing to bet The Guardian a million dollars and its editor's head that Manafort never met Assange," the account continued.
They then proceeded to document numerous post-publication changes to The Guardian's story…
MORE
.
—————————————————————————————
.
NASA Lands InSight Spacecraft On Mars – Wired
.

.
After a six-month journey across hundreds of millions of miles of deep space, NASA's InSight spacecraft – a mission nearly ten years and close to $1 billion in the making – landed successfully on the surface of Mars on Monday, touching down on the planet's surface just a few minutes before 12:00 pm PT.
In the final moments of the spacecraft's descent, the mission control room at NASA's Jet Propulsion Laboratory was silent as updates on InSight's status blared over the PA system: "Altitude 300 meters… 200 meters… 80 meters… 60 meters… 50 meters… constant velocity 37 meters… 30 meters… 20 meters… 17 meters… standing by for touchdown… Touchdown confirmed! InSight is on the surface of Mars!"
Immediately, the engineers in mission control burst into applause…
MORE
.
—————————————————————————————
.
Republican Cindy Hyde-Smith Wins U.S. Senate Runoff Election In Mississippi – Breirtbart
Sen. Cindy Hyde-Smith (R-MS) defeated former Clinton administration Secretary of Agriculture Mike Espy on Tuesday in the Mississippi Senate runoff election. Politico called the race for Hyde-Smith at 10:22 p.m. eastern time.
With 75 percent of precincts reporting, Hyde-Smith leads Espy by 11 points, 55.9 percent to 44.1 percent, according to election results reported at Politico as of 10:22 p.m. eastern time.
In the earlier election, Hyde-Smith won 41 percent of the vote, Espy won 40 percent, and conservative Republican State Sen. Chris McDaniel won 16 percent.Hyde-Smith and Espy qualified for the runoff election as the top two finishers in the November 6 election, in which neither candidate received 50 percent of the vote.
Hyde-Smith was appointed to the Senate seat in April by Gov. Phil Bryant when Sen. Thad Cochran (R-MS) resigned for health reasons. On Tuesday, almost all of McDaniel's supporters cast their ballots for Hyde-Smith…
MORE
.
—————————————————————————————
.
Satan's Whore Has Uncontrollable Coughing Fit While Touring Canada With Bill Clinton – American Mirror
.

.
The Clintons kicked off their speaking tour with Hillary suffering from an uncontrollable coughing fit. While addressing a half-empty crowd at Scotiabank Arena in Toronto, Canada, on Tuesday night, the former secretary of state devolved into hacking.
During the first stop of "An Evening With The Clintons," Hillary was asked a question about Russian President Vladimir Putin allegedly interfering in the 2016 presidential election. Before she could begin her usual spill about how Russia cost her the election, Clinton was completely overtaken by an uncontrollable cough.
As Clinton couldn't shake the cough for several seconds, the moderator asked her husband, former President Bill Clinton, about climate change…
MORE
.
—————————————————————————————
.
Traitor Theresa May Backs Down Over Brexit Votes In Parliament – Bloomberg
U.K. Prime Minister Theresa May has backed down in a key Brexit battle with Parliament, ditching moves to stop lawmakers trying to re-write her plans, according to an official.
The government had intended to try to prevent the House of Commons from changing the terms of May's agreement with the European Union before politicians finally vote on it. But according to one official, speaking on condition of anonymity, May's team have now dropped this tactic in the face of protests from politicians.
That means lawmakers will be free to vote on a series of potential changes to May's motion, which could include calls for another referendum, or for a different deal with the EU. It's a decision with potentially huge implications for the future direction of Brexit.
The fact that May is backtracking already ahead of the Dec. 11 vote suggests she knows she's losing the battle with rebels in her own Conservative Party who want to tear up the agreement she's reached with the EU…
MORE
.
—————————————————————————————
.
Rock-Throwing Migrants 'Pushed Women And Children Up Front' As Human Shields, Top San Diego Border Agent Says – Daily Wire
.

.
The U.S. Border Patrol's top San Diego agent says violent migrants who stormed the U.S.-Mexico border on Sunday shoved women and children to the front of the mob to use as human shields.
"What we saw over and over yesterday was that the group – the caravan, as we call them – would push women and children to the front, and then begin, basically, rocking our agents," Chief Patrol Agent Rodney Scott said in a CNN interview.
"Several agents were actually struck by rocks," Scott said, noting that three were injured. National Border Patrol Council president Brandon Judd backed up Scott's assertion, saying male migrants used women and children as shields as they threw rocks at U.S. border agents…
MORE
.
—————————————————————————————
.
Muslim Grooming Gangs Targeted Sikh Girls For Decades, Police Frozen By 'Political Correctness' – Breitbart
Gangs of predominantly Muslim men have been grooming and raping British Sikh girls for decades, with police often ignoring signs because of political correctness, according to a bombshell report.
The study by the Sikh Mediation and Rehabilitation Team alleges that young Sikh women have been "targeted" by men of Muslim faith who subjected them to sexual abuse.
The educational charity says police "recklessly ignored" complaints, often for reasons of "political correctness," in a similar way to other grooming gang scandals involving predominantly white victims.
Following a pattern seen all across the UK, according to the report, the men would groom girls before passing them round to other members of their gang or family to abuse. Some of the abuse dates back to the 1970s.
The girls would be snared by "fashionably dressed adult Pakistani men…
MORE
.
—————————————————————————————
.
Tear Gas Used Once A Month At Border Under Obama – Washington Times
.

.
The same tear-gas agent that the Trump administration is taking heat for deploying against a border mob this weekend is actually used fairly frequently – including more than once a month during the later years of President Obama's administration, according to Homeland Security data.
U.S. Customs and Border Protection has used 2-chlorobenzylidene malononitrile, or CS, since 2010, and deployed it 26 times in fiscal 2012 and 27 times in 2013. The use dropped after that, but was still deployed three times in 2016, Mr. Obama's final full year in office.
Use of CS rose again in fiscal 2017, which was split between Mr. Obama and Mr. Trump, and reached 29 deployments in fiscal 2018, which ended two months ago…
MORE
.
—————————————————————————————
.
Previously Deported Illegal Alien, With Two Anchor Babies, Gets 25 Years For Raping Deaf Woman – Breitbart
A previously deported illegal alien – with two U.S.-born children who were given birthright citizenship – has been sentenced to 25 years in prison after raping a deaf woman.
Jose Abarca, a 43-year-old repeat illegal alien from Mexico, was sentenced by Montgomery County Circuit Court Judge Michael Mason for a rape he committed 22 years ago, according to WJLA.
In October 1996, the illegal alien broke into a Maryland home and raped a deaf woman. Before fleeing the scene, Abarca held a gun to the woman's head and signaled her to be silent. At the time of the rape, police were unable to track down a suspect as the woman only had a general description of the illegal alien and the description of his white van that had been seen near the house the day before.
Then, more than 10 years later, Abarca was arrested by the Montgomery County Police for dealing cocaine in March 2008. After serving less than 12 months in prison, Abarca was deported to Mexico…
MORE
.
—————————————————————————————
.
UK: Parents Called Racists For Questioning The Age Of A "Child Migrant" With A Mustache In Their Daughter's Class – Voice Of Europe
.

.
A migrant, claiming to be a 15-year-old pupil at Stoke High School in Ipswich, admits to another student he is 25-years-old, married with children. When the 'boy' was introduced to the school, he was presented as a teenager, born in Iran, with an amazing life story.
Forced to flee the Middle Eastern theocracy, he and his younger brother arrived in the UK, claiming asylum as 15 and 12-years-old boys. The men were informed that as 'child refugees' they should remain in full-time education and that the local authority would look after them until they are 25-years-old.
This didn't sit well with parents and other pupils after pictures of the Middle Eastern migrant was shared on social media with the caption: "How's there a 30-year-old man in our maths class?"…
MORE
.
—————————————————————————————
.
Central American Invaders Repelled With Tear Gas At Southern Border – Daily Caller
U.S. Customs and Border Protection officials closed the San Ysidro port of entry in the wake of several hundred migrants who tried to storm the border between Tijuana, Mexico and the San Diego area on Sunday afternoon.
Tear gas was fired at the oncoming migrants from the U.S. side, Fox News reports, and the migrant group – comprised of mostly men – dispersed in less than an hour.
ITV correspondent Emma Murphy posted several videos via Twitter that included migrants storming the port of entry, border patrol helicopters flying overhead, and a group shouting "yes, we can!"
Though the group storming the border were mostly comprised of men, Murphy posted video of several families with children attempting to climb a railway siding to gain entry another way.
Officials were able to clear the port of all vehicles later in the day…