.
Parasitic Leftist Judge Blocks Keystone Pipeline – Daily Wire
On Thursday, a federal judge in Montana blocked the Keystone XL oil pipeline and President Trump's permit for the Canada-to-Texas pipeline, which Trump signed within days of taking office in January 2017.
The Keystone XL is designed to transport heavy crude oil from Alberta, Canada, to Nebraska, then connect with another pipeline to travel to Illinois.
Judge Brian Morris of the District Court for the District of Montana, who was nominated to his position by former President Barack Obama, ruled that the Trump administration's reversal of Obama's denial to give the pipeline a permit lacked proper justification. Morris claimed that the State Department, which analyzed the pipeline, "simply discarded" climate change concerns related to the project.
Morris stated that the State Department did not factor in low oil prices, the cumulative impacts of greenhouse gases and the risk of oil spills when it executed its analysis…
MORE
.
—————————————————————————————
.
Paradise Lost: Devastating Wildfire Blazes Through California Town – Circa
.

.
A fast-moving wildfire that ravaged a Northern California town Thursday sent residents racing to escape on roads that turned into tunnels of fire as thick smoke darkened the daytime sky, wiping out what a Cal Fire official said was a couple of thousand structures.
"We were surrounded by fire, we were driving through fire on each side of the road," said police officer Mark Bass, who lives in the hard-hit town of Paradise and works in neighboring Chico.
He evacuated his family and then returned to the fire to help rescue several disabled residents, including a man trying to carry his bedridden wife to safety. "It was just a wall of fire on each side of us, and we could hardly see the road in front of us."…
MORE
.
—————————————————————————————
.
Rick Scott Files Lawsuits Against Lying, Cheating, Leftist Supervisors Of Elections In Broward, Palm Beach – WPLG
For some, this year's midterm elections in Florida felt like Déjà vu from 2000, when Broward and Palm Beach counties were the focus of national attention. There were vote-counting problems in those counties during the presidential recount.
Gov. Rick Scott ran against Democratic incumbent Sen. Bill Nelson for Senate, and two days after his victory speech, he was facing the possibility of a recount. The deadline to certify this year's midterm election results is Nov. 20.
During a Thursday night speech delivered in front of the governor's mansion in Tallahassee, Scott announced he and the National Republican Senatorial Committee filed lawsuits against Broward Supervisor of Elections Brenda C. Snipes and Palm Beach Supervisor of Elections Susan Bucher.
As both counties were still counting votes, Scott read a statement saying "unethical liberals" and "left-wing activists" were trying to "steal the election" by "coming up with more and more ballots out of nowhere."…
MORE
.
—————————————————————————————
.
Teacher Says She Discovered Ballot Box Left Behind At Florida Polling Site – The Hill
.

.
A Florida teacher says she discovered a locked ballot box that was left behind at a polling site in Miramar. Teacher Lakeisha Sorey told The Sun-Sentinel she came across the box on Thursday afternoon and said it was located in the same area at Sunshine Elementary School where voting had been held earlier this week.
Sorey said she was concerned the box, which was labelled "provisional ballots," might have contained uncounted ballots and decided not to meddle with it. "I didn't want to touch it," Sorey told the local paper.
Sorey said she also reportedly contacted her friend, Democratic State Rep. Shevrin Jones, who the newspaper noted was a close confidante of Tallahassee mayor and Florida gubernatorial candidate Andrew Gillum (D), seeking help about the discovery…
MORE
.
—————————————————————————————
.
More Broward County Shenanigans: U.S. Senate Gets 24,000 Fewer Votes Than Governor – Gateway Pundit
Florida is once again bracing for recounts – this time there are no 'hanging chads,' but Democrat lawyers are descending on the State to steal the election. Broward County and Palm Beach County in Florida, both Democrat strongholds are still counting ballots 43 hours after the polls closed and Senator Marco Rubio is blaming elections supervisor Brenda Snipes.
Earlier Thursday, Senator Rubio said Broward County and Palm Beach County refused to disclose how many ballots they have left to count.
Something strange is happening in Broward County, says Politico reporter Marc Caputo. The U.S. Senate candidates in Florida received 24,000 fewer votes than the Gubernatorial candidates. How is this possible? (We know the answer already)
Via the Sun-Sentinel:
Meanwhile, questions continued about why more than 24,000 people voted for governor but not for Senate in Broward…
MORE
.
—————————————————————————————
.
Florida Official Overseeing Vote Count Destroyed Ballots, Accused Of Not Removing Dead Voters From Rolls – Breitbart
.

.
The Florida official put in charge of counting votes in Broward County – the most liberal county in the state – for the gubernatorial and Senate race previously destroyed voter ballots, a judge ruled, and was most recently accused of not removing dead voters from the voter rolls.
Broward County Board of Elections Supervisor Brenda Snipes is in charge of vote counting in the area and has yet to disclose how many ballots are still not counted despite the election for governor and Senate occurring two days ago.
Currently, in the Senate race, Republican Rick Scott is leading Democrat incumbent Bill Nelson by more than 20,000 votes. Nelson is hoping for a blowout in Broward County to push him over the edge for re-election…
MORE
.
—————————————————————————————
.
Texas State Lawmaker Wins Reelection From Jail – The Hill
A state lawmaker in Texas this week was reelected to his fifth term from jail, where he is serving a yearlong sentence. State Rep. Ron Reynolds (D) received nearly 50,000 votes in his unopposed bid for reelection, according to The Dallas Morning News.
Reynolds was convicted in 2015 of five misdemeanors for using a middleman to drive business for his law firm. The lawmaker did not have to resign his seat because the charges were misdemeanors.
Reynolds's conviction reportedly stemmed from an undercover investigation in 2012 that found a chiropractic firm influenced patients to hire Reynolds after they were hurt in accidents.
Those charges were later dropped because investigators were accused of stealing evidence in an unrelated case. But a year later, Reynolds was arrested and found guilty of being involved in a $25 million kickback scheme involving the owner of a pair of chiropractic clinics…
MORE
.
—————————————————————————————
.
Left-Wing Terrorists Surround Tucker Carlson's Home: 'You Are Not Safe' – Daily Wire
.

.
On Wednesday night, a leftist mob showed up at Fox News host Tucker Carlson's Washington, D.C. home while he was on-air taping his show, "Tucker Carlson Tonight." In the video posted to social media by leftist group "Smash Racism DC," the angry mob outside Carlson's home chanted that they will "fight" him and demanded he leave town. Carlson has a wife and four children.
"Activists ring doorbell, hold protest at the Washington DC area home of [Tucker Carlson], racist, sexist, bigoted FOX News personality. So far no one has opened the door," says a caption to one of the videos. "Tucker Carlson, we will fight! We know where you sleep at night!"
"We are outside your home to protest against your fascism and racism," the mob can be heard saying in the video…
MORE
.
—————————————————————————————
.
Hollywood Producer Booed Off Stage For Slamming Trump During Israel Film Festival – American Mirror
Hollywood producer Jason Blum decided to vent his frustrations about President Trump at the Israel Film Festival in Los Angeles on Tuesday, and the audience returned the favor by booing him off stage.
Blum was accepting an award when his speech devolved into a lecture about the direction of the country that took direct aim at the president. The crowd didn't take kindly to the remarks, and weren't shy about expressing its disapproval.
"The great thing about this country is you can like Trump, but I don't have to… I don't like him," Bloom said. "You can boo all you want, that's the great thing about America.
"As you can see from this auditorium we have seen the end of civil discourse," he said. "We have a president who calls the press the enemy of the people. Thanks to our president, anti-Semitism is on the rise in the United States."…
MORE
.
—————————————————————————————
.
Supreme Court Justice Ruth Bader Ginsburg Fractures 3 Ribs In Fall – Fox News
.

.
Supreme Court Justice Ruth Bader Ginsburg was hospitalized Thursday after fracturing three ribs on her left side in a fall at her office a day earlier, the court said in a news release.
Ginsburg, 85, initially went home after the accident, which occurred in her Supreme Court office. But she later reported experiencing some discomfort, and was admitted to George Washington University Hospital "for observation and treatment."
Ginsburg has survived a series of health scares. She broke two ribs in a fall in 2012, has had two prior bouts with cancer and had a stent implanted to open a blocked artery in 2014. Despite the issues, Ginsburg has yet to miss a single day of oral arguments during her tenure, The Washington Post reported…
MORE
.
—————————————————————————————
.
Socialist Hellhole Update: Venezuela's Annual Inflation Hit 833,997 Percent In October – Reuters
Venezuela's consumer prices rose 833,997 percent in the twelve months through October, according to a report by the opposition-controlled Congress published on Wednesday, the latest sign that policy changes in August failed to halt rampant hyperinflation.
Monthly inflation decelerated to 148 percent from 233 percent in September, the data showed, but left the OPEC nation on track to reach the 1 million percent inflation in 2018 expected by the International Monetary Fund (IMF) after five straight years of recession.
"The figure is still scandalously high," said opposition lawmaker Angel Alvarado. The legislature has become the only source for economic indicators after the central bank stopped publishing such information nearly three years ago as the economy unraveled amid a collapse in crude oil prices.
Socialist President Nicolas Maduro in August slashed five zeroes off the ailing bolivar currency and boosted the minimum wage thirty-fold in an effort to stabilize inflation…
MORE
.
—————————————————————————————
.
Dubai Police Begin Training On Flying Motorcycles – Daily Mail
.

.
Dubai police officers have begun training on flying motorbikes with four propellers to help them fight crime from the skies. Police believe the S3 2019 hoverbike, designed by a California tech firm, will help them reach hard-to-access areas when they respond to emergencies.
Footage shows one officer wearing a motorcycle helmet taking off from a football pitch in a flying lesson in front of Dubai's skyline. The hoverbikes will be in action by 2020 with two crews already learning how to pilot them, CNN reported.
'Currently we have two crews already training and we're increasing the number,' said Khalid Nasser Alrazooqi of Dubai Police…
MORE
.
—————————————————————————————
.
White House Suspends Jim Acosta's Press Pass After Combative Briefing – Breitbart
The White House on Wednesday evening suspended CNN reporter Jim Acosta's White House press room pass after a combative exchange with President Trump in which he refused to give up the microphone and wrangled with a female intern trying to take it back.
"President Trump believes in a free press and expects and welcomes tough questions of him and his Administration. We will, however, never tolerate a reporter placing his hands on a young woman just trying to do her job as a White House intern," White House Press Secretary Sarah Sanders said in a statement.
"This conduct is absolutely unacceptable. It is also completely disrespectful to the reporter's colleagues not to allow them an opportunity to ask a question."
She continued:
President Trump has given the press more access than any President in history. Contrary to CNN's assertions, there is no greater demonstration of the President's support for a free press than the event he held today…
MORE
.
—————————————————————————————
.
Abbott To Probe Bragging Poll Workers' Election Day Admissions: 'Tons Of Non-Citizens' Illegally Voting In Texas – BizPac Review
.

.
Texas Governor Greg Abbott promised an investigation after an undercover Project Veritas video showed election officials admitting "tons" of non-citizens were voting in Texas. The Project Veritas video caught the attention of the Republican governor who vowed to get to the bottom of what appeared to be election officials encouraging non-citizens to vote.
In the video released Tuesday, a Project Veritas undercover journalist asked a Texas poll worker identified as Deborah Brooks if her "DREAMer" boyfriend could vote since he is registered to vote and has a driver's license.
"If he has his ID that's all he needs. If he's registered," Brooks responded.
"Right. It doesn't matter that he's not a citizen?" the undercover journalist asked…
MORE
.
—————————————————————————————
.
Pro-Life Win In West Virginia – Washington Free Beacon
Abortion supporters suffered a major setback in West Virginia after voters amended the state constitution. On Tuesday 52 percent of the state's voters approved Amendment 1, which overturned a 1993 court ruling that allowed taxpayer-funded abortions.
The ballot measure specifically said that the West Virginia constitution does not include the right to kill a baby in the womb, opening the door for restrictions on the practice, as well as prohibition if the Supreme Court overturns Roe v. Wade. Pro-lifers celebrated the result.
"West Virginians value life and reject abortion on demand," said Marjorie Dannenfelser, president of the pro-life Susan B. Anthony List. "Over the years, West Virginia taxpayers have been forced to fund the destruction of more than 35,000 innocent unborn children – including late-term abortions – at a cost of nearly $10 million. This outrageous abuse ends now."
SBA List was one of the biggest backers of the amendment. Its volunteers visited more than 110,000 voters to support the measure…
MORE
.
—————————————————————————————
.
Waste Of Space Jeff Sessions Resigns As Attorney General At The "Request" Of President Trump – Fox News
.

.
Jeff Sessions, once one of President Trump's most loyal and trusted advisers before infuriating Trump over his recusal from the Russia investigation, has resigned as attorney general at the request of the president. "At your request, I am submitting my resignation," Sessions wrote in a Wednesday letter to Trump.
The president tweeted that Matthew Whitaker, chief of staff to Sessions, will become the acting attorney general. Whitaker, according to sources, is now overseeing everything at the Justice Department, including the Russia investigation – despite calls from Democrats to recuse himself.
"We are pleased to announce that Matthew G. Whitaker, Chief of Staff to Attorney General Jeff Sessions at the Department of Justice, will become our new Acting Attorney General…
MORE
.
—————————————————————————————
.
Our New Muslim Representatives – Robert Spencer
As expected, two Muslim women, Rashida Tlaib in Michigan and Ilhan Omar in Minnesota, have been overwhelmingly elected to Congress. The establishment media will celebrate these victories as triumphs of America's "diversity"; unfortunately, in reality neither one is worth celebrating.
Tlaib is a vociferous foe of Israel. With the Democrats now regaining control of the House, Tlaib is likely to be an energetic proponent of the new majority's vendetta against the Middle East's only democracy.
The House is likely to do all it can to roll back President Trump's pro-Israel polices, with Tlaib as well as Omar as becoming the public faces of the effort.
According to the JTA, when Tlaib was asked if she would vote against military aid to Israel, Tlaib responded: "Absolutely, if it has something to do with inequality and not access to people having justice. For me, U.S. aid should be leverage. I will be using my position in Congress so that no country, not one, should be able to get aid from the U.S. when they still promote that kind of injustice."…
MORE
.
—————————————————————————————
.
President Trump To CNN's Jim Acosta: "You Are A Rude, Terrible Person" – The Hill
.

.
President Trump on Wednesday sparred with reporter Jim Acosta in a press conference, at one point calling him a "rude, terrible person" and telling him CNN should be "ashamed" of employing him.
The heated exchange began after Acosta questioned Trump over his characterization of the migrant caravan heading toward the southern U.S. border. As Acosta pressed Trump on his past comments regarding the caravan, the president appeared to grow increasingly angry.
"CNN should be ashamed of themselves, having you working for them," Trump said after Acosta gave up the mic. "You are a rude, terrible person." He then said Acosta shouldn't be working for the network…
MORE
.
—————————————————————————————
.
Psychopathic Fucktards Win Slight Majority In U.S. House Of Representatives; Normal People Retain Control Of Senate – Zero Hedge
Despite record voter turnout and a staggering $5 billion political spend between both parties, Democrats' hoped-for 'blue wave' failed to materialize on Tuesday. Instead, the reality was closer to a purple wash.
Democrats won a slight majority in the House – they were up 26 seats at last count, three more than the 23 needed to flip control, with more races expected to be called in their favor on Wednesday – but Republicans picked up seats in the Senate, solidifying what had been a razor-thin majority.
Almost all of those seats were won by staunch conservatives who are expected to back the Trump agenda. Meanwhile, it's unlikely that the Democrats will come anywhere close to the 40 seats they would have needed to signify a "tsunami-like" victory.
However, at least one Democratic narrative was validated as 18 of the 29 Republican districts that flipped to the Democrats were won by women, cementing the 'year of the woman' narrative…
MORE
.
—————————————————————————————
.
Michigan Becomes 10th State To Legalize Recreational Marijuana – Reason
.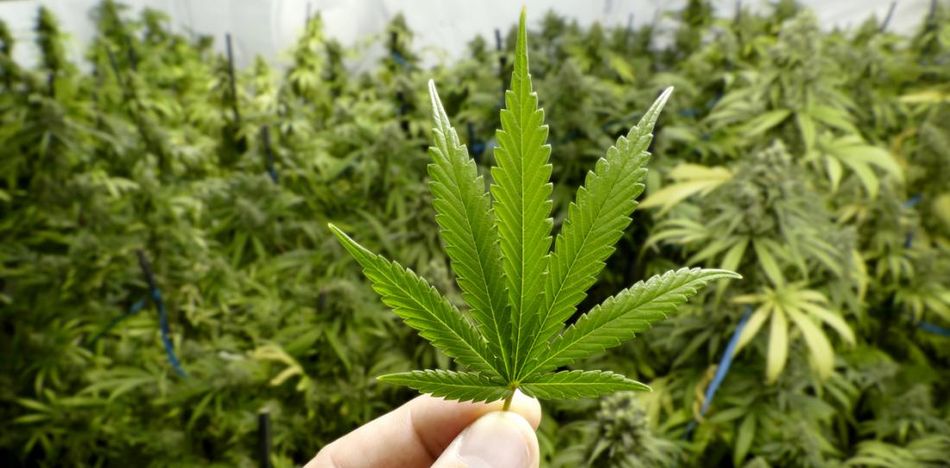 .
Michigan just became the 10th state, and the first in the Midwest, to legalize the recreational use of marijuana. On Tuesday, the state's Marijuana Legalization Initiative, a.k.a. Proposal 1, was favored by 57 percent of voters with two-thirds of precincts reporting.
Proposal 1 allows adults 21 or older to possess 2.5 ounces or less of marijuana in public, transfer that amount to other adults "without remuneration," possess up to 10 ounces at home, and grow up to 12 plants for personal consumption.
The initiative charges the Michigan Department of Licensing and Regulatory Affairs with creating a licensing system for commercial production and distribution, subject to a 10 percent tax on retail sales…
MORE
.
—————————————————————————————
.
Socialist Douchebag Andrew Gillum Concedes Florida Governor's Race To Republican Ron DeSantis – The Hill
Democrat Andrew Gillum has conceded the race for Florida governor to Republican Ron DeSantis, marking a major win for the GOP in their bid to hold on to the top job in the nation's largest swing state.
"Earlier this evening, I called Mr. Ron DeSantis and congratulated him on what we expect will be him as the next governor of the great state of Florida," Gillum told supporters Tuesday night. "I want you to know that in spite of our congratulating him on his victory this evening, nothing we believe in has been compromised."
DeSantis's apparent victory is a key accomplishment for Republicans, who feared that an energetic Democratic base and dissatisfaction with President Trump among moderate voters could cost them the governorship in the country's third-most-populous state.
The win is also likely to be seen as a bellwether for Trump's support in the nation's largest swing state ahead of his 2020 reelection bid…