.
Satan-Worshiping Pre-Teen Girls Planned To Kill Classmates, Eat Their Flesh And Drink Their Blood – Daily Wire
Florida law enforcement officials said on Wednesday that they foiled a plot by two Satan-worshipping middle school girls this week who planned to kill over a dozen smaller children, eat their flesh, and then drink their blood.
The 6th and 7th-grade girls, ages 11 and 12 respectively, were arrested at Bartow Middle School on Tuesday after they brought weapons to the school and admitted to plotting the attack. ABC Action News reports:
When asked about motivation, the girls reportedly told police that they were Satan worshipers. According to police, the girls planned to drink their victims' blood out of the goblet they were found with. They also discussed eating their victims' flesh and leaving body parts at the school's entrance before killing themselves.
"They noted that they wanted to kill at least 15 people and were waiting in the bathroom to find smaller kids that they could overpower to be their victims," Bartow Police Chief Joe Hall said…
MORE
.
—————————————————————————————
.
Fake Pipe Bomb Hoax Reveals Last-Ditch Desperation Of Self-Victimizing Democrats – Mike Adams
.

.
The "fake pipe bomb" events we all witnessed today are nothing more than Democrats mailing fake pipe bombs to other Democrats.
This is their last, desperate ploy to try to control the outcome of a mid-term election they're terrified of losing. And with that loss will come the implosion of the Democrat party, the mass arrests of thousands of deep state traitors, and the exposing of the left-wing media as a lying, anti-American "journo-terrorism" operation that despises truth and democracy.
The fake pipe bombs sent to the addresses of Barack Obama, Hillary Clinton, CNN and others are pathetic propaganda attempts based on "bombs" that look like nothing more than road flares duct taped to kitchen timers. They aren't even good fakes…
MORE
.
—————————————————————————————
.
Former Democrat Party Leader Paid Women In Alleged Tarrant Courty, Texas Voter Fraud Ring – Fort Worth Star-Telegram
A Fort Worth woman recently indicted on voter fraud charges paid others involved in the scheme with funds provided by a former Tarrant County Democratic Party leader, court documents filed this week say.
After learning about a state investigation, Leticia Sanchez – one of four women arrested and indicted on voter fraud charges – allegedly directed her daughter to send a text message to others in the scheme, urging them not to cooperate with investigators, state officials say.
The allegations are made in the state's notice of intent to introduce evidence in Sanchez's criminal case, where state officials say she was among those who collaborated to vote for certain down-ballot candidates with a number of north side residents' mail-in ballots.
The notice, filed Tuesday, states that Sanchez engaged in organized criminal activity in collaboration with her three co-defendants; Stuart Clegg, a former executive director for the Tarrant County Democratic Party; and others…
MORE
.
—————————————————————————————
.
Democrat Candidate For West Virginia House Of Delegates Was Pagan Witchcraft Cult Leader – Daily Caller
.

.
A Democratic candidate for the West Virginia House of Delegates was an active leader in pagan witchcraft, The Daily Caller News Foundation has learned.
Lissa Lucas rose through the ranks of a Wiccan cult to its third level – the highest stage for most Wiccan cults – and instructed lower-level Wiccans in occult practices, TheDCNF's investigation found.
Lucas's campaign has raised more than five times as much money as her Republican opponent, thanks in part to national media attention that has left out Lucas's witchcraft.
She authored two books on casting pagan spells, writing under the name Llysse Smith Wylle…
MORE
.
—————————————————————————————
.
Crazy Democrat Claire McCaskill To Voters: 'I'm Not One Of Those Crazy Democrats' – Daily Wire
Missouri Sen. Claire McCaskill is on the ropes, losing narrowly in recent polls to Republican Josh Hawley, the state's current Attorney General, and she's making an intriguing closing argument to voters: she's a "normal" Democrat.
In a radio ad that began airing Monday, McCaskill instructs voters to judge her on her record, and not on which party she belongs to, adding that she's not "one of those crazy Democrats," though she doesn't list the "crazy" Democrats by name (even though we're all wondering).
CNN reports that McCaskill's push is part of a wider overture on the part of her campaign, trying to convince voters that they shouldn't punish the longtime-senator for the sins of her colleagues. The campaign is also admitting that McCaskill might not be the most likable choice for Missouri's Senate seat, but that's she's, at least, proven she can be an effective legislator.
"In a new television ad released Tuesday by McCaskill's campaign, featuring veterans who support McCaskill, one man says of the incumbent senator, 'you don't have to like her,'…
MORE
.
—————————————————————————————
.
DHS Confirms Trump Assertion That Gangbangers And Other Criminals Have Infiltrated Migrant Caravan – Washington Examiner
.

.
The Department of Homeland Security on Tuesday defended claims by President Trump and Vice President Mike Pence that violent criminals are a component of the Honduran caravan making its way through Mexico toward the U.S., after reporters at the White House questioned how they know that.
"@DHSgov can confirm that there are individuals within the caravan who are gang members or have significant criminal histories," DHS spokesman Tyler Houlton wrote in a series of tweets Tuesday evening.
"Citizens of countries outside Central America, including countries in the Middle East, Africa, South Asia, and elsewhere are currently traveling through Mexico toward the U.S.," he said…
MORE
.
—————————————————————————————
.
7th Child Dies In 'Severe' Adenovirus Outbreak At New Jersey Facility – WPIX
A seventh child has died from the "severe" adenovirus outbreak at a New Jersey facility, the state's Department of Health confirmed.
The department confirmed 18 cases of adenovirus among pediatric residents at the Wanaque Center for Nursing and Rehabilitation in Passaic County. Among the 18 children sickened, seven have died, the Health Department said. Eleven other children remain sick.
The Health Department confirmed on Wednesday that another child passed away Tuesday night during the adenovirus outbreak.
"The New Jersey Department of Health learned last night that unfortunately another child who was hospitalized due to adenovirus passed away yesterday. The young child's death was the seventh death associated with the outbreak at the Wanaque Center for Nursing and Rehabilitation. The child's death is among 18 confirmed cases of adenovirus among medically fragile children at the facility…
MORE
.
—————————————————————————————
.
Britain: Blackpool Police Hunt David Schwimmer Look-Alike – BBC
.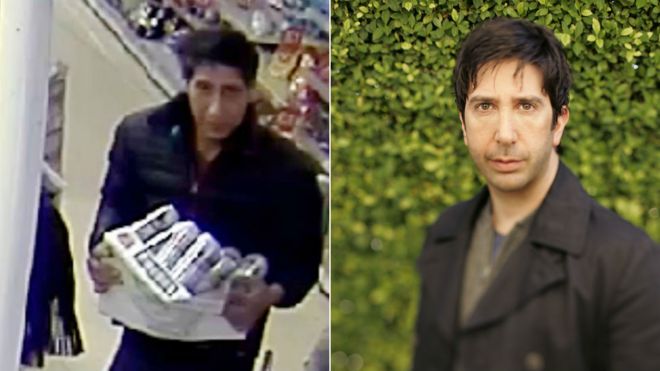 .
A UK police force's image of a Ross Geller "lookalike" has drawn thousands of comedy responses. Officers shared the CCTV still of the man, dubbed the "spitting image" of Friends actor David Schwimmer, clutching a crate of beer.
Within minutes, fans of the 90s sitcom had bombarded Blackpool Police's Facebook post with jokes inspired by show. Police later said Schwimmer was not in the UK at the time of the offence.
"Thank you to everyone for your speedy responses. We have investigated this matter thoroughly and have confirmed that David Schwimmer was in America on this date," they wrote. "We're so sorry it has to be this way."…
MORE
.
—————————————————————————————
.
Second Migrant Horde Heading North From Honduras – Daily Mail
A second migrant caravan is heading for the American border having formed in the wake of an initial group, which has already crossed Guatemala and entered Mexico. The second caravan is made up of 1,000 people and crossed the border from Honduras into Guatemala on Sunday, before arriving in the town of Chiquimula on Monday night.
They are following in the path of a much-larger group, believed to number around 7,000, which was sheltering in the town of Huixtla, in southern Mexcio, overnight on Monday. It is not clear exactly when or where the second group started their march, though it is believed to be somewhere near San Pedro Sula, where the first started.
Pictures from the second group show mostly young men being confronted by police as they walked into Chiquimula on Monday night. The group, some of whom were accompanied by young children, waved Honduran flags as they marched.
Guatemalan armed forces also arrived to keep an eye on the migrants as they passed through on their way to America…
MORE
.
—————————————————————————————
.
Parents Outraged After Drag Queen Named "Jessica L'Whor" Speaks At Middle School For Career Day – Gateway Pundit
.

.
Parents were outraged after they learned a drag queen named "Jessica L'Whor" spoke to their children as part of career day at Rocky Top Middle School in Colorado. The school district apologized to parents for not notifying them that a drag queen would be speaking to their children – some as young as 11 years old.
Why would the principal allow a man with a profane stage name who wears make-up, a dress and high heels to speak to children for career day? L'Whor opted to read a book to the students about 'bullying.'
CBS Denver reported:
Students at Rocky Top range from 6th to 8th grade. The drag queen, identified as a woman who goes by "Jessica L'Whor," is a relative of one student…
MORE
.
—————————————————————————————
.
253 Theaters Drop 'Gosnell' Amid Media Blackout To Defend 'Sacrament' Of Abortion – PJ Media
After less than two weeks at the box office, "Gosnell: The Trial of America's Biggest Serial Killer" has racked up around $2.5 million, an impressive haul considering that more than 200 theaters have dropped the movie since its release on October 12.
The mainstream media has largely ignored the film, Facebook has refused to run its ads, and it seems a large group of people want to pretend the movie does not even exist.
"This movie really exposes something that the Left does not want to report about," Nick Searcy, the film's director, told PJ Media in an interview Tuesday. "They're basically trying to ignore this movie. They're trying to say that it doesn't exist because they don't want to have a discussion about abortion."
Searcy argued that abortion is tantamount to a "sacrament" on the Left, so any story that paints it in a bad light must be silenced. "Gosnell" tells the story of Kermit Gosnell, an abortionist in Philadelphia who was sentenced to life in prison for first degree murder of three babies he killed after birth and involuntary manslaughter of one of his patients…
MORE
.
—————————————————————————————
.
Handcuffed Woman Steals Police Car – Circa
.

.
The Tulsa Police Department has released dash and body camera video that shows 36-year-old Angie Frost stealing a police cruiser. In March, law enforcement officers pulled her over for allegedly driving a stolen vehicle. She was taken into custody and an officer put her in the front seat of his police cruiser.
Frost managed to move her handcuffs to the front and move to the driver's seat. She then locked the doors and drove off in the cruiser, according to police. A different officer nearby spotted her turning into the parking lot of a hotel and followed her. She then got out of the car and ran away, according to police.
Police say she'll face complaints of possession of a stolen vehicle, larceny of a vehicle, and resisting…
MORE
.
—————————————————————————————
.
Brothers Face $450,000 In Penalties For Removing Trees From Their Own Property – MLive
Brothers Gary and Matt Percy could face nearly half a million dollars in penalties for removing more than 1,400 trees from their property without permission from Canton Township.
The two own a 16-acre property off of Yost Road, east of Belleville Road in Canton Township with the intention of creating a Christmas tree farm on the plot, according to their attorney, Michael J. Pattwell.
The land was filled with "invasive plants like phragmites, buckthorn and autumn olive," he said. But the township requires land owners to gain permission and promise new tree plantings before cutting down existing forestry, especially for landmark or historic trees.
The township had an arborist compare the parcel to an adjacent property with the similar forestry to estimate how many trees were removed. Township attorney Kristin Kolb said "it was all part of a forest."
"They identified certain plots," Kolb said…
MORE
.
—————————————————————————————
.
Tom Fitton Calls On Trump To Launch Criminal Investigation Of Migrant Caravan Organizers And Financers In U.S. – Gateway Pundit
.

.
Who is financing the massive caravan of illegal invaders marching their way to the United States? President of Judicial Watch Tom Fitton said Tuesday his team's reporting from Guatemala indicates Americans are likely involved.
Fitton called on the President to launch a criminal investigation into who is financing and organizing the caravan of mostly military-aged males.
The fake news media claims impoverished women and children are walking thousands of miles from Honduras to the United States in search of a better life. The reality is the majority of the 'caravan' is military-aged virile males; the women and children are being used as media props and human shields…
MORE
.
—————————————————————————————
.
West Germany: 42 Percent Of Young Children Are From Migrant Backgrounds – Your News Wire
The population of Germany is rapidly transforming, with the number of native Germans decreasing as migrants take over the country. According to new data by the German Federal Statistical Office, up to 42 of children under the age of six in western Germany now come from a migration background.
Breitbart.com reports: In 2017, 249,000 German citizens left the country to move abroad, while 167,000 moved back from overseas, leading to a net drain of 82,000 Germans leaving the country – a trend that has been ongoing since 2005.
Falling birthrates have also led to a decline among the native German population. As well as losing around 217,000 citizens due to emigration over the past two years, 500,000 more Germans died than were born over the same period. The result is a loss of 700,000 Germans in total, over only two years.
Combined with the pro-mass migration policies of German Chancellor Angela Merkel, the figures point to a dramatic demographic shift…
MORE
.
—————————————————————————————
.
China Opens Longest Sea Bridge, Linking Hong Kong To Mainland – CBC
.

.
China on Tuesday opened the world's longest sea-crossing bridge linking Hong Kong to the mainland, a feat of engineering carrying immense economic and political significance.
Chinese President Xi Jinping presided over a ceremony in Zhuhai to open the 55-kilometre Hong Kong-Zhuhai-Macau Bridge, which links the city to the semi-autonomous regions of Hong Kong and Macau. Digital fireworks exploded on a screen behind him as leaders of the three cities watched.
The $20-billion (U.S.) bridge took almost a decade to build while incurring major delays and cost overruns. It includes an undersea tunnel allowing ships to pass through the Pearl River delta, the heart of China's crucial manufacturing sector…
MORE
.
—————————————————————————————
.
Winning: U.S. Supreme Court Strikes Down Activist New York Court In Census Citizenship Ruling – Conservative Treehouse
The most recent reviews of media presentations for this story (The Hill and CNN) reflect MSM disappointment that SCOTUS has ruled in favor of the administration.
The U.S. Commerce Department is adding a citizenship question to the 2020 census. An activist judge in the Southern District of New York (SDNY) -framing a challenge based on the question being discriminatory- ruled that Commerce Secretary Wilbur Ross must submit to a deposition to discover "the motives" of the decision.
An appellate circuit panel initially agreed with the lower court and ACLU lawyers. However, U.S. Solicitor General Noel Francisco asked the Supreme Court to stay the circuit court ruling. SCOTUS agreed with the administration and blocked the ridiculous activist lawyers from questioning the cabinet; the supreme court does allow the plaintiffs to question the DOJ civil rights division lawyer.
(CNN) The Supreme Court blocked a deposition of Commerce Secretary Wilbur Ross on Monday in a case challenging the decision to reinstate a citizenship question on the 2020 census…
MORE
.
—————————————————————————————
.
Left-Wing Terrorists Vandalize House Majority Leader McCarthy's Bakersfield Office With Huge Rock, Steal Office Supplies – Townhall
.

.
House Majority Leader Kevin McCarthy's (R-CA) Bakersfield office was attacked Monday night when two suspects threw a massive rock through the window and burglarized office equipment.
McCarthy posted photos of the incident from a security camera on his Instagram account, asking if anyone could identify the suspects.
"Does anyone know these two guys?" he wrote. "They threw a boulder thru our office window and took office equipment."
The attack on McCarthy's office is the latest in a slew of incidents predominantly targeting Republicans…
MORE
.
—————————————————————————————
.
Republicans Beating Democrats In Early Voting In Key States – Breitbart
Republican voters are outpacing Democrat voters in key states such as Arizona, Florida, Indiana, Montana, Tennessee, and Texas, according to NBC News. All six of those states will be key to which political party controls the Senate. As of now, Republicans hold the slimmest majority of just 51 seats.
According to the Real Clear Politics poll of polls, Republicans currently enjoy comfortable leads in three of those states: Tennessee (+6.5), North Dakota (+10.6), and Texas (+7.0). But only North Dakota would be a Republican pickup from an incumbent Democrat.
In the remaining three states – Indiana, Florida, and Montana – the incumbent Democrats all enjoy two to three point leads.
But as we saw during the 2016 presidential election, the polls might be missing something – like an unexpected surge of Republican enthusiasm, which would be picked up in early voting statistics such as these…
MORE
.
—————————————————————————————
.
Minnesota Senate Debate Is Literally One-Sided When Only The Republican Shows Up – Daily Caller
.

.
A scheduled debate between Minnesota U.S. Senate candidates turned into a one-sided affair on Sunday as Senator Tina Smith declined her invitation, citing scheduling conflicts.
On Sunday morning, Minnesota's KSTP announced via its website a "three-hour long, commercial free debate on Sunday" that would air statewide and give "candidates in the gubernatorial, attorney general and United States Senate races the chance to talk about campaign issues that will impact Minnesotans."
Later, the Eyewitness 5 website announced that Senator Tina Smith, who was appointed to fill the seat vacated by former Senator Al Franken, had "declined" the news channel's invitation to debate…
MORE
.
—————————————————————————————
.
China, Russia, North Korea, And Iran Set For Electronic Pulse Attacks On U.S. – Washington Free Beacon
China, Russia, North Korea, and Iran are preparing nuclear electronic pulse attacks from space in a future conflict to cripple the U.S. military and plunge the United States into darkness, according to a declassified study.
"The United States critical national infrastructure faces a present and continuing existential threat from combined-arms warfare, including cyber and manmade electromagnetic pulse (EMP) attack, and natural EMP from a solar superstorm," says a recently published report from the congressional Commission to Assess the Threat to the United States from Electromagnetic Pulse (EMP) Attack."
Once largely a concern of a Cold War surprise attack from Russia to shut down American nuclear forces communications, the spread of nuclear weapons has increased the danger of disruptive EMP attack from a nuclear burst in the upper atmosphere.
"Within the last decade, newly nuclear-armed adversaries, including North Korea, have been developing the ability and threatening to carry out an EMP attack against the U.S.," the report said…