.
Deep State Update: FBI Leaker Sentenced To 4 Years In Prison For Giving Classified Documents To Press – Law & Crime
Terry Albury, the former Minnesota FBI counterterrorism agent who leaked classified documents to the press, was sentenced to 48 months in prison on Thursday. This comes roughly six months after Albury pleaded guilty to one count of making an unauthorized disclosure of national defense information and one count of unlawful retention of national defense information.
"Terry Albury betrayed the trust bestowed upon him by the United States," said U.S. Attorney Tracy Doherty-McCormick said in a statement when Albury first agreed to plead guilty.
Albury faced a maximum of ten years behind bars per count going into his sentencing hearing.
A statement from his attorneys when the plea was announced explained that Albury was willing to accept responsibility for his actions, but felt the need to leak information in order to serve as a whistleblower against what he felt was the FBI's racist treatment of minorities…
MORE
.
—————————————————————————————
.
You Can Now Rent A Sex Doll Replica Of Your Loved One After They Die – Circa
.

.
A sex doll rental company in the United Kingdom is offering dolls that resemble loved ones who pass away. The goal is to provide comfort by matching the doll to the person's likeness.
"We have a lot of people approach us who have dolls made that resemble a partner they have lost," Jade Stanley, the business owner told The Sun. "It can be very beneficial for them and helps them keep a piece of their loved one, it provides them with comfort and people don't always buy the dolls for a sordid reason."
Stanley started her service after reading about it in the newspaper. She also currently owns a chain of tanning salons.
"I'd seen a lot of press about the dolls and started doing my own research," Stanley said…
MORE
.
—————————————————————————————
.
Muslim Rape Gang Of 20 Men Whose Trial Led To Tommy Robinson's Arrest Are Jailed For More Than 220 Years For Sexually Assaulting White Girls As Young As 11 – Daily Mail
A gang who sexually abused vulnerable girls as young as eleven in Huddersfield have been jailed for a combined total of over 200 years in the latest Asian sex ring to be brought before the courts.
The gang carried out the 'cynical' exploitation of the girls – aged between just 11 and 17 – often included plying them with alcohol and drugging them before carrying out horrific sexual assaults.
The court heard evidence from 15 victims during the trials and the judge said he fears none of them will ever recover from their ordeals. The pattern of exploitation of mainly white girls by groups of men of mainly Pakistani heritage mirrors what has happened in a number of other towns including Rotherham, Rochdale and Telford.
The Leeds trials attracted protests by right wing groups and EDL founder Tommy Robinson, who was jailed for contempt for endangering one of the cases with social media posts. He has since been freed but faces another hearing…
MORE
.
—————————————————————————————
.
Texas Democrats Ask Noncitizens To Register To Vote, Send Out Applications With Citizenship Box Pre-Checked – Washington Times
.

.
The Texas Democratic Party asked non-citizens to register to vote, sending out applications to immigrants with the citizenship box already checked "Yes," according to new complaints filed Thursday asking prosecutors to see what laws may have been broken.
The Public Interest Legal Foundation alerted district attorneys and the federal Justice Department to the pre-checked applications, and also included a signed affidavit from a man who said some of his relatives, who aren't citizens, received the mailing.
"This is how the Texas Democratic Party is inviting foreign influence in an election in a federal election cycle," said Logan Churchwell, spokesman for the PILF, a group that's made its mark policing states' voter registration practices…
MORE
.
—————————————————————————————
.
Illegal Alien Accused Of Raping 72-Year-Old Handicapped Woman At Bus Stop – Breitbart
An illegal alien has been accused of raping a 72-year-old handicapped woman at a bus stop in Springfield, Missouri.
Patricio Romero-Enriquez, an illegal alien with a Mexican passport, was arrested and charged with raping the elderly, mentally handicapped woman at a bus stop, admitting to police he did have sex with the woman but claims it was consensual, according to the Springfield News-Leader.
The 72-year-old woman, according to police, has the mental capacity of an eight-year-old child.
The illegal alien says he and the elderly woman have been friends for three years and that they communicate through sign language.
When interviewed by law enforcement officials, the woman says she has been raped by the illegal alien three times in total, saying "He doesn't understand when I shake my head."…
MORE
.
—————————————————————————————
.
ICE's Most Wanted Fugitive Captured In Louisiana – Fox News
.

.
A Mexican national and convicted child sex offender was arrested Wednesday morning at his Louisiana home by a division of the U.S. Immigration and Customs Enforcement agency, a Department of Justice press release said.
Jose Melchor Martinez, 48, was arrested in his Church Point home by an Enforcement and Removal Operations team, which is a component of ICE. He is one of ICE's most wanted fugitives, according to the release.
Martinez was convicted on a felony charge of "taking indecent liberties with a child" in North Carolina in November 2002, according to an ICE press release. After being released from criminal custody, he was deported to Mexico in 2003…
MORE
.
—————————————————————————————
.
Winning: U.S. Is Seeing 'Relentless Rise In Household Wealth,' Credit Suisse Report Says – CNBC
Household wealth in the U.S. is continuing to see an "unbroken spell of wealth gains" but China has replaced Japan in second place in the world wealth hierarchy, according to Credit Suisse's latest report on global wealth.
During the 12 months since the bank's last report to mid-2018, aggregate global wealth rose by $14 trillion to $317 trillion, representing a growth rate of approximately 4.6 percent, according to the Global Wealth Report 2018, published by Credit Suisse's Research Institute on Thursday.
This growth rate was lower than last year, but higher than the average growth rate in the post-2008 era, the report noted.
"The United States continued its unbroken spell of wealth gains since the global financial crisis, adding another $6 trillion to the stock of global wealth," Credit Suisse's annual report noted, saying that rising household wealth in the U.S. was "seemingly relentless."…
MORE
.
—————————————————————————————
.
Private Spaceflight Company Rocket Lab Chooses Wallops Island, Virginia As American Launch Site – Popular Mechanics
.

.
Rocket Lab, the New Zealand-based launch startup, just announced Wallops Island, Virginia as its choice for a site to launch rockets from the U.S. Wallops won out over finalists Vandenberg Air Force Base (California), the Pacific Spaceport Complex (Alaska), and Cape Canaveral (Florida).
The company cited the relatively quiet nature of Wallops as an appealing fact, whereas SpaceX and others are busy upping their launch schedules at some of those other sites.
It's been a down-and-then-up last five years for Wallops Island. As we wrote in this piece back in 2013, the place had a long history in launch as the oldest continuous rocket launch range in the United States, but nearly shuttered in the 1990s…
MORE
.
—————————————————————————————
.
Federal Judge Says State Department Provided False Statements To Derail Lawsuits Over Hillary Clinton's Private Server – Gateway Pundit
Conservative watchdog group Judicial Watch is still fighting to get Hillary Clinton to answer questions under oath about her private email server.
Thanks to Judicial Watch, the public became aware of Hillary Clinton's private email server. Clinton used a private email account to conduct official business while she was the head of the Department of State in order to conceal her Clinton Foundation pay-to-play and influence peddling.
On Friday, a federal judge told Judicial Watch in a court hearing that he was shocked Hillary Clinton's aide-turned-lawyer Cheryl Mills was given immunity. The federal judge also said the State Department provided false statements to derail the lawsuits over Hillary Clinton's private server.
U.S. District Court Judge Royce C. Lamberth strongly criticized the U.S. Department of State, stating, "The information that I was provided was clearly false regarding the adequacy of the [Clinton email] search…
MORE
.
—————————————————————————————
.
President Trump: If Mexico Won't Stop Migrant Caravan, I Will Use Military To Close Border – Breitbart
.

.
President Donald Trump threatened Thursday to send the military to block the migrant caravan heading for the United States border.
"I must, in the strongest of terms, ask Mexico to stop this onslaught – and if unable to do so I will call up the U.S. Military and CLOSE OUR SOUTHERN BORDER!" Trump wrote on Twitter.
The caravan of migrants that began in Honduras has grown to several thousand people after passing into Guatemala as it heads for the Mexican border. Other Hondurans are leaving the country to join it.
Trump threatened to stop all federal payments to Guatemala, Honduras, and El Salvador if the countries failed to block the flow…
MORE
.
—————————————————————————————
.
Trump Asks Cabinet Agencies To Cut 5% From Budgets – Washington Times
President Trump asked his Cabinet secretaries Wednesday to cut their budgets by 5 percent, mindful that the government reported a $117 billion increase in the federal deficit just three weeks ahead of the midterm elections.
"Get rid of the fat, get rid of the waste," Mr. Trump said at a Cabinet meeting. "I'm sure everybody at this table can do it. It'll have a huge impact. That's a very, very important request that I'm making."
He said the Defense Department, which has received a two-year rebuilding plan totaling $1.416 trillion, would be exempt.
"Now that we have our military taken care of, we have our law enforcement taken care of, we can do things that we really weren't in a position to do when I first came," the president said. "I made deals with the devil in order to get that done."…
MORE
.
—————————————————————————————
.
MAGA Update: U.S. Steel Workers Set To Get Biggest Pay Raise In Years – Reuters
.

.
United States Steel Corp (X.N) workers are set to get the biggest wage jump in at least six years under a new deal negotiated with the company, providing early signs that gains from U.S. President Donald Trump's clampdown on foreign imports are finally trickling down.
The agreement, reached on Monday, proposes a cumulative 14 percent wage increase over a four-year period, three sources familiar with details of the negotiations told Reuters on Tuesday.
Wages were frozen in the last contract, which ended on Sept. 1, as the Pittsburgh-based company was suffering losses from a slump in the domestic steel prices. The 2012-2015 agreement raised wages by an average of about 1.5 percent per year over three years, according to the workers' union…
MORE
.
—————————————————————————————
.
Trump Administration Moves To Stop Subsidizing Chinese Mail – WTKR
The Trump administration is moving to raise postage rates for foreign companies that ship packages to the United States.
Some countries, including China, currently benefit from subsidized postal rates set by the Universal Postal Union, a United Nations agency.
On Wednesday, U.S. officials will initiate a withdrawal process from the UPU, which was established in 1874 and has 192 member countries. The process to withdraw will take at least a year, and the administration intends to negotiate new rates with the group during that time.
Under the current rules, the UPU sets lower rates for developing countries. It makes it possible to mail a package from Beijing to New York for less than it costs to send it from San Francisco to New York, for example.
China, Singapore, Germany, France and some other countries benefit from the policy, said a senior White House official on a call with reporters…
MORE
.
—————————————————————————————
.
"Look At This Fucking White Guy!" Black Thug Yells Before Brutally Attacking Man In Bronx Pizzeria – New York Daily News
.

.
A bigoted attacker screamed anti-white statements at a man sitting in a Bronx pizzeria, then punched him in the face and fractured his eye socket, cops said Wednesday.
The 59-year-old victim was sitting at a table in Ray's Pizza on E. 138th St. at St. Ann's Ave. in Mott Haven Oct. 6, using his laptop, when another man stormed in and started yelling, police said.
"Look at this fucking white guy! These fucking white people think they own the world!" the man bellowed. The victim tried to leave, but the man blocked his path, then punched him in the face, hitting him hard enough to fracture his eye socket and tear his retina, cops said.
The victim, Chris Bilcik, told NBC 4 he's lived in the neighborhood for 18 years…
MORE
.
—————————————————————————————
.
Leftist Professor Calls For Harassing Republicans At Restaurants, Sticking "Fingers In Their Salads" – Washington Times
The University of Mississippi has condemned a tweet by a faculty member that called on activists to abandon civility and harass Republican senators in public.
"Don't just interrupt a Senator's meal, y'all," James Thomas, an assistant professor of sociology, tweeted from his @Insurgent_Prof account on Oct. 6, the day Justice Brett M. Kavanaugh was sworn into the Supreme Court.
"Put your whole damn fingers in their salads," he wrote. "Take their apps and distribute them to the other diners. Bring boxes and take their food home with you on the way out. They don't deserve your civility."
Without specifically naming Mr. Thomas, Ole Miss Chancellor Jeffrey Vitter issued a statement Sunday condemning a "recent social media post by a UM faculty member," Campus Reform reported…
MORE
.
—————————————————————————————
.
The Incredibly Fake End Of Elizabeth Warren – Daniel Greenfield
.

.
Elizabeth Ann Herring has been many things in her life. All of them fake.
She represented an insurance company in an asbestos case before becoming a consumer rights crusader. She was paid $350,000 to teach a single course before deciding to fight student debt. She was a Republican, then became a socialist, and then announced, "I am a capitalist to my bones."
She's also the fake minority professor who plagiarized the recipes of a French chef for the Pow Wow Chow cookbook and killed her shot at 2020 with a DNA test which claimed that she wasn't lying about her Cherokee background because she might have a 1/1,024th ancestry from somebody from Peru…
MORE
.
—————————————————————————————
.
Grandmother Charged With Murder After Baby Found Stabbed And Put In Oven – The Indep3endent
The grandmother of a 20-month-old girl has been charged with murder after the child was found stabbed and burned inside the oven of a Mississippi home. Carolyn Jones, 48, has been charged with first-degree murder in the death of Royalty Marie Floyd in the town of Shaw.
Authorities are waiting on an autopsy from the state crime lab in the city of Pearl to determine whether the child had died been burnt to death, or whether she had died from stab wounds. Police reported that the child's great-uncle found her body in a still-warm oven, according to Fox News.
Police reported that no one other than Ms Jones was in the residence when officers arrived. They arrested Jones and took her in for questioning, and subsequently charged her. Ms Jones is awaiting trial, and her bail has been set at $500,000. It is not immediately clear who is Ms Jones's legal representation.
Boliver County police chief Kelvin Williams said: "This is one of the most horrible things I've seen in doing law enforcement…
MORE
.
—————————————————————————————
.
President Trump Awards Medal Of Honor To Marine Sergeant Major John L. Canley For Heroism In Vietnam – Breitbart
.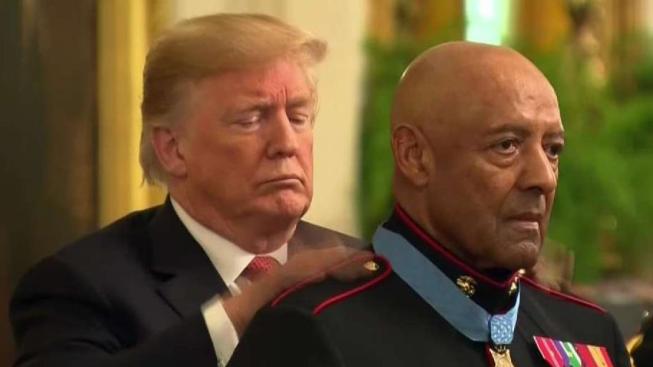 .
President Donald Trump awarded the Congressional Medal of Honor to retired Marine Sergeant Major John L. Canley on Wednesday for his heroic actions in the Vietnam War.
Dozens of marines attended the ceremony, including Commandant of the Marine Corps General Robert Neller, Marine Corps General Joseph Dunford, the Chairman of the Joint Chiefs of Staff, and former Marine General John Kelly, the president's chief of staff.
The Marines in the audience shouted with pride and applauded each of their comrades during Trump's speech highlighting Canley's heroic actions during the Tet offensive and the battle of Hue City. The president praised Canley for bravely leading the Marines under his command in multiple combat missions…
MORE
.
—————————————————————————————
.
Deep State Update: Treasury Employee Charged With Leaking Financial Information On Trump Campaign Officials – Fox News
A Treasury employee has been arrested and charged with leaking multiple reports about financial transactions relating to former Trump campaign chief Paul Manafort, campaign official Richard Gates, accused Russian agent Maria Butina and the Russian Embassy, federal law enforcement officials said Wednesday.
Natalie Mayflower Sours Edwards is accused of illegally photographing Suspicious Activity Reports (SARS) – which are sent by banks and other financial institutions to alert law enforcement to potential illegal activity – and leaking them to the press
Edwards worked as a senior adviser at the Treasury Department's Financial Crimes Enforcement Network, according to a press release by the Southern District of New York.
"In her position, Edwards was entrusted with sensitive government information. As we allege here today, Edwards violated that trust when she made several unauthorized disclosures to the media," FBI Assistant Director-in-Charge William F. Sweeney Jr. said…
MORE
.
—————————————————————————————
.
Democrat Operative For Soros-Funded Group Attacked Female GOP Campaign Manager, Report Says – Daily Wire
.

.
Law enforcement officials arrested a Democratic operative on Tuesday for attacking the female Republican campaign manager for Nevada GOP gubernatorial nominee Adam Laxalt, the second time this year that the operative has been arrested for allegedly physically attacking Republican women.
Las Vegas City Marshals arrested 50-year-old Wilfred Michael Stark III – a left-wing operative for American Bridge 21st Century, "a group founded by David Brock and funded by liberal billionaire George Soros," Fox News reported.
"He was arrested by our city marshals last night about 7 p.m. after Kristin Davison contacted them saying Mr. Stark had grabbed her by the arm and pushed her," the city marshal's office said in a statement to Fox News…
MORE
.
—————————————————————————————
.
Salvini Furious After French Confirm Their Police Dumped Migrants In Italian Town – Breitbart
Populist Italian Interior Minister Matteo Salvini had harsh words for French President Emmanuel Macron after French police confirmed they dropped off unwanted migrants in Italy, claiming it was a mistake.
Mr Salvini criticised the French after they claimed the migrants had been dropped off in the Italian town of Claviere by mistake, saying: "What happened to Claviere is an unprecedented offence against our country."
"I wonder if international organisations do not find it sick to leave people in an isolated area, without assistance and without reporting it?" Salvini added, according to Il Giornale.
The remarks came after the French authorities in Hautes-Alpes claimed the entire affair was a mistake, saying: "The Gendarmes, who had arrived only a few days ago in the Hautes-Alpes, had little knowledge of the place and entered into Italian territory in circumstances that required clarification."…