.
Magic Wand Update: Unemployment Rate Falls To Lowest Level Since 1969 – Business Insider
.

.
Initial jobless claims fell last week to a 48-year low. First-time filings for unemployment benefits totaled 210,000, the lowest level since December 1969, data from the Department of Labor showed on Thursday. It was a decrease of 10,000 from the prior week and below economists' forecast for 225,000 claims, according to Bloomberg.
The weekly-jobless-claims data offers the most real-time look into the labor market, since many people file for unemployment benefits not long after they lose their jobs. The four-week moving average of claims, which irons out some of the week-by-week volatility, fell by 5,000 to 220,500 – also the lowest since 1969.
The data shows that the jobs market remains tight, especially for highly skilled workers…
MORE
.
—————————————————————————————
.
Witness Told FBI That Ford's 'Allies' Pressured Her To Change Story, Report Says – Daily Wire
A woman that Christine Blasey Ford claimed was at the party where Supreme Court nominee Brett Kavanaugh allegedly assaulted her circa 1982 told FBI investigators that Dr. Ford's "allies" tried to pressure her to change her story about what happened.
Leland Keyser told investigators that Ford's friend, former FBI agent Monica McLean, had urged her to alter the original statement that she gave about not remembering any such party and not knowing Kavanaugh, The Wall Street Journal reported.
The Journal noted that Keyser's statement to the FBI offered "a glimpse into how Dr. Ford's allies were working behind the scenes to lobby old classmates to bolster their versions of the alleged incident."
A source close to the situation told the Journal that Dr. Ford's friends "including Ms. McLean, had contacted Ms. Keyser after her initial statement to warn her that her statement was being used by Republicans to rebut the allegation against Judge Kavanaugh."…
MORE
.
—————————————————————————————
.
302 Leftist Assclowns Arrested In Anti-Kavanaugh Protests At Senate Buildings – Washington Examiner
.

.
U.S. Capitol Police arrested and charged more than 300 protesters Thursday afternoon for unlawfully demonstrating inside Senate office buildings following the FBI's release of a report that found no corroborating evidence regarding sexual assault allegations against Supreme Court nominee Brett Kavanaugh.
Around 3:30 p.m. local time, police assigned to the Capitol grounds arrested 293 people for crowding, obstructing, or incommoding in the Hart Senate Office Building. Nearly two hours later, nine more people were taken into custody at the Dirksen Senate Office Building on the same charges.
All 100 U.S. senators have offices in either of the two buildings. The Senate is tasked with approving or denying all presidential nominations, including that of Kavanaugh…
MORE
.
—————————————————————————————
.
Judge Strikes Down Abortion 'Sanctuary City' Ordinance – Washington Free Beacon
St. Louis violated the First Amendment rights of its residents when it tried to become America's first "sanctuary city" for abortion, according to a federal court.
Judge Audrey Fleissig ruled that the city could not compel religious organizations, pro-life nonprofits, and employers to hire abortion proponents, rent property to abortion clinics, or cover abortions in health plans – a requirement brought about when Democratic mayor Lyda Krewson attempted to add "reproductive health decisions" to the city's nondiscrimination policy in 2017.
Fleissig, who was appointed by President Obama at Democratic senator Claire McCaskill's recommendation, said that ordinance violated Missouri's Religious Freedom Restoration Act and federal law. The decision stopped short of calling the rule unconstitutional but renders enforcement nearly impossible.
"The City has failed to meet its burden to prove that the Ordinance is essential to further a compelling governmental interest and is not unduly restrictive," the ruling says…
MORE
.
—————————————————————————————
.
Ted Cruz Announces $12 Million Fundraising Haul In Third Quarter – The Hill
.

.
Sen. Ted Cruz (R-Texas) said he raised $12 million in the third fundraising quarter of the year. The number is a huge spike in his fundraising as he faces a tough challenge against well-funded Rep. Beto O'Rourke (D-Texas).
Cruz made the announcement at a Wednesday night rally alongside President Trump's eldest son, Donald Trump Jr., according to The Texas Tribune. The GOP senator hasn't announced his cash-on-hand total from the end of September. Both candidates are required to file fundraising reports by Oct. 15.
The amount is Cruz's largest fundraising quarter to date, which ran from July to September. In the second fundraising quarter, he raised more than $4 million, which was his largest haul at the time…
MORE
.
—————————————————————————————
.
Rasmussen: Donald Trump Back At 50 Percent Approval – Breitbart
President Donald Trump is back at a 50 percent approval rating as the raging conflict over his Supreme Court nominee continues.
Rasmussen's daily tracking poll showed that 50 percent of likely U.S. voters approved of President Trump's job performance on Thursday.
Forty-nine percent disapproved.
Trump has not reached a 50 percent rating in the Rasmussen poll since August 2018. In May, he earned a 51 percent approval rating.
Rasmussen's daily tracking results are collected via telephone surveys of 500 likely voters per night and reported on a three-day rolling average basis and contacts likely voters with an online survey tool of randomly selected participants.
The margin of sampling error for the full sample of 1,500 Likely Voters is +/- 2.5 percentage points.
MORE
.
—————————————————————————————
.
Pro-Abortion Male Hairstylist Suddenly Roundhouse Kicks Pro-Lifer As She Peacefully Protests At Anti-Abortion Rally In Toronto – Daily Mail
.

.
This is the shocking moment a man performs a vicious roundhouse kick on a woman as she takes part in a peaceful protest against abortion. The irate stranger targeted Marie-Claire Bissonnette, 27, after she accused him of vandalising pro-life activists' signs and clothing with permanent marker pens.
Jaw-dropping footage shows the seemingly unprovoked assault at the annual Life Chain street demonstration in Toronto, Canada, on Sunday.
Miss Bissonnette took out her phone and filmed as the man became increasingly aggressive and challenged her views on abortion rights for rape victims. When she replied 'it's a baby' and abortion was 'killing', the man spun round and kicked her in the shoulder…
MORE
.
—————————————————————————————
.
U.S. Navy Planning Global Show Of Force Against China – PressTV
The United States Navy is reported to be planning a global show of force to show China that the U.S. is ready to engage it militarily.
The classified plan being drawn up by the U.S. Navy's Pacific Fleet recommends the U.S. Navy to carry out a series of operations across the world during a week in November, the CNN reported Thursday citing several unnamed military officials.
Aimed at warning the adversaries about America's ability to take on adversaries on several fronts, the "highly focused and concentrated" drills would involve warships, combat aircraft and troops, the officials said.
The plan specifically suggests sending ships and aircraft near China's territorial waters in the South China Sea and Taiwan Strait, as part of Washington insists are "freedom of navigation operations" to protect movement in the sea. This means that the U.S. military would get close to Chinese military forces…
MORE
.
—————————————————————————————
.
Politician Who Funded Anti-Trump 'Resist March' Threatened With Recall – Daily Wire
.

.
Los Angeles residents angry over proposed homeless housing sites have threatened to launch a recall effort against a city councilman who quietly funded an anti-Trump "Resist March" last year.
At a recent neighborhood meeting, constituents lashed out at L.A. Councilman David Ryu, 42, while expressing concerns that two suggested shelter locations would attract more vagrants to their community, increase crime, and lower property values.
"As soon as Councilmember Ryu got the microphone and started to talk, it all broke loose," Robin Marcelli, who resides in the Sherman Oaks neighborhood, told LAist.
The Los Angeles Daily News recently reported…
MORE
.
—————————————————————————————
.
Mitch McConnell Sets Up Final Kavanaugh Vote For Saturday – Washington Examiner
Senate Majority Leader Mitch McConnell, R-Ky., took steps Wednesday that will set up a Saturday afternoon vote to confirm Supreme Court nominee Brett Kavanaugh.
McConnell filed a motion to end debate on Kavanaugh's nomination, and that motion will get a vote on Friday. Assuming at least 50 senators agree to end debate, Kavanaugh's final confirmation vote will come Saturday.
McConnell has pledged that Kavanaugh would get an up or down vote this week. "It looks like we have to be here this weekend," Sen. Dianne Feinstein, D-Calif., the top Democrat on the Senate Judiciary Committee, told reporters Wednesday.
Four key lawmakers remain undecided, including three Republicans, two of which are needed to get Kavanaugh through.
McConnell set up the vote as lawmakers await a supplemental FBI background report on Kavanaugh…
MORE
.
—————————————————————————————
.
Chairman Grassley: 'No Hint Of Misconduct' In FBI's New Kavanaugh Report – Washington Times
.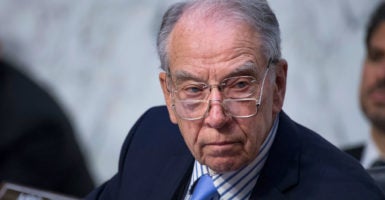 .
Senate Judiciary Committee Chairman Charles E. Grassley said Thursday the FBI's updated background report doesn't provide any new evidence to corroborate the allegations of sexual misconduct against Supreme Court nominee Brett Kavanaugh.
Mr. Grassley, the Iowa Republican in charge of shepherding Judge Kavanaugh's nomination, said there's "no hint of misconduct" after a dayslong review of allegations of sexual assault at a high school party, made by Christine Blasey Ford, or that the judge exposed himself at a college party, made by Deborah Ramirez.
"These uncorroborated accusations have been unequivocally and repeatedly rejected by Judge Kavanaugh, and neither the Judiciary Committee nor the FBI could locate any third parties who can attest to any of the allegations," he said…
MORE
.
—————————————————————————————
.
Court: CAIR Must Stand Trial For Fraud – WorldNetDaily
A consumer fraud case against one of the nation's best-known Muslim advocacy groups, the Council on American-Islamic Relations, will go to trial early next year.
A federal court in Washington, D.C., denied a motion by CAIR on Wednesday to dismiss a case brought by five Muslims who claim they were victims of a CAIR staffer who falsely claimed to be an attorney and mishandled their cases.
Citing CAIR documents showing there were hundreds of victims of the staffer, Morris Days, the lawsuit alleges CAIR knew of the fraud and conspired to hide it from the victims. Represented by the American Freedom Law Center, the plaintiffs charge breach of fiduciary duty and common law fraud along with violations of Virginia's statutory consumer fraud.
AFLC said the decade-long litigation exposes CAIR to more than a million dollars in legal fees alone. David Yerushalmi, the lead counsel, noted that in its dismissal of the motion, the court found CAIR's purported lawyer undoubtedly committed consumer fraud, common law fraud and breach of fiduciary duty…
MORE
.
—————————————————————————————
.
Former Democrat Staffer Arrested For Doxing GOP Senators – Breitbart
.

.
United States Capitol Police (USCP) arrested a suspect on Wednesday who allegedly posted private and identifying information (doxing) on Wikipedia about Republican senators last Thursday, shortly after Christine Blasey Ford's testimony before the Senate Judiciary Committee.
USCP released the following statement:
Today, the United States Capitol Police arrested the Suspect who allegedly posted private, identifying information (doxing) about one or more United States Senators to the internet.
Jackson A. COSKO, age 27, of Washington, D.C., has initially been charged with 18 USC § 119 Making Public Restricted Personal Information; 18 USC § 1512(b)(3) (Witness Tampering); 18 USC § 875(d) (Threats in Interstate Communications)…
MORE
.
—————————————————————————————
.
Explosive Report Details Chinese Infiltration Of Apple, Amazon And The CIA – Zero Hedge
One week ago, President Trump stood up at a meeting of the United Nations Security Council and accused China of attempting to tamper with US elections – mimicking some of the same allegations that had first been levied against Russia nearly two years prior.
In his speech, Trump claimed that China was working to undermine Republicans, and even the president himself, warning that "it's not just Russia, it's China and Russia."
While the media largely shrugged off this proclamation as more presidential bombast probably inspired by the burgeoning U.S.-China trade beef, the administration continued to insist that it was taking a harder line against Chinese efforts to subvert American companies to aide the Communist Party's sprawling intelligence apparatus.
As if to underline Trump's point, the FBI had arrested a Taiwanese national in Chicago the day before Trump's speech, accusing the 27-year-old suspect of trying to help China flip eight defense contractors who could have provided crucial intelligence on sensitive defense-related technology…
MORE
.
—————————————————————————————
.
DACA Recipient Arrested For Smuggling Over $34,000 Worth Of Meth – Daily Caller
.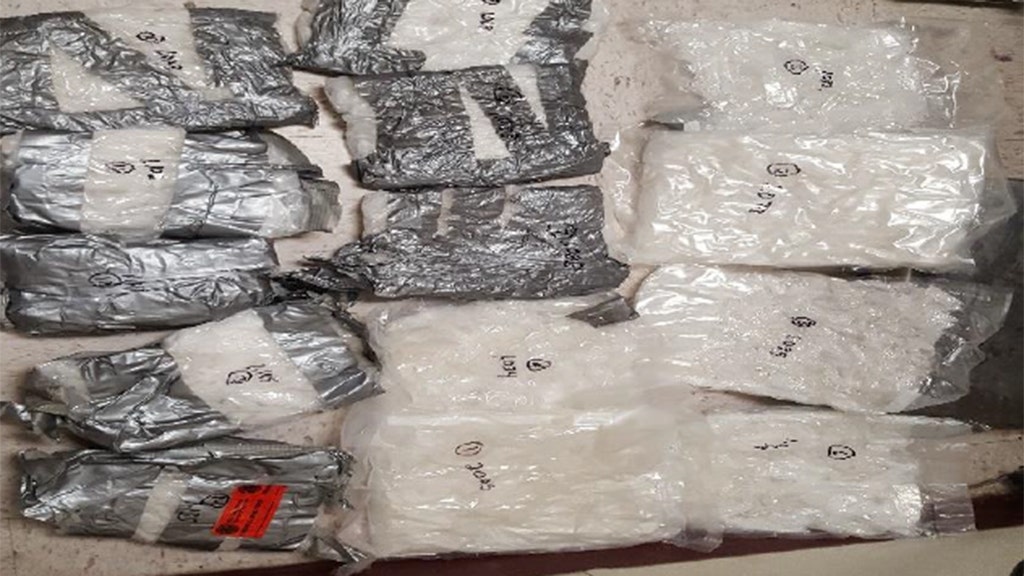 .
A Deferred Action for Childhood Arrivals (DACA) recipient from Mexico was arrested at the California-Mexico border Tuesday morning after Border Patrol agents found an estimated $34,284 worth of methamphetamine in the trunk of his car.
The 22-year-old suspect was attempting to enter the U.S. at the El Centro Sector checkpoint in Salton City, Calif. when a Border Patrol canine detection team prompted agents to discover 14 vacuum-sealed packages in the trunk of the suspect's vehicle, according to the CBP.
The packages, which totaled over 17 pounds, tested positive for the characteristics of methamphetamine, and have an estimated street value of more than $34,000. "Every drug seizure our agents make is an important step forward to secure our streets from dangerous narcotics and dangerous people," Chief Patrol Agent Gloria I. Chavez said…
MORE
.
—————————————————————————————
.
"I Will F#cking Kill You": Mom Allegedly Threatened Cop After Using Son's Sippy Cup To Sneak Booze Into Movies – Law & Crime
Police in Georgia have issued a warrant for a mother who they claim smuggled drugs and alcohol into a movie theater by hiding them inside of her son's spill-proof drinking cup.
The alleged sippy cup caper was said to have been committed by Kristina Gibson, who allegedly secreted liquor and possibly prescription drugs into the Merchant Walk Stadium Cinema in East Cobb County, Georgia on Monday.' The arrest warrant for Gibson notes:
Gibson filled her 5-year-old son's sippy cup with a strong alcoholic beverage and became intoxicated in the theater.
According to WSB-TV, at some point during the film Gibson's five-year-old son began to cry, which annoyed her fellow moviegoers. Soon, the other patrons began to complain. Gibson was then apparently asked to leave by employees at the theater.
Police told the outlet that after Gibson became increasingly drunk and/or high, she was eventually unable to exercise basic motor or parental skills like walking, talking, or taking care of her son…
MORE
.
—————————————————————————————
.
CaliforNazism Update: Governor Moonbeam Signs Law Requiring Companies To Have Women On Board Of Directors – Inde3pendent Journal Review
.

.
California is now the first state to require corporations to have women on their board of directors. Governor Jerry Brown signed a bill on Sunday to require California-based companies to have at least one woman of their board of directors by 2019.
According to the bill, this is an attempt to close the gender wage gap and give more opportunities to women. Some have questioned the legality of the bill, but Brown stated that he signed the bill to make a point.
"I don't minimize the potential flaws that indeed may prove fatal to its ultimate implementation," Brown said in a statement. "Nevertheless, recent events in Washington, D.C. – and beyond – make it crystal clear that many are not getting the message."…
MORE
.
—————————————————————————————
.
Congress Can Slash The Cost Of Health Care Premiums By As Much As A Third; Here's How – Doug Badger
A proposal to repeal Obamacare entitlements and replace them with grants to states would reduce premiums for individual coverage by as much as 32 percent, according to an analysis by the Center for Health and Economy.
The Health Care Choices Proposal also would modestly reduce the deficit, increase the number of people with private health insurance, and cut Medicaid spending, according to Center for Health and Economy.
The proposal, the product of national and state think tanks, policy analysts, and others in the conservative community, embarks on a new path to empower consumers and return authority to the states to provide people with better and more affordable health coverage options.
The Center for Health and Economy developed the study, at the commissioning of The Heritage Foundation, by applying its independent model to the published Health Care Choices Proposal…
MORE
.
—————————————————————————————
.
Alex Jones Sues PayPal For Discriminating Against Conservatives – Your News Wire
.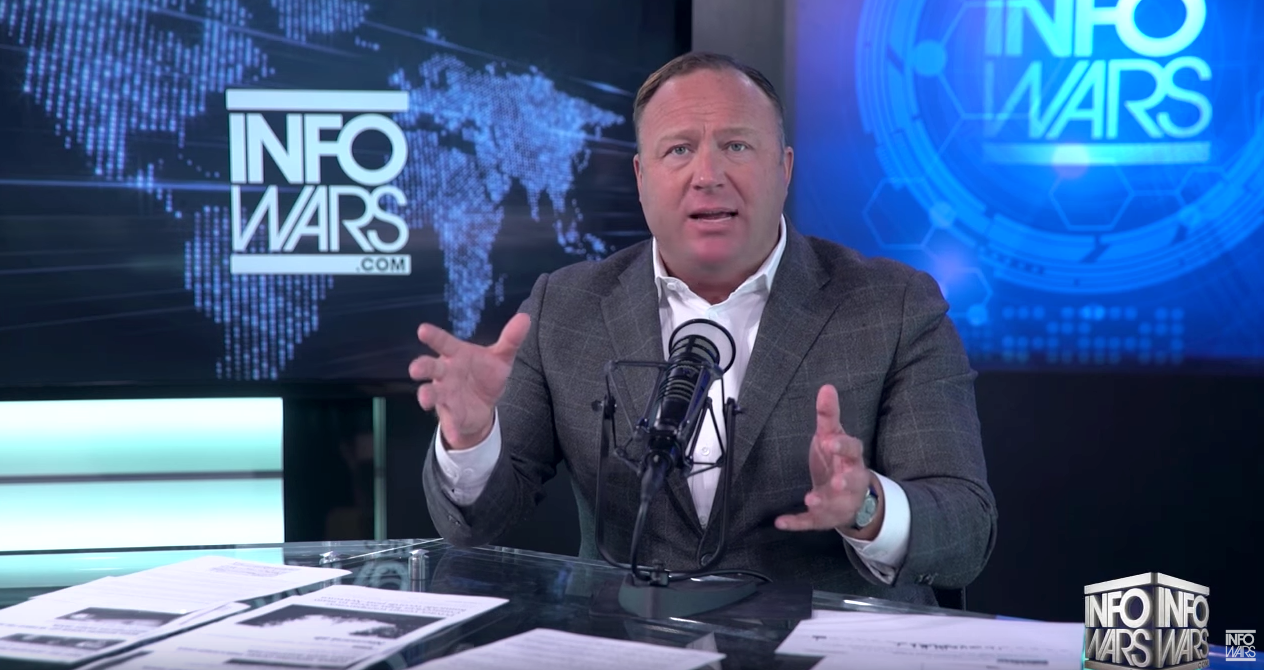 .
Broadcaster Alex Jones is suing PayPal over their decision to ban Infowars from using their platform and discriminate against conservatives.
Jones' company, Free Speech Systems, LLC, was banned from PayPal because Infowars apparently "promoted hate and discriminatory intolerance against certain communities and religions."
In the complaint filed by Jones' lawyers, Marc Randazza Legal group, they accuse PayPal of banning Infowars "for no other reason than a disagreement with the message plaintiff conveys" and call the ban "unconscionable" because PayPal has never advised users that "it might ban users for off-platform activity."…
MORE
.
—————————————————————————————
.
It's All Gone: The Democrats' Dead Ideals – Roger Kimball
As the spurious case against Brett Kavanaugh disintegrates, splinters, and re-forms into a cacophony of whiny, irrelevant expostulations, it is instructive to step back and survey the field upon which this battle took place.
The ground is littered with dead and wounded ideals: civility, dead; basic decency, dead; the presumption of innocence, gravely wounded, ditto for the idea of due process. And this disgusting carnage is all on you, O ancient one, Dianne Feinstein, and your self-important, preposterous colleagues.
You were desperate to keep Brett Kavanaugh off the Supreme Court so you abandoned any semblance of decency and respect. You travestied the processes of the United States Senate for the sake of a cynical grab at power.
I'd say that you should be ashamed of yourselves, but, like the thugs that you are, you have no shame. You believe the acquisition of power is a magical antidote to shame…
MORE
.
—————————————————————————————
.
'Rolls Royce' Of Whiskies Sold For Record $1.1 Million At Auction – Reuters
.

.
One of the world's most sought-after whiskies, a 60-year old The Macallan Valerio Adami 1926, was auctioned for a record 848,750 pounds ($1.1 million) on Wednesday. The buyer was a private collector from Asia who bid by phone, auctioneer Bonhams said.
The firm sold one of 12 other bottles with a label by the Italian artist Adami in May this year for 814,091 pounds. Such whiskies are collectors' items because of their rarity and will probably not actually be drunk, said Martin Green, whisky specialist at the auctioneer. "It's the Rolls Royce of malts," he said.
"Obviously we don't know what will happen to it, but anyone who can spend around a million pounds for a bottle of whisky could afford to drink it. But it's an object of beauty in its own right – almost a museum piece."…