.
Kavanaugh Blasts Democrats' Actions As "National Disgrace" – Zero Hedge
.

.
Judge Kavanaugh has come out of the gate swinging, visibly furious and accusing Democrats of a "coordinated effort" to destroy his good name and his family, and pledging that he will continue fighting back.
He firmly declared that he "has never sexually assaulted anyone – not in high school, not in college, not ever." He added that one of his closest female friends is a sexual assault survivor.
Kavanaugh described the last-minute flurry of allegations as "a calculated and orchestrated political hit," fueled in part by anger at Trump, the 2016 election and "revenge" on behalf of the Clintons. These smears were "expected if not planned by his opponents."…
MORE
.
—————————————————————————————
.
Two Men Come Forward To Claim THEY Had Sexual Encounter With Christine Blasey Ford At High School Party, NOT Kabanaugh – Daily Mail
Two different men have independently claimed they were involved in the sexual encounter described by Christine Blasey Ford and not Supreme Court Nominee Brett Kavanaugh, it has been revealed. Both men claimed to the Senate Judiciary Committee that it was they who were involved in the incident at a high school party in 1982.
Ford has accused Kavanaugh of pinning her to a bed and covering her mouth while trying to remove her clothing as his friend Mark Judge watched when she was 15 years old.
The Senate Judiciary Committee said it interviewed the first man who came forward. Sen Chuck Grassley released a statement on Wednesday revealing the man 'believes he, not Judge Kavanaugh, had the encounter in question with Dr Ford'.
On Wednesday, a day before both Ford and Kavanaugh are due to testify, the committee also spoke to another man who believes it was he who actually had the encounter with Ford in 1982 that is 'the basis of her allegation'…
MORE
.
—————————————————————————————
.
High School Athletic Director Placed On Leave After Saying Girls 'Pretty Much Ruin Everything' – The Hill
.

.
The athletic director at a Tennessee high school was placed on administrative leave Wednesday after he blamed female students for a change in the school's dress code, stating girls "pretty much ruin everything."
Jared Hensley, the athletic director at Soddy-Daisy High School near Chattanooga, addressed a new school-wide ban on athletic shorts in a video posted Wednesday, according to the Chattanooga Times Free Press.
In the video, titled "A Helping of Hensley," Hensley said students would no longer be allowed to wear athletic shorts – something with which the male students were not pleased…
MORE
.
—————————————————————————————
.
Louisiana Abortion Clinic Restriction Upheld By Appeals Court – The Hill
A Louisiana court of appeals on Wednesday upheld a law passed by state legislators requiring abortion doctors to have admitting privileges at a nearby hospital saying it does not put an undue burden on women.
Reuters reports that the 5th Circuit Court of Appeals ruled in favor of Louisiana's secretary of the Department of Health and Hospitals, arguing that there was no evidence the law would force some abortion clinics in the state to close as advocates had warned.
"There is no evidence that any of the clinics will close as a result of the Act," the judges wrote in their ruling, according to Reuters.
The ruling went on to conclude that just under a third of women in the state, 30 percent, would potentially face increased wait times in the state for abortion services or other medical procedures offered by clinics. This court's decision comes following a law in neighboring Texas being struck down by the Supreme Court in 2016…
MORE
.
—————————————————————————————
.
Baseball Fans In Chicago Cheer On A Rat Attempting To Jump Onto The Bleachers At Wrigley Field – Circa
.

.
Chicago Cubs fans are happy their team is 1st place in their division but they were not happy campers on Tuesday after losing to the Pittsburgh Pirates 6-0.
In the past week, we have seen Cubs fans in their naughtiest behavior fighting on the stands. But on Tuesday, another group of Cubs fans inside Wrigley Field were celebratory because of one reason – a rat. Photographer Will Byington captured the awe-inspiring moments when a rat attempted to jump over a barrier.
"When the #WrigleyRallyRat gets the biggest cheer of the night? I think it was rigged by the piRATes! It's been a rough game!" Byington said in a tweet. Other fans on social media were also enthralled by the little creature…
MORE
.
—————————————————————————————
.
Cop Caught Trafficking 'Date Rape' Drug And 'Steroid' To Allegedly Sell To Other Cops – Washington Standard
A Charlotte County deputy was caught trafficking a controlled substance which predators use to knock their unwitting victims unconscious to have their way with them. The investigation found that the deputy was responsible for shipping large quantities of the dangerous 'date rape' drug and tampering with physical evidence to cover it up, yet he's never been charged.
Former deputy James White was given a paid vacation last October following the Florida Department of Law Enforcement (FDLE) opening an investigation into the corrupt cop.
However, before the investigation could conclude, another incident in which this sicko cop was seen flashing his genitals to patrons in a Punta Gorda establishment, was exposed. The incident, which happened in August of 2017, caught up to him ten months later and he was fired.
On Monday, the FDLE's investigation concluded and found that the former Deputy was indeed found to have been trafficking the substance, gamma-Butyrolactone (GBL), a chemical known to be abused and can easily be used to produce a form of a "date rape" drug…
MORE
.
—————————————————————————————
.
Man Apologizes For Claiming Kavanaugh Sexually Assaulted His Friend, Says He 'Made A Mistake' – Daily Caller
.

.
A Rhode Island man who accused Supreme Court nominee Brett Kavanaugh of sexually assaulting his friend apologized on Wednesday and said he "made a mistake."
The man called Rhode Island Democratic Sen. Sheldon Whitehouse's office and claimed that Kavanaugh and Mark Judge, a high school friend of Kavanaugh, drunkenly sexually assaulted one of his friends, according to interview transcripts released by the Senate Judiciary Committee. A committee investigator asked Kavanaugh about the allegation during an interview on Tuesday, which he denied.
The man's name was redacted in the transcripts released to the public but the investigator quoted verbatim several outlandish anti-Trump tweets from the man's Twitter account, allowing reporters to identify him on Twitter as "Jeffrey Catalan."
MORE
.
—————————————————————————————
.
Drug Sweep Of North Carolina Tribal Land Nets 76 Arrests – Greensboro News & Record
An opioid task force arrested 76 people on drug charges in a sweep of traffickers on western North Carolina tribal land, federal officials said Thursday.
Federal, state, local and tribal officers fanned out in recent days to serve arrest warrants on the Eastern Band of Cherokee Indians' reservation and nearby communities as the culmination of an undercover operation begun weeks ago, Interior Secretary Ryan Zinke said at a news conference in Asheville. He said officers seized about 250 pounds (113 kilograms) of heroin, methamphetamine, pills and other drugs with a $2 million street value.
"The message is clear. Indian Country is off-limits to drugs. We will find you. We will hunt you down. We will prosecute you," Zinke said.
The tribe's principal chief, Richard Sneed, said reservations have been hit particularly hard by the national opioid crisis. "It's my sincere hope that this operation will be a model for Indian Country," Sneed said of the investigation that closely involved tribal police…
MORE
.
—————————————————————————————
.
Trump Defends Kavanaugh At Press Conference, Says 'There Was Nothing To Investigate' – Fox News
.

.
President Trump defended Supreme Court nominee Brett Kavanaugh at a news conference Wednesday, saying that Democrats had "destroyed a man's reputation" with sexual misconduct allegations.
In response to a question from Fox News' John Roberts about why the White House did not ask the FBI to investigate allegations made against Kavanaugh by Christine Blasey Ford, the president responded that "there was nothing to investigate."
"They didn't know the location, they didn't know the time, they didn't know the year. They didn't know anything," Trump said. The president added that even if an investigation found nothing to corroborate Ford's claims, "it's not going to change any of the Democrats' minds."…
MORE
.
—————————————————————————————
.
Despite Repeated Deportations, Suspect In Homeless Beating Deaths Cut A Bloody Swath Across L.A., Police Say – Los Angeles Times
Just days after his aunt and uncle were reported missing in Houston, Ramon Escobar got in his Honda CR-V and drove west.
The 47-year-old native of El Salvador traveled more than 1,500 miles along Interstate 10, stopping when he hit the Pacific Ocean on Sept. 5.
Three days later, Santa Monica police found a homeless man battered and bruised on the beach. Someone had beaten the victim, causing severe injuries to his head, as he slept.
Over the course of 17 days, police allege, Escobar would approach six other men the same way – sneaking up as they dozed in secluded areas, sometimes clutching a wooden baseball bat or a pair of bolt cutters.
Police believe Escobar cut a bloody swath across Los Angeles and Santa Monica, beating three men to death and seriously injuring four others in a series of vicious attacks that jolted the city's vulnerable homeless population…
MORE
.
—————————————————————————————
.
Report: Mattis To Pull Multiple Patriot Missiles From Middle East As Pentagon Sets Its Sights On Other Foes – Daily Caller
.

.
The Pentagon is planning to pull four U.S. missile defense systems from several Middle Eastern countries to realign military capabilities as Defense Secretary James Mattis takes aim at what his department sees as bigger threats, possibly China, Russia or Iran.
Mattis is reportedly removing four Patriot missile defense systems out of Jordan, Bahrain and Kuwait sometime in October, according to The Wall Street Journal, which is further sign that the administration is focusing on evolving threats from other adversaries and is moving away from the historic conflicts in the Middle East.
The missile systems are used to intercept and shoot down enemy missiles and planes, and the four systems have been taken offline and will be deployed next month, officials told The WSJ…
MORE
.
—————————————————————————————
.
Fed Hikes Rates For 8th Time – Zero Hedge
The Fed's eight rate-hike since 2015 was perhaps the most anticipated yet, and Jay Powell did not let investors down, delivering the 25bps hike everyone expected. And so it was – but all eyes were on the dot plots and the language changes in the statement.
As Bloomberg noted, Fed policy makers face two important decisions at their September meeting: One, whether to retain optionality around a potential fourth interest-rate increase in December; and, two, the appropriate policy trajectory as rates approach neutral.
Here are the Key Takeaways from the Fed report:
* Only meaningful change in FOMC's statement is removal of the sentence on maintaining "accommodative" policy.
* The overview of the economy is same as August statement: labor market continues to strengthen, activity "strong.'
The decision to remove "accommodative" signals that the FOMC feels the U.S. economy is getting closer to a neutral policy rate setting…
MORE
.
—————————————————————————————
.
South Korean President Sees 'Miraculous' Move Toward Peace With North Korea – Newser
.

.
South Korea's president is trumpeting the "miraculous" moves toward peace that have occurred in recent months on the Korean Peninsula as negotiators try to settle a decades-long nuclear standoff with North Korea.
Moon Jae-in said at the U.N. General Assembly that he has both "a sense of urgency and excitement" over diplomacy that has "removed the shadow of war."
Moon has met three times this year with North Korean leader Kim Jong Un. U.S. President Donald Trump met in June with Kim, and they are trying to set up another summit.
Moon saluted Trump and Kim's "courage" and asked for the international community to "respond positively" to Kim's denuclearization commitments…
MORE
.
—————————————————————————————
.
6 Crucial Questions About The Newest Accusations Against Brett Kavanaugh – Matt Walsh
Less than a day before the Senate hearing about sexual assault allegations against Brett Kavanaugh, porn lawyer Michael Avenatti has released a new set of allegations.
His client, Julie Swetnik, claims in a sworn statement that she witnessed Brett Kavanaugh at boozy parties in the early 1980s behaving inappropriately toward women. She also alleges that Kavanaugh, his friend Mark Judge, and other boys, drugged various girls and then "gang" or "train" raped them. She says that she fell victim to one of these gang rapes, but she does not allege that Kavanaugh himself was involved in the assault.
These accusations – the most graphic and dramatic yet – raise some very serious questions. Since we cannot rely on the media to ask the questions, I will lay them out below:
1) If Kavanaugh was a member of a violent rape gang, why didn't that fact turn up during any of the several FBI background investigations he has already been subjected to? And why didn't Swetnik ever contact the FBI or any other law enforcement agency about the criminal behavior of a federal judge?…
MORE
.
—————————————————————————————
.
Kavanaugh Says New Allegations Are 'Ridiculous And From The Twilight Zone' – New York Post
.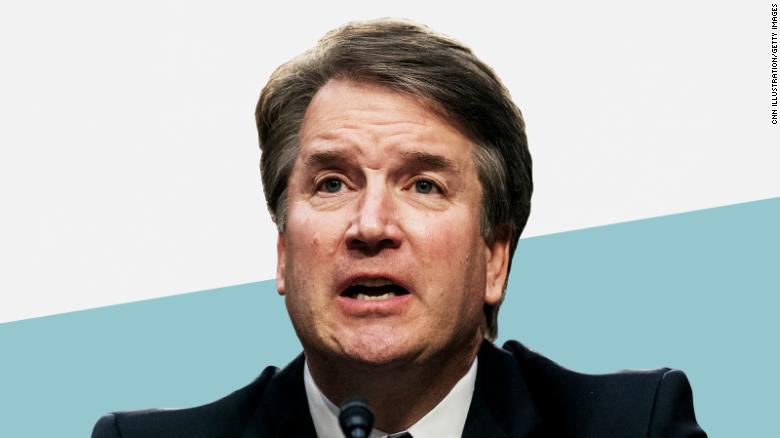 .
Supreme Court nominee Brett Kavanaugh denied explosive allegations Wednesday that he was present at alcohol-fueled gang rapes while in high school.
"This is ridiculous and from the Twilight Zone," Kavanaugh said in a statement released by the White House. "I don't know who this is and this never happened."
Julie Swetnick, who says she traveled in Kavanaugh's high school circles, leveled the charges in a sworn statement that her lawyer, Michael Avenatti, filed with the Senate Judiciary Committee.
The committee confirmed that it is examining Swetnick's claims, which are the third set of allegations of sexual misconduct to be leveled against Kavanaugh…
MORE
.
—————————————————————————————
.
Senate Judiciary Committee Schedules Friday Vote On Kavanaugh – Breitbart
The Senate Judiciary Committee has scheduled a meeting on September 28, to vote on whether to recommend Judge Brett Kavanaugh to the full Senate for confirmation to the Supreme Court.
The committee is currently scheduled to hear testimony under oath from Kavanaugh and his accuser, Christine Blasey Ford, on Thursday. Chairman Chuck Grassley (R-IA) has hired a veteran prosecutor who specializes in sex crime cases to lead the questioning of both witnesses.
While it appears certain that Kavanaugh will be there to testify, there are growing doubts – including from Sen. Dianne Feinstein (D-CA), who initiated the whole affair – as to whether Ford will show up at all. (Ford was invited to testify, but is not under subpoena, and therefore has no legal obligation to appear and be placed under oath.)
The Judiciary Committee's rules require three days' advance notice of any business meeting, so Grassley has issued that notice today if a majority of the committee is prepared to vote after Thursday's hearing…
MORE
.
—————————————————————————————
.
Manhunt Underway After Car Ploughs Into 'Crowd Of 100 Children And Teachers' In Sweden – Daily Express
.

.
A car ploughed into a crowd of children and their parents on a walk near Karlshamn, in Sweden, police revealed today. Two pupils were hurt with a police manhunt now underway.
A spokesman for Sweden's police service said children "threw themselves" out of the way of the car, which appeared to have aimed directly for the group of 100 people. He said: "The car accelerated into the group of students and teachers.
"The car increased speed and drove straight towards them. He drove into two of the students. One was injured on the wrist and possibly the other student was also injured."
Police have today appealed for any information on the horrifying incident, which took place at 1pm local time (12pm BST) yesterday…
MORE
.
—————————————————————————————
.
Arizona Prosecutor Rachel Mitchell Named By Republicans To Question Kavanaugh, Accuser – Washington Times
Republicans have chosen the head sex-crime investigator for Maricopa County, Arizona, as the person who will handle the questioning of Judge Brett Kavanaugh and his accuser.
Sen. Charles Grassley, Iowa Republican and Senate Judiciary Committee chairman, announced in a statement Tuesday night that his panel had settled on Rachel Mitchell as the person to question the Supreme Court nominee and Christine Blasey Ford.
"The goal is to de-politicize the process and get to the truth, instead of grandstanding and giving senators an opportunity to launch their presidential campaigns. I'm very appreciative that Rachel Mitchell has stepped forward to serve in this important and serious role. Ms. Mitchell has been recognized in the legal community for her experience and objectivity," Mr. Grassley said.
The panel's statement went on to laud Ms. Mitchell as joining the committee staff while on leave "as Deputy County Attorney in the Maricopa County Attorney's Office in Phoenix…
MORE
.
—————————————————————————————
.
Qualcomm Says Apple Stole Its Chip Secrets And Gave Them To Intel – The Street
.

.
Qualcomm Inc. (QCOM) has upped the ante in its lawsuit against Apple Inc. (AAPL). The company is now accusing Apple of stealing confidential information and trade secrets in order to aid Qualcomm rival Intel Corp. (INTC) in a filing on Tuesday with the Superior Court of California.
Qualcomm hopes the court will add the new allegations to its ongoing lawsuit against Apple for allegedly breaching the Master Software Agreement the two companies signed in 2010.
"Apple has engaged in a years-long campaign of false promises, stealth, and subterfuge designed to steal Qualcomm's confidential information and trade secrets for the purpose of improving the performance and accelerating the time to market of lower-quality modem chips, including those developed by Intel," Qualcomm said in its court filing…
MORE
.
—————————————————————————————
.
Why Trump's Tariffs Won't Cost Consumers A Nickel – Curtis Ellis
Past administrations have called out China for violating the internationally agreed-upon rules of trade for decades. After countless high-level talks, admonitions and appeals, China did nothing to change its cheating ways.
President Trump has dispensed with the talk and taken action, slapping tariffs on billions of dollars of goods China exports to the United States at artificially low prices.
Naysayers predicted the president's tariffs would tank the stock market and drag down the economy. But the Dow is posting record gains, unemployment is at a 49-year low and the economy remains strong.
The forecasters are at a loss to explain why reality isn't conforming to what they learned in school. A Wall Street economist tells Reuters, "It's like we have nothing to fear, but we should."
Critics also contend that President Trump's tariffs will inevitably lead to higher prices for consumers. We've heard this before…
MORE
.
—————————————————————————————
.
Bill Cosby Sentenced To 3 To 10 Years In Prison For Aggravated Indecent Assault – Fox News
.

.
Disgraced comedian Bill Cosby will serve three to 10 years in state prison, Montgomery County Judge Steven T. O'Neill ruled on Tuesday. The former television superstar, who traded on a squeaky clean, fatherly image, was sentenced after being found guilty of three counts of felony aggravated indecent assault in April in one of the most widely publicized trials in modern history.
Cosby's legal team asked that he be released on bail, pending his appeal. However, the judge denied that request. He will be sent to prison immediately as Judge O'Neill deemed that he could "quite possibly be a danger to the community."
The sentence is significantly lighter than the possible maximum sentence for his crimes…
MORE
.
—————————————————————————————
.
"I Don't Give A Shit If It's A Crime": Fourth Veritas Video Reveals IRS Still Targeting Conservatives – Zero Hedge
James O'Keefe just dropped the fourth installment in his series exposing the corruption and bias in the 'deep state'. This report features two Internal Revenue Service (IRS) officials who candidly discuss the IRS's unfair treatment of conservative non-profit groups.
The two officials in the report are Thomas Sheehy, an IRS tax examiner and member of the Austin Democratic Socialists of America in Texas, and Jerry Semasek, an IRS attorney in Washington, DC.
Sheehy boasts about and appears to justify former disgraced IRS Commissioner John Koskinen, who was mired in scandal for losing tens of thousands of emails regarding the Lois Lerner controversy. The Lois Lerner controversy occurred in 2013 and involved revelations showing that the IRS unfairly scrutinized conservative groups.
SHEEHY: "John Koskinen. He got a lot of flak for giving increased scrutiny to these Tea Party groups. Conservatives got really mad at him, he was so cool though because he deleted all the emails, so they could not hold any evidence against him."…
MORE
.
—————————————————————————————
.
Trump Defiant: Rejects Globalism For Patriotism Before UN Assembly – Daily Caller
.

.
President Donald Trump rejected a globalist worldview and orientation in a defiant speech before the U.N. general assembly Tuesday.
"We believe that when nations respect the rights of their neighbors and defend the interests of their people, they can better work together to secure the blessings of safety, prosperity and peace," Trump declared early on his speech.
The president continued, "We will never surrender America's sovereignty to an unelected, unaccountable global bureaucracy. America is governed by Americans Americans. We reject the ideology of globalism, and we embrace the doctrine of patriotism around the world. Responsible nations must defend against threats to sovereignty."…
MORE
.
—————————————————————————————
.
President Trump Signs Renegotiated Trade Agreement With South Korea – Breitbart
President Donald Trump signed a new free trade agreement with South Korea on Monday, celebrating it as a major achievement for his administration.
"From day one I promised the American people that I would renegotiate our trade deals to ensure that our agreements were fair and reciprocal," Trump said during his remarks. The pair of leaders signed the documents in New York City during the week-long meeting of the United Nations General Assembly.
Trump said that the new deal would reduce the trade deficit between South Korea and the United States, helping South Koreans open up their markets on items like farm products, medicines, and vehicles.
"This agreement will reduce bureaucracy and increase prosperity in both of our countries," he said, promising to work to implement the new trade deal swiftly. The president thanked South Korean President Moon Jae-in for his cooperation in renegotiating the deal…