.
Tesla Allegedly Covered Up Drug Trafficking And Spied On Employees At The Gigafactory, Whistleblower Says – The Verge
.

.
A former member of Tesla's in-house security team has told the Securities and Exchange Commission that the company silenced internal investigations into alleged criminal activity at the Gigafactory in Nevada, according to a summary of his formal complaint.
Those investigations focused on claims of massive theft and "substantial drug trafficking." The complaint also includes allegations that Tesla spied on employees' electronic devices. It's the second known whistleblower complaint from a former Tesla employee filed with the SEC this summer.
Karl Hansen, the former employee, claims that Tesla was told in May by the Drug Enforcement Administration and the Storey County Sheriff's Office Task Force that "several Tesla employees may be participants in a narcotics trafficking ring…
MORE
.
—————————————————————————————
.
Louisiana Attorney General Denies $600 Million To Citibank, Bank Of America Over Gun Control – Breitbart
Louisiana Attorney General Jeff Landry and the state's Bond Commission denied $600 million to Citibank and Bank of America over the gun control stance adopted by both companies.
Citibank and Bank of America were both to be part of a road financing plan in the state, but were omitted from the financial plan after arbitrarily placing new gun controls on banking customers.
Louisiana Executive Division press secretary Ruth Wisher told Breitbart News that Landry and State Treasurer John Schroder have been working on the state's response to corporate gun control "for some time." Omitting them from the $600 million is part of that response.
On March 23, 2018, Breitbart News reported Citibank's new gun control regulations, which require gun store customers to quit selling "high capacity" magazines in order to do business with the bank…
MORE
.
—————————————————————————————
.
Remains Of Child Found At New Mexico 'Jihadi' Compound Are Confirmed To Be Missing Boy From Georgia – Daily Caller
.

.
Authorities confirmed on Thursday that the remains of a child found at a New Mexico "jihadi" compound are those of a missing Georgia boy. The New Mexico Office of the Medical Investigator confirmed that the remains were those of Abdul-Ghani Wahhaj, according to the Associated Press.
The FBI and Georgia police launched an investigation into Wahhaj, who was suspected of abducting his 4-year-old son, Abdul-Ghani, in December from Jonesboro, Georgia. He had told his wife that he wanted to perform a ritual on his son and then later took the child to a park, only to never return.
Wahhaj, 39, was one of five adults arrested last week for allegedly training 11 children at a compound north of Taos, New Mexico, to carry out school shootings…
MORE
.
—————————————————————————————
.
The Weekly Standard's Ties To Fusion GPS – Julie Kelly
In his online appeal for money after being fired this week, disgraced former FBI agent Peter Strzok credited an unlikely source to vouch for his victim status: The Weekly Standard.
At one time a leading conservative magazine, the Standard declared last month that Strzok's plight was merely an "overwrought tale of bias" and the case against him is "just sound and fury." The article brushed off Strzok's actions as "several bad judgment calls" and blasted Congressional Republicans for continuing a criminal investigation into the now-unemployed G-man.
Strzok is following only 32 people on his newly-verified Twitter account. Bill Kristol, the editor-at-large of the Standard, is one of them.
So, what's with the fanboying between the Standard – an allegedly serious publication dedicated to advancing conservative principles – and a corrupt government bureaucrat who embodies everything the conservative movement fought against for decades?…
MORE
.
—————————————————————————————
.
Aretha Franklin, The Queen Of Soul, Dies At 76 – Fox News
.

.
Aretha Franklin, the "Queen of Soul" whose recordings of such classics as "Respect" and "Chain of Fools" made her the first female artist to be inducted into the Rock and Roll Hall of Fame, died Thursday of advanced pancreatic cancer. She was 76.
"In one of the darkest moments of our lives, we are not able to find the appropriate words to express the pain in our heart," the singer's family said in a statement to the Associated Press. "We have lost the matriarch and rock of our family. The love she had for her children, grandchildren, nieces, nephews, and cousins knew no bounds."
The family added: "We have been deeply touched by the incredible outpouring of love and support we have received from close friends, supporters and fans all around the world…
MORE
.
—————————————————————————————
.
American Couple Believing 'Evil Is A Make-Believe Concept' Bike Through ISIS Territory; Are Stabbed To Death By Muslim Terrorists – Daily Wire
A young American couple who took a year-long bike trip around the world, believing that evil was a make-believe concept, took a fatal route in Tajikistan near the Afghan border, where alleged ISIS terrorists stabbed them to death.
Jay Austin and Lauren Geoghegan, 29, quit their jobs last year in order to make their trip. Austin was a vegan who worked for the U.S. Department of Housing and Urban Development; Geoghegan, a vegetarian who worked in the Georgetown University admissions office.
Austin had a personal blog on which he wrote in June 2017, "I've grown tired of spending the best hours of my day in front of a glowing rectangle, of coloring the best years of my life in swaths of grey and beige. I've missed too many sunsets while my back was turned. Too many thunderstorms went unwatched, too many gentle breezes unnoticed."
Their trip, which lasted 369 days…
MORE
.
—————————————————————————————
.
Ironically Named Reality Winner Faces 'Longest Sentence' Ever For Federal Crime Involving Media Leaks – Washington Times
.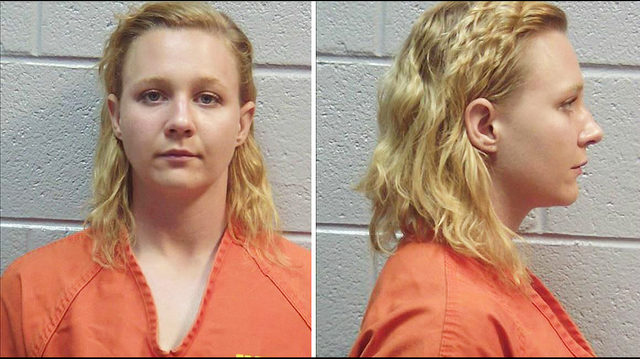 .
A Georgia woman who mailed a secret U.S. report to a news organization faces the "longest sentence" ever behind bars for a federal crime involving leaks to the news media, prosecutors said in a court filing.
Former National Security Agency contractor Reality Winner, 26, is scheduled to be sentenced Aug. 23 by a U.S. District Court judge in Augusta. She pleaded guilty in June to a single count of transmitting national security information when she worked as a translator at an NSA facility in Augusta.
Winner's plea deal with prosecutors calls for imprisonment of five years and three months. But the sentencing judge isn't bound by that agreement…
MORE
.
—————————————————————————————
.
ISIS Member Who Applied For Refugee Status Has Been Arrested On Murder Charges In California – Daily Caller
A suspected Islamic State member wanted for murder in Iraq faces extradition after being arrested Wednesday by the FBI's Joint Terrorism Task Force in California, where he applied for refugee status.
Federal authorities say that Omar Ameen, 45, is wanted for the June 21, 2014, murder of an Iraqi police officer from the town of Rawah in the Anbar province.
An Iraqi court alleges that Ameen and a group of ISIS fighters entered Rawah after the town was overtaken by the terrorist group. Ameen and other ISIS members drove to the home of the officer, Ihsan Abdulhafiz Jasim, and allegedly began firing at him. Ameen allegedly shot Jasim, who was lying on the ground, on behalf of ISIS.
According to an extradition document filed in federal court Wednesday, Ameen fled Rawah following the alleged crime and settled in Sacramento. Authorities say that Ameen's family helped foster the Iraqi branch of al-Qaeda (AQI) in 2004…
MORE
.
—————————————————————————————
.
Rudy Was Right: Criminal John Brennan Walked The Junk Dossier Over To Harry Reid To Start The Spygate Scandal; Should Be Jailed – Gateway Pundit
.

.
On Monday Trump attorney Rudy Giuliani went on with Sean Hannity and dropped another landmine on the Deep State. Rudy told Sean Hannity that it was JOHN BRENNAN who was running the spy ring on Donald Trump. Rudy then added, "He should be in front of a grand jury.
Rudy Giuliani: I'm gonna tell you who orchestrated, who was the quarterback for all of this. It isn't just Strzok. He's a bit of a puppet. It's not just Mueller, he's a puppet…
Sean Hannity: I have a funny feeling you're about to drop a bomb on me.
Rudy Giuliani: The guy's running it was Brennan. And he should be in front of a grand jury.
On Wednesday night Dan Bongino filled in the blank spaces on the page…
MORE
.
—————————————————————————————
.
'Mystery Pooper' Will Get More Than $100K From School District – New York Post
The "Pooperintendent of Schools" accused of repeatedly defecating on school property will receive more than $100,000 from his district in New Jersey until he resigns, according to a report.
Under a separation agreement, Thomas W. Tramaglini, the former Kenilworth Public Schools superintendent, will be paid his full salary through the end of September in addition to two months severance pay and $23,827 in unused vacation time, NJ.com reported.
Tramaglini, 42, was suspended with pay from his job in May following his arrest for allegedly defecating in public, lewdness and littering.
His arrest followed weeks of employees finding feces on a "daily basis" near or on the Holmdel High School football field and track.
The former school head was allegedly caught in the act at the high school after officials set up surveillance cameras to track down the mystery pooper…
MORE
.
—————————————————————————————
.
Trump Revokes Security Clearance For Commie Traitor And Former CIA Chief John Brennan – Fox News
.

.
President Trump has revoked the security clearance for former CIA director John Brennan, the White House announced Wednesday, in the first decision to come from a review of access for several top Obama-era intelligence and law enforcement officials.
White House Press Secretary Sarah Sanders read a statement on behalf of the president during the start of the press briefing, saying Brennan "has a history that calls his credibility into question."
The statement also claimed Brennan had been "leveraging" the clearance to make "wild outbursts" and claims against the Trump administration in the media…
MORE
.
—————————————————————————————
.
Naked Man Breaks Into Liquor Store To Steal A Can Of Soda – WAGA
Cumming Police said a naked man caused more than $500 worth of damage to a business all to steal a soda early Monday morning.
Charles Richard Wyatt, of Chamblee, was arrested just before 4 a.m. after police said they spotted him exited the Beverage World located at 745 Lanier 400 Parkway. Police said Wyatt was holding a hammer at the time. Officer said Wyatt complied when asked to drop the hammer, he then was cuffed and was helped back into his pants before being placed in a patrol car.
Surveillance video showed Wyatt break the front window, according to police, then wander into the store, lay down for a moment, then gets up and takes a can of Coca-Cola before exiting the store.
Wyatt was booked into the Forsyth County Detention Center charged with burglary, theft by taking, and possession of tools for the commission of a crime…
MORE
.
—————————————————————————————
.
Anti-Christian Colorado Is Going After Jack Phillips Of Masterpiece Cakeshop… Again – Daily Caller
.

.
Jack Phillips, the Christian baker who prevailed at the U.S. Supreme Court after declining to create a custom wedding cake for a gay couple, filed a lawsuit in federal court late Tuesday suing the Colorado Civil Rights Commission.
Phillips and his attorneys at the Alliance Defending Freedom (ADF) say the Commission has revived its campaign against him following June's high court decision, singling Masterpiece Cakeshop out for disparate treatment on the basis of their religious beliefs.
"The state of Colorado is ignoring the message of the U.S. Supreme Court by continuing to single out Jack for punishment and to exhibit hostility toward his religious beliefs," said Kristen Waggoner, an Alliance Defending Freedom attorney who represents Phillips…
MORE
.
—————————————————————————————
.
July Retail Sales Rock, Productivity Soars Above Expectations, Manufacturing Businesses Booming – Breitbart
Buoyant consumer sentiment boosted retail sales more than expected in July, while bigger than expected productivity gains point toward lower inflation and possible wage gains.
Retail sales, which are the total receipts at stores that sell merchandise and related services to final consumers, rose 0.5 percent in July, according to data released by the Commerce Department Wednesday. Economists had expected sales to rise by just 0.1 percent. The sales numbers were so strong that they exceeded the top range of expectations of economists surveyed by Bloomberg.
Outside of auto and gas sales, retail sales grew an even stronger 0.6 percent.
Productivity, which has had very small gains or even retreated in recent years, rose 2.9 percent in the most recent quarter compared with the prior quarter. That topped expectations for gains of 2.5 percent and was far above the paltry 0.4 percent increase in the first quarter…
MORE
.
—————————————————————————————
.
Feds Collect Record Individual Income Taxes Through July; Still Run $683.9B Deficit – CNS
.

.
The federal government collected a record $1,415,150,000,000 in individual income taxes through the first ten months of fiscal 2018 (October 2017 through July 2018), according to the Monthly Treasury Statement.
But the federal govenrment also ran a $683,965,000,000 deficit for those ten months, according to the statement.
The previous record for individual income tax collections in the first ten months of the fiscal year was in fiscal 2017, when the Treasury collected $1,351,409,020,000 in individual income taxes (in constant July 2018 dollars) in the October through July period…
MORE
.
—————————————————————————————
.
Trump-Backed Peter Stauber Wins GOP Primary For Minnesota's 8th Congressional District – WCCO
Pete Stauber is the projected winner of the GOP primary race for Minnesota's 8th Congressional District. Stauber defeated Harry Rob Welty for the chance to turn the northern Minnesota district red in the November election.
The race for the 8th District seat, which is currently held by retiring Democrat Rick Nolan, is widely considered to be a toss-up, and one of the best chances for Republicans to flip a seat in the House.
In June, President Donald Trump visited Duluth to hold a rally for Pete Stauber, a St. Louis County commissioner and retired Duluth police officer. Last month, Vice President Mike Pence also held a fundraiser for him.
Statewide turnout for the primary is expected to be high. Last week, the Secretary of State's Office said that early voting was up nearly 200 percent from the 2016 general election…
MORE
.
—————————————————————————————
.
Leah Vukmir Wins Wisconsin GOP Senate Primary, Setting Up Showdown With Tammy Baldwin – Washington Times
.

.
Leah Vukmir emerged victorious in the hard-fought and costly GOP Senate race in Wisconsin, giving her a chance to take on Democratic Sen. Tammy Baldwin in the November election.
The race between Ms. Vukmir, a member of the state senate, and Kevin Nicholson, a Marine Corps veteran who played the role of political outsider, was one of the marquee matchups playing out Tuesday with primary races in Wisconsin, Minnesota, Vermont and Connecticut.
With 55 percent of the vote counted, Mr. Vukmir had secured 55 percent of the vote, while Mr. Nicholson had pulled in nearly 40 percent…
MORE
.
—————————————————————————————
.
Trump-Endorsed Kris Kobach Finally Declared Winner Of GOP Gubernatorial Primary In Kansas – Breitbart
Kansas Secretary of State Kris Kobach will make history in becoming the GOP nominee for Kansas governor after unseating incumbent Gov. Jeff Colyer in the primary election.
As Breitbart News reported, following the unofficial vote total in the gubernatorial primary last week, Kobach led Colyer by a little less than 200 votes. This prompted a count of all provisional ballots across the state.
Today – after the second day of counting where Kobach increased his lead by 345 votes – Colyer conceded the primary race to Kobach in, telling the media:
I've just had a conversation with [Kobach] and I congratulated him on his success and I repeated my determination to keep this seat in Republican hands. The numbers are just not there unless we were to go to extraordinary measures.
Kobach was endorsed by President Trump the day before the Kansas GOP primary election…
MORE
.
—————————————————————————————
.
Vermont Democrats Nominate Guy In A Dress To Be Their Candidate For Governor – The Advocate
.

.
Vermont's Christine Hallquist made history Tuesday in becoming the first out transgender person to win a major party's gubernatorial nomination anywhere in the U.S.
With 79 percent of precincts reporting, Hallquist had received 48 percent of the vote in the Democratic primary, making her the party's nominee, The New York Times reports. Her closest competitor, James Ehlers, had 22 percent. There is no provision for a runoff, so this means Hallquist, the former CEO of the Vermont Electric Cooperative, will face incumbent Republican Phil Scott in November.
In an Advocate interview published last month, Hallquist said her priorities include fighting poverty and encouraging economic development in the state's rural areas, promoting renewable energy and fighting climate change…
MORE
.
—————————————————————————————
.
Trump Campaign Files Arbitration Claim Against Omarosa For Violating Nondisclosure Agreement – Washington Times
The Trump campaign filed a legal claim Tuesday against former White House aide Omarosa Manigault Newman over her new book, seeking damages for violating a written agreement not to disparage President Trump, while the president responded fiercely to her accusations of racism and called her a "dog."
The campaign's lawyers filed for arbitration against Ms. Manigault Newman with the American Arbitration Association in New York City to force her to abide by the 2016 agreement with the campaign, in which she was required to keep information about Mr. Trump and his family secret "during the term of your service and at all times thereafter."
"President Trump is well known for giving people opportunities to advance in their careers and lives over the decades, but wrong is wrong, and a direct violation of an agreement must be addressed and the violator must be held accountable," a campaign official said.
Ms. Manigault Newman said she believes the action was intended to keep her from telling her story and vowed not to be "intimidated."…
MORE
.
—————————————————————————————
.
Judge Rules Sex Trafficking Lawsuit Against Harvey Weinstein Can Proceed – Daily Caller
.

.
A Manhattan federal judge ruled Tuesday that a sex trafficking lawsuit filed against Harvey Weinstein can move forward after the disgraced movie mogul tried to get it thrown out.
British actress Kadian Noble has alleged that the movie producer assaulted her and, in her lawsuit filed in November, claimed that he violated federal sex trafficking laws when he promised her a film role if she went to his hotel room in Cannes, France, in 2014, according to Page Six.
"Plaintiff has plausibly alleged that Harvey Weinstein, knowingly and in interstate commerce, enticed and or recruited her knowing that means of force, fraud, or a combination of the two, would be employed to cause her to engage in a commercial sex act," U.S. District Judge Robert W. Sweet said, according to Deadline…