.
Seattle Airport Employee Hijacks Plane, Does Barrel Roll, Then Crashes With F-15s In Hot Pursuit – Zero Hedge
.

.
A 29-year-old airline worker at Seattle-Tacoma International Airport hijacked an airplane Friday night, performed aerobatic maneuvers, and then crashed into sparsely populated Ketron Island as two National Guard F-15 fighter jets followed closely behind.
No passengers were aboard the 76-seat Horizon Air Q400 turboprop plane stolen by the ground service agent from Pierce County, as he conducted an "unauthorized takeoff" from the airport.
The airport's tower identified the suspect as "Rich," who crashed on Ketron island in a wooded area, avoiding hitting any structures according to Alaska Airlines. The F-15 fighter jets scrambled by the National Guard were flying so quickly that one of them broke the sound barrier…
MORE
.
—————————————————————————————
.
Feds Spend $613,634 To Boost 'Intimacy And Trust' Of Transgender Women And Their Male Partners – Washington Free Beacon
The National Institutes of Health is spending over $600,000 for a study that will follow transwomen and their male partners for a year. The study, being conducted by the University of Michigan, will use a "couples-based approach" for HIV prevention by talking about "intimacy and trust" and using condoms.
"Transgender ('trans') women (i.e., individuals with a feminine and/or female gender identity who were assigned male at birth) are among the populations at highest risk for HIV in the United States and worldwide," according to the grant for the project.
"One of the most consistently reported contexts for HIV transmission among trans women is within a primary partnership with a non-transgender male." The researchers say there has been a lack of scientific attention given to the male partners of transwomen.
"Despite the critical importance of primary partnerships for HIV prevention, the vast majority of HIV prevention studies and interventions for trans women have been individually-focused," the grant states…
MORE
.
—————————————————————————————
.
Democrat Candidate For Hawaii State Senate Caught On Camera Stealing Opponent's Campaign Flyers – KHNL
.

.
Just a day before the primary election, a video is making the rounds online that shows state Rep. Matt LoPresti stealing his opponent's campaign handout off of a resident's door.
In a statement, LoPresti acknowledged he stole the flyer and others, and then went back to return some and apologize to residents.
"Political campaigns can be intense and emotions can cloud otherwise good judgment of even the best people," LoPresti said, in the statement. "I sincerely apologize and have deep regret over my having taken some of those flyers."
"What this video does not show, however, is that very same day I returned flyers that were taken…
MORE
.
—————————————————————————————
.
Trump Doubles Steel And Aluminum Tariffs On Turkey Amid Row Over Detained U.S. Pastor – WTVJ
President Donald Trump tweeted Friday morning that he is stepping up steel and aluminum tariffs on Turkey, a move that came amid a Turkish currency crisis that saw the lira plunge to a record low.
"I have just authorized a doubling of Tariffs on Steel and Aluminum with respect to Turkey as their currency, the Turkish Lira, slides rapidly downward against our very strong Dollar! Aluminum will now be 20% and Steel 50%. Our relations with Turkey are not good at this time!" Trump wrote.
The lira hit a record low of 6.24 per dollar on Friday and tumbled about 10 percent, as investors worry about Erdogan's unorthodox economic policies and U.S. sanctions. The currency has fallen 66 percent since the start of the year, pushing up the cost of goods for Turkish people and shaking international investors' confidence in the country.
Turkish President Recep Tayyip Erdogan appealed for calm, urging people to change foreign money into local lira…
MORE
.
—————————————————————————————
.
Jew-Hating Muslim Democrat Ilhan Omar's Credentials Include Committing Perjury While Divorcing Her Brother – Victory Girls
.

.
Democrat darling Ilhan Omar hopes to skate easily to a win in the primary on August 14. She's received several high profile endorsements since announcing for Keith Ellison's seat, and has had CAIR along with Linda Sarsour campaigning for her.
All involved are ignoring her problematic credentials which include possible perjury regarding her marriage and divorce to her brother. That includes Minnesota's Star Tribune, who chose Margaret Anderson-Kelliher over her.
Star Tribune – Omar, 35, also offers a compelling life story. But it includes just one term as a member of the Minnesota House minority. It's been a highly visible term. Omar has received national notice as the first Somali-American state legislator in the country…
MORE
.
—————————————————————————————
.
Trump Wins Again: Germany's Central Bank Stops $400M Cash Delivery To Iran – Daily Wire
President Trump has won another victory: Germany's central bank has terminated a $400 million cash delivery to Iran.
Deutsche Bundesbank has previously worked with the Iranian-owned European-Iranian trade bank (EIH) to end-around sanctions the United States has placed on Iran.
As Fox News reports, "The U.S. and the European Union previously sanctioned the EIH for its role in advancing Iran's nuclear and missile programs. The sanctions on the EIH were lifted after the world powers reached an agreement to curb Iran's nuclear program in 2015."
In July, it was revealed that German Chancellor Angela Merkel's government was trying to circumvent the sanctions that were implemented this week. U.S. ambassador to Germany Richard Grenell urged Merkel to terminate the $400 million cash delivery.
Grenell tweeted his approval of Deutsche Bank's actions…
MORE
.
—————————————————————————————
.
Street Artist Creates Dozens Of New Trump Stars On Hollywood's Walk Of Fame – Daily Caller
.

.
President Donald Trump's star on the Hollywood Walk of Fame has been attacked, vandalized and smashed multiple times since Trump became president. The star is a regular site for protests, and was recently carved up by an angry leftist with a pick axe.
Now, a Trump-supporting guerrilla street artist has taken matters into his own hands. The twitter account @TheFaction1776 posted videos of men dressed as construction workers placing dozens of laminated replica Donald Trump stars along the Hollywood Walk of Fame.
The sophisticated operation involved the stars, which look identical to the real stars, being placed in various arrangements around the stars of various left-wing activists, such as Rob Reiner…
MORE
.
—————————————————————————————
.
Texas Takes DACA To Court, Says Immediate Injunction Against Obama-Era Program 'Vital To Restoring The Rule Of Law' – Fox News
The state of Texas is seeking a nationwide injunction against the Obama-era Deferred Action for Childhood Arrivals Program (DACA), telling a federal judge in a hearing Wednesday that the government should be barred immediately from issuing or renewing more permits under the program.
Texas is part of a 10-state coalition that filed a still-pending lawsuit to end DACA in May. The state's attorney general, Ken Paxton, joined several other state attorneys general Wednesday in asking U.S. District Judge Andrew Hanen to halt DACA, which protects about 700,000 people from deportation, until that litigation is concluded.
Paxton said in a statement that the lawsuit was "vital to restoring the rule of law to our immigration system."
The Trump administration has sought to rescind DACA using executive authority, in a manner similar to how the Obama White House implemented the program…
MORE
.
—————————————————————————————
.
Millionaire Douchebags Kneel, Raise Fists During National Anthem At NFL Preseason Games – New York Post
.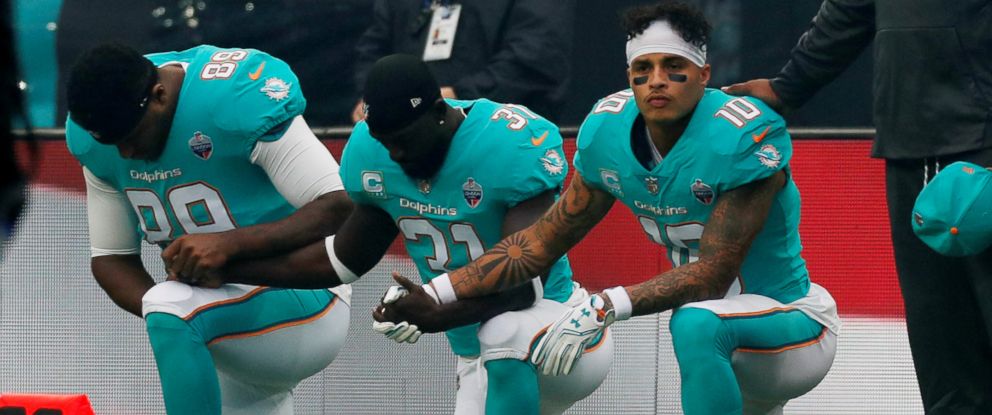 .
National anthem protests returned to the NFL Thursday, as two Miami Dolphins players took a knee and one of their teammates raised a fist during "The Star Spangled Banner" ahead of the team's preseason opener.
Wide receivers Kenny Stills and Albert Wilson both kneeled while defensive end Robert Quinn raised his fist before the Fins took on the Tampa Bay Buccaneers at Hard Rock Stadium in Miami Gardens.
The Giants opened their preseason at home against the Cleveland Browns on Thursday, and Big Blue defensive lineman A.J. Francis raised his fist at the end of the anthem, NJ.com reported…
MORE
.
—————————————————————————————
.
Trump's New 'Zero Tolerance' Rules Cut Welfare-Dependent Foreigners From Taxpayer Money Spigot – BizPac Review
Foreign nationals who need government welfare may find it harder to resettle in the U.S. as the Trump administration is set to roll out a new plan to save American taxpayers money.
The administration's proposal, spearheaded by White House senior adviser Stephen Miller, would seek to prevent immigrants from coming to the U.S. if they may end up being a drain on taxpayers, Breitbart News reported.
New rules would be added and old laws would be enforced in the multi-pronged plan that would make it harder for legal immigrant residents who have used any forms of welfare in the past – including Obamacare, food stamps, and public housing – from becoming citizens.
"The administration is committed to enforcing existing immigration law, which is clearly intended to protect the American taxpayer by ensuring that foreign nationals seeking to enter or remain in the U.S are self-sufficient," a spokeswoman for the Department of Homeland Security told NBC News…
MORE
.
—————————————————————————————
.
Vice President Pence Outlines Plan For U.S. Space Force In Pentagon Speech – Defense News
.

.
Vice President Mike Pence on Aug. 9 unveiled the Pentagon's plan to set the stage for a Space Force – a new military service branch centered around space operations – which could be in effect as early as 2020.
That plan involves creating an independent unified combatant command, U.S. Space Command, that will eventually be led by a four-star general, Pence said during a speech at the Pentagon.
It also calls for naming an assistant secretary of defense for space that will be in charge of standing up the Department of the U.S. Space Force and could eventually transition to the position of its first service secretary…
MORE
.
—————————————————————————————
.
Illegal Alien Breaks Legs Trying To Climb Over New 30-Foot Border Wall In California – Your News Wire
An illegal alien attempting to enter the United States has fallen from a new 30-foot high wall in southern California, breaking both his legs after landing on American soil.
Border Patrol surveillance video shows the man lying motionless on the ground after heaving his body over the new bollard-style barrier Sunday night in downtown Calexico, east of San Diego.
According to paramedics, the illegal alien broke both of his legs and may have injured his back. He was taken to a hospital in Palm Springs, according to the Associated Press.
The Border Patrol didn't identify the man. Spokesman Carlos Pitones says the U.S. government typically pays medical expenses for people who are injured crossing the border illegally and they are deported after recovery.
The Trump administration is replacing a 2-mile stretch of barrier made from recycled metal scraps and landing mat with the new 30-foot-tall bollard-style wall…
MORE
.
—————————————————————————————
.
Previously Deported Illegal Alien Raped Small Child After Being Released From Leftist-Controlled 'Sanctuary City' – Daily Caller
.

.
The Department of Justice is prosecuting a previously deported illegal alien from Honduras for illegal re-entry while he is in prison for raping a small child after release by the city of Philadelphia.
Illegal alien Juan Ramon Vasquez was previously deported in May 2009 and resurfaced on the radar of U.S. authorities in May 2014 after an arrest in Philadelphia. ICE agents were unable to detain Vasquez and re-deport him, however, because he was released by the city, which has a sanctuary policy for illegal aliens. Vasquez committed the rape of the child after his release.
"The facts of this case highlight the danger posed by the City of Philadelphia's decision to disregard ICE detainers and release previously deported aliens…
MORE
.
—————————————————————————————
.
19 Leftist Attorneys General Challenge Federal Policy Prohibiting Abortions For Unaccompanied Minors – CNS
Nineteen attorneys general filed a friend-of-the court brief in a case challenging the federal policy of prohibiting unaccompanied minors from having abortions.
The amicus brief was led by New York Attorney General Barbara Underwood and signed by the attorneys general of New York, California, Connecticut, Delaware, Hawaii, Illinois, Iowa, Maine, Maryland, Massachusetts, New Jersey, New Mexico, North Carolina, Oregon, Pennsylvania, Vermont, Virginia, Washington, and the District of Columbia.
In addition to the attorneys general, more than 40 medical, legal, and liberal groups – including Planned Parenthood and NARAL Pro-Choice America – signed onto the amicus brief. They contend that unaccompanied illegal immigrant minors have a constitutional right to abortion.
The case at issue is Health and Human Services Secretary Alex Azar v. Rochelle Garza, "as guardian ad litem to unaccompanied minor JANE DOE, on behalf of herself and others similarly situated, et al."…
MORE
.
—————————————————————————————
.
Alex Jones Claims 5.6 Million New Infowars Subscribers Since Big Tech Blacklisting – Breitbart
.

.
Alex Jones claims 5.6 million people have subscribed to his free Infowars newsletter and podcast over the last 48 hours.
These 48 hours have been crucial for Jones, as the Big Tech monopolies and left-wing news outlets like CNN and BuzzFeed have joined forces to blacklist/erase Infowars from the public square.
Jones and Infowars have had their accounts canceled – have been effectively purged and erased – from YouTube, Facebook, Apple, LinkedIn, Spotify, Stitcher, and Pinterest. Even the emailing service MailChimp blacklisted Jones, in what has been a highly effective and coordinated media/Big Tech campaign to silence a vocal Trump supporter…
MORE
.
—————————————————————————————
.
Trump Administration To Impose New Sanctions On Russia For Nerve Agent Attack In England – Chicago Tribune
The Trump administration said Wednesday it would impose new sanctions against Russia as punishment for its use of a nerve agent in an attempt in March to assassinate British citizen and ex-Russian intelligence officer Sergei Skripal and his daughter.
A terse release from the State Department said that the United States had determined Russian responsibility for the attack in Salisbury, England – a British conclusion the administration had already accepted – under a 1991 U.S. law on biological and chemical weapons use that requires the president to impose sanctions.
Russia has denied responsibility for the attack.
A State Department official said the sanctions could have a significant impact on trade with Russia, including prohibition of licenses on sending some U.S. goods there, such as electronic devices. But unless Russia agrees within 90 days to stop all use of chemical weapons and permit inspections to confirm their elimination, additionally mandated measures could cut off almost all trade between the two countries…
MORE
.
—————————————————————————————
.
"Heavily Armed" Muslim Extremists Arrested In NM; Trained 11 Children To Commit School Shootings – Zero Hedge
.

.
Authorities looking for a missing 4-year-old Georgia boy say his father and another man were training nearly a dozen children at a remote New Mexico compound to commit school shootings with assault rifles, reports AP.
While police didn't find the toddler, Abdul-ghani Wahhaj – who went missing in December in Jonesboro, Georgia – authorities discovered 11 other children ranging in age from 1 to 15 years old held in "the saddest living conditions and poverty I have seen," while the remains of a boy were also found on the compound which have not yet been positively identified by medical examiners.
Authorities say the father of the 3-year-old told the mother that he wanted to perform an exorcism on the child, and that he was bringing the boy to a park after which he never returned…
MORE
.
—————————————————————————————
.
Trump Administration Preparing To Do Away With Obama-Era Lightbulb Rules – Houston Chronicle
In the last days of President Barack Obama's administration, the Energy Department issued new rules attempting to make a wide swath of the lightbulbs illuminating U.S. homes and businesses more energy efficient.
The move was cheered by environmentalists keen on the energy-saving potential but booed by conservatives who say it is not a bright idea to stop consumers from buying the lighting of their choice.
Now, the Trump administration appears to be ready to side with those incandescent die-hards, according to a document that was published on – but then deleted from – the Energy Department's website.
The document, discovered and saved by the Appliance Standards Awareness Project, indicates the Energy Department is preparing to repeal Obama-era rules that broadened the number of lightbulbs that must meet strict energy efficiency standards set to take effect in 2020…
MORE
.
—————————————————————————————
.
Colleges: A Force For Evil – Walter E. Williams
.

.
Many of the nation's colleges have become a force for evil and a focal point for the destruction of traditional American values. The threat to our future lies in the fact that today's college students are tomorrow's teachers, professors, judges, attorneys, legislators, and policymakers.
A recent Brookings Institution poll suggests that nearly half of college students believe hate speech is not protected by the First Amendment. Of course, it is.
Fifty-one percent of students think that it's acceptable to shout down a speaker with whom they disagree. About 20 percent of students hold that it's acceptable to use violence to prevent a speaker from speaking…
MORE
.
—————————————————————————————
.
Naked Man Lured Girls Into Bushes With Kitten Noises – BBC
A naked man lured a group of young girls into some bushes by making kitten noises, police have said.
The youngsters, aged between eight and 10, heard "mewing" from woodland and went to investigate. When they got closer, the "shocked" children saw the man holding a cushion in front of his body, Cheshire Police said.
They have appealed for witnesses who were near Catfloss Close, Warrington, at 15:55 BST on Monday.
Sgt Ruth Atherton said: "I would urge anyone with any information on the man or who sees anyone acting suspiciously in the area to contact police."
The Warrington Guardian reported that a mother of one of the girls said her daughter saw a cat running from the bushes and on hearing kitten noises went to help. She said: "I've never been so disgusted in my life."…
MORE
.
—————————————————————————————
.
Senate Intel Committee Calls On Julian Assange To Testify In Completely Pointless Russia Investigation – RT
.

.
The U.S. Senate Intelligence Committee has requested that persecuted WikiLeaks editor Julian Assange testify before committee staff. The committee is investigating alleged Russian interference in the 2016 election.
In a letter delivered to Assange at his residence in the Ecuadorian embassy in London, committee chairman Richard Burr (R-North Carolina) requested that Assange make himself available for a closed interview "at a mutually agreeable time and location."
WikiLeaks' legal team said that they "are considering the offer but testimony must conform to a high ethical standard."
Assange fled to the Ecuadorian embassy in London in 2012…