.
NFL Freezes Anthem Protest Policy Pending Negotiations With Players Union – Breitbart
The NFL and the NFL Players Association (NFLPA) released a joint statement on Thursday night, vowing to put a hold on the new league rule requiring players on the field to stand for the playing of the national anthem.
The shocking development comes only hours after news leaked that the Miami Dolphins had added a category called "Proper Anthem Conduct," to their player disciplinary document.
The apparent reversal also comes only one week after the NFLPA filed a grievance against the league, in which the union sought a "system arbitration" to prevent the league from giving individual teams from requiring players to stand for the anthem, or disciplining the for refusing to do so.
The statement claims that both the league and the players union are talking and working on a resolution…
MORE
.
—————————————————————————————
.
Tony Podesta Is Sixth Clinton-Linked Democrat To Be Granted Immunity While Paul Manafort Rots In Prison For Same Crime – Gateway Pundit
.

.
Paul Combetta, the computer specialist who deleted Hillary Clinton's emails when they were under subpoena, was granted immunity by the Obama DOJ in September 2016.
Cheryl Mills, Hillary Clinton's former chief of staff and attorney, received an immunity deal from the Justice Department during the year-long FBI investigation of Clinton's server before she even testified.
John Bentel director of the State Department's Office of Information Resources Management, was given immunity by the Obama DOJ.
Heather Samuelson, a senior Hillary Clinton adviser, was also given immunity agreements, bringing the total number of witnesses who were protected by deals to five…
MORE
.
—————————————————————————————
.
GOP Lawmakers Grill Social Media Giants Over Censorship Of Conservatives – Daily Caller
Republican lawmakers are not giving up their crusade against Facebook, YouTube and Twitter over the alleged censorship of conservatives happening on these social media platforms. Republicans aren't letting them off the hook so easily – and they shouldn't.
On Tuesday, representatives from these social media companies testified at a House Judiciary Committee hearing to explain how their companies filter content from their users.
The hearing comes a just a few days after Facebook's algorithms flagged the U.S. Declaration of Independence as a hate speech and blocked it from the site.
Facebook apologized for the censorship and also fixed the problem, but clearly there's something very wrong with the algorithm if it's identifying our founding documents as 'hateful' or 'offensive' in the first place.
Some members of congress are floating around the idea of turning these social media companies into public utilities if they don't clean up their act…
MORE
.
—————————————————————————————
.
Washington's First Drive-Thru Marijuana Dispensary Opens In Auburn – KOMO
.

.
There's now a faster way to buy marijuana and you don't even have to get out of your car. Joint Rivers in Auburn is now the first in the state to offer drive-through service. The marijuana dispensary says it's setting itself apart from the competition by allowing its customers to keep a lower profile.
"Some cannabis consumers don't share with everybody that they are, so this offers a whole other level of discretion," said Audria Jaggers, General Manager of Joint Rivers. "They can literally make their order online, come to the drive-through without anybody ever knowing they were on the premises."
Joint Rivers opened its doors in Auburn a month ago just across from the Muckleshoot Casino…
MORE
.
—————————————————————————————
.
Federal Agents Say Florida Man Posed As Housewife To Trick Men Into Sex Acts For Porn Site – Law & Crime
A Florida man allegedly pretended to be a housewife so he could trick other men to participate in sex acts that were secretly being recorded, and he uploaded the material to a porn site.
Bryan Deneumostier, 33, was arrested late Tuesday by federal agents, and charged with two counts of illegal interception of oral communication, and three counts of record-keeping violations, according to documents obtained by the Miami Herald.
This defendant ran the now-defunct "StraightBoyz" website for four years, said officials with the Department of Homeland Security. The site allegedly hosted at least 600 videos. Footage purported to show straight men being tricked into sex acts, all while being blindfolded or wearing blacked-out goggles.
It's unclear how many of these depict victims who didn't know they were being recorded. Investigators are still trying to determine the exact number. Authorities believe many videos are still available on other adult websites…
MORE
.
—————————————————————————————
.
Feds Fund $772,060 Study On How Well Mexican-Americans On Border Sleep – CNS
.

.
The University of Arizona received $772,060 in taxpayer funding from the National Institutes of Health (NIH) in fiscal year 2018 to study the "sleep health" of Mexican-Americans on the U.S.-Mexico border.
"The primary goal of this study is to assess sleep health among Mexican-Americans at the US/Mexico border, characterize relationships with cardiometabolic disease risk, and investigate the role of social-environmental factors including acculturation, stress, socioeconomics, and health behaviors," the grant description stated.
"Short sleep duration, insomnia disorder, and sleep apnea are highly prevalent in the population…
MORE
.
—————————————————————————————
.
Gallup: Less Than 1% Of Americans Give A Damn About Russia Meddling In U.S. Elections – Zero Hedge
While ever-hope-filled expectations among the left are for a 'blue wave' in the Mid-term elections, we suspect things may not turn out quite as planned given the last week's "crisis".
Even before President Trump had set foot in Helsinki, the left and the media were banging the drums of war against "the thug" Putin and how he would trump Trump, and once the press conference furore was over, all hell broke loose as the left-leaning world attempted to out-signal one another's virtue as to the "treasonous", "surrender" that had occurred.
So much so – in fact – that the internet became 'full' of "Trump" and "Treason" chatter – more so even than when he joked in July 2016 about Russia having Hillary's missing 30,000 emails.
Once again – the "Russia, Russia, Russia" cries drowned out any sane discussion of the end of cold war 2.0. There's just one problem with the Democrats' unending focus on Russia and the media's constant collusion chatter: few Americans care…
MORE
.
—————————————————————————————
.
Trump Sets New 2-Year Appellate Judge Record, All Dems Oppose – Breitbart
.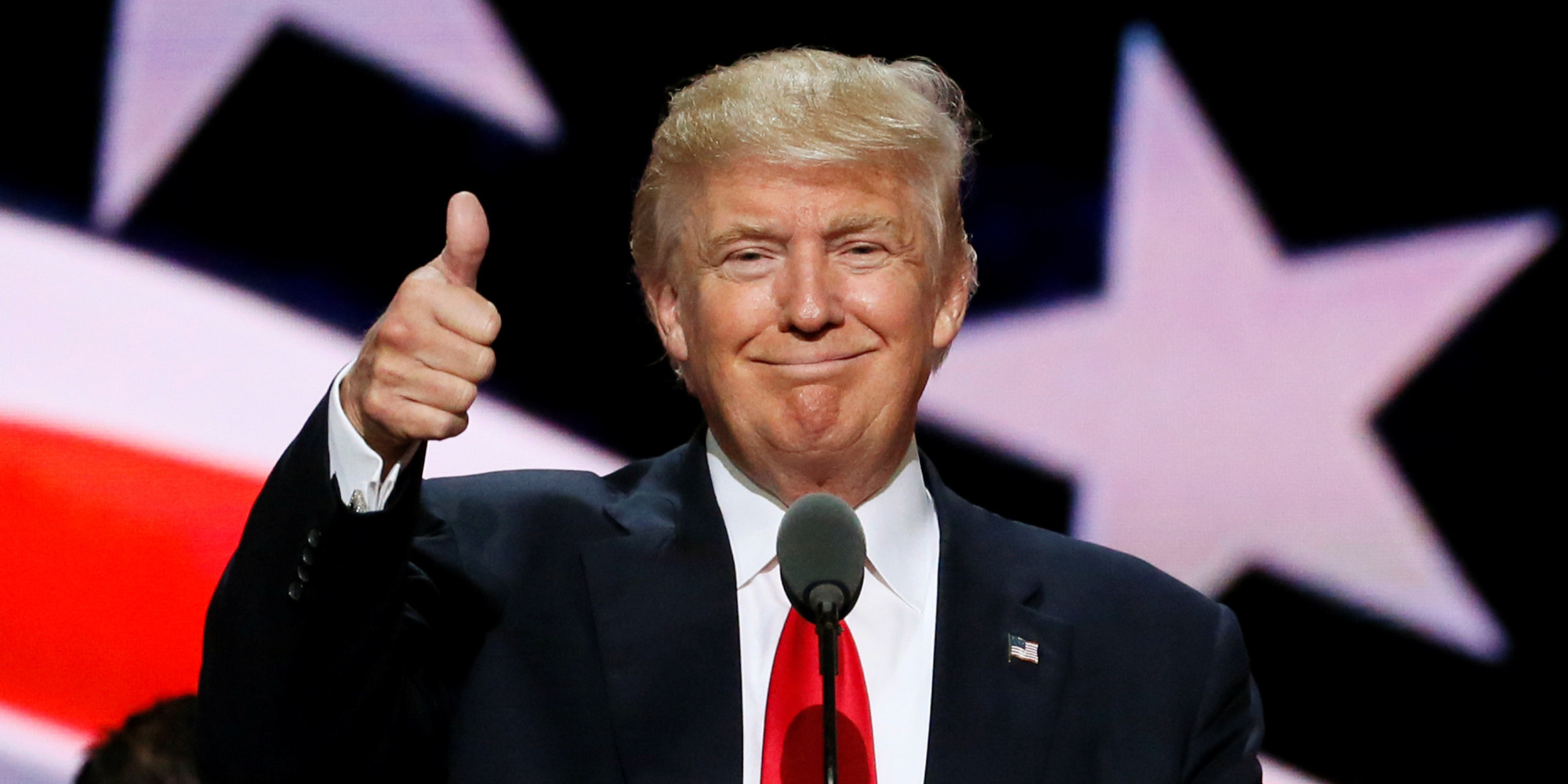 .
President Donald Trump set a new judicial record on Wednesday when the Senate confirmed Judge Andrew Oldham to the U.S. Court of Appeals for the Fifth Circuit 50-49, marking the 23rd appellate judge confirmed in the first two years of a presidential administration, as Democrats take partisanship to new heights to block these nominees.
Oldham is a rising star in the conservative movement, regarded as a top confirmation priority. He graduated from Harvard Law School, clerked for a judge on the U.S. Court of Appeals for the D.C. Circuit (Judge Brett Kavanaugh's court, often referred to as the second-highest court in America), then clerked for Justice Samuel Alito on the U.S. Supreme Court.
At age 39, he quickly generated a distinguished legal career, most recently serving as general counsel to Gov. Greg Abbott (R-TX)…
MORE
.
—————————————————————————————
.
These Are The Six Republicans Who Voted In Favor Of Carbon Taxes – Daily Caller
Three of the six Republicans lawmakers who voted Thursday against a House resolution opposing a carbon tax were from Florida and one of them is a prominent President Donald Trump supporter.
Reps. Carlos Curbelo of Florida, Brian Fitzpatrick of Pennsylvania, Trey Hollingsworth of Indiana, Francis Rooney of Florida, Ileana Ros-Lehtinen of Florida, and Mia Love of Utah were the only Republicans to vote against the measure. But their opposition was offset by the seven Democrats who supported the measure.
Curbelo, whose district voted overwhelmingly for former Secretary of State Hillary Clinton in 2016, is one of the principal founders of the bipartisan caucus and is preparing to roll out his own legislation next week to put a $23 levy on carbon emissions.
The measure doesn't enact any new laws, but it does pressure Republicans to oppose any future legislation designed to tax carbon…
MORE
.
—————————————————————————————
.
FBI Director Wray: Chinese Espionage 'Most Significant' Spy Threat Facing U.S. – Daily Caller
.

.
China, rather than Russia, is the "most significant" long-term threat to the United States, FBI Director Christopher Wray said Wednesday.
During an interview with NBC's Lester Holt at the Aspen Ideas Forum, Wray said that the FBI has economic espionage investigations in all 50 states that trace back to Chinese activity. "It covers everything from corn seeds in Iowa to wind turbines in Massachusetts and everything in between," said Wray.
Most of the forum focused on the FBI's investigation of Russia's meddling in the 2016 presidential election and in other arenas. Wray's appearance comes in the wake of two significant indictments in Russia-related investigations…
MORE
.
—————————————————————————————
.
House Bill Funds $5 Billion For Wall, Adds ICE And Border Patrol Agents – Washington Examiner
A fiscal 2019 spending measure was introduced in the House on Wednesday that provides $5 billion for a southern border wall and additional funding for border security that aims to achieve "100 percent scanning" of the border within five years.
The Homeland Security appropriations subcommittee measure would fund more than 200 miles of "new physical barrier construction" along the U.S.-Mexico border.
The legislation also includes $223 million to add 375 additional border patrol agents above the Trump administration request, including 140 canine teams, that, according to the House Appropriations Committee, will "initiate a five-year strategy toward achieving 100 percent scanning on the southern border."
The measure increases the budget for Immigration and Customs Enforcement by $328 million over fiscal 2018. Of that new funding, $78 million is allotted for the hiring of 400 additional ICE agents and support staff…
MORE
.
—————————————————————————————
.
President Trump Makes Last-Minute Stop At Joint Base Andrews To Honor Fallen Secret Serviceman – Independent Journal Review
.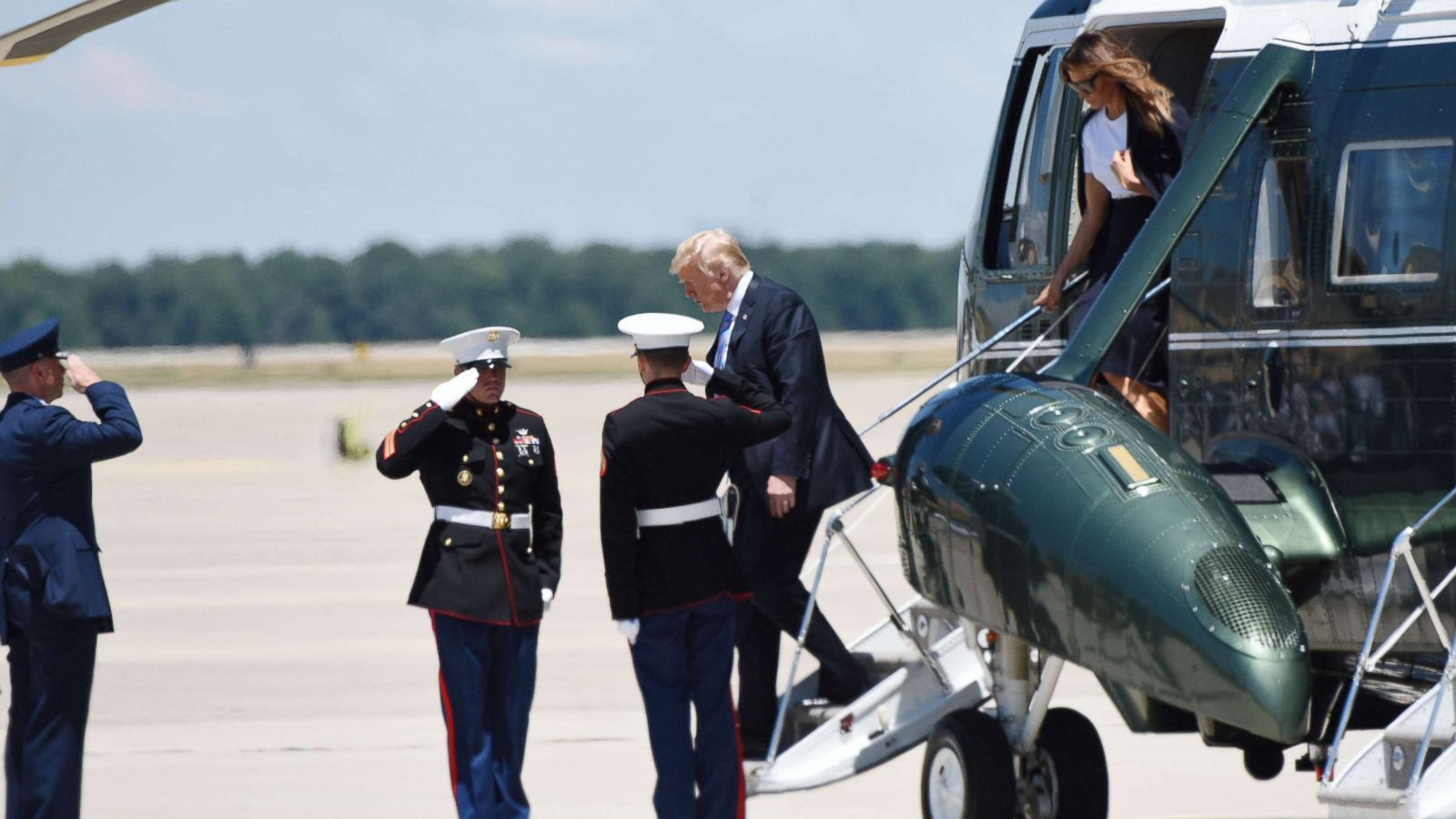 .
President Donald Trump took time out of his schedule Wednesday to honor Secret Service special agent Nole Remagen. Remagen died after suffering a stroke while serving the president in Scotland. He served in the agency for 19 years.
The president did not announce the visit until they were already en route to the base.
In a statement, the president said Remagen was "among the elite heroes" for which the president was "forever in debt":
Earlier this week, United States Secret Service Special Agent Nole Edward Remagen suffered a stroke while on duty in Scotland. Yesterday, he passed away, surrounded by family and fellow Secret Service agents…
MORE
.
—————————————————————————————
.
House GOP Pins 167 Democrats With 'Abolish ICE' Vote – Breitbart
GOP legislators wrapped the unpopular "Abolish ICE!" campaign around House Democrats on Wednesday, by forcing a floor vote where 167 Democrats abstained or voted against a resolution praising the Immigration and Customs Enforcement agency.
Democratic leaders protested and denounced the resolution, which was passed by 226 GOP votes. "This is the equivalent of fiddling while Rome is burning… It is a meaningless stunt," said Democratic Rep. Ralph Nadler. "We have more important things to do."
Democrats are under growing pressure from their progressive base to block ICE's popular immigration reforms. But that is electoral poison, so Democratic leaders have been trying to shift attention back to higher priorities issues such as healthcare.
Only 18 Democrats voted for the GOP's pro-enforcement resolution, while 34 Democrats voted against the resolution and 133 abstained by voting "present" in the hope of minimizing the blowback from ordinary voters or the progressive base…
MORE
.
—————————————————————————————
.
Ted Nugent Denies Banning Guns At Virginia Concert: 'Damn The Fakenews Lying Bastards!' – Washington Times
.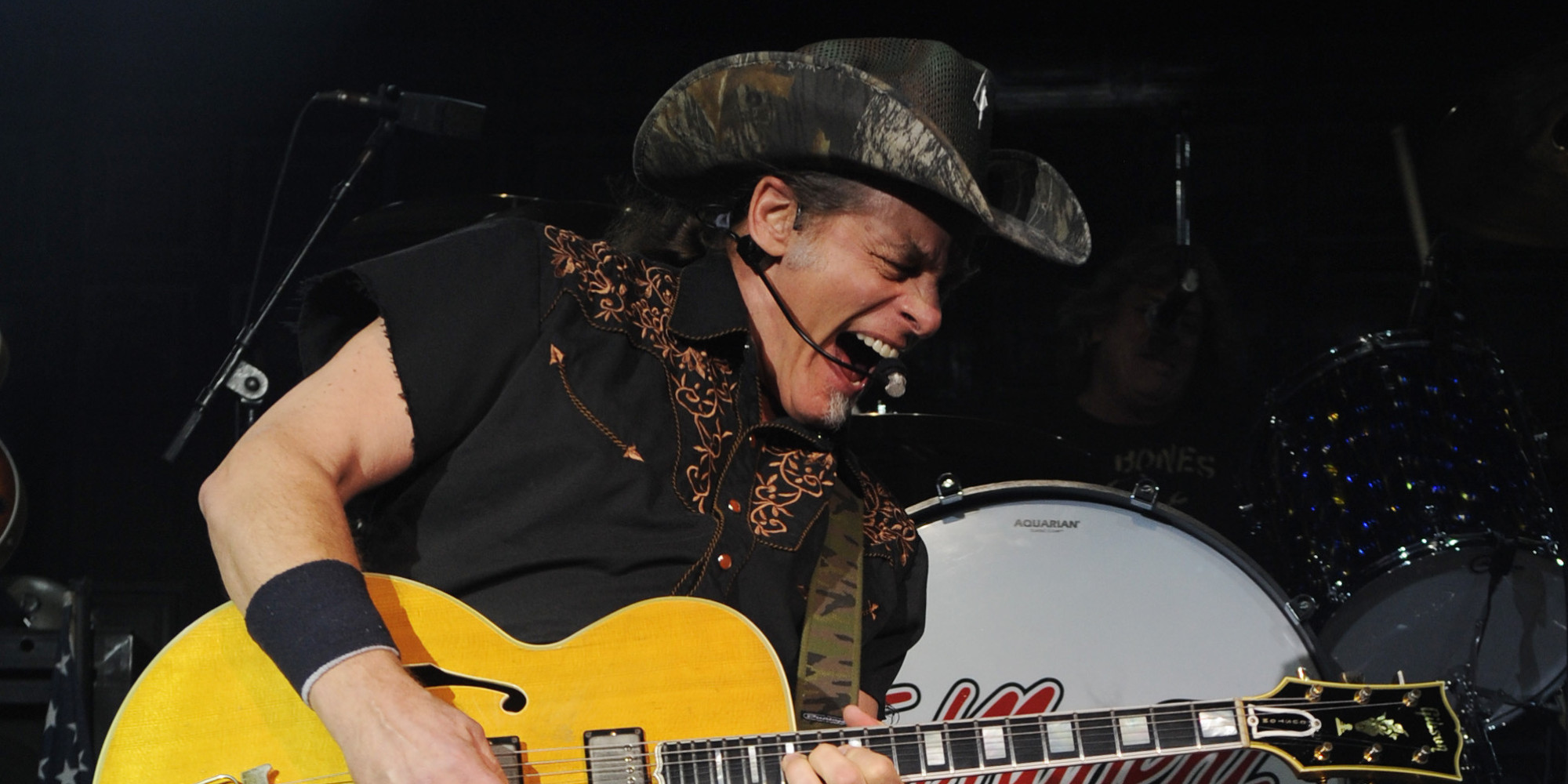 .
Pro-gun rocker Ted Nugent is denying a report that he instituted a last-minute firearms ban at his concert in Roanoke, Virginia, on Tuesday night.
"Dear God in heaven & damn the fakenews lying bastards!" the 69-year-old guitarist wrote on Facebook. "I gave the direct order tonight that guns were absolutely welcome to my concert. The media cannot be trusted. They are consumed with hate and dishonesty."
Mr. Nugent was referring to a news story by local NBC affiliate WSLS, which reported Wednesday that people with guns were turned away at the Berglund Performing Arts Theater despite being told earlier that guns were allowed…
MORE
.
—————————————————————————————
.
Splitting Up California: State Supreme Court Takes Initiative Off November Ballot – San Francisco Chronicle
The state Supreme Court decided Wednesday that California will remain intact geographically, at least for now, while it decides whether the voters can consider a proposal to divide the Golden State into three new states.
The three-state initiative, Proposition 9, had gathered enough signatures to qualify for the November ballot. Nine days after opponents filed suit, the court issued a unanimous order removing the measure from the ballot and ordering further legal arguments on whether it should be placed on another ballot in 2020 or struck down altogether.
The court said it usually allows ballot measures to go to the voters before considering constitutional challenges. But in this case, the six justices said, "significant questions regarding the proposition's validity" and the "potential harm" of allowing a public vote before those questions are resolved "outweighs the potential harm in delaying the proposition to a future election."…
MORE
.
—————————————————————————————
.
EU Slaps Google With Record $5 Billion Fine For Antitrust Violations – RT
.

.
European regulators have hit Google with a €4.3 billion ($5 billion) antitrust fine for abusing the dominance of its Android mobile operating system. It's the highest anti-competition penalty ever imposed on a company by the EU.
The fine was announced on Wednesday after the EU found the US company guilty of using its Android mobile operating system to block rivals.
"Today, mobile internet makes up more than half of global internet traffic. It has changed the lives of millions of Europeans. Our case is about three types of restrictions that Google has imposed on Android device manufacturers and network operators to ensure that traffic on Android devices goes to the Google search engine," said European Commissioner for Competition Margrethe Vestager…
MORE
.
—————————————————————————————
.
Man Confesses To Using 675 People For Sacrifice; Reveals Secrets Of Fake Pastors – Ghanaweb
YEN.com.gh has sighted a video of a young man telling a horrible story of how he has used 675 people for rituals and literally staying with Satan for 17 years. In the video, the man who looks like someone in his 30s is heard saying that he has served in the dark world his entire life.
17 years of which, he added, was spent at the level where Satan himself was. According to the man who was wearing a mask to disguise his identity, he was born with the dark spirits because his family is a "fully spiritual family."
To sustain his power, he had to offer sacrifices and he did so 675 times. He explained that the 675 people he sacrificed were mostly children given to him by some doctors and nurses who were members of an occult group.
The young man also claimed that during his time in the spiritual world, he had 664 demonic spirits at his disposal…
MORE
.
—————————————————————————————
.
Intel Chair: FBI, DOJ Obstructing Trump Probe In Hope Of Dem Takeover In Congress – Washington Free Beacon
.

.
The chair of the House Intelligence Committee accused the FBI and Department of Justice of stonewalling a sprawling investigation into claims the Trump campaign colluded with Russia with the hope of running out the clock until the November elections, when they anticipate Democrats will regain control of the House and dissolve an ongoing probe that has uncovered evidence U.S. officials sought to cripple Trump's campaign.
Rep. Devin Nunes (R., Calif.), in a wide-ranging audio interview with his House colleague Rep. Sean Duffy (R., Wis.), accused top officials at the FBI and DOJ of "putting all their chips on the Republicans losing the House" so that their Democratic allies can "shut down" the longstanding Intelligence Committee probe, which has unearthed information disputing claims of collusion in recent months…
MORE
.
—————————————————————————————
.
Democrat Hellhole Update: San Francisco Begins Registering Illegal Aliens To Vote – Daily Wire
The Department of Elections in San Francisco on Monday issued voter registration for illegal aliens to allow them to vote for members of the city's Board of Education in the Nov. 6 election.
Becoming California's first city to allow non-American citizens to vote in local elections, Supervisor Norman Yee said, "We want to give immigrants the right to vote."
[For the record, "immigrants" are people who come to America through the legal process, while "illegal aliens" sneak into the country.]
In order to vote, the illegal aliens must live in the city, be at least 18 years old and be the "parents, legal guardians or caregivers of children under the age of 19 who also reside in San Francisco," ABC-7 reported.
"As a parent myself and a former member of the SF Board of Education it is critical that the voices of all parents are at the table particularly those that have historically been denied a voice in the process," said Supervisor Sandra Lee Fewer who represents District 1…
MORE
.
—————————————————————————————
.
John Brennan Misses Communist Russia – George Neumayr
.

.
John Brennan's anti-Trump tweets grow more and more maniacal. His latest tweet holds that Donald Trump's Russian diplomacy in Helsinki "rises to & exceeds the threshold of 'high crimes & misdemeanors.' It was nothing short of treasonous."
That tells people all they need to know about the unseriousness of the left's impeachment drive, not to mention exposing once again the demented malice behind the Obama administration's spying on the Trump campaign.
The unhinged criticism is also hilariously rich, given that John Brennan, who supported the Soviet-controlled American Communist Party, meets the textbook definition of a useful idiot for the Russians…
MORE
.
—————————————————————————————
.
Democrat Hellhole Update: Suspected California 'Rideshare Rapist' Is An Illegal Alien – Washington Times
Federal immigration authorities say a suspected serial rapist charged with posing as a Northern California ride-hailing driver to prey on his victims was living in the country illegally.
The U.S. Immigration and Customs Enforcement agency said Tuesday it plans to deport Orlando Vilchez Lazo to his native Peru if he's released from custody.
The 36-year-old was arrested last week on multiple allegations, including four counts of felony rape. He is jailed in lieu of $4.2 million in bail and is scheduled to appear in court Tuesday.
ICE asked the San Francisco Sheriff's Department to detain Lazo for federal immigration custody if he's ordered released from jail.
But officials believe the request will be ignored because San Francisco's so-called sanctuary city policy bars local authorities from cooperating with most deportation efforts…