.
After Massive Electoral Defeat, Head Of Mexico's Ruling Party Resigns – Daily Wire
.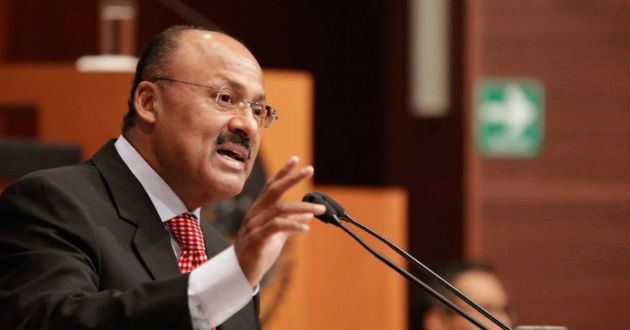 .
The head of the Mexican Institutional Revolutionary Party (PRI), the ruling party for the last seven decades, has resigned following a massive electoral defeat in the July 1 election.
PRI Leader and former Governor Rene Juarez Cisneros stepped down from his position on Monday after his party's candidate José Antonio Meade lost overwhelmingly to the left-wing National Regeneration Movement coalition party candidate Andrés Manuel López Obrador, who won with over 50%.
According to Reuters, the PRI image has been damaged by several corruption scandals, the growing violence in Mexico, and the struggling economy. Cisneros, who only took over the party in May of this year, advised the PRI to reconsider their strategy…
MORE
.
—————————————————————————————
.
Public School Enrollment Plummeting In North Carolina Thanks To School Choice – College Fix
Thank Republican lawmakers. If you want to see how parents act when the government stops forcing an educational monopoly on them, look to North Carolina. Nearly 20 percent of students are attending something other than a traditional public school, where attendance is falling "rapidly," according to The News & Observer.
The rush toward charter, private and even home schools is largely due to the Republican takeover of the Legislature in 2010.
Lawmakers have since removed the 100-school cap on charter schools (it's up to 185 as of this fall), created a $4,200 voucher for low-income families and two programs for special-needs kids to get out of public schools (where they are often treated poorly), and even made it easier for non-parent adults to teach homeschoolers.
Charter schools have grown by twice as many students as public schools have lost since the 2014-15 school year, The News & Observer reports…
MORE
.
—————————————————————————————
.
David Solomon Named As New Goldman Sachs CEO – Business Insider
.

.
David Solomon is now officially in line to succeed Lloyd Blankfein as CEO of Goldman Sachs. The Wall Street firm made the announcement Tuesday, saying Solomon would become CEO and join the board on October 1.
Solomon's ascension to CEO was widely expected after he was named in March as the sole president of Goldman, following the departure of his copresident Harvey Schwartz. With the formal announcement, Solomon can begin making changes to his leadership team.
Blankfein will remain chairman through the end of the year and then take the title of senior chairman after his retirement, the firm said. "David is the right person to lead Goldman Sachs," Blankfein said in the firm's statement…
MORE
.
—————————————————————————————
.
ICE Arrests 37 Illegal Aliens In Latest Sweep; Slams New Jersey County For Being A 'Sanctuary' – Breaking 911
U.S. Immigration and Customs Enforcement (ICE) Enforcement and Removal Operations (ERO) Newark Field Office arrested 37 individuals during a five-day operation that concluded Friday, as part of the agency's ongoing public safety efforts.
The operation targeted criminal aliens who were previously incarcerated at the Middlesex County Jail (MCJ), and who were subsequently released to the community by MCJ, without honoring the ICE detainer or advising ICE of their release. The operation also targeted other criminal aliens residing in Middlesex County.
Of those arrested, 16 subjects had been previously released by MCJ without honoring the ICE detainer and 78% had prior criminal convictions or pending criminal charges.
"ERO New Jersey will continue to enforce ICE's commitment to public safety," said Ruben Perez, acting Field Office Director of ERO in Newark. "Middlesex county, which aspires to be a 'sanctuary county' by protecting criminal aliens, in the process assists criminals in undermining federal law, and creates a dangerous environment in the community…
MORE
.
—————————————————————————————
.
Did The Russians Hack The DNC To Help Bernie Sanders And The Socialist Left? – Daniel Greenfield
.

.
The Russia conspiracy theory hinges on the single creaky claim that the Democratic National Committee hacks were a Russian plot to elect Trump. The theory and all its illegitimate stepchildren, including Robert Mueller and his infinitely expanding corps of prosecutors, lives or dies by the DNC hacks.
Trying to elect Trump by releasing damaging insider information from the DNC never made any sense. The DNC was already a dysfunctional organization that was being run by the Clinton campaign. Undermining its leadership had little impact on the election, but a great deal on control of the DNC.
There has never been any evidence that the DNC hacks swung the election…
MORE
.
—————————————————————————————
.
Ireland To Move All Of Its Oil Reserves Out Of The UK As Brexit Nears – Zero Hedge
The Irish government is expected to agree this week on a plan to move all of the Republic's oil reserves out of the UK as Ireland steps up its preparations for Brexit, Ireland's Sunday Independent reported.
Under the plan, seen as one of the most significant Brexit decisions for Ireland so far, Ireland will transfer the nearly 200,000 tons of oil out of British refineries and back into Ireland or other EU member states, as the UK is preparing to leave the European Union bloc.
According to Sunday Independent, the oil would be moved out of the UK "for national security reasons."
"We pay for storage there so that will have serious implications for UK refineries who have stored our oil for almost two decades," a senior Irish government source told Sunday Independent.
Ireland has 1.5 million tons of oil reserves…
MORE
.
—————————————————————————————
.
Donald Trump, Vladimir Putin Hold Joint Press Conference In Helsinki – American Military News
.

.
President Donald Trump and Russian President Vladimir Putin on Monday held a joint press conference in Helsinki, Finland, following their summit, which both leaders characterized as successful.
When they joined to have a joint press conference, each leader took two questions and follow-ups each, and reporters asked about the alleged Russian interference in the 2016 Presidential election. Both Trump and Putin publicly denied there was any Russian interference, despite U.S. intelligence agencies stating otherwise.
"The Russian state has never interfered and is not going to interfere into internal American affairs, including the election process," Putin told reporters…
MORE
.
—————————————————————————————
.
Jeff Bezos Becomes The Richest Man In Modern History, Topping $150 Billion – Bloomberg
Jeff Bezos is the richest person in modern history.
The Amazon.com Inc. founder's net worth broke $150 billion in New York on Monday morning, according to the Bloomberg Billionaires Index. That's about $55 billion more than Microsoft Corp. co-founder Bill Gates, the world's second-richest person.
Bezos, 54, has now topped Gates in inflation-adjusted terms. The $100 billion mark that Gates hit briefly in 1999 at the height of the dot-com boom would be worth about $149 billion in today's dollars. That makes the Amazon chief executive officer richer than anyone else on earth since at least 1982, when Forbes published its inaugural wealth ranking.
Bezos crossed the threshold just as Amazon prepares to kick off its 36-hour summer sales event, Prime Day. The company's share price was $1,825.73 at 11:10 a.m. in New York, extending its 2018 gain to 56 percent and giving Bezos a $150.8 billion fortune.
His net worth has soared by $52 billion this year…
MORE
.
—————————————————————————————
.
Leftist Clown Ocasio-Cortez Attacks Israel, Then Admits She Has No Idea What She's Talking About – Daily Wire
.

.
New York socialist Alexandria Ocasio-Cortez attacked Israel in a recent interview on PBS's "Firing Line," calling them the occupiers of Palestine and later admitting that she has no idea what she is talking about regarding Israel.
Ocasio-Cortez's remarks came in response to a question from host Margaret Hoover, who asked her to explain comments she made about Israel after she attacked them for defending themselves against an attack from Hamas terrorists.
Ocasio-Cortez, who called the shooting a "massacre," said that she thinks that Israel has the right to "exist," adding, "but I also think that what people are starting to see, at least, in the occupation of Palestine, is just an increasing crisis of humanitarian condition…
MORE
.
—————————————————————————————
.
U.S. And North Korean Generals Meet At DMZ To Discuss Sending Home America's War Dead – Daily Caller
U.S. and North Korean military officials reportedly met Sunday to discuss the repatriation of the remains of American war dead.
The U.S. team was led by Air Force Maj. Gen. Michael A. Minihan, the chief of staff for the U.N. Command, and the North Koreans sent a two-star general to the negotiations, according to South Korea's Yonhap News Agency. Sunday's meeting marks the first time in nine years that generals from the U.S. and North Korea have sat down together for talks, Reuters reported.
The discussions at the border, which lasted about two hours, focused on the only concrete component of the agreement signed by President Donald Trump and North Korean leader Kim Jong Un at their landmark summit in Singapore.
The agreement clearly states that "the United States and the [Democratic People's Republic of Korea] commit to recovering POW/MIA remains, including the immediate repatriation of those already identified."…
MORE
.
—————————————————————————————
.
In Twitter Meltdown, Elon Musk Calls Thai Cave Diver A Pedophile, Then Deletes Tweet – Zero Hedge
.

.
What does a billionaire Silicon Valley liberal (or perhaps socialist, or maybe republican) do when his giant "Thai cave rescue" diversion from his auto company woes goes sideways and authorities tell him to back off?
Why, handle rejection poorly and question the rescue chief's credibility, of course.
And what does said billionaire do when the Thai rescue chief tells him to "stick his submarine where it hurts" before being outed as a top donor to a GOP PAC?
Engage in a weird Twitter exchange with the Sierra Club about climate change to show the world you're an environmentalist, then call the Thai rescue chief a pedophile…
MORE
.
—————————————————————————————
.
FDA Approves First Drug To Treat Smallpox, In Case Of Terror Attack – Circa
U.S. regulators Friday approved the first treatment for smallpox – a deadly disease that was wiped out four decades ago – in case the virus is used in a terror attack. Smallpox, which is highly contagious, was eradicated worldwide by 1980 after a huge vaccination campaign.
But people born since then haven't been vaccinated, and small samples of the smallpox virus were saved for research purposes, leaving the possibility it could be used as a biological weapon.
Maker SIGA Technologies of New York has already delivered 2 million treatments that will be stockpiled by the government, which partially paid for the development of the drug, called TPOXX.
To test the drug's effectiveness, monkeys and rabbits were infected with a similar virus and then given the drug. More than 90 percent survived, the company said. Its safety was tested in several hundred healthy volunteers, who were not infected with smallpox…
MORE
.
—————————————————————————————
.
Illegal Alien And Mexican Drug Trafficker Behead 13-Year-Old Special Needs Girl Because She Saw Them Murder Her Grandmother In An Alabama Cemetery – Daily Wire
.

.
Alabama law enforcement officials say that an illegal immigrant and an immigrant in the United States on a green card are responsible for the brutal murders of a grandmother and her 13-year-old special needs granddaughter in what investigators say is violence related to Mexican drug cartels.
AL.com reports:
A 13-year-old Huntsville girl was beheaded after she witnessed her grandmother assaulted with a knife and left to die on the ground in a cemetery, court testimony revealed.
The grandmother, 49-year-old Oralia Mendoza, was allegedly connected to the Sinaloa Mexican drug cartel which is widely considered to be the largest and most powerful drug trafficking organization in the world…
MORE
.
—————————————————————————————
.
House Democrats Say They'll Vote 'No' On Their Own 'Abolish ICE' Legislation If Republicans Bring It To The Floor – The Hill
A group of Democrats who introduced legislation to abolish U.S. Immigration and Customs Enforcement (ICE) said they will vote against the measure if GOP leadership follows through with their vow to bring it to the House floor.
Reps. Mark Pocan (D-Wis.), Pramila Jayapal (D-Wash.) and Adriano Espaillat (D-N.Y.) released a statement Thursday accusing GOP leaders of exploiting the legislation for political gain after leadership confirmed it planned to hold a vote.
While the Democratic lawmakers said they plan to vote against their own measure – which would create a commission to examine ICE's responsibilities and then recommend transferring them to other agencies – they said they welcome the opportunity for debate.
"We know Speaker Ryan is not serious about passing our 'Establishing a Humane Immigration Enforcement System Act,' so members of Congress, advocacy groups, and impacted communities will not engage in this political stunt," the Democrats said in a joint statement…
MORE
.
—————————————————————————————
.
Greenpeace Paraglider Breaches Trump Security With Flyover In Scotland – Sputnik News
.

.
How do you get your message to U.S. President Donald Trump when he won't give you the time of day? You get a paraglider to conduct a flyover with a banner while he's at one of his resorts.
Greenpeace UK upped the ante on Friday after it boldly chose to get a paraglider and fly a banner that came within 200 feet of the president. The banner read, "Trump Well Below Par #Resist."
Footage of the incident, which took place at POTUS' Trump Turnberry Golf Resort in Scotland, shows 45 being rushed indoors by his security detail as the pilot comes over. A no-fly zone had been implemented by Scottish officials for the duration of the president's stay…
MORE
.
—————————————————————————————
.
Amazon Captures Nearly Half Of All E-Commerce Sales, Report Says – Chicago Business Journal
Amazon is quickly leaving behind every other retailer hoping for a future in e-commerce. New research out Friday from eMarketer, a research firm specializing in data in the digital marketplace, shows Amazon with a staggering – and likely insurmountable – lead over every other major retailer trying to compete online.
The research predicts Amazon (NASDAQ: AMZN) will capture a whopping 49.1 percent of all e-commerce sales in 2018.
That will put the online behemoth way ahead of its nearest competitor in the online space, eBay (NASDAQ: EBAY), which is predicted to get a relatively paltry 6.6 percent of all sales online. Apple (NASDAQ: AAPL) is in third place with just 3.9 percent, followed by Walmart (NYSE: WMT) at 3.7 percent.
The bottom six retailers in the top 10 in online sales – Home Depot (NYSE: HD), Best Buy (NYSE: BBY), QVC Group, Macy's (NYSE: M), Costco (NASDAQ: COST) and Wayfair (NYSE: W)…
MORE
.
—————————————————————————————
.
House Conservatives Prepare Impeachment Charges Against Rosenstein – National Review
.

.
A group of House conservatives is preparing to file impeachment charges against Deputy Attorney General Rod Rosenstein over his lack of cooperation with their efforts to investigate political bias in the FBI.
House Freedom Caucus chairman Mark Meadows had the impeachment document with him when he spoke to reporters on Capitol Hill and plans to file the charges as soon as Monday, Politico reported Friday afternoon.
Meadows, Freedom Caucus founder Jim Jordan (R., Ohio), and their conservative colleagues have attacked Rosenstein for months, accusing him of refusing to turn over documents purportedly related to allegations of bias within the FBI…
MORE
.
—————————————————————————————
.
San Diego Chainsaw Attacker Is Illegal Alien Who Has Been Deported 11 Times – Daily Caller
A California man who allegedly attacked his wife with a chainsaw is an illegal alien who has been deported at least 11 times since 2005, immigration officials confirmed Friday.
Alejandro Alvarez Villegas, 32, was arrested Thursday in Chula Vista, California, a suburb of San Diego, on allegations that he tried to kill his wife with a chainsaw in front of their three children. Alvarez has a long record of being deported and returning to the U.S., according to Immigration and Customs Enforcement (ICE).
"Department of Homeland Security databases indicate Mr. Alvarez-Villegas is a serial immigration violator who has been removed from the United States 11 times since 2005," an ICE spokesperson said, according to NBC7 News in San Diego.
The incident began Wednesday, when police in the Los Angeles suburb of Whittier responded to a domestic violence call and found Alvarez's wife inside their home with chest wounds caused by a chainsaw…
MORE
.
—————————————————————————————
.
Rep. Buddy Carter Introduces Bill To Prevent Illegals From Stealing Americans' Social Security Numbers – Breitbart
.

.
Rep. Buddy Carter (R-GA) told Breitbart News in an exclusive interview on Thursday about his new legislation that would prevent illegal immigrants from using Americans' Social Security numbers, protect citizens' privacy, and deter illegal immigration.
On Wednesday, Rep. Carter introduced H.R. 6333, Tax Identity Protection Act, which would direct the Internal Revenue Service (IRS) to help protect Americans from illegal immigrants from fraudulently using their Social Security numbers.
In his press release this week, the Georgia Republican said that he contacted the IRS and the agency told him that they were not "in the position to notify victims" that their Social Security numbers were used fraudulently. The IRS "blamed it on a computer system."…
MORE
.
—————————————————————————————
.
Massive Blasts Kill 128 Ahead Of Pakistan Elections; Ousted Prime Minister Arrested At Airport – Zero Hedge
The deadliest terror attack in over a year has rocked Pakistan as bombs went off at two campaign rallies in different cities. The massive death toll climbed by the hour throughout Friday after a suicide bomber struck a convoy headed to an election-related event in Mastung near the southwestern city of Quetta, the capital of Balochistan Province.
Pakistani authorities said 128 were killed and over 150 wounded in a suicide attack reportedly claimed by the Islamic State (ISIS).
Some observers have noted that the spot is close to where Pakistani forces had previously claimed to have eliminated an ISIS base in the province.
The attack targeted Siraj Raisani, a Balochistan Awami Party candidate for parliament running in the July 25 general elections, and his supporters. Raisani died as a result of the blast, which came after a motorcycle bomb attack earlier in the day in the northwestern town of Bannu targeted a convoy transporting former Housing and Works Minister Akram Khan Durrani, who escaped unharmed…
MORE
.
—————————————————————————————
.
President Trump Refuses To Take Questions From "Fake News" CNN During Joint Press Conference With Prime Minister May – New York Post
.

.
President Trump squabbled with reporters Friday and refused to take a question from "fake news" network CNN – prompting a journalist from Fox News to issue a statement defending his colleagues.
Trump hurled insults at CNN reporter Jim Acosta and NBC's Kristen Welker at a joint press conference with UK Prime Minister Theresa May following a lunch at Chequers.
"Can I ask you a question?" Acosta interjected.
"No, John Roberts, go ahead. CNN's fake news. I don't take questions from CNN," Trump said abruptly, calling on Acosta's Fox counterpart.
The president then leaned into the microphone and loudly groused, "CNN is fake news…