.
Trump's 'America First' Economy Secures 10-Year Employment High For Manufacturing Workers – Breitbart
.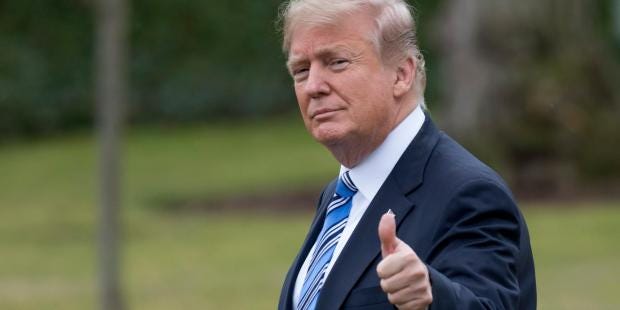 .
More American manufacturing workers are employed today than at any time in the last ten years as President Trump's 'America First' economy seeks to protect U.S. industry and jobs with tariffs, less immigration, and tax relief.
In June 2018, Trump's booming economy delivered an additional 36,000 manufacturing jobs for American workers, many of whom have had their livelihoods destroyed by job-killing free trade deals like NAFTA and KORUS.
Specifically, in the metals manufacturing industry, Trump's tariffs on imported steel, aluminum, and Chinese electronics seems to have boosted U.S. job growth – with 7,000 new jobs in manufacturing fabricated metal products, 5,000 new jobs in manufacturing computer and electronic products, and 3,000 new jobs in manufacturing primary metals…
MORE
.
—————————————————————————————
.
Trump Pardons Ranchers Whose Arrests Led To Armed Occupation Of Wildlife Refuge – Fox News
President Trump on Tuesday pardoned the father and son ranchers from Oregon whose imprisonment for setting fires on federal land sparked a 41-day takeover of a wildlife refuge in the state.
Trump signed the order granting clemency to 76-year-old Dwight Hammond and his son, Steven Hammond, 49, who were convicted of arson in 2012 for fires that burned on federal land in 2001 and 2006.
Morgan Philpot, an attorney for the Hammonds, confirmed to Fox News that his clients were released from a federal detention center south of Los Angeles Tuesday afternoon.
In a statement, the Hammond family said they were "grateful to the president and all who worked to make this possible, and to bring this about… We are very anxiously looking forward to seeing Dwight and Steven home."…
MORE
.
—————————————————————————————
.
Longtime Boy Scouts Leader Arrested For Child Pornography – New York Post
.

.
A respected Boy Scouts leader – who has spent more than two decades working with kids at a camp upstate – was thrown behind bars on Monday for possession of child pornography, according to prosecutors.
Russell T. Ruth, 34, of Lyons, was arrested and charged following an investigation by a state task force on crimes against children. Court papers obtained by the Democrat and Chronicle outline the allegations against him, including how he flat-out told authorities about his alleged kiddie porn stash.
"It's boys, it's boys with boys, boys with men," Ruth reportedly told cops, noting how there were several hundred files on his laptop.
MORE
.
—————————————————————————————
.
GOP Bill Would Make First-Time Illegal Border Crossing A Felony, Send Sanctuary City Funds To ICE – Washngton Examiner
Rep. Diane Black, R-Tenn., introduced legislation Tuesday that would reclassify a first-time illegal entry at the border as a felony instead of a misdemeanor.
Her Zero Tolerance for Illegal Entry Act would change the punishment for those apprehended illegally entering the U.S. for the first time to one year and one day in prison, which therefore makes it a felony. Today, the misdemeanor offense comes with jail term of up to six months.
The Tennessee lawmaker said she is proposing the change because she believes it would prevent would-be illegal entrants from coming to the U.S., and encourage migrants to apply for asylum at ports of entry instead of using smugglers to travel to the U.S.-Mexico border then cross between ports.
"What this bill does is it sets up a huge disincentive," she told the Washington Examiner. "There is already a process set up and they should be using what the process is…
MORE
.
—————————————————————————————
.
The Unmasking Antifa Bill Introduced By Congress Puts Antifa In Same Category As Their Democrat Cousins In The KKK – Gateway Pundit
.

.
The Unmasking Antifa bill was introduced by the House Judiciary Committee today as an amendment to the the Civil Rights law that carries a 15-year prison sentence. The law puts Antifa into the same category as their Democrat cousins in the KKK.
The great irony about a law designed to unmask antifa is that of the 18 states that have anti-masking laws, the majority were written into law in the mid-20th century to unmask the KKK.
But in the 21st Century, these laws are used largely as a pretext to round up or arrest Leftist protesters. In April, police in Georgia used a law designed to fight the KKK to arrest almost a dozen people fighting members of the KKK. – via Jack Smith…
MORE
.
—————————————————————————————
.
"Godfather Of Payday Lending" Stripped Of $64M, Sentenced To 14 Years – Zero Hedge
A former Main Line investment banker known as the "Godfather of payday lending" for preying on low-income borrowers was sentenced Friday to 14 years in federal prison and stripped of over $64 million in assets, reports philly.com.
Lawyers for 77-year-old Charles M. Hallinan argued that the prison term might as well be a "death sentence" given his age and declining health, however District Judge Eduardo Robreno gave no quarter as he rendered his verdict after a jury convicted him of 17 counts, including racketeering, international money laundering and fraud.
"It would be a miscarriage of justice to impose a sentence that would not reflect the seriousness of this case," Robreno said. "The sentence here should send a message that criminal conduct like [this] will not pay."
In all, government lawyers estimate, Hallinan's dozens of companies made $492 million off an estimated 1.4 million low-income borrowers between 2007 and 2013, the period covered by the indictment…
MORE
.
—————————————————————————————
.
President Trump Nominates Judge Brett Kavanaugh To The Supreme Court – The Hill
.

.
President Trump on Monday selected Brett Kavanaugh as his nominee to replace Justice Anthony Kennedy and his pivotal vote on the Supreme Court.
Trump announced the selection of Kavanaugh, a judge on the influential U.S. Court of Appeals for the District of Columbia Circuit, after a suspenseful day that resembled the lead-up to his first Supreme Court pick, Justice Neil Gorsuch.
The president made the announcement during a reality TV-style event in the East Room of the White House, the same way he unveiled Gorsuch.
"In keeping with [President Ronald] Reagan's heritage, I do not ask about a nominee's personal opinions…
MORE
.
—————————————————————————————
.
Venezuela Hyperinflation Hits 46,305%: Food Prices Soar 183% In One Month – Zero Hedge
While hardly a surprise in a country in which the military recently seized control of the water supply as the local infrastructure collapses, what is going on to the price of money in this former socialist paradise is simply stunning and is set to put even the Weimar Republic and Zimbabwe to shame.
In June, Venezuela's annual inflation hit 46,305% the opposition-controlled congress said on Monday, as the crisis-stricken nation's hyperinflation continues to accelerate amid a broader economic collapse even as president Maduro refuses to make any structural changes to the nation which boasts the world's largest petroleum reserves.
To be sure, the number is not official as Maduro's government stopped publishing economic indicators nearly three years ago the country's economic system started falling apart, making opposition legislators the only source of such figures.
This makes it virtually impossible to visualize the inflationary trend, although Bloomberg's Cafe Con Leche index sit at a roughly comparable level of 43,478%…
MORE
.
—————————————————————————————
.
Court Docs Allege More Corruption By Mueller's "Pit Bull" In Manafort Case – Sara Carter
.

.
Senior Justice Department prosecutor, Andrew Weissmann arranged a meeting with the Associated Press in April, 2016 to discuss circumstances surrounding Paul Manafort's case before he was appointed to Robert Mueller's Special Counsel.
According to recent court filings submitted to the Eastern District of Virginia court, the meeting was held during the time a Grand Jury had convened in Manafort's case.
Manafort's lawyers are requesting a hearing based on Weissmann's alleged improper disclosure of confidential grand jury information, non-public information, false information and potentially classified materials, the court documents state. Weissmann met with AP journalists on April 11 after reporters informed him of their own investigation into Manafort's dealings with Ukrainian officials…
MORE
.
—————————————————————————————
.
28 Shot, Four Fatally, In Leftist-Controlled Chicago Over Weekend – Breitbart
Four people were killed and another 24 wounded by gunfire in gun-controlled Chicago over the weekend. The Chicago Sun-Times reports that three of the four fatalities occurred on Sunday.
The first fatality of the day occurred at 12:30 a.m. when someone pulled out a gun following an argument and opened fire. Twenty-two-year-old Daniel Carter was shot and killed.
Another fatality occurred earlier Sunday, around 3:30 a.m. In that incident a 32-year-old male was in a car with another 33-year-old when a car pulled up beside them and someone began shooting. The 32-year-old was struck in the head and neck and later died. The 33-year-old was stuck too, but is hospitalized "in good condition."
The last fatality of the day happened around 12:15 p.m. in an Austin neighborhood Sunday afternoon, when someone opened fire on two individuals on the sidewalk. One of the individuals, a 23-year-old male, was shot multiple times in the chest and killed. The second individual, a 19-year-old male, was shot but is hospitalized in stable condition…
MORE
.
—————————————————————————————
.
There's No Evidence Nevada Democrat Senate Candidate's Touted Business Ever Existed – Daily Caller
.

.
Nevada has no records Rep. Jacky Rosen ever ran a small business in Nevada, despite her repeated claims that she started a consulting firm, according to documents obtained by The Daily Caller News Foundation.
Rosen, a Democrat, is challenging Republican Sen. Dean Heller for his seat in the upcoming November election and is considered former Senate Majority Leader Harry Reid's handpicked successor.
In April, a public records request was filed with the Nevada secretary of state seeking a copy of any "Sole Proprietor Exemption" or "Sole Proprietor Registration" under Rosen or her maiden name between 1995 and 2005…
MORE
.
—————————————————————————————
.
Jimmy Carter: 'I Believe That Jesus Would Approve Of Gay Marriage,' Some Abortions – Washington Times
Former President Jimmy Carter declared Sunday that Jesus Christ would approve of same-sex marriages and abortions in the case of rape, incest and danger to the mother.
In an interview with HuffPost Live, the 39th president, a "born again Christian," spoke about how his faith has shaped his life and career. "I never have run across any really serious conflicts between my political obligations and my religious faith," he said.
Asked about whether he approved of gay marriage, Mr. Carter responded, "That's no problem with me."
"I think everybody should have a right to get married regardless of their sex," he continued. "The only thing I would draw a line on, I wouldn't be in favor of the government being able to force a local church congregation to perform gay marriages if they didn't want to."
"I believe that Jesus would approve of gay marriage, but that's just my own personal belief," he later added…
MORE
.
—————————————————————————————
.
Twitter Stock Drops 8+% Following Reports It Deletes 1 Million Fake Accounts A Day – Breitbart
.

.
Twitter's stock dropped more than eight percent on Monday following reports that the social network has been deleting over 1 million fake accounts per day.
According to Variety, "Twitter suspended more than 70 million fake accounts this past May and June, and has continued to delete more than 1 million accounts per day into July," with suspensions doubling since October.
Even President Trump acknowledged the suspensions, posting, "Twitter is getting rid of fake accounts at a record pace. Will that include the Failing New York Times and propaganda machine for Amazon, the Washington Post, who constantly quote anonymous sources that, in my opinion, don't exist – They will both be out of business in 7 years!"…
MORE
.
—————————————————————————————
.
Muslim Inmate Files $250,000 Lawsuit Claiming Jail Didn't Serve Him Lunch While He Fasted For Ramadan – Law & Crime
An inmate at a North Carolina jail is suing because he was allegedly deprived of lunch every day for a month, even though he was supposedly fasting for Ramadan at the time.
Travaile Speller admits in his federal civil rights complaint, which he wrote out by hand, that "my religion, which is Muslim, requires me to participate and observe Ramadan." It goes on to say, "During those days, I can not eat while the sun is up and I have the right to practice my religion and be free from any discrimination."
At the same time, Speller claims, when the jail only served him suhoor and iftar meals (breakfast and dinner) during the period from May 15 through June 15, 2018, the jail was "clearly depriving me of the necessary calories, as well as the recommend [sic] daily value of nutrients that my body requires to function normally."
Speller claims that all Muslims in the jail were forced to sign something saying that due to Ramadan, the agree to only receive breakfast and dinner…
MORE
.
—————————————————————————————
.
Super Bowl Champion Brandon Browner Arrested After Kidnapping Woman And Holding Her Against Her Will, Police Say – Fox News
.

.
Former Super Bowl champion cornerback Brandon Browner is facing several charges after allegedly kidnapping a woman and holding her against her will in California on Sunday, police said.
Brandon Browner, 33, physically harmed a woman and threatened to kill her after breaking into a La Verne home, La Verne police said. When the woman tried to escape, police said he forced her back into the house, according to the Boston Globe.
Browner was charged with kidnapping, false imprisonment, burglary and a restraining order violation, according to NBC Los Angeles. Browner was arrested in Azusa after fleeing the scene before police arrived. He allegedly stole a $20,000 Rolex watch from the home, the station reported…
MORE
.
—————————————————————————————
.
Secretary Of State Pompeo Makes Surprise Visit To Afghanistan – Washington Examiner
Secretary of State Mike Pompeo made a surprise visit to Afghanistan on Monday for meetings with President Ashraf Ghani about the country's peace talks with the Taliban.
Pompeo's arrival in Kabul came at the end of a multi-country tour to Japan, Vietnam, and North Korea, where he participated in a tense round of nuclear negotiations with senior officials in Pyongyang.
The top U.S. diplomat declared support for peace talks between Afghani government officials and the Taliban, and told reporters on the ground that any discussions would need to be "Afghan-led and Afghan-owned," according to the Washington Post.
"The United States will support, facilitate and participate in these discussions. The region and the world are all tired of what are taking place here in the same way that the Afghan people are no longer interested in seeing war," Pompeo said…
MORE
.
—————————————————————————————
.
Boris Johnson Resigns As British Foreign Secretary – The Guardian
.

.
Boris Johnson has resigned as foreign secretary, becoming the third minister in 24 hours to walk out of the government rather than back Theresa May's plans for a soft Brexit.
The prime minister hammered out a compromise with her deeply divided cabinet in an all-day meeting at Chequers on Friday, but after consulting friends and allies, Johnson decided he could not promote the deal.
Pressure on the foreign secretary had been mounting since fellow pro-Brexiter David Davis resigned as Brexit secretary on Sunday night, swiftly followed by his No 2 at the Department for Exiting the EU, Steve Baker…
MORE
.
—————————————————————————————
.
Private School In Charlotte, NC Was A Front For Foreign Athletes To Dodge ICE, Feds Say – Charlotte Observer
Evelyn Mack has pleaded guilty to federal charges of using her small private school next to East Mecklenburg High to falsely enroll foreign teens who were being sought by basketball recruiters and coaches.
Mack, who has run the school on Monroe Road since 2000, pleaded guilty this week to a felony charge of concealing, harboring or shielding unlawful aliens. She has not yet been sentenced. She faces up to 10 years in prison and is out on bond.
A federal indictment says Mack took about $1,000 per student from athletic recruiters to falsely represent about 75 foreign teens as students in Evelyn Mack Academy, which was authorized to enroll high school students under F1 visas.
It says she entered false information into the Department of Homeland Security's computerized tracking system, allowing them to avoid detection by the Immigration and Customs Enforcement agency, known as ICE…
MORE
.
—————————————————————————————
.
Theresa May's Fake Brexit Plans In Turmoil As Key Ministers Resign In Protest – Bloomberg
.

.
U.K. Prime Minister Theresa May was plunged into a major crisis after key members of her government quit in protest over her plans for a soft exit from the European Union.
Brexit Secretary David Davis and his deputy, Steve Baker, resigned late on Sunday in a double-blow to the premier's negotiating strategy and her grip on power. Junior Brexit minister Suella Braverman also resigned, the Guardian reported. A new secretary would be announced on Monday, May's office said.
"The general direction of policy will leave us in at best a weak negotiating position, and possibly an inescapable one," Davis wrote in his resignation letter to May, which was released by her office…
MORE
.
—————————————————————————————
.
Illegal Alien Released By Sanctuary City Gets $280 Fine For Killing Two Law Enforcement Officers – Breitbart
An illegal alien who was released by a sanctuary city has received a small $280 fine after causing a car crash that left two law enforcement officers dead.
Roberto Garza Palacios, a 28-year-old illegal alien from Guatemala, was given a slap on the wrist after he caused a car crash in December 2017 that immediately killed 33-year-old Sander Cohen, the Maryland State Fire Marshal's Office deputy chief, and later left FBI agent Carlos Wolff, 36-years-old, dead at a nearby hospital.
Garza Palacios received a $280 fine for the deadly car crash, with prosecutors saying that the illegal alien's killing of Cohen and Wolff did not constitute a "reckless disregard" for life, according to court records obtained by the Washington Post.
On the night that the illegal alien killed the two law enforcement officers, Wolff was on Interstate 270 after crashing his car on the median. Cohen pulled over with his hazard lights to help Wolff…
MORE
.
—————————————————————————————
.
Corrupt FBI And DOJ Not Only Caught Redacting Their Criminal Acts, They're Now Caught Creating Fraudulent Documents – Gateway Pundit
.

.
Over the past few years the DOJ and FBI redacted documents in the name of national security but their real reason was later uncovered as an effort to hide their crimes. They also will not allow Congress to obtain copies of records and instead only allow Congress to review documents maintained at an FBI or DOJ location.
Now this too is catching up to them as their efforts to swap documents or create two versions of documents are being uncovered.
During the recent Hearing in front of Congress some excellent questions were asked of corrupt Deputy Attorney General Rod Rosenstein by Representative Matt Gaetz from Florida.
MORE
.
—————————————————————————————
.
CMS Chief Verma Freezes Obamacare Payments, Citing Court Decision – Washington Times
The Trump administration said Saturday it's been forced to freeze critical Obamacare payments due to a federal court decision in New Mexico, potentially causing more instability in the program's fragile markets.
At stake is more than $10 billion in "risk adjustment" payments – a feature of the 2010 health law that requires insurers with healthier consumers to reimburse plans that end up with costlier, sicker patients, so the market balances out.
The Centers for Medicare and Medicaid Services said it had to put the payments on hold, after a U.S. district court judge ruled the government arrived at the formula that guides the payouts in a flawed way.
"We were disappointed by the court's recent ruling. As a result of this litigation, billions of dollars in risk adjustment payments and collections are now on hold," CMS Administrator Seema Verma said…
MORE
.
—————————————————————————————
.
College Snowflakes Hate Trump's Supreme Court Pick, Even Though He Hasn't Made It Yet – Campus Reform
.

.
This month, Justice Anthony Kennedy announced he would be retiring from the Supreme Court of the United States, giving President Trump an opportunity to nominate a potential replacement. Instantly, Trump's political opponents began questioning the credentials of those who were thought to be on his shortlist for the position.
The same sentiment was seen on social media from pundits and members of Congress alike – but what would college students have to say about the matter? Did they have substantive reasons for not trusting the potential replacement, or were they simply set on opposing any Trump nominee?
To find out, I headed to New York University to ask students what they thought about who Trump had chosen to replace Justice Kennedy…
MORE
.
—————————————————————————————
.
Hero SAS Dog Saves The Lives Of Six Elite Soldiers In Syria By Ripping Out Jihadi's Throat While Taking Down Three Terrorists Who Ambushed British Patrol – Daily Mail
An SAS team was saved after a brave military dog fought off a jihadi who attacked a patrol in northern Syria. The unnamed Belgian Malinois, a fierce breed of sheepdog known for its bravery, had been out on a routine patrol with a team of six crack soldiers from the SAS.
They had just entered a small village in a convoy of armoured vehicles when they got out to continue the recce on foot. But soon after they left the safety of the convoy, they were attacked on all sides by waiting jihadis in what was described as a '360 degree ambush'. The SAS men returned fire but the jihadis began closing in and tried to outflank them.
The animal was said to have leapt to the defence of the struggling British soldiers, tearing the throat of on gunman who was firing at the patrol. It then turned on two other jihadis, leaving them seriously injured before the other six ambushers all fled.
A source told the Daily Star: 'The SAS found themselves in a 360-degree ambush. 'The initiative was with the terrorists and the only hope for the British was to try and make a run for it…
MORE
.
—————————————————————————————
.
Divers Rescue Boys Trapped For Days In Thailand Cave – Daily Wire
.

.
Thailand's government announced early Sunday that divers are mounting a final, decisive rescue operation to free twelve teenage boys and their soccer coaches, trapped in a mountain cave in Thailand.
Four boys – described by rescuers as the "weakest" of the group – emerged from the caves in the care of elite Thai Navy SEAL divers Sunday morning, and were immediately rushed into ambulances and taken to local hospitals.
Each of the other eight boys, and their coach, have been assigned a "buddy team" of two elite divers who will guide them on an "hours-long" trek out of the caves. Three additional boys are expected to emerge from the caves with their dive teams early Sunday afternoon…
MORE
.
—————————————————————————————
.
Leftist Idiocy Update: California Millionaires Flee State After Tax Hike – Zero Hedge
California lost an estimated 138 high income individuals due to the passage of the Proposition 30 – a tax hike pushed by Gov. Jerry Brown (D) and approved by voters in 2012, according to new research from Stanford University and members of the California Franchise Tax Board.
The measure raised taxes on the state's highest earners by 8% – increasing it one percentage point to 13.3%, leaving California top-earners with the highest state income tax rate in the country.
It also hiked the tax rate on income between $300,000 and $500,000 by 2%, while raising the tax rate on income over $500,000 by 3%.
Using California Franchise Tax Board data, the study led by Charles Varner, associate director of the Stanford Center on Poverty and Inequality, examined taxpayers who were and were not affected by the Prop. 30 tax hike, and found that in the two years before the increase was imposed (2011 and 2012) net in-migration for both groups "was positive and roughly consistent."…
MORE
.
—————————————————————————————
.
Chick-Fil-A Ranked Top Fast Food Restaurant In U.S. – WSVN
.

.
Step aside, Big Macs and Whoppers. The people have spoken, and they want to "Eat Mor Chikin." For the third year in a row, Chick-fil-A has been named America's top fast food restaurant according to the American Customer Satisfaction Index's annual survey.
The chicken chain received a satisfaction score of 87 out of 100, easily beating Panera Bread's second place score of 82. Papa John's, Pizza Hut and Subway all tied for third at 80. Fox Business reports the rankings are based on several benchmarks, including food quality, order accuracy, cleanliness and variety.
The survey ranks both "limited service" fast food restaurants and "full service" traditional restaurants…
MORE
.
—————————————————————————————
.
Nunes Calls For House Probe Of 42 Obama-Era Anti-Trump Activists – Washington Times
Rep. Devin Nunes is referring 42 Obama administration officials, FBI agents and outside political activists to a House task force for as investigation into how the Obama Justice Department targeted the Donald Trump campaign.
If the House Oversight and Government Reform Committee and Judiciary Committee agree, their task force would conduct the most extensive probe to date on anti-Trump government operations in 2016.
Mr. Nunes, Chairman of the House Permanent Select Committee on Intelligence, has sent letters to Oversight head Trey Gowdy of South Carolina and Judiciary's Bob Goodlatte of Virginia.
The California Republican is asking his fellow GOP legislators to summon for public testimony all 42 – a cast of FBI, Justice Department and State Department officials and outside anti-Trump people with whom they communicated…
MORE
.
—————————————————————————————
.
Mueller Expands The Witch Hunt – Joseph Klein
.

.
Special Counsel Robert Mueller is planning to expand his witch hunt. According to a Bloomberg News report, he is "tapping additional Justice Department resources for help with new legal battles as his year-old investigation of Russian interference with the 2016 election continues to expand."
He already has 17 prosecutors on his staff, many of whom have clear anti-Trump biases. From the investigation's start in May 2017 through March of this year, Mr. Mueller's own office has spent $7.7 million, on top of the $9 million spent by permanent Department of Justice units involved in the investigation.
Mr. Mueller evidently wants to absorb some of the career prosecutors from the offices of U.S. attorneys and from Justice Department headquarters into his own operation…
MORE
.
—————————————————————————————
.
ICE Joins Nationwide Manhunt For Illegal Aliens Suspected Of Kidnapping And Raping Teenage Sisters – The Independent
Immigration and Customs Enforcement (ICE) joined a nationwide manhunt for two alleged undocumented immigrants accused of kidnapping and raping teenage sisters at an Ohio hotel.
Police believe they caught one of the four men who sexually assaulted a 13-year-old and 14-year-old on Thursday, when they found David Ramos Contreras hiding under a bed in Lubbock, Texas.
Mr Contreras, an undocumented immigrant who was deported from the country last year, will now be extradited to Ohio, where he faces rape and kidnapping charges.
Another suspect, 24-year-old Simon Juan Thomas, has already been arrested by the Ohio Bowling Green police department and is being held on a $50,000 bond. Local law enforcement believes the two suspects still at-large, who have been identified as Arnulfo Roberts and Juan Garcia Rios Adiel, are also living in the country illegally…