.
Socialist Darling Alexandria Ocasio-Cortez Called For Tax Cuts When She Was Running A Business, Now Wants To Raise Taxes To Fund Her Radical Agenda – Daily Caller
.

.
Alexandria Ocasio-Cortez, the upstart Democratic Socialist who shocked the political world in the June primary when she defeated 10-term incumbent Rep. Joseph Crowley of New York, once advocated for tax cuts when she was running a business of her own, uncovered news reports from 2012 reveal.
Ocasio-Cortez, 28, is a dues-paying member of the Democratic Socialists of America (DSA), an organization that calls for the abolishment of capitalism and argues that "private corporate property is not only wrong, but also nonsensical."
Her campaign platform calls for instituting a single-payer health care system, a federal jobs guarantee and housing as a human right, radical and expensive policies she says will be funded through raising taxes on corporations and high-income Americans…
MORE
.
—————————————————————————————
.
Memos Detail FBI's 'Hurry The F Up Pressure' To Probe Trump Campaign – The Hill
Multiple reviews of whether FBI agents' political bias affected the Russia-Trump collusion case remain in their infancy, but investigators already have unearthed troubling internal communications long withheld from public view.
We already know from FBI counterintelligence agent Peter Strzok's now-infamous text messages with his fellow agent and reported lover, Lisa Page, that Strzok – the man driving that Russia collusion investigation – disdained Donald Trump and expressed willingness to use his law enforcement powers to "stop" the Republican from becoming president.
The question that lingers, unanswered: Did those sentiments affect official actions?
Memos the FBI is now producing to the Department of Justice (DOJ) inspector general and multiple Senate and House committees offer what sources involved in the production, review or investigation describe to me as "damning" or "troubling" evidence…
MORE
.
—————————————————————————————
.
New York Mayor De Blasio Used $3 Million Counterterrorism Plane As Vacation Shuttle – New York Post
.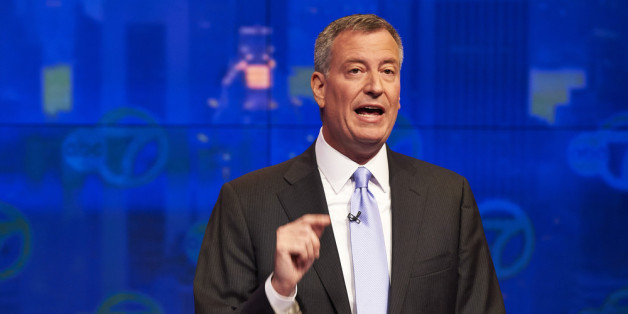 .
The NYPD used a $3 million counterterrorism plane to shuttle Mayor Bill de Blasio back and forth from his Canada vacation to the Big Apple for an event Thursday, The Post has learned. Hizzoner, who is in Quebec on a weeklong respite, briefly flew back to the Bronx for a memorial for slain Detective Miosotis Familia.
"NYPD is transporting him in their plane," de Blasio spokesman Eric Phillips told The Post. "Their plane" is a Cessna 208 Caravan that cost roughly $3 million and was picked up by the department in 2017, sources said.
The high-tech aircraft is outfitted with special sensors that can detect at a distance radioactive material used to make "dirty bombs."…
MORE
.
—————————————————————————————
.
Democrat Terrorist Arrested After Threatening To Kill GOP Rep. Zeldin Campaign Worker – Daily Caller
A man was arrested in Suffolk County, New York on Friday for making "terroristic threats" against a campaign worker for GOP Rep. Lee Zeldin.
The Suffolk County Police Department tweeted a press release late Friday night detailing the arrest of Martin Astrof, 75. According to the release, Astrof threatened to kill supporters of Congressman Lee Zeldin and President Donald Trump at Zeldin's campaign headquarters in New York.
"Martin Astrof was arrested after he threatened to kill supporters of Congressman Lee Zeldin and President Donald Trump," Suffolk PD said. "Astrof went to the campaign headquarters of Congressman Zeldin and became irate with a campaign worker at approximately 11:15 a.m.
After threatening to kill the campaign worker and other supporters, Astrof backed his car up in an aggressive manner nearly striking the worker."…
MORE
.
—————————————————————————————
.
China Wind Tech Firm Hit With $59 Million Fine For Theft Of U.S. Trade Secrets – Breitbart
.

.
A District judge ruled Friday Chinese turbine manufacturer Sinovel Wind Group Co. must pay $59 million in a plot to steal trade secrets from a U.S. rival. In January, a federal court in Wisconsin convicted Sinovel of stealing trade secrets from AMSC and nearly putting it out of business.
"U.S. District Judge James Peterson ordered the Chinese company to pay $1.5 million in fines and $57.5 million in restitution at a sentencing hearing Friday in Madison, Wisconsin, according to the Justice Department. American Superconductor claimed it suffered at least $800 million in losses from Sinovel's scheme to pilfer its technology," Bloomberg reports.
Federal prosecutors accused the Chinese wind turbine maker of conspiring with an ex-AMSC employee in 2011 to swipe proprietary code from the U.S. company…
MORE
.
—————————————————————————————
.
The State Of New Jersey Just Signed Its Own Death Warrant – Zero Hedge
You would think New Jersey would have learned its lesson. Two years ago, New Jersey's richest resident – hedge fund billionaire David Tepper – decided to move himself and his business to Miami Beach.
Tepper, who personally earned more than $6 billion from 2012-2015, was tired of paying New Jersey's top income-tax rate of 8.97% for the 20 years he lived there, in addition to the country's highest property taxes, the estate tax and inheritance tax.
By moving to Florida, a state with ZERO income tax, Tepper stood to save hundreds of millions of dollars each year. And, as an added bonus, he'd be living in the Sunshine State.
Anyone with some common sense would have at least acknowledged the possibility that a guy like Tepper would consider moving to save a few hundred million bucks. But New Jersey, content on milking its ultra-wealthy for tax revenue, was caught completely by surprise. And Tepper's departure left an enormous hole in its budget…
MORE
.
—————————————————————————————
.
Finally, Something You Like Is Also Good For You – Andrew Malcolm
.

.
You knew it all along. Or wanted to. Now, we have grounds for a firm belief that coffee is not only good for you. It prolongs your life.
Even if you down eight cups a day. It's a habit. It tastes good. And it helps your heath. What's not to like?
So, go ahead, have some more. In larger mugs. All day.
You probably thought Brits drink tea. They do. But also coffee. And a study of the coffee consumption by nearly a half-million of them found that coffee drinkers were less likely to die over a 10-year period. And that applies to all kinds of coffee – ground, instant, even lead-free decaffeinated…
MORE
.
—————————————————————————————
.
Wisconsin Court Tells University To Reinstate Conservative Professor – Townhall
Political science professor John McAdams is going to be reinstated at Marquette University following a victory at the Wisconsin Supreme Court. He had been suspended by the school for writing a blog post critical of a graduate student.
"The undisputed facts show that the University breached its contract with Dr. McAdams when it suspended him for engaging in activity protected by the contract's guarantee of academic freedom," said the opinion written by Justice Daniel Kelly.
The state's high court ordered Marquette to "immediately reinstate Dr. McAdams with unimpaired rank, tenure, compensation, and benefits." (Journal Sentinel)
The case started in 2014, when McAdams wrote a post criticizing a female student instructor for trying to shut down a debate about gay marriage. He used it as an example of liberals suppressing free speech. Yet, his post opened the instructor up to threats because he included a link to her personal website and her email address…
MORE
.
—————————————————————————————
.
Trump Confirms $34 Billion Tariffs On China, Possible $516 Billion More – Breitbart
.

.
President Donald Trump confirmed to reporters on an Air Force One flight to Montana Thursday that tariffs on $34 billion in Chinese goods will go into effect at the end of the night, another $16 billion in two weeks, and another up to $500 billion more if China refuses to change unfair trade practices.
Trump was traveling to Montana for a campaign rally for Senate candidate Matt Rosendale when he spoke with reporters on several issues of the day.
Reporters asked the President to confirm that the tariffs on China would go into effect at the end of Thursday night. He confirmed that tariffs on $34 billion in Chinese goods would indeed go into effect…
MORE
.
—————————————————————————————
.
Socialist Hellhole Update: Nicaragua's Daniel Ortega Leads Violent Clampdown Amid Fears Of Coup, Civil War – Washington Times
When Nicaraguan guerrilla leader Daniel Ortega first took power in mid-1979, his admirers included a 17-year-old Caracas high school dropout who celebrated a "newly lit light" in Latin America as he maneuvered his bus around Venezuela's hilly capital.
Nearly four decades down the road, the driver, Nicolas Maduro, clings to power as his country's embattled president, and it seems to be the increasingly unpopular Mr. Ortega who is taking cues from his Venezuelan counterpart as he tries to hold on to power.
It has been a stunning comedown for Mr. Ortega, who led the anti-U.S. Sandinista movement in the Reagan era and seemed so secure in power two years ago that he engineered the election of his wife as vice president in a landslide electoral win.
All that has changed since an outbreak of popular discontent in April. It is so severe that some warn of a coup and others fear the country could face another civil war. Faced with nationwide protests, Mr. Ortega has led a violent clampdown…
MORE
.
—————————————————————————————
.
Leftist Scumbag Who Assaulted Teenager And Stole His MAGA Hat Is Finally Arrested – Zero Hedge
.

.
A 30-year-old man who threw soda onto a table of teenagers at a San Antonio Whataburger has been arrested for stealing 16-year-old Trump supporter Hunter Richard's red MAGA hat, according to local news outlet MySanAntonio.com
Kino Ahuitzotl Jimenez was taken into custody at his home in Universal City without incident by robbery task force detectives on a warrant for theft of person, according to the San Antonio Police Department. Bail has not been set according to the county magistrate's office.
In a video which went viral Wednesday and Thursday, Jimenez can be seen throwing a soda on Richard and two friends at 2:35 a.m. on the 4th of July…
MORE
.
—————————————————————————————
.
Boom! The American Economy Added 213,000 Jobs In June – Breitbart
The U.S. economy added 213,000 jobs in June as American businesses extended their hiring spree, according to a report released Friday by the Labor Department. The unemployment rate rose to 4.0 percent as more Americans entered the workforce.
The U.S. economy has added an average of over 200,000 jobs a month this year, far above the 100,000 that economists believe is required to keep up with the growth of the workforce. Minutes from the last meeting of the Federal Reserve released Thursday revealed that Fed officials believe unemployment is below its long-term sustainable level.
Average hourly earnings rose 2.7 percent year over year, slightly below expectations of a 2.8 percent increase. That is slightly disappointing for workers but also likely to fend off fears that inflation or interest rates will rise faster than expected.
The unemployment rate rose because more workers entered the workforce. The labor force participation rate rose 0.2 percentage points to 62.9 percent…
MORE
.
—————————————————————————————
.
Crazed Leftists Protest ICE As Agency Breaks Up A Child Sex-Trafficking Ring – Daily Wire
.

.
As Democratic politicians' calls for the abolition of U.S. Immigration and Customs Enforcement (ICE) grow intensely loud, a video of liberals protesting the agency as they break up a child sex-trafficking ring has resurfaced online.
CBS San Francisco reported in August of 2017 that federal agents served a search warrant on a Guatemalan immigrant family home in Oakland in connection with an ​investigation concerning the sex trafficking of juveniles. The human trafficking operation was later confirmed by authorities.
Amazingly, as ICE officers were literally breaking up the child prostitution operation, they were being protested against by liberal neighbors who demonized the agency and advocated for the "rights" of illegal immigrants…
MORE
.
—————————————————————————————
.
Rap Sheet: 70 Acts Of Media-Approved Violence And Harassment Against Trump Supporters – Breitbart
When not calling Trump supporters "Nazis" as a means to dehumanize us, the establishment media like to whine about the lack of civility in American politics, even as they cover up, ignore, downplay, or straight-up approve of the wave of violence and public harassment we are seeing against supporters of President Trump.
It is open season on Trump supporters, and the media is only fomenting, encouraging, excusing, and hoping for more. The media are now openly calling Trump supporters "Nazis" and are blaming Trump for a mass murder he had nothing to do with.
This, of course, is a form of harassment because it incites and justifies mob violence.
Here is the list, so far, and remember that if any one of these things happened to a Democrat, the media would use the story to blot out the sun for weeks. But what we have when it comes to Trump supporters is a media eager to normalize harassment and violence. This list will be updated as needed…
MORE
.
—————————————————————————————
.
Swedish AfS Party Wants To Deport At Least 500,000 Migrants As Integration Completely Fails – Voice Of Europe
.

.
The Alternative for Sweden (AfS) party wants to return at least half a million migrants, its party leader, Gustav Kasselstrand, told SVT news. Kasselstrand believes this is the only way to solve Sweden's problems:
"It's not enough for a restrictive immigration policy. It is not enough to want to stop immigration. In order to solve the major societal problems in Sweden, one has to dare to talk about re-immigration. And not on a small one, but on a large-scale," he said.
The AfS leader wants all residence permits since the year 2000 to be re-examined. According to him the much larger right-wing Social Democrats do not dare to address this subject. For Kasselstrand integration has been a total failure…
MORE
.
—————————————————————————————
.
Facebook Flags Declaration Of Independence As Hate Speech – Washington Times
In the week of America's Independence Day, the algorithms of Facebook decided that the Declaration of Independence was hate speech.
The Liberty County Vindicator, a community newspaper between Houston and Beaumont, had been posting the whole declaration in small daily chunks for nine days on its Facebook page in the run-up to July 4. But the 10th excerpt was not posted Monday as scheduled, and the paper said it received an automated notice saying the post "goes against our standards on hate speech."
Part of the standard notice, Vindicator managing editor Casey Stinnett wrote, included a warning that the newspaper could lose its Facebook account, on which it depends for much of its reach, if there were more violations.
The offending passage?
It was part of the document's "Bill of Particulars" against Britain's King George III…
MORE
.
—————————————————————————————
.
EPA Chief Scott Pruitt Resigns Citing "Unrelenting Attacks" On Himself And His Family By Unhinged Leftists – Gateway Pundit
.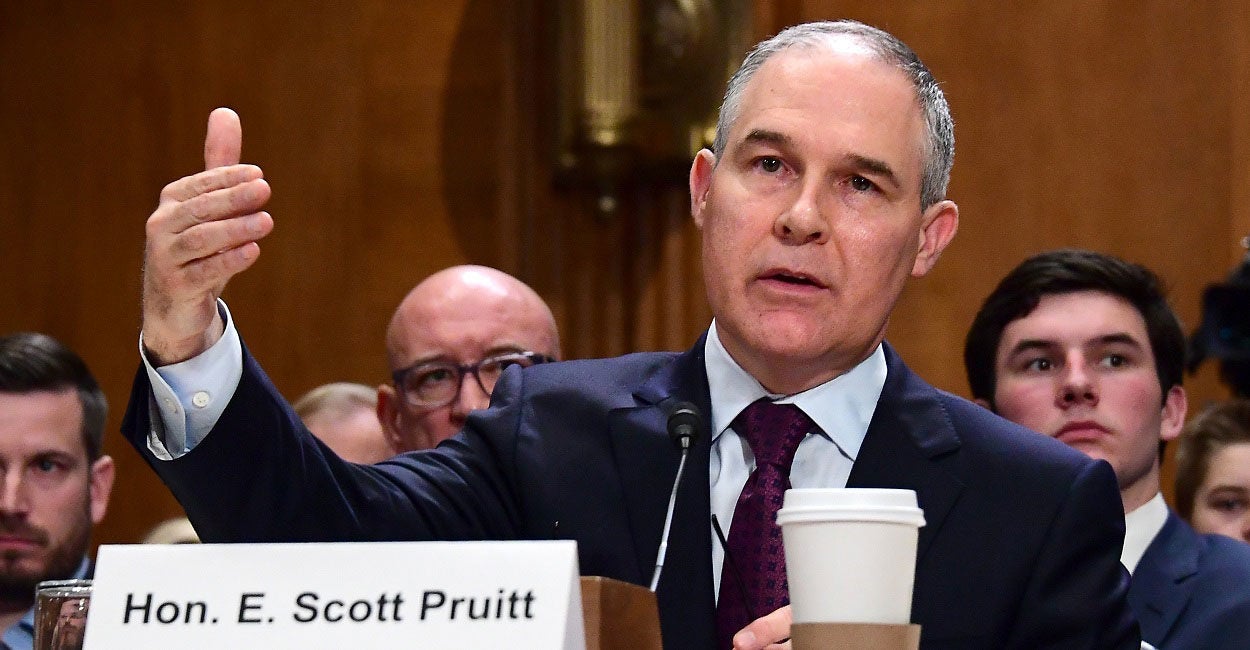 .
Scott Pruitt resigned today as EPA Administrator. The outstanding Trump cabinet member cited the unrelenting attacks on himself and his family by the violent and unhinged left. Pruitt also told the president he believes Donald Trump is serving America because of God's providence.
The Washington Free Beacon posted his resignation letter. Read the full text of his resignation below:
Mr. President, it has been an honor to serve you in the Cabinet as Administrator of the EPA. Truly, your confidence in me has blessed me personally and enabled me to advance your agenda beyond what anyone anticipated at the beginning of your Administration…
MORE
.
—————————————————————————————
.
Iranian Diplomat Arrested In Connection With Plot To Bomb Dissidents' Rally In Paris – CNS
Iran is demanding the immediate release of a diplomat arrested in Germany in connection with an alleged plot to bomb a rally in Paris of an exiled opposition group that has been locked in a decades-long confrontation with the regime in Tehran.
The incident is threatening to sour relations with several European governments at a time when Iran is on a charm offensive, attempting to salvage the nuclear deal following President Trump's withdrawal in May.
Among the thousands of participants at Saturday's "Free Iran" rally organized by the National Council of Resistance of Iran/People's Mujahedeen Organization of Iran (NCRI/MEK) were American delegates including former New York City Mayor Rudy Giuliani, former House Speaker Newt Gingrich, former New Mexico Gov. Bill Richardson and former FBI Director Louis Freeh.
An alleged conspiracy to bomb the event was exposed when a Belgian police special unit stopped a couple traveling in a Mercedes…
MORE
.
—————————————————————————————
.
Secretary Of State Pompeo Returns To North Korea – WCAX
.

.
Secretary of State Mike Pompeo will make another trip to North Korea this week as the Trump administration continues talks to get Pyongyang to give up its nuclear weapons and ballistic missile programs.
The State Department said Pompeo would depart Thursday on his third trip to North Korea before visiting Japan, Vietnam, the United Arab Emirates and Belgium, where he will accompany President Donald Trump at the NATO summit.
The United States has a plan that would lead to the dismantling of North Korea's nuclear weapons and ballistic missile programs in a year, Trump's national security adviser said, though U.S. intelligence reported signs that Pyongyang doesn't intend to fully give up its arsenal…
MORE
.
—————————————————————————————
.
Mom Shoots Man Trying To Steal SUV With Her Kids Inside – KXAS
A mother shot a man who tried to steal her SUV while her two toddlers were still inside the vehicle in Dallas Wednesday night, police said. It happened about 10 p.m. outside a Shell service station in the 100 block of West Camp Wisdom Road.
The mother had stepped inside the gas station when a man climbed into the driver's seat and tried to drive away, according to police. The woman jumped back into the vehicle and ordered the man to stop the car, police said.
When he refused, she pulled a gun from the glove box and shot the man, who then drove the SUV into a utility pole, according to police. The children, who police described as toddlers, and the mother were not hurt.
The man, identified by police as 36-year-old Ricky Wright, was transported to a hospital with injuries not considered life-threatening. He was charged with two counts of unlawful restraint and unauthorized use of a motor vehicle…
MORE
.
—————————————————————————————
.
Texas Bar Fires Leftist Scumbag Who Assaulted Teenager And Stole His MAGA Hat – Daily Caller
.

.
A Texas bar fired a man who allegedly stole a Make America Great Again hat and threw a drink in a Trump supporter's face on Wednesday. Rumble, a bar in San Antonio, released a Facebook statement after a video of the harassment went viral.
The bar denounced the part-time employee's behavior toward 16-year-old Hunter Richard at a local Whataburger restaurant. "THIS BAR IS A SAFE SPACE FOR EVERYONE!" the post read. "No matter your race, creed, ethnicity, sexual identity, and political stance, you are welcomed here!"
The video went viral after Patricia Thompson Spittler, a mom of one of Richard's friends, posted the video on Facebook, asking people to "Please help ID this 'Scum BAG of the Year!'"…