.
Trump's Lean White House 2018 Payroll On Track To Save Taxpayers $22 Million – Forbes
President Trump's White House payroll has 374 employees, that's 95 fewer staffers than Barack Obama at the same point in their presidencies. The Trump White House workforce runs 20 percent leaner.
White House staff experienced 39-percent turnover during the last 12-months. Of the 377 employees last year, only 229 remain. Most that left were quickly replaced.
Today, the Trump administration released its annual report to Congress on the White House Office Personnel. The payroll data includes employee name, status, salary, and position title for all 374 White House employees as of June 30, 2018. Search the recent Trump administration (2017 and 2018) and Obama administration (2012 through 2016) payroll data posted at OpenTheBooks.com.
Over the past 12 months, Trump was able to further shrink head count by three employees. Last year, the president employed 377 staffers and we applauded the president's frugality in our editorial at Forbes…
MORE
.
—————————————————————————————
.
Polish MP: Our Country Is Safe Because We Didn't Accept Illegal Muslim Migrants – Voice Of Europe
.

.
Dominik Tarczyński, a member of Poland's Law and Justice party was recently interviewed by Britain's Channel 4. According to the Polish MP, his country is safe because it refused to accept illegal Muslim migrants.
Channel 4 host Cathy Newman asks Tarczyński "how many refugees Poland has taken," Tarczyński says "zero". When Newman asks him if he is proud of that, he says: "If you're asking me about illegal Muslim migrants, not even one will come to Poland, if it's illegal."
The Polish MP explains how his country has accepted already 2 million Ukrainians who are working peacefully in the country. He adds that Poland will not receive even one Muslim, because that is what "we've promised"…
MORE
.
—————————————————————————————
.
Cleveland 4th Of July Terror Plot Thwarted – PJ Media
The FBI Cleveland Field Office just held a press conference detailing the arrest of Demetrius Nathaniel Pitts aka Abdur Raheem Rafeeq on Sunday morning for planning a possible terror attack during Independence Day celebrations later this week. Among the sites Pitts scouted were Voinovich Park and the U.S. Coast Guard station.
According to the FBI, the investigation into Pitts began last year after a tip indicated that he was making extremist statements and expressing support for Al-Qaeda. The case was originally overseen by the FBI office in Cincinnati, where Pitts resided at the time, and then transferred when he moved to Cleveland this past May.
Pitts, a convicted violent felon, had expressed his intent to conduct U.S.-based terror attacks and his support for Al-Qaeda.
During a meeting last week with an undercover FBI agent, Pitts suggested bombing the July 4th parade, and then later scouted potential attack sites…
MORE
.
—————————————————————————————
.
Andres Manuel Lopez Obrador Wins Mexican Presidential Election – Breitbart
.

.
Mexico's leftist candidate Andres Manuel Lopez Obrador has won his presidential bid after the rest of the candidates backed out of the race. The early poll results showed the president-elect pulling more than 40 percent of the votes in the early voting results.
The win by Lopez Obrador, also known as AMLO, is historic in nature since many in Mexico considered the election as a way of fighting back against the establishment. It is also the first time in recent history where rival candidates have conceded so early after the initial results were cast.
Private polling companies initially had AMLO and the second placeholder as having a tight race. However, the early official results showed a clear leader…
MORE
.
—————————————————————————————
.
U.S. Conducts Successful Field Test Of New Nuclear Bomb – Zero Hedge
The U,S, Air Force completed two more tests of the B61-12 gravity nuclear bomb by dropping a dud (or "non-nuclear test assembly") from a B-2 Spirit stealth bomber at the Tonopah Test Range in Nevada on June 9, as part of the multi-billion dollar project to extend the service life of the bomb, introduced in 1968, by another 20 years.
"The Department of Energy's National Nuclear Security Administration (DOE/NNSA) and the US Air Force completed two non-nuclear system qualification flight tests of the B61-12 gravity bomb on June 9 at Tonopah Test Range in Nevada," the Department of Energy announced in a statement.
"These tests are the first such end-to-end qualification tests on a B-2A Spirit Bomber for the B61-12."
The tests involved releasing a B61-12 non-nuclear test assembly, which includes the NNSA designed bomb assembly and U.S. Air Force acquired tail-kit, from a B-2A Spirit Bomber operated by the 419th Test & Evaluation Squadron at Edwards Air Force Base in California…
MORE
.
—————————————————————————————
.
Several Children Among 23 Shot, 3 Killed In Leftist-Run Chicago Over Weekend – Chicago Sun-Times
.

.
Several children fell victim to Chicago's weekend gun violence, which left three people dead and 20 others wounded.
A 14-year-old boy was fatally gunned down early Saturday in the Washington Park neighborhood on the South Side. Lucian Lamarion Devious Paige was struck multiple times in his body in the 5600 block of South Wabash Avenue and was taken to Comer Children's Hospital, where he died hours later, according to police and the Cook County Medical Examiner's Office.
A mass shooting late Sunday wounded six people, including a 5-year-old girl, in East Garfield Park…
MORE
.
—————————————————————————————
.
Police Declare Riot After Antifa Terrorists Violently Attack Patriot Prayer Group In Portland, OR –
Far left Antifa terrorists viciously attacked the Patriot Prayer Group in Portland over the weekend. Antifa thugs always come out to disrupt the Patriot Prayer Group's peaceful protests.
Portland Police declared the protests a riot on Saturday after Antifa terrorists threw eggs and fireworks at right-wing activists. The police had to break up the brawls using flash bangs and tear gas.
KATU reported:
The "Freedom and Courage" rally hosted by the right-wing Patriot Prayer group and its well-known leader, Joey Gibson, gathered at Terry Schrunk Plaza before taking to the streets. The group was granted a permit for the march, but police canceled it once violence ensued.
A heavy presence of antifa (antifascist) protesters gathered in the area for a "Defend PDX: Patriot Prayer's Violence Must End" rally…
MORE
.
—————————————————————————————
.
Lies, Damned Lies, And Immigration Policy – Bruce Thornton
.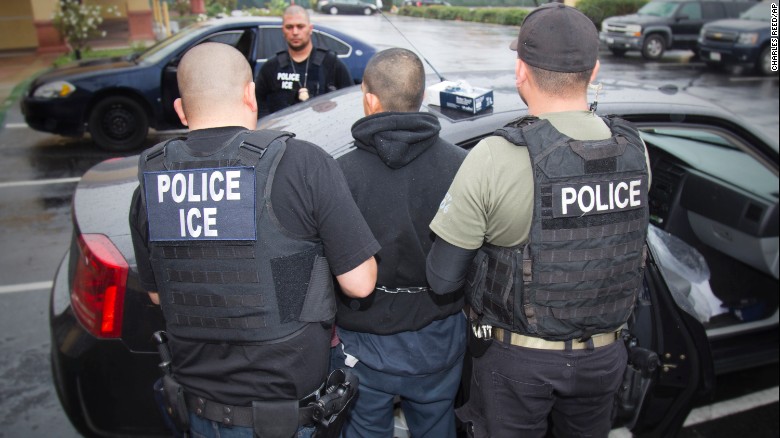 .
No policy debate is more filled with dishonesty and duplicity than immigration. The whine of political axes being ground is continually drowned out by Emma Lazarus sentimentalism, "we're a nation of immigrants" clichés, promiscuous virtue-signaling, and the current weepy melodramas of children "ripped from their mother's arms."
The whole sordid business exists, of course, to perfume some simple truths: Leviathan Dems want more voters and more dependents of the entitlement-industrial complex; Wall Street Republicans want plentiful cheap labor. The only thing missing are the facts about the reality of immigration both illegal and legal.
Start with imprecise numbers. We are told that there are currently 11 million illegal aliens in the U.S. Others say it's closer to 20 to 25 million…
MORE
.
—————————————————————————————
.
Pro-Illegal Alien Activist And Leftist Media Hack Attempt To Ruin Innocent Woman's Life With False Claim – BizPac Review
Looks can be deceiving. Upon looking at the face of Alan Vargas, a 17-year-old teen activist from California, one might think, "Hey, that looks like a nice kid!" But one would be immensely wrong.
Like millions of other left-wing zealots, Vargas is a bully – one who used social media last week to sic a mob on middle-aged white woman for the heinous crime of expressing her opinion about illegal immigration.
The 'evil' expression of opinion occurred during a Simi Valley City Council hearing Monday concerning California's sanctuary state law. During the meeting the woman, identified as Roslyn La Liberte, briefly engaged in a spirited but otherwise civil debate with another teen activist who supports the state's law.
"Roslyn Laliberte, of Woodland Hills, and Santa Susana High School student Joey Luevanos, 14, have a spirited discussion during a break at the Simi Valley City Council meeting June 25, 2018," the Ventura County Star reported Tuesday morning…
MORE
.
—————————————————————————————
.
President Trump Meets With Potential Supreme Court Nominees Ahead Of July 9 Announcement – Daily Wire
.

.
After meeting with several candidates on Saturday, President Donald Trump promised that Americans would have a new nominee for the Supreme Court by Monday, July 9th.
The President is spending the weekend at his golf club in New Jersey, brushing up on judicial philosophy and sitting down for one-on-one conversations with at least five possible SCOTUS nominees, including, he told reporters Saturday, at least two women.
Trump has, reportedly, narrowed his list down to a handful of Federal judges: Brett Kavanaugh, Amul Thapar, Thomas Hardiman, Raymond Kethledge and Amy Coney Barrett. Barrett has emerged as a popular favorite, with conservatives citing her recent Senate confirmation hearings for the Federal bench…
MORE
.
—————————————————————————————
.
Illegal Alien Arrested For Allegedly Starting Colorado Wildfire – Breitbart
Authorities in Colorado arrested an illegal alien Saturday who they accuse of starting a series of wildfires that destroyed over 38,000 acres of land. Jesper Joergensen, 52, was arrested and charged with arson. The blaze he reportedly set led to a wildfire that has raged across Spring Creek in Costilla County, Colorado.
The Costilla County Sheriff's Office reported that the suspect is not a legal U.S. citizen but could not say from what country he originated.
"The initial cause of the fire was human-caused," the sheriff's office reported on a Facebook announcement. "The investigation was lead by our office with the assistance of CBI, State arson investigators, CSP, and Immigration and Customs agents. Jesper Joergensen, 52, was arrested without incident by Costilla County deputies. Jesper is being held on Arson charges."
The fire Joergensen allegedly started has burned over 38,000 acres thus far and has required the evacuation of the Fort Garland area just this weekend…
MORE
.
—————————————————————————————
.
Billionaire Leftist Moonbat Calls For "Nuclear War" To Stop Trump – The Hill
.

.
Billionaire liberal activist Tom Steyer floated "nuclear war" in an interview this week as a possible "course correction" for the United States to rid the country of President Trump before quickly walking back the comment.
Steyer, a leading critic on the left calling for Trump's impeachment, told Rolling Stone in an interview that a nuclear conflict would be a "quicker" way to turn public opinion against Trump, likening the possibility to former President George W. Bush's deployment of U.S. troops to Afghanistan and Iraq.
"I remember 2006. What happened is that George W. Bush, he put us in two disastrous wars and we were headed toward the biggest financial disaster since the Great Depression," Steyer said…
MORE
.
—————————————————————————————
.
Texas City To Fly 40,000 American Flags, One At Every Home, On 4th Of July – Fox News
A North Texas city will proudly display its patriotism by flying more than 40,000 American flags that will be displayed in front of every home, business and place of worship on the Fourth of July.
About 300 volunteers are hitting the streets of Irving, Texas this weekend to place thousands of flags around town.
Nell Anne Hunt, founder of The Great Flag Caper, who is responsible for the patriotic display, told Fox 4 that it all began when she started putting some flags in front of her neighbor's homes shortly after she moved to the area.
"So I bought 200 flags and went in a concentric circle around my house and put flags in everybody's yards," Hunt said. "Well, the next year everybody liked it so much I bought 400 flags so it went a little further."
"And then before we know it, the whole city said, 'Count us is. We want to do it, too,'" she said…
MORE
.
—————————————————————————————
.
Apparently, Rod Rosenstein Doesn't Think He Has To Read The FISA Warrants He Signs – Washington Standard
.

.
Well, this is par for the course, isn't it? Didn't former Attorney General and criminal Eric Holder offer a similar explanation for the authorizing of Operation Fast and Furious, an illegal and unlawful weapons trafficking scheme that armed a Mexican drug cartel and resulted in the deaths of at least two federal agents and hundreds of Mexicans?
Now, Deputy Attorney General Rod Rosenstein has testified before Congress that he doesn't read the FISA warrants he signs. Brilliant!
Apparently, in testimony during a House hearing on potential abuses by the Justice Department and Federal Bureau of Investigation in the investigation into alleged Trump administration collusion with Russia, Rosenstein indicated that he does not read FISA warrant applications…
MORE
.
—————————————————————————————
.
Previously Deported Illegal Alien Arrested For Rape On Cape Cod – Barnstable Patch
A rape suspect in the United States illegally was arrested last week as part of a new cooperation program between the Barnstable County Sheriff's Office and Immigrations and Customs Enforcement.
Antonio Ferreira, a Brazilian national, now awaits trial on an active warrant for rape, assault and battery and soliciting a felony, according to the Barnstable County Sheriff's Office.
Authorities do not know where and when Ferreira first entered the United States, but 13 years ago he was served an Immigration Department Notice to Appear and ordered removed from the country 17 months later. It is unknown when he returned to the United States.
"This cooperative program is officially off to a good start. The end result will never change," James Cummings, Barnstable County sheriff, said in a statement. "It will make our county and our country a safer place…
MORE
.
—————————————————————————————
.
Leftist Restaurant Manager Promptly Fired After Refusing To Serve Customer Wearing MAGA Hat – Daily Caller
.

.
The manager of a Vancouver, Canada restaurant who ordered a customer to remove his "Make America Great Again" hat or not receive service was fired for not following the restaurant's "philosophy of tolerance."
Stanley Park Teahouse manager Darin Hodge stood by his decision, telling Global News that he felt the hat signified "racism, bigotry, Islamophobia, misogyny, white supremacy, (and) homophobia."
"As a person with a strong moral backbone, I had to take a stand against this guest's choice of headwear while in my former place of work. Absolutely no regrets," said Hodge in a written statement…
MORE
.
—————————————————————————————
.
Woman's Body Found Decomposing In Funeral Home Three Years After Assumed Cremation – Circa
A South Carolina family is suing a funeral home, contending a loved one's body was left decomposing there for nearly three years.
Media organizations report that Mary Alice Pitts Moore's body was found in February at the Spartanburg funeral home, almost three years after her family thought she had been cremated.
Her husband and son allege in a lawsuit against First Family Funeral Home and its operators that Moore's remains were kept in an unrefrigerated room.
Spartanburg County Coroner Rusty Clevenger said the 63-year-old woman's embalmed body was found on a board covered with a cloth and surrounded by fragrances that masked the smell.
The funeral home's license had been revoked before operators accepted the body for cremation.
The funeral home has asked for the lawsuit's dismissal…
MORE
.
—————————————————————————————
.
FBI Refusing To Give Congress Material That Alleges Loretta Lynch Interfered In Clinton Investigation – Breitbart
.

.
Paul Sperry reports at RealClearInvestigations – the investigative reporting affiliate of trusted polling aggregator RealClearPolitics – that the FBI is refusing to allow members of Congress to review intelligence that alleges Obama Attorney General Loretta Lynch interfered in the Hillary Clinton email investigation:
The FBI had little problem leaking "unverified" dirt from Russian sources on Donald Trump and his campaign aides – and even basing FISA wiretaps on it.
But according to the Justice Department's inspector general, the bureau is refusing to allow even members of Congress with top security clearance to see intercepted material alleging political interference by President Obama's attorney general, Loretta Lynch…
MORE
.
—————————————————————————————
.
"I Will Find And Kill Your Children": Feds Arrest Leftist Assclown Who Threatened FCC Chairman's Kids – Daily Caller
Federal authorities have reportedly arrested a man who threatened Federal Communications Commission Chairman Ajit Pai and his children. Scott MacFarlane, an investigative reporter for NBC 4, tweeted on Friday that a man was arrested after sending an email to Pai threatening to find and kill his children. The email included the addresses of preschools in Arlington, Virginia, where Pai lives.
"I will find and kill your children," the email allegedly said.
According to a Department of Justice press release, Markara Man was "angry" that Pai repealed net neutrality and wanted to "scare" him. One email from the 33-year-old Californian included a framed photograph of Pai's family.
"The first email accused Chairman Pai of being responsible for a child who allegedly had committed suicide because of the repeal of net neutrality regulations," the release said. "The second email listed three locations in or around Arlington, and threatened to kill the Chairman's family members…
MORE
.
—————————————————————————————
.
Socialist Dipshit Alexandria Ocasio-Cortez Spreads Hoax Stats On U.S. Mass Shootings – Breitbart
.

.
Alexandria Ocasio-Cortez, Candidate for U.S. Congress (D-NY), reacted to the lives lost in Annapolis by claiming the attack marked the 195th mass shooting this year.
She shocked the nation with a primary victory over Rep. Joe Crowley (D-NY-14) on June 26, and is now spreading stats on mass shootings that are exponentially higher than actual shooting figures support.
Ocasio-Cortez tweeted: "Horrifying. This is our nation's 195th mass shooting – this year."
So Ocasio-Cortez is claiming 195 mass shooting in the first six months of this year, and if the same kind of math applies to the next six months, that will mean a claim of 390 mass shootings for the year…
MORE
.
—————————————————————————————
.
U.S. Charges Over 600 "Despicable, Greedy People" In Multi-Billion Dollar Healthcare Fraud – Zero Hedge
With the opioid crisis still in full swing (and researchers reporting on Wednesday 70,000 opioid-related deaths that were not added to official statistics over the past 20 years) the Department of Justice announced on Thursday the conclusion of a year-long crackdown on opioid overprescribers that led to the indictment of more than 600 people – including 76 doctors – on health-care fraud charges.
All told, the DOJ found that the crimes resulted in more than $2 billion in losses for Medicare, Medicaid and Tricare, as well as private insurers.
Medical professionals were also charged with contributing to the country's opioid epidemic by unlawfully distributing millions of opioid pills.
"The perpetrators really are despicable and greedy people," U.S. Health and Human Services Secretary Alex Azar said at a press conference. According to Attorney General Jeff Sessions, the investigation represents the biggest health-care fraud case the DOJ has ever undertaken…