.
AT&T Says It Has Completed Its $85 Billion Acquisition Of Time Warner – USA Today
Two days after a federal judge approved AT&T's proposed $85 billion acquisition of Time Warner, AT&T has announced the acquisition is complete.
AT&T will begin consolidating Time Warner Inc. on Friday, AT&T announced. The company reports having $180.4 billion in debt after the merger. Jeff Bewkes, former chairman and CEO of Time Warner Inc., will serve as senior advisor during a transition period, according to a statement by AT&T.
Time Warner will bring "first-rate" creative talent to complement AT&T's distribution, Randall Stephenson, chairman and CEO of AT&T Inc., said. "We're going to bring a fresh approach to how the media and entertainment industry works for consumers, content creators, distributors and advertisers," Stephenson said.
Time Warner content includes DC Comics' superheroes, as well as CNN, HBO, and TNT. AT&T owns pay-TV provider DirecTV alongside its extensive landline, wireless and Internet access businesses.
MORE
.
—————————————————————————————
.
Bigotry Disguised As Diversity: Harvard Hospital Taking Down Portraits Of White Men – Washington Free Beacon
.

.
Brigham and Women's Hospital, a teaching hospital of Harvard Medical School, is taking down its prominent display of its past medical legends because too many are white men.
Diversity and inclusion initiatives prompted the removal of 30 portraits from the hospital's Bornstein Amphitheater because the paintings reinforce "that white men are in charge," one professor said.
The Boston Globe first reported the news, writing that past white male luminaries will be dispersed to "put the focus on diversity."
Portraits that had hung in the amphitheater for decades will now be moved to less visible areas like conference rooms and lobby halls…
MORE
.
—————————————————————————————
.
Leader Of Pakistani Taliban Killed In U.S. Drone Strike – Zero Hedge
Roughly three months after the U.S. offered a $5 million reward for information on his whereabouts, Pakistani Taliban leader Mullah Fazlullah was killed in a joint U.S.-Afghan drone strike in the eastern Afghan province of Kunar, which is on the Pakistani border, senior defense officials from Afghanistan and Pakistan told Reuters and the New York Times on Thursday .
In addition to Fazlullah, four other senior Taliban commanders were killed in the drone strike, which took place Wednesday. That attack was carried out in the Afghan province of Kunar, which is situated near the Pakistani border.
"I confirm that Mullah Fazlullah, leader of the Pakistani Taliban, has been killed in an joint air operation in the border area of Marawera district of Kunar province," Mohammad Radmanish, spokesman for Afghan defense ministry, told Reuters, adding the air strike was carried out at about 9 a.m. on Thursday…
MORE
.
—————————————————————————————
.
Sarah Sanders To Fake News Sock Puppet Jim Acosta: "I Know It's Hard For You To Understand Even Short Sentences" – Washington Free Beacon
.

.
White House press secretary Sarah Huckabee Sanders responded Thursday to Jim Acosta's attempts to interrupt by taking a shot at the CNN correspondent's comprehension abilities.
Acosta asked during the daily press briefing about comments made the same day by Attorney General Jeff Sessions about the immigration situation at the southern U.S. border.
"On these children that are being separated from their families as they come across the border, the attorney general earlier today said that somehow there's a justification for this in the Bible," Acosta started. "Where does it say in the Bible that it's moral to take children away from their mothers?"…
MORE
.
—————————————————————————————
.
Following IG Report, FBI Orders Employees To Undergo 'Bias Training'… Just Like Starbucks! – Washington Times
The FBI will make its employees undergo bias training, Director Christopher A. Wray promised Thursday, after a devastating report found the bureau made bad decisions, has a culture of leaking sensitive information, and may have skewed campaign-season decisions because of bias.
New text messages released by the Justice Department inspector general showing conversations between Deputy Assistant Director Peter Strzok and paramour FBI lawyer Lisa Page suggest a deep anti-Trump sentiment.
In one exchange, Ms. Page wanted reassurance that then-candidate Donald Trump couldn't win the election. Mr. Strzok replied: "No. No he's not. We'll stop it."
The inspector general also said the FBI was rife with people leaking to the press, or holding other cozy relationships that should worry the bureau. Some employees accepted sports tickets, went on golf outings, or had their dinners paid for by reporters…
MORE
.
—————————————————————————————
.
James Comey Used A Private Email Account For Official Business While Investigating Hillary Clinton For Using A Private Email Account For Official Business – Daily Caller
.

.
FBI Director James Comey reportedly used a private email account to conduct official FBI business, the new inspector general report will confirm.
Politico's Kyle Cheney tweeted on Thursday that Inspector General Michael Horowitz found during a probe into the FBI's Clinton email investigation that Comey was using a "personal Gmail account to conduct official FBI business."
Embattled FBI agents Peter Strzok and Lisa Page were also found to be using personal email accounts for work purposes, according to a review of the IG report.
The IG is deferring to the FBI on Strzok and Page's private emails, but found Comey's use of a personal email account "to be inconsistent with the DOJ Policy Statement."…
MORE
.
—————————————————————————————
.
Full IG Report: 'A Review Of Various Actions By The Federal Bureau Of Investigation And Department Of Justice In Advance Of The 2016 Election' – DOJ Office Of Inspector General
In response to requests from Congress, various organizations, and members of the public, the Department of Justice (Department) Office of the Inspector General (OIG) undertook this review of various actions by the Federal Bureau of Investigation (FBI) and the Department in connection with the investigation into former Secretary of State Hillary Clinton's use of a private email server. Our review included examining:
* Allegations that Department or FBI policies or procedures were not followed in connection with, or in actions leading up to or related to, then FBI Director James Comey's public announcement of July 5, 2016, and Comey's letters to Congress on October 28 and November 6, 2016;
* Allegations that certain investigative decisions were based on improper considerations;
* Allegations that the FBI Deputy Director Andrew McCabe should have been recused from participating in certain investigative matters…
MORE
.
—————————————————————————————
.
Gowdy On IG Report: 'I'm Alarmed, Angered… This Is Not The FBI Our Country Needs – CNS
.

.
Commenting on the Justice Department's Office of Inspector General report on the FBI and DOJ, House Oversight Committee Chairman Rep. Trey Gowdy (R-S.C.) said he was "alarmed, angered, and deeply disappointed" in the DOJ/FBI failures and added, "This is not the FBI I know" and "not the FBI our country needs."
"I am alarmed, angered, and deeply disappointed by the Inspector General's finding of numerous failures by DOJ and FBI in investigating potential Espionage Act violations by former Secretary of State Hillary Clinton," said Gowdy, who was briefed on the report today. The report is expected to be released today, June 14.
"This is not the FBI I know," said Gowdy. "This is not the FBI our country needs. This is not the FBI citizens and suspects alike deserve."…
MORE
.
—————————————————————————————
.
FBI Agent Peter Strzok In Text To Lisa Page: 'We'll Stop' Trump From Becoming President – National Review
FBI agent Peter Strzok, who was intimately involved in the Hillary Clinton email investigation and the probe of Russian election-meddling, vowed to "stop" Donald Trump from reaching the White House in an August 2016 text message to FBI lawyer Lisa Page, the Washington Post reports.
"[Trump's] not ever going to become president, right? Right?!" Page wrote to Strzok in a text message set to be released Thursday as part of a Department of Justice inspector general's report.
"No. No he won't. We'll stop it," Strzok, who was dating Page at the time, responded.
Strzok was removed from Special Counsel Robert Mueller's team in August after the inspector general uncovered the text messages, and Page has since left the bureau. Strzok's comment is reminiscent of his cryptic discussion of implementing an "insurance policy" in the event Trump won the election, which was exposed in a previous batch of text messages uncovered by the IG last year…
MORE
.
—————————————————————————————
.
President Macron Grants ISIS Chief Political Asylum In France – Your News Wire
.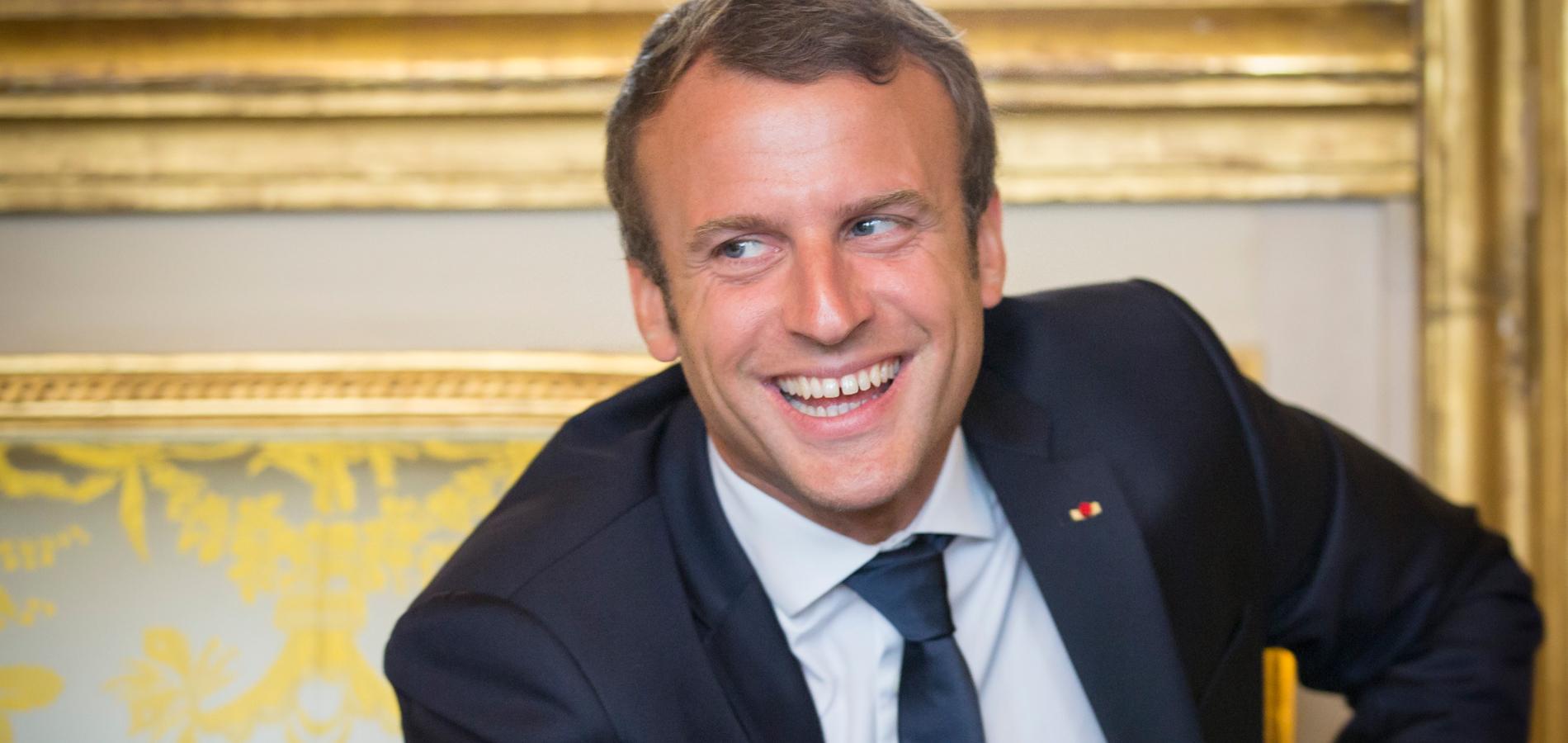 .
French President Emmanuel Macron has granted an ISIS chief, responsible for the deaths of thousands of people, political asylum in France. Ahmed Hamdane Mahmoud Ayach El Aswadi has been allowed to enter France without fear of arrest, despite the fact that he took part in the 2014 slaughter of 1,700 soldiers in the northern Iraqi town of Tikrit.
Express.co.uk reports: Videos and images of the unarmed cadets being beheaded, shot and choked before being dumped into unmarked graves were posted online by the jihadists, and quickly came to symbolise ISIS' senseless brutality.
"Ahmed Hamdane Mahmoud Ayach El Aswadi was being held at Tikrit's Tasfirat Salah Eddine prison on terrorism charges…
MORE
.
—————————————————————————————
.
Bestselling Author Fired For Mocking Publisher's Diversity Policy – James Delingpole
Publishing giant Penguin Random House has announced that its authors are no longer to be chosen on literary merit but according to a politically correct quota system "taking into account ethnicity, gender, sexuality, social mobility and disability".
This is mad, stupid, and insulting. But not nearly as mad, stupid, and insulting as the decision by the Mslexia Short Story Prize, a literary competition for women authors, to sack one of its judges Lionel Shriver as a punishment for daring to criticise the new policy.
Shriver (who, despite her misleading first name, is a woman) is the American-born, UK-resident novelist best known for her bestseller We Need To Talk About Kevin. She also has a column in the Spectator which this week she used to mock Penguin Random House's new diversity policy.
It begins:
I'd been suffering under the misguided illusion that the purpose of mainstream publishers like Penguin Random House was to sell and promote fine writing…
MORE
.
—————————————————————————————
.
San Juan Mayor Who Criticized Trump Now Being Investigated For Corruption – Townhall
.

.
San Juan Mayor Carmen Yulín Cruz infamously picked a fight with President Trump in the aftermath of Hurricane Maria last year, the storm that devastated Puerto Rico. The official death toll was 64, but Gov. Ricardo Rossello suggested the actual number is higher.
President Trump signed a $36.5 billion aid package for the nation. Some of the aid took awhile to get to its destination. Cruz took aim at the White House in those months, accusing the U.S. government of turning its back on them.
Some of her messages were indirect. She wore a "Nasty Woman" shirt on CNN, in reference to Trump's insult for Hillary Clinton during the 2016 presidential campaign. Others were not blatant, like when she said Trump "speaks out of both sides of his mouth."…
MORE
.
—————————————————————————————
.
South Dakota Supreme Court Dismisses Appeal Against Keystone XL Pipeline – Sioux City Journal
South Dakota's Supreme Court has dismissed an appeal from opponents of the Keystone XL oil pipeline, saying a lower court lacked jurisdiction to hear their cases.
Groups fighting TransCanada Corp.'s pipeline appealed a judge's decision last year upholding regulators' approval for the pipeline to cross the state.
But the high court ruled Wednesday that justices didn't "reach the merits of the case" because the lower court lacked jurisdiction to hear the appeal of the Public Utilities Commission's decision.
Attorneys for appealing groups haven't returned telephone messages requesting comment. TransCanada hasn't responded to an email seeking comment.
The project would move crude oil from Canada across Montana and South Dakota to Nebraska, where it would connect with existing pipelines feeding refineries along the Gulf Coast…
MORE
.
—————————————————————————————
.
Sarah Sanders: CBS Story About My 'Plans To Leave WH' Is Fake News – Breitbart
.

.
White House Press Secretary Sarah Huckabee Sanders dismissed rumors of her departure from the White House in a Wednesday night tweet, claiming CBS News did not contact her before running a story about alleged plans to leave the role.
"Does @CBSNews know something I don't about my plans and my future?" Sanders tweeted Wednesday evening. "I was at my daughter's year-end Kindergarten event, and they ran a story about my 'plans to leave the WH' without even talking to me. I love my job and am honored to work for @POTUS."
CBS News published a report Wednesday afternoon, citing unnamed sources inside the Trump administration, announcing that Sanders and Deputy Press Secretary Raj Shah would leave their jobs by the end of this year…
MORE
.
—————————————————————————————
.
Supreme Court Rules Minnesota Law Banning Political Apparel At Polls Is Illegal – Washington Times
The Supreme Court on Thursday rejected a Minnesota law banning voters from wearing political apparel to the polls, saying it was too draconian in stifling Americans' First Amendment rights.
The 7-2 decision said it may be possible for states to restrict stridently political T-shirts and buttons, but the justices said Minnesota didn't justify why its law needed to be so broad.
Minnesota's ban covered any "political badge, political button, or other political insignia" a voter might wear. Andrew Cilek, a state voter, challenged the law after he was told he couldn't vote in 2010 because he was wearing a T-shirt with the emblem of a local tea party group and had a button asking for poll workers to check his ID.
Chief Justice John G. Roberts Jr., writing the majority opinion, said the law left it up to poll workers to decide what was political, creating the potential for conflicting or mischievous decisions over whether something is political…
MORE
.
—————————————————————————————
.
Oops! Canada Lost 7,500 Jobs Last Month While Trudeau Was Busy Lecturing Trump – Gateway Pundit
.

.
While Justin Trudeau was busy extolling the value of unfair trade between the US and Canada over the past month, Canada lost 7,500 jobs, according to the latest release last week by Statistics Canada.
The latest employment report for Canada disappointed analysts, who, on average, predicted that Canada would gain 22,000 jobs for the month of May. Canada's economy remains lack-luster, with an unemployment rate of 5.8%, labor participation rate of just 65.3% and year-over-year GDP growth of just 1.3%.
Meanwhile in the United States, the latest Atlanta Fed Estimate pegs the seasonally adjusted annual GDP growth rate at 4.6% with unemployment sitting at 3.8% and labor participation clocking in at 62.7%…
MORE
.
—————————————————————————————
.
Retail Sales Boom: Biggest Rise In Six Months, Double Expectations – Breitbart
U.S. retail sales in May far exceeded forecasts, rising by the most in six-months and signaling faster economic growth.
Overall retail sales rose 0.8 percent from the prior month, double the consensus economic estimate of 0.4 percent, according to Commerce Department data released Thursday. The prior month was revised up to 0.4 percent, indicating a stronger April than earlier data suggested.
The retail "control group" sales, which excludes some of the more volatile numbers, rose 0.5 percent, which also exceeded forecasts.
The results likely reflect the high levels of consumer confidence, a very strong labor market, and lower taxes. The unexpected strength in the control group, which excludes gas stations sales, indicates that higher fuel prices have not stolen consumer demand from other sectors of the economy…
MORE
.
—————————————————————————————
.
The End Of Merkel? German Government In Crisis After Coalition Rebellion Over Immigration – Zero Hedge
.

.
Europe has another political crisis on its hands, and this one could be a big one as it is right in the middle of Europe's growth dynamo "ground zero." As the WSJ reports, a rebellion over immigration in German Chancellor Angela Merkel's conservative bloc is threatening the stability of her fragile coalition.
Merkel's weekend decision to veto a plan by her interior minister aimed at controlling and reducing illegal migration, and the minister's refusal to back down, has already shattered an uneasy truce between conservative backers and opponents of her liberal asylum policy, just months after a tenuous coalition government was formed.
As a result, on Thursday Merkel faced a showdown within her conservative camp over the the future of immigration policy that threatens her political future…
MORE
.
—————————————————————————————
.
DOJ Arrests 2,300 Alleged Child Pornographers And Sex Traffickers – Daily Wire
In a press release Tuesday, the Department of Justice announced that it had arrested over 2,300 child pornographers and child sex abusers in the large-scale sting "Operation Broken Heart."
The DOJ announced in a press release:
The Department of Justice today announced the arrest of more than 2,300 suspected online child sex offenders during a three-month, nationwide, operation conducted by Internet Crimes Against Children (ICAC) task forces.
The task forces identified 195 offenders who either produced child pornography or committed child sexual abuse, and 383 children who suffered recent, ongoing, or historical sexual abuse or production of child pornography.
The 61 ICAC task forces, located in all 50 states and comprised of more than 4,500 federal, state, local and tribal law enforcement agencies, led the coordinated operation known as "Broken Heart" during the months of March, April, and May 2018…
MORE
.
—————————————————————————————
.
Federal Reserve Raises Interest Rates – BBC
.

.
The U.S. Federal Reserve has voted to raise the target for its benchmark interest rate by 0.25%, citing solid economic expansion and job gains. The widely-anticipated decision will lift the target for the central bank's benchmark rate to 1.75%-2%, the highest level since 2008.
A majority of Fed officials also forecast two more rate rises this year, one more than previously predicted.
The rise is part of the U.S. recovery following the global financial crisis. It is the seventh time the bank has raised rates since 2015.
The tighter policy reflects expectations that US growth and inflation will prove stronger than officials anticipated in March, while the unemployment rate continues to fall…
MORE
.
—————————————————————————————
.
Plan To Split California Into 3 States Earns Spot On November Ballot – Los Angel4es Times
California's 168-year run as a single entity, hugging the continent's edge for hundreds of miles and sprawling east across mountains and desert, could come to an end next year – as a controversial plan to split the Golden State into three new jurisdictions qualified Tuesday for the Nov. 6 ballot.
If a majority of voters who cast ballots agree, a long and contentious process would begin for three separate states to take the place of California, with one primarily centered around Los Angeles and the other two divvying up the counties to the north and south. Completion of the radical plan – far from certain, given its many hurdles at judicial, state and federal levels – would make history.
It would be the first division of an existing U.S. state since the creation of West Virginia in 1863.
"Three states will get us better infrastructure, better education and lower taxes," Tim Draper, the Silicon Valley venture capitalist who sponsored the ballot measure, said in an email…
MORE
.
—————————————————————————————
.
Corrupt Mueller Scrambles To Limit Evidence After Indicted Russians Actually Show Up In Court – Zero Hedge
.

.
Special Counsel Robert Mueller is scrambling to limit pretrial evidence handed over to a Russian company he indicted in February over alleged meddling in the 2016 U.S. election, according to Bloomberg.
Mueller asked a Washington federal Judge for a protective order that would prevent the delivery of copious evidence to lawyers for Concord Management and Consulting, LLC, one of three Russian firms and 13 Russian nationals.
The indictment accuses the firm of producing propaganda, pretending to be U.S. activists online and posting political content on social media in order to sow discord among American voters…
MORE
.
—————————————————————————————
.
North Korea Apparently Destroys Missile Test Facility – Breitbart
After his summit with dictator Kim Jong-un on Tuesday, President Trump indicated the North Koreans are dismantling another facility important to their development of nuclear missiles following the purported shutdown of the Punggye-ri nuclear bomb testing site.
Analysts believe this was a reference to the missile engine testing site at Kusong, which appears to be undergoing demolition based on satellite imagery.
North Korean watchdog site 38 North reported last week that the Iha-ri Driver Training and Test Facility, as it is formally known, was the only known facility for testing the launch system for Pyongyang's latest generation of land-based long-range ballistic missiles.
The launch canister and ejection system is an essential component of mobile missile systems, providing the ability to prep and launch the enormous missiles quickly.
North Korea was also working on solid-fuel rocket engines, which can be launched more quickly and transported more easily than liquid-fueled missiles…
MORE
.
—————————————————————————————
.
Jim Jordan Explodes On AG Sessions For Defending Swamp Creature Rosenstein – Daily Caller
.

.
House Judiciary member Jim Jordan ripped Attorney General Jeff Sessions to shreds on Tuesday night after he defended the actions of Deputy AG Rod Rosenstein. A new report revealed that Rosenstein was threatening to subpoena members of the House Intelligence Committee and Jordan ripped Sessions for not keeping his underling in check.
"I'm almost flabbergasted, I mean, what is the attorney general saying?" Jordan said. "Rod Rosenstein hasn't complied with Devin Nunes' subpoena, hasn't complied with Chairman Goodlatte's subpoena, we've caught them hiding information in the Strzok-Page text messages."
"Rod Rosenstein was threatening members of the House Intelligence Committee for doing their job, for trying to get answers for the American people and the attorney general says 'that's okay we're doing just fine'?" the Republican congressman questioned…
MORE
.
—————————————————————————————
.
Trump Nominated For Nobel Peace Prize By Norwegian Politicians – Zero Hedge
The summit in Singapore has made U.S. President Donald Trump "a man of peace," according to two Norwegian parliamentary representatives (from the Frp party), and as NRK reports, they have nominated him for the most gifted award of all of them.
Representatives Christian Tybring-Gjedde (Frp) and Per-Willy Amundsen (Frp) believe it qualifies Trump for the Nobel Peace Prize.
"What's happening now is historical. A process is underway to ensure world peace in the future. It's a fragile process, but we must of course do what we can to help this process bring good results. I think that we can do by sending a clear signal by giving Trump the peace prize."
And amid all the left's dismay at just what was agreed, the two Norwegian parliamentarians, however, do not believe that a peace-winning nomination is too early.
"It's not a binding agreement, but it's an initiative to visit both ways…
MORE
.
—————————————————————————————
.
Climbing Raccoon Scales Minnesota Skyscraper, Defies Death And Becomes Internet Famous – USA Today
.

.
After a perilous journey that captured the attention of thousands, a brave raccoon has made it to the top of a Minnesota skyscraper.
The raccoon, who became stranded on the ledge of a building in St. Paul, climbed a 25-story tower and turned into an internet celebrity overnight. The saga started Monday, when the animal was spotted in a shallow recess of a wall on a Town Square building, Minnesota Public Radio's KNOW-FM reports.
A maintenance crew attempted to help the raccoon by offering it a makeshift ladder. That didn't work – it scared the animal to a nearby office tower, where it began its death-defying ascent…
MORE
.
—————————————————————————————
.
Shawn Moody Wins Maine GOP Gubernatorial Primary – Maine Public
Republican businessman Shawn Moody won Tuesday's ranked-choice voting primary in the race to succeed Maine's firebrand Gov. Paul LePage, while no clear majority winner had emerged in the Democratic primary.
The founder of a string of auto repair shops won a majority of the Republican vote, meaning there's no need for additional rounds of voting under the voting system used in a statewide primary for the first time in U.S. history.
If the Democratic result holds when all of the votes are counted, there would be additional rounds of vote tabulations next week, as election officials eliminate last-place candidates and reallocate votes. The winner of that race may not be known for at least a week.
"I think Mainers have spoken," Moody said. "They want a businessperson, an outsider. And they're not ready to turn Augusta back over to the politicians."…