.
Stunning: AWOL Attorney General Jeff Sessions Refuses To Bring Charges Against Pakistani Awan Brothers – Gateway Pundit
.

.
Daily Caller investigative journalist Luke Rosiak joined Lou Dobbs to discuss the latest in the Imran Awan Pakistani hacking scandal.
Imran Awan worked for Debbie Wasserman Schultz for thirteen years since she came into office in 2004 as a Florida representative.
Three Pakistani brothers who managed the IT affairs for several Democratic government officials were relieved of their duties in February 2017 on suspicion that they accessed specific computer networks without permission, also known as hacking.
Abid, Imran, and Jamal Awan were barred from computer networks at the House of Representatives in February 2017…
MORE
.
—————————————————————————————
.
Americans Evacuate From U.S. Consulate In China After Debilitating Sonic Attacks – Zero Hedge
Several U.S. citizens have been evacuated from the U.S. consulate in Guangzhou, China, after falling ill with various neurological symptoms from mysterious "sonic attacks" similar to incidents reported in Havana Cuba which left 20 State Department employees with serious injuries.
On Wednesday night, consulate worker Mark Lenzi and his family were evacuated after hearing strange noises over the course of several months, which Lenzi described as "marbles bouncing and hitting a floor then rolling on an incline with a static sound," according to the Washington Post.
At first, he and his wife thought that their neighbor – a fellow Foreign Service officer in the U.S. Consulate in Guangzhou, China – was responsible. The neighbor denied having anything to do with it.
A few months later, the headaches started – excruciating pain that lasted for days at a time…
MORE
.
—————————————————————————————
.
50,308 Stopped At Mexican Border Last Month, Up 203% From March '17 – CNS
.

.
More than fifty thousand people – 50,308 – were either apprehended or deemed inadmissible at the Southwest border last month, U.S. Customs and Border Protection said on Wednesday. It's the highest monthly total of the Trump presidency.
The 50,308 apprehended/inadmissibles in March is a 37 percent increase from the 36,695 counted in February, but a whopping 203 percent increase from March 2017's 16,588.
CBP said the number of family units increased by 49 percent from February to March, and the number of unaccompanied children increased by 41 percent compared to February.
"The traffickers and smugglers know that, if you arrive with a family, under our current legal and court system, you have a much better chance of being released into the United States,"…
MORE
.
—————————————————————————————
.
There Are Now More Job Openings Than Unemployed Workers In The U.S. – The Hill
There are now more job vacancies than unemployed workers to fill them in the U.S. for the first time since 2000.
Data released on Tuesday by the Labor Department showed a record 6.7 million job openings in the U.S. in April, a slight increase from 6.63 million in March.
The data also showed just 6.35 million workers categorized as unemployed, down from 6.59 million in March.
"Never before have we had an economy where the number of open jobs exceeds the number of job seekers," Labor Secretary Alexander Acosta said, according to the Los Angeles Times. "This administration is committed to ensuring that all Americans have the necessary skills to access good, family-sustaining jobs."
The manufacturing of long-lasting durable goods, including airplanes and machinery, saw some of the biggest increases in job vacancies in April, in addition to the information sector…
MORE
.
—————————————————————————————
.
DOJ Inspector General: James Comey Defied Authority During Clinton Probe – Yahoo News
.

.
The Justice Department's internal watchdog has concluded that James Comey defied authority at times during his tenure as FBI director, according to sources familiar with a draft report on the matter.
One source told ABC News that the draft report explicitly used the word "insubordinate" to describe Comey's behavior. Another source agreed with that characterization but could not confirm the use of the term.
In the draft report, Inspector General Michael Horowitz also rebuked former Attorney General Loretta Lynch for her handling of the federal investigation into Hillary Clinton's personal email server, the sources said…
MORE
.
—————————————————————————————
.
CNN's Ratings Collapse Marches Into June – Breitbart
Far-left cable channel CNN suffered a massive ratings collapse in May. June is shaping up to be worse.
CNN stumbled out of May with a massive -25 percent ratings collapse when compared to the same month last year. Because Fox News actually experienced total viewer growth and MSNBC's loss was a negligible two percent, we know the problem is CNN and not the news cycle or Americans tiring of the news.
To understand just how awful of a week CNN just had, you have to understand just how bad the entire month of May was for the anti-Trump cable channel.
Average Total Primetime Viewers in May 2018
Fox News: 2.38 million
MSNBC: 1.65 million
CNN: 835,000…
MORE
.
—————————————————————————————
.
Soldier Steals Armored Vehicle, Takes It On Two-Hour Joy Ride Through Virginia – Reuters
.

.
A soldier stole an armored personnel carrier from a National Guard base in Virginia on Tuesday and took the vehicle on a two-hour drive that ended in a police chase through downtown Richmond, the state capital, state police said.
The unidentified man took the vehicle at about 7:50 p.m. from Fort Pickett, a Army National Guard base in Blackstone, Virginia, state police spokeswoman Corinne Geller said in an email to Reuters.
The suspect then drove the military vehicle, which was not equipped with any weaponry, east on Route 460 and then north into Richmond on Interstate 95 at about 40 miles (65 km) per hour, Geller said…
MORE
.
—————————————————————————————
.
Trump's "Trade War" Is Working: U.S. Trade Deficit Collapses – Zero Hedge
One month after the biggest plunge in the U.S. trade deficit since the financial crisis – good news for Trump who has engaged in "trade war" with the rest of the world to boost U.S. trader and exports – the good news continued in April, when according to the Census Bureau, the U.S. deficit shrank again, down 2.1% from a revised $47.2BN to $46.2BN – the lowest since September 2017, and beating not only the $49BN consensus estimate, but also also the lowest Wall Street estimate of $46.2BN.
The number was so good, some were wondering why Trump didn't pre-tweet it, as he did with the payrolls report.
Incidentally, with today's revision, the March plunge in the U.S. trade deficit has now risen to $10BN, the highest since 2008, and the second biggest improvement in the U.S. deficit on record.
According to the census bureau, the deficit decreased from a revised $47.2 billion in March to $46.2 billion in April…
MORE
.
—————————————————————————————
.
Slimeball Andrew McCabe Seeking Immunity For Senate Testimony On Clinton Email Probe – The Hill
.

.
Former FBI Deputy Director Andrew McCabe is seeking legal immunity in exchange for his testimony on the agency's handling of the investigation into former Secretary of State Hillary Clinton's use of a private email server.
A lawyer for McCabe wrote to Senate Judiciary Chairman Chuck Grassley (R-Iowa) on Tuesday seeking a guarantee of immunity for McCabe's testimony before the panel, writing that the former FBI official would plead the Fifth if prompted to testify otherwise, CNN reported.
"Mr. McCabe is willing to testify, but because of the criminal referral, he must be afforded suitable legal protection," McCabe attorney Michael Bromwich wrote to Grassley, according to CNN…
MORE
.
—————————————————————————————
.
Rep. Kristi Noem Wins South Dakota GOP Governor Primary – Fox News
U.S. Rep. Kristi Noem won South Dakota's Republican primary for governor on Tuesday, defeating Attorney General Marty Jackley to emerge as the favorite to become the state's first female governor.
GOP primary voters made Noem the only woman South Dakota Republicans have nominated for the state's top job. She advanced to face well-funded Democrat Billie Sutton, a state senator and former professional rodeo cowboy, in the November general election.
Noem credited her primary victory in part to traveling around the state and talking about policies that cast a bold new vision for South Dakota.
"I expect the general election will be competitive as well, but we're going to work hard," Noem said. "We will start focusing on that tomorrow."
The governor contest – the highest-profile match up on the ballot – started mostly polite, but soured at the end as the candidates sought to break out in the primary…
MORE
.
—————————————————————————————
.
Roger Wicker Wins Mississippi GOP Primary In Landslide – Daily Caller
.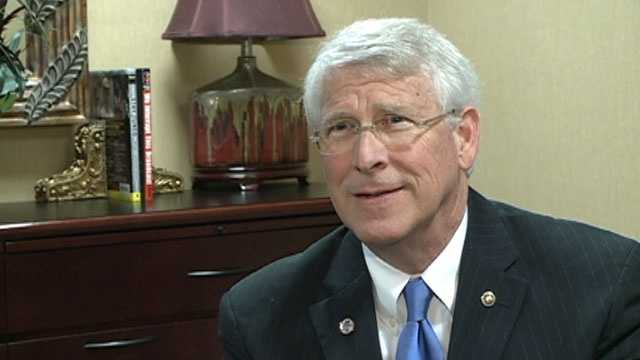 .
Mississippi Republican Sen. Roger Wicker won the state's primary election against businessman Richard Boyanton in a landslide victory Tuesday night.
The win comes months after President Donald Trump endorsed Wicker and hours after Trump sent out his support for Wicker in a tweet before the polls opened, crediting him for doing "everything necessary to Make America Great Again!" Trump urged voters in Mississippi to "Get out and vote for Roger," saying, "he has my total support!"
With 82.4 percent of the votes counted, Wicker received 99,794 votes compared to Boyanton, who only received 21,243 votes, Politico reported.
The Mississippi senator served for nearly 13 years in the House…
MORE
.
—————————————————————————————
.
Seth Grossman Wins GOP Primary In New Jersey's 2nd District – The Observer
In a stunning upset, Seth Grossman won the Republican nomination for Congress in New Jersey's 2nd district on Tuesday night, emerging from a crowded primary race to replace retiring Rep. Frank LoBiondo.
Grossman, a former Atlantic County freeholder and Atlantic City councilman, received 40 percent of the vote as of 10:30 p.m., according to The New York Times.
Hirsh Singh, a South Jersey engineer who was the perceived frontrunner of the race, had nearly 31 percent. Former Assemblyman Sam Fiocchi followed with 22 percent of the vote, while former FBI agent Robert Turkavage had 7 percent.
Grossman will face Democratic nominee Jeff Van Drew, a conservative-leaning state senator from Cape May, in the Nov. 6 general election.
The retirement of LoBiondo, a fixture of New Jersey politics for more than three decades, reshaped the political dynamics in the sprawling South Jersey district…
MORE
.
—————————————————————————————
.
Steve King Wins Iowa 4th District GOP Primary – KWWL
.

.
Incumbent Rep. Steve King has won the Republican nomination as he seeks a ninth term representing Iowa's sprawling 4th District.
King beat college administrator Cyndi Hanson in Tuesday's primary election and now will face the winner of a three-person Democratic primary.
Since he was first elected in 2002, King has typically cruised to easy victories, relying on the Republican registration dominance in most of the 39 counties that make up the district.
King is known nationally for his outspoken positions on a variety of issues, including immigration, gun laws and abortion rights…
MORE
.
—————————————————————————————
.
Kay Ivey Takes The Republican Primary For Alabama Governor, Moving On To The General Election – WHNT
Gov. Kay Ivey clinched the Republican nomination in Alabama's gubernatorial primary race Tuesday, and now she seeks to win the office outright after her appointment 14 months ago, when predecessor Robert Bentley resigned in the fallout of a sex-tinged scandal.
She will face Tuscaloosa Mayor Walt Maddox, who won the Democratic nomination. Alabama hasn't elected a Democrat to the governor's office since 1998, but the party has been energized by a win in December's U.S. Senate race and seeks a resurgence in state politics.
Maddox defeated former Alabama Chief Justice Sue Bell Cobb and other candidates. He's been Tuscaloosa mayor since 2005 and is running on a platform that includes establishing a state lottery to fund a mixture of college scholarships, pre-kindergarten programs and financial assistance for the state's poorest and struggling schools.
"It's about the future of this state," Maddox said Monday. "Do we want to provide the next generation with a better Alabama than the one we inherited or do we want leadership that remains silent to the problems of our times?"…
MORE
.
—————————————————————————————
.
Matt Rosendale Wins Montana GOP Senate Primary – Roll Call
.

.
State Auditor Matt Rosendale won the GOP nomination Tuesday night to take on Montana Democratic Sen. Jon Tester in November.
With 96 percent of precincts reporting, Rosendale led a four-way field with 34 percent of the vote, according to The Associated Press. Former district judge Russ Fagg was in second place with 29 percent. Fagg ran with the support of many former Montana elected officials, including ex-Reps. Rick Hill and Denny Rehberg and three former governors.
Tester ran unopposed in the Democratic primary.
Rosendale will now try to unseat the incumbent, who's never won more than 50 percent of the vote, in a state that President Donald Trump won by more than 20 points in 2016…
MORE
.
—————————————————————————————
.
Manhunt In London After One-Year-Old Baby, Woman Stabbed By Muslim Man In Broad Daylight – Breitbart
A one-year-old boy is in a critical condition after he and his mother were stabbed in Feltham, London, where police told neighbours to lock their doors and windows after the attack.
At 7.12pm on Monday evening officers were called to a residential address in the London Borough of Hounslow where the woman, reportedly in her 30s, and a baby were found with stab wounds.
London's Metropolitan Police released a mugshot for Rehan Khan Tuesday afternoon, warning members of the public "do not approach". In a statement, the force said the man they wished to trace "has links to Newham, Slough and Hammersmith & Fulham".
At the time of the statement Tuesday afternoon, the one-year-old boy remained in critical condition. No arrests have yet been made.
The Metropolitan Police said the condition of the woman is now stable while the baby remains in a critical condition in hospital, where the pair were airlifted last night by air ambulance…
MORE
.
—————————————————————————————
.
Trump: Russia Witch Hunt Is Jeff Sessions' Fault – Washington Examiner
.

.
President Trump blamed Attorney General Jeff Sessions Tuesday morning for allowing the Russia investigation to continue for longer than it should, all because Sessions recused himself from the probe.
"The Russian Witch Hunt Hoax continues, all because Jeff Sessions didn't tell me he was going to recuse himself…I would have quickly picked someone else. So much time and money wasted, so many lives ruined…and Sessions knew better than most that there was No Collusion!"
Trump has repeatedly said he would have picked someone else as his attorney general if he knew that Sessions was going to recuse himself from the Russia investigation….
MORE
.
—————————————————————————————
.
The Miss America Pageant Just Committed Suicide – Zero Hedge
In the latest effort to signal as much virtue as possible, the Miss America beauty contest is scrapping its swimsuit and evening-gown section and will no longer be judged on physical appearance. Contestants will instead be asked to demonstrate their "passion, intelligence and overall understanding of the job of Miss America."
"We are no longer a pageant," Gretchen Carlson, the first former Miss America to be named chair of the Board of Trustees of the Miss America Organization, said on "GMA." "We are a competition."
"I could have never expected what would happen when I sued my former employer at Fox News for sexual harassment 22 months ago, but look what has happened," she said. "Thousands of women have been inspired to know that they can stand up and speak up and their voices will be heard."
Carlson added, "If I've been a beacon of hope to any woman in that process, it has been worth it."…
MORE
.
—————————————————————————————
.
Gun-Free Birmingham, England: Masked Thugs Ram Car, Batter Windows With Machete And Hammer In Terrifying Daytime Attack – The Sun
.

.
This horrifying footage shows the moment two masked thugs rammed a car and smashed a motorist's window with a machete and hammer.
In the terrifying clip, two balaclava-clad men in a silver BMW rammed into a Toyota Yaris on a residential street in Handsworth, in Birmingham.
They then got out the car and one of the masked men, wearing a black hoodie and jeans, slashed at the car with a machete.
The BMW then smashed into the Toyota again, lifting its back wheels off the ground.
Another man, dressed in a coat and Adidas tracksuit bottoms, then appeared to launch a hammer at the windscreen…
MORE
.
—————————————————————————————
.
8 Reasons To Still Hate Obamacare – Stephen Moore
Remember Obamacare? The fight is far from over on the future of the Obama-era health insurance overhaul.
Republicans are making a list-ditch effort this year to turn the program and the money over to the state. This isn't full Obamacare repeal, but would make a world of sense because states would be free to experiment and find ways to reduce costs and provide better services.
Democrats are adopting a new political spin, which is that everything is fine with Obamacare. They claim that the only reason premium and deductible costs keep exploding is because President Donald Trump repealed the individual mandate tax – which was nothing more than an unfair penalty on low-income families that can't afford the high cost of the health law's mandates.
But if Trump is to blame, why were the costs skyrocketing two years before Trump even entered the Oval Office?…
MORE
.
—————————————————————————————
.
Cafeteria Worker Gets No Jail Time For Stealing Nearly $120,000 From Georgia School – Breitbart
.

.
A former high school cafeteria manager who pleaded guilty on Friday to stealing nearly $120,000 from a Georgia school over five years will not receive any jail time for her crime.
Brenda Watts pleaded guilty to one count of theft by conversion for taking money from students and depositing it into her personal bank account, the Atlanta Journal-Constitution reported.
Authorities initially arrested Watts in January 2014 when a fellow cafeteria worker exposed Watts' scheme. Authorities estimate Watts raked in $300 a day.
"I saw wrongdoing, so I reported it," former North Springs High School cafeteria worker Beth Walsh, the employee who exposed the scam, told WSB…