.
After Years Of Stagnation Under Obama, Household Income Hits 50-Year High – Western Journal
.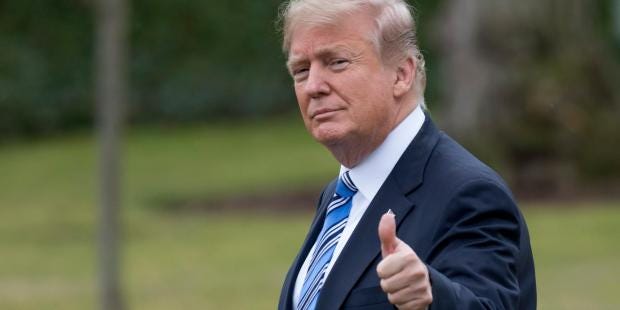 .
Former President Barack Obama got plenty of praise for shepherding us through the recovery from the 2008 economic crisis. However, those on Main Street, USA, knew the truth – things weren't any better than they had been when George W. Bush left office.
As The Weekly Standard reported in 2016, median household income when Obama came into office in 2009 was $56,731. In 2015, six years into his presidency, that number was $56,516 – a decrease of just over $200.
By the time he left office, it's true that media household income had risen to $59,471 – but that was essentially the same as it had been in December, 2007, at the end of the "Great Recession" and just a few weeks before Obama took office, when it was $59,549…
MORE
.
—————————————————————————————
.
FBI: Mueller Struck Deal To Free Billionaire Pedophile Jeffrey Epstein – Your News Wire
Special Counsel Robert Mueller personally intervened in the FBI's investigation of billionaire pedophile Jeffrey Epstein, striking a deal that allowed him avoid prosecution.
According to a series of bombshell FBI documents released on Thursday, known child predator Jeffrey Epstein had a professional relationship with then-FBI Director Robert Mueller.
"Epstein has also provided information to the FBI as agreed upon," says one of the FBI documents. "Case agent advised that no federal prosecution will occur in this matter as long as Epstein continues to uphold his agreement with the state of Florida."
Truepundit.com reports: Twitter sleuth @Techno_Fog mined an interesting gem from the files, showing that Epstein likely served as an informant to the FBI. Robert Mueller's FBI in 2008.
Epstein is a controversial figure and friend of the Clinton family, alleged to run the sexual "Lolita Express" to his private island…
MORE
.
—————————————————————————————
.
McDonald's Tells Leftist Douchebags Demanding Plastic Straw Ban To Suck It – Downtrend
.

.
Ever since they were booted out of actual political power by voters, the left has come to rely on the mob instead of the ballot box. Social media pogroms, boycotts and endless petitions have become the preferred methods of "persuasion" and God help those that don't fall in line and surrender.
In addition to gun bans, another target of the tyranny of the leftist authoritarians are plastic straws and they have had enormous success in flexing their social media muscle to get them banned. Don't be fooled by the insignificant straws, the greater purpose here is honing the intimidation machine to razor sharpness.
One of the nation's major fast food chains is however defying the mob as McDonald's has told the cyber goons to suck it…
MORE
.
—————————————————————————————
.
Enviro-Weenies Forced To Pay Chevron $38 Million In Damages – Daily Caller
The Supreme Court of Gibraltar awarded the oil company Chevron $38 million Friday for damages related to charges alleging the company contaminated the Amazon region of Ecuador.
An Ecuador court issued an $18 billion judgement against Chevron in February 2011 for environmental and social harm the company allegedly caused to the Amazon. The amount was later reduced to $9.5 billion, but a U.S. district court in New York nullified the judgement due to fraudulent and illegal activities by Steven Donziger, the lead American lawyer behind the lawsuit, according to the district court ruling.
Donziger had set up a company in Gibraltar, Amazonia Recovery Ltd., through which to funnel the funds he and others thought they would win from the Chevron case.
The Gibraltar court rendered judgment on Donziger's associates and Amazonia while issuing a permanent injunction between them and the case, stopping them from participating any further…
MORE
.
—————————————————————————————
.
Trump-Kim Summit Back On Track, Moon Says After Secret Meeting – Japan Times
.

.
With all eyes on next month's on-again, off-again summit between North Korean leader Kim Jong Un and U.S. President Donald Trump, Kim reiterated his commitment to the "denuclearization of the Korean Peninsula" and to a Trump sit-down, South Korean President Moon Jae-in said Sunday, a day after his secret meeting with Kim at the two Koreas' border.
Moon's remarks at a televised news conference came almost simultaneously as Trump said negotiations over the potential summit with Kim that he had canceled last week were "going along very well."
"We're looking at June 12 in Singapore. That hasn't changed," the U.S. president said. Trump's comments at the White House followed the second Kim-Moon summit in just under a month Saturday at the truce village of Panmunjom, where the pair held their first meeting on April 27…
MORE
.
—————————————————————————————
.
Nebraska Fentanyl Bust Seizes Enough To Kill 26 Million People – USA Today
Results this week from a crime lab analysis found that the whopping 118 pounds of narcotics seized by Nebraska State Patrol back in April is all fentanyl, making the bust the state's largest ever and one of the biggest in United States history.
Fentanyl is a synthetic opioid over 30 times more potent than heroin, according to the Drug Enforcement Administration (DEA). A dose as small as two milligrams can be fatal. Do the math – as both the Kansas City Star and USA TODAY have done – and you'll find the Nebraska bust included enough fentanyl to kill 26,760,000 people.
Nebraska State Patrol reports the narcotics were seized after a traffic stop of a semi-truck near Kearney. Troopers found a false compartment containing the drugs, which they originally believed to be a mix of fentanyl and cocaine, according to a May 1 statement by police.
Police say the truck's driver, Felipe Genao-Minaya, 46, and passenger, Nelson Nunez, 52, were both arrested on drug-related charges…
MORE
.
—————————————————————————————
.
North Korea's Kim, South Korea's Moon Meet For 2nd Time Amid Trump Summit Doubts – Circa
.

.
North Korean leader Kim Jong Un and South Korean President Moon Jae-in met for the second time in a month on Saturday to discuss carrying out the peace commitments they reached in their first summit and Kim's potential meeting with President Donald Trump, Moon's office said.
South Korean presidential spokesman Yoon Young-chan said Moon will reveal the outcome of his surprise meeting with Kim on Sunday. The presidential Blue House did not immediately provide more details.
The meeting at a border truce village came hours after South Korea expressed relief over revived talks for a summit between Trump and Kim following a whirlwind 24 hours that saw Trump cancel the highly anticipated meeting before saying it's potentially back on…
MORE
.
—————————————————————————————
.
Trump Says China's ZTE To Pay $1.3 Billion Fine To Re-Open – Bloomberg
President Donald Trump said the U.S. would allow Chinese telecommunications-equipment maker ZTE Corp. to remain in business after paying a $1.3 billion fine, changing its management and board and providing "high-level security guarantees."
In a tweet Friday evening, Trump confirmed a deal that his administration had outlined for members of Congress, according to two people familiar with the matter. Lawmakers in both parties have expressed concern over his decision to soften an earlier U.S. action against ZTE over what his commerce secretary called "egregious" violations of sanctions on Iran and North Korea.
Trump took a jab at Democrats in his tweet, saying that Senate Minority Leader Chuck Schumer and former President Barack Obama "let phone company ZTE flourish with no security checks."
Under the deal for ZTE to resume operations, it will also hire American compliance officers to monitor its operations according to the people, who spoke on condition of anonymity…
MORE
.
—————————————————————————————
.
Trump Issues Executive Orders That Make It Easier To Fire Federal Workers – Business Insider
.

.
President Donald Trump on Friday signed three executive orders designed to make it easier to fire federal government workers and to crack down on the unions that represent them, drawing immediate criticism from a group representing federal employees.
Administration officials said the orders would give government agencies greater ability to remove employees with "poor" performance, get "better deals" in union contracts and require federal employees with union responsibilities to spend less time on union work.
"Today the president is fulfilling his promise to promote more efficient government by reforming our civil service rules," said Andrew Bremberg, director of the White House's Domestic Policy Council, in a conference call with reporters…
MORE
.
—————————————————————————————
.
Republicans Introduce Resolution For Second Special Counsel To Investigate FBI And FISA Abuse – Townhall
Twenty-five House Republicans have introduced a resolution officially calling for a second Special Counsel to investigate FBI misconduct and FISA abuse during the 2016 presidential election.
"Here's the now filed 12 pg[page] H.Res.907 w[ith] 25 original cosponsors, detailing misconduct at highest levels of DOJ/FBI re FISA abuse, how/why Clinton email probe ended & Trump-Russia probe began. Also calls for 2nd Special Counsel," Republican Congressman Lee Zeldin tweeted Friday.
As mentioned, the legislation is twelve pages long and details two dozen reasons – including the handling of the criminal investigation into Hillary Clinton – why the Special Counsel is necessary.
"Expressing the sense of Congress that the Attorney General of the United States should appoint a Special Counsel to investigate misconduct at the Department of Justice and Federal Bureau of Investigation, including an investigation of abuse of the FISA warrant process…
MORE
.
—————————————————————————————
.
Trump Shakes Literally Every Naval Academy Graduate's Hand – Daily Caller


.
President Donald Trump gave a speech to the graduates of the Naval Academy Friday morning. Then, the president went a step further, offering to shake the hands of every single graduate – more than 1,000 midshipmen.
"I was given an option. I could make this commencement address, which is a great honor for me, and immediately leave and wave goodbye. Or I could stay and shake hands with just the top 100," Trump said, "Or I could stay for hours and shake hands with 1,100 and something. What should I do? What should I do?"
Trump then shouted, "Stay! Ok, I'll stay."
C-SPAN cameras stayed on the president as he shook the hands of hundreds of cadets…
MORE
.
—————————————————————————————
.
Disgraced Former FBI Deputy Director Andrew McCabe Spent $70,000 On A Table, And The FBI Hid It From Congress – The Federalist
Former FBI deputy director Andrew McCabe, who was fired for lying under oath, spent $70,000 in taxpayer dollars on a conference table. The FBI also redacted the conference table's steep price tag from documents that members of the Senate Judiciary Committee requested, in an apparent attempt to hide it from Congress.
In a letter sent to Deputy Attorney General Rod Rosenstein Wednesday, Sen. Chuck Grassley revealed that the FBI had redacted the cost of the table from a document he and his fellow members of the committee requested to see. Grassley said many of the redactions within the documents made no sense, nor were they made to protect national security secrets.
"Congress, and the public, have a right to know how the Department spends taxpayer money," Grassley wrote. "I am unaware of any legitimate basis on which the cost of a conference table should be redacted. Embarrassment is not a good enough reason. The manner in which some redactions have been used casts doubt on whether the remaining redactions are necessary and defensible."…
MORE
.
—————————————————————————————
.
Inside The "New" Starbucks: Blood-Spattered Walls, Workers Pricked By Needles And More – Zero Hedge
.

.
Starbucks is having a terrible time adapting to its new "inclusive" public restroom policy, as employees contend with blood spattered walls, used drug needles, and face-melting waftings from deuce-dropping vagrants filling the store.
Oh, and all that was happening before the new homeless shelter bathroom policy.
One current barista in New York City said drug use in the bathrooms is a frequent occurrence.
…
employees often found small drops of blood splattered across the toilet and walls – WSJ
As the Wall Street Journal notes, "Managers and baristas regularly deal with a range of problems in the restrooms, from drug use to defecation outside the toilets, according to some current and former employees."…
MORE
.
—————————————————————————————
.
Approximately 1,475 Migrant Children Have Been Lost By The Federal Government – Circa
The Trump administration recently announced a policy that would see migrant children separated from their parents if they were caught crossing the United States border illegally. Within 48 hours of those children being detained, they are supposed to be transferred to the Department of Health and Human Services to be placed with a caretaker, according to Department of Homeland Security Secretary Kirstjen Nielsen.
However, in testimony given before the Senate on April 26, Acting Assistant Secretary of the Administration for Children and Families Steve Wagner said that the Office of Refugee Resettlement was not able to account for the whereabouts of 1,475 children that it had placed.
Wagner also said that ORR was exploring its responsibility to children after they were released to caretakers.
"Specifically, we are exploring the question of ORR's responsibilities in relation to children who are released to sponsors, and whether the level of responsibility would differ depending on the child's relationship to his or her sponsor," said Wagner…
MORE
.
—————————————————————————————
.
Report: 5 Out Of 6 Prisoners Rearrested Within 9 Years – Washington Free Beacon
.

.
Eighty-three percent of state-level prisoners were rearrested within nine years of their release, according to a new analysis released by the Bureau of Justice Statistics (BJS). Of that group, 68 percent had their first rearrest within three years of release. Seventy-nine percent were first rearrested within six years; 83 percent were rearrested within nine years.
The new analysis tracked a representative sample made up of more than 67,000 state-level prisoners released in 2005 across 30 states. State prisons account for about 61 percent of the population of correctional facilities in America; the 30 states surveyed by the BJS in turn represent about 77 percent of the state-level prison population.
The BJS's new analysis adds to its previously released reports, which measured the recidivism for the same cohort but over a shorter time-span, specifically three and five years…
MORE
.
—————————————————————————————
.
Explosion In Canadian Restaurant Wounds 15 People – Circa
An explosion caused by an "improvised explosive device" ripped through an Indian restaurant in a mall in the Toronto suburb of Mississauga, wounding 15 people, Canadian police said.
Peel Region Sergeant Matt Bertram said two suspects with their faces covered to conceal their identity entered the Bombay Bhel restaurant late Thursday, dropped some sort of IED device and fled. "We have no indication to call it a hate crime or any kind of terrorism act," Bertram said.
Peel Region paramedic Joe Korstanje said three people suffered critical injuries and were taken to the hospital while the remaining 12 victims suffered what he described as minor and superficial injuries. Police later updated the condition of the three critically injured patients to stable.
The explosion happened just after 10:30 p.m. on Thursday, and the plaza where the restaurant is located was still sealed off on Friday.
"Nothing was said by these individuals," Bertram said. "It appears they just went in, dropped off this device, and took off right away."…
MORE
.
—————————————————————————————
.
Trump Issues Commercial Space Policy Directive On Eve Of Anniversary Of JFK's Space Program Speech – Daily Signal
.

.
President Donald Trump on Thursday signed a space policy directive, calling for "updating and refocusing" those policies in a bid to promote innovation and modernize American commercial space policy.
The White House said the move "reforms America's commercial space regulatory framework, ensuring our place as a leader in space commerce."
This is the second space policy directive the president has issued, after taking into account recommendations made by the National Space Council. Trump revived the council, which disbanded in 1993.
His first directive, signed on Dec. 11, ordered a restart for manned missions to the moon and future manned missions to Mars…
MORE
.
—————————————————————————————
.
The FBI Used Its Secret Spy Program To Protect Killers, Jail Innocents, And Screw Victims – Sean Davis
Following reports that the Federal Bureau of Investigation (FBI) used at least one spy to secretly surveil members of the Trump campaign, fired former FBI director James Comey lashed out at critics of his agency's activities during the 2016 election.
"Facts matter. The FBI's use of Confidential Human Sources (the actual term) is tightly regulated and essential to protecting the country," Comey tweeted on May 23. "Attacks on the FBI and lying about its work will do lasting damage to our country."
While Comey's record on truth-telling is decidedly mixed, he is correct that facts matter and that the FBI's use of informants is governed by strict guidelines.
How and why many of those guidelines came to be are important facts that the American public deserves to know as it considers revelations that the FBI used wiretaps and spies to surveil Donald Trump's presidential campaign, his transition, and perhaps even his presidential administration…
MORE
.
—————————————————————————————
.
Video Captures Award Winning Cop Pulling His Gun On Photographer For Filming Him; Officer Under Investigation – Washington Standard
.

.
An award-winning San Diego Community College District police officer at Mesa College is on paid administrative leave (paid vacation) as he is under investigation for pulling his gun and aiming it at a photographer who was filming him.
Last week, a photographer was walking past Officer James Everette and was filming him with a camera and a GoPro camera as well.
The officer gets out of his vehicle, moves around behind it and asks what the photographer is doing and proceeds to tell him to put the camera down. The photographer clearly states his rights to film and is not a threat to the officer.
However, the officer then escalates the situation and draws his weapon…
MORE
.
—————————————————————————————
.
Ex-Spokane NAACP President (And Fake Black Woman) Rachel Dolezal Charged With Welfare Fraud – KCPQ
A former NAACP leader in Washington state whose life unraveled after she was outed as a white woman pretending to be black has been charged with welfare fraud. Rachel Dolezal, who legally changed her name to Nkechi Diallo in 2016, was charged this week with theft by welfare fraud, perjury and false verification for public assistance.
She illegally received $8,747 in food assistance and $100 in child care assistance from August 2015 through November 2017, court documents said.
An investigation started in March 2017 when a Washington state investigator received information that Diallo had written a book. The investigator reviewed Diallo's records and found that she had been reporting her income as usually less than $500 per month, court documents said.
A subpoena for her self-employment records showed Diallo had deposited nearly $84,000 into her bank account between August 2015 and September 2017…
MORE
.
—————————————————————————————
.
Disgraced Obama AG Eric Holder Urges DOJ/FBI To Unconstitutionally Defy President And 'Protect The Institutions' – Washington Times
.

.
Former Attorney General Eric Holder publicly urged his former employees at the Justice Department to defy President Trump's request for transparency and public disclosures of information related to the unprecedented spy operation launched in 2016 against the Trump campaign.
Holder's insistence that the DOJ and FBI "protect the institutions" rather than carry out their constitutional duties and protect the constitution, the document they actually swear to protect when entering their federal positions is telling and rather frightening.
If one ever searched for a "deep state" smoking gun it appears Holder has offered it up. Protect the "Institution" of the Justice Department at the expense of the US Constitution. Defy the President's orders for the sake of the governmental apparatus…