.
China Unexpectedly Slashes Auto Tariffs After Trump Trade Truce – Zero Hedge
In an unexpected, but notable, victory for President Trump's aggressive trade agenda and exporters of cars around the globe, China's Ministry of Finance announced Tuesday morning that it would slash passenger car duties to 15%, further opening up the market that's been a key target of the U.S. in its trade fight with Beijing.
This comes less than a month after China decided to ease restrictions on foreign competition in its auto sector and also address some of the US's concerns about intellectual property theft.
The reduction follows a truce that Treasury Secretary Steven Mnuchin announced during a Sunday appearance on "Fox News Sunday". In response, the US has continued to reverse its policy of pressuring telecom giant ZTE, with Trump taking steps to rescue it.
"This is, without a doubt, positive news," said Juergen Pieper, Frankfurt-based head of automobiles research at Bankhaus Metzler who spoke with Bloomberg…
MORE
.
—————————————————————————————
.
Rep. Steve King Introduces Act To Imprison Politicians Who Help Illegal Aliens Evade Deportation – Breitbart
.

.
Rep. Steve King (R-IA) has introduced legislation named after Oakland Mayor Libby Schaaf – who infamously helped criminal illegal aliens evade deportation – that would imprison sanctuary city politicians.
As Breitbart News has reported, back in February Schaaf tipped off illegal aliens and businesses who employ illegal aliens of a pending raid by the Immigration and Customs Enforcement (ICE).
Schaaf's warning of the ICE raid allowed illegal aliens convicted of sex crimes to evade deportation, as Breitbart News reported. As Breitbart exclusively reported, Schaaf is facing a lawsuit by the Immigration Reform Law Institute (IRLI)…
MORE
.
—————————————————————————————
.
Starbucks Opens Up Its Cafes To Loiterers, Vagrants And Drug Addicts – Your News Wire
Starbucks has opened its cafes and restrooms to non-paying loiterers, vagrants and drug addicts as part of its new anti-racist inclusive policy. The new policy comes five weeks after two black men who hadn't purchased anything were arrested at a Philadelphia Starbucks.
AP reports: Company executives have said its previous policies were loose and ambiguous, leaving decisions on whether people could sit in its stores or use the restroom up to store managers.
Starbucks said it has told workers to consider anyone who walks into its stores a customer, "regardless of whether they make a purchase." The company said anyone can use its cafes, patios or restrooms without buying anything, but it noted workers should still call the police if someone is a safety threat.
"We are committed to creating a culture of warmth and belonging where everyone is welcome," Starbucks said in a statement…
MORE
.
—————————————————————————————
.
Boom: Team Trump Cuts Nearly Twice As Many Regulations As Promised – Washington Examiner
.

.
The Trump administration is showing no signs of slowing its slashing of Obama-era regulations, beating their plans to cut two for every new rule and saving more than double what was hoped for, according to a new report.
"The Trump administration is making substantial deregulatory progress," said a new report from American Action Forum.
"The administration is prioritizing deregulation, and it is set to double its goals of a two-for-one deregulatory-to-regulatory ratio and $686.6 million in net savings," said the report from forum experts Dan Bosch, director of regulatory policy, and Dan Goldbeck, a senior analyst.
When he came to office, Trump promised to cut two regulations for every new one he imposed…
MORE
.
—————————————————————————————
.
Nanoparticles Derived From Tea Leaves Destroy Lung Cancer Cells – EurekAlert
Nanoparticles derived from tea leaves inhibit the growth of lung cancer cells, destroying up to 80% of them, new research by a joint Swansea University and Indian team has shown.
The team made the discovery while they were testing out a new method of producing a type of nanoparticle called quantum dots. These are tiny particles which measure less than 10 nanometres. A human hair is 40,000 nanometres thick.
Although nanoparticles are already used in healthcare, quantum dots have only recently attracted researchers' attention. Already they are showing promise for use in different applications, from computers and solar cells to tumour imaging and treating cancer.
Quantum dots can be made chemically, but this is complicated and expensive and has toxic side effects. The Swansea-led research team were therefore exploring a non-toxic plant-based alternative method of producing the dots, using tea leaf extract.
Tea leaves contain a wide variety of compounds, including polyphenols, amino acids, vitamins and antioxidants…
MORE
.
—————————————————————————————
.
Dow Jumps Nearly 300 Points, Tops 25,000 As U.S.-China Trade Tensions Recede – MarketWatch
.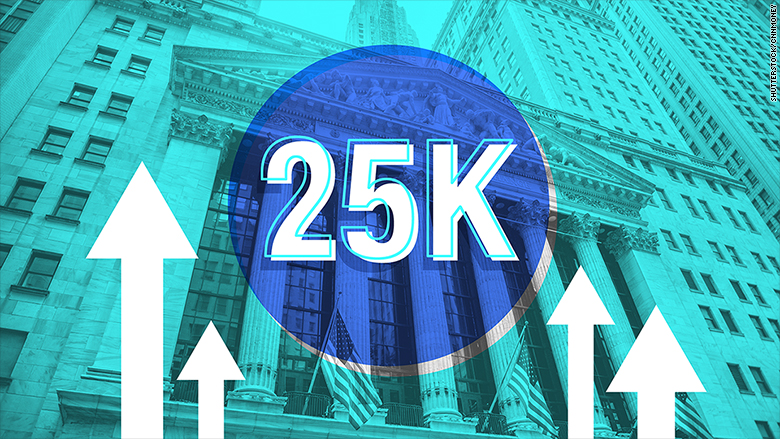 .
The Dow industrials climbed back above 25,000 and the S&P 500 finished at a roughly nine-week high as investors applauded easing trade animosities between the U.S. and China. Meanwhile, the Russell 2000 index of small capitalization stocks booked a fourth record close in a row.
The Dow Jones Industrial Average DJIA, +1.21% rose 298.20 points, or 1.2%, to 25,013.29, marking its highest close since March 12.
The S&P 500 SPX, +0.74% rose 20.04 points to 2,733.01, a gain of 0.7%. All 11 primary S&P 500 sectors closed in the green, with industrials – the sector with some of the highest correlation to trade issues – gaining 1.5%. The benchmark index also booked its best finish since mid March.
The Nasdaq Composite Index COMP, +0.54% rose 39.70 points, or 0.5%, to 7,394.04…
MORE
.
—————————————————————————————
.
'Party Like It's 1776' Theme Too Offensive For New Jersey School Prom – Daily Caller
A New Jersey high school principal apologized Friday for a "Party Like It's 1776" theme at prom.
Dr. Dennis Perry, principal of Cherry Hill High School, posted on his Twitter feed an apology for the theme printed on prom tickets, calling the decision "insensitive and irresponsible," reported Fox News.
"I especially apologize to our African American students, who I have let down by not initially recognizing the inappropriateness of this wording," Perry wrote in a statement.
To make up for what he deemed an indiscretion, the principal said students would not need to bring their prom tickets in order to get into the event – they would instead only need to state their names to be matched up with a list of who bought tickets.
Cherry Hill High School would also give every student attendee a "commemorative" ticket displaying a new design at the prom. Perry stated that a "diverse group of people" would review information distributed by the school prior to its dissemination, in the future…
MORE
.
—————————————————————————————
.
FBI Informant Stefan Halper Paid Over $1 Million By Obama Regime; Spied On Trump Aide After Election – Zero Hedge
.

.
Less than a week after Stefan Halper was outed as the FBI informant who infiltrated the Trump campaign, public records reveal that the 73-year-old Oxford University professor and former U.S. government official was paid handsomely by the Obama administration starting in 2012 for various research projects.
A longtime CIA and FBI asset who once reportedly ran a spy-operation on the Jimmy Carter administration, Halper was enlisted by the FBI to spy on several Trump campaign aides during the 2016 U.S. election. Meanwhile, a search of public records reveals that between 2012 and 2018, Halper received a total of $1,058,161 from the Department of Defense.
Halper's contracts were funded through four annual awards paid directly out of the Pentagon's Office of Net Assessment…
MORE
.
—————————————————————————————
.
John Brennan Fires Warning Shot At Ryan And McConnell After Trump Orders DOJ To Investigate FBI's Campaign Infiltration – Gateway Pundit
Former CIA Director-turned-Twitter troll, John Brennan lashed out at Trump on Sunday evening after the President ordered the DOJ to investigate the FBI's infiltration of his campaign.
Brennan also fired a warning shot to House Speaker Paul Ryan and Senate Majority Leader Mitch McConnell, claiming they will 'bear the majority of the responsibility of the harm done to our democracy' if they don't stop Trump.
As previously reported by TGP's Kristinn Taylor, President Trump tweeted Sunday afternoon he is ordering the Justice Department to investigate whether the Obama administration spied on his 2016 presidential campaign.
The order comes on the heels of leaks to the New York Times and Washington Post that the Obama administration had an "informant" make several approaches to three Trump campaign officials, included one that involved an offer of cash and another an offer to "advise" the campaign…
MORE
.
—————————————————————————————
.
What Obama And His Political Choom Gang Did Is Far Worse Than Watergate – Charles Hurt
.

.
At the end of all the scandal and drama, all of the breathlessly reported lies and false accusations, at the end of all the money wasted on some zany kabuki swamp dance choreographed to the thrumming of giant bullfrogs and yipping of excited coyotes – at the end of all of this – it comes down to precisely what we said it was a year and a half ago.
The Obama administration – with or without the knowledge and direction of President Obama himself – perverted one of the most powerful, clandestine spying operations in the world and used it at the very height of a presidential campaign to spy on political opponents, punish them and, ultimately, silence them through extortion.
If this was orchestrated without the express knowledge of Mr. Obama, then it reveals just how blatantly he instructed by example the weaponizing of the entire federal government…
MORE
.
—————————————————————————————
.
Lava From Kilauea Volcano Enters Ocean, Creates Toxic Cloud – Circa
White plumes of acid and extremely fine shards of glass billowed into the sky over Hawaii as molten rock from Kilauea volcano poured into the ocean, creating yet another hazard from an eruption that began more than two weeks ago.
Authorities on Sunday warned the public to stay away from the toxic steam cloud, which is formed by a chemical reaction when lava touches seawater.
Further upslope, lava continued to gush out of large cracks in the ground that formed in residential neighborhoods in a rural part of the Big Island. The molten rock formed rivers that bisected forests and farms as it meandered toward the coast.
The rate of sulfur dioxide gas shooting from the ground fissures tripled, leading Hawaii County to repeat warnings about air quality.
At the volcano's summit, two explosive eruptions unleashed clouds of ash. Winds carried much of the ash toward the southwest…
MORE
.
—————————————————————————————
.
Venezuela's Socialist Nightmare Continues With Re-election Of Maduro – Daily Mail
.

.
Venezuela's leftist leader Nicolas Maduro won a new six-year term on Sunday, but his main rivals disavowed the election alleging massive irregularities in a process critics decried as a farce propping up a dictatorship.
Victory for the 55-year-old former bus driver, who replaced Hugo Chavez after his death from cancer in 2013, may trigger a new round of western sanctions against the socialist government as it grapples with a ruinous economic crisis.
U.S. President Donald Trump's administration is threatening moves against Venezuela's already reeling oil sector.
Venezuela's election board, run by Maduro loyalists, said he took 5.8 million votes…
MORE
.
—————————————————————————————
.
How The FBI And CIA Restarted The Cold War To Protect Themselves – Thomas J. Farnan
On December 29, 2016, the Obama Administration – with three weeks remaining in its term – issued harsh sanctions against Russia over supposed election interference. Two compounds in the United States were closed and 35 Russian diplomats were ordered to leave the country.
Russia responded by calling the actions "Cold War déjà vu."
In the two years that have elapsed since, it has been learned that the "intelligence" that formed the basis for the sanctions was beyond dubious.
A single unverified "dossier" compiled by an ex-British spy with no discernable connections to Russia was shopped to FISA judges and the media as something real.
The dossier was opposition research by the Hillary Clinton campaign, a fact that was not disclosed and actively hidden by off-the-book transactions through the law firm Perkins Coie.
As a dog that chases its tail, the fake dossier was being used to cause the investigation which itself lent credibility to the notion of Russian interference…
MORE
.
—————————————————————————————
.
Rod Rosenstein Asks DOJ Inspector General To Review Possible Trump Campaign Infiltration – Washington Examiner
.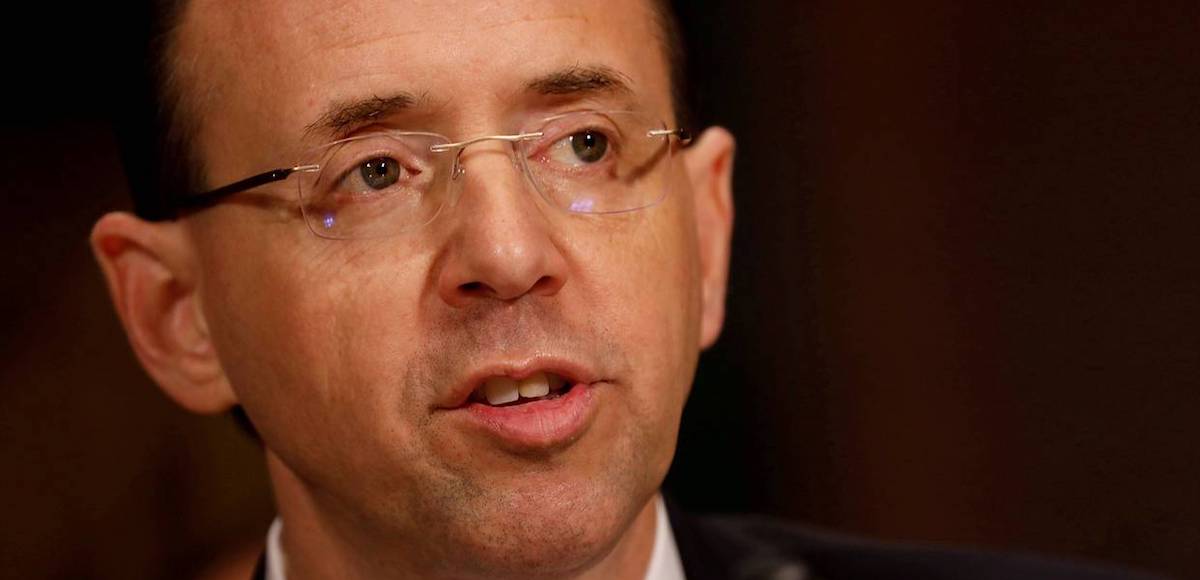 .
Deputy Attorney General Rod Rosenstein asked the Justice Department's inspector general Sunday to review whether there was improper politically motivated surveillance of the Trump campaign in 2016.
Rosenstein made the request shortly after a tweet from President Trump saying that he would "officially" ask "that the Department of Justice look into whether or not the FBI/DOJ infiltrated or surveilled the Trump Campaign for Political Purposes."
In a statement, Rosenstein said: "If anyone did infiltrate or surveil participants in a presidential campaign for inappropriate purposes, we need to know about it and take appropriate action." The attorney general, Jeff Sessions, has recused himself from Russia-related matters…
MORE
.
—————————————————————————————
.
NC Police Find $90 Million In Meth Hidden In Truck Driven By Alleged Illegal Alien – Breitbart
Officials in Linden, North Carolina, discovered 120 gallons of liquid methamphetamine hidden inside the fuel tank of a semi truck being driven by an alleged illegal alien, reports say.
Harnett County Sheriff's officers pulled the truck over on May 19 and discovered the large amount of the liquefied drug. According to WRAL, the liquid was destined to be turned into 454 kilograms of crystal methamphetamine and would have had a street value of $90.8 million.
The seizure was part of a wider investigation into the trafficking of meth in the area.
The truck was crewed by Raul Topete Arreola, 49, and Aquileo Perez Pineda, 48. Pineda was quickly put on an immigration hold while immigration officials looked into Arreola's immigration status.
The pair were charged with three counts each of trafficking methamphetamine and placed under a three million dollar bond…
MORE
.
—————————————————————————————
.
Government Improperly Paid $571 Million In Disability Benefits To People Who Already Had Jobs – Western Journal
.

.
The Social Security Administration improperly disbursed an estimated $571 million in disability benefits to people who had already returned to work, according to a government audit report.
Of the overpayments, nearly $201 million of the improperly disbursed benefits checks was due to the administration's slow processing, and almost $371 million was the fault of the beneficiaries who didn't complete paperwork on time, the Office of the Inspector General wrote in a report released Tuesday.
Analyzing a sample of disability cases from 2012, the IG found a total of $1.3 million in overpayments, $446,000 of which were made as a result of administrative errors, as well as $823,000 due to individuals failing to report wages that would disqualify them from benefits…
MORE
.
—————————————————————————————
.
All Of Chile's 34 Bishops To Resign En Masse Over Sex Abuse Scandal – Reuters
In an unprecedented move, all of Chile's bishops offered to resign on Friday after attending a crisis meeting this week with Pope Francis about the cover-up of sexual abuse in the South American nation.
Several victims invited by the pope to Rome earlier this month said they wanted all 34 bishops sacked and replaced by more moral candidates, and for the Vatican to extend punishment to others implicated in the scandal.
The offer of mass resignations on Friday by the bishops summoned to Rome marks the first time that all the senior Roman Catholic prelates of a country have taken such a step, a Vatican official said. A Vatican official declined to speculate on the pope's response.
"We have put our positions in the hands of the Holy Father and will leave it to him to decide freely for each of us," the bishops said in a joint statement read out by a spokesman for them, Bishop Fernando Ramos…
MORE
.
—————————————————————————————
.
'Consensus' Reached To Slash $370 Billion U.S. Trade Deficit With China – Breitbart
.

.
In a joint statement released Saturday, the United States and China announced that a "consensus" was reached to "substantially reduce" the $370 billion trade imbalance between the two countries.
"There was a consensus on taking effective measures to substantially reduce the United States trade deficit in goods with China," the joint statement said, adding, "To meet the growing consumption needs of the Chinese people and the need for high-quality economic development, China will significantly increase purchases of United States goods and services."
"The statement concluded joint talks on Thursday and Friday between the two countries, which included several U.S. cabinet secretaries and China's State Council Vice Premier Liu He," reports Channel NewsAsia…
MORE
.
—————————————————————————————
.
Beijing Showing Signs Of Compromise In Trade Talks With U.S. – Associated Press
China is sending conciliatory signals as U.S. and Chinese negotiators meet in Washington to try to head off a trade war between the world's two biggest economies.
Beijing has dropped an anti-dumping investigation into imported U.S. sorghum, which it had accused the United States of unfairly subsiding. It has also given approval for a U.S. private equity firm to buy Toshiba's memory chip business.
Those gestures could suggest a thaw with the U.S. as trade talks went on for a second day Friday in Washington.
"China has come to trade," Larry Kudlow, the top White House economic adviser, told reporters. "They are meeting many of our demands. No deal yet, to be sure, and it's probably going to take a while – it's a process."
China's Commerce Ministry said Friday that it was ending its inquiry into whether the U.S. was dumping sorghum in the Chinese market at artificially low prices…
MORE
.
—————————————————————————————
.
Harry And Meghan Wed At St George's Chapel In Windsor – Daily Mail
.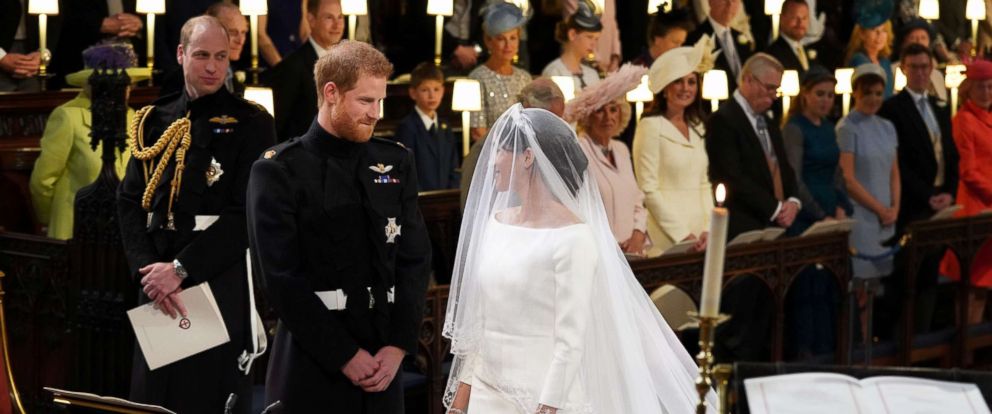 .
Meghan Markle has launched her own mini-revolution as she married Prince Harry today in a multi-cultural and U.S.-influenced wedding the likes of which Britain's royals and the millions watching have never seen before.
The newlyweds shared tears, laughter and a passionate kiss in front of their hundreds of VIP guests dominated by Hollywood stars including the Clooneys, the Beckhams, Idris Elba, Oprah Winfrey, Tom Hardy and James Corden.
Elton John, who sang at Princess Diana's funeral in 1997, performed at the lunchtime reception hosted by the Queen in a poignant nod to Harry's late mother.
All the senior British royals were also there to support the couple including Her Majesty…
MORE
.
—————————————————————————————
.
RINO Update: Ryan's Super PAC Gives Millions To GOP's Amnesty Discharge Signers – Breitbart
A Super PAC funded by retiring House Speaker Paul Ryan is spending more than $10 million to help the GOP representatives who are trying to pass a cheap-labor amnesty via the discharge-petition process.
The amnesty-boosting funds are being collected and shared via the Congressional Leadership Fund, which was described in a May 17 Politico article:
TUSTIN, Calif. – Republicans have amassed a sprawling shadow field organization to defend the House this fall, spending tens of millions of dollars in an unprecedented effort to protect dozens of battleground districts that will determine control of the chamber.
The initiative by the Congressional Leadership Fund, a super PAC aligned with Speaker Paul Ryan (R-Wis.), now includes 34 offices running mini-campaigns for vulnerable Republicans throughout the country. It has built its own in-house research and data teams and recruited 4,000 student volunteers, who have knocked on more than 10 million doors since February 2017…