.
Miami Cheesecake Factory Employees Threaten And Harass Black Trump Supporter – PJ Media
A black Trump supporter and his family were allegedly threatened and racially harassed by a group of employees at a Cheesecake Factory in Miami, Florida, on Mother's Day, terrifying a little girl at the table and forcing the family to retreat from the restaurant, The Daily Wire reported.
The fracas reportedly began when a female employee saw 22-year-old Eugenior Joseph's red "Make America Great Again" hat and gathered about a dozen other staffers to come over and harangue him.
"Her finger was literally on top of his head, we were all looking at her like 'what is happening?'" a witness told The Daily Wire. "She was pointing at him, calling her other coworkers, telling them to look at this guy wearing a Make America Great Again hat."
According to Izabella Victores, Joseph's girlfriend, the employees allegedly circled his table and made threatening comments like, "I'm gonna punch his head in so hard that I'll knock the hat off."…
MORE
.
—————————————————————————————
.
4,000 Google Employees Threaten To Quit Over 'Deep State' Collusion – Your News Wire
.

.
Over a dozen Google employees have quit and a further 4,000 are threatening to walk out over the company's ongoing ties to the 'Deep State'.
Amid a total media blackout, thousands of Google workers are demanding that Google end their participation in a 'Deep State' project with the Pentagon called Project Maven.
Engadget.com reports: Project Maven seeks to help the military analyze drone footage faster through machine learning, as the AI detects people and objects for human review.
Those who resigned from Google cited ethical concerns over the use of AI in drone operations and the company's broader involvement in political and military spheres – Google recently sponsored the Conservative Political Action Conference, for instance…
MORE
.
—————————————————————————————
.
Nanny State Update: Democrats Now Targeting E-Cigarettes – Washington Free Beacon
Democrats are pressing federal regulators to crack down on the flavors available in electronic cigarettes and other smoking alternatives.
Congressional Democrats are circulating a petition asking the U.S. Food and Drug Administration to ban artificial flavors in e-cigarettes, a popular quitting tool, and cigars. Rep. Diana DeGette (D., Colo.) joined Rep. Rosa DeLauro (D., Conn.) and other liberal members of Congress to urge FDA commissioner Scott Gottlieb to take quick action to curb cigarette alternatives.
The letter pointed to the existence of "chocolate and cotton candy" flavors as proof the cigar and vape industries are marketing to children. Flavors, they say, risk attracting new users among young people and create nicotine addictions even without tobacco.
"FDA must move quickly to ban flavored e-cigarettes and cigars or it risks letting a new generation of young Americans develop an addiction to nicotine, which could undermine their health," DeGette said in an email to colleagues…
MORE
.
—————————————————————————————
.
Man In A Dress Files Human Rights Complaint Against Spa For Refusing To Wax His Genitals – Windsor Star
.

.
The owner of a local waxing spa is mounting a public campaign to clear the name of his business after he was served a human rights complaint for denying service to a transgender woman.
Jason Carruthers, the president of Mad Wax on Walker Road, said he was surprised at the legal move since he had explained to the complainant that the spa did not offer Brazilian wax services on male body parts.
"I have no male wax staff," Carruthers said Friday. "We are not able to provide that service."
A local transgender woman claims she was denied services based on her gender identity and gender expression and is seeking $50,000 for "immense harm to my dignity."…
MORE
.
—————————————————————————————
.
Sexually Transmitted Diseases Reach All-Time High In Democrat-Run California, Leading To Spike In Stillbirths Due To Syphilis – USA Today
The number of cases of sexually transmitted diseases in California reached a record high last year and officials are particularly concerned by a spike in stillbirths due to congenital syphilis, state health authorities said Monday.
More than 300,000 cases of chlamydia, gonorrhea and syphilis were reported in 2017, a 45 percent increase from five years ago, according to data released by the California Department of Public Health.
Chlamydia and gonorrhea are most common among people under 30, the report said. Rates of chlamydia are highest among young women, while men account for the majority of syphilis and gonorrhea cases.
If left untreated, chlamydia and gonorrhea can lead to infertility, ectopic pregnancy and chronic pelvic pain. Syphilis can result in blindness, hearing loss and neurologic problems.
The figure that caused the greatest alarm for researchers and administrators was 30 stillbirths…
MORE
.
—————————————————————————————
.
Pet Dog Raised By Chinese Family For Two Years Turns Out To Be A Black Bear – The Independent
.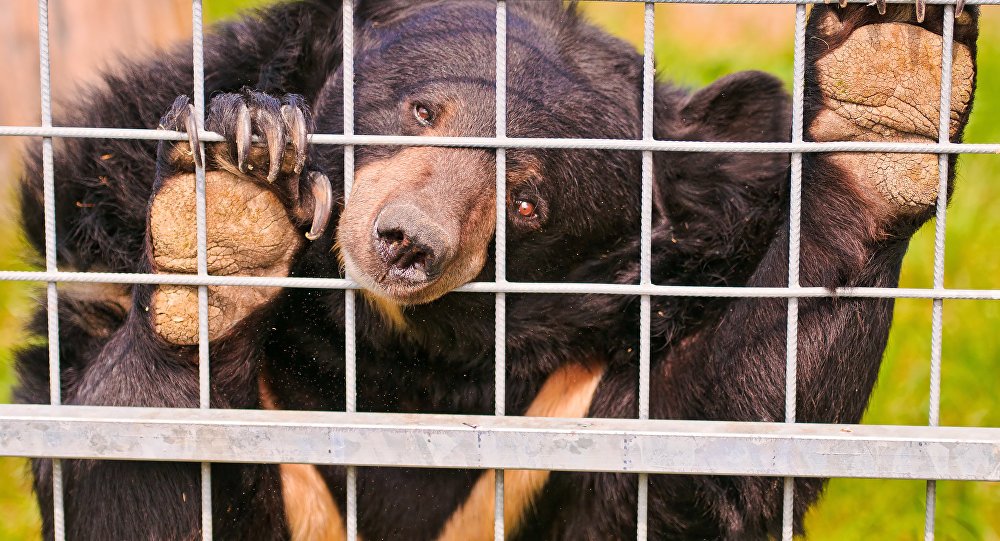 .
When Su Yun bought her family a puppy two years ago, she was surprised by how much the dog ate. "A box of fruits and two buckets of noodles every day," she told Chinese media.
There was, it turns out, a reason for its prodigious appetite: the animal has grown into a 250lb bear. The family realised their error when the pet did not stop growing and started showing a talent for walking on two legs.
"The more he grew, the more like a bear he looked," said Ms Yun, a villager living near the city of Kunming in Yunnan province. "I am a little scared of bears."
The animal has now been taken into care at the Yunnan Wildlife Rescue Centre after the family got in touch requesting help…
MORE
.
—————————————————————————————
.
Experimental Vaccine To Be Used Against Ebola Outbreak In The Congo – Stat
A campaign to vaccinate people at risk of developing Ebola in the latest outbreak in the Democratic Republic of the Congo could begin by the end of this week, Tedros Adhanom Ghebreyesus, the director-general of the World Health Organization, said Sunday.
Tedros said the government of the DRC has formally asked to use an experimental vaccine being developed by Merck. The WHO has a stockpile of 4,300 doses of the vaccine in Geneva; the company also has 300,000 doses of the vaccine stockpiled in the United States. Merck has given its permission for the vaccine to be used in this outbreak.
"Everything is ready for the vaccine. They want it," Tedros, who goes by his first name, told STAT in an interview from Kinshasa.
The WHO and its partners are responding quickly, concerned that this outbreak has the potential to spread because of its location. The epicenter, a town called Bikoro, is difficult to reach by vehicle because of poor roads between it and the regional capital, Mbandaka…
MORE
.
—————————————————————————————
.
Race Card: NAACP President In SC Says He Was Racially Profiled; Body Cam Video Shows Otherwise – WPDE
.

.
Timmonsville NAACP President the Rev. Jerrod Moultrie posted on Facebook on April 13 that he was racially profiled when a Timmonsville police officer pulled him over for a traffic violation near his home on Harkless Court in Timmonsville.
Moultrie was stopped for failing to use a turn signal and a problem with his license plate, according to police.
Moultrie's post said, "Tonight, I was racially profiled by Timmonsville Officer CAUSE I WAS DRIVING A MERCEDES BENZ AND GOING HOME IN A NICE NEIGHBORHOOD."
Moultrie recounted his conversation with the officer in the post…
MORE
.
—————————————————————————————
.
DHS Shuts Big Loophole To Deter Illegal-Immigrant Students, Workers – Breitbart
Federal officials are closing a little-known loophole in immigration law which allows millions of foreigners to dodge penalties for overstaying their student or seasonal-work visas.
The prior 1997 rules did not start counting the length of a person's overstay until a federal enforcement agency first formally recognized that the person had not gone home on time. The new rules clearly say the overstay clock will start when a foreign student's course is complete, or when a foreign employee's seasonal work-permit expires.
The new policy is important because it shows foreigners the penalty they will get for breaking the overstay rules – and it provides a clear mechanism for immigration officials to prove the penalty is proper.
Under current law, once the overstay count reaches 180 days, the overstaying person is punished by getting locked out of the United States for the subsequent three years or ten years, or permanently…
MORE
.
—————————————————————————————
.
Supreme Court Strikes Down Federal Law Banning Sports Betting – The Hill
.

.
The Supreme Court has struck down a federal law that banned sports betting in almost every state, a precedent-shattering decision that opens the door to legalized sports gambling nationwide.
New Jersey has been fighting since 2010 to make sports wagering legal at racetracks and casinos in the state, but had repeatedly been blocked by the Professional and Amateur Sports Protection Act (PASPA) of 1992.
The court ruled 6-3 that PASPA's provisions prohibiting states from authorizing and licensing a sports gambling scheme violate the anti-commandeering rule. In delivering the opinion of the court, Justice Samuel Alito said legalization of sports gambling requires an important policy choice, but the choice is not the court's to make…
MORE
.
—————————————————————————————
.
Hundreds Of Millions Stolen After Wave Of Transfer-Heists Rock Mexican Banks – Zero Hedge
Lorenza Martinez, director of the Payment System of the Bank of Mexico, informed Reuters in a telephone interview last week that more than five Mexican financial institutions have recently observed "unauthorized transfers," resulting in hundreds of millions of pesos stolen.
Cybercriminals siphoned 400 million of pesos ($20.4 million) out of Mexican banks, including the second largest bank: Grupo Financiero Banorte, by generating "phantom orders that wired funds to fake accounts and promptly withdrew the money," sources close to the government's investigation told Reuters.
Sources explained how cybercriminals "sent hundreds of false orders to move amounts ranging from tens of thousands to hundreds of thousands of pesos from banks including Banorte, to fake accounts in other banks."
Once the funds landed in the fraudulent accounts, accomplices would then go to local branch offices around the country and drain the accounts…
MORE
.
—————————————————————————————
.
AG Sessions Puts The Kibosh On Obama's Insane 'Transgender' Prison Policy – Breitbart
.

.
Attorney General Jeff Sessions' deputies are ending President Barack Obama's last-minute decision to impose the transgender ideology in federal prisons. Obama's January 2017 transgender policy directed prison officials to allow men to move into women's prisons if the men claim a female "gender identity."
Sessions' revised policy says officials "will use biological sex as the initial determination" when assigning people to either male or female prisons, according to the policy document published May 11 by Buzzfeed.
Critics said Obama's transgender policy would have created huge risks of rape because few people who say they are transgender have undergone genital cosmetic surgery…
MORE
.
—————————————————————————————
.
Mother, Father And Four Children Bomb Three Churches In Indonesia – CNS
"Violence and terrorism should not be associated with any religion," the bloc of Islamic nations declared on Sunday, condemning a series of suicide bombings on Christian churches in Indonesia reportedly carried out by six members of the same family – mother, father, two teenage sons, and daughters aged nine and 12.
At least 11 people were killed and more than 40 wounded in the blasts that targeted three churches in Indonesia's second-largest city, Surabaya, minutes apart on Sunday morning.
Indonesian police said the father of the family detonated a car bomb in the grounds of a Pentecostal church, while his two sons, ages 16 and 18, carried out a bombing on two motorcycles near the entrance of a Catholic church. His wife and two daughters, whom he had dropped off before heading for his target, bombed a Presbyterian church.
In addition to the 11 victims, all six members of the family were killed in the blasts. Police said the family had recently returned from Syria, via Turkey which had deported them…
MORE
.
—————————————————————————————
.
Making History In Jerusalem – Joseph Klein
.

.
The United States is officially opening its Israeli embassy in Jerusalem today, making May 14, 2018 an historic day for the Jewish State of Israel.
Other U.S. presidents have made campaign promises to move the embassy from Tel Aviv to Jerusalem, only to abandon their promises in deference to the foreign policy establishment and "international" opinion.
In moving forward to fulfill his promise to move the embassy to Jerusalem, President Trump ignored the foreign policy establishment and "international" opinion, much as President Harry Truman did when he gave de facto recognition to the newly created State of Israel only eleven minutes after Israel's proclamation of its independence…
MORE
.
—————————————————————————————
.
Australian Man Saved 2.4 Million Babies In 60 Years – Daily Wire
An Australian man who's estimated to have saved the lives of some 2.4 million babies was forced into retirement on Friday. James Harrison, an 81-year-old dubbed the "man with the golden arm," has extremely rare blood, which contains antibodies that fight hemolytic disease of the fetus and newborn (HDFN).
In an act of service, Mr. Harrison gave blood once a week for 60 years, totaling in over 1,000 donations. According to the Australian Red Cross Blood Service, Harrison's blood has likely saved 2.4 million babies' lives.
HDFN occurs when a pregnant woman's blood is incompatible with her unborn baby's. Essentially, the mother's blood attacks the blood cells of her baby in the womb, and without Harrison's supply of Anti-D, the baby will suffer from severe brain damage or die.
"Australia owes a big thank you to James Harrison, Australia became the first country in the world to be self-sufficient in the supply of Anti-D, and cases of HDN are rare,"…
MORE
.
—————————————————————————————
.
Former Democrat Speaker Of The New York State Assembly Found Guilty In Multimillion Dollar Corruption Case – New York Post
.

.
The ex-speaker of the New York state Assembly Sheldon Silver was found guilty on Friday of selling his office for $4 million in kickbacks – affirming a 2015 conviction on the same charges that had been overturned on appeal.
A jury of seven women and five men found Silver, 74, guilty of all seven counts against him, including two counts of honest services mail fraud and money laundering. He faces as much as 130 years in prison when sentenced on July 13.
Silver showed no emotion as the jury read the verdict to the judge.
"Obviously I am disappointed," the Lower East Side Democrat said outside of court, adding that he will appeal the verdict…
MORE
.
—————————————————————————————
.
Philadelphia Election Worker Pleads Guilty To Intimidating Voters Who Wanted To Vote For Non-Democrat Candidates – KYW
A North Philadelphia election worker has pleaded guilty to election fraud during a 2017 special election for a state House seat in the city. Pennsylvania Attorney General Josh Shapiro says 59-year-old Thurman George, a machine inspector at Poll 43-7, pleaded guilty on Wednesday to frauds by election officers.
George, along with three other election workers, was accused of harassment and intimidation against voters who wanted to vote for candidates of their choice, but not the candidate being pushed by the city's Democratic Party machine.
Minority inspector Calvin Mattox previously pleaded guilty to not meeting the qualifications of election officers for living outside the district in which he was working, while Dolores Shaw, the judge of election at Poll 43-7, received an accelerated rehabilitative disposition for compromising the local election board.
A pre-trial conference for Wallace Hill, a bilingual translator, has been scheduled for June 6…
MORE
.
—————————————————————————————
.
New Law: Kansas Cops Can't Have Sex During Traffic Stops – Wichita Eagle
.

.
A new Kansas law makes it a crime for police to have sex with people they pull over for traffic violations or detain in criminal investigations.
The new law bans sexual relations "during the course of a traffic stop, a custodial interrogation, an interview in connection with an investigation, or while the law enforcement officer has such person detained."
Now, you may be asking, wasn't that illegal already? Actually, it wasn't. Kansas was one of 33 states where consensual sex between police and people in their custody wasn't a crime.
That came as a surprise to members of the House Judiciary Committee, who got the new law passed in a bundled bill with several other law-enforcement measures…
MORE
.
—————————————————————————————
.
Iowa: Catholic University Opens Sex-Segregated Prayer Space For Muslim Students – Washington Standard
How wonderfully ecumenical and broadminded! When will the local Islamic school open a chapel for Christian students? What's that? It doesn't work that way? Why not? Meanwhile, this is the sort of thing that the Muslim students will be praying in their dedicated prayer room at St. Ambrose University:
Jesus is not the Son of God and belief in the Trinity is "excess": "O People of the Book! Do not exaggerate in your religion nor utter anything concerning Allah save the truth. The Messiah, Jesus son of Mary, was only a messenger of Allah, and his word which he conveyed to Mary, and a spirit from him. So believe in Allah and His messengers, and do not say 'Three.' Cease! It is better for you! Allah is only One Allah. It is far removed from his transcendent majesty that he should have a son. His is all that is in the heavens and all that is in the earth. And Allah is sufficient as Defender." – Qur'an 4:171
And: "It is not befitting to Allah that he should beget a son. Glory be to him! When He determines a matter, he only says to it, 'Be,' and it is." – Qur'an 19:35…
MORE
.
—————————————————————————————
.
North Korea Says It Will Dismantle Nuke Test Site May 23-25 – Washington Times
.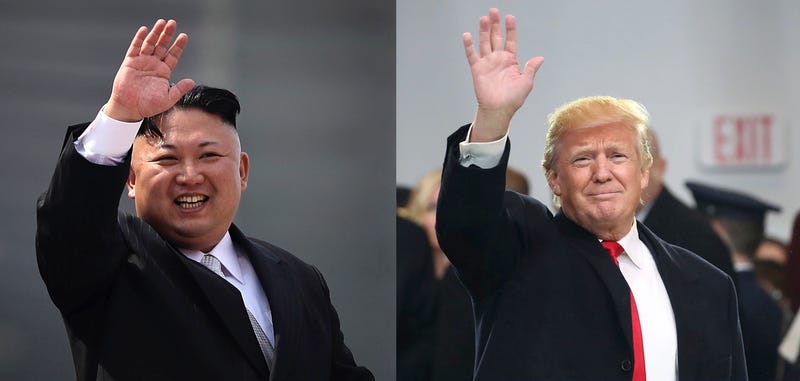 .
North Korea said Saturday that it will dismantle its nuclear test site on May 23-25, in a dramatic event that would set up leader Kim Jong-un's summit with President Donald Trump next month.
Kim had revealed plans to shut down the country's northeastern testing ground by the end of May during his summit with South Korean President Moon Jae-in last month. Analysts say the closure of the site is mostly symbolic and doesn't represent a material step toward denuclearization.
In a statement carried by state media, North Korea's Foreign Ministry said that all of the tunnels at the site will be destroyed by explosion, and that observation and research facilities and ground-based guard units will also be removed…
MORE
.
—————————————————————————————
.
Court Transcripts: Mueller Indicted Russian Company That Didn't Exist – Daily Wire
This week, one of the Russian companies accused by Special Counsel Robert Mueller of funding a conspiracy to meddle in the 2016 U.S. presidential election was revealed in court to not have existed during the time period alleged by Mueller's team of prosecutors, according to a lawyer representing the Defendant.
U.S. Magistrate Judge G. Michael Harvey asked Eric Dubelier, one of two lawyers representing the accused Russian company, Concord Management and Consulting LLC, if he was representing a third company listed in Mueller's indictment.
"What about Concord Catering?" Harvey asked Dubelier. "The government makes an allegation that there's some association. I don't mean for you to – do you represent them, or not, today? And are we arraigning them as well?"
"We're not," Dubelier responded. "And the reason for that, Your Honor, is I think we're dealing with a situation of the government having indicted the proverbial ham sandwich."…