.
18 House Republicans Nominate Trump For Nobel Peace Prize – The Hill
.

.
A group of 18 House Republicans has formally nominated President Trump for the Nobel Peace Prize. In a letter sent Wednesday to the Norwegian Nobel Committee, the lawmakers tapped Trump for the highly coveted prize for his efforts to denuclearize the Korean Peninsula and end the 68-year-old war between North and South Korea.
"Since taking office, President Trump has worked tirelessly to apply maximum pressure on North Korea to end its illicit weapons program and bring peace to the region," the letter, led by Rep. Luke Messer (R-Ind.), reads.
"His Administration successfully united the international community, including China, to impose one of the most successful international sanctions regimes in history."…
MORE
.
—————————————————————————————
.
Iowa Legislature Passes "Fetal Heartbeat' Abortion Ban – Reuters
Iowa's Republican-controlled legislature passed the most restrictive abortion ban in the United States on Wednesday, outlawing the procedure after a fetal heartbeat is detected, often at six weeks and before a woman realizes she is pregnant.
The Senate voted 29-17 to pass the House of Representatives-approved bill, according to the legislature's online voting tallies. The bill now goes to Republican Governor Kim Reynolds, an abortion opponent, who has not said publicly whether she will sign it into law.
The legislation is aimed at triggering a challenge to Roe v. Wade, the U.S. Supreme Court's 1973 landmark decision which established that women have a constitutional right to an abortion, activists on both sides of the issue said.
Abortion opponents aim to land abortion questions back in front of the nation's top court, where they believe the 5-4 conservative majority could sharply curtail abortion access or ban it outright…
MORE
.
—————————————————————————————
.
Students At Schools Around The Country Walk Out In Support Of Second Amendment – Breitbart
.

.
Students around the country walked out of class in support of the Second Amendment on Wednesday. The walkout was part of Will Riley's "Stand for the Second" event – a nationwide call to counter nonstop gun control campaigns with a walkout in support of the Second Amendment and our founding principles.
On May 1, Breitbart News reported that Riley, a senior at New Mexico's Carlsbad High School, is not a gun owner but believes the ideals and freedoms dear to our Founding Fathers ought to be dear to us as well.
Students at over 300 schools responded to Riley's battle cry, pledging to "Stand for the Second" in their respective locations…
MORE
.
—————————————————————————————
.
Harvard Now Offering 'Social Justice' Certifications For $10,000 A Pop – Independent Journal Review
Harvard University is now offering graduate students the opportunity to earn a certificate in "social justice" by taking a series of online courses for a little more than $10,000. The "Social Justice Certificate," which comprises 16 credit hours and takes one-and-a-half years to complete, is described as follows:
Through this liberal arts graduate certificate, you'll learn about core themes of social justice, including philosophy, economics, the environment, religion, politics, ethics, sociology, and law.
There are no specific course requirements for the Harvard certification, but classes like "Chocolate, Culture, and the Politics of Food," "The Minimum Wage Debate," "The Culture of Capitalism," "Readings in Black Radicalism," and "The Politics of Religion in Liberal Democracies" are being offered to those who enroll in the online program.
Those who earn the "certification" will be well-versed in "classical and contemporary theories of justice"…
MORE
.
—————————————————————————————
.
America-Hating Dick's Sporting Goods Now Officially Lobbying Congress For Gun Control – The Federalist
.

.
Dick's Sporting Goods, which announced in February it would no longer sell rifles to anyone under the age of 21, hired three Beltway lobbyists to lobby Congress for gun control, according to federal records reviewed by The Federalist.
The lobbying records show Dick's hired two Democrats and one Republican from Glover Park Group, a DC-based government affairs firm, for "[l]obbying related to gun control." No other policy issues were listed in the disclosure form filed by the firm.
The disclosure forms show Dick's pro=gun control lobbying effort began official on April 27, 2018. The official registration form noting Dick's retention of Glover to push for gun control was filed on Monday morning…
MORE
.
—————————————————————————————
.
Microsoft Persuades Court To Imprison Man For 'Counterfeiting' Software They Give Away For Free – PJ Media
Computer recycler Eric Lundgren was sentenced to 15 months in prison for selling what Microsoft claimed to be counterfeit software – software that was available for anyone to download free from the Internet.
Many in the tech community are up in arms at Microsoft and the company is now on the defensive, trying to explain their actions on a special website. "We are sharing this information now and responding publicly because we believe both Microsoft's role in the case and the facts themselves are being misrepresented," the company explained.
But the company's statement omits the fact that the court misinterpreted the source and value of the software, something Microsoft did not correct during the trial. That misinterpretation exaggerated Lundgren's crime, leading to the severe sentence.
Lundgren ordered 28,000 discs to be made and shipped to Florida. His intent was to sell the discs to computer refurbishing shops for 25 cents apiece…
MORE
.
—————————————————————————————
.
Winning: North Korea Releases U.S. Detainees, Bowing To Another Trump Demand – Washington Times
.

.
North Korea has freed three U.S. citizens detained for years in the communist country, bowing to another demand of President Trump ahead of his planned meeting with Kim Jong-un.
The three Americans – Kim Dong Chul, Kim Hak-song and Kim Sang Duk, also known as Tony Kim – were released from a North Korean labor camp and sent to Pyongyang for medical treatment, the Financial Times reported.
Though out of the brutal labor camp, the men remain in the grasp of Mr. Kim's regime. They currently are believed to be convalescing in a hotel outside Pyongyang.
"We believe that Mr. Trump can take them back on the day of the U.S.-North Korea summit, or he can send an envoy to take them back to the U.S. before the summit,"…
MORE
.
—————————————————————————————
.
Trump To Roll Back $25 Billion From Omnibus Spending Bill – Daily Caller
President Donald Trump's administration is going to roll out a recision package in the coming weeks that will roll back $25 billion from the $1.3 trillion spending bill Congress passed in April, a source with first-hand knowledge told The Daily Caller News Foundation.
"I will never sign another bill like this again. I'm not going to do it again. Nobody read it. It's only hours old. Some people don't even know what is in it. $1.3 trillion dollars–it is the second largest ever," the president said in late March when he signed the Republicans' spending bill.
The White House was expected to release a recision package – a request to rescind funds Congress previously appropriated – Tuesday, but that did not materialize. The administration was reportedly looking at rolling back between $30 and $60 billion from the $1.3 trillion spending bill.
Trump proposed a 2018 budget that was, notably, $114 billion less in domestic spending than what Congress passed in March…
MORE
.
—————————————————————————————
.
Iran Ordered To Pay $6 Billion In Damages To Families Of 9/11 Victims After Federal Judge Finds That It Provided Material Support To Al-Qaeda – Daily Mail
.

.
A federal judge has ordered Iran to pay $6billion to families of the victim's of 9/11 after he found various government entities were liable in the attacks.
Judge George B. Daniels announced that the Islamic Republic of Iran, Islamic Revolutionary Guard Corps and the Central Bank of the Islamic Republic are responsible for aiding in the terrorist attacks that took the lives of thousands of innocent people, ABC News reports.
An attorney for the families, Robert Haefele, said the federal court found Iran had provided material support to al Qaeda.
'The evidence presented established that Iran's provision of material support to al-Qaeda was a cause of the 9/11 attacks and the resulting damage, injuries, and deaths,'…
MORE
.
—————————————————————————————
.
7 Republican-Run States Sue Federal Government To End Unconstitutional DACA Program – Business Insider
Texas and six other Republican-governed states on Tuesday sued the Trump administration to try to end a program launched by Democratic former President Barack Obama that protects immigrants brought to the United States illegally as children.
The states filed suit in federal court in Texas in the latest twist in an ongoing policy and legal fight over the 2012 Deferred Action for Childhood Arrivals (DACA) program that Republican President Donald Trump already has tried to rescind.
Trump said in September he would terminate DACA and end its protections for the immigrants who are sometimes called "Dreamers," but gave the Republican-controlled Congress until March 6 to replace it. Policy differences between Trump and lawmakers in both parties led to Congress' failing to act.
In the meantime, courts ruled that the program can stay in place for now, although new applications will not be accepted…
MORE
.
—————————————————————————————
.
Facebook Now Ranking News Organizations Based On "Trustworthiness" – Breitbart
.

.
Facebook CEO Mark Zuckerberg claimed his platform has started to rank news organizations based on "trustworthiness," with low-ranking sources becoming suppressed.
"We put [that data] into the system, and it is acting as a boost or a suppression, and we're going to dial up the intensity of that over time," declared Zuckerberg during a speech at the Rosewood Sand Hill hotel, with media executives in the audience on Tuesday. "We feel like we have a responsibility to further [break] down polarization and find common ground."
Zuckerberg did not clarify how the "trustworthiness" of news organizations would be ranked.
According to BuzzFeed, Zuckerberg's meeting at the hotel "included representatives from BuzzFeed News, the Information, Quartz, the New York Times, CNN…
MORE
.
—————————————————————————————
.
200 "Mostly African" Migrants Attack Police Cars Sent To Deport A Single "Refugee" In Germany, Force Officers To Flee – Daily Mail
Migrants have forced police to abandon plans to deport a single refugee from a home in Germany.
Two hundred asylum seekers described as 'mostly African' swarmed around three police cars dispatched to take their fellow refugee to an airport where a plane waited to fly him to the Congo. Then they issued an ultimatum – take the handcuffs from their friend and set him free or risk 'massive violence.'
Police said they had no choice but to free the man in order to avoid bloodshed.
Angry migrants hammered on the police vehicles so forcefully that all three were dented. The authorities said the officers feared for their lives and had to beat a retreat. They had been sent into the refugee shelter in Ellwangen in southern Germany on Monday night to collect a 23-year-old man whose application to stay in Germany had been rejected.
Police later said they were unable to send reinforcements because the journey time for them to reach the centre would have been too long…
MORE
.
—————————————————————————————
.
Boy Scouts Of America Officially Dead – USA Today
.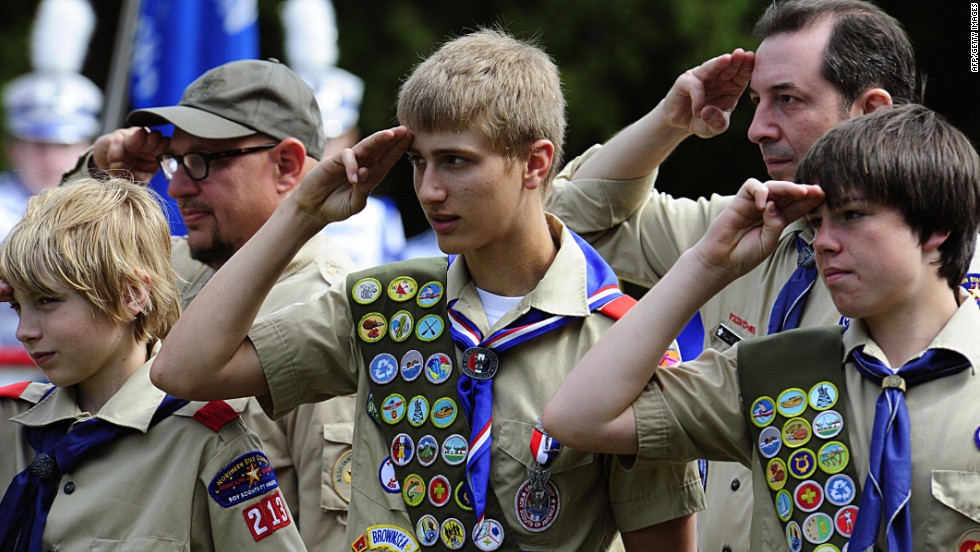 .
The Boy Scouts of America doubled down Wednesday on its quest to become the scouting program of choice for boys and girls, announcing it will drop "Boy" from the name of its signature program.
Chief Scout Executive Mike Surbaugh also unveiled the group's new "Scout Me In" marketing campaign aimed at promoting inclusiveness.
"As we enter a new era for our organization, it is important that all youth can see themselves in Scouting in every way possible," Saurbaugh said.
The umbrella organization will retain its name, Boy Scouts of America or BSA. The term Cub Scouts, for kids 7-10 years old, is gender neutral and also will go unchanged…
MORE
.
—————————————————————————————
.
Sorority Accused Of Running Sex Ring, Pimping Out Pledges – Daily Mail
A sorority chapter at a Georgia university is embroiled in a sexual misconduct investigation after being accused of running a sex ring and pimping out its pledges.
The Alpha Kappa Alpha chapter at the Fort Valley State University was suspended last week after the sex scandal allegations surfaced involving sorority members and a female administration employee at the college.
It involves allegations that the newest members were involved in a sex prostitution ring in order to pay for pledging for the historically Black Greek sorority.
Customers allegedly included local politicians and businessman, according to the Atlanta magazine Rolling Out.
Alecia Johnson, who was an executive assistant at the university and a AKA sorority advisor, is under investigation for allegedly pimping out the pledges. Johnson resigned from her position when the criminal investigation started…
MORE
.
—————————————————————————————
.
Parasitic Leftists Across The Globe Lose Their Minds On Communist May Day – RT
.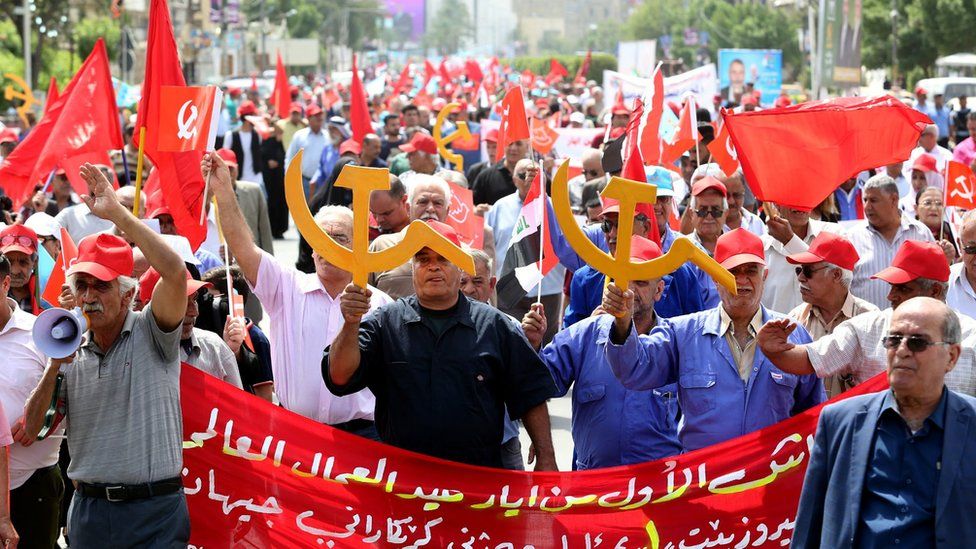 .
Workers across the globe took to the streets for Labor Day celebrations, in numbers ranging from hundreds to tens of thousands.
May Day is a public holiday in many countries, used by labor unions to voice their concerns and demands during now-traditional rallies and strikes. This year, some of those proceeded in an orderly fashion, while others… not so much. Here's a look at some of the demonstrations that dotted the globe, West to East.
Weeks of protests against President Emmanuel Macron's labor and education reforms culminated in massive rallies in Paris… and quickly descended into rioting, as some 1,200 hooded and masked protesters started torching cars and vandalizing shop fronts…
MORE
.
—————————————————————————————
.
Trump: We're 'Seriously Thinking' Of Creating A Sixth Military Branch Called 'The Space Force' – Washington Free Beacon
President Donald Trump on Tuesday told the West Point Black Knights football team his administration is "seriously thinking" of creating a sixth military branch called the "Space Force."
Trump invited the football team to the White House to present the players and coach with the coveted Commander-in-Chief trophy after they defeated both Air Force and Navy last season. Starting in 1972, the trophy has been awarded to the military service academy that wins the triple-threat match between the Army, Navy, and Air Force academies.
Trump told the cadets the Space Force would join the five current branches of the United States Armed Forces: the Army, Navy, Marine Corps, Air Force, and Coast Guard.
"We were actually thinking of a sixth, and that would be the Space Force," Trump said. "We are getting very big in space, both militarily and for other reasons, and we are seriously thinking of the Space Force," Trump added.
The president went on to commend the future roll of the West Point football players…
MORE
.
—————————————————————————————
.
22 Police Vehicles Vandalized In Portland, Oregon – KPTV
.

.
Police said 22 patrol vehicles were vandalized overnight while parked in the Portland Police Bureau's North Precinct parking lot.
Police found the vehicles in the precinct lot, located at 449 Northeast Emerson Street, splashed with brown or white paint. They were vandalized sometime between 3 a.m. and 5 a.m. The paint is not expected to cause any permanent damage, and a cleaning crew is on scene and have begun removing the paint. Police said the vandalism will not impact any of their patrols.
Officers said they were able to collect a few pieces of evidence, and they are checking surveillance cameras in the parking lot, which is only secured by a small fence. There is no suspect information at this time…
MORE
.
—————————————————————————————
.
Trump Gives 'Full Support' To Term Limits Push In Congress – Washington Examiner
President Trump on Monday offered his "full support and endorsement" to a bipartisan legislative effort to establish term limits for members of Congress.
"I recently had a terrific meeting with a bipartisan group of freshman lawmakers who feel very strongly in favor of Congressional term limits. I gave them my full support and endorsement for their efforts. #DrainTheSwamp," Trump tweeted.
Trump endorsed term limits as a candidate in 2016, but the issue has not received significant attention since he took office. A White House spokesman did not respond to a request for comment on meeting details.
In an afternoon statement, Rep. Brian Fitzpatrick, R-Pa., said that he organized a group including four other lawmakers to meet with Trump. Fitzpatrick said the meeting occurred on Wednesday and included Reps. Mike Gallagher, R-Wis., Ro Khanna, D-Calif., Jodey Arrington, R-Texas, and Vincente Gonzalez, D-Texas…
MORE
.
—————————————————————————————
.
Israeli Prime Minister Netanyahu Reveals Evidence That Iran Is Breaking Obama's Insane Nuclear Deal – Newsweek
.

.
Israeli Prime Minister Benjamin Netanyahu has accused Iran of continuing nuclear activities in spite of a 2015 agreement in which it pledged to curb uranium enrichment in exchange for sanctions relief.
In a special address Monday, Netanyahu said Israel obtained half a ton of top-secret data relating to Iran's alleged nuclear weapons program.
Netanyahu stood before a slideshow presentation and claimed Iran has secretly pursued "Project Amad," a plan to "design, produce and test…" five nuclear warheads, each with 10 kilotons of explosive yield and designed to be fitted onto a missile. He claimed that he had 100,000 "exact copies" of Iran's atomic archive to prove it…
MORE
.
—————————————————————————————
.
The Irreproducibility Crisis Of Modern Science – Lloyd Billingsley
"Most Americans don't even know that the crisis exists," explain David Randall and Christopher Welser of the National Association of Scholars. Help has now arrived in The Irreproducibility Crisis of Modern Science: Cause, Consequences and the Road to Reform. The general reader might find the title puzzling but the concept is simple.
If a scientific study is to be legitimate, it must be reproducible because replication allows examination of the data and the possibility of different conclusions. If the study is not reproducible it is not really science, and as the authors show, that type of non-science is now common.
In June of 2016, Oona Lِnnstedt and Peter Eklِv of Uppsala University published a paper in Science warning of the dangers of microplastic particles in the ocean. The study got considerable media attention but as it turned out, "Lِnnstedt never performed the research that she and Eklِv reported." So in philosophical terms, it had an existential problem, and veracity is also an issue…
MORE
.
—————————————————————————————
.
World Record: Brazilian Surfer Rides 80-Foot Monster Wave In Portugal – Daily Mail
.

.
This is the incredible moment a surfer breaks the world record for the riding the biggest wave ever surfed. Rodrigo Koxa caught the 80ft monster at Nazaré in Portugal on November 8, 2017. His record was confirmed on Saturday night at the World Surf League's Big Wave Awards in California.
Koxa, who risked his life catching the 24-metre wave, said winning the award was 'the best day of my life.' The previous record was 78 feet (23.77 metres) set by Garrett McNamara in 2011.
Also at the awards, Koxa's compatriot Lucas Chianca was awarded the Best Men's Overall Performance trophy.
The 22-year-old won the Nazare Challenge earlier this year…
MORE
.
—————————————————————————————
.
Double Kabul Suicide Bombing Kills 25, Including 9 Reporters – Circa
A coordinated double suicide bombing by the Islamic State group hit central Kabul on Monday morning, killing at least 25 people, including nine Afghan journalists, officials said.
An AFP photographer, a cameraman for a local TV station and several reporters for the Afghan branch of Radio Free Europe were among the fatalities, police said. At least 45 people were wounded in the twin attacks, according to Kabul police spokesman, Hashmat Stanekzai, who also said four policemen were among those killed.
The attack was the latest in a relentless string of deadly large-scale bombings and assaults that have struck Kabul and elsewhere in Afghanistan so far this year. And even as the Afghan capital reeled from Monday's assault, a suicide car bombing a few hours later in the southern province of Kandahar killed 11 children, a police spokesman said.
In a statement posted on an IS-affiliated website, the Islamic State group said two of its martyrdom seekers carried out the double Kabul bombings…
MORE
.
—————————————————————————————
.
Food Stamp, Welfare, Medicaid, Disability Rolls All Dropping Under Trump – Investor's Business Daily
.

.
Earlier this month, the government reported that enrollment in food stamps plunged by nearly 600,000 in one month. Is this part of a broader trend toward greater self-reliance?
The Department of Agriculture, which runs the food stamp program – officially called Supplemental Nutrition Assistance Program – reports that enrollment in January was 40.7 million, the lowest it's been since May 2010.
In the months since President Trump has been in office, the number of people collecting food stamps plunged by nearly 2 million. The same is true for welfare. Enrollment in the Temporary Assistance for Needy Families program dropped 12% last year, to reach 2.3 million…
MORE
.
—————————————————————————————
.
Former Chief Ethics Lawyer For Bush Administration Running For Senate As Democrat – The Hill
Richard Painter, the former chief ethics lawyer for the George W. Bush administration, is expected to announce on Monday he will run as a Democrat for the U.S. Senate seat previously held by Al Franken (D-Minn.).
The Minneapolis Star-Tribune reported Sunday that Painter, who has been a frequent critic of President Trump, recently filed paperwork with federal elections officials to run against Sen. Tina Smith (D-Minn.), who replaced Franken in January.
Painter launched a campaign website in recent days, and his campaign's Twitter page identifies him as "running for U.S. Senate in Minnesota."
Painter is scheduled to hold a press conference on Monday at the state Capitol to announce his plans.
Franken resigned from the Senate following a series of allegations of sexual misconduct, including that he groped women without their consent…