.
DOJ Gives Congress Missing Strzok-Page Text Messages – Daily Caller
The Justice Department on Thursday gave Congress five months worth of text messages exchanged between Peter Strzok and Lisa Page – two FBI officials involved in the investigations into Hillary Clinton and President Donald Trump's campaign.
The messages, exchanged between Dec. 14, 2016, and May 17, 2017, were initially thought to be missing due to a technical glitch on FBI-issued cell phones. But the texts were recovered by the Justice Department's office of the inspector general, which is investigating the FBI's handling of both the Clinton and Trump campaign investigations.
Approximately 300 messages were given to Congress, a Justice Department official told The Daily Caller News Foundation.
Strzok, the former deputy chief of the FBI's counterintelligence division, was removed from Special Counsel Robert Mueller's Russia team in July 2017 after the discovery of the text messages. They showed Strzok and Page expressed deep hostility to Trump during the 2016 campaign…
MORE
.
—————————————————————————————
.
North And South Korea Agree To 'Complete' Denuclearisation Of Peninsula – Evening Standard
.

.
North and South Korea have agreed to completely rid the peninsula of nuclear weapons after a historic summit.
Leaders Kim Jong-Un and Moon Jae-In made the landmark agreement at the first peace talks held in South Korea for 65 years.
The pair failed to provide any specific measures on denuclearization in a joint statement made after talks on Friday. It said: "The two Koreas confirmed their goal of achieving a nuclear-free Korean Peninsula through complete denuclearization."
The two also agreed to push towards turning the armistice that ended the Korean War in 1953 into a peace treaty this year…
MORE
.
—————————————————————————————
.
British Doctor: Alfie Evans Must Die Because His Parents Have A Bad Attitude – The Federalist
A British doctor treating Alfie Evans told reporters off the record his parents won't be allowed to take their child out of the hospital, even to die at home, unless there is a "sea change" in their attitude.
Alfie's parents are battling the hospital and the government of the United Kingdom to continue caring for their little boy, who is suffering from an undiagnosed condition that British doctors say has rendered him terminally ill. Although he was taken off life support Monday night,
Alfie has continued to live with the help of an oxygen tank. The courts have ruled his parents cannot take him out of the country, and have allowed the hospital to keep Alfie in their "care" by force.
A report from The Telegraph indicates the hospital staff is not interested in what's best for Alfie, so much as proving a point to the parents, who have an "attitude" they don't like…
MORE
.
—————————————————————————————
.
Israeli Defense Minister: "The Iranian Regime Is In Its Final Days" – Zero Hedge
.

.
Israel's Defense Minister says Iran is on the brink of economic and military collapse, and that Israel will attack Tehran "and destroy every Iranian military outpost in Syria threatening Israel," according to Arab-language publication Elaph and reported by Israeli media Thursday.
"They know that the Iranian regime is in its final days and will soon collapse," said Israeli Defense Minister Avigdor Lieberman, adding "If they attack Tel Aviv, we will attack Tehran."
Liberman suggested Iran is vulnerable on two fronts, economic and military – and that an American withdrawal from the Iran nuclear deal would significantly damage the regime's economy during a period in which the Islamic Republic is devoting resources to a military build-up in Syria against the West…
MORE
.
—————————————————————————————
.
Federal Judge Sides With Trump Lawyer Cohen On Biggest Issue In Case – Business Insider
A federal judge on Thursday sided with Michael Cohen, President Donald Trump's longtime lawyer, on the most significant issue in his case – and in doing so, she added another wildcard to the proceedings.
US District Court Judge Kimba Wood said she would appoint a special master to initially review documents seized during the FBI's raids of Cohen's home, hotel room, and office earlier this month to determine what falls under protected attorney-client privilege and what prosecutors could use against Cohen.
Wood appointed Barbara Jones, a partner at Bracewell who specializes in white-collar litigation, as the special master. Jones, a former federal judge for the Southern District of New York, was not among the candidates submitted by either Cohen's team or the government.
Legal experts had told Business Insider that Wood would be more likely to select one of the government's nominees, who were retired judges from the Southern District of New York…
MORE
.
—————————————————————————————
.
Broward Deputies Union Votes 'No Confidence' In Sheriff Israel – Fox News
.

.
A union of deputies in Florida on Thursday announced it has "no confidence" in Broward County Sheriff Scott Israel. The Broward Sheriff's Office Deputies Association said a symbolic vote among its members, initiated last week, indicated 534 of 628 officers in the union voted they had no confidence in the sheriff.
The association, a chapter of the International Union of Police Associations, cited the national criticism surrounding Israel and his office following the mass shooting at Marjory Stoneman Douglas High School on Feb. 14.
Israel, in response to the announcement of a vote, said union boss Jeff Bell was trying "to use the Parkland tragedy as a bargaining tactic to extort a 6.5 percent raise" from the sheriff's office…
MORE
.
—————————————————————————————
.
Leaders Of North, South Korea To Hold Historic First Summit In Over A Decade At DMZ – Reuters
North Korean leader Kim Jong Un is set to cross his country's heavily militarised border with South Korea on Friday for the first intra-Korea summit in more than a decade, as the old foes seek to end their decades-long conflict and ease tensions over the North's nuclear weapons programme.
The summit with South Korean President Moon Jae-in will set the stage for Kim to meet with U.S. President Donald Trump in late May or early June, in what will be an unprecedented first encounter between sitting leaders of the two countries.
Just months ago, Trump and Kim were trading threats and insults as North Korea's rapid advances in pursuit of nuclear-armed missiles capable of hitting the United States raised fears of a fresh conflict on the Korean peninsula.
South Korea's Moon will personally greet Kim at the military demarcation line at 9:30 a.m. (0030 GMT), making Kim the first North Korean leader to set foot in the South since the 1950-53 Korean War…
MORE
.
—————————————————————————————
.
Mike Pompeo Confirmed As Secretary Of State Despite Machinations Of Obstructionist Democrats – Washington Times
.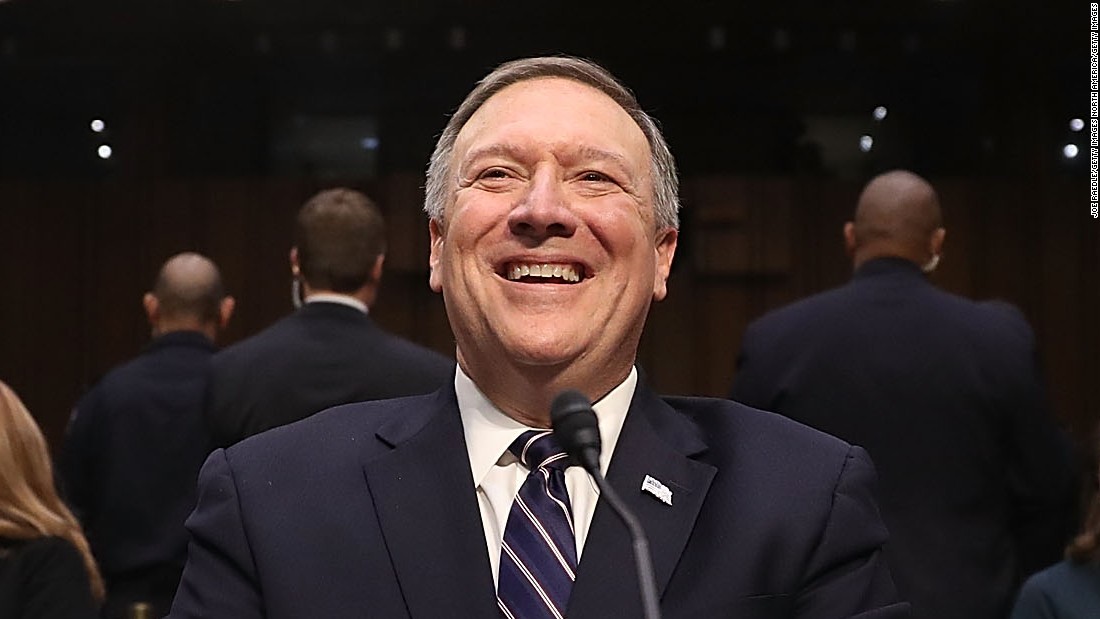 .
The Senate on Thursday approved former CIA Director Mike Pompeo to be the nation's next secretary of state, overcoming heavy resistance from Democrats.
The 57-42 vote was the second straight strongly partisan vote for a secretary of state, which until President Trump took office usually featured large bipartisan majorities in favor of the president's choice. Rex Tillerson, whom Mr. Trump fired from the job earlier this year, was confirmed in 2017 with 43 "no" votes, all from Democrats.
But on a day when President Trump's nominee to head the Department of Veterans Affairs, White House physician Dr. Ronny Jackson, withdrew his name from consideration, the confirmation of Mr. Pompeo marked a major personnel win for the administration…
MORE
.
—————————————————————————————
.
Senate Confirms Richard Grenell As German Ambassador – NewsMax
The Senate voted 56-42 on Thursday to confirm Richard Grenell as ambassador to Germany, making him one of President Donald Trump's most prominent openly gay appointees.
Grenell's nomination was stalled for months – Trump nominated him in September – and the White House repeatedly cited it as an example of Democratic obstruction in the confirmation of the president's nominees.
He was among as many as 129 Trump nominees who were awaiting Senate confirmation hearings as of late last month, according to news reports.
South Carolina Republican Sen. Lindsey Graham said Thursday that Grenell's confirmation "was delayed far too long for such an important position and during such troubling times.
"The extreme partisanship displayed toward Mr. Grenell, a highly qualified nominee from President Trump, will be remembered."…
MORE
.
—————————————————————————————
.
Jury Finds Bill Cosby Guilty Of 3 Counts Of Aggravated Indecent Assault – USA Today
.

.
Comedian and TV icon Bill Cosby has been convicted on three counts of aggravated indecent assault at his sexual-assault retrial here Thursday, on the second day of deliberations. After the verdict was delivered, Judge Steven O'Neill thanked the jurors for their service, and then warned jurors about interactions with the media.
"You have sacrificed much, but you have sacrificed in the service of justice and in this country and this Commonwealth and this county," O'Neill said. "That is important."
After the jury left the room, O'Neill said the $1 million bail Cosby posted was sufficient for him to remain free until sentencing. That set off a heated argument with Montgomery County District Attorney Kevin Steele who wanted Cosby's bail revoked as an alleged flight risk…
MORE
.
—————————————————————————————
.
Explosion Rocks Wisconsin Oil Refinery, Hurting At Least 5 – Circa
An explosion rocked a large refinery in Wisconsin Thursday, injuring several people, a fire official said.
The blast at the Husky Energy oil refinery happened at about 10 a.m. Five people were taken to hospitals in Duluth, Minnesota, Superior Fire Chief Steve Panger told The Associated Press. He doesn't know the extent of their injuries. Others were walking wounded. There were no known fatalities.
A contractor who was inside the building told WDIO television that the explosion sounded like "a sonic boom" and that it happened when crews were working on shutting the plant down for repairs. Panger said the fire was out by 11:20 a.m. He said a small tank exploded, and the product was either crude oil or asphalt.
Superior police are advising people to stay away from the area and roads around the refinery have been blocked off. There have been no neighborhood evacuations. Superior is a city of about 27,000 people that borders Minnesota to the north and the tip of Lake Superior….
MORE
.
—————————————————————————————
.
Diamond And Silk Testify Before Congress On Social Media Censorship Against Conservatives – Breitbart
.

.
Diamond and Silk testified before Congress over social media censorship against conservatives, Thursday, with Diamond declaring during their testimony that "censorship is no hoax."
"We would like to thank the judiciary committee for allowing us the opportunity to voice our concerns about conservatives being targeted and censored on social media platforms," opened Lynette Hardaway, who is better known as Diamond.
"Facebook along with other social media sites have taken aggressive actions to silence conservative voices such as ourselves by deliberately restricting and weaponizing our page with algorithms that censored and suppress our free speech…
MORE
.
—————————————————————————————
.
14 States Hit Record Low Unemployment – Tapwires
Fourteen states have set new records for low unemployment rates in the last year, nearly a decade after the recession put millions of Americans out of work.
The states hitting new unemployment lows run the ideological gamut, from conservative Texas to liberal California, suggesting a recovery stronger than any particular political persuasion.
In March, eight states hit new record lows, including Hawaii (2.1 percent), Idaho (2.9), Kentucky (4.0), Maine (2.7), Mississippi (4.5), Oregon (4.1) and Wisconsin (2.9).
California also set a new record last month. The Golden State's unemployment rate stands at 4.1 percent, according to the Bureau of Labor Statistics (BLS). That's the lowest rate recorded since BLS began keeping track of state-level unemployment figures in 1976, and it's a third of the 12.3-percent unemployment rate California notched at the height of the recession in December 2010…
MORE
.
—————————————————————————————
.
Smarmy Leftist Douchebag Update: Democrat Port Authority Commissioner Caught Of Video Telling Traffic Cops: "You May Shut The Fuck Up!" – NJ
.

.
Flashing her commissioner's gold badge and boasting of her influence during a routine traffic stop involving her daughter, Caren Z. Turner demanded to know why police had pulled the car over and why it was being impounded.
Then she launched into a tirade at the two officers.
All of it was captured on camera.
Tenafly Police released a video Tuesday revealing just why Turner abruptly resigned last week as a commissioner of the Port Authority of New York and New Jersey.
The video and a police incident report, both made public after requests by NJ Advance Media and other news organizations, showed Turner apparently seeking to leverage her influence…
MORE
.
—————————————————————————————
.
Nicaraguan Socialist Dictator Daniel Ortega Looks Set For His Ceausescu Moment, Thanks To Trump – Monica Showalter
Daniel Ortega, the rabid, "freely elected" dictator of Nicaragua, and a guy who's been at it for so long that even the great Ronald Reagan knew about him and loathed him, has been having some problems in the Cuba-style hellhole he created in the name of "social justice."
The socialist thug has been siccing his goons to shoot protesters dead in the streets after a few of the youthful ones got the ball rolling with protests against his long, corrupt rule. Get a load of how bad it was, according to the BBC:
Some students said they had been beaten and tortured by police while in custody. The claims could not be independently verified.
Images on social media showed some, visibly distressed and with their heads shaved, as they were released. At least 25 people are reported to have died in days of violent protests.
The unrest started last Wednesday when hundreds of people, mainly pensioners, took to the streets of the capital, Managua, to protest against changes to the country's social security system…
MORE
.
—————————————————————————————
.
Cowboy Wrestles Gun Away From Armed Robber In Mexican Butcher Shop – Fox News
.

.
A man waiting in line at a Mexico butcher shop took advantage of an armed robber's momentary distraction to jump on the criminal's back and disarm and subdue him.
Surveillance video from Monday shows an unidentified man wearing a cowboy hat standing by the register as a young man wearing a dark-colored sweatshirt with a hoodie enters Carnes Cares butcher shop in Monterrey.
The would-be robber points a handgun at the woman behind the register before pointing it at the man in the cowboy hat and demanding money.
At one point, a woman who had been at the back of the store comes forward, drawing the attention of the robber…
MORE
.
—————————————————————————————
.
Religious Liberty Attorney Confirmed To Federal Bench – Washington Free Beacon
Religious liberty advocates received a boost in federal courts after the Senate confirmed one of the nation's leading First Amendment attorneys to the Fifth Circuit Court of Appeals.
The Senate voted to approve President Trump's nominee, Kyle Duncan, to Louisiana's Fifth Circuit Court of Appeals on Tuesday. Duncan is the former general counsel at the Becket Fund for Religious Liberty, a nonprofit law firm that "exists to defend the free exercise of all faiths, from Anglican to Zoroastrian," as it says on its website.
The group has been involved in some of the most high profile religious liberty cases in the nation in recent years, helping nuns at the Little Sisters of the Poor and religious business owners at Hobby Lobby resist the Obama administration's contraception and abortifacient mandate.
It also successfully defended the rights of Muslim prisoners and Sikh soldiers to abide by their religious teachings. Duncan joined the firm in 2012 after serving as Louisiana attorney general and participated in the Hobby Lobby case…
MORE
.
—————————————————————————————
.
Golden State Killer: Former Cop Accused Of Being Serial Rapist/Murderer – USA Today
.

.
After six days of surveillance and the analysis of a discarded DNA sample, police in Sacramento arrested a 72-year-old ex-cop Wednesday as the suspected Golden State Killer in a series of rapes and murders that terrorized California communities in the 1970s and 1980s.
Joseph James DeAngelo, who had worked for two California police departments, was charged with two counts of murder under a warrant from the Ventura County sheriff's department, according to jail records.
The elusive, masked killer is blamed for 12 murders, 45 rapes and the ransacking of more than 100 area homes. DeAngelo was under surveillance for six days as police sought to learn his pattern of movement to see how he might react if confronted, Sacramento county Sheriff Scott Jones told reporters…
MORE
.
—————————————————————————————
.
Activist Judge Rules That Trump Must Reinstate Unconstitutional DACA Program – Daily Wire
On Tuesday evening, U.S. District Judge John Bates ruled that President Trump could not legally end the Deferred Action for Childhood Arrivals program, arguing that Trump would have to begin reissuing temporary visas again. He called the decision to end DACA "arbitrary and capricious because the Department failed adequately to explain its conclusion that the program was unlawful."
So, in other words, if a president takes an executive action, then the subsequent president cannot undo that executive action – even if that original executive action has been declared unconstitutional, at least in part.
This is insanity – or, as Michael Brendan Dougherty of National Review put it, it's "Calvinball," the inane game created by cartoon character Calvin of Calvin and Hobbes, who arbitrarily changed the rules of the game when convenient.
Here's how Leftist courts have now ruled…
MORE
.
—————————————————————————————
.
Report: McCabe Issued Stand-Down Order On Clinton Email Investigation – PJ Media
.

.
Multiple former FBI officials are alleging that fired FBI deputy director Andrew McCabe tried to steer agents off the investigation into Hillary Clinton's private email server, and there may be evidence to prove it, investigative journalist Sara Carter reported Tuesday.
McCabe is already facing potential criminal charges for lying under oath about leaks he made to the Wall Street Journal in 2016 regarding the FBI's investigation into the Clinton Foundation.
The stand-down order allegedly came after the New York Times first reported that Hillary Clinton had used an unsecure personal email account for State Department business in March of 2015, but before the official investigation was requested by the Justice Department in July 2015…
MORE
.
—————————————————————————————
.
Student Suspended For Singing National Anthem As Administrators Circle Cafeteria To Prevent More Singing – Gateway Pundit
Homestead high school sophomore William Schweikert was suspended for singing the national anthem in the school cafeteria after the mass shooting in Parkland, Florida.
In response to Schweikert's suspension hundreds of juniors and seniors stood in the cafeteria to sing the national anthem this week. That led school administrators to circle the cafeteria during lunch to make sure no student would sing the anthem. This is insane.
WPTA21 reported:
ABC21 obtained cell phone video showing Homestead High School sophomores and juniors singing the national anthem inside the school cafeteria in support of a fellow classmate who received three days detention for doing just that.
As of Tuesday night, nearly 1,700 people – most of them students – have signed an online petition in protest of the school's decision to discipline sophomore William Schweikert.
We sat down with Schweikert and his mother Tuesday afternoon…
MORE
.
—————————————————————————————
.
NRA Scored Largest Fundraising Haul In 20 Years Following Parkland Shooting – Circa
.

.
The National Rifle Association's (NRA) political action fund set a 21st-century fundraising record following the recent school shooting in Parkland, Fla., according to federal records.
Federal Election Commission (FEC) records show the NRA's Political Victory Fund raised $2.4 million in donations in March. The data – which The Washington Post first reported on Tuesday – illustrates that $1.9 million of that total came from small donations of $200 or less.
Such small donations subsequently account for about 80 percent of the political action committee's March haul.
The committee releases the NRA's influential legislative scorecards, and it also spends money on behalf of candidates and campaigns during elections.
MORE
.
—————————————————————————————
.
Finland Abandons Universal Basic Income Experiment After Two Years – Zero Hedge
With high-profile champions such as Richard Branson, Facebook boss Mark Zuckerberg, and Tesla CEO Elon Musk, backing the idea of governments giving non-working people money (from working people) to do nothing – what could go wrong?
Well, two years after enthusiastically beginning its experiment with a universal basic income – in which people are paid an unconditional salary by the state instead of benefits – Finland is abandoning the project as government enthusiasm wanes and additional funding requests are rejected.
As a reminder, The Telegraph explains Universal basic income is a form of cash payment given to individuals, without means testing or work requirements. In some models this is at a rate sufficient to cover all living expenses.
Proponents argue that:
* The lack of expensive means-testing leads to a higher proportion of the budget going to recipients. This would be more efficient…
MORE
.
—————————————————————————————
.
Socialist Nutbag Bernie Sanders Proposes Government Jobs For All With "Free" Healthcare And $15 Minimum Wage – The Hill
.

.
Sen. Bernie Sanders (I-Vt.) is set to announce a federal jobs proposal that would guarantee a job with at least a $15-per-hour wage and health benefits to every adult American "who wants or needs one," The Washington Post reports.
The senator is still in the early stages of crafting the plan which would provide a job or required training for any American. Sanders's office has yet to release the details of the plan's funding, but previous large-scale projects proposed by the Vermont socialist have involved ending tax breaks for the wealthiest Americans and large corporations.
The Vermont senator joins two other possible 2020 contenders, Sens. Kirsten Gillibrand (D-N.Y.) and Cory Booker (D-N.J.), who have also expressed support for similar proposals in recent weeks…