.
44 Democrats, Including Debbie Wasserman Schultz, Exempted Pakistani IT Aides From Background Checks – Daily Caller
.

.
Every one of the 44 House Democrats who hired Pakistan-born IT aides who later allegedly made "unauthorized access" to congressional data appears to have chosen to exempt them from background checks, according to congressional documents.
All of them appear to have waived background checks on Imran Awan and his family members, even though the family of server administrators could collectively read all the emails and files of 1 in 5 House Democrats, and despite background checks being recommended for such positions, according to an inspector general's report.
The House security policy requires offices to fill out a form attesting that they've initiated background checks, but it also includes a loophole…
MORE
.
—————————————————————————————
.
Trump Throws DACA Off Table, Threatens NAFTA As Caravan Of Migrants Crosses Mexico – Washington Times
President Trump said Sunday that he was pulling a DACA deal off the table in negotiations with Democrats and warned Mexico to step up its own efforts to control the flow of people headed north across its territory – or else he will cancel NAFTA.
The president seemed particularly outraged over a caravan of more than 1,000 people from Central America who are traversing Mexico with the aim of showing up on the U.S. border to either sneak into the country or demand asylum.
Mexican authorities have reportedly done nothing to deter the people, who are in their country without authorization.
Mr. Trump was fuming.
"Caravans coming," he tweeted.
He added: "Mexico is doing very little, if not NOTHING, at stopping people from flowing into Mexico through their Southern Border, and then into the U.S…
MORE
.
—————————————————————————————
.
Judge To Tennessee: You'll Take Refugees Whether You Want To Or Not – The Federalist
.

.
Last March, the Thomas More Law Center (TMLC) initiated a lawsuit against the federal government on behalf of the Tennessee legislature, charging the refugee resettlement program imposes unconstitutional unfunded mandates, requiring states to pay for resettlement whether they participate in the federal program or not. For a year, the sides engaged in legal maneuvers while the judge dawdled.
This March, despite multiple Supreme Court rulings that the federal government cannot compel states to pay for unfunded federal mandates, the judge dismissed the case. He claimed the state of Tennessee, while fully responsible for financing the state's share of resettlement program costs, did not have standing to bring the suit…
MORE
.
—————————————————————————————
.
Catholic Benefits Association Wins HHS Lawsuit, Finally Driving A Stake Through The Heart Of Obamacare's Employer Contraception Mandate – Crux
A federal judge has ruled in favor of the Catholic Benefits Association and issued declaratory relief and a permanent injunction against a mandate requiring employers to provide coverage for contraception, even if they are opposed to such coverage on moral grounds.
U.S. District Court Judge David Russell's ruling also eliminated $6.9 billion in fines that have accumulated against members of the association, based in Castle Rock.
"This is the tremendous win," CEO Douglas G. Wilson said in a March 28 statement. "The first freedom in the Bill of Rights is the First Amendment right to freedom of religion. The court has rightly ruled that employers should not be forced to violate their beliefs and cover morally problematic elective and often low-cost choices that individuals may wish to make."
The CBA represents more than 1,000 Catholic health care providers and was the largest single plaintiff challenging the mandate. It filed two federal lawsuits in 2014 on behalf of its members…
MORE
.
—————————————————————————————
.
No More Pain For Philippine Devotee Nailed To Cross For 32nd Time – Reuters
.

.
A Philippine man who has been nailed to a cross every Easter for the past 32 years in a Good Friday re-enactment of Jesus Christ's crucifixion says he no longer feels any pain from his wounds.
Ruben Enaje, 58, again portrayed Christ on Friday in the traditional religious rite in Cutud village, about 76 km (47 miles) from the capital Manila.
"In the past, I went home injured and limping, but this year I feel so great," Enaje said after the ritual held under a sweltering sun. He said he believed his strong Catholic faith helped him avoid pain.
"I feel like he is telling me 'go ahead, keep it up'," he said, referring to God…
MORE
.
—————————————————————————————
.
Murder Rate In Sadiq Khan's Gun-Free London Higher Than New York's For First Time In Modern History – Daily Mail
London's murder rate has overtaken New York City's for the first time ever as the twelfth person has been killed in just 19 days.
February marked the first month in history books that London had more murders than the American city with a total of 15 homicides. Out of the 15 killed, nine were aged 30 or younger. In March, there were 22 murders, which is likely to match if not beat out New York's numbers.
The murder epidemic continued on Sunday when a man in his twenties was fatally stabbed after leaving a bar in Wandsworth, marking the 12th person to be murdered in London in 19 days. Police have launched the latest murder investigation in the death of the unnamed young man who was stabbed to death on Easter Sunday.
He suffered a fatal stab wound at around 1:10am on Sunday, after leaving a bar in Wandsworth, south west London. Met Police attended the scene along with the London Ambulance Service…
MORE
.
—————————————————————————————
.
Black High School Counselor Accused Of Threatening To 'Execute' White Men – WTIC
.

.
A Connecticut high school employee is accused of threatening to "execute" white men and stomping on an American flag in a classroom.
A police report says Harding High School in-school suspension counselor Carl Lemon was arrested Wednesday and charged with threatening and breach of peace.
The document says a teacher reported that Lemon said he "couldn't wait for the Panthers to give the OK and a revolution begins" because he would "execute every white man he gets his hands on."
Sixty-three year-old Lemon is black.
The police report says Lemon also stepped on a flag and told students: "This is what I think about it."…
MORE
.
—————————————————————————————
.
Nearly 400 Sheriffs Call On Congress To Criminalize Sanctuary Cities – Washington Standard
Nearly 400 outraged sheriffs across the nation are letting Congress know that enough is enough when it comes to their inaction regarding immigration and the criminalization of sanctuary cities.
Roughly 380 sheriffs from 40 states joined Sheriff Thomas M. Hodgson of Bristol County, Massachusetts to pen a letter to Congress about the matter.
The letter read:
CONGRESS MUST ACT TO PASS LEGISLATION TO SECURE OUR BORDERS THROUGH ENFORCING IMMIGRATION LAWS, TIGHTENING BORDER SECURITY, SUPPORT THE REPLACEMENT AND UPGRADES TO CURRENT BARRIERS AND FENCING AND CONSTRUCTION OF BARRIERS ALONG THE US AND MEXICO INTERNATIONAL BOUNDARY AS REQUESTED BY THOSE AREAS WHERE IT IS NEEDED, SUSPENDING AND/OR MONITORING THE ISSUANCE OF VISAS TO ANY PLACE WHERE ADEQUATE VETTING CANNOT OCCUR, END CRIMINAL COOPERATION AND SHELTER IN CITIES, COUNTIES, AND STATES, AND HAVE ZERO TOLERANCE AND INCREASED REPERCUSSIONS FOR CRIMINAL ALIENS…
MORE
.
—————————————————————————————
.
Assisted Suicide Bills Dead In New England – Washington Free Beacon
.

.
Two of the most liberal states in the country killed off legislation that would have legalized assisted suicide.
Lawmakers in Massachusetts and Connecticut have shelved bills that would have allowed doctors to prescribe lethal medication to patients with terminal diagnoses. Activists, who prefer the term medical aid in dying, were hopeful that heavily Democratic majorities in both states would pass the bill, and Massachusetts, in particular, seemed receptive to assisted suicide after the state's top medical association withdrew its opposition to the practice and pledged neutrality on the bill.
The Massachusetts Medical Society's stance, however, inspired backlash from doctors across the state…
MORE
.
—————————————————————————————
.
New Mind-Reading Machine Can Translate Your Thoughts And Display Them As Text Instantly – Daily Mail
Scientists have developed an astonishing mind-reading machine which can translate what you are thinking and instantly display it as text. They claim that it has an accuracy rate of 90 per cent or more and say that it works by interpreting consonants and vowels in our brains.
The researchers believe that the machine could one day help patients who suffer from conditions that don't allow them to speak or move. The machine registers and analyses the combination of vowels and consonants that we use when constructing a sentence in our brains.
It interprets these sentences based on neural signals and can translate them into text in real time. In fact, scientists claim that the machine can use words that it hasn't even heard before.
Study leader David Moses told the Sun: 'No published work has demonstrated real-time classification of sentences from neural signals. 'Given the performance exhibited by [the machine] in this work and its capacity for expansion, we are confident in its ability to serve as a platform for the proposed speech prosthetic device.'…
MORE
.
—————————————————————————————
.
Ted Nugent: Parkland Survivors 'Mushy-Brained Children' Who 'Have No Soul' – Circa
.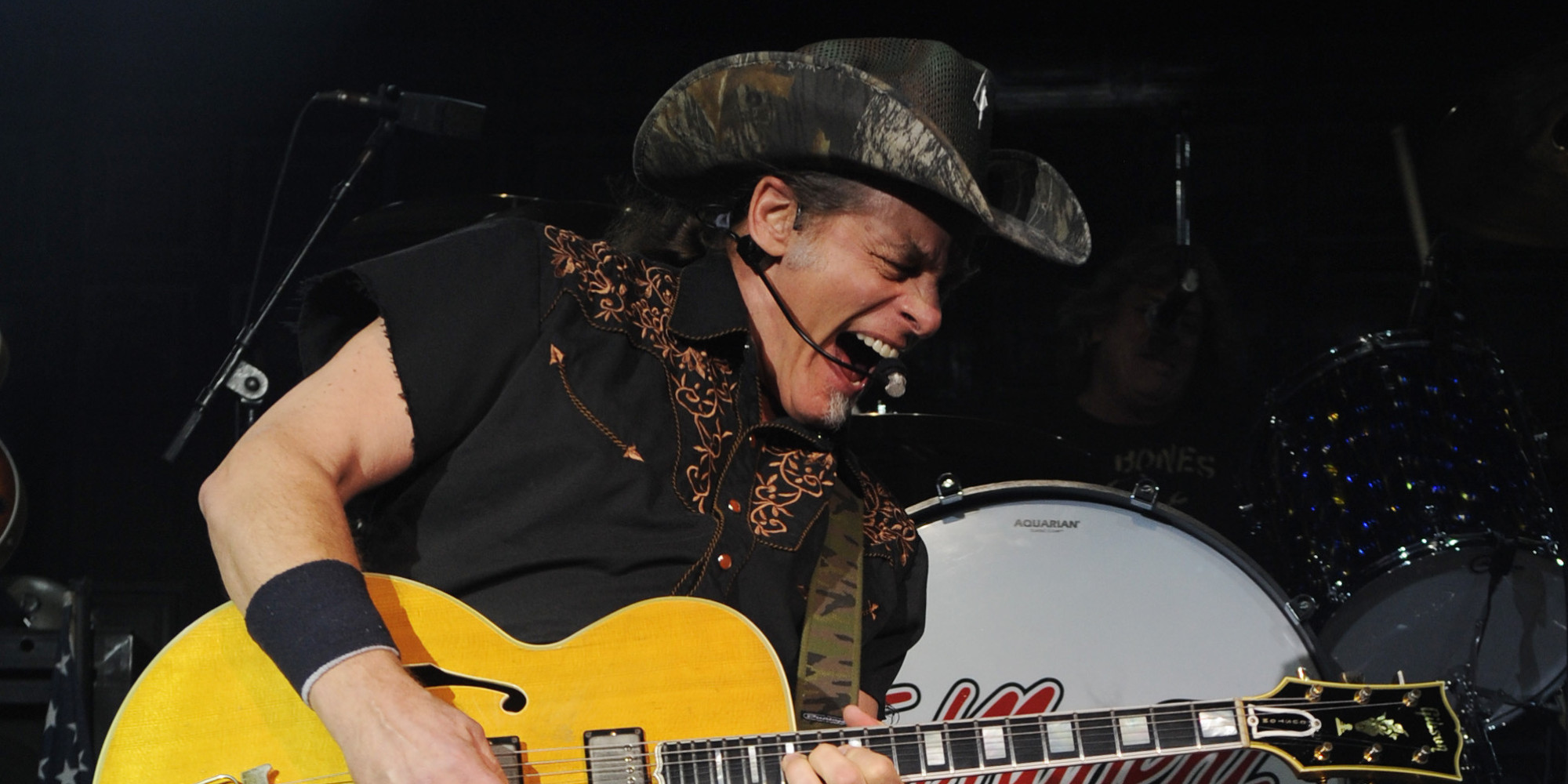 .
Rock star Ted Nugent says the students who survived a recent school shooting in Parkland, Florida are "mushy-brained children." Nugent adds that Marjory Stoneman Douglas High School students who have become gun control advocates after last month's violence "have no soul."
"The lies from these poor, mushy-brained children who have been fed lies and parrot lies," he said Friday on radio host Joe Pagliarulo's "The Joe Pags Show."
"The level of ignorance goes beyond stupidity," added Nugent, a National Rifle Association board member. "The National Rifle Association are a bunch of American families who have a voice to stand up for our God-given, constitutionally given right to keep and bear arms."…
MORE
.
—————————————————————————————
.
British Government Lost Track Of 600,000 Foreign Visitors In Two Years – Breitbart
The Home Office lost track of 601,222 foreign, non-European Union visitors in two years who should have left the UK.
A report by the chief inspector of the borders and immigration watchdog David Bolt found that the Home Office's short-lived Exit Check Programme and ensuing exit checking procedures resulted in no record of the exits of half a million non-visa holding visitors including from Argentina and Brazil and 88,000 foreign citizens whose short-term visas had expired.
The report also found that as of August 2017, there were records of 10 million people whose period to remain in the UK had expired in the previous two years, and that by the end of March 2017, the Home Office had made no effort to contact the some 500,000 non-visa visitors to ascertain if they were still in the country.
However, the department wasted resources in chasing 30,000 Chinese citizens – regarded as "low risk" of overstaying – the majority of who had returned to their home country but whose departures had not been logged on the system…
MORE
.
—————————————————————————————
.
Senate Candidate From Missouri Calls For Legalizing Machine Guns – Circa
.

.
A Missouri candidate running for U.S. Senate tweeted a statement on playing offense in Second Amendment issues. Austin Petersen, a native of Peculiar, Missouri, stated Wednesday evening "It's time we start talking about legalizing machine guns and repealing the National Firearms Act entirely."
Again Thursday, Petersen backed up his statement calling for citizens to be able to purchase machine guns manufactured after 1986.
Petersen ran for president in 2016 and was the runner-up for the Libertarian party nomination, second to Gov. Gary Johnson. Petersen announced his candidacy for the Republican nomination in the race Sen. Claire McCaskill's seat July 4, 2017, during a party on his family farm…
MORE
.
—————————————————————————————
.
Out-Of-Control Chinese Space Station's Fiery Crash To Earth Is Due On Easter Sunday – Daily Mail
Out-of-control Chinese space station, Tiangong-1, is predicted to reenter Earth's atmosphere at 11:30am BST (6:33am ET) on Easter Sunday. The space craft is carrying highly toxic chemicals and could crash into a number of highly populated areas, researchers claim.
Areas that could be hit include New York, Barcelona, Beijing, Chicago, Istanbul, Rome and Toronto. When the station does eventually enter the atmosphere it could unleash a 'series of fireballs' that will be seen by observers.
Scientists still do not yet know where the satellite fragments are likely to land. The latest prediction comes from Aerospace engineering, who claims the time for reentry could be anywhere within 16 hours either side of this.
The European Space Agency (Esa) is also tracking the space stations gradual descent.
Due to its gentle descent, Tiangong-1 is now experiencing significant drag as it brushes against the planet's denser outer atmosphere and it is dropping out of orbit by about 2.5 miles a day…
MORE
.
—————————————————————————————
.
ICE Arrests 89 Criminal Illegal Aliens In Texas-Oklahoma Sweep – Breitbart
.

.
Immigration officers arrested a total of 89 criminal aliens and others in North Texas and Oklahoma during a three-day targeted operation.
U.S. Immigration and Customs Enforcement (ICE) Enforcement and Removal Operations (ERO) officers carried out a three-day operation targeting violent criminal aliens and others with existing orders of removal.
The officers carried out the operation in North Texas and Oklahoma on Tuesday, Wednesday, and Thursday of last week, according to information obtained by Breitbart Texas from ICE officials.
Sixty-seven of the 89 arrested had criminal histories…
MORE
.
—————————————————————————————
.
Leftist 9th Circuit Court Of Appeals Judge Dies At 87 – Washington Examiner
Judge Stephen Reinhardt of the 9th Circuit Court of Appeals died Thursday at 87 years old, the court said.
Reinhardt was appointed to the 9th Circuit by former President Jimmy Carter in 1979 and was once deemed the "liberal lion" of the court. The appeals court said Reinhardt died of a heart attack while at the dermatologist.
"All of us here at the 9th Circuit are shocked and deeply saddened by Judge Reinhardt's death," 9th Circuit Chief Judge Sidney Thomas said in a statement. "We have lost a great friend and colleague. As a judge, he was deeply principled, fiercely passionate about his law and fearless in his decisions. He will be remembered as one of the giants of the federal bench."
Reinhardt was the sixth longest-serving judge on the court and wrote several opinions on hot-button issues including gay marriage and immigration. Last year, Reinhardt authored an opinion calling the Trump administration's order to deport Andres Magana Ortiz…
MORE
.
—————————————————————————————
.
Used SpaceX Rocket Launches 10 Iridium Satellites Into Orbit – Space
.

.
A used SpaceX Falcon 9 rocket launched 10 new communications satellites into orbit from California's Vandenberg Air Force Base today (March 30) in a morning liftoff that also marked an anniversary for reusable rockets.
The Falcon 9 rocket, which first flew in October 2017, launched the fifth set of Iridium Next satellites for Iridium Communications at 10:13 a.m. EDT (1413 GMT) – exactly one year to the day after SpaceX's first used Falcon 9 rocket launch and landing. Since then, SpaceX has commonly landed the first stage of its two-stage Falcon 9 rockets and reused them on later flights.
In fact, the booster that launched today's Iridium-5 mission also launched 10 other Iridium Next satellites on Oct. 9 during SpaceX's Iridium-3 mission…
MORE
.
—————————————————————————————
.
Deputies Arrest Naked Man With Crack Cocaine Hidden In His Ear – WBRC
A naked man was arrested after deputies say they found a bag of crack cocaine in his ear. Warren Gunn III, a 36-year-old Birmingham man, is charged with public lewdness and unlawful possession of a controlled substance after responding deputies found him naked in the front yard of a home in the 2500 block of Palomino Lane in Forestdale Thursday afternoon.
Deputies say that Gunn was spotted standing by a pickup truck, but got in the vehicle and began to get dressed as they approached him. He told them that he was naked because he was covered in ants, despite the deputies not seeing ants.
He refused to give them his name, but the deputies recovered his Alabama ID card. Gunn also had an outstanding warrant for failure to appear in court on an unlawful possession of a controlled substance charge.
Deputies found and removed a small bag of crack cocaine from his ear as they walked him to the patrol car. Gunn is in the Jefferson County Jail with no bond…
MORE
.
—————————————————————————————
.
New York Judge Admits To Stealing His Neighbor's Underwear – Circa
.

.
A New York judge pled not guilty to a felony burglary charge after breaking into his neighbor's home to steal her worn undergarments, prosecutors said.
Suffolk County district court judge Robert Cicale, admitted he had broken into the woman's Long Island home several times and stolen underwear out of her clothing hamper, District Attorney Timothy Sini said.
The 23-year-old woman – once worked as an intern for Cicale when he was a municipal town attorney – was alone in her home in East Islip when she heard a noise and saw a man running off, police said.
The woman called her mother, who then called 911…
MORE
.
—————————————————————————————
.
Canadian High School Switches To 'Africentric Math' To Attract Black Students – Daily Caller
A Canadian high school switched to "Africentric Math" to attract black students to go into Science, Technology, Engineering and Math (STEM) fields, according to Canadian Broadcasting's (CBC) Wednesday report.
Nova Scotia's Auburn Drive High School math teachers are skipping their previous eurocentric approach to teaching mathematics so black students will gain more interest in the subject, the CBC reported. Teachers are adopting an Afrocentric lens to teach mathematics, based on incorporating African history and culture to make math classes resonate with their students.
Auburn High School is working with the Imphop's Legacy Academy, a program encouraging black students to get interested in STEM, to craft their new curriculum. One example of the new approach is using Egyptian pyramids to explain trigonometry.
"It's academic math, but we want to build their self-confidence, their self-awareness so they can feel that they're capable of doing the math," Auburn Drive High School Principal Karen Hudson said…
MORE
.
—————————————————————————————
.
Over A Thousand Central American Illegal Aliens Are Working Their Way Through Mexico Headed For The U.S. – Center For Inmmigration Studies
.

.
As part of Holy Week, over a thousand Central American illegal aliens set out to complete a "Stations of the Cross", traversing through Mexico, to reach the United States' southern border. Upon arrival, they hope to make asylum claims.
The caravan, marching under the slogan "Migrantes en la lucha" ("Migrants in the Fight"), was announced about a month ago by the group Pueblo Sin Fronteras. The organization asked for donations on its Facebook page and encouraged people to send them a message if they were interested in volunteering.
The organization's mission statement reads as follows, "Our mission is to provide shelter and safety to migrants and refugees in transit, accompany them in their journey, and together demand respect for our human rights."…