.
Omar Mateen's Widow Found Not Guilty Of All Charges In Pulse Nightclub Massacre Case – Orlando Sentinel
Noor Salman is not guilty of helping her husband, Omar Mateen, carry out the mass shooting that claimed 49 lives at Pulse nightclub on June 12, 2016, a jury decided Friday.
The 12-member jury delivered its verdict after deliberating for about 12 hours over three days. Salman was also acquitted of obstruction of justice. Prosecutors accused her of lying to the FBI agents who investigated her husband's mass murder, which he carried out in support of a foreign terror group, the Islamic State.
Had she been convicted, Salman, 31, would have faced up to life in prison.
Salman was crying after the verdict was read. She looked back at her family before leaving the courtroom through a side door, escorted by a U.S. marshal. Her cousin and two uncles began sobbing and hugging as soon as a clerk read the words "not guilty."
"Happy Friday. It's Good Friday," Salman's uncle, Al Salman, said outside the courthouse later. He thanked his niece's attorneys, the judge and the jury…
MORE
.
—————————————————————————————
.
Useless Sack Of Crap Jeff Sessions Not Ready To Appoint Special Counsel To Investigate Obvious Deep-State Crimes – MarketWatch
.

.
Attorney General Jeff Sessions said Thursday that Utah U.S. Attorney John Huber is investigating GOP lawmakers' allegations against the FBI and that a special counsel is not needed to probe the case.
Huber, an appointee of President Barack Obama, will try to determine whether the bureau abused its power when it obtained a warrant to surveil a former adviser to President Trump's campaign, CNN reported.
But the A.G.'s decision to not appoint a special counsel was bound to anger Republicans on Capitol Hill, many of whom have been calling for a tit-for-tat probe of the FBI and Justice Department that would run alongside Robert Mueller's investigation into Russian election meddling…
MORE
.
—————————————————————————————
.
California's Medicaid Expansion Signed Up 366,000 Ineligible People – Becker's Hospital Review
California enrolled hundreds of thousands ineligible or "potentially" ineligible beneficiaries under Medicaid expansion, according to estimates detailed in a report from HHS' Office of Inspector General.
For the Feb. 21 report, the OIG examined a sample of 150 newly eligible expansion beneficiaries who received Medicaid services from October 2014 through March 2015. It found California spent money on 112 eligible expansion beneficiaries and 38 ineligible or potentially ineligible expansion beneficiaries.
The report cited "a woman who did not meet eligibility requirements for the newly eligible group because she was pregnant" as an example of an ineligible beneficiary and an individual "who may not have met the residency requirement" as an example of a potentially ineligible beneficiary.
The OIG used the 150 beneficiary sample to generate estimates on the state's overall Medicaid spend…
MORE
.
—————————————————————————————
.
Eight 'Palestinians' Killed, Dozens Wounded As Thousands Swarm Gaza-Israel Border For Hamas-Orchestrated 'March For Return' – Haaretz
.

.
Eight Palestinians were killed and hundreds more were wounded by IDF gunfire along the Israel-Gaza border, Palestinian sources said Friday, as thousands swarmed the security fence as part of "The Great March of Return," called for by enclave's militant Hamas rulers.
It was the deadliest day in Gaza in several months. Seven of the Palestinians were killed during the clashes, while the seveth, a farmer, was killed by pre-dawn tank fire in a separate incident. One of those killed was reportedly 16 years old while another was 33 years old.
Palestinian health officials said Israeli forces used mostly gunfire against the protesters who were burning tires and throwing stones at IDF soldiers, in addition to tear gas and rubber bullets. Witnesses said the military had used a drone in at least one location to drop tear gas…
MORE
.
—————————————————————————————
.
Congressmen Jordan And Meadows: Former FBI Deputy Director McCabe Lied On Multiple Occasions – Fox News
Rep. Jim Jordan (R-Ohio) and Rep. Mark Meadows (R-N.C.) joined Laura Ingraham on "The Ingraham Angle" Thursday night to reveal new information about the firing of former FBI Deputy Director Andrew McCabe and to explain why it's more evidence of the need for a second special counsel.
McCabe was fired by Attorney General Jeff Sessions earlier this month – just hours before his planned retirement – after the Justice Department's inspector general determined McCabe was not truthful during his review of the Clinton email investigation and the FBI's Office of Professional Responsibility recommended his firing.
The inspector general's report has not been made public, but Jordan and Meadows' offices have a copy of it.
Jordan said the report reveals that McCabe lied four times about leaking information to the press: once to the Office of Professional Responsibility, once to former FBI Director James Comey and twice under oath to the inspector general…
MORE
.
—————————————————————————————
.
Leftist Corruption Update: House Democrat Shielded Chief Of Staff Accused Of Hitting Woman, Threatening To Kill Her – Daily Caller
.

.
Democratic Connecticut Rep. Elizabeth Esty kept her chief of staff on the job for three months after he was accused of punching and threatening to kill a female staffer, and then recommended him for his next job, according to several new reports.
Esty's former chief of staff, Tony Baker, allegedly abused and sexually harassed the female staffer over a period of several years, culminating in a May 2016 threat to kill the female staffer, whom the Washington Post identified as Anna Kain.
"You better fucking reply to me or I will fucking kill you," Baker said in a May 5, 2016 voicemail, a copy of which Kain provided to the Post. Esty found out about the incident within a week, but chose to keep Baker in his paid position for another three months…
MORE
.
—————————————————————————————
.
Crooked Hillary Suffers 90% Cut In Speech Fee – Zero Hedge
After embarrassing herself and creating yet another obstacle for Congressional Democrats to overcome later this year during a disastrous trip to India earlier this month, Hillary Clinton is taking a massive 90% cut to her typical speaking fee for an engagement at one of New Jersey's most prestigious universities. And no – it's not Princeton.
Clinton made her less-than-triumphant return to the Garden State on Thursday to deliver a talk about American democracy and her role in shaping the the American woman's place in political life, according to NJ.com.
Rutgers will pay Clinton $25,000 from one of its endowments – ensuring that no tuition money will be used for the payment. The event will be hosted by the Rutgers Eagleton Institute of Politics and will be held at Rutgers Athletic Center in Piscataway.
Clinton famously charged $300,000 for a speech at another prestigious state school – UCLA – back in 2014, with a fee of $250,000 generally accepted as the norm…
MORE
.
—————————————————————————————
.
Ambassador Haley: U.S. Won't Fund More Than 25% Of U.N. Peacekeeping Budget – The Hill
.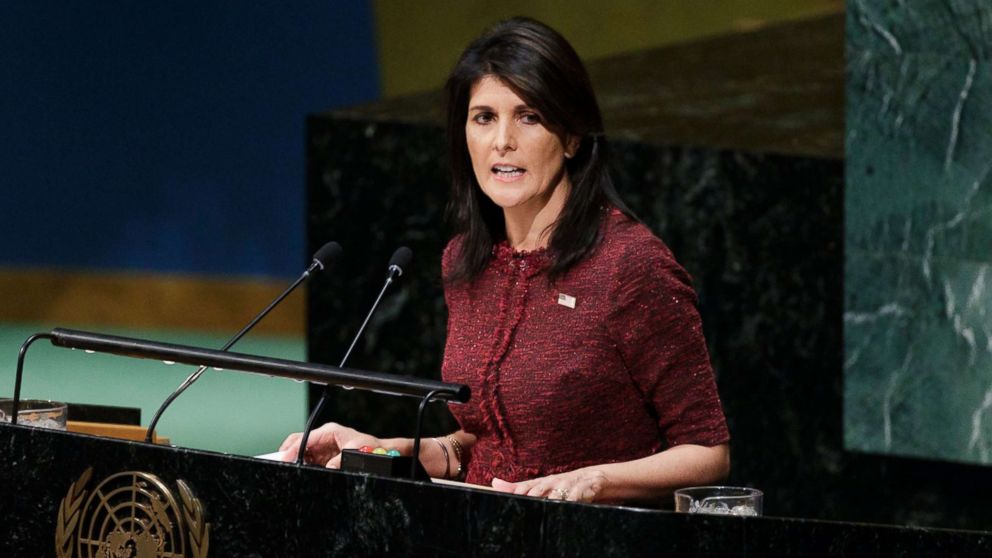 .
The United States will no longer provide more than a quarter of the funding for the United Nations's peacekeeping efforts, U.S. Ambassador to the U.N. Nikki Haley told the organization Wednesday.
"The United States has long been the largest financial contributor to U.N. peacekeeping by far. That will not change," Haley said. But Haley cautioned that "peacekeeping is a shared responsibility."
"With shared responsibility comes shared burdens and shared costs. One country should not shoulder more than one-quarter of the U.N. peacekeeping budget." As a result, she said, the U.S. will not pay more than 25 percent of the U.N. peacekeeping budget moving forward…
MORE
.
—————————————————————————————
.
Lesbian Couple's Kids Begged Neighbors For Food Days Before Family's Van Plunged Off California Cliff – Daily Nail
The lesbian mothers who died on Monday along with at least three of their six adopted children after plunging 100ft over a coastal cliff in California had been reported to Child Protective Services days earlier for allegedly starving their kids.
On Friday, neighbors of Jennifer and Sarah Hart, both 39, called CPS to report that their son Devonte had come to their home asking for food every day for a week.
They said Devonte – who made national headlines when he was pictured hugging a police officer during a 2014 protest – asked them to leave food out in a box for him and said his mothers were 'punishing' him by not feeding him.
In 2017, another of the children came to their home at 1.30am asking for their 'protection', they said.
On Friday, a CPS worker arrived at the home and knocked on the door, according to the neighbors Bruce and Dana DeKalb, but the Harts never answered…
MORE
.
—————————————————————————————
.
Documents Suggest Possible Coordination Between CIA, FBI, Obama White House And Democrat Officials Early In Trump-Russia Probe – Fox News
.

.
Newly uncovered text messages between FBI officials Peter Strzok and Lisa Page suggest a possible coordination between high-ranking officials at the Obama White House, CIA, FBI, Justice Department and former Senate Democratic leadership in the early stages of the investigation into alleged collusion between the Trump campaign and Russia, according to GOP congressional investigators on Wednesday.
The investigators say the information provided to Fox News "strongly" suggests coordination between former President Barack Obama's Chief of Staff Denis McDonough, then-Senate Democrat Leader Harry Reid, and CIA Director John Brennan – which they say would "contradict" the Obama administration's public stance about its hand in the process…
MORE
.
—————————————————————————————
.
Boy With Sick Father Turns To President Trump For Help And Gets Touching Response – CBS News
Eight-year-old Fore Putnam has watched in silence for three years as his father, Trae, suffered through dialysis treatments and sat on the transplant wait list, hoping and praying for a new kidney. The North Carolina boy was powerless against the rare blood disease that rendered his father in complete renal failure. However, he's powerless no more.
Just before Christmas, with a little help from his grandmother, Fore penned three letters: one to President Trump, one to his daughter Ivanka, and one to Santa Claus.
In the letter to Mr. Trump, the little boy wrote, "My dad has been sick for a long time… I want him to get better, so he can get a job again so we can play. My mom just left, so if my dad gets better, she might come back… Please help my dad for Christmas. That's all I want for Christmas, and maybe one toy."
A few months later, to his grandmother's delighted surprise, a response arrived directly from the White House….
MORE
.
—————————————————————————————
.
Socialist Pope Francis: 'There Is No Hell' – CNS
.

.
In another interview with his longtime atheist friend, Eugenio Scalfari, Pope Francis claims that Hell does not exist and that condemned souls just "disappear." This is a denial of the 2,000-year-old teaching of the Catholic Church about the reality of Hell and the eternal existence of the soul.
The interview between Scalfari and the Pope was published March 28, 2018 in La Repubblica. The relevant section on Hell was translated by the highly respected web log, Rorate Caeli. The interview is headlined, "The Pope: It is an honor to be called revolutionary." (Il Papa: "ب un onore essere chiamato rivoluzionario.")
Scalfari says to the Pope, "Your Holiness, in our previous meeting you told me that our species will disappear in a certain moment and that God…
MORE
.
—————————————————————————————
.
Trump Effect: Jobless Claims Drop To Lowest Level Since 1973 – The Hill
U.S jobless claims dropped to 215,000 last week, the lowest level since 1973, the Labor Department revealed Thursday. In the week ending March 24, the number of Americans seeking unemployment benefits dropped from by 12,000 from 227,000 as adjusted for seasonal labor market changes.
Unemployment claims during the week ending March 17 were revised down 2,000 to 227,000. The four-week average also fell by 500 claims to 224,500. Last week's average was revised up by 1,250 from 223,750 to 225,000.
Jobless claims have held consistently low throughout that past several years, and have reached decades-old records under President Trump. The unemployment rate has lingered close to 4.1 percent, below the level the Federal Reserve considers ideal for a stable and growing economy.
The economy has generally performed well under Trump…
MORE
.
—————————————————————————————
.
Terror 'Teacher' Gets 25 Years In Prison For Recruiting 'Mini Militia' Of Kids At Mosque To Attack London – Breitbart
.

.
A self-styled "teacher" and Islamic State supporter has been jailed for trying to radicalise Muslim boys as young as 11 in a London mosque, encouraging them to attack landmarks including Big Ben.
Umar Haque, 25, was this week sent down for 25 years after plotting to use firearms and a car packed with explosives to strike 30 high-profile targets including Heathrow Airport, the Queen's Guard, Shia Muslim mosques, and the headquarters of right-wing groups.
Three other men from east London connected to Mr. Haque were also put behind bars – for fundraising, failing to report what they knew, and possessing a gun.
Mr. Haque recruited at the Ripple Road mosque in Barking, where he also attempted to brainwash 16 Muslim youngsters…
MORE
.
—————————————————————————————
.
FBI Agent Leaked Classified Information Because He's Black, Lawyers Claim – Daily Caller
A former FBI agent in Minnesota was motivated to leak classified information to The Intercept website, in part, because he is black. That's according to lawyers for Terry James Albury, a former special agent who was charged in the leak case on Wednesday.
"Terry Albury served the U.S. with distinction both here at home and abroad in Iraq," Albury attorneys JaneAnne Murray and Joshua Dratel said in a statement provided to the Star Tribune in Minneapolis.
"He accepts full responsibility for the conduct set forth in the Information. We would like to add that as the only African-American FBI field agent in Minnesota, Mr. Albury's actions were driven by a conscientious commitment to long-term national security and addressing the well-documented systemic biases within the FBI."
Between February 2016 and January 2017, Albury accessed classified documents regarding the FBI's handling of confidential sources…
MORE
.
—————————————————————————————
.
Trump Replaces VA Secretary David Schulkin With White House Physician Admiral Ronny Jackson – National Review
.

.
President Trump fired David Shulkin as Secretary of Veterans Affairs Wednesday afternoon in a tweet, tapping Admiral Ronny L. Jackson to replace him.
"I am thankful for Dr. David Shulkin's service to our country and to our GREAT VETERANS!" the president wrote.
Robert Wilkie, the undersecretary of Defense for Personnel and Readiness, will serve as acting secretary until Jackson is confirmed, Trump said.
Rumors swirled for weeks that Shulkin, an Obama appointee, was being ousted by Trump appointees on his senior staff. The secretary took a lower profile for the last weeks of his tenure at the VA…
MORE
.
—————————————————————————————
.
DOJ Inspector General Opens Investigation Into FISA Abuse, FBI Contacts With 'Confidential Source' – Daily Caller
Department of Justice inspector general Michael Horowitz opened an investigation Wednesday into possible FISA abuses by the Justice Department and FBI officials and the nature of contacts between the FBI and a confidential source.
"The Office of the Inspector General (OIG) will initiate a review that will examine the Justice Department's and the Federal Bureau of Investigation's (FBI) compliance with legal requirements, and with applicable DOJ and FBI policies and procedures, in applications filed with the U.S. Foreign Intelligence Surveillance Court (FISC) relating to a certain U.S. person," DOJ spokesman John Lavinsky said in a statement accompanying the announcement.
Lavinsky explained that "as part of this examination, the OIG also will review information that was known to the DOJ and the FBI at the time the applications were filed from or about an alleged FBI confidential source."
Lavinsky noted that the investigation was prompted by requests from several members of Congress and Attorney General Jeff Sessions…
MORE
.
—————————————————————————————
.
Fed Up Canadian Chef Butchers And Eats Deer Leg In Front Of Animal Rights Activists – Newsweek
.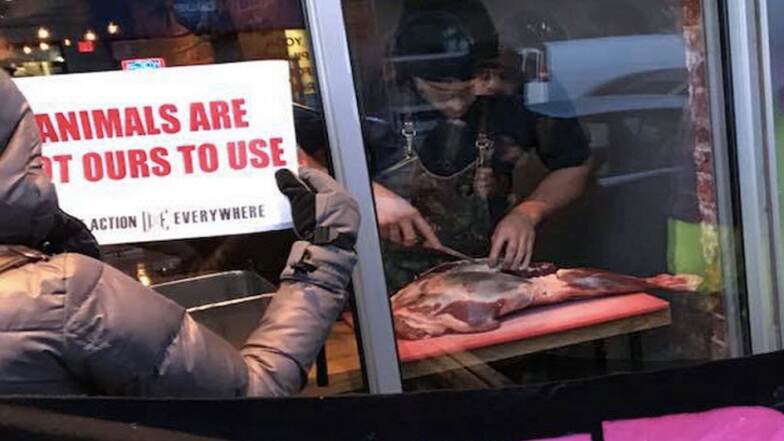 .
A Toronto chef tired of animal rights activists crowding outside his restaurant to protest his meat-heavy menu, which includes venison and boar, decided to hold his own demonstration, butchering deer meat in the window of his shop before eating it in an apparent bid to taunt protesters.
"He just started carving it in front of us and then he walked away," activist Marni Ugar said of Antler Kitchen and Bar owner and chef Michael Hunter.
"Eventually, he walked away but about half an hour later he came back with a cooked piece of meat, which was presumably the same piece of meat, but he just sat there and ate it in front of us," she told Newsweek…
MORE
.
—————————————————————————————
.
Full Speed Ahead: Fourth Quarter GDP Revised Up To 2.9% – Breitbart
The U.S. economy grew at a much faster pace in the fourth quarter than earlier estimated, according to Commerce Department data released Wednesday.
Gross domestic product grew at a 2.9 percent annualized rate, revised up from 2.5 percent. Economists had estimated an upward revision to 2.7 percent. The upward revision means the economy was much closer to the 3 percent growth targeted by the Trump administration.
Consumer spending grew at 4 percent, compared with the earlier estimate of 3.8 percent. Economists had expected no change from the earlier estimate of the biggest part of the economy.
Nonresidential fixed investment rose 6.8 percent, up from 6.6 percent. Investment in structures, such as new offices and stores, rose 6.3 percent, compared with the earlier estimate of just 2.5 percent.
Inflation adjusted gross domestic income rose 0.9 percent…
MORE
.
—————————————————————————————
.
Leftist Parkland Student Weasels Out Of Debate With Pro-Second Amendment Student – Daily Wire
.

.
On Monday, student gun control activist Cameron Kasky backed out of a debate on the issue with pro-Second Amendment student Kyle Kashuv because he claims that Kashuv made a "personal" attack.
After initially agreeing to debate Kashuv, Kasky tweeted his rationale for backing out:
"Kyle, I've enjoyed my discussion about gun laws with you so far, but after seeing this, I think I'm out. For personal reasons. I disagree on certain policies with some family members of some victims, but I never go after them, especially not like this. This is low."
Kashuv apologized for the tweet, which, as The Daily Wire's Ben Shapiro noted, was not "some sort of egregious sin" as Kashuv responded "to the argument of a victim's family member in perfectly polite political fashion."…
MORE
.
—————————————————————————————
.
U.S. Energy Exports Hit Record In 2017; Petroleum And Natural Gas Both Hit All-Time Highs – CNS
U.S. total energy exports hit a record high in 2017 when measured in British Thermal Units (Btu), according to the Monthly Energy Review released today by the Energy Information Administration, which is a part of the U.S. Department of Energy.
U.S. petroleum and natural gas exports (measured in Btu) also both hit all-time highs in 2017, according to Table 1.4b in the report, while the U.S. energy trade deficit (measured in dollars) hit a 20-year low, according to Table 1.5.
During 2017, total U.S. energy exports equaled 17.998711 Quadrillion Btu, according to the report. That was up approximately 27.4 percent from the 14.129837 Quadrillion Btu in total U.S. energy exports in 2016.
At the same time, the U.S. imported 25.342199 Quadrillion Btu in total energy, meaning the U.S. was a net importer of 7.343488 in energy in 2017. That is the lowest net energy imports the United States has seen since 1982…