.
Trump Hits China With $60 Billion In Tariffs – Washington Times
.

.
President Trump socked China with up to $60 billion in proposed trade tariffs, investment restrictions and plans for a formal complaint to the World Trade Organization, drawing immediate threats of retaliation from Beijing and sending the stock market into an epic nosedive Thursday over fears that the globe's two biggest economies were heading for a trade war.
Following though on the tough talk on trade that helped put him in the White House, Mr. Trump said the U.S. was finally cracking down on decades of unfair trade practices and theft of intellectual property. U.S. officials say these Chinese practices contributed to bilateral trade deficits for the U.S. of hundreds of billions of dollars annually.
"We are doing things for this country that should have been done for many, many years," the president said…
MORE
.
—————————————————————————————
.
Ohio Woman Killed Chihuahua In Oven Because She Believed Ex-Boyfriend Was Inside Pet – Fox News
An Ohio woman was arrested after she allegedly killed a Chihuahua by cooking the dog in an oven because she believed her ex-boyfriend was inside the pet, police said.
Noelle Georgia Moor, 28, was charged with first-degree animal abuse in the 7-year-old dog's death, The Oregonian reported. A person close to Moor called police Tuesday after the dog was placed in the oven.
"The smell of burnt hair and flesh was still in the air," a probable cause affidavit read.
Moor told police she had placed the dog in the oven because she believed her ex-boyfriend's spirit was in the animal, records showed.
Moor reportedly suffers from mental health issues. Mental health professions had been in contact with the 28-year-old in the past month because of several disturbances, according to The Daily Astorian.
Moor was arrested while she was at Columbia Memorial Hospital after Tuesday's incident…
MORE
.
—————————————————————————————
.
Boycott Success: Dick's Sporting Goods Suffers 'Deeper Than Expected Losses' – Truthfeed
.

.
In one of the dumbest business moves of all times, Dick's Sporting Goods store pulled a "PR STUNT" to appease liberals, by stating publicly they'd stop selling guns, they had already stopped selling, to promote "gun control" after the Parkland, Florida school shooting.
Since that time, the sporting goods giant has suffered "deeper than expected losses."
The boycott is working, folks! Keep it up!
From Daily Wire
Despite acknowledging on CNN last week that his decision to embrace the gun control movement will result in "people who don't shop us anymore for anything," Dick's Sporting Goods CEO Edward Stack entrenched his company even further in the divisive debate this week by penning an op-ed for The Washington Post…
MORE
.
—————————————————————————————
.
Trump Announces John Bolton As Next National Security Advisor – Breitbart
President Donald Trump announced on Thursday that he is appointing Amb. John Bolton as his new national security advisor, ending weeks of speculation he would be tapped for the job.
Bolton's appointment comes after months of speculation that current National Security Advisor H.R. McMaster was on his way out, after repeated reports that he and the president were not close. It also comes after someone leaked to the press that the president congratulated Putin on his election win after a briefing card had included the note: DO NOT CONGRATULATE.
According to a White House official, the president and McMaster had "mutually agreed" on his resignation, and the two had been discussing it for "some time." However, the timeline was "expedited as they both felt it was important to have the new team in place, instead of constant speculation."
"This was not related to any one moment or incident, rather it was the result of ongoing conversations between the two," the official said…
MORE
.
—————————————————————————————
.
Senate Passes $1.3 Trillion Spending Bill, And Here's How They Voted – Right Scoop
.

.
Tonight, in the cover over darkness, the Senate passed the 2,232-page 1.3 trillion dollar omnibus spending bill by a vote of 65-32. 23 Republicans voted AGAINST the bill and 0nly 9 Democrats voted with them.
That means almost half of Republicans (25) and almost all Democrats (40) voted FOR the bill. More Democrats voted for the bill than Republicans. Here's how your Senator voted.
YEAs – 65:
Alexander (R-TN)
Baldwin (D-WI)
Bennet (D-CO)
Blumenthal (D-CT)
Blunt (R-MO)
Boozman (R-AR)
Brown (D-OH)…
MORE
.
—————————————————————————————
.
South African Politician Blasts "Racist" Australia For Harboring Fleeing White Farmers – Zero Hedge
In perhaps the most Orwellian statement of the day, the head of South Africa's radical Marxist opposition party – who declared his party was "cutting the throat of whiteness" – called Australia a "racist country" for offering fleeing white farmers a refuge.
As we have detailed previously, last month, South Africa's parliament voted in favour of a motion, brought by the EFF and supported by the ruling African National Congress, to begin the process of expropriating white-owned land without compensation.
That's exactly what Zimbabwe did. Seeking to correct similar colonial and Apartheid-era injustices in his country, Zimbabwe's president Robert Mugabe initiated a land redistribution program in 1999-2000.
Thousands of white-owned farms were confiscated by the government, and the farmers were forced out. Bear in mind that Zimbabwe used to be known as the breadbasket of southern Africa…
MORE
.
—————————————————————————————
.
Oh My: The DNC Is $6 Million In Debt – Townhall
.

.
It's no secret the Democrat National Committee has been struggling since the 2016 presidential election, when former Chairwoman Debbie Wasserman-Schultz rigged the primary in favor of two-time loser Hillary Clinton, to raise money ahead of the 2018 midterms.
But the red ink for current DNC Chair Tom Perez keeps getting deeper. The DNC is $6 million in debt and according to FEC records, just took out another $2 million loan to keep daily office activities operational.
Meanwhile, the RNC is still smashing fundraising records with Chairwoman Ronna Romney McDaniel at the helm. The RNC raised $12.8 million in February and $157.7 million overall in the 2017-2018 cycle…
MORE
.
—————————————————————————————
.
Mark Levin Calls For Mitch McConnell To Resign Amid 'Shocking And Disgusting' Corruption Allegations – BizPac Review
Mitch McConnell is in hot water. On the Wednesday edition of his radio program, conservative Mark Levin said he was "damn serious" about his call for Senate Majority Leader Mitch McConnell (R-Ky.) to resign over "disgusting" corruption allegations arising from a new book by "Clinton Cash" author Peter Schweizer.
Levin referred to a New York Post article that detailed alleged findings from Schweizer's book, "Secret Empires," which takes a look at the "money-making machinations" of McConnell, Joe Biden, John Kerry, and other members of the "political elite."
The Post cited Schweizer as claiming that the net worth of McConnell and his wife, current US Transportation Secretary Elaine Chao, grew from $3.1 million to between $9.2 million and $36.5 million today.
According to Schweizer, McConnell's fortune may be linked to Chinese ties he has through his wife, whose father, James Chao, runs a shipping company closely aligned with China's government…
MORE
.
—————————————————————————————
.
Mentally Incompetent Cop Tells Father It's OK For Adult To Assault 14-Year-Old For Exercising His Free Speech Right – Washington Standard
.

.
A video was submitted to the Free Thought Project this week showing a San Jose police officer tell the father of a boy – who had just been attacked by an adult – that it was okay for the adult to hit him because the boy used his freedom of speech. Seriously.
In a Facebook post on Monday, Manuel Miraball explained that his son was attacked by an adult on his way to school and when they called police for help, the officers arrested his son, not the man who attacked him.
SO I WENT TO WORK THIS MORNING AND MY 3 SONS AND MY DAUGHTER ALL WALK TO SCHOOL ACROSS THE STREET. MY 3 OLDER SONS GO TO A MIDDLE SCHOOL RIGHT NEXT TO MY DAUGHTERS ELEMENTARY SCHOOL…
MORE
.
—————————————————————————————
.
Fired FBI Official McCabe Authorized Criminal Probe Of AG Sessions – Daily Wire
On Wednesday, a new report claimed that recently-fired senior FBI official Andrew McCabe authorized a criminal investigation into Attorney General Jeff Sessions more than a year ago to determine if he "lacked candor " when testifying before Congress.
ABC News reports:
One source told ABC News that Sessions was not aware of the investigation when he decided to fire McCabe last Friday less than 48 hours before McCabe, a former FBI deputy director, was due to retire from government and obtain a full pension, but an attorney representing Sessions declined to confirm that.
Sessions was interviewed by Special Counsel Robert Mueller two months ago about his testimony in which he was asked about his contacts with Russian operatives.
Attorney Chuck Cooper told ABC News, "The Special Counsel's office has informed me that after interviewing the attorney general and conducting additional investigation, the attorney general is not under investigation for false statements or perjury…
MORE
.
—————————————————————————————
.
Ohio Jury Finds Man Guilty Of Trying To Create ISIS-Inspired Terrorist Cell In U.S. – Cleveland Plain Dealer
.

.
An Ohio jury on Tuesday found a former FBI informant guilty of trying to create a terrorist cell in the U.S. to carry out attacks in the name of the Islamic State.
Erick Jamal Hendricks, of Charlotte, North Carolina, faces up to 30 years in federal prison following the jury's decision to convict him on charges of conspiracy and attempting to provide material support and resources to a foreign terrorist organization.
Authorities say Hendricks' mission was to recruit and train ISIS sympathizers to carry out attacks on U.S. soil. He vetted people to see if they were suitable to join his cell and espoused radical views. He instructed others to vet additional possible recruits through social media, authorities say…
MORE
.
—————————————————————————————
.
Former Marine Charged In Shooting, Hit-And-Run Of Controversial Seth Rich Investigator – Daily Caller
A former Marine, who claims to have worked as a special agent with the Department of Energy, has been charged with shooting and running over Republican lobbyist Jack Burkman, who conducted a controversial investigation of former DNC staffer Seth Rich's murder.
Kevin Doherty, 46, was charged Monday with Use of a Firearm in the Commission of a Felony and two counts of Malicious Wounding, according to a press release from the Arlington, Va, Co. police department.
The Washington Post provided more details about the attack, which was the second to befall Burkman over the past several months. An unidentified assailant attacked Burkman with pepper spray at his home in January.
Burkman was shot and run over March 13 at a Rosslyn Marriott hotel's parking garage. Burkman was there to retrieve what he thought were documents from an FBI whistleblower.
Doherty worked for Burkman on the Rich investigation until July 2017…
MORE
.
—————————————————————————————
.
Former Democrat Judge Indicted For Stealing Cash From Nonprofit Meant To Treat Drug Addicts – Washington Free Beacon
.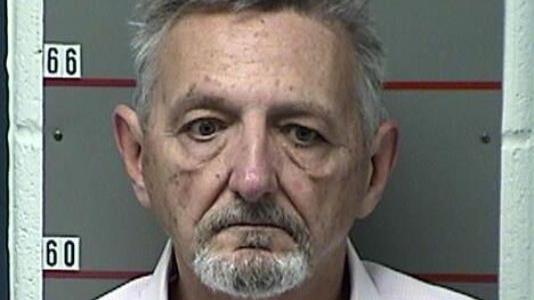 .
A former judge who was arrested and indicted following an FBI investigation last year has been hit with five additional federal indictments for a scheme that allegedly involved stealing cash from a nonprofit that was meant to aid drug addicts, ordering the destruction of documents, and suggesting a witness lie to a grand jury, the Justice Department recently announced.
Casey Moreland, a former Democratic General Sessions judge in Nashville and Davidson County, Tenn., was originally indicted last April, following an FBI investigation that initially stemmed from allegations he used his position to intervene on behalf of two women in court cases in return for sexual favors…
MORE
.
—————————————————————————————
.
Illegal Aliens, Who Dodged California ICE Raid After Treasonous Democrat Mayor's Tip-Off, Re-Arrested For New Crimes – Fox News
Three illegal immigrants, who avoided capture after Oakland Mayor Libby Schaaf blew the whistle on a raid by federal immigration authorities last month, have since been re-arrested for new crimes including robbery and spousal abuse, ICE officials said.
Schaaf tweeted out a warning ahead of the raid in northern California last month, infuriating Immigration and Customs Enforcement officials and the Trump administration.
"How dare you!" Attorney General Jeff Sessions said in California this month, addressing Schaaf. "How dare you needlessly endanger the lives of our law enforcement officers to promote a radical, open borders agenda."
ICE officials eventually caught 232 illegal immigrants, many of them criminals, in the four-day sweep but said that hundreds more escaped because of Schaaf's warning.
But on Tuesday, officials said that at least three of those who were targeted in the raid, but were not apprehended, had since been arrested for additional crimes…
MORE
.
—————————————————————————————
.
House Freedom Caucus To Oppose Paul Ryan's $1.3 Trillion Double-Crossing Omnibus Bill – Gateway Pundit
.

.
Speaker Paul Ryan is set to pass the second largest spending bill in US history next to Barack Obama's trillion dollar failed stimulus. The budget funds all of the Democrat priorities including sanctuary cities and Planned Parenthood.
The bill will also funnel billions of dollars to Obamacare markets. But, Paul Ryan's Omnibus will only provide $641 million for border security and ZERO dollars for the Wall.
On Wednesday the House Freedom Caucus announced they will not support Paul Ryan's atrocious Omnibus bill.
Washington, D.C. – The House Freedom Caucus took an official position today to oppose the Consolidated Appropriations Act of 2018, the omnibus appropriating money for the rest of Fiscal Year 2018…
MORE
.
—————————————————————————————
.
Soyuz Rocket Launches U.S.-Russian Crew To International Space Station – Space
Two NASA astronauts and a cosmonaut are on their way to the International Space Station (ISS).
Americans Drew Feustel and Ricky Arnold and Russian Oleg Artemyev launched aboard a Russian Soyuz spacecraft from Baikonur Cosmodrome in Kazakhstan today (March 21). The craft was carried skyward by a Soyuz rocket, which lifted off at 1:44 p.m. EDT (1744 GMT; 11:44 p.m. local Kazakhstan time).
Feustel, Arnold and Artemyev are scheduled to arrive at the orbiting lab Friday afternoon (March 23).
When they get there, the trio will boost the station's population to its full complement of six crewmembers. At the moment, the ISS is occupied by cosmonaut Anton Shkaplerov, commander of the current Expedition 55; NASA astronaut Scott Tingle; and Norishige Kanai of the Japan Aerospace Exploration Agency.
Feustel, Arnold and Artemyev are all veteran space fliers…
MORE
.
—————————————————————————————
.
Trump Cutting Obama-Era Refugee Admissions 77% – Washington Examiner
.

.
The Trump administration, which has proposed a massive 60 percent reduction in refugee admissions from the Obama-era high of 110,000, is expected to cut that number even deeper. according to preliminary estimates.
Experts evaluating the administration's latest refugee totals now predict a slash of over 77 percent, to 25,000 refugees a year.
"The national quota was lowered drastically by the Trump administration from 2018. His quota is, like, 45,000. Likely by the end of the year the number will be substantially less than even that," according to Don Barnett, a fellow at the Center for Immigration Studies and widely published on refugee resettlement and asylum issues…
MORE
.
—————————————————————————————
.
Fed Raises Interest Rates A Quarter Point, Signals Two More Hikes In 2018 – Reuters
The Federal Reserve raised interest rates on Wednesday and forecast at least two more hikes for 2018, signaling growing confidence that U.S. tax cuts and government spending will boost the economy and inflation and lead to more aggressive future tightening.
In its first policy meeting under new Fed chief Jerome Powell, the U.S. central bank indicated that inflation should finally move higher after years below its 2 percent target and that the economy had recently gained momentum.
The Fed also raised the estimated longer-term "neutral" rate, the level at which monetary policy neither boosts nor slows the economy, a touch, in a sign the current gradual rate hike cycle could go on longer than previously thought.
"The economic outlook has strengthened in recent months," the Fed said in a statement at the end of a two-day meeting in which it lifted its benchmark overnight lending rate by a quarter of a percentage point to a range of 1.50 percent to 1.75 percent…
MORE
.
—————————————————————————————
.
642-Foot Cruise Ship Cut In Half To Accommodate 49-Foot Extension – Daily Mail
.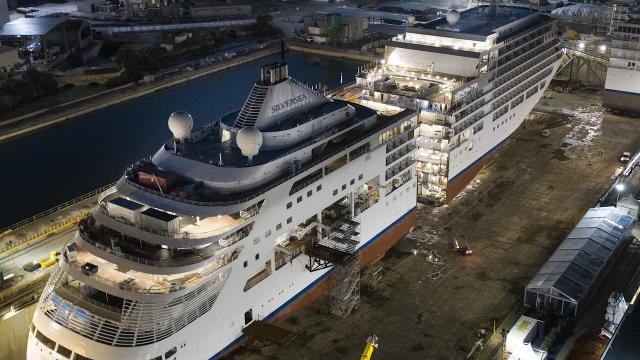 .
Fascinating new pictures have emerged of an enormous cruise ship being cut in half so a 49ft extension can be inserted to increase passenger capacity by 12 per cent.
The Silver Spirit, launched at the end of 2009 by Silversea, was photographed at a dry dock in Palermo, Sicily, with her giant body split in two and her innards exposed.
Engineers are seen working throughout the night to move the cruise liner's new section into place, with 'precision' key to the mind-boggling elongation project.
The Silver Spirit now has a new length of 691 feet thanks to the incredible feat of engineering. The previous passenger capacity was 540 but this will jump to 608.
The extension cost more than $70 million (£50.1 million)…
MORE
.
—————————————————————————————
.
Catholic College Won't Defend Student Threatened With Gay Rape For Defending Marriage – LifeSiteNews
Catholic college students are threatening, harassing, and targeting a Resident Advisor (RA), including with a cartoon depicting him being anally raped, for posting a bulletin board affirming Catholic teaching on marriage.
"I couldn't even go brush my teeth for several nights without facing a mob in my hallway," the RA, Michael Smalanskas, told LifeSiteNews.
Providence College, where this is taking place, is run by the Dominican order's Province of St. Joseph – well-known in most places for its orthodoxy.
However, in response to repeated vandalism of the bulletin board and other student employees threateningly congregating outside the Catholic RA's door – requiring campus security to move Smalanskas to a safe, undisclosed location – the college's president, a Dominican priest, said "it belongs to a Catholic college to consider the views of those who disagree with the Church's teaching."…
MORE
.
—————————————————————————————
.
Mark Zuckerberg Loses $9 Billion In 48 Hours – Yahoo News
.

.
Mark Zuckerberg's wealth status has changed – he's lost more than $9 billion in stock wealth over the past 48 hours.
Zuckerberg, who owns about 400 million shares of Facebook , has seen his wealth drop to around $66 billion from $75 billion since the stock closed on Friday, according to the Bloomberg Billionaire's Index and Forbes. This weekend, he was the fourth richest man in the world. Now, he will be sixth or seventh.
Of course, losing $9 billion here and there are the least of Zuckerberg's worries, with Facebook under attack for the improper sharing of member data. But the loss shows just how costly the scandal has become for Facebook and its founder…