.
Still More Bad News (For Democrats) About The GOP Tax Cuts – Investor's Business Daily
.

.
A new survey shows that not only are most people – including minorities and women – seeing extra money in their paychecks thanks to the GOP tax cuts, but Trump is benefitting as well. What will Nancy "Crumbs" Pelosi have to say about that?
The survey, conducted by LendEDU, found that among those who have seen an increase in take-home pay, the average is $130.76 a month – or nearly $1,600 for the year.
That might look like crumbs to multi-millionaire liberals like Pelosi, but it's real money to middle class families. In fact, the survey found that 55% feel more confident about their financial situation as a result of the tax cuts. And fully 70% say they are either very or somewhat happy about the tax reforms that Republicans passed…
MORE
.
—————————————————————————————
.
Your Computer Is Racist – Daniel Greenfield
Americans often wonder why Congress isn't doing anything. They're sadly mistaken. Their elected representatives are doing things all the time. Like fighting computer racism.
Artificial intelligences, like Hal 9000 from 2001, Skynet from Terminator and Alexa from your living room, are coming. And your elected representatives are determined to see to it that like the living citizens of this nation, its artificial intelligences will be thoroughly screened for any traces of bigotry.
The bill in question is the FUTURE of Artificial Intelligence Act. You can tell it's futuristic because FUTURE is in all caps like the acronym of some futuristic space police force. Instead of space cops though, the FUTURE Act sets up "the Federal Advisory Committee on the Development and Implementation of Artificial Intelligence." Establishing useless advisory committees is what Congress does best.
The bill, which has 8 co-sponsors (6 of them Democrats), seeks to promote, among other things, "the unbiased development and application of artificial intelligence."…
MORE
.
—————————————————————————————
.
NRA, GOP Senators Push Back On Trump's Gun Proposals – Axios
.

.
The NRA and members of the GOP pushed back on President Trump's comments during a bipartisan meeting at the White House on Wednesday.
During the meeting, Trump encouraged several things that the NRA wouldn't agree with, including taking guns away from owners without due process. He also told lawmakers: "I'm a fan of the NRA, there's no bigger fan… but that doesn't mean we have to agree on everything."
The NRA said the meeting was "great TV" but "bad policy," per The Hill:
"While today's meeting made for great TV, the gun control proposals discussed would make for bad policy… Instead of punishing law-abiding gun owners for the acts of a deranged lunatic our leaders should pass meaningful reforms that would actually prevent future tragedies."…
MORE
.
—————————————————————————————
.
Putin Unveils 'Invincible' Nuclear Weapons – BBC
Russia has developed a new array of nuclear weapons that are invincible, according to President Vladimir Putin. Mr Putin made the claims as he laid out his key policies for a fourth presidential term, ahead of an election he is expected to win in 17 days' time.
The weapons he boasted of included a cruise missile that he said could "reach anywhere in the world". He said of the West: "They need to take account of a new reality and understand… [this]… is not a bluff."
Giving his annual state of the nation speech, Mr Putin used video presentations to showcase the development of two new nuclear delivery systems that he said could evade detection.
One included a "low-flying, difficult-to-spot cruise missile… with a practically unlimited range and an unpredictable flight path, which can bypass lines of interception and is invincible in the face of all existing and future systems of both missile defence and air defence"…
MORE
.
—————————————————————————————
.
Chicago ID For Illegal Aliens Can Be Used For Voter Registration – WorldNetDaily
.

.
Chicago's new CityKey ID card, designed to provide legal identification to illegal aliens, the homeless and those recently released from prison will qualify as a legal form of ID for the Illinois Board of Elections to accept, said a spokesman for the agency.
But don't worry about illegal aliens voting, he assured.
State Board of Elections spokesman Matt Dietrich told Illinois News Network the 109 local election authorities in the state have final word on which documents to accept when someone registers to vote, but as far as his agency is concerned Chicago's CityKey will be acceptable.
The local authorities are "the ones who actually handle the registration, the checking of IDs and keeping the documentation…
MORE
.
—————————————————————————————
.
Leftist-Controlled California Has Worst 'Quality Of Life' In U.S. – Fox News
Awards season is in full swing in California, and the Golden State just took home a booby prize of its own. California ranks dead last among U.S. states in quality of life, according to a study by U.S. News, ranking behind New Jersey (49th) and Indiana (48th).
The ignominious honor reflects California's low marks in the sub-categories of environmental quality and social engagement. The latter category measures voting participation and community bonds.
Californians scored poorly in part because they're simply insufferable, U.S. News suggested.
"In addition to a healthy environment, a person's quality of life is largely a result of their interactions with those around them," the magazine wrote in a blurb accompanying the results.
One way to measure quality life is whether residents can even afford to have a roof over their heads, and by that standard, California is failing…
MORE
.
—————————————————————————————
.
Bernie Sanders Fined For Illegally Coordinating With Australian Labor Party – Daily Caller
.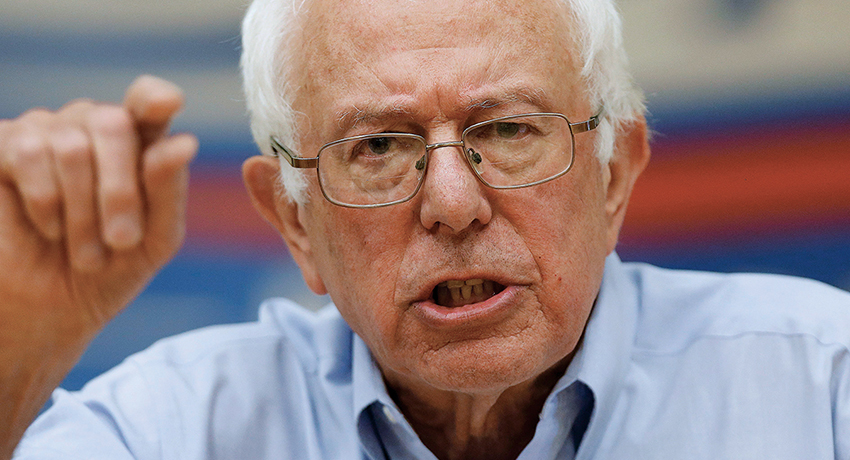 .
The Federal Election Commission (FEC) fined Bernie Sanders' presidential campaign $14,500 for accepting illegal in-kind foreign contributions from the Australian Labor Party (ALP) during the 2016 elections.
The ruling stems from a February 2016, conservative activist group Project Veritas video showing Australian nationals working for the Sanders campaign on the dime of the Australian taxpayer funded ALP.
Republican and former New Hampshire House speaker William O'Brien filed a complaint with the FEC shortly after Project Veritas made the footage public, alleging the ALP had made "prohibited foreign contributions" to the Sanders campaign, according to WMUR…
MORE
.
—————————————————————————————
.
Jobless Claims Fall To Lowest Level Since 1969 – Business Insider
Initial jobless claims fell last week to a 48-year low. First-time filings for unemployment benefits totaled 210,000, the lowest level since December 1969, data from the Department of Labor showed on Thursday. It was a decrease of 10,000 from the prior week and below economists' forecast for 225,000 claims, according to Bloomberg.
The weekly-jobless-claims data offers the most real-time look into the labor market, since many people file for unemployment benefits not long after they lose their jobs. The four-week moving average of claims, which irons out some of the week-by-week volatility, fell by 5,000 to 220,500 – also the lowest since 1969.
The data shows that the jobs market remains tight, especially for highly skilled workers. This is the kind of jobs market that's likely to encourage the Federal Reserve to continue raising borrowing costs. It's expected to do so three times this year.
"We've seen continuing strength in the labor market – we've seen some data that in my case will add some confidence to my view that inflation is moving up to target," said Jerome Powell…
MORE
.
—————————————————————————————
.
Lies: YouTube Says They "Accidentally" Deleted Conservative Videos And Took Down Conservative Channels – Gateway Pundit
.

.
More lies from the liberal left. Google says they "accidentally" deleted conservative videos and took down conservative channels. Most of the targeting of conservatives took place after the high school shooting in Florida. Google says this was an accident. The content was all by conservative pundits on conservative channels.
Bloomberg.com reported:
YouTube's new moderators, brought in to spot fake, misleading and extreme videos, stumbled in one of their first major tests, mistakenly removing some clips and channels in the midst of a nationwide debate on gun control.
The Google division said in December it would assign more than 10,000 people to moderate content…
MORE
.
—————————————————————————————
.
After Proposal By Black Racist, South Africa Votes To Confiscate Land From White Farmers – Gateway Pundit
In 2011 South Africa youth leader Julius Malema told his supporters that the white farmer's land must be shared by all black Africans. He was arrested for playing "Kill the Boer (white man)" song at his rallies.
Julius Malema later founded the Economic Freedom Fighters, a South African political party. Malema recently called for new law to confiscate land from white farmers.
NewsAU reported:
SOUTH Africa's parliament has voted in favour of a motion that will begin the process of amending the country's Constitution to allow for the confiscation of white-owned land without compensation.
The motion was brought by Julius Malema, leader of the radical Marxist opposition party the Economic Freedom Fighters, and passed overwhelmingly by 241 votes to 83 against. The only parties who did not support the motion were the Democratic Alliance, Freedom Front Plus, Cope and the African Christian Democratic Party…
MORE
.
—————————————————————————————
.
Court Documents: Parents Tried To Stage 10-Year-Old's Death – Circa
.

.
Accused of physically abusing a young child for months and even trying to stage her death, the parents of a 10-year-old girl are now charged with murder. The horrific details in Stockton Springs are now being revealed in court documents.
Julio and Sharon Carrillo are behind bars at the Waldo County Jail. Court documents allege the couple confessed to killing Sharon's daughter Marissa and then tried to cover it up, after months of horrific abuse.
State police say it was inside a Stockton Springs condo, where 10-year-old Marissa Kennedy underwent months of brutal abuse at the hands of her mother and stepfather, before her murder Sunday…
MORE
.
—————————————————————————————
.
Why Did The FBI Let A Congressional Hacking Suspect Leave The Country? – Daily Caller
In March 2017, FBI agents were tailing House of Representatives IT aides suspected of hacking Congress, and apprehended one at the airport trying to make a hasty exit to Pakistan. She refused to speak with them, and a search revealed that she was carrying an apparently illegal amount of cash.
The FBI allowed Hina Alvi, wife of Imran Awan, to board the plane anyway – then filed paperwork saying agents believed she had no intention of returning to the U.S.
For nearly a year since, the case has lingered despite the House Office of Inspector General (OIG) determining that the family of Pakistanis made "unauthorized access" to Congress's data shortly before the election.
Following revelations about the FBI's actions in the investigation into former Secretary of State Hillary Clinton's email server and Department of Justice officials' handling of the Trump dossier, attention has turned to the agencies' apparently lax attitude toward the congressional cyber breach case…
MORE
.
—————————————————————————————
.
Heritage Foundation: 64% Of Trump's Agenda Already Done, Faster Than Reagan – Washington Examiner
.

.
With unprecedented speed, the Trump administration has already implemented nearly two-thirds of the 334 agenda items called for by the Heritage Foundation, a pace faster than former President Reagan who embraced the conservative think tank's legendary "Mandate for Leadership" blueprint.
Thomas Binion, director of congressional and executive branch relations at Heritage, said that Trump has implemented 64 percent of the "unique policy recommendations" from the group.
At this stage of his presidency, Reagan had completed 49 percent of the Heritage policy recommendations.
"We're blown away," Binion said in an interview. Trump, he said, "is very active, very conservative, and very effective."…
MORE
.
—————————————————————————————
.
Obama Regime Official Who Helped Anti-Trump Dossier Author Was Executive At Lobbying Firm For Russians Who Bought Uranium One – Breitbart
Jonathan M. Winer, the Obama State Department official who acknowledged regularly interfacing with the author of the controversial, largely discredited 35-page anti-Trump dossier, served as senior vice president of a firm that did lobbying work for Tenex, the U.S. subsidiary of Rosatom, the Russian state corporation headquartered in Moscow.
In 2010, Rosatom infamously purchased a controlling stake in Uranium One, the Canadian uranium mining company with operations in the U.S. The purchase was approved by the Obama administration in a decision that is currently being probed by the House Permanent Select Committee on Intelligence.
In a statement to Breitbart News, APCO Worldwide, where Winer served as senior vice president from 2008 to 2013, denied that the firm's work for Rosatom's subsidiary Tenex was related to the purchase of Uranium One or to the acquisition of uranium in general. Instead, APCO said its work for Tenex, which took place in 2010 and 2011, focused on sales of fuel to the U.S. energy market…
MORE
.
—————————————————————————————
.
Democrat Delegate Apologizes For Mocking Socialist Comrade With Hammer And Sickle – WTVR
.

.
A fellow delegate mocked Delegate Lee J. Carter (D-Prince William County) with the image of a hammer and sickle held up behind his head as Carter spoke against SB 883 in finance committee Monday, expressing a preference that economic development be built from the ground up instead of offering companies tax breaks at the expense of poor people in certain Virginia localities.
Voters easily put Carter, a Democratic Socialist, into office in District 50. Like Senator Bernie Sanders, Carter ran as a Democrat but is a self-described socialist, in a district where Hillary Clinton easily beat President Donald Trump in 2016.
SB 883 establishes an income tax modification for companies that, from 2018 through 2028, meet certain investment criteria in certain localities…
MORE
.
—————————————————————————————
.
'No More Violence' School Walkout Ends With Arrests After Students Attack Police, Smash Car Windows – American Mirror
Students in Stockton, California walked out of class Friday as part of an anti-gun protest, only to undermine their own message with vandalism and violence against armed police who corralled them back to class.
Students from multiple Stockton schools ditched class en masse a little after 10:30 a.m. to chant anti-gun slogans and wave signs demanding an education in a place where they "feel safe," Fox 40 reports.
"We're calling out the president to make changes, now or never," Anna Hernandez, an Edison High School Student, told the news site. "Things are going to get worse. So we need to do this now, or we don't know what could happen."
"No more guns," the students chanted, "no more violence."
A short time later – violence.
"Not everything ran smoothly. At Edison, someone tried to jump the locked fence…
MORE
.
—————————————————————————————
.
Trump Saves Taxpayers $1.4 Billion With New Air Force One Deal – Fox News
.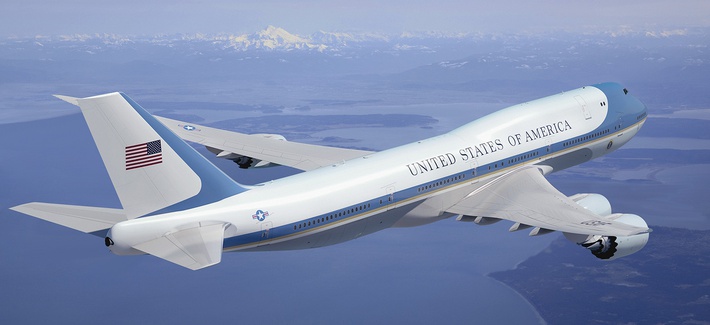 .
President Trump has struck an "informal" deal with Boeing for new Air Force One planes, according to the White House – resulting from negotiations that started before he took office.
"President Trump has reached an informal deal with Boeing on a fixed price contract for the new Air Force One Program. Thanks to the president's negotiations, the contract will save the taxpayers more than $1.4 billion," Deputy Press Secretary Hogan Gidley said Tuesday.
The deal is worth $3.9 billion. Officials say it represents $1.4 billion in savings from estimates of over $5 billion for two airplanes and related costs. A Boeing official said the agreement covers two aircraft, "including things unique to Air Force One such as a communications suite, internal and external stairs, large galleys and other equipment."…
MORE
.
—————————————————————————————
.
Judge Rejects Lawsuit Challenging Federal Marijuana Ban – Washington Times
A federal judge has dismissed a lawsuit challenging marijuana's status as Schedule 1 controlled substance, leaving cannabis for now in the same category as drugs including heroin and ecstasy.
U.S. District Judge Alvin Hellerstein ruled from Manhattan federal court Monday against plaintiffs including medical marijuana patients who claim the plant's Schedule 1 categorization is unconstitutional, referring their challenge instead to the Department of Justice's Drug Enforcement Administration.
"[P]laintiffs' claim is an administrative one, not one premised on the constitution," the judge wrote, and "is best understood as a collateral attack on the various administrative determinations not to reclassify marijuana into a different drug schedule."
Attorneys for the plaintiffs initiated the lawsuit in July, claiming in a 98-complaint that their clients' constitutional rights are violated by federal laws criminalizing the plant…
MORE
.
—————————————————————————————
.
Police 'Don't Know' Why Rape Is Up 20 Percent In Sadiq Khan's London – Breitbart
.

.
Rapes are soaring in Britain's multicultural capital under Labour Mayor Sadiq Khan – but police claim they have no idea what could be behind the increase.
7,613 rapes were recorded in Sadiq Khan's London in the 12 months to the end of January 2018, compared with 6,392 over the previous year – a rise of almost 20 per cent, the Evening Standard reports.
Some have attempted to attribute the rise to victims being more confident in coming forward, but Khan's Deputy Mayor for Policing and Crime, Sophie Linden, has admitted that the figures could point to a legitimate "increase in actual sexual violence and rape offending"…
MORE
.
—————————————————————————————
.
Florida Governor Launching Investigation Into Broward County Sheriff's Office Over Mishandling Of Parkland Shooting – Daily Caller
Florida Governor Rick Scott has formally tasked the Florida Department of Law Enforcement to launch a probe into the Broward County Sheriff's Office over their mishandling of the Parkland shooting.
"I have asked for FDLE to immediately investigate the law enforcement response and will continue to review this matter as more facts come out. There must be an independent investigation and that is why I asked the FDLE Commissioner to immediately start this process," Scott said in a Sunday night statement.
The governor's announcement came just hours after Florida House Speaker Richard Corcoran sent a letter to his office calling for the "immediate" suspension of Broward County Sheriff Scott Israel.
"I have spoken to Speaker Corcoran about his request and I understand his concerns," Scott added. "I have spoken to the Speaker regularly since the shooting, and like me, he wants the families to have answers and for there to be full accountability…
MORE
.
—————————————————————————————
.
Naked Man On ATV Leads Police On Chase In Missouri – Circa
.

.
Authorities say a naked man has been arrested in Missouri after fleeing on an all-terrain vehicle and driving the wrong way on an interstate. Police say the man is suspected of being under the influence of drugs during the Sunday afternoon chase in northern Kansas City.
The chase began with the man eluding officers in a field. After finding a break in a fence, the man made his way onto Interstate 435, where he occasionally drove into oncoming traffic. He was captured after exiting the interstate.
One witness told KMBC-TV that she thought she was "dreaming" when she saw the spectacle unfold while returning from a basketball tournament with two boys in her car.
Capt. Will Akin of the Clay County Sheriff's Office acknowledged it "might be comical"…