.
George Soros's Son Donated $650K To Democrat Committees And Campaigns Last Year – Washington Free Beacon
.

.
The son of liberal billionaire financier George Soros donated $650,000 to Democratic campaigns and committees last year, according to Federal Election Commission records.
Alexander Soros, Soros's son and managing partner of Soros Brothers Investments, has quietly stepped up as a major liberal donor but has remained relatively obscure due to his father garnering much of the media attention in the family.
Alex's generous contributions spanned across a number of liberal party committees and campaigns, including two donations totaling $203,400 to the Democratic Congressional Campaign Committee's (DCCC) recount and building funds, while providing an additional $33,900 to the committee during the primary period…
MORE
.
—————————————————————————————
.
Minneapolis TV Station's Reporters Puzzled By More Guns, Less Crime In The Gopher State – NewsBusters
On Thursday, Minneapolis station WCCO reported on guns and crime in Minnesota. Anchor Frank Vascarello's introduction: "More people are carrying guns than ever before, but the crime rate remains low." Imagine that.
Reporter Pat Kessler also treated more guns and less crime as paradoxical. Reporting on crime and guns has been infested with the "Fox Butterfield effect." It is named after a New York Times reporter, who in November 2004 was surprised that:
The number of inmates in state and federal prisons rose 2.1 percent last year, even as violent crime and property crime fell.
Later, a puzzled Butterfield referred to "the paradox of a falling crime rate but a rising prison population." Butterfield never considered the idea that fewer bad guys on the streets might lead to less crime.
The Butterfield effect as it applies to guns is the idea journalists are similarly reluctant to accept that armed citizens can better protect themselves and others…
MORE
.
—————————————————————————————
.
Statewide Walkout By Teachers And Public Employees Planned In West Virginia Over Pay Raises And Healthcare Costs – Washington Examiner
.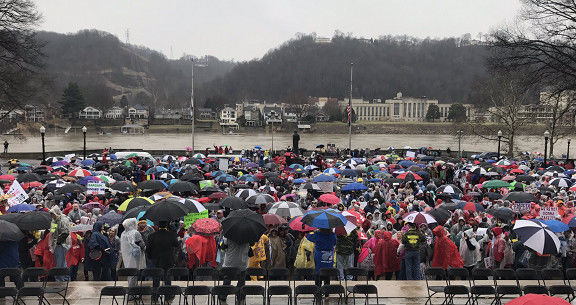 .
Teachers and public employees all throughout West Virginia will stage a walkout Thursday and Friday to protest inaction to solve issues related to pay raises and healthcare costs. Union leaders made the announcement Saturday during a rally at the state Capitol where thousands of people reportedly gathered in the rain.
"The entire state of West Virginia will be shut down," said Dale Lee, president of West Virginia Education Association, according to the Charleston Gazette-Mail. "We are standing united – all 55 [counties]. Will you stand with us?"
The demonstration Saturday was preceded by teachers and service personnel from seven counties participating in a walkout and storming into the West Virginia State Capitol building on Friday…
MORE
.
—————————————————————————————
.
ICE Arrests 212 Illegals, Targets 122 Businesses In LA Sweep – Washington Times
Federal deportation officers staged one of the biggest enforcement actions in years against businesses in Los Angeles this week, arresting 212 people and serving audit notices to 122 businesses who will have to prove they aren't hiring illegal immigrants.
Nearly all of those arrested were convicted criminals, according to U.S. Immigration and Customs Enforcement.
ICE said it targeted Los Angeles because it's a sanctuary city, meaning it refuses to fully cooperate with federal authorities on deportations from within its jails.
That means agents and officers have to go out into the community, said Thomas D. Homan, the agency's deputy director.
"Fewer jail arrests mean more arrests on the street, and that also requires more resources, which is why we are forced to send additional resources to those areas to meet operational needs and officer safety," Mr. Homan said…
MORE
.
—————————————————————————————
.
William Shatner Signs With Country Music Label – Page Six
.

.
Captain Kirk is getting into the country music business. William Shatner signed with Heartland Records Nashville and "is currently working on a very special project that will be released later this year," according to a press release.
Few details are known about the 86-year-old "Star Trek" actor's new venture, but Heartland Records promised more details "will be released soon."
This isn't the first musical project to come from the actor. He has released eight previous albums, most recently 2013's "Ponder the Mystery."
Shatner also has a close relationship with country music star Brad Paisley and has made cameos in several of his music videos, including "Celebrity" and "Online."…
MORE
.
—————————————————————————————
.
Bloody, Drunk And Chronically Naked Man Hits Pregnant Nurse At North Georgia Hospital – WMAZ
Doctors in a north Georgia emergency room were forced to call police after one of their patients became unstable, combative – and naked more than once. According to a report filed by the Ellijay Police Department, officers were called to Piedmont Mountainside Hospital in the late night hours of Feb. 3.
Officers arrived speaking with District Attorney Office Investigator Greg Arp who was working off-duty detail at the hospital. There, they learned the initial details of what would become an odd night in the emergency room.
In room six was Roy Leon Davenport, an extremely intoxicated man who had been brought to them by ambulance. Officers walked in and found Davenport naked, bloody and cursing loudly at the off-duty investigator.
Apparently, some of that blood was from when he hit himself in the head with a beer bottle. What blood wasn't running down his face was apparently in his mouth…
MORE
.
—————————————————————————————
.
Dow Posts Best Weekly Gain Since 2016 Election, Erases Half Of Correction Losses – USA Today
.

.
The Dow posted its best weekly gain since the 2016 presidential election, a rebound that follows its biggest downturn in two years and signals that recent investor jitters over inflation have eased.
This past week's gain of 4.3% for the Dow Jones industrial average comes after a volatile period during which the popular stock gauge suffered its first correction, or 10% drop, since February 2016. The Dow has now recouped about half of its losses suffered in the recent sell-off.
After weeks of worry on Wall Street that signs of rising inflation and a move higher in borrowing costs could impede the stock market's rise, investment pros now believe a gradual rise in consumer prices and worker wages are not enough to offset the benefits of robust economic growth and improving corporate earnings…
MORE
.
—————————————————————————————
.
Italians Aghast As Immigrants Barbecue Dog At Welcome Center – Breitbart
Animal rights activists are up in arms over attempts to barbecue a dog at an immigrant welcome center in southern Italy, with migrants insisting the practice is normal where they come from.
Members of the Carabinieri, an Italian military police force, intervened immediately after receiving a call from an employee of the center who had witnessed the scene of a 29-year-old Nigerian man intent on roasting a dog at the center in Vibo Valentia, in the Italian region of Calabria.
The man had succeeded in skinning and chopping up the canine and was in the process of grilling it for himself and some friends when he was stopped by law enforcement officers. The young woman who called the police also volunteers at a pro-animal organization in the area.
Explaining to police that such a practice is "normal where we come from," the migrant insisted that he didn't kill the dog but had found it dead by the side of the road and had decided to grill it. He also pleaded ignorance of Italian laws forbidding eating cats and dogs…
MORE
.
—————————————————————————————
.
9-Year-Old Girl Found Dead After Muslim Father Beat Her For Incorrectly Reciting Quran – Conservative Tribune
.

.
The left is a broken record when it comes to Islam. No matter how violent the action that is done in its name or by its people, the response is always the same: Islam is a peaceful religion. A report out Malaysia is just one more example that goes against this narrative.
Port Dickson army sergeant Mohammad Abdullah Mohamed was charged for culpable homicide in the death of his daughter Nur Aina Nabihah Mohammad Abdullah, at their residence on Jan. 31, the Malaysia Gazette reported.
Mohamed was said to have nodded in court when he heard the charges against him. The Gazette reported that no plea had been recorded.
Mohamed reportedly found Nur Aina, 9, unconscious before trying to resuscitate her…
MORE
.
—————————————————————————————
.
Terrorist Plot Involving Bomb Making Teacher Foiled In New York City – Daily Wire
Twin brothers in New York City were charged on Thursday after law enforcement officials executed a search warrant at their apartment and found dozens of pounds of bomb-making materials and disturbing notes.
Christian Toro, who was a teacher up until December, and his brother, Tyler Toro, both face federal bomb-making counts; Christian Toro also faces a charge of distributing explosive materials to a minor, NBC New York reported.
Christian Toro was arrested in January on rape charges stemming from an alleged inappropriate relationship he was having with a female student where he taught in Manhattan's Harlem neighborhood.
Christian Toro resigned his job from the school in December after the student called in a threat. NBC New York notes: After he (Christian Toro) resigned, Tyler Toro returned Christian Toro's school-issued laptop to the school…
MORE
.
—————————————————————————————
.
Deputies Called To Nikolas Cruz's Home 39 Times Over 7 Years – New York Post
.

.
Before Nikolas Cruz carried out his mass killing at a Florida high school this week, police responded to his home 39 times over a seven-year period, according to disturbing new documents.
Details about the calls to the Broward County Sheriff's Office – obtained from police records by CNN – were not immediately available and it was impossible to determine if all involved Cruz.
But the nature of the emergencies at his Parkland home included "mentally ill person," "child/elderly abuse," "domestic disturbance" and "missing person," KTLA reported. And a schoolmate, Brody Speno, told the network that cops were called to Cruz's home "almost every other week."…
MORE
.
—————————————————————————————
.
CNN's Primetime Ratings Drop 30 Percent From Same Time Last Year – Daily Caller
The ratings are in for CNN, and they don't look great.
According to AdWeek, CNN "was – 30 percent in total prime time viewers, and – 23 percent in total day viewers from last year" for the week of February 5-11.
CNN did not even crack the top 10 for primetime viewers on cable, while its competitors', MSNBC and Fox News, were number two and number one, respectively.
The network's commentators and guests have often been critical of President Trump. On air, he has been compared to a communist or fascist dictator and someone with Alzheimer's.
Recently, a CNN reporter went to Iowa to talk to Trump voters, many of whom dismantled the network's Russia coverage, calling the Russia investigation a "political witch hunt from the get-go" and a "disgrace."
MORE
.
—————————————————————————————
.
Flu Shot 36 Percent Effective In Adults This Year – Washington Examiner
.

.
The flu shot is 36 percent effective in adults this winter, while getting young children vaccinated for the flu can make them 59 percent less likely to become infected and have to go to the doctor, federal health officials said Thursday.
The number of children who died from the flu climbed to 63 this past week, and additional deaths are expected to be announced soon. Three out of four children who died had not been vaccinated.
"We continue to recommend parents get their children vaccinated even though it's fairly late in the season," said Anne Schuchat, acting director at the Centers for Disease Control and Prevention. The latest estimates come as officials say that this flu season has hosted certain virus strains that tend to cause more illness than others.
MORE
.
—————————————————————————————
.
No, There Have Not Been 18 School Shootings So Far In 2018 – Siraj Hashmi
What we saw at Marjory Stoneman Douglas High School in Parkland, Fla., is no less shocking and horrific than every school shooting we've seen since Columbine in 1999. Seventeen people were killed at the hands of 19-year-old shooting suspect Nikolas Cruz, who was expelled from the school and banned from returning to campus.
It's the type of shooting that makes you sick to your stomach.
You want to get all the facts and gather all the information that you can to ensure that a tragedy such as this never happens again. However, the media has been trying to convince you that these types of shootings where there are mass casualties are happening every day.
It all began on Wednesday when reporting on the developments at Marjory Stoneman Douglas High School, MSNBC host Brian Williams said that this was the 12th school shooting of 2018. Ever since then, the talking point was corrected in that there were actually 18 school shootings in 45 days…
MORE
.
—————————————————————————————
.
Leftist Referendum May Give More Than 10,000 California Sex Offenders Early Parole – Conservative Daily Post
.

.
A left-wing referendum from Gov. Jerry Brown may result in California prisons allowing more than 10,000 sex offenders to get back onto the streets.
Sacramento County Superior Court Judge Allen Sumner is being forced to adhere to Proposition 57, an arbitrary measure from Brown that orders all California prisons to consider early parole for non-violent offenders.
Brown's measure also allows for those convicted of incest, child pornography, of using minors in sex practices will be eligible for early release. Brown initially promised voters he would not allow non-violent sex offenders to get early parole, but his measure could result in tens of thousands of sex offenders getting out of jail early across the entire state…
MORE
.
—————————————————————————————
.
DOJ Official Bruce Ohr Hid Wife's Fusion GPS Payments From Ethics Officials – Daily Caller
Bruce Ohr, the Department of Justice official who brought opposition research on President Donald Trump to the FBI, did not disclose that Fusion GPS, which performed that research at the Democratic National Committee's behest, was paying his wife, and did not obtain a conflict of interest waiver from his superiors at the Justice Department, documents obtained by The Daily Caller News Foundation show.
The omission may explain why Ohr was demoted from his post as associate deputy attorney general after the relationship between Fusion GPS and his wife emerged and Fusion founder Glenn Simpson acknowledged meeting with Ohr. Willfully falsifying government ethics forms can carry a penalty of jail time, if convicted.
The Democratic National Committee (DNC) hired Fusion GPS to gather and disseminate damning info about Trump, and they in turn paid Nellie Ohr, a former CIA employee with expertise in Russia, for an unknown role related to the "dossier."…
MORE
.
—————————————————————————————
.
Shock, Anger After Florida Teen Charged With 17 Counts Of Murder; FBI Was Warned – Zero Hedge
.

.
Nikolas Cruz, the 19-year-old orphan with a troubled past, a fascination with weapons and resistance groups, and an AR-15 rifle, was charged with 17 counts of premeditated murder Thursday morning after being questioned for hours by state and federal authorities following the deadliest school shooting in the U.S. in five years.
Fourteen wounded survivors were hospitalized as bodies were recovered from inside and around Marjory Stoneman Douglas High School, the AP reports.
Nikolas Cruz, still wearing a hospital gown after being treated for labored breathing, and weighing in at 5-foot-7 and 131 pounds, was ordered held without bond and booked into jail.
Cruz's former classmates thought they were having another drill Wednesday afternoon when a fire alarm sounded…
MORE
.
—————————————————————————————
.
Feds To Repeal 298 Tax Regulations – Washington Free Beacon
The Treasury Department plans to eliminate nearly 300 outdated tax regulations, getting tax rules off the books that in some cases have not applied since the 1940s.
The department announced its proposal to eliminate unnecessary tax regulations this week, in compliance with two executive orders signed by President Donald Trump last year to reduce regulatory burdens and simplify the tax code.
"We continue our work to ensure that our tax regulatory system promotes economic growth," said Secretary Steven Mnuchin. "These 298 regulations serve no useful purpose to taxpayers and we have proposed eliminating them."
"I look forward to continuing to build on our efforts to make the regulatory system more efficient and effective," he said.
Executive Order 13789, signed last April, instructs the Treasury to "bring clarity" to the tax code and identify all tax regulations that "impose an undue financial burden on United States taxpayers,"…
MORE
.
—————————————————————————————
.
Dow Soars Over 250 Points To Post Its Fourth Straight Day Of Gains – The Street
.

.
Stocks ended with sharp gains on Wednesday, Feb. 14, after slumping earlier in the session following a reading on U.S. consumer inflation that came in higher than forecasts. The Dow Jones Industrial Average jumped 253 points, or 1.03%. The S&P 500 rose 1.34% and the Nasdaq was up 1.86% as technology shares outperformed.
The leading gainers on the Dow Wednesday were Nike Inc. (NKE – Get Report), Cisco Systems Inc. (CSCO – Get Report) and JPMorgan Chase & Co. (JPM – Get Report). They rose 3%, 2% and 2.3%, respectively.
The Consumer Price Index for January rose 0.5%, higher than economists' forecasts of a 0.3% gain. The increase in CPI over the last 12 months was 2.1%, unchanged from a year earlier.
Core inflation in January rose 0.3%…
MORE
.
—————————————————————————————
.
Monday's Tax Receipts Would Pay For Entire Border Wall – CNS
The $18.477 billion in tax revenues the federal government collected on Monday, according to the Daily Treasury Statement, is more than enough to cover the $18 billion that President Donald Trump is requesting in his new budget proposal for building a wall along the U.S-Mexico border.
"As the President has said, a nation without borders is not a nation at all," Office of Management and Budget Director Mick Mulvaney said in written testimony presented to the Senate Budget Committee on Tuesday.
"The budget reflects the president's commitment to fully securing the border by providing $18 billion to fund construction of the border wall," Mulvaney's said. "With the Bipartisan Budget Act now the law, the administration is seeking to fully fund the border wall in FY 2018 and FY 2019."
The Daily Treasury Statement, which is published the following afternoon for each day the federal government is open for business, summarizes the receipts and expenditures the government took in and sent out on the day it covers…
MORE
.
—————————————————————————————
.
Fauxcahontas Makes Surprise Appearance At Native American Conference, Plays Victim – Daily Wire
.

.
On Wednesday, Senator Elizabeth Warren (D-MA) sent some presidential smoke signals with a surprise appearance at the National Congress of American Indians. There, she attempted to rebut the accusations that she fabricated Native American heritage for personal gain – she still claims she has Cherokee ancestry, without a shred of evidence to support the contention, and she likely used that fake ancestry to win a post at Harvard Law School.
In the past, she's defended her supposed ancestry by pointing to her "high cheekbones" and her recipe submission in Pow Wow Chow. Yes, really. So, before the NCAI, Warren decided to play victim. As usual.
This time, she suggested that President Trump's playful label, "Pocahontas" – which is actually a botched version of the original joke about Warren, Fauxcahontas – was racism…