.
Alabama Voters Duped Into Handing Crucial Senate Seat To Parasitic Leftist – WorldNetDaily
.

.
The Republican Party lost a critical seat in the U.S. Senate Tuesday as voters in the deeply conservative state of Alabama elected Democrat Doug Jones in an upset race that could jeopardize President Trump's legislative agenda.
With 99 percent reporting, Jones had received 49.7 percent of the vote to Roy Moore's 48.6 percent. Write-in votes accounted for 1.7 percent.
A Democrat hasn't won a major statewide election in Alabama in more than a decade, since 2006, when Jim Folsom Jr. won the lieutenant governorship. And no Democrat in Alabama has won election to the Senate in 25 years.
"I think I have been waiting, and now I just don't know what the hell to say," said a stunned Jones after his victory…
MORE
.
—————————————————————————————
.
12-Year-Old Raped At Gunpoint By Repeat Offender On GPS-Monitoring – Blue Lives Matter
A registered sex offender on GPS monitoring has been accused of raping a 12-year-old girl at gunpoint.
Collins Jacobs, 38, of Milwaukee is facing charges of one count of first degree sexual assault of a child, one count of kidnapping, and one count of child enticement, according to WITI.
Police said that the victim's mother told them that her daughter had ran away from home sometime on Nov. 30, or early on Dec. 1. The mother's sister later told her that the victim had been found outside outside the home of an unknown man.
The victim's aunt was interviewed by police, who told them she was taking her children to school on the morning of Dec. 1 when she saw her niece, who she knew had ran away, in front of the home of an unknown man, later identified as Jacobs.
The aunt said she parked her car, approached her niece, and saw Jacobs "dragging her by the hood of her jacket toward a gas station near 27th and Burleigh." She said she yelled at her niece, who ran up to her and told her she had been raped…
MORE
.
—————————————————————————————
.
Democrats' IT Man Imran Awan Abuses Women – Lloyd Billingsley
.

.
In Congress (Al Franken, John Conyers), entertainment (Harvey Weinstein, Ben Affleck) and the establishment media (Matt Lauer, Charlie Rose), women are stepping up with charges of sexual harassment, and in some cases powerful men are stepping down. As this unfolds, one key abuser has managed to avoid both the outcry and the scrutiny he deserves.
Imran Awan, the IT man employed by Debbie Wasserman Schultz and other prominent Democrats, remains at the center of financial and security scandals. As Luke Rosiak of the Daily Caller reported, "multiple women" in relationships with Imran have "called Virginia law enforcement and alleged being abused by him."
Police found one of the women "bloodied" and another said she felt like a "slave."…
MORE
.
—————————————————————————————
.
ICE Arrests 101 Illegals In New Jersey Operation Targeting Criminal Aliens – ICE
A Mexican national in the country illegally, who has a prior conviction for sexual assault on a minor, is among 101 foreign nationals taken into custody during a five-day operation conducted by U.S. Immigration and Customs Enforcement (ICE) last week in New Jersey, targeting at-large criminal aliens, illegal re-entrants and other immigration violators.
The operation was supported by ICE's Homeland Security Investigations (HSI) and U.S. Customs and Border Protection's (CBP) New Jersey Field Office.
Of those arrested during the operation, which was spearheaded by ICE Enforcement and Removal Operations (ERO), 88 percent were convicted criminals and 80 percent of them had prior felony convictions.
The New Jersey enforcement effort comes days after the agency announced a 40 percent spike in administrative arrests nationwide over last year, 92 percent of which had a criminal conviction or a pending criminal charge, were an ICE fugitive, or were an illegal re-entrant…
MORE
.
—————————————————————————————
.
Trump Calls For End To Immigration Lottery And Chain Migration In Wake Of Subway Bombing – Washington Times
.

.
President Trump said Tuesday the terrorist who detonated a pipe bomb on a New York City subway platform shows the need to crack down on lax immigration programs.
Speaking at the signing of the $700 billion National Defense Authorization Act at the White House, Mr. Trump said the attack on Monday that injured the bombing suspect was the second attack in Manhattan in recent weeks "carried out by foreign nationals here on green cards."
"The first attacker came through the visa lottery and the second through chain migration. We're going to end both of them," the president said. "Congress must get involved immediately, and they are involved immediately. We're going to end them fast."
MORE
.
—————————————————————————————
.
Ohio School Board Says No To "Transgenders" Using Whatever Bathroom They Want – Daily Caller
An Ohio school board voted to reject a policy that would allow transgender students to use whatever bathroom or changing room facility they want rather than the room that agrees with a student's biological sex.
The Lakota Local School Board shot down the proposed policy in a 3-2 vote late Monday night, according to Cincinnati.com.
"It's poorly written policy, and it does not have legal support," Board Member Todd Parnell said. "It's a completely rushed and haphazard process coming up with this thing. We need to rewrite the thing and do it right."
Some parents wanted the policy to pass, Cincinnati.com reported. "This is not going to go away," said Linda Nix, the mother of a transgender student who graduated from the school. "It's only going to compound. This should not be about politics, or about personal or religious beliefs. It's about what is best for our district and for our students."…
MORE
.
—————————————————————————————
.
Massachusetts Democrat Charged With Racketeering, Extortion, Money Laundering And Conspiracy To Defraud The IRS – Daily Caller
.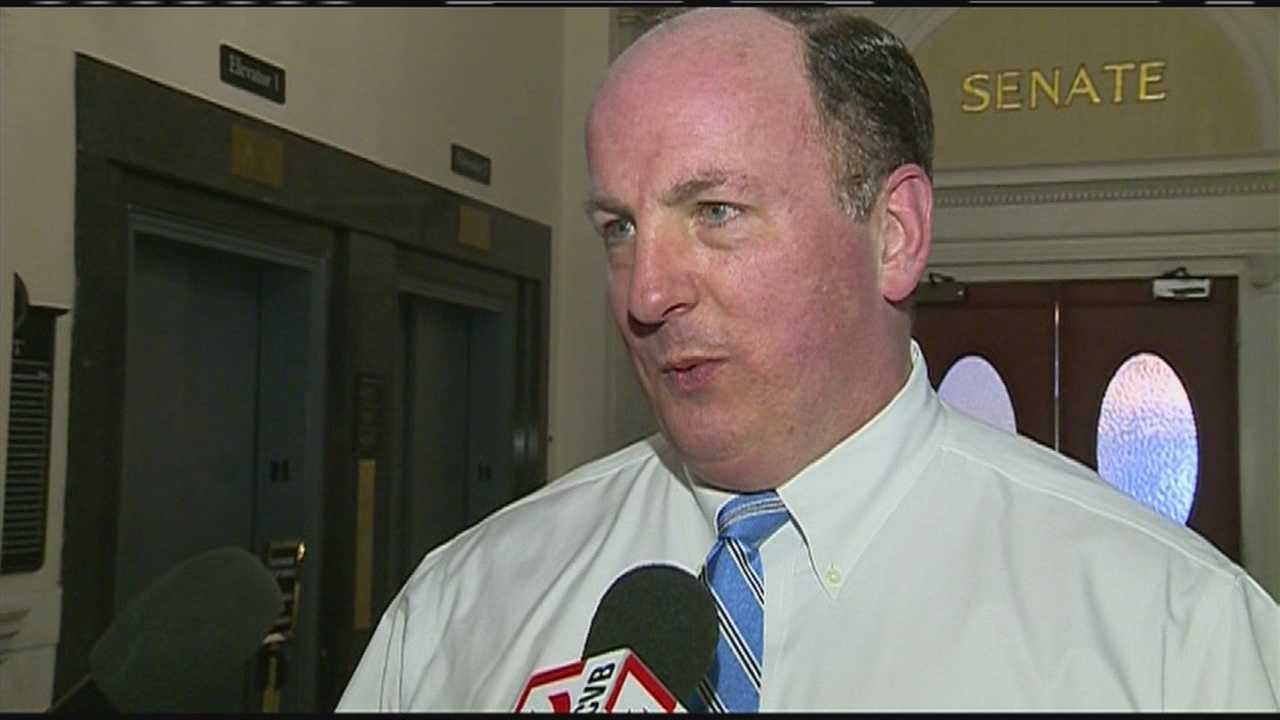 .
Former Massachusetts state Sen. Brian Joyce was arrested and charged with running his office as a "criminal enterprise" Friday, and is now facing a 113 count indictment from the federal government.
Joyce is reported to have gained $1 million through bribes and kickbacks and has also been charged with racketeering, extortion, honest services fraud, money laundering, and conspiracy to defraud the IRS, according to Newsweek.
The 55-year-old Democrat was taken into custody by the FBI after a two-year investigation and was found to have accepted "hundreds of pounds" of Dunkin Doughnuts coffee, after he pulled strings for a local franchise owner, Newsweek reports…
MORE
.
—————————————————————————————
.
Federal Judge Deals Blow To Prosecution In Bundy Standoff Case By Warning Of Mistrial – Washington Times
A Nevada federal judge raised the possibility of a mistrial Monday in the 2014 standoff at the Bundy ranch, citing the failure of prosecutors to provide the defense in a timely fashion with a slew of documents.
U.S. District Judge Gloria Navarro also dismissed the jurors, who had returned Monday to the Las Vegas courthouse for the first time since Nov. 29, and told them to return Dec. 20. She said the government's failure to share documents, information and witness names with defense attorneys in a timely fashion was "sufficient to undermine the confidence in the outcome of the trial," according to the Las Vegas Review-Journal.
Her statements came as an encouraging sign for the four defendants – rancher Cliven Bundy, his sons Ammon and Ryan Bundy, and their colleague Ryan Payne – all of whom are considered key figures in the showdown with the Bureau of Land Management.
"I hope to get the case dismissed before the jurors come back," Bret Whipple, an attorney representing Cliven Bundy, told the Review-Journal…
MORE
.
—————————————————————————————
.
McCabe Cancels Testimony, Something "Far More Sinister" With Fusion GPS – Zero Hedge
.

.
FBI Deputy Director Andrew McCabe abruptly cancelled his closed door testimony in front of the House Intelligence Committee as news emerged that the wife of Senior DOJ official Bruce Ohr worked for Fusion GPS, the opposition research firm which assembled the infamous "Trump dossier." Ohr was demoted last week after allegedly trying to conceal his contacts with Fusion.
Fox News reporter Chad Pergram's sources tell him "McCabe has an Ohr problem," and they believe "FBI DepDir McCabe not coming to Hse Intel Cmte tomorrow because he'd be asked about Bruce Ohr & Ohr's wife Nellie who worked for Fusion GPS," adding "something far more sinister."
Pergram also tweeted "Expect subpoenas to compel McCabe to appear this wk."…
MORE
.
—————————————————————————————
.
Bitcoin Futures Soar 16% Amid Enthusiasm For Virtual Currency – News Max
Bitcoin's debut on a major U.S. exchange is a hit so far, with the price of the first-ever futures contract for the virtual currency rising 16 percent.
The futures contract that expires in January was up $2,440 to $17,900 Monday afternoon on the Chicago Board Options Exchange. Trading began Sunday, and the price rose as high as $18,850, according to data from the CBOE.
The CBOE futures don't involve actual bitcoin. They allow investors to make bets on the future direction of bitcoin.
The first session of futures trading fit right in with the frenzy surrounding bitcoin. Traffic to the CBOE website was so heavy right after the start of trading that the site experienced outages. The exchange also halted trading twice Sunday to stem volatility. The exchange operator has rules in place to stop trading after price swings of 10 percent.
Another large futures exchange, the Chicago Mercantile Exchange, will start trading its own futures on Dec. 18…
MORE
.
—————————————————————————————
.
Make NASA Great Again: Trump's New Space Policy Directive Calls For Human Expansion Across Solar System – NASA
.

.
President Donald Trump is sending astronauts back to the Moon. The president Monday signed at the White House Space Policy Directive 1, a change in national space policy that provides for a U.S.-led, integrated program with private sector partners for a human return to the Moon, followed by missions to Mars and beyond.
The policy calls for the NASA administrator to "lead an innovative and sustainable program of exploration with commercial and international partners to enable human expansion across the solar system and to bring back to Earth new knowledge and opportunities."
The effort will more effectively organize government, private industry, and international efforts toward returning humans on the Moon, and will lay the foundation that will eventually enable human exploration of Mars…
MORE
.
—————————————————————————————
.
Trump Slams 'Dumbest Man On Television' Don Lemon – InfoWars
President Trump on Monday addressed an erroneous report with a Twitter attack on the "Failing" New York Times, as well as CNN host Don Lemon, who he proceeded to call the "dumbest man on television."
"Another false story, this time in the Failing @nytimes, that I watch 4-8 hours of television a day – Wrong! Also, I seldom, if ever, watch CNN or MSNBC, both of which I consider Fake News. I never watch Don Lemon, who I once called the 'dumbest man on television!' Bad Reporting," Trump wrote in an early morning tweet.
Over the weekened, a Times report claimed the president maintains an obsessive hardcore diet of television media, as well as chugs a whole 12-pack of Diet Coke – everyday.
Another claim alleged is that the president "sometimes 'hate-watches' CNN to get worked up, especially Don Lemon," despite consistently labeling the network "fake news," and at one time dubbing it "very fake news."…
MORE
.
—————————————————————————————
.
Ex-Spy Chief Admits Role In 'Deep State' Intelligence War On Trump – Zero Hedge
.

.
An ex-spy chief who spoke out publicly against Trump while inspiring other career intelligence figures to follow suit has admitted his leading role in the intelligence community waging political war against the president, describing his actions as something he didn't "fully think through".
In a surprisingly frank interview, the CIA's Michael Morell – who was longtime Deputy Director and former Acting Director of the nation's most powerful intelligence agency – said that it wasn't a great idea to leak against and bash a new president.
Morell had the dubious distinction of being George W. Bush's personal daily briefer for the agency before and after 9/11, and also served under Obama until his retirement. In the summer of 2016 he took the unusual step of openly endorsing Hillary Clinton in a New York Times op-ed entitled, I Ran the C.I.A…
MORE
.
—————————————————————————————
.
Dem Rep. Bobby Rush Sued For $1 Million To Collect Unpaid Loan For Church He Founded – Washington Free Beacon
Democratic representative Bobby Rush is being sued for $1 million after failing to make payments on a loan he received for a church he founded in his home district in Illinois.
A wellness center linked to the church has also collected more than $2.6 million in taxpayer-funded government grants in 2017 and more than $17 million in grants since 2008, according to records.
Rush founded the Beloved Community Christian Church, a nondenominational Christian church, in Chicago in 2002 with the intent of helping disadvantaged people in his community.
"I founded a church in Englewood, one of Chicago's poorest and most fragile neighborhoods, and named it Beloved Community Christian Church," Rush wrote in a 2011 op-ed. "The church, once the site of a Black Panther breakfast program for children, now stands in tribute to Dr. King's vision of the power of community. A social service center, a health center and an after school robotics program are also part of the church's mission to care for people."
Rush initially paid $800,000 for the site of his church with the help of a $550,000 loan from New City Bank…
MORE
.
—————————————————————————————
.
Wife Of Demoted DOJ Official Worked For Firm Behind Anti-Trump Dossier – Fox News
.

.
A senior Justice Department official demoted last week for concealing his meetings with the men behind the anti-Trump "dossier" had even closer ties to Fusion GPS, the firm responsible for the incendiary document, than have been disclosed, Fox News has confirmed: The official's wife worked for Fusion GPS during the 2016 election.
Contacted by Fox News, investigators for the House Permanent Select Committee on Intelligence (HPSCI) confirmed that Nellie H. Ohr, wife of the demoted official, Bruce G. Ohr, worked for the opposition research firm last year.
The precise nature of Mrs. Ohr's duties – including whether she worked on the dossier – remains unclear but a review of her published works available online reveals Mrs. Ohr has written extensively on Russia-related subjects…
MORE
.
—————————————————————————————
.
Military Wives Furious Over Captain's Proposal To Send Sex Workers To Front Lines For Stress Relief – BizPac Review
Hell hath no fury like… an upset military wife.
Australian Army Capt. Sally Williamson clearly didn't think things through when she recommended that prostitutes be sent to the front line to help troops "relieve stress."
It's also safe to say that Williamson is likely single.
The captain wrote an essay, titled "Sex and War – A Conversation Army Has To Have," suggesting that the army "contract Australian male and female sex workers to service troops in forward operating bases and air bases," The New York Post reported.
Sex work is legal in Australia, though regulated differently throughout the country, according to The Post.
Williamson, who is currently serving in the Middle East, said sex not only could help with "loneliness or prolonged absence from family, friends, partners and spouses," it may also make it easier for soldiers to adapt to a war zone…
MORE
.
—————————————————————————————
.
CIA Veterans: Spooks Know Names Of DNC Leakers – WorldNetDaily
.

.
The Central Intelligence Agency knows the identities of the people who leaked DNC emails to the whistleblower organization WikiLeaks during the heat of the 2016 presidential campaign, a former CIA officer contends.
Fred Rustmann, who served as an operations officer in the CIA's National Clandestine Service for 24 years and was a member of the agency's elite Senior Intelligence Service, said in an interview with WND that WikiLeaks' ongoing release of classified information is "disgusting."
But he said it's likely the CIA knows who the leakers are.
"WikiLeaks says they want to protect their sources – Julian Assange said that he wouldn't reveal his sources, but he would say that it wasn't the Russians," Rustmann said…
MORE
.
—————————————————————————————
.
Fake News Update: CNN Walks Back Jeff Sessions-Russia "Bombshell" – Daily Caller
CNN has quietly walked back more of their "bombshell" reporting on the Trump-Russia collusion narrative, and this time it's a story relating to Attorney General Jeff Sessions' security clearance forms.
In May, CNN reported that Sessions had failed to disclose meetings he had with the Russian ambassador when he was a senator. Justice Department officials told CNN that Sessions had not listed those meetings on a security clearance form, even though the form says to list "any contact" with the "foreign government" or its "representatives" in the past seven years.
CNN framed the non-disclosures as more evidence of collusion between Russia and the Trump team, writing, "He has come under withering criticism from Democrats following revelations that he did not disclose the same contacts with Kislyak during his Senate confirmation hearings earlier this year."
At the time, Sessions said he was told by the FBI not to list meetings "connected with his Senate activities," but CNN's legal expert denied those claims…
MORE
.
—————————————————————————————
.
Terrorist Attack In New York City Leaves 4 Injured, Muslim Man In Custody – Washington Times
.

.
The New York City police took a suspected pipe bomber into custody Monday after an explosion hit midtown Manhattan in what the mayor described as "an attempted terrorist attack."
Initial reports claimed the explosion was a possible pipe bomb that was detonated underneath the Port Authority. The Associated Press reported that a man had the device strapped to his body when he activated it on the subway.
The explosion was reported in the Port Authority Bus Terminal and left four people with non-life-threatening injuries, including the man who detonated the device, according to NBC News. He is in custody.
Police identified the suspect as Akayed Ullah…
MORE
.
—————————————————————————————
.
Self-Propelled Vessel Intercepted Smuggling More Than 3,800 Pounds Of Cocaine Near Texas – Fox News
A U.S. Coast Guard cutter intercepted a self-propelled semi-submersible vessel engaged in smuggling more than 3,800 pounds of cocaine, federal officials said Sunday.
According to the U.S. Customs and Border Protection (CBP), on November 13, CBP and Marine Operations (AMO) arrested the crew during operations in international waters, and all three suspects will face charges in the U.S.
"The drug cartels are relentless and extremely innovative," National Air Security Operations Center – Corpus Christi Director Allen Durham said.
"Interdicting self-propelled semi-submersible vessels requires expertise and the right aircraft. Air and Marine Operations will continue to beat the cartels at their own game to protect our borders."
The multi-day operation from surveillance to interception, according to CBP, involved several interagency partners including the U.S. Coast Guard and the U.S. Navy…
MORE
.
—————————————————————————————
.
Top Dem In Tennessee Senate Race Has Record Of Covering Up Sexual Assault Allegations – Washington Free Beacon
.

.
Tennessee Democrat Phil Bredesen, a top party recruit who announced his Senate campaign on Thursday morning, was criticized for hiding details of sexual assault investigations into his top officials during his tenure as the state's governor.
The campaign announcement by Bredesen, who was Tennessee's governor from 2003 through 2011, came just hours before Sen. Al Franken (D., Minn.) announced he would be resigning due to allegations of sexual misconduct and amid the ongoing examination of the way workplace harassment claims are handled in Congress.
That sort of examination already took place in Tennessee while Bredesen was governor. It found that Bredesen's administration treated harassment allegations differently when they were directed at top political appointees…