.
The Hotel From Leftist Hell – Daniel Greenfield
The world's first leftist anti-Trump hotel is here. You won't be surprised to learn that it's opening in Washington D.C. (with additional locations in Seattle, Hong Kong and San Francisco.)
And you'll be even less surprised to hear that it's a luxury hotel with organic mattresses and crystal healing. Instead of a Bible, there'll be a United Nations pamphlet. The minibar will have an activist toolkit. Staffers will be hired for their commitment to leftist social justice. (That's technically discrimination, but it's not as if leftists live by the laws that they impose on the rest of us.)
The Eaton Workshop is for a "global tribe of innovators, progressive thinkers and creatives", "thought leaders", "provocative minds" and "kindred spirits". There will be "dialogue and debate", but no one to debate with because the hotel is only for leftists "who are thinking outside the box".
But not so far outside the box that they might question leftist dogma or use Airbnb. The People's Republic of Eatonistan will cater to "a diversity of fields and backgrounds as well as gender and ethnicity" as long as they can afford to stay at a luxury hotel…
MORE
.
—————————————————————————————
.
Charles Manson Finally Drops Dead – Variety
.

.
Charles Manson, the notorious leader of the Manson Family cult that murdered actress Sharon Tate and six others in 1969, died Sunday in a Bakersfield, Calif., hospital. He was 83.
The California Department of Corrections released a statement reading, "Inmate Charles Manson, 83, died of natural causes at 8:13 p.m. on Sunday, November 19, 2017, at a Kern County hospital."
Manson returned to the hospital in mid-November after being hospitalized in January. He was transferred out of Corcoran State Prison, where he had been serving nine life sentences. He had been denied parole 12 times.
The shocking murders brought the carefree hippie era of the late 1960s to a dark end, with Manson and his followers becoming infamous cultural figures…
MORE
.
—————————————————————————————
.
Calls Grow For Arrest Of Gloria Allred Over Forged Document – Gateway Pundit
Following The Gateway Pundit's viral story on Judge Roy Moore's alleged signature inside accuser Beverly Young Nelson's yearbook, more evidence suggested it was a forgery. On Monday, CNN published photos of the signature showing two different inks.
The signature says "To a sweeter more beautiful girl I could not say, 'Merry Christmas.' Love, Roy Moore DA, 12-22-77, Olde Hickory House." Strangely, "To a sweeter more beautiful girl I could not say, 'Merry Christmas.' Love, Roy," is written in black ink, while "Moore DA, 12-22-77, Olde Hickory House," is in blue ink.
And then there's this:
Judge Roy Moore was not the DA in 1978. He would not have signed a signature with DA after it. Moore insists this is not his signature. The Moore campaign is demanding Gloria Allred turn over the fraudulent signature in the yearbook for analysis.
Now there are calls for the arrest of far left Attorney Gloria Allred…
MORE
.
—————————————————————————————
.
UCLA Fires Football Coach Jim Mora After Loss To USC – USA Today
.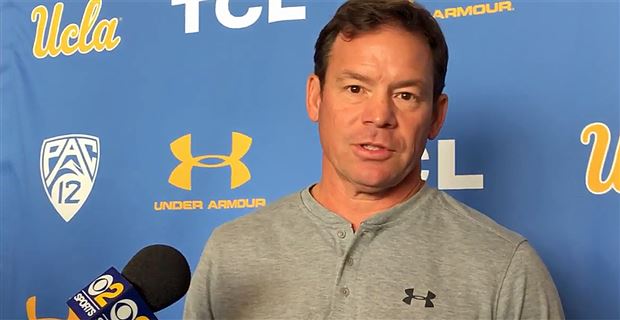 .
UCLA announced Sunday afternoon that it has fired football coach Jim Mora. Mora was one game away from finishing his sixth season with the Bruins, who fell to 5-6 on the season with a 28-23 loss to USC on Saturday.
"Making a coaching change is never easy, but it's an especially difficult decision when you know that a coach has given his all to our University," UCLA athletic director Dan Guerrero said in a statement announcing the move.
"Jim helped reestablish our football program, and was instrumental in so many ways in moving the program forward. While his first four seasons at UCLA were very successful, the past two seasons have not met expectations. We thank Jim and his family for his service to our school and his unquestionable commitment to our student-athletes."…
MORE
.
—————————————————————————————
.
Weinstein Watershed: Here's A List Of The 42 Men Accused Of Sexual Misconduct (So Far) – Zero Hedge
Since The New York Times published allegations of sexual harassment and assault against Hollywood mogul Harvey Weinstein in October, there has been a watershed as multiple men in entertainment, media and politics in the U.S. and beyond face allegations ranging from inappropriate behavior to forced sexual misconduct to rape.
As The Associated press reports, the #MeToo moment is also prompting re-examination of past sexual misconduct claims against powerful men, including Democratic former President Bill Clinton in the 1990s.
He was impeached and then acquitted of perjury and obstruction of lawmakers' investigation into his sexual encounters with a White House intern, and he settled a sexual harassment lawsuit stemming from his time as Arkansas governor.
Entertainment:
* Producer Harvey Weinstein – Accused by dozens of women of sexual harassment or sexual assaults, including rape. Fired by The Weinstein Co. and expelled from various professional guilds…
MORE
.
—————————————————————————————
.
The Argentina Navy Has Lost Contact With A Submarine Carrying 44 Crew Members – Circa
.

.
Argentina's Navy said it has lost contact with a submarine carrying 44 crew members off the country's southern coast and has mounted an extensive search, according to the Associated Press. The Navy said that ships and aircraft were searching near the last known location of the ARA San Juan, a German-built diesel-electric vessel, which had not been heard from since Nov 15.
The Navy said it was scanning all possible radio transmission frequencies for a sign of the San Juan. Navy spokesman Enrique Balbi told The Associated Press that it is possible that the submarine had an electrical issue and said it could not yet be termed lost.
"The last position (registered) was two days ago. Without wanting to be alarmist or overdramatic, the facts are that there no form of communications could be established between the vessel and its command, even with the alternative methods that the submarine has," Balbi said…
MORE
.
—————————————————————————————
.
Almost 300 MS-13 Gang Members Arrested In Nationwide Bust – Washington Free Beacon
Nearly 300 members and associates of the infamous transnational drug gang MS-13 have been arrested in an interdepartmental collaboration called Operation: Raging Bull, leadership of the Immigration and Customs Enforcement (ICE) Agency announced Thursday.
Led by ICE Homeland Security Investigations' (HSI) National Gang Unit, the operation was a multi-phase, multi-month project of numerous federal law enforcement agencies, including ICE, U.S. Customs and Immigration Service, the U.S. Border Patrol, and the Department of Justice. The operation led to a total of 267 arrests of MS-13 members and associates.
In September, ICE announced initial arrests of 53 MS-13 gang members in El Salvador, the product of 18 months of investigation. On Thursday, the results of an additional month of investigation were further revealed.
Over that second phase, between October and November of 2017, 214 members of MS-13 were arrested. 93 of those were arrested on federal or state criminal charges, while the other 121 face immigration violation charges…
MORE
.
—————————————————————————————
.
FBI Informant In Clinton Uranium One Bribery Case Has Video Of Briefcases Full Of Money – Gateway Pundit
.

.
The Jeff Sessions DOJ leaked the name of the FBI informant in the Clinton Uranium One bribery case.
The Sessions DOJ told Reuters the man's name is William D. Campbell and he worked as a lobbyist for a Russian firm. According to reporter John Solomon the informant is a consultant and his evidence will show Russian agents with suitcases of cash to bribe the Clintons for US uranium.
Investigative reporter John Solomon told Sean Hannity on Thursday the consultant has video of briefcases full of money in the bribery of case on Hillary Clinton. Solomon says the Reuters report today downplaying the informant is completely inaccurate.
The informant says he is in fear for his life since he was outed by the Sessions DOJ. Campbell will reportedly testify on Monday…
MORE
.
—————————————————————————————
.
Navy Apologizes After Pilot Uses Plane To Draw A Sky Penis – Daily Caller
The Navy apologized after one of its pilots used his plane to draw the image of a penis in the skies above Washington on Thursday.
Residents of Okanogan County, Wash., noticed the phallic image the artistic pilot emblazoned across the skies with his contrails and complained to local CBS affiliate KREM.
Naval officials admitted that one of its pilots had performed the stunt and promised to hold the air crew accountable.
"The Navy holds its aircrew to the highest standards and we find this absolutely unacceptable, of zero training value and we are holding the crew accountable," the Navy said in a statement to KREM.
The pilot's action did not pose a safety risk, and barring dangerous activity, there is no regulation against salacious sky art, the Federal Aviation Administration told KREM.
Naval Air Station Whidbey Island is located in Puget Sound and supports both fixed and rotary aircraft…
MORE
.
—————————————————————————————
.
Saudi King Salman To Step Down, Hand Over Crown To 32-Year-Old Son – Daily Mail
.

.
The King of Saudi Arabia plans to step down and announce his son as his successor next week, a source close to the country's royal family has exclusively told DailyMail.com.
The move is seen as the final step in 32-year-old Prince Mohammed bin Salman's power grab, which began earlier this month with the arrests of more than 40 princes and government ministers in a corruption probe.
The source said King Salman will continue only as a ceremonial figurehead, handing over official leadership of the country to his son – often referred to as MBS.
'Unless something dramatic happens, King Salman will announce the appointment of MBS as King of Saudi Arabia next week,' said the source…
MORE
.
—————————————————————————————
.
Saudi Arabia Offers Arrested Royals A Deal: Your Freedom For Lots Of Cash – Zero Hedge
Saudi Arabia just introduced a 70% wealth tax. It did so in a most original way.
As we noted shortly after the Crown Prince's purge of potential rivals within Saudi Arabia's sprawling ruling family, while the dozens of arrests were made under the pretext of an "anti-corruption crackdown", Mohammed bin Salman's ulterior motive was something else entirely: Replenishing the Kingdom's depleted foreign reserves, which have been hammered for the past three years by low oil prices, with some estimating that the current purge could potentially bring in up to $800 billion in proceeds.
Furthermore, the geopolitical turmoil unleashed by the unprecedented crackdown helped push oil prices higher, creating an ancillary benefit for both the kingdom's rulers and the upcoming IPO of Aramco.
And, in the latest confirmation that the crackdown was all about cash, the Financial Times reports today that the Saudi government has offered the new occupants of the Riyadh Ritz-Carlton a way out…
MORE
.
—————————————————————————————
.
Judicial Watch Discovers New Classified Clinton Emails Showing More Pay-To-Play – Gateway Pundit
.

.
Conservative watchdog Judicial Watch discovered new classified emails from former Secretary of State Hillary Clinton showing more pay-to-play.
Judicial Watch reports:
On January 6, 2012, Clinton can be seen "expediting" a citizenship request so the requestor can get a government job in policy or law enforcement:
I am told by Citizenship and Immigration (CIS) caseworkers that it may be at least another 8 months before they get to me, making the total time more than a year (they advertise 6 months total turnaround time). Would you consider helping me by reaching out to DHS Secretary Napolitano or CIS Director Alejandro Mayorkas who reports to her on my behalf?…
MORE
.
—————————————————————————————
.
House Passes Sweeping Tax Bill In Huge Victory For GOP – The Hill
The House on Thursday passed legislation to overhaul the tax code, moving Republicans one step closer to achieving the top item on their legislative agenda.
The measure was approved by a vote of 227-205. No Democrats voted for the bill, while 13 Republicans broke ranks to oppose it.
"Passing this bill is the single biggest thing we can do to grow the economy, to restore opportunity and help these middle-income families who are struggling," Speaker Paul Ryan (R-Wis.) said ahead of the vote.
Once the bill reached the magic number for passage, Republicans in the chamber erupted into applause.
Democrats mockingly joined in, with some singing "na na na na, hey hey, goodbye," like they did when the chamber passed an ObamaCare repeal bill earlier this year.
Besides Rep. Walter Jones (R-N.C.), who had concerns about the bill's impact on the debt, all of the GOP no votes came from the states of New York, New Jersey and California…
MORE
.
—————————————————————————————
.
Journalist Leeann Tweeden Accuses Democrat Senator Al Franken Of Fondling, Kissing Her Without Consent – Breitbart
.

.
Leeann Tweeden, a journalist who anchors the morning news at TalkRadio 790 KABC in Los Angeles, California, is accusing Senator Al Franken (D-MN) of fondling her while asleep and shoving his tongue down her throat without her consent.
At the time, December of 2006, Tweeden had a boyfriend (who is now her husband) and was on a two week USO Tour with the then-55-year-old Franken and others. Included in her article is a photograph that clearly shows the Democrat Senator grabbing her breasts while she is asleep.
According to Tweeden, the unwanted kiss occurred during rehearsal for a USO skit. She believes Franken (who was married) intentionally wrote a skit for the two of them so he would have an excuse to kiss her, something she did not want to do….
MORE
.
—————————————————————————————
.
Mistrial Declared In Trial Of Democrat Senator Bob Menendez After Jury Deadlocks – USA Today
U.S. Sen. Bob Menendez's corruption trial ended Thursday with a jury deadlocked on all 18 counts against the New Jersey Democrat and his co-defendant, raising questions about the strength of the government's case but failing to lift the legal cloud that has hung over the senator for more than two years.
U.S. District Court Judge William H. Walls declared a mistrial after jurors were not able to reach a unanimous verdict during more than 15 hours of deliberations. Federal prosecutors have not indicated whether they will retry Menendez and co-defendant Salomon Melgen, both 63, on charges that include bribery, fraud and conspiracy.
The most serious of the charges carries a maximum penalty of 20 years in prison.
A wave of relief swept over one half of the Newark courtroom when the judge's decision became apparent around 1 p.m. Menendez wrapped his two adult children in an emotional embrace while his other supporters and those of Melgen teared up as they exchanged congratulatory hugs…
MORE
.
—————————————————————————————
.
Brussels Youths Take Time Out From Watching Unlawful Filming Of Rap Video To Attack Cops With Rocks And Knives – Straits Times
.

.
Rioters clashed with police in Brussels on Wednesday after a rapper tried to illegally shoot a video, officials said, days after football fans went on the rampage in the Belgian capital. Hundreds of youths damaged a vehicle and shut down a major metro station, while several arrests were made at the incident outside the city's main opera house, police said.
It was the city's second eruption of violence in four days following clashes that injured 22 police officers and destroyed shops and vehicles after the qualification of the Moroccan national football team for the next World Cup.
In the latest incident, several hundred fans of a rapper called Vargasss 92 turned on police when they stopped him trying to film a video, said police spokesman Olivier Slosse…
MORE
.
—————————————————————————————
.
Congress, Trump Administration Push Cutting Off Aid To Palestinians, Iranian-Tied Terrorists – Washington Free Beacon
Congressional leaders advanced several key pieces of legislation on Wednesday that would cut off U.S. taxpayer aid to the Palestinians and crackdown on Iran's financial support for the terror group Hamas, legislative efforts that are being helped along by the Trump administration.
The House Foreign Affairs Committee, in a bipartisan vote, approved three pieces of legislation that will cut off U.S. aid to the Palestinian government and help prevent American businesses from doing business with Hamas and other Iranian-tied terror groups.
One of the bills, the Taylor Force Act, which would slash U.S. aid to the Palestinians until they stop using the money to pay salaries to imprisoned terrorists and their families, received support from the White House, which is said to have played a central role in ensuring the proposed legislation garnered bipartisan support.
The new bills are said to be part of a larger effort by congressional leaders to shutdown longstanding U.S. aid programs that have supported terrorist fighters and organizations across the Middle East…
MORE
.
—————————————————————————————
.
The Big List Of 149 Trump Accomplishments – WorldNetDaily
.

.
With mainstream media and establishment politicians stacked against him from the moment he announced his run for the presidency, Donald J. Trump has been in an ongoing pitched battle to communicate his plans – and his eventual successes – to Americans.
Through public rallies and social media, he has managed to bypass the traditional information gatekeepers and has spoken directly to the people.
Yet, Americans are subjected to a relentless drumbeat from the Democratic Party, amplified by virtually the entire establishment press, that Trump is not only undisciplined, unfit for office and possibly racist, but that embarrassingly little has been accomplished by the Trump administration…
MORE
.
—————————————————————————————
.
Feds Finally Investigating Planned Parenthood For Selling Baby Parts For Profit – Investment Watch
Is Planned Parenthood finally going to be held accountable for their crimes against humanity? Pro-life activists all over the nation are absolutely thrilled by reports about a potential FBI investigation of Planned Parenthood.
For the past several years, undercover video after undercover video has exposed what is going on deep inside Planned Parenthood clinics, but federal law enforcement authorities never took any action.
Of course we probably should not have expected any justice during the Obama years, but many were hoping that things would change under Trump, and that now appears to be happening.
For years, those of us in the pro-life community have been complaining that nobody from Planned Parenthood ever seems to get into trouble for anything even though they are committing some of the most heinous crimes imaginable…
MORE
.
—————————————————————————————
.
Pastor Calls Republicans "Sissies" For Turning On Judge Roy Moore, Says Sexual Allegations May Be "Satanically Motivated" – WALA
.

.
A local pastor who supports Roy Moore is lashing out at the Republican Party tonight. The pastor is upset because some of Moore's fellow Republicans are calling for him to drop out of the Senate race.
Dr. David Gonnella is the pastor of Magnolia Springs Baptist Church in Theodore. He is one of the pastors who supports Moore after the sexual misconduct allegations surfaced. Dr. Gonnella believes Moore is innocent until proven guilty and until he sees evidence, he believes its all a ploy to derail Moore's campaign.
After Kayla Moore released a list of pastors who she says are standing with her husband Roy Moore, even after the accusations, some pastors say they've withdrawn their support since the allegations came to light, but one local pastor says he's proud to be on that list…
MORE
.
—————————————————————————————
.
Violent Psychopath Accused Of Murder Escapes Mental Hospital, Flies To California – USA Today
Police and federal agents scoured Northern California on Wednesday for a "violent psychopath" accused of murder who escaped a Hawaiian psychiatric hospital this week.
Randall Saito, 59, was acquitted of a gruesome 1979 murder by reason of insanity and committed to Hawaii State Hospital. Police said he escaped from the facility Sunday morning, hopped on a charter plane to Maui and then boarded a Hawaii Airlines flight to San Jose, Calif.
Honolulu police said Saito is considered extremely dangerous and should not be approached.
The FBI and U.S. Marshals Service have reviewed security footage from San Jose International Airport in connection with the manhunt, said Jon Vaden, an airport spokesman. He said police have not advised him of any threats at the facility.
Saito was committed to the hospital outside Honolulu in 1981, two years after he was acquitted in the killing of Sandra Yamashiro. Saito randomly chose the victim, shot her in the face and fatally stabbed her, authorities said. Her body was later found in her car at the mall…