.
Ted Cruz: Democrats Filibustered Legislation That Would Have Resulted In Texas Church Shooter Being In Prison – Breitbart
.

.
On Monday's broadcast of the Fox News Channel's "Fox News @ Night," Senator Ted Cruz (R-TX) criticized Democrats for filibustering the Grassley-Cruz legislation in 2013 that "would have resulted in this shooter being in federal prison instead of murdering those innocents in that Texas church."
Cruz said, "[T]his should have been stopped beforehand. Under federal law, it was illegal for this individual to purchase a firearm. He had a conviction for a crime that's punishable by more than a year in prison, and he had a conviction for multiple domestic violence crimes. Both of those, it's already ineligible. But, several things happened: Number one, the air force – the Obama administration didn't report those convictions to the [NICS] database. That's an endemic problem…
MORE
.
—————————————————————————————
.
Breaking: Woman Wins Women's Race – Washington Free Beacon
The front page of the New York Times Monday morning was shocking. A woman won the New York City marathon! Impossible!
The Times special marathon section certainly gave that impression, too.
Google "who won the New York City marathon?" and Shalane Flanagan's name comes up first. And don't get me wrong: Her time of 2 hours 26 minutes 53 seconds was impressive. And she was the first American to win the women's race in 40 years. Not bad.
But a woman did not finish first in the NYC marathon. Flanagan's time was 16 minutes slower than the winner of the New York City marathon men's race, Geoffrey Kipsang Kamworor of Kenya.
Kamworor's win is buried by the Times, relegated to page 3 of the special section. The Times, and the rest of the media, neglects to note that five American men beat their self-declared winner Flanagan.
But never mind, the headlines all tell the same story: A woman won the NYC marathon!…
MORE
.
—————————————————————————————
.
Pennsylvania Man Kills Woman After Failed Marriage Proposal – KYW
.

.
A 34-year-old Berks County man is accused of killing a 19-year-old girl earlier this week after she told him "no" when he asked her to marry him.
Christopher Ryan Tucker, 34, of Albany Township, allegedly confessed to the crime when he was arrested in Illinois Wednesday night.
Authorities say Tucker fled Pennsylvania after committing the murder earlier this week. His car broke down in Illinois and authorities say he then attempted to steal a motorized combine from a farm. The farmer was on the property and called authorities.
After being arrested in Illinois, Tucker was reportedly the one who alerted authorities there had been a heinous crime committed at his home in Albany Township, Pennsylvania…
MORE
.
—————————————————————————————
.
First Comey Memo Concluded Hillary Was "Grossly Negligent," Punishable By Jail – Zero Hedge
According to a new report from The Hill, early drafts of former FBI Director James Comey's statement on Hillary Clinton's email case accused the former Secretary of State of "gross negligence" in her handling of classified information as opposed to the "extremely careless" phrase that made its way into the final statement.
As The Hill further points out, the change in language is significant since federal law states that "gross negligence" in handling the nation's intelligence can be punished criminally with prison time or fines whereas "extreme carelessness" has no such legal definition and/or ramifications.
An early draft of former FBI Director James Comey's statement closing out the Hillary Clinton email case accused the former Secretary of State of having been 'grossly negligent" in handling classified information, new memos to Congress show.
The tough language was changed to the much softer accusation that Clinton had been "extremely careless" in her handling of classified information when Comey announced in July 2016 there would be no charges against her…
MORE
.
—————————————————————————————
.
Leftist Congressman Lieu Walks Out On Moment Of Silence For Texas Massacre Victims – Fox News
.

.
A junior Democratic congressman walked out of a moment of silence Monday night for victims of this weekend's mass shooting at a Texas church.
In a video posted to Facebook Monday evening, California Rep. Ted Lieu said that he would not join his colleagues who were observing the moment of silence in the chambers of the House of Representatives.
"I can't do this again; I've been to too many moments of silences," Lieu said in the video. "In just my short period in Congress, three of the worst mass shootings in us history have occurred. I will not be silent."
"I urge us to pass reasonable gun safety legislation…
MORE
.
—————————————————————————————
.
Black Guy Painted His Own Car With Racist Graffiti At Kansas State University – The Sentinel
A black man painted racist graffiti on his own car parked near Kansas State University, police determined.
Dauntarius Williams, 21, told investigators he painted racial slurs on his own car and reported it to police, but officials will not charge him for filing a false police report. In a press release, Williams said he regrets his actions, calling the graffiti a "Halloween prank that got out of hand."
"I wish I could go back to that night but I can't," the release reads. "I just want to apologize from the bottom of my heart for the pain and news I have brought you all."
Students on campus hosted a meeting to talk about racism on campus after Williams called newspapers saying his car had been painted with racist slurs while parked near campus. K-State officials told media Williams wasn't a student, a response which garnered its own backlash, as some in the K-State community said school officials were blaming the victim.
After the report, the president of the Black Student Union told the Associated Press that minority students generally do not feel safe on campus…
MORE
.
—————————————————————————————
.
ISIS Loses Last Bastion Of Caliphate In Syria – Breitbart
.

.
The end of the so-called Islamic State (ISIS/ISIL) caliphate that once expanded across vast swathes of two countries is within reach now that the jihadists lost the last-remaining city under their control in Syria and its final stronghold in Iraq along the border.
"Frankly the tempo of our operations is going to reduce as Daesh [ISIS] are beaten in Iraq and in Syria," conceded Air Commander Johnny Stringer in charge of Britain's contribution to U.S.-led air coalition against the Islamic State, reports the Telegraph.
ISIS's so-called caliphate had "all but disappeared," declared the commander. However, he indicated that "it was now likely to morph into an insurgent organization."
On Friday, Iraqi military forces, backed by U.S.-led coalition air power and Iran-allied Shiite militias, led the offensive to defeat ISIS in al-Qaim..
MORE
.
—————————————————————————————
.
Four Viral Claims Spread By Journalists On Twitter In The Last Week Alone That Are False – Glenn Greenwald
There is ample talk, particularly of late, about the threats posed by social media to democracy and political discourse. Yet one of the primary ways that democracy is degraded by platforms such as Facebook and Twitter is, for obvious reasons, typically ignored in such discussions: the way they are used by American journalists to endorse factually false claims that quickly spread and become viral, entrenched into narratives, and thus, can never be adequately corrected.
The design of Twitter, where many political journalists spend their time, is in large part responsible for this damage. Its space constraints mean that tweeted headlines or tiny summaries of reporting are often assumed to be true with no critical analysis of their accuracy and are easily spread.
Claims from journalists that people want to believe are shared like wildfire, while less popular subsequent corrections or nuanced debunking are easily ignored. Whatever one's views are on the actual impact of Twitter Russian bots, surely the propensity of journalistic falsehoods to spread far and wide is at least as significant…
MORE
.
—————————————————————————————
.
Trump's Koigate Is Fake News Spun By Shameless White House Press Corps – PJ Media
.

.
One of the contributing factors to Donald Trump's election last year was the widespread perception that the media elites were completely detached from the rest of the country. Many see the media, with its credibility shredded, alternate between reckless mishandling of the truth and pathological lying.
Take, for instance, an entirely manufactured controversy taken from President Trump's current visit to Japan.
An otherwise uneventful photo op with Japanese Prime Minister Shinzo Abe has been falsely spun by the White House press corps as a massive diplomatic blunder.
During the photo op, Trump and Abe were feeding koi in a pond below the balcony with spoons…
MORE
.
—————————————————————————————
.
Legendary Sportscaster Vin Scully Says He'll Never Watch Another NFL Game Over Anthem Protests – Daily Caller
Legendary baseball announcer Vin Scully is boycotting the NFL over national anthem protests.
"I will never watch another NFL game," the former Dodgers announcer told the audience while speaking at an event in Pasadena about Roger Goodell and the NFL, according to TMZ Sports.
This is not surprising at all. Scully is known as one of the most famous announcers sports history, and he's never really held back when it comes to politics. He famously slammed socialism during a live broadcast. I'd be more surprised if he did indeed agree with the national anthem protests.
His comments also represent the way many Americans feel. Lots of people have been turned off to the NFL ever since players kneeling and refusing to stand during the national anthem became a thing in the league.
It's probably not a stretch to say he speaks for lots of people in this country…
MORE
.
—————————————————————————————
.
Texas Church Shooter Who Murdered 27 Innocent People Was Antifa Member Who Vowed To Start Civil War – Your News Wire
.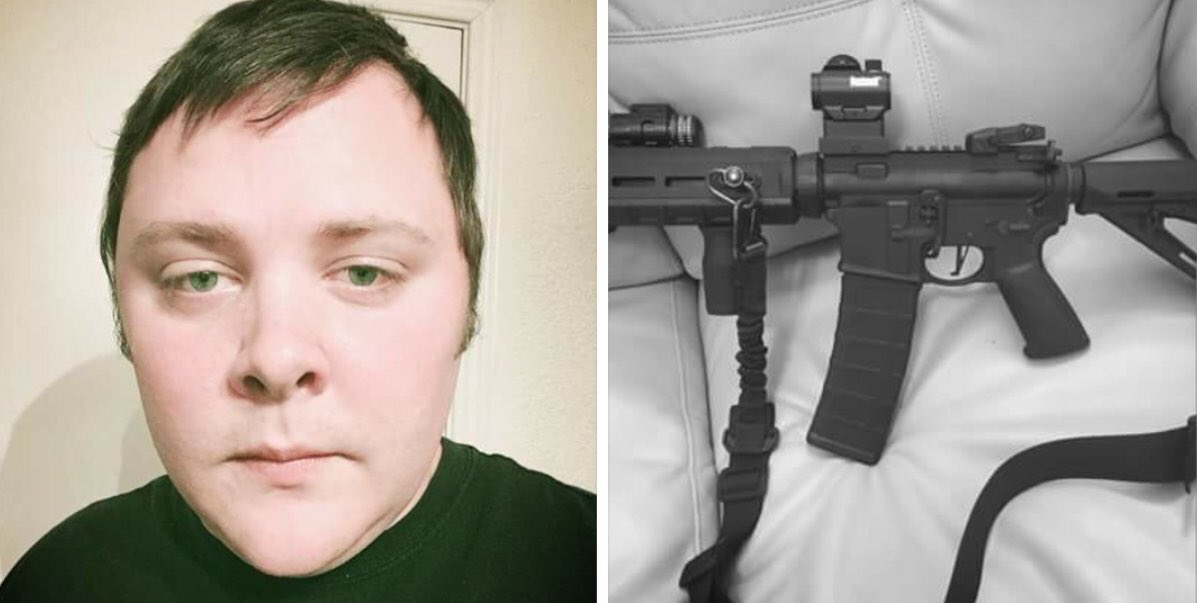 .
The gunman who opened fire inside a church in Sutherland Springs, Texas, has been identified as Devin Kelly, an Antifa member who vowed to start a civil war by "targeting white conservative churches" and causing anarchy in the United States.
Wilson County Commissioner Albert Gamez Jr said that at least 27 people have been killed in the shooting, according to reports by the CNN and the BBC, with the confirmed death toll expected to climb in the coming hours.
Witnesses report they saw Devin Kelly walk into the Baptist Church in the small town 30 miles from San Antonio at 11:30am local time Sunday, according to KSAT-12.
Kelly was one of two shooters in the church, according to eyewitnesses, who also report Kelly carried an Antifa flag and told the churchgoers "this is a communist revolution"…
MORE
.
—————————————————————————————
.
Governor LePage Vetoes Bill To Regulate Marijuana Sales In Maine – Bangor Daily News
Gov. Paul LePage said Friday that he has vetoed a bill to tax and regulate recreational marijuana, which the Legislature sent him Oct. 23 with fragile support.
LD 1650 was written by a special legislative committee. LePage said the bill conflicts with federal law, fails to account adequately for Maine's existing medical marijuana industry and sets "unrealistic timelines."
"There have been serious negative effects of legalization in other states – effects that should not be repeated in Maine," LePage wrote in his veto letter, adding that "we need assurances that a change in policy or administration at the federal level will not nullify" public and private investments in the industry.
He also said the recreational marijuana bill fails to align with existing medical marijuana law, particularly because sales tax on medical pot would be lower.
"The two programs must be considered together," wrote LePage…
MORE
.
—————————————————————————————
.
Saudi King Arrests Billionaire Prince Bin Talal, Dozens Of Others In Cabinet Crackdown – Zero Hedge
.

.
In a shocking development, Saudi press Al Mayadeen reported late on Saturday that prominent billionaire, member of the royal Saudi family, and one of the biggest shareholders of Citi, News Corp. and Twitter – not to mention frequent CNBC guest – Al-Waleed bin Talal, along with ten senior princes, and some 38 ministers, has been arrested for corruption and money laundering charges on orders from the new anti-corruption committee headed by Crown Prince Mohammed bin Salman, while Royal princes' private planes have been grounded.
Among those fired and/or arrested are the head of National Royal Guards, Miteb Bin Abdullah, the Minister of Economy and Planning, Adel Fakeih, and Admiral Abdullah bin Sultan bin Mohammed Al-Sultan, the Commander of the Saudi Naval Forces…
MORE
.
—————————————————————————————
.
Senator Rand Paul Assaulted By Neighbor While Mowing His Lawn – Fox News
An irate neighbor allegedly assaulted U.S. Sen. Rand Paul on Friday as the senator was mowing the lawn outside his Bowling Green, Ky., home, according to neighbors.
Kentucky State Police identified the alleged assailant as Rene Boucher, 59, of Bowling Green, charging him with intentionally assaulting Paul, causing minor injury, local law-enforcement officials told Fox News.
They said Boucher was arrested and charged with one count of fourth degree assault – minor injury. He was taken to the nearby Warren County Detention Center, where he was being held on $5,000 bail.
A second neighbor told local news station WNKY-TV that Paul was mowing his lawn around 3 p.m. when Boucher assaulted him. The neighbor said Paul's and Boucher's homes share a corner adjacent to their homes and they have been embroiled in an ongoing feud.
The assailant could face up to a year behind bars for the Class A misdemeanor…
MORE
.
—————————————————————————————
.
'House Of Cards' Cuts Kevin Spacey Loose, Show Appears To Be In Limbo – Daily Caller
.

.
The popular Netflix show "House of Cards" has completely separated itself from lead actor Kevin Spacey after he was accused of sexual harassment.
Netflix released the following statement on Friday:
Netflix will not be involved with any further production of House of Cards that includes Kevin Spacey. We will continue to work with MRC during this hiatus time to evaluate our path forward as it relates to the show​.
We have also decided we will not be moving forward with the release of the film Gore, which was in post-production, starring and produced by Kevin Spacey.
Media Rights Capital, which serves on production of the show, also released the following statement…
MORE
.
—————————————————————————————
.
Outbreak Of Black Death Plague In Madagascar Is Worst In 50 Years – The Sun
The deadly plague outbreak currently devastating Madagascar is the "worst to strike the country in 50 years", experts have revealed.
The disease has struck the island nation with a vengeance, infecting at least 1,800 people – three times the expected amount – and killing 128 so far in 2017.
And officials are warning that the annual All Saints Day, taking place today could trigger a spike in cases as people gather to honour the dead.
Professor Jimmy Whitworth, an international public health scientist at the London School of Hygiene & Tropical Medicine, says the outbreak could continue to worsen as the disease has exploded in capital Antananarivo and is now spreading to coastal cities.
Speaking with the Mail Online, he said: "Madagascar is the most plague-endemic country in the world and has outbreaks every year at about this time, this outbreak though is the worst for 50 years or more. "…
MORE
.
—————————————————————————————
.
Liz 'Fauxcahontas' Warren: Yes, The Democrat Primary Was Rigged For Hillary – Zero Hedge
.

.
First it was Donna Brazile; now none other than the woman widely expected to be the Democratic presidential candidate in 2020 – Elizabeth Warren – has thrown Hillary Clinton under the bus. During an interview on Thursday afternoon on CNN, Sen. Elizabeth Warren was asked if she believed the Democratic National Committee was rigged to favor the presidential nomination of Hillary Clinton.
"Very quickly senator, do you agree with the notion that it was rigged?" CNN's Jake Tapper asked. "Yes," Warren responded.
Published in Politico Magazine on Thursday, Brazile's explosive excerpt from her upcoming book, "Hacks", revealed the existence of what she described as an "unethical" agreement between Clinton and the DNC…
MORE
.
—————————————————————————————
.
Gothamist, DNAinfo Blogs Abruptly Shut Down After Staff Votes To Unionize – USA Today
Two popular New York City news sites and their satellites in Chicago, San Francisco and elsewhere were shut down a week after their New York staffs voted to unionize.
Joe Ricketts, the billionaire CEO of DNAinfo and founder and former chief executive of what is now TD Ameritrade, said in a post on the site Thursday that the decision was due to business reasons, although he has previously been outspoken against unions.
"Businesses need to be economically successful if they are to endure," he said. "And while we made important progress toward building DNAinfo into a successful business, in the end, that progress hasn't been sufficient to support the tremendous effort and expense needed to produce the type of journalism on which the company was founded."
Late last week, the editorial staffs of the New York outlets voted to unionize with the Writers Guild of America, East, AFL-CIO. The companion staffs in Chicago, Los Angeles, San Francisco and Washington did not, although they all were apparently shut down on Thursday…
MORE
.
—————————————————————————————
.
American Injustice: No Prison Time For Traitor Bowe Bergdahl – Fox News
.

.
More than eight years after Army Sgt. Bowe Bergdahl walked off his base in Afghanistan – and unwittingly into the clutches of the Taliban – Bergdahl walked out of a North Carolina courtroom a free man on Friday.
Bergdahl, who pleaded guilty to endangering his comrades, was fined, reduced in rank to E1 and dishonorably discharged – but he received no prison time. As part of the sentence, Bergdahl will forfeit his pay of $1000 per month for ten months. Bergdahl was shaking and appeared emotional as the verdict was quickly read.
Prosecutors had requested a 14-year prison term following a week of emotional testimony from the survivors who were wounded during missions to find Bergdahl after he left the base in June 2009…
MORE
.
—————————————————————————————
.
Hillary Clinton Given 'Democratic Woman Of The Year Award' On Same Day It's Revealed She Rigged The 2016 Democratic Primaries – PJ Media
Hillary Clinton was awarded "the 2017 Democratic Woman of the Year Award" Thursday, as an explosive tell-all about how she secretly took over the DNC to rig the 2016 primaries rocked the political world. The award was given by the Woman's National Democratic Club in recognition of Clinton's "extraordinary contributions to American politics and international affairs, as well as the inspiration she has provided to women and girls around the world."
"Extraordinary contributions to American politics" – well, that's one way of putting it.
In an excerpt from her new book Hacks: The Inside Story of the Break-ins and Breakdowns that Put Donald Trump in the White House, 2016 interim DNC chair Donna Brazile described what happened after she promised Democrat candidate Bernie Sanders that she would look into allegations of collusion between the DNC and Clinton.
Brazile took over the DNC after Debbie Wasserman Schultz was ousted for rigging the primaries for Hillary. She quickly discovered to her horror that the Democratic Party was broke and $2 million in debt…
MORE
.
—————————————————————————————
.
Eight 'House Of Cards' Employees Accuse Kevin Spacey Of Sexual Harassment, Assault – Breitbart
.

.
Eight people who worked on the set of the Netflix show House of Cards have accused Kevin Spacey of creating a "toxic" work environment by sexually harassing them, according to a report.
The eight people, who remain anonymous for fear of putting their careers in jeopardy, told CNN that Spacey exhibited "predatory" behavior towards young, male production staffers on the show that included vulgar comments and nonconsensual touching.
One former production assistant on the show alleged that Spacey, the Oscar-winning actor who also served as one of the show's executive producers, sexually assaulted him while they traveled to the House of Cards set 30 miles away from Baltimore…