.
GOP Pulls In $75M In Trump's First 6 Months, Double Obama's First 6 Months – Fox News
The Republican National Committee is touting some big fundraising numbers bolstered by President Trump's appeal with his base, including small donors.
The $75 million-plus brought in by the party in the first six months of this year is more than double the amount that Democrats raised during Barack Obama's first six months, ABC reported.
"Our base loves the president," RNC chair Ronna Romney McDaniel said this morning.
McDaniel told Bill Hemmer that Republican voters want Congress to support the president's agenda and voters backed Trump because they believed he would fight for them.
She said Trump's persistence on replacing ObamaCare is an example of Trump showing that he'll fight for those who support him.
"Why should Washington give up on health care relief when Americans are still hurting," she asked.
McDaniel said Trump is fulfilling what he promised on jobs and the economy. But she said Republicans will have a tough time making the case to voters if Congress cannot pass Trump's agenda items…
MORE
.
—————————————————————————————
.
U.S. Senate Confirms Trump Nominee To 11th Circuit Court Of Appeals – Alabama Today
.

.
With the support of both of Alabama's U.S. Senators, the U.S. Senate confirmed Birmingham attorney Kevin Newsom to be a judge on the Atlanta-based U.S. Court of Appeals for the Eleventh Circuit Tuesday afternoon.
By a vote of 66-31 Alabama's former solicitor general, who currently chairs the appellate group at Bradley Arant Boult Cummings in Birmingham, was confirmed. Trump nominated Newsom to the bench in May.
"The people of Alabama made their voices heard overwhelmingly last November in electing President Trump because they know that a new generation of judges stands ready to restore respect for the rule of law," said U.S. Sen. Luther Strange…
MORE
.
—————————————————————————————
.
Former U.N. Ambassador Power Unmasked 'Hundreds' In Final Year Of Obama Regime – Washington Free Beacon
Former United Nations Ambassador Samantha Power is believed to have made "hundreds" of unmasking requests to identify individuals named in classified intelligence community reports related to Trump and his presidential transition team, according to multiple sources who said the behavior is unprecedented for an official in her position.
Power was first identified by the Washington Free Beacon last month as a central figure in a congressional investigation into efforts by senior Obama administration officials to obtain classified intelligence information in what many allege was an effort to undermine President Donald Trump and his incoming national security team.
Power is believed to be the anonymous official responsible for "hundreds of unmasking requests during the final year of the Obama administration," according to current and former U.S. officials who spoke to the Free Beacon about the ongoing investigation.
Efforts by the former Obama administration to obtain the names of Trump allies included in raw intelligence reports have fueled speculation that subsequent leaks to the press were orchestrated by the former administration and its allies in a bid to damage the current White House and smear Trump's most senior confidantes…
MORE
.
—————————————————————————————
.
How Hillary Bullied Tiny Bangladesh To Help Clinton Foundation Donor – Daily Caller
.

.
Former Secretary of State Hillary Clinton attempted to bully tiny Bangladesh to force it to end a corruption investigation of Mohammad Yunus, a long-time Clinton family friend and Clinton Foundation donor, according to documents The Daily Caller News Foundation Investigative Group obtained.
The information comes from two Bangladeshi government documents generated as part of a request from the U.S. Congress. They shed new, disturbing light on Clinton's use of hard-ball tactics against the poorest country in South Asia in order to help her millionaire friend and foundation donor.
The documents show Clinton deployed an array of high-powered Department of State, U.S. Embassy and World Bank officials to rescue Yunus, who faced financial mismanagement charges at a state-owned bank called Grameen Bank…
MORE
.
—————————————————————————————
.
Trump Endorses Senate Bill To Reform Legal Immigration Into Merit-Based Point System – Washington Examiner
President Trump announced Wednesday he will support a revised Senate bill that would implement a merit-based point system for foreigners who apply for legal permanent status, or green cards, through their employer.
"This legislation will not only restore our competitive edge in the 21st century but the bonds of trust between America and its citizens. This legislation demonstrates our compassion for struggling American families who deserve an immigration system that puts their needs first and America first," Trump said during a press conference at the White House Wednesday.
"This competitive application process will favor applicants who can speak English, financially support themselves and their families, and demonstrate skills that will contribute to our economy."
The Washington Examiner first reported Tuesday evening Republican Sens. David Perdue of Georgia and Tom Cotton of Arkansas would meet with Trump on Wednesday to unveil an immigration bill, which was an updated version of the Reforming American Immigration for a Strong Economy Act, or the RAISE Act…
MORE
.
—————————————————————————————
.
Rep. Steve King Lays Out The Case For Full Investigations Into Obama, Clinton, Comey, Lynch, Soros And Other Leftists – Gateway Pundit
.

.
Rep. Steve King (R-IA) addressed Congress last Thursday in support of legislation that requires the Attorney General to turn over documents regarding former FBI Director James Comey's involvement in various controversial cases.
The legislation passed 16-13 with King voting in favor of it. King addressed Congress with an impassioned and detailed inquiry/speech. The partial transcript can be read below.
King opens by addressing Obama's meddling in foreign elections, specifically that of Israeli Prime Minister Netanyahu:
"One of the things I would say to that is that I listen to the gentleman from Tennessee address this subject matter and raise his voice pretty strongly about the allegations of Obama versus Russians, versus Putin, I would make a couple of points on this…
MORE
.
—————————————————————————————
.
U.S. Runs Successful ICBM Test Launch In California – Washington Examiner
The U.S. military successfully test-launched an intercontinental ballistic missile from an Air Force base northwest of Los Angeles early Wednesday.
An unarmed Minuteman III missile was launched from Vandenberg Air Force Base at 2:10 a.m. local time and traveled about 4,200 miles to the Kwajalein Atoll in the Marshall Islands.
"While not a response to recent North Korean actions, the test demonstrates that the United States' nuclear enterprise is safe, secure, effective and ready to be able to deter, detect and defend against attacks on the United States and its allies," said a statement from the U.S. Air Force Global Strike Command.
"These test launches verify the accuracy and reliability of the ICBM weapon system, providing valuable data to ensure a continued safe, secure and effective nuclear deterrent," the Air Force statement said.
The Minuteman III missile test was the second of four pre-scheduled tests in 2017 and was carried out by Air Force Global Strike Command Airmen carried out the test…
MORE
.
—————————————————————————————
.
Dem Rep. Alcee Hastings Has Paid Convicted Money-Launderer $75K For 'Part-time' Work In District Office – Washington Free Beacon
.

.
Democratic Rep. Alcee Hastings (Fla.) has paid a convicted money launderer nearly $75,000 for "part-time" work out of a district office, salary filings show. Dona Nichols-Jones, the wife of Mikel Jones, a former staffer to Hastings who served as his district administrator from 1993 to 2011, is currently listed as an "aide" in his Palm Beach County office.
Dona Nichols-Jones, along with her husband, were convicted in 2011 of money laundering, conspiracy, and fraud after they had used hundreds of thousands of dollars from a business loan for personal use, the FBI announced in November 2011.
The couple's scheme stemmed from a loan that Mikel received to help finance a Philadelphia law firm he owned. Jones secured a multi-million line of credit from Stillwater, a New York-based lender, and agreed to only use the credit for legitimate expenses in relation to his firm's operation…
MORE
.
—————————————————————————————
.
Poll: 20% Of U.S. Muslims Believe Killing Civilians 'Justified' – American Mirror
A new survey is being praised by the left because it shows that a majority of U.S. Muslims oppose violence against civilians.
The truth is the same survey shows that 20% of U.S. Muslims openly admit they believe targeting and killing civilians can sometimes be justified to further a political, social, or religious cause.
The survey, which was released on July 26 by the Pew Research organization, revealed that 5% of U.S. Muslims admit they believe targeting and killing civilians is "often" justified, while 7% said such violence was "sometimes" justified, and 8% said such tactics were "rarely" justified. Keep in mind these are just those that are willing to admit they support violence.
The survey also showed that 30% of U.S. Muslims say they believe those who have been arrested in the U.S. on suspicion of plotting terrorist attacks were "tricked" by law enforcement officers and "did not pose a real threat."…
MORE
.
—————————————————————————————
.
Christopher Wray Confirmed As FBI Director – Fox News
.

.
President Trump is getting a new director of the FBI after the Senate confirmed his choice of Christopher Wray to take over the bureau on Tuesday. The Senate voted 92 to 5 to approve Wray's nomination.
"The good work of the FBI has been overshadowed recently by controversies, but I hope this confirmation turns the page and begins a new, shining chapter for our nation's leading law enforcement agency," Senate Judiciary Committee Chairman Chuck Grassley said after the vote.
Trump announced his selection of Wray to lead the FBI in early July after abruptly firing FBI Director James Comey in May. During his confirmation hearing, Wray testified that he'd conduct his job "without regard to any partisan political influence."…
MORE
.
—————————————————————————————
.
Man Hid Girlfriend In Freezer, Lived With Impostor – Law Newz
A man stored his girlfriend's body in a freezer with the help of another woman, who assumed the dead girlfriend's life by moving into her home, using her credit cards and caring for her dog, authorities said.
The two were arrested and charged with corpse abuse after the girlfriend's body was found last weekend in a home near Youngstown. A judge set a $1 million bond on Monday for Katrina Layton, 34, and Arturo Novoa, 31.
Court records do not list attorneys for them, and there was no telephone listing for Layton or Novoa. Layton has asked for a court-appointed attorney.
Authorities suspect the body found in the freezer is a missing woman named Shannon Graves, who was 28 when she was reported missing. They're awaiting official identification and information on the cause of death…
MORE
.
—————————————————————————————
.
YouTube To Censor Non-Rulebreaking Content, Manipulate Search Results – Breitbart
.

.
Content creators on YouTube who follow all of the site's rules may still face censorship by the platform, under new plans announced by Google.
According to a post on YouTube's official blog, videos will now be subject to the rule of the mob. If enough users flag a video as "hate speech" or "violent extremism," YouTube may impose restrictions on the content even if it breaks none of the platform's rules.
We'll soon be applying tougher treatment to videos that aren't illegal but have been flagged by users as potential violations of our policies on hate speech and violent extremism. If we find that these videos don't violate our policies but contain controversial religious or supremacist content, they will be placed in a limited state…
MORE
.
—————————————————————————————
.
Australia's Bureau Of Meteorology Caught Erasing Record Low Temperatures – Breitbart
Australia's Bureau of Meteorology (BOM) has been caught red handed erasing record-breaking cold temperatures from its data records.
The BOM has now been shamed by media investigations into ordering a review of its procedures. But it has yet to provide an explanation as to why it made these "adjustments" in the first place.
These "adjustments" seem to go only one way. The BOM is perfectly happy to record and announce it whenever Australia's temperatures hit record-breaking highs. But when the temperatures reach new lows it's a different matter altogether.
For some strange reason that the BOM has been unable to explain, when temperatures go below a certain point it either deletes them as if they had never been – or it enters them into its records at higher temperature than the one actually recorded by its thermometers.
The dodgy adjustments were spotted by investigative journalist Jennifer Marohasy…
MORE
.
—————————————————————————————
.
Venezuelan Opposition Leaders Dragged From Their Homes In Early Morning Raids- Daily Telegraph
.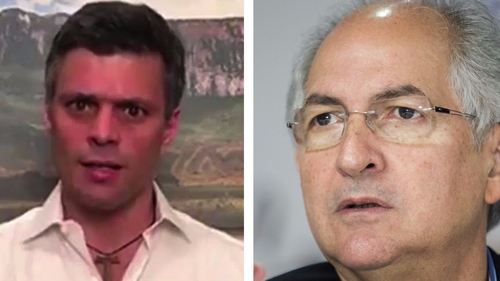 .
Venezuelan opposition leaders Leopoldo Lopez and Antonio Ledezma were taken from their homes by intelligence agents in the early hours of Tuesday morning, in the wake of the controversial assembly vote that Nicolas Maduro said would open "a new phase of combat" in the country's revolution.
Videos distributed by the leaders' families showed them being dragged out of their houses and bundled into cars belonging to the notorious intelligence unit Sebin. The opposition denounced the detentions as "kidnappings", and said the whereabouts of the two men was currently unknown.
"Maduro is responsible if anything happens to him," the wife of Mr Lopez, Lilian Tintori, said, adding that the government would not make her husband "bow down"…
MORE
.
—————————————————————————————
.
Armed Antifa Group Offers Training Manual On Terrorism And Guerrilla Warfare – Daily Caller
An Antifa organization called Redneck Revolt is advocating for "revolution" against the rise of "fascism" in the United States, and the end of capitalism. To facilitate these goals, the group offers a variety of resources, including a training manual for conducting guerrilla warfare with sections for "executions" and "terrorism."
In the wake of the targeted shooting of Republican members of Congress earlier this year, nothing is more concerning than extremist organizations calling for armed revolts against civil society.
Redneck Revolt is one of several organizations to spring up following Trump's victory at the 2016 polls, and is purportedly one of the largest of these Antifa organizations currently operating in the United States with over 30 chapters across 20 states.
It describes itself as a group made up of "working class and poor people" with declarations of taking "meaningful action" against "our common enemy: the rich." It lists "militant resistance" as one of the group's guiding principles…
MORE
.
—————————————————————————————
.
Leftist Insanity Update: NYPD 'Powerless' To Stop Naked Illegal Alien Panhandlers – Breitbart
.

.
Police in New York City expressed frustration about not being able to stop naked panhandlers from harassing the public because most of them are illegal aliens. Their status makes it difficult to enforce tickets because of Mayor de Blasio's sanctuary city policies.
The city established "Designated Activity Zones" (DAZ) in 2016 to provide a place for "costumed characters" a place to work for tips. Some of these panhandlers, called desnudas, are nude women wearing painted on costumes. Law enforcement officers frequently decline to ticket panhandling violations because most of them are illegal aliens, the Daily Mail reported.
A proposal to license desnudas and other street merchants failed because "most of the panhandlers are illegal immigrants and they wouldn't register anyway," a law enforcement source told the New York Post…
MORE
.
—————————————————————————————
.
Taliban Blow Up Dam In Kandahar Province – ABNA
The Taliban terrorists have blown up a water dam in southern Kandahar province of Afghanistan as the group has unleashed an unprecedented violence in key southern provinces during the recent days.
According to the local security officials, the incident took place earlier today in the remote part of Shorabak district.
Provincial police spokesman Zia Durani confirmed that a water dam was detonated by the Taliban terrorists using explosives materials.
Durani further added that the dam was constructed in a remote part of Shorabak district which was playing a key role in irrigating the agricultural lands.
He said thousands of acres of land and gardens were irrigated by the dam and its destruction has sparked panic among the residents who are saying that their land will be harmed if it is not reconstructed immediately…
MORE
.
—————————————————————————————
.
The Root Cause Of The Disasters In The Middle East – David Horowitz
.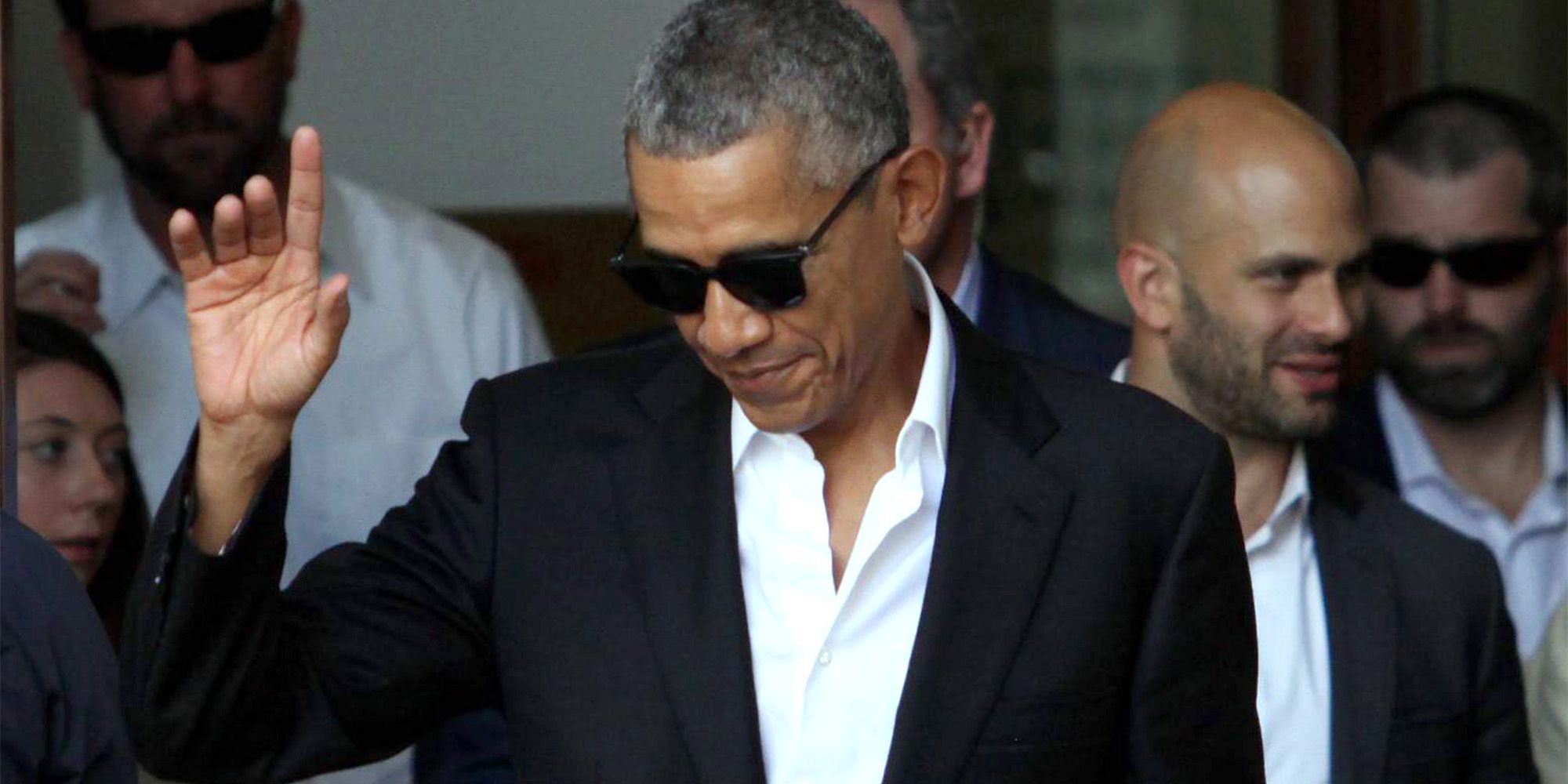 .
During the eight years of the Obama administration, half a million Christians, Yazidis and Muslims were slaughtered in the Middle East by ISIS and other Islamic jihadists, in a genocidal campaign waged in the name of Islam and its God.
Twenty million others were driven into exile by these same jihadist forces. Libya and Yemen became terrorist states. America – once the dominant foreign power and anti-jihadist presence in the region – was replaced by Russia, an ally of the monster regimes in Syria and Iran, and their terrorist proxies.
Under the patronage of the Obama administration, Iran – the largest and most dangerous terrorist state, with the blood of thousands of Americans on its hands – emerged from its isolation as a pariah state to re-enter the community of nations and become the region's dominant power, arming and directing its terrorist proxies in Lebanon, Syria, Gaza and Yemen…
MORE
.
—————————————————————————————
.
Border Wall Construction To Begin In Just A Few Months – Daily Caller
Construction on the first part of President Donald Trump's promised border wall is set to begin in South Texas in a few months.
The Santa Ana National Wildlife Refuge in Texas is expected to be the site of a three mile border wall, managed by U.S. Customs and Border Protection (CBP).
Construction is set to begin in November, however, it was originally to begin in January. As WFAA reports, "construction on the wall was not expected to begin until January because Congress has yet to approve CBP's budget."
"However, CBP recently told a senior Fish and Wildlife Service official in Texas that the agency would shift funds to pay for the new segment out of its current budget," WFAA adds.
Perhaps the government is taking a cue from Donald Trump in building the border wall: "Under Budget, Ahead of Schedule."
This portion of the wall will be built in a wildlife refuge known for its bird watching…
MORE
.
—————————————————————————————
.
Judge Finds Former Sheriff Joe Arpaio Guilty Of Contempt – Reuters
.

.
Former Arizona lawman Joe Arpaio, who gained national prominence for his tough stance against illegal immigration, was found guilty on Monday of criminal contempt for violating the terms of a 2011 court order in a racial profiling case.
Arpaio, 85, who lost his bid for re-election as Maricopa County sheriff last November after 24 years in office, faces a maximum penalty of six months in jail and a fine when he is sentenced on the misdemeanor offense on Oct. 5.
U.S. District Judge Susan Bolton ruled on Monday that Arpaio "willfully violated" the order.
"I am very disappointed with her decision, but the case will be appealed," Arpaio told Reuters. His attorneys said in a written statement the 2011 order was not clear…
MORE
.
—————————————————————————————
.
Rep. Meadows: New Healthcare Bill Is Coming 'That Can Get To 51' – Washington Examiner
Rep. Mark Meadows, a key negotiator in the effort to repeal and replace Obamacare, said a new effort is underway to write a bill that can pass the Senate that would include proposals offered by Sens. Lindsey Graham, Bill Cassidy, Ted Cruz, and Rob Portman.
"We continue to work on two different plans with our Senate colleagues," Meadows, R-N.C., told the Washington Examiner. "We will continue to do that over the next couple of weeks on a plan that can get to 51" votes in the Senate.
Meadows said he has talked to senators, including Graham, in the hours after this morning's failure to pass a "skinny" repeal bill, and the mood is "all hands on deck" to come up with a new deal.
"I believe we deliver, still, on healthcare," Meadows said. To suggest that everything is over is not understanding the dynamics going on right now in the Senate. It's not over."
Amendments sponsored by the four senators have yet to receive an analysis by the Congressional Budget Office…
MORE
.
—————————————————————————————
.
Scaramucci Sleeps With The Fishes – Fox News
.

.
President Trump's headline-grabbing communications director Anthony Scaramucci was shown the door Monday after just 11 days on the job – as retired Gen. John Kelly took command of the White House staff, moving swiftly to impose order on a West Wing gripped for weeks by infighting.
White House Press Secretary Sarah Huckabee Sanders would not confirm reports that Kelly personally requested Scaramucci's removal – but she made clear that the former Homeland Security secretary now has full control of the staff.
"General Kelly has the full authority to operate in the White House, and all staff will report to him," Sanders said, adding there are no other anticipated staff shakeups in the works…
MORE
.
—————————————————————————————
.
Child Sex Doll Imports Expose Previously Unknown Offenders – The Guardian
A surge in the number of seizures of child-like sex dolls by border officers has led investigators to identify dozens of previously unknown suspected paedophiles.
The lifelike silicone dolls, which weigh around 25kg (55lb) and can cost thousands of pounds, are being imported to the UK after being sold by traders on sites including Amazon and eBay, the National Crime Agency (NCA) said.
They are a "relatively new phenomenon" in the UK and should be criminalised, said Hazel Stewart, the operations manager at the NCA's child exploitation and online protection command (Ceop).
Border Force officers have seized 123 such dolls in little more than a year since March 2016; seven people have been charged with importing them, including one man who was jailed last month.
The figures were revealed as a judge at Canterbury crown court dismissed an attempt by a barrister representing an ex-primary school governor, David Turner, to argue that a doll he imported was not obscene…
MORE
.
—————————————————————————————
.
Number Of U.S. Oil And Natural Gas Rigs Has More Than Doubled Since 2016 – Washington Post
.

.
The number of rigs exploring for oil and natural gas in the U.S. increased by eight this week to 958.
A year ago, just 463 rigs were active.
Houston oilfield services company Baker Hughes said Friday that 766 rigs sought oil and 192 explored for natural gas this week.
Among major oil- and gas-producing states, New Mexico gained four rigs, Oklahoma increased by three and Louisiana, Ohio, West Virginia and Wyoming each gained one.
Texas declined by one rig.
Alaska, Arkansas, California, Colorado, North Dakota, Pennsylvania and Utah were all unchanged.
The U.S. rig count peaked at 4,530 in 1981. It bottomed out in May of 2016 at 404…