.
Butler University Course Teaches 'Strategies' For Resisting Trump – Campus Reform
A Butler University course masqueradingas a class on "U.S. Democracy" will actually teach students "strategies for resistance" to the Trump administration.
As initially reported by The Heartland Institute, the "Trumpism and U.S. Democracy" course will be taught by Professor Ann Savage, who was one of three recipients of the school's "distinguished faculty" award in 2016.
Her latest course, billed as a "special topics" class, will discuss how "Donald J. Trump won the U.S. Presidency despite perpetuating sexism, white supremacy, xenophobia, nationalism, nativism, and imperialism."
"This course explores why and how this happened, how Trump's rhetoric is contrary to the foundation of the U.S. democracy, and what his win means for the future," an online description for the course elaborates, noting that students will also have the opportunity to "discuss, and potentially engage in, strategies for resistance."…
MORE
.
—————————————————————————————
.
Sacramento Public Housing Residents Just Got Free Zipcars – Sacramento Bee
.

.
Residents at three public housing areas now have a mini-fleet of free Zipcars to make their way around Sacramento.
On Friday, Sacramento launched a pilot program that put eight shared electric Kia Souls at public housing sites. Up to 300 residents can apply for on-demand access to the vehicles, with no charge for maintenance, insurance or juicing up the battery.
The program is funded through a $1.3 million grant from the California Air Resources Board using cap-and-trade funds that businesses pay to offset their carbon emissions.
Local leaders said it will provide green transportation options to disadvantaged areas where even simple tasks like getting groceries can be a challenge…
MORE
.
—————————————————————————————
.
Florida Man Gets 30 Years In Prison For Running World's Largest Child Porn Website – WISH
A Florida man who federal prosecutors said was the creator and lead administrator of what's thought to be the world's largest child-pornography website has been sentenced to 30 years in prison, the FBI announced Friday.
Steven W. Chase, 58, of Naples, Florida, was sentenced this week in a federal courtroom in North Carolina on multiple child-pornography and child-exploitation charges, the agency said in a news release.
Two codefendants who also were identified as administrators of the website – Michael Fluckiger, 46, of Indiana, and David Browning, 47, of Kentucky, each received 20-year prison terms earlier this year. The FBI did not provide their hometowns.
The agency said Chase created a website called Playpen in August 2014 on Tor, an open network on the internet where users can communicate anonymously through "hidden service" websites…
MORE
.
—————————————————————————————
.
Trump's First Foreign Trip As President: To Saudi Arabia, Israel, And The Vatican – Foreign Policy
.

.
President Donald Trump will make the first foreign trip of his presidency this month, and it's a real doozy. Trump will head to Saudi Arabia, Israel, and then Rome, then attend back-to-back summits for NATO in Brussels and for the G-7 in Sicily.
The trip is meant to show "'America First' is fully compatible with American leadership in the world," a senior administration official told reporters Thursday. The official added the trip demonstrates Trump is "willing to and has embraced his leadership role in multinational forums when they serve the interests of the American people."
In Saudi Arabia, Trump will convene with political and religious leaders from across the Muslim world to sort out how to fight terrorism…
MORE
.
—————————————————————————————
.
Muslim Refugees Outraged After Arizona Finds Simple Way To Get Them Out Of The State – Freedom Daily
Muslim refugees in one particularly savvy state in the nation are fleeing in large numbers to find refuge elsewhere in the U.S. after being sent there in droves from Barack Obama's refugee program. There was nothing this place could do to prevent them from coming but residents found the perfect plan to get them to leave on their own once they got there. Now, these Muslims can't get out of there fast enough after what they found out shortly after arrival.
The flood of migrants that infiltrated the nation in Obama's last days in office, settled in some states more than others where they have become a big burden on residents who didn't want them there to begin with. Arizona saw a massive influx, receiving more than their fair share into the state as part of the former president's plan to resettle 110,000 refugees in America before President Donald Trump took office and dramatically slowed the immigration flow. Before the immigration ban went into effect, Arizona had already absorbed approximately 7,000 unvetted migrants that they didn't know what to do with – until now…
MORE
.
—————————————————————————————
.
FCC To Investigate Stephen Colbert Over Obscene Trump Rant – The Hill
.

.
Late night talk show host Stephen Colbert's controversial joke about President Trump drew the attention of the Federal Communications Commission. The agency received "a number" of complaints about Colbert's commentary earlier in the week, according to the FCC's chief.
FCC Chairman Ajit Pai promised to "take the appropriate action" following a comprehensive investigation of Colbert's remarks.
The FCC's response will depend on whether Colbert's remarks are considered "obscene."
"We are going to take the facts that we find and we are going to apply the law as it's been set out by the Supreme Court and other courts and we'll take the appropriate action," he told Talk Radio 1210 WPHT Thursday…
MORE
.
—————————————————————————————
.
Sebastian Gorka: Reports About Me Leaving The White House 'Very Fake News' – The Hill
President Trump's deputy assistant, Sebastian Gorka, went after "very fake news" on Thursday in pushing back on reports suggesting he will be leaving the White House.
"I will be in the White House as long as the president wants me there, and if he needs me to do something somewhere else, I will do whatever he needs me to do," Gorka said on Fox News Radio's "Kilmeade and Friends."
"But remember that we are now living – I know this now that I'm inside the White House – this isn't just an age of fake news, Brian, we are living in an age of very fake news," Trump's national security aide continued.
"I tell people you know outside of Fox and some other places, almost 80, 90 percent of what you read about what goes on in the White House is absolutely bogus," he said.
"Be very, very weary, be very, very cautious when you read about reports such as that one."…
MORE
.
—————————————————————————————
.
Leaked Documents Expose French Presidential Candidate Macron's Secret Tax Evasion Scheme – Your News Wire
.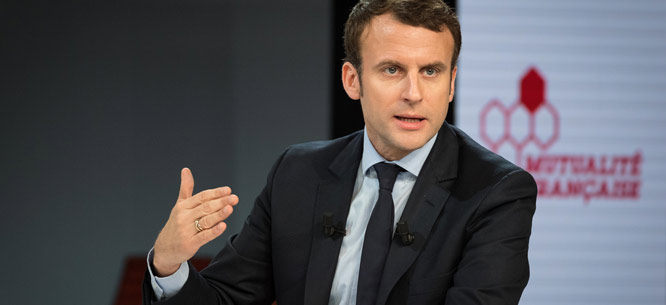 .
Once a Rothschild banker, always a Rothschild banker. Documents leaked online Tuesday reveal French presidential candidate Emmanuel Macron lied to the French people about his financial affairs.
The documents reveal the supposedly squeaky clean Macron has secret financial ties with notorious financial institutions operating in tax havens and may be engaging in tax evasion.
Less than a month ago Macron promised voters he is not concealing assets or holding secret offshore accounts.
The first document is an operating agreement drawn up on May 4th, 2012 to form "La Providence LLC" under the 1995 Nevis Limited Liability Company Ordinance. It bears Macron's name and signature. La Providence is the name of Macron's former high school in Amiens, where he first met his wife…
MORE
.
—————————————————————————————
.
Scottish Conservatives Enjoy Major Gains In Local Elections – Financial Times
Early local election results in Scotland suggested major gains for the Conservatives north of the border, in what the party leaders hope will provide a springboard for next month's general election.
While Scottish Labour looked set to suffer the latest in a series of electoral drubbings – losing control of Glasgow's council for the first time in decades – the Tories more than doubled their seats on councils where results had been announced by early afternoon on Friday.
The Scottish National party appeared on course to win the most seats of any party, but its success looked unlikely to be as emphatic as the landslides it secured in the 2015 UK general election and 2016 Scottish parliament elections.
The Tory gains seal a remarkable return for the Conservatives from Scotland's political fringe, after they became the largest opposition group at the Holyrood parliament last year.
Conservatives were elected in Thursday's local elections in areas where the party has historically struggled to find support…
MORE
.
—————————————————————————————
.
List Of Obamacare Taxes Eliminated Under The AHCA – ATR
.

.
The American Health Care Act (HR 1628) passed by the House today reduces taxes on the American people by over $1 trillion. The bill abolishes the following taxes imposed by Obama and the Democrat party in 2010 as part of Obamacare:
– Abolishes the Obamacare Individual Mandate Tax which hits 8 million Americans each year.
– Abolishes the Obamacare Employer Mandate Tax. Together with repeal of the Individual Mandate Tax repeal this is a $270 billion tax cut.
– Abolishes Obamacare's Medicine Cabinet Tax which hits 20 million Americans with Health Savings Accounts and 30 million Americans with Flexible Spending Accounts. This is a $6 billion tax cut…
MORE
.
—————————————————————————————
.
Concealed Carry Holder Stops Attack By Texas Sports Bar Shooter – Weasel Zippers
Good guy with gun saves day.
Via WFAA:
Arlington police are still trying to process a horrific shooting scene that unfolded at a popular restaurant and bar, leaving a manager and the suspect dead.
Police flooded the Zona Caliente Sports Bar at about 6:15 p.m. after receiving calls of an active shooter.
The shooter James Jones, 48, and employee Cesar Perez, 37, were pronounced dead at the scene.
Zona Caliente posted a picture of Perez on Facebook Thursday, asking people to wear white and attend a candlelight vigil at the restaurant at 7 p.m.
Lt. Christopher Cook said it all began when Jones walked into the bar, yelling and saying incoherent things. Perez, a manager, tried to calm him down before Jones shot Perez.
Then, a customer at the bar pulled out his handgun and shot and killed Jones. Police have confirmed the customer had a CHL and charges won't be filed against him…
MORE
.
—————————————————————————————
.
Meet The Republicans Who Voted 'No' On The Obamacare Repeal Bill – Roll Call
.

.
Twenty Republicans bucked their party and voted against the health care overhaul on Thursday.
More than half of the members who voted "no" are part of the Tuesday Group, a collection of moderate House Republicans. Nine of the lawmakers represent districts that Democratic presidential nominee Hillary Clinton carried in November. President Donald Trump carried the districts of 11 of the members voting "no.". But all of the lawmakers outperformed Trump last fall.
Fourteen of the "no" votes are Democratic Congressional Campaign Committee targets. Five of the lawmakers are also part of the National Republican Campaign Committee's Patriot Program, which assists members in tough races…
MORE
.
—————————————————————————————
.
U.S. Lawmakers Introduce Bipartisan Resolution To End Campus Free Speech Zones – The Federalist
On many college campuses, students are limited to small "free speech zones" to exercise their First Amendment rights. Failure to remain within one of these zones can result in disciplinary action and even arrest.
On Wednesday, several members of Congress made a bipartisan effort to stop this practice, introducing a resolution that would end free speech zones and reaffirm the First Amendment on campuses. Rep. Phil Roe (R-Tenn.) introduced the resolution along with six cosponsors: Reps. Rick W. Allen (R-Ga.); Todd Rokita (R-Ind.); Glenn Grothman (R-Wisc.); Jason Lewis (R-Minn.); Bradley Byrne (R-Ala.); and Jamie Raskin (D-Md.).
"With our current political climate, it's more crucial than ever that colleges and universities protect all First Amendment rights," Roe said in a press release. "It is my hope through passing this resolution we will send a strong message to college campuses across the country that restrictions on freedom of speech, thought and expression are inherently at odds with the rights guaranteed by our Constitution."…
MORE
.
—————————————————————————————
.
Winning! House Panel Passes Republican Measure Gutting Disastrous Dodd-Frank Reforms – MarketWatch
.

.
The House Financial Services panel on Thursday passed Republican legislation to roll back major sections of the Dodd-Frank financial reform law.
In a party line 34-26 vote, the panel voted to remove restrictions the Obama administration placed on banks if they agree to hold a higher level of capital.
The measure, called the Financial Choice Act, would repeal the Volcker rule that prohibited banks from speculating in the markets.
Republicans blame Dodd-Frank for the weak economy and a lack of lending to small businesses. Democrats argued that problems in the law could be improved with minor adjustments…
MORE
.
—————————————————————————————
.
FBI Found Email Indicating Loretta Lynch Would Do Everything She Could To Protect Hillary From Criminal Charges – Right Scoop
News reporter Catherine Herridge says this is one of the biggest headlines out of the hearing today with the FBI director, pointing out that the FBI had found an email was obtained by Russian hackers that indicated that former DOJ hack Loretta Lynch would do everything she could to protect Hillary from prosecution:
Of course Comey wouldn't reveal who sent the email and to whom it was sent. But it sounds like it was sent from someone who worked closely with Lynch, and sent to someone who was very worried about Clinton going down in flames, probably someone very close to Clinton.
At the end of the segment, Herridge pointed out that Comey suggested he was boxed in by Lynch and here is what she's talking about:
I don't think he's just talking about the meeting Lynch had with Bill Clinton. It sounds like she boxed him in – in more ways that just that meeting. If that new email is any indication, she very likely coerced him directly, pushing him to play the 'no intent' defense for Clinton and her aides…
MORE
.
—————————————————————————————
.
Armored Military Vehicle Plows into Crowd Of Protesters In Venezuela – Breitbart
.

.
Demonstrations in Caracas, Venezuela turned violent on Wednesday, bringing a police response that included a Venezuelan National Guard armored car running into a crowd of demonstrators after a firebomb was thrown at it.
The Venezuelan opposition claims there were over 300 injuries from clashes throughout the day. One fatality has also been reported.
According to Bloomberg News, opposition sources reported injuries that included 134 traumas and 17 cases of people overcome by gas. The injuries included lawmakers Freddy Guevara and Julio Montoya. Guevara is the acting leader of the Popular Will opposition party, acting for Leopoldo Lَpez, who is serving a 14-year prison sentence for organizing peaceful protests in 2014…
MORE
.
—————————————————————————————
.
House Passes ObamaCare Repeal – The Hill
House Republicans on Thursday passed legislation aimed at repealing and replacing ObamaCare, taking a major step toward a long-held goal and setting in motion an overhaul of the nation's health system.
The narrow 217-213 vote is a victory for GOP leaders, who faced a tumultuous path to getting the bill to the floor. The measure had to be pulled in March because of a lack of votes, but a series of deals since then brought on board the conservative Freedom Caucus and then wavering moderates.
The bill, known as the American Health Care Act, repeals the core elements of ObamaCare, including its subsidies to help people get coverage, expansion of Medicaid, taxes and mandates for people to get coverage.
In its place, the bill provides a new tax credit aimed at helping people buy insurance, though it would provide less help than ObamaCare to low-income people….
MORE
.
—————————————————————————————
.
President Trump Invites Nuns Persecuted By Obama Onto Stage During Speech On Religious Freedom – Gateway Pundit
.

.
President Trump signed an executive order on religious freedom on Thursday. During his speech the president invited the persecuted Little Sisters of the Poor nuns on stage.
President Trump congratulated the nuns on their court wins against the Obama administration. President Trump told the nuns,
"I want you to know that your long ordeal will soon be over."
The Little Sisters of the Poor, a Catholic religious group for women who have dedicated their lives to the service of the elderly, was concerned that after more than a century of service in the US, the Obama Administration was pushing them out of the country. The order was previously banned in China and Myanmar. The Obama Admininistration was forcing them out of the United States….
MORE
.
—————————————————————————————
.
Number Of Americans On Unemployment Hits 17-Year Low – Business Insider
New applications for U.S. jobless benefits fell more than expected last week and the number of Americans on unemployment rolls hit a 17-year low, pointing to a tightening labor market that could encourage the Federal Reserve to raise interest rates next month.
Initial claims for state unemployment benefits dropped 19,000 to a seasonally adjusted 238,000 for the week ended April 29, the Labor Department said on Thursday. The decline unwound most of the prior two weeks' increases in applications.
Economists say claims were distorted in recent weeks by the Easter holidays and spring breaks, which occur at different dates every year, making it difficult to strip the seasonal fluctuations from the data.
Claims have now been below 300,000, a threshold associated with a healthy labor market, for 113 straight weeks. That is the longest such stretch since 1970, when the labor market was smaller. The labor market is close to full employment, with the unemployment rate at a near 10-year low of 4.5 percent…
MORE
.
—————————————————————————————
.
Ted Cruz Grills Lying Sack O' Crap James Comey On Giving Huma Abedin A Free Pass – Right Scoop
.

.
Ted Cruz wanted to know why Comey was giving Huma Abedin a free pass, arguing that the law does not require the element of 'intent' for prosecution:
Comey basically gives Cruz a rubbish answer, arguing that DOJ prosecutorial history of the violations of this law always include intent, something he says he cannot establish.
But that sounds like malarkey to me. We're not talking about Supreme Court precedent here, we're talking about a law that in its own wording suggests that negligence is enough for the law to be broken.
What Comey is really saying is that he and Lynch bent over backwards to find a quasi-loophole upon which he could establish an excuse to let Hillary and her comrades go free.
And it's preposterous…
MORE
.
—————————————————————————————
.
Leftist Assclown Caught In Hate Crime Hoax – WRTV
A church organist who first reported hate-filled vandalism on a Brown County church is now charged with having actually committed the vandalism.
Police say someone spray painted a swastika, the words "Heil Trump" and a gay slur on the side of St. David's Episcopal Church last November.
George Nathanial Stang, 26, who is employed by the church as an organist, was the first person who claimed to discover the vandalism.
According to the Brown County Prosecutor's Office, Stang admitted to police that he had purchased the black spray paint at Bloomington Hardware. He told police that he wanted to "mobilize a movement" because he was disappointed in and fearful of the presidential election results.
Police had initially shared the case with the statewide hate crime task force, but Stang has denied that his actions were motivated by anti-Christian or anti-gay motivations…