.
May Day Carnage: Havoc Across Europe As Protestors Clash With Police In Violent Scenes – Daily Express
Annual May Day protests have descended into violence as thousands took to the streets across many European cities.
May Day – or 'Labour Day' – is observed all over the world on the first day of May to celebrate the economic and social achievements of workers and fight for labourers rights.
In Italy, violent scenes erupted in the northern city of Turin, as demonstrators clashed with police during the traditional Labour Day march.
Riot officers were deployed after more than 200 people gathered in the Via Cesare Battisti in an attempt to divert the authorised march route.
Three people were arrested after a group began pelting law enforcement officials with eggs.
Police say a number of items used in the violence, including umbrellas and sticks, were confiscated during the protest.
Meanwhile, in France, horrfying images of police being attacked with Molotov cocktails have emerged…
MORE
.
—————————————————————————————
.
Trump To John Dickerson: I Love Your Show, I Call It 'Deface The Nation' – Washington Free Beacon
.

.
President Donald Trump said during an interview Sunday on CBS's "Face the Nation" that he calls the show "Deface the Nation." Host John Dickerson was interviewing Trump about his first 100 days in office.
While discussing the issue of being "out-traded" by other countries, Trump took a shot at Dickerson and the media.
"I mean our country is being out-traded, at every single point we're losing tremendous amounts of money on trade, and I think actually I have been very consistent," Trump said. "You know, it's very funny when the fake media goes out – you know, which we call the mainstream media, which sometimes I must say is you."…
MORE
.
—————————————————————————————
.
Stepmom Says Democrat IT Scandal Figure Threatened Kidnappings Of Pakistani Kin – Daily Caller
A former congressional information technology (IT) aide allegedly threatened to have his stepmother's Pakistani relatives kidnapped if she talked to U.S. law enforcement authorities, according to court documents obtained by The Daily Caller News Foundation's (TheDCNF) Investigative Group.
"Imran Awan threatened that he is very powerful and if I ever call the police again, [he] will … kidnap my family members back in Pakistan," Awan's stepmother, Samina Gilani, claimed in the documents filed April 14 in Fairfax County, Va., in the case of Americo Financial Life and Annuity Insurance Company v. Abid A. Awan and Samina Ashraf Gilani.
Imran Awan and his brothers Abid and Jamal are under criminal investigation by U.S. Capitol Police on suspicion they abused their administrator-level access to sensitive congressional data, as reported Feb. 4 by TheDCNF.
"Imran Awan did admit to me that my phone is tapped and there are devices installed in my house," including one Gilani claimed in the court filing to have seen "behind the printer."…
MORE
.
—————————————————————————————
.
SpaceX Launches Falcon 9 On Secret, Classified Mission – USA Today
.

.
SpaceX sent a classified U.S. spy agency mission on its way to orbit Monday morning, then brought the rocket's first stage home for a landing, possibly to fly again.
A 230-foot Falcon 9 rocket blasted off from NASA's Kennedy Space Center at 7:15 a.m. ET, thundering northeast over the Atlantic Ocean with a U.S. National Reconnaissance Office mission labeled NROL-76.
The flight appeared to be off to a good start, but SpaceX cut off its launch broadcast a few minutes into the flight to help preserve its secrecy, as is standard practice during NRO missions.
SpaceX CEO Elon Musk said on Twitter that the mission launched successfully after nearly being scrubbed by strong high-altitude winds…
MORE
.
—————————————————————————————
.
100 Days Of #TheResistance's Humiliating Failure – Kurt Schlichter
In the first 100 days since Felonia von Pantsuit was not inaugurated, the goofy collection of commie traitors, coastal snobs, and crack-pot weirdoes that hilariously styles itself "#TheResistance" has only managed to successfully resist success. Oh sure, they and the catamite media tried their darnedest but, as Yoda said, "Try not. Do, or do not. There is no try." And, as Yoda also said, "Chelsea Clinton is best Democrats can do, say you? Kidding me, you are."
Yeah, after 100 days President Trump has reintroduced the world to Alpha America after eight years of Barack's fussy betaism, gutted a Schumer-ton of regulations, and broke the Senate Democrats' spirit by suckering them into a loser play that resulted in Justice Gorsuch today and, I hope, Justice Crazy Conservative Caveman to replace Justice Kennedy this summer. Plus, of course, his two greatest achievements – not being Hillary, and surviving even after being subjected to every slander, lie, and fake news report the gyno-hat left could throw at him…
MORE
.
—————————————————————————————
.
Japan Dispatches Its Biggest Warship Since WWII To Protect A U.S. Supply Ship From Kim Jong-Un's Missiles – Daily Mail
.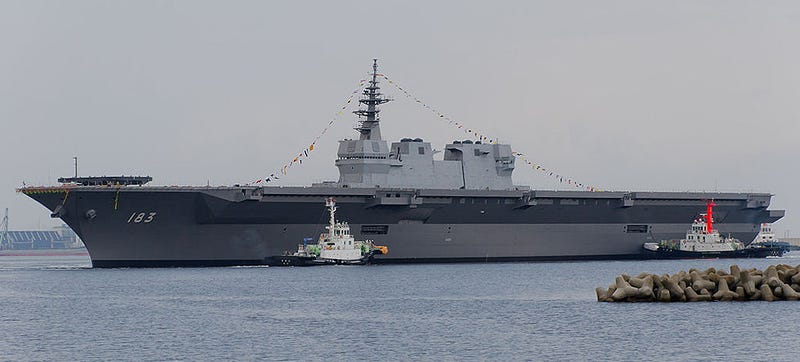 .
Japan is sending its largest warship to protect a U.S. vessel as it resupplies the strike group led by carrier Carl Vinson amid tensions with North Korea.
The 800ft helicopter carrier Izumo left its home port of Yokosuka, south of Tokyo, on Monday to escort the American vessel to the waters off Shikoku, around 400 miles away at the top end of Japan's south island.
The supply vessel, which is not being named, is believed to be in the region to support the 'armada' sent by President Trump to warn Kim Jong-un off conducting a sixth nuclear test.
The Izumo is Japan's largest vessel constructed since the Second World War, and its active deployment marks the first time new powers expanding the role of the country's military have been used…
MORE
.
—————————————————————————————
.
Puerto Rico To File Largest Public Sector Bankruptcy In History – Breitbart
Puerto Rico is set to file the largest public sector bankruptcy in history after vulture capitalist hedge funds that bought big pieces of the island's $73 billion in defaulted debt for pennies-on-the-dollar refused to take $24 billion haircut.
The U.S. territory made its last-ditch offer to try to avoid a May 1 bankruptcy filing, but failed to negotiate a financial restructuring that would force creditors to take a 23 percent loss on their general obligation bonds and a 42 percent loss on their Cofina sales-tax-backed debt, according to EMMA, the Municipal Securities Rulemaking Board website.
Puerto Rico's bond defaults last summer caused the Obama administration to team-up with a bipartisan majority in Congress to pass "The Puerto Rico Oversight, Management and Economic Stability Act" (PROMESA), which turned over the island's finances to a federally appointed committee and created a "Title III" bankruptcy process.
Breitbart News reported that the big motivation for taking over America's worst welfare den was the fear of up to a million Puerto Ricans migrating to the mainland…
MORE
.
—————————————————————————————
.
Top 20 CNN Fake News Moments – Your News Wire
.

.
Have you ever wondered why CNN is registered as an entertainment channel and not as news? After digesting these epic fake news fails, the answer should obvious.
20. CNN says it is illegal to read WikiLeaks:
CNN did their best to pretend WikiLeaks didn't exist for the majority of last year's election campaign, but when the noise generated by alt-media became too loud for them to ignore, they wheeled out Chris Cuomo who fixed the camera with his best hypnotist's stare and told viewers not to read WikiLeaks – 'so everything you learn about this, you're learning from us."
19. CNN fakes interview and interviews own cameraman:
Unable to find an interview subject who believed in Hillary Clinton, CNN resorted to filming an embarrassing fake interview with a CNN employee who gave an Oscar-worthy performance as an actor…
MORE
.
—————————————————————————————
.
Court Halts Case On Clean Power Plan, Paves Way For Dismantling Of Carbon Emissions Rule – Washington Times
In a major victory for the White House, the D.C. Court of Appeals on Friday suspended a case on the Obama-era Clean Power Plan, paving the way for the administration to dismantle the rule without interference from the courts.
President and Trump and Environmental Protection Agency Administrator Scott Pruitt want to formally undo the plan, which would've set the first national limits on carbon emissions from power plants. The proposal was a cornerstone of former President Obama's environmental agenda.
After lawsuits from energy companies and Republican state officials, including Mr. Pruitt, the plan was stayed by a federal court last year. The D.C. court was expected to soon rule on whether the proposal violated the federal Clean Air Act, which had been the chief legal argument against the proposal.
Friday's decision removes the possibility that a court could step in and declare the plan perfectly lawful even as the administration begins undoing it. Such a scenario would've been politically embarrassing for the EPA and would've represented a significant win for environmental activists…
MORE
.
—————————————————————————————
.
Foreign Minister Lavrov: Russia 'Fully Ready' To Cooperate With U.S. On Syria – RT
.

.
Moscow is eager to resume cooperation with Washington on solving the Syrian crisis, Sergey Lavrov, Russia's foreign minister, said during his meeting with his Jordanian counterpart, Ayman Safadi, in the Russian capital.
During the meeting, Lavrov noted that Jordan's King Abdullah II has repeatedly emphasized the importance of joint Russian-American efforts in Syria.
"I can assure that we're fully ready for this. We count on Washington to demonstrate the same approach," he said.
The Russian FM added: "The ceasefire between the government forces and the armed opposition is also important regarding the effectiveness of tackling terrorist threats in Syria."…
MORE
.
—————————————————————————————
.
IRS Tax Fraud Prevention Program Costs Taxpayers $18.2 Million, But Doesn't Work – Washington Free Beacon
An Internal Revenue Service program designed to prevent fraud costs taxpayers roughly $18.2 million per year, but doesn't work, according to the taxpayer watchdog group Citizens Against Government Waste.
In 1994, in an attempt to catch fraudulent tax returns, the IRS created the Electronic Fraud Detection System. In 2009, the IRS began to modernize this system by working on the Return Review Program to replace it.
"Despite the recognized need to get the [Return Review Program] in place in a timely manner, the program is still in development, and is now estimated to be completed in 2022," the watchdog group explains. "The program is also ineffective."
In 2015, the inspector general found that the program missed 54,175 fraudulent returns that totaled $313 million. Additionally, the Government Accountability Office found that the program incurred cost overruns and surpassed its initial budget by $86.5 million…
MORE
.
—————————————————————————————
.
Delta Airlines Pilot Smacks Passenger To 'Deescalate' Fight Between Two Women – WFLD
.

.
A Delta Airlines pilot who smacked a passenger to stop a brawl is not facing any disciplinary action because that smack "deescalated" the situation.
TMZ got video of the incident, in which two women were brawling on the jetway after the plane landed in Atlanta on April 21.
TMZ reports that the pilot tried to separate the women, then grabs one and hits her.
The women walked away and no one was arrested.
Delta told TMZ: "We became aware of this incident and a video last week and immediately removed the pilot from duty while we completed a thorough investigation. Local law enforcement was called to respond at the time of the incident…
MORE
.
—————————————————————————————
.
Trump EPA Takes Down Obama Regime's Fake Climate Science Website – Breitbart
The Environmental Protection Agency (EPA) removed several web pages about climate change and greenhouse gas emissions from its homepage as the agency announced Friday that it would be "undergoing changes" to better reflect the Trump administration's priorities.
Officials took down one website that appeared to contradict EPA administrator Scott Pruitt's statements on climate change and removed another that provided information about the Clean Power Plan, an initiative of the Obama administration, the Washington Post reported.
"As EPA renews its commitment to human health and clean air, land, and water, our website needs to reflect the views of the leadership of the agency," J.P. Freire, the agency's associate administrator for public affairs, said in a statement. "We want to eliminate confusion by removing outdated language first and making room to discuss how we're protecting the environment and human health by partnering with states and working within the law."
The agency also said it would archive pages from the previous administration…
MORE
.
—————————————————————————————
.
Yale College Republicans Host Barbecue Right Next To Hunger Strike – Daily Caller
.

.
Members of the Yale College Republicans hosted a barbecue Friday right next to where members of the Local 33 graduate student union participated in a hunger strike, the New Haven Register reports.
The College Republicans served a meal of barbecued beef, baked beans and corn to those on the plaza, just a few feet from the tent Local 33 had erected to house hunger strikers protesting the school's decision not to negotiate a contract.
Local 33 was not fazed by the Republicans' barbecue, but instead focused on staying healthy and not eating. Eight Yale University graduate student teachers have not eaten in days, the New Haven Register reports…
MORE
.
—————————————————————————————
.
Scientists In China Conduct 'Successful' Head Transplant On Rat – The Independent
Scientists in China claim to have conducted a successful head transplant on a rat.
Controversial surgeon Sergio Canavero and colleague Xiaoping Ren attached the head of a smaller rat onto a larger one while maintaining the brain activity of the donor.
A third rat was used to keep up blood pressure on the rats being operated on, which otherwise would have been catastrophic and killed the animals.
The experiment was repeated on a number of other rats. Most only survived for around 36 hours after the procedure.
But it was hailed as a success by Dr Canavero because its goal was to avoid major blood loss.
Images of the rats appear to show the donor's front paws and head stitched to the upper neck of the recipient rat.
Dr Canavero has previously conducted a similar experiment on a dog, in which its spinal cord was severed, but it is unknown how long it survived for…
MORE
.
—————————————————————————————
.
Documents Tie Berkeley Riot Organizers To Pro-Pedophilia Group NAMBLA – Daily Caller
.

.
The left-wing activists behind the anti-conservative riots at Berkeley have ties to one of the nation's most prominent pro-pedophilia organizations.
The Coalition to Defend Affirmative Action, Integration & Immigrant Rights, and Fight for Equality By Any Means Necessary – more commonly referred to as By Any Means Necessary or BAMN – is one of the militant leftist groups waging a campaign against conservatives and Trump supporters in Berkeley. The group's planned aggressive demonstrations against conservative commentator Ann Coulter and the students coming to hear her talk led to the cancellation of Coulter's speech this week due to safety concerns.
BAMN's parent organization worked directly with the North American Man/Boy Love Association (NAMBLA) in the years just before it founded BAMN…
MORE
.
—————————————————————————————
.
Illegal Alien Accused Of $1.5 Million Food Stamp Scam On The Run After Cutting Off Tracking Bracelet – American Mirror
Massachusetts State Police are on a manhunt for Martin Santiago, an illegal immigrant from the Dominican Republic accused of running a multi-million dollar food stamp scam.
Santiago, 49, failed to show up for trial Thursday to face charges related to a $1.5 million scam to sell food stamps and launder cash through three stores he owns in Lawrence, Massachusetts, and police soon realized he's on the run, The Boston Herald reports.
State police allege Santiago "forcibly removed" an ankle monitoring device around 6 a.m. and his whereabouts is currently unknown. Santiago was forced to wear the ankle monitor when he was released on a $75,000 bail following his arrest in June 2015.
"Authorities are now turning to the public for help finding Santiago, who they describe as a 5-foot, 11-inch Hispanic man weighing about 190 pounds with black hair and brown eyes," the Herald reports.
"State police say Santiago – who is fluent in Spanish and has gone by Mark Santiago and Martin Billone Santiago – has ties to the Lawrence and Methuen areas."…
MORE
.
—————————————————————————————
.
RINO Sack Of Crap Paul Ryan Under Fire As Obamacare Repeal Is Delayed Again – Breitbart
.

.
Speaker of the House Paul Ryan's (R-WI) leadership was called into question by new voices Thursday night as hopes expire of passing a bill to repeal and replace Obamacare before President Donald Trump's first 100 days end on Saturday.
At a meeting on the Hill late Thursday night, the speaker and his House Republican leadership team decided to further delay the vote. With what appeared to be the acquiescence of conservatives in the Freedom Caucus and think-tanks like Club for Growth and FreedomWorks, who took much of the blame for the failure of the first attempt to pass the American Health Care Act (AHCA) in March, hopes were buoyed that passage was imminent. Instead, according to Politico, House Majority Leader Kevin McCarthy (R-CA) told reporters as he left the meeting, "We are not voting on health care tomorrow. We're still educating members."…
MORE
.
—————————————————————————————
.
Leftist Inauguration Day Rioters Indicted By Grand Jury On Felony Charges – Truthfeed
Members of the Democrat terror group Antifa and other George Soros-backed violent liberal groups have been indicted by a Grand Jury on felony rioting charges.
The groups are being charged for inciting violence and causing mass disturbances, and destruction during President Trump's inauguration.
From wjla.com
WASHINGTON (ABC7) – A grand jury in the Superior Court of D.C. returned a superseding indictment in the Inauguration Day felony rioting case Thursday, the U.S. Attorney's Office of D.C. reports.
The indictment adds additional charges and provides more details on the events that took place in the District on January 20.
Approximately 212 people face felony charges, which includes one count of inciting or urging a riot, one count of engaging in a riot, one count of conspiracy to riot and five counts of destruction of property, the indictment states…
MORE
.
—————————————————————————————
.
T-Rex To Radically Cut State Department Staff – Daily Signal
.

.
The State Department is planning to reduce staffing by thousands as Secretary of State Rex Tillerson moves forward with efforts to streamline the agency that conservative critics say has outgrown its core functions.
As many as 2,300 foreign and civil service positions – about 9 percent of the Americans in State's workforce worldwide – will be cut over the next two years, department sources told Bloomberg. Most of the reduction will come from attrition: 1,700 employees won't be replaced after they retire. The remaining 600 will be asked to leave State early through buyouts, according to sources who spoke to Bloomberg on the condition of anonymity.
The staff reduction is part of a larger restructuring plan Tillerson has initiated in order to satisfy President Donald Trump's demand to cut spending across the federal government…
MORE
.
—————————————————————————————
.
Trump Rolls Back Obama's Fascist Offshore Drilling Limits – Washington Times
Reversing yet another of his predecessor's actions on energy and the environment, President Trump on Friday signed an executive order that paves the way for a massive increase in offshore oil-and-gas drilling.
In brief remarks at the White House, Mr. Trump said the order – which is likely to result in new energy exploration in the Atlantic, Pacific and Arctic oceans, as well as in the Gulf of Mexico – will boost the nation's economy and directly create jobs. The order undoes former President Obama's ban on new offshore drilling leases in the Atlantic and Arctic, which was put in place during the final weeks of his term.
It also directs Interior Secretary Ryan Zinke to conduct a more thorough review of the nation's entire offshore drilling policy.
"We're opening it up," the president said. "Today we're unleashing American energy and clearing the way for thousands and thousands of high-paying American energy jobs…