.
Young America's Foundation: UC Berkeley Will Honor The First Amendment Or Face Litigation – Gateway Pundit
Young America's Foundation's is calling on UC Berkeley to honor the first amendment, and unfortunately, it might have to take going to court to get the school to comply.
YAF's Spencer Brown wrote on the situation:
Late Thursday night, Young America's Foundation put UC-Berkeley on notice that their attempts to deny the First Amendment rights of students will not be tolerated any longer.
In a letter to Berkeley's Vice Chancellor Stephen Sutton, counsel representing Young America's Foundation and the Berkeley College Republicans issued one final warning: Respect students' rights by ensuring that Ann Coulter is allowed to speak on campus April 27 or relief will be sought in federal court, including claims for injunctive relief and damages.
Berkeley has until 5:00 p.m. on Friday, April 21 to confirm their cooperation with Coulter's planned speech organized by Young America's Foundation and hosted by the Berkeley College Republicans…
MORE
.
—————————————————————————————
.
U.S. Defense Secretary Mattis Arrives In Israel To Discuss Syrian Civil War, ISIS And Iran – Haaretz
.

.
U.S. Defense Secretary James Mattis landed in Israel on Thursday to discuss the Syrian civil war, the fight against the Islamic State and the Trump administration's policy on Iran.
Mattis is on his third day of a five-day tour of the Middle East, having already visited Saudi Arabia and Egypt. On his first trip to Israel in his current capacity, he will spend the next two days meeting with Prime Minister Benjamin Netanyahu, President Reuven Rivlin and Defense Minister Avigdor Lieberman.
Mattis is also expected to discuss the monitoring of Tehran's compliance with the 2015 nuclear deal with the major powers, as well as next month's presidential election in Iran.
Mattis is considered a relative hawk on Iran. He has said that the three most urgent problems for the United States in the Middle East are "Iran, Iran and Iran."…
MORE
.
—————————————————————————————
.
Trump Negotiates Release Of Egyptian-American Prisoner Held In Egypt For 3 Years – Business Insider
The Trump administration negotiated the release of a US citizen who was held in an Egyptian prison for three years.
Aya Hijazi, who is of Egyptian-American heritage, was released and brought back to her family in Washington, The Washington Post reported on Thursday.
Hijazi was in Egypt running a nongovernmental organization that was seen as an anti-Egyptian scheme by Egyptian security officials, according to The Post. Her Egyptian husband and four coworkers were arrested as well.
Hijazi and her coworkers were imprisoned on May 1, 2014 on child abuse and trafficking charges – accusations that were baseless, according to US officials and human-rights workers – due to the lack of evidence. In prison, Hijazi her companions were allegedly subjected to "coercive interrogation techniques," while their trial dates were either canceled or continuously postponed.
President Barack Obama attempted to negotiate their release with Egyptian President Abdel Fatah al-Sissi; however, the chilled relationship between the two countries complicated the talks…
MORE
.
—————————————————————————————
.
White House Launches National Security Investigation Into Steel Imports – Washington Post
.

.
The Trump administration has launched an investigation into whether foreign imports of steel compromise U.S. national security, a step towards fulfilling a campaign promise of cracking down more severely on the unfair trading practices of countries like China.
President Trump gathered with steel industry executives and press in the Oval Office Thursday to sign a memo directing the Commerce Department to expedite the investigation, which was officially launched Wednesday night. Trump called the signing "a historic day for American steel and, most importantly, for American steelworkers."
Trump added that the administration would release further information in the next two weeks about its plans for the North American Free Trade Agreement, which candidate Trump repeatedly promised to renegotiate…
MORE
.
—————————————————————————————
.
U.S. Planning To Deport Nearly 5,000 Somalis – VOA News
The U.S. government says almost 5,000 Somali nationals in the U.S. face deportation orders.
"As of April 1, 2017, there were 4,801 Somali nationals with final orders of removal," U.S. Immigration and Customs Enforcement (ICE) spokesman Brendan Raedy said Tuesday. "As of that same date, 237 Somali nationals have been removed to Somalia in fiscal year 2017."
The statement confirmed information VOA obtained from Somalia's U.S. ambassador 10 days ago.
Ambassador Ahmed Isse Awad told VOA's Somali service his embassy had learned that U.S. immigration agents were planning to deport about 4,000 Somali nationals now living in the United States.
Most of them have committed crimes. "ICE continues to focus its limited enforcement resources toward individuals who pose a threat to national security, public safety and border security," Raedy said.
He added, however, that any immigrant who is in the U.S. illegally is subject to deportation…
MORE
.
—————————————————————————————
.
Trump Signs Bill Allowing Veterans To Seek Care Outside Broken VA System – Washington Examiner
.

.
President Trump signed legislation Wednesday that will dramatically expand a program at the Department of Veterans Affairs that lets patients seek care from private doctors if they want to bypass the troubled VA system.
The Veterans Choice Improvement Act removes barriers that Congress placed around the original "choice" initiative and eliminates an expiration date that would have shuttered the program in August.
Lawmakers created the choice program in 2014 after a massive scandal involving wait time cover-ups at more than 100 VA facilities around the country. It was initially structured as a two-year pilot program that limited when and where veterans could choose to see private doctors…
MORE
.
—————————————————————————————
.
Ted Cruz Goes After Soros And Obama With Stunning New Investigation – USA Politics Today
Sen. Ted Cruz, along with a few other Republican senators, are going right for the jugular.
They're launching an investigation into former President Obama's influence in overseas politics – which was done on the taxpayer's dime and through George Soros' USAID organization.
These senators want Secretary of State Rex Tillerson to immediately investigate efforts by Obama administration to sway foreign elections by sending taxpayer funds to "extreme and sometimes violent political activists."
Free Beacon reports:
The lawmakers disclosed multiple conversations with foreign diplomats who outlined active political meddling by the Obama administration's State Department, including the use of taxpayer funds to support leftist causes in Macedonia, Albania, Latin America, and Africa.
A portion of this State Department funding appears to have gone to organizations supported by the controversial liberal billionaire George Soros…
MORE
.
—————————————————————————————
.
Thug Hits Lady Cop, Gets Smug Grin Wiped Off His Face Seconds Later – Mad World News
.

.
An incredible video is making its rounds across social media after a thug decided to harass the kids inside of a Florida McDonald's. After a female officer arrived, things took a turn for the worse as the maniac then decided to punch the cop right in the face. Too bad for him, that smug grin he was wearing at the time would be wiped off his face for good just a few seconds later.
Although it's unclear exactly what problem the man had with the children in McDonald's, it was apparently so bad that it escalated to the point where there was a need for the people inside to call the police. Unfortunately for the thug, this meant that things were about to go very bad for him…
MORE
.
—————————————————————————————
.
South Indian Frog Oozes Molecule That Inexplicably Decimates Flu Viruses – Ars Technica
From the slimy backs of a South Indian frog comes a new way to blast influenza viruses.
A compound in the frog's mucus – long known to have germ-killing properties – can latch onto flu virus particles and cause them to burst apart, researchers report in Immunity. The peptide is a potent and precise killer, able to demolish a whole class of flu viruses while leaving other viruses and cells unharmed. But scientists don't know exactly how it pulls off the viral eviscerations. No other antiviral peptide of its ilk seems to work the same way.
The study authors, led by researchers at Emory University, note that the peptide appears uniquely nontoxic – something that can't be said of many other frog-based compounds. Thus, the peptide on its own holds promise of being a potential therapy someday. But simply figuring out how it works could move researchers closer to a vaccine or therapy that could take out all flus, ditching the need for yearly vaccinations for each season's flavor of flu.
With those annual waves of flu, the occasional pandemic, plus the rise of drug-resistant varieties of flu, "there is a pressing need to develop new antivirals" the authors write…
MORE
.
—————————————————————————————
.
McLOSER: Broke Never-Trump Candidate Still Owes $670,000 To Lawyers, Vendors – The Hill
.

.
Former independent presidential candidate Evan McMullin reportedly still owes $670,000 for his unsuccessful 2016 campaign.
According to a report by The Salt Lake Tribune, McMullin owes the funds to a law firm and vendors who helped him with his last-minute effort to stop then-Republican nominee Donald Trump from securing the presidency.
The newspaper reported that McMullin's latest Federal Election Commission filing shows the campaign owes the money to six companies, including law firm Hopping, Green & Sams, which is owed over $500,000.
It is not unusual for candidates who fail to win the White House to finish the race with a sizable debt…
MORE
.
—————————————————————————————
.
Trump Saves Another $60 Billion In Regulatory Costs – Washington Free Beacon
President Donald Trump and Congress have saved an additional $60 billion in regulatory costs by rolling back Obama administration rules, according to a new report.
The American Action Forum, a center-right policy institute, released a report Tuesday documenting the most recent ways the administration and Congress have used the Congressional Review Act to repeal regulations.
The report found the recent repeal and delay of regulations could lead to $86 billion in net fiscal effects for taxpayers from deregulation.
"Congress has already passed 13 CRA resolutions, repealing more than $1.1 billion (annually) in past regulations from the Obama Administration," the report, written by Sam Batkins, director of regulatory policy for AAF, said. "In addition, President Trump has formally delayed and signaled an intention to amend several other major rules. Combined, these actions could generate more than $18 billion in annual regulatory savings for businesses, investors, and consumers."…
MORE
.
—————————————————————————————
.
The Anti-Free Speech Movement – Front Page
.

.
UC Berkeley, birthplace of the Free Speech Movement, has stabbed free speech in the back once again.
Last week it effectively canceled a long planned speech by David Horowitz. Today it canceled a long planned speech by Ann Coulter scheduled for April 27.
As they did with Horowitz, UC officials, citing safety concerns, first tried to bureaucratically shrink the Coulter speech out of existence by informing Young Americans for Freedom, sponsors of the event, that Coulter could speak only in the afternoon when students were in classes; that only students could attend; and, in a Kafkaesque twist, that the location of the speech would be distant from the center of campus and not be announced until just before it occurred.
Coulter agreed to these conditions…
MORE
.
—————————————————————————————
.
Pervert Ex-Cop Gets 28 Years For Orchestrating Child Molestation – New York Post
A disgraced former NYPD sergeant who admitted to convincing women to molest their own children over Skype for his own perversions was sentenced to 28 years in prison Wednesday.
Ex-cop Alberto Randazzo begged Brooklyn federal court Judge Pamela Chen to give him the minimum of 15 years, breaking down into tears as he said he wanted to help others escape the "dark cloud" and "protect society" from pedophiles like himself.
He had faced up to 80 years behind bars if convicted at trial.
Randazzo previously blamed his nauseating predilection – which involved meeting vulnerable women on the Internet and coercing them performing unspeakable acts on their own children – on the death of a fellow officer and a gambling addiction.
He was eventually caught after a girlfriend became suspicious and reported him to NYPD Internal Affairs Bureau. She agreed to play along with his sick fantasies, including how Randazzo couldn't wait for them to have kids so they could abuse them together, to help authorities…
MORE
.
—————————————————————————————
.
Venezuelan Authorities Seize General Motors Plant In Valencia – Breitbart
.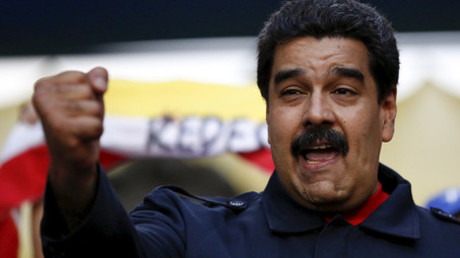 .
General Motors said it has ceased all operations in Venezuela after authorities unexpectedly seized its plant in the city of Valencia.
A court in the Zulia state said it imposed a broad embargo on the assets of General Motors Venezolana, C.A., or GMV, which has been in operation for nearly seven decades. GMV said authorities seized its plant Wednesday afternoon and that its associated bank accounts likely are also out of its control, meaning the company cannot make payments, such as employee wages.
GMV called the act "improper, absurd, outside of legal logic and due process."
"GMV is taking all legal measures within its reach in order to protect the rights of its workers and their property," the company said in a statement…
MORE
.
—————————————————————————————
.
Putin Sends Troops To Russia's Border With North Korea – Daily Mail
Vladimir Putin is sending troops and equipment to Russia's border with North Korea over fears the U.S. is preparing to attack Kim Jong-un.
The Russian President fears there will be a huge exodus of North Korean refugees if his American counterpart, Donald Trump, launches military action against Pyongyang.
It comes days after it emerged that China is also sending 150,000 soldiers to its southern frontier to cope with the tidal wave of North Koreans Beijing fears would flee across the border if war breaks out.
This morning, footage emerged appearing to show how Putin is reinforcing his 11-mile border with North Korea by relocating troops and equipment.
A video purports to show one of three trains loaded with military equipment moving towards the 11 mile-long land frontier between Russia and the repressive state.
Another evidently highlights military helicopter movements towards the North Korean border and manoeuvres across rough terrain by army combat vehicles…
MORE
.
—————————————————————————————
.
Confirmed: Former CIA Director John Brennan Colluded With Foreign Spies To Defeat Trump – American Spectator
.

.
An article in the Guardian last week provides more confirmation that John Brennan was the American progenitor of political espionage aimed at defeating Donald Trump. One side did collude with foreign powers to tip the election – Hillary's.
Seeking to retain his position as CIA director under Hillary, Brennan teamed up with British spies and Estonian spies to cripple Trump's candidacy. He used their phony intelligence as a pretext for a multi-agency investigation into Trump, which led the FBI to probe a computer server connected to Trump Tower and gave cover to Susan Rice, among other Hillary supporters, to spy on Trump and his people.
John Brennan's CIA operated like a branch office of the Hillary campaign, leaking out mentions of this bogus investigation to the press in the hopes of inflicting maximum political damage on Trump…
MORE
.
—————————————————————————————
.
FBI Investigating Radical Islamic Terrorists In All 50 States – American Mirror
According to the Department of Homeland Security, terror threats have reached an all-time high with radical Islamists inside the U.S. plotting attacks "each and every single day."
DHS Secretary John Kelly says the FBI has open investigations into radical Muslim terrorists in all 50 states and that there have been at least 37 "ISIS-linked plots to attack our country" since 2013 alone.
On Tuesday, Secretary Kelly said the threats are "relentless" and that terrorists are exploiting America's national security weaknesses such as our wide-open borders in order to enter the U.S.
The Washington Free Beacon reports:
"We don't know their intentions," Kelly said during an address at George Washington University. "We don't know why they're here or why they're coming. We are completely blind to what they're capable of."
Terrorist also continues to sprout inside American communities across the country, according to Kelly, who said that in just the past year, there have been "36 homegrown terrorist cases in 18 states."…
MORE
.
—————————————————————————————
.
Rep. Jason Chaffetz Says He Won't Seek Reelection In 2018 – The Hill
.

.
Rep. Jason Chaffetz (R-Utah) will not seek reelection in 2018, he announced in a Facebook post Wednesday morning.
"After long consultation with my family and prayerful consideration, I have decided I will not be a candidate for any office in 2018," the House Oversight Committee chairman said.
Chaffetz, 50, had been floated as a potential candidate for Senate or Utah governor, but he denied any interest in running for anything in 2018. However, he noted that he "may run again for public office, but not in 2018."
Sen. Orrin Hatch's (R-Utah) seat is up in 2018, while Utah Gov. Gary Herbert's (R) seat is up in 2020.
"For those that would speculate otherwise, let me be clear that I have no ulterior motives. I am healthy…
MORE
.
—————————————————————————————
.
Several Killed In California Shooting Spree; Suspect Named Muhammad Shouted 'Allahu Akbar' During Arrest – Washington Times
A man who uses the alias "Black Jesus" has been arrested for allegedly going on a shooting spree and killing three white men in Fresno, California, Tuesday morning.
Kori Ali Muhammad, 39, shouted "Allahu Akbar," or "God is great" in Arabic, as he was being taken into custody, the Fresno Police Department said.
Two of the victims were fatally shot outside Catholic Charities in the 100 block of North Fulton Street, the third victim was a passenger in a Pacific Gas & Electric truck in the 300 block of North Van Ness Avenue, and a fourth man, who is also white, was shot at but not injured, The Fresno Bee reported.
Police said Mr. Muhammad stopped to reload his revolver during the shooting spree.
Mr. Muhammad is also being held in connection with Thursday's murder of a security guard, who was also white, outside a Motel 6 in central Fresno. Mr. Muhammad is facing four counts of murder and two counts of attempted murder, The Fresno Bee reported…
MORE
.
—————————————————————————————
.
Former Patriots Star Aaron Hernandez Hangs Himself In Prison – Breitbart
.

.
Massachusetts prison officials say former NFL star Aaron Hernandez has hanged himself in his cell and pronounced dead at a hospital. He was 27.
An official with the Massachusetts Department of Corrections says Hernandez was found hanged in his cell just after 3 a.m. Wednesday. Authorities tried to revive the former New England Patriots tight end, and he was pronounced dead at UMass Memorial – HealthAlliance Hospital in Leominster at 4:07 a.m.
Prison officials say the Hernandez was in a single cell in a general population housing unit at the Souza Baranowski Correctional Center in Shirley, Massachusetts They say he hanged himself using a bed sheet that he attached to a cell window…
MORE
.
—————————————————————————————
.
Two Muslims Arrested For Plotting "Imminent And Violent" Jihad Attack In France – Jihad Watch
"The French interior minister, Matthias Fekl, said the two… were radicalised French nationals aged 24 and 30. 'These two radicalised men… intended to commit in the very short-term – by that I mean in the coming days – an attack on French soil.'"
The fact that neither Fekl nor the Guardian (or any other establishment media outlet) has the courage to explain exactly what these two men were "radicalized" into is an indication of why the West is losing the battle against the global jihad, and why there will be many, many more plots like this one, many of them successful.
Attentive tea-leaf readers will note that one of these men is named "Mahiedine," a Muslim name out of Algeria, and that the term "radicalized" is usually only used of Muslims who wage jihad. But imagine if the Pearl Harbor attack had been reported this way: "Planes flown by radicalized men struck Pearl Harbor yesterday. President Roosevelt took to the airwaves to remind Americans that Japan is a peaceful nation, and that a tiny minority of radicalized extremists should not be used to create a climate of Japanophobia."…