.
Scott Walker Deals Another Blow To Big Labor In Wisconsin – Daily Caller
.

.
Wisconsin Republican Gov. Scott Walker signed legislation that prevents local governments from requiring contractors to hire union labor for publicly-funded construction projects.
Walker signed the legislation, which passed along party lines in February, at a local distributor of construction materials in De Pere, Wis., according to the Milwaukee Wisconsin Journal Sentinel. The governor and Wisconsin Republicans have blasted project labor agreements as a waste of taxpayer dollars.
"By forbidding state and local governments from requiring contractors to enter into agreements with labor organizations, we're promoting healthy competition between contractors," Gov. Walker said in a statement Monday…
MORE
.
—————————————————————————————
.
Leftist Ossoff Fails To Garner 50% Of Vote In Georgia Special Election, Faces Handel In June Runoff – Breitbart
It was a photo finish in the "jungle primary" special election in Georgia's Sixth Congressional District on Tuesday to select a replacement for Rep. Tom Price (R-GA), punctuated by unusual technical reporting delays from Fulton County, the largest county in the district.
In the early hours of Wednesday morning, thirty-year-old Democratic candidate Jon Ossoff fell just short of the 50-percent-plus-one vote total he needed to avoid a June runoff with the GOP's Karen Handel, the former Georgia Secretary of State who finished in a distant second.
CNN declared the race a runoff between Ossoff and Handel shortly after midnight.
At 12:09 a.m. President Trump tweeted, "Despite major outside money, FAKE media support and eleven Republican candidates, Big "R" win with runoff in Georgia. Glad to be of help!"
With 177 of 210 precincts reporting as of 12:25 a.m. eastern on Wednesday morning, the Associated Press results had Ossoff in first place with 49 percent of the vote, followed by the GOP's Karen Handel in second at 19 percent, and the GOP's Bob Gray in third place and out of the runoff election with 10 percent…
MORE
.
—————————————————————————————
.
Former Trump Advisor To Sue Obama Regime Officials For Civil Rights Violations – Law Newz
.

.
The FBI case into former Donald Trump campaign advisor Carter Page just took another legal twist. CNN is reporting that the FBI used that infamous Trump dossier as part of "the justification" to convince a FISA court to issue a warrant allowing them to secretly monitor Page. The investigation is reportedly probing possible ties between the one-time Trump advisor and Russia.
But, what is particularly interesting from a legal stand point is Page's reaction to this latest development. Apparently, he's now planning on taking the Obama officials to court. He said in a statement:
"I look forward to the Privacy Act of 1974 lawsuit that I plan to file in response to the civil rights violations by Obama administration appointees last year. The discovery process will be of great value to the United States, as our nation hears testimony from them under oath, and we receive disclosure of the documents which show what exactly was done in 2016."…
MORE
.
—————————————————————————————
.
Claremont Snowflakes Write Hairbrained Open Letter Characterizing Truth As A 'Myth' – PJ Media
Campus snowflakes are at war with reality.
That is the only way to read an open letter written by three students who say the idea of objective truth is a "myth" designed to "silence oppressed peoples." The authors, Dray Denson, Avery Jonas, and Shanaya Stephenso, along with over twenty co-signers, are demanding that all five Claremont Colleges "take action" against the conservative journalists on the staff of The Claremont Independent, presumably for reporting facts that make them feel unsafe.
The letter – which reads like something from The Onion but is sadly all too real – was written to outgoing Pomona College President David Oxtoby in response to his April 7 email espousing the college's commitment to "the exercise of free speech and academic freedom." Oxtoby's email came in the wake of protests that shut down an April 6 speaking appearance by conservative scholar and author Heather Mac Donald.
"Protest has a legitimate and celebrated place on college campuses," Oxtoby wrote…
MORE
.
—————————————————————————————
.
President Trump Signs 'Buy American, Hire American' Executive Order Following Wisconsin Speech – Mirage News
.

.
President Donald Trump is ordering the government to bolster protections for U.S.-made goods and reform a visa program for foreign workers. He signed the order after touring a factory in Wisconsin.
Trump announced the new executive order, instructing federal agencies to protect U.S.-manufactured goods from foreign competition and review the H-1B visa program for foreign workers, in a speech at Snap-on Tools in Kenosha, Wisconsin.
Federal rules on buying U.S.-made products have been "gutted by excessive waivers and reckless exemptions," Trump added, resulting in jobs lost to "cheap, subsidized and low-quality foreign goods."…
MORE
.
—————————————————————————————
.
ISIS And Al Qaeda In Talks To Join Forces, Iraqi Vice President Says – Fox News
Iraq's vice president said rival terror groups ISIS and Al Qaeda are exchanging ideas on ways to join forces.
Vice President Ayad Allawi told Reuters he got the information from contacts in Iraq and the region. He did not reveal more specific details about the source of his information. Allawi said the leader of ISIS, Abu Bakr al-Baghdadi, and the head of Al Qaeda, Ayman al-Zawahiri, are not communicating with each other directly but through intermediaries.
"I don't know exactly when, but there are discussions and dialogues between messengers," he said, adding that it's not clear how the two groups will work together.
The Islamic State, which made territorial gains in Mosul and parts of northern Iraq, has more recently been pushed out of much of the region under pressure from an international coalition that includes the United States.
Despite losing ground, the group still controls areas in Mosul's Old City, where the narrow streets have slowed coalition forces….
MORE
.
—————————————————————————————
.
House Ways And Means Committee Chairman Calls For DOJ To Investigate Lois Lerner – Breitbart
.

.
The chairman of the powerful House Ways and Means Committee called on the Department of Justice (DOJ) to review evidence that Lois Lerner "broke the law to target Americans for their political beliefs." The request comes after the DOJ refused, under the Obama Administration's leadership, to investigate allegations of wrongdoing by the former IRS Exempt Organizations Division director.
Ways and Means Committee Chairman Kevin Brady (R-TX), joined by Tax Police Subcommittee Chairman Peter Roskam (R-IL), sent a letter to U.S. Attorney General Jeff Sessions requesting an investigation into allegations that Lerner used her division's power to target American citizens' applications for non-profit status, or political action committees, based upon the citizen's political beliefs.
"Taxpayers deserve to know that the DOJ's previous evaluation was not tainted by politics," the two chairmen wrote in the letter obtained by Breitbart Texas. "We respectfully request the Department of Justice to take a fresh look at the evidence presented in the attached referral in order to restore taxpayers' trust in the IRS."…
MORE
.
—————————————————————————————
.
Judicial Watch Sues ATF For Attempting To Reclassify AR-15 Ammo As 'Armor-Piercing' – Conservative Base
A top nonprofit government watchdog group of attorneys filed a lawsuit last week seeking documents related to citizens' Second-Amendment rights being violated by a federal agency, according to a press statement released .
A Freedom of Information Act (FOIA) lawsuit filed against the already disgraced Bureau of Alcohol, Tobacco, Firearms, and Explosives (ATF), a branch of the U.S. Department of Justice, seeks records of communications about a so-called "reclassification" that would restrict the sale and possession of certain types of AR-15 ammunition by classifying them as being "armor-piercing" and therefore illegal for civilians. The suit was filed in the U.S. District Court for the District of Columbia by Judicial Watch, an organization that investigates and exposes government corruption, fraud and misconduct by using the federal civil court system.
The ATF is reportedly reconsidering its February 2015 proposal to revise the 2014 Regulation Guide regarding the reclassification of certain ammunition…
MORE
.
—————————————————————————————
.
Former Democrat Mayor Of Hubbard, Ohio Pleads Guilty To Raping 4-Year-Old – WCMH
.

.
Former Hubbard, Ohio mayor Richard Keenan, who now admits to raping a young child, is facing life behind bars.
He was visibly shaken Friday as he changed his plea to guilty on 20 counts of sex crimes, including eight counts of rape. Keenan agreed to a life sentence with the eligibility of parole after ten years.
According to court documents, the abuse began as early as September 2013 when the victim – who Keenan knew – was just 4 years old.
"It gives the victim some closure. Obviously, keeps this young child from having to testify and I think it's a good result given all the facts and circumstances," said Assistant Prosecutor Gabe Wildman…
MORE
.
—————————————————————————————
.
San Diego Schools Team With Hamas Front Group To Stop Bullying Of Muslims – WorldNetDaily
In an initiative to "combat Islamophobia and the bullying of Muslims students," San Diego's public school district has formed a partnership with an organization regarded by the FBI as a front group for Hamas and by an Gulf Arab state as a terrorist organization.
The San Diego chapter of the Council on American-Islamic Relations, nevertheless, was formally approved by the board of the San Diego Unified School District this month to help develop a plan that will include the review and vetting of materials related to Muslim culture and history.
A report outlining the district's objectives touted CAIR as an organization that "has been involved in constructive civic engagement, promotes cultural tolerance and understanding, as well as justice and equality."
Hanif Mohebi, executive director of CAIR San Diego, told the school board April 4 that CAIR wants the district's program to become a national model.
"The plan itself is a great first step," he said…
MORE
.
—————————————————————————————
.
Vet With Prosthetic Leg Carries Guide Across Boston Marathon Finish Line – American Mirror
.

.
An Afghanistan war veteran is inspiring his countrymen with an impressively patriotic finish to Monday's Boston Marathon.
Pennsylvania Army National Guard veteran Earl Granville has competed with a hand-bike in numerous marathons in Boston, Chicago, Detroit, and New York since he lost the lower half of his left leg to a roadside bomb in Afghanistan in 2008, WCVB reports.
But on Monday, the member of Achilles International's Freedom Team did something a little different.
Granville completed the Boston Marathon without the bike, relying instead on a prosthetic leg and the help of a guide who accompanied him along the hilly 26-mile course. Throughout the race, he was besieged by grateful spectators, who stopped him for hugs and cheered him on…
MORE
.
—————————————————————————————
.
Conservative Christian Conference Threatened By Heavily-Armed Muslim Immigrant – Daily Caller
A conference held on April 9 on Christian and conservative issues in Sioux Falls, South Dakota was threatened by a Muslim man carrying multiple firearms. He attended the conference and posted numerous videos on his Facebook page, including a display of the multiple assault-style rifles, pistols and ammunition he was carrying on his person and in his van.
He has not been arrested.
The man, Ehab Jaber, posted numerous Facebook videos of himself both in the event and in his van in the event parking lot. In his van he shows off all his weapons, saying:
"And now if you want to really be scared…" he lifts up an AK-47 style rifle and says, "be scared."
He then puts it down and reveals two handguns hidden on his person and others in the van, after each one saying, "be scared."
He then takes an assault-style AR-15 variant out of its case and says, "Be f***ing terrified."…
MORE
.
—————————————————————————————
.
British Prime Minister Theresa May Calls Snap General Election For June 8 – Daily Mail
.

.
Theresa May sprung a massive surprise on the nation and her own ministers today by announced a snap general election for June 8 – after having a moment of clarity on a walking holiday in Wales.
In a dramatic statement on the steps of Downing Street, the Prime Minister fired the starting gun on a poll that she hopes will deliver her an unassailable majority to shape the country's future.
She blamed opposition parties who have been trying to frustrate Brexit for her sudden change of heart after months insisting she will not hold an election – singling out Nicola Sturgeon's efforts to exploit the situation to tear the UK apart…
MORE
.
—————————————————————————————
.
Facebook Killer Steve Stephens Confirmed Dead – WTVR
Steve Stephens, the Cleveland murder suspect accused of posting video of the killing on Facebook, was found Tuesday in Erie County, Pennsylvania, state police said on Twitter. "After a brief pursuit, Stephens shot and killed himself," Pennsylvania State Police said.
Stephens, 37, was wanted for the death of Robert Godwin – a self-taught mechanic and grandfather of 14 who was shot while walking home from an Easter meal Sunday in Cleveland. Video of the killing was posted on Facebook.
More than 400 tips have funneled in from as far away as Texas, Cleveland Police Chief Calvin Williams said Tuesday. Many were reported sightings that turned out to be false.
Through their tears, several of Godwin's children said they hold no animosity against the suspect.
"Each one of us forgives the killer, the murderer," Godwin's daughter Tonya Godwin Baines said. "We want to wrap our arms around him."
Godwin taught his children the value of hard work. He taught them how to love God and fear God, and how to forgive, his children said…
MORE
.
—————————————————————————————
.
Maxine Waters Caught Illegally Paying $600K Of Campaign Funds To Daughter – Your News Wire
.

.
Democrat Rep. Maxine Waters (D-CA) has been caught siphoning off hundreds of thousands of dollars in campaign funds and depositing them in her daughter's bank account.
Karen Waters, the daughter of Rep. Maxine Waters, Karen pulled in $65,287 overseeing the slate mailer operation in 2016, making her the third-largest recipient of Waters campaign funds that cycle. But it doesn't stop there. Karen, together with her firm Progressive Connections, has received over $600,000 in payments from the Waters campaign since 2006.
This isn't the first time that the Democratic Congresswoman has gotten herself into ethical hot water. In fact, it happens so often that two different government watchdogs have tabbed her as one of the nation's most corrupt politicians…
MORE
.
—————————————————————————————
.
U.S. Deploys Two More Aircraft Carriers To Korean Peninsula – Zero Hedge
According to a report by South Korea's primary news outlet, Yonhap, the Pentagon has directed a total of three U.S. aircraft carriers toward the Korean Peninsula, citing a South Korean government source.
Yonhap reports that in addition to the CVN-70 Carl Vinson, which is expected to arrive off the South Korean coast on April 25, the CVN-76 Ronald Reagan – currently in home port in Yokosuka, Japan – and the CVN-68 Nimitz carrier group – currently undergoing final pre-deployment assessment, Composite Training Unit Exercise off Oregon – will enter the Sea of Japan next week.
USS Carl Vinson, surrounded by a fleet of U.S. warships, was sent by Washington toward the Korean Peninsula in the beginning of April.
While details are scarce, and we would urge confirmation from U.S.-based sources, Yonhap also reports that according to the government source the operation of three aircraft carriers in the same location is unusual, and demonstrates the U.S. commitment to North Korea…
MORE
.
—————————————————————————————
.
Environmantalist Nutbag Is Worried That Birds Won't Be Able To Fly Over Trump's Border Wall – USA Politics Today
.

.
MSNBC hosted wildlife biologist on Friday to discuss the possible impact that the border wall could have on the environment.
Partial Transcript:
Well Craig, if this border wall happens it will be an unprecedented environmental catastrophe. It's poised to cut through more than 1,200 miles of habitat along the border between the United States and Mexico. There are over 90 threatened and critically endangered species that are in the crosshairs because of this wall, and we've got over 100 migratory birds that will be impacted from this wall. The endangered Mexican grey wolf, only 133 individuals left of this iconic carnivore this amazing canine, its head is on the chopping block and likely could fall prey to extinction…
MORE
.
—————————————————————————————
.
Unions Spent $1.7 Billion On Mostly Leftist Politicians In 2016 – Washington Free Beacon
Organized labor spent a record $1.7 billion on politics and lobbying during the 2016 election cycle, with the vast majority of money coming from member dues and supporting Democrats.
The National Institute for Labor Relations Research (NILRR), a nonprofit union watchdog, found that unions spent $1.713 billion on political activities and lobbying. The watchdog group analyzed federal labor filings that disclose how much unions spend on political activities at the federal, state, and local level, as well as Federal Election Commission records collected by OpenSecrets.com.
Stan Greer, the researcher behind the study, said 75 percent of the money spent on politics came from union treasuries rather than campaign PACs or other independent union-backed political operations.
"Big Labor is increasingly turning its focus away from workplace matters and more and more towards buying political influence," Greer said in a statement.
NILRR has tracked union political spending throughout the 21st century, finding that unions have significantly ramped up their spending in the last four years…
MORE
.
—————————————————————————————
.
Manhunt In Ohio For Killer Who Shot Elderly Man While Streaming On Facebook, Claims To Have Murdered 15 – The Sun
.

.
A man claimed to have killed 15 people in a murderous rampage as he broadcast the "execution" of an elderly man live on Facebook.
Cops are hunting for Steve Stephens – who goes by Stevie Steve on his social media – on suspicion of homicide 74-year-old Robert Goodwin Sr was shot dead in an apparently random attack on Easter Sunday in Ohio.
Cleveland Police confirmed the shooting broadcast on Facebook was real, but said they were not aware of any other shootings.
The city is on lockdown as police hunt for "armed and dangerous" Stephens, who claimed online he had killed 15 people. He also wrote on Facebook he wouldn't stop killing until his mum and a woman he names in the video call him, alongside his number…
MORE
.
—————————————————————————————
.
Chicago Rings In Easter With 34 People Shot – Daily Caller
Chicago saw 34 people wounded from gun injuries in a spate a violence over Easter weekend.
Twenty-three were shot during just a seven hour period between Saturday night and early Sunday morning, reports the Chicago Sun-Times.
The lone death over the weekend happened early Sunday morning. One man shot at two other men, one of whom succumbed to wounds on the head and neck later at Mount Sinai Hospital, according to authorities.
A 14-year-old boy was shot after two males came up to him midnight Sunday. They fired at him and a bullet hit the boy in the arm. He was taken to a hospital and is said to be in stable condition.
Homicides have dropped almost 10 percent in 2017 when compared to 2016 and shootings have also gone down about 13 percent.
"There's not room for celebration yet, but I am encouraged by the numbers that we saw," Chicago Police Superintendent Eddie Johnson said about the statistics…
MORE
.
—————————————————————————————
.
Erdogan Wins Vote To Gain Sweeping Powers In Turkish Overhaul – Bloomberg
.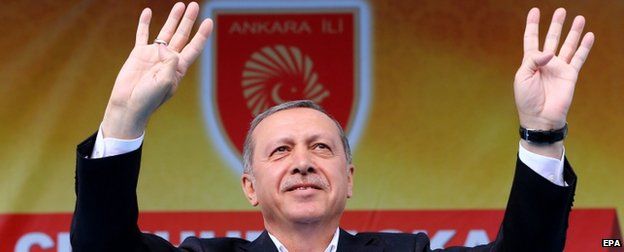 .
Turkey voted to hand Recep Tayyip Erdogan sweeping authority in the most radical overhaul since the republic was founded 93 years ago on the expectation he'll safeguard security amid regional wars and kickstart the economy.
The referendum won approval of 51.3 percent to 48.7 percent of Turks, according to the state-run Anadolu news agency, as opposition parties alleged fraud and the European Union branded it as unfair.
Once implemented, Erdogan will have authority to appoint ministers and top judges at his discretion and call elections at any time. It will also give him much greater sway over fiscal policy and may deepen investors' concerns about the independence of the central bank…