.
12 Pieces Of Proof: The MSM Knew Obama Spied On Trump And Lied To Cover It Up – John Nolte
.

.
What I am about to present to you is what really happened. All the proof is linked below, but what I'm about to do is what I call "Revealing the Matrix," showing you the truth backed by incontrovertible fact and the media's own words. Not my words. Not President Trump's words. The media's words.
We're gunna cut through all the code, all the spin, all the fog, all the lies, and all the Coordinated Narratives used by our media to obscure Truth.
And we will begin with the beguine.
Our national media has known for months that the Obama administration spied on Team Trump. This was not only common knowledge within the media community, it was no secret…
MORE
.
—————————————————————————————
.
College 'Diversity Council' Admits To Posting Fake Racist Flyers On Campus – National Review
The Diversity Leadership Council at Gustavus Adolphus College admits that it – with the help of other social-justice groups – planted fake racist flyers on campus "to educate" people about racism. The flyers, according to a photo obtained by Campus Reform, stated:
A NOTICE TO ALL WHITE AMERICANS
IT IS YOUR CIVIC DUTY TO REPORT ANY AND ALL ILLEGAL ALIENS TO U.S. IMMIGRATION AND CUSTOMS ENFORCEMENT
THEY ARE CRIMINALS
AMERICA IS A WHITE NATION
Obviously, these flyers caused a huge uproar among the school's students and alumni – only for Dean of Students Jones VanHecke to later announce that they were "part of a series of educational 'invisible theater' events taking place this week that have been planned by I Am We Are theater troupe, the Diversity Leadership Team, and the Bystander Intervention Committee."…
MORE
.
—————————————————————————————
.
Nebraska Democrats Include Voter Registration Forms In 'Refugee Welcome Baskets' – Conservative Review
.

.
The Nebraska Democratic Party is welcoming refugees with open arms, welcome baskets… and voter registration forms.
A donation drive organized by the NDP collected some 50 gift baskets for refugees. Each contained items like diapers and kitchen utensils, a welcome letter from the Nebraska Democratic Party signed by its chairwoman Jane Kleeb, and a voter registration form, according to a video posted to Facebook by the Nebraska Democratic Party.
The video, posted Saturday March 18, discusses the details of the "Refugee Welcome Basket" project and was recorded at the Nebraska Democratic Party's Spring Meeting.
"Nebraska has, and welcomes the most refugees and immigrants on a per-capita basis," Kleeb explains in the video as she describes the workshops set up by the NDP…
MORE
.
—————————————————————————————
.
Top Republicans Reveal They're Going Nuclear If Democrats Filibuster Gorsuch – Political Insider
Two top-level Congressional Republicans have revealed their plans to invoke the 'nuclear option' to counter Democrats who have vowed to filibuster Supreme Court nominee Neil Gorsuch.
With a 60-vote threshold necessary to confirm Gorsuch, a Democrat filibuster would temporarily halt his appointment due to Republicans controlling only 52 seats in the Senate.
Senate Minority Leader Chuck Schumer announced his plan to lead an effort to force the 60-vote requirement on Twitter.
The threat of a filibuster has led to grumblings that Republicans might invoke the 'nuclear option,' a move that would abolish the 60-vote requirement for Supreme Court nominees, something the Democrats themselves instituted for other judicial nominees under the leadership of Harry Reid in 2013.
Senators Lindsey Graham and John McCain have revealed they will do exactly that…
MORE
.
—————————————————————————————
.
Palestinian Terrorist And Leader Of Leftist Women's March Stripped Of U.S. Citizenship, Will Be Deported – USA Politics Today
.

.
Convicted 'Palestinian' terrorist and leader of 'A Day Without a Woman' march, Rasmea Odeh, 69 is being stripped of her U.S. citizenship and will be deported to Jordan.
Odeh is being charged with immigration fraud for lying on her visa and citizenship forms about her past terrorist convictions and ties to terrorist groups.
The Daily Caller reports:
Rasmea Odeh, 69, will avoid jail time as part of the deal, the Rasmea Defense Committee announced on Thursday.
"She will plead guilty to Unlawful Procurement of Naturalization, lose her U.S. citizenship, and be forced to leave the country, but will exit the U.S. without having to serve any more time in prison or ICE detention, a victory, considering that the government had earlier fought for a sentence of 5-7 years."…
MORE
.
—————————————————————————————
.
Illegal Deported 4 Times Charged With Sexually Assaulting A 2-Year-Old – WorldNetDaily
It's a growing trend across America: Members of MS-13, a highly organized and well-funded Central American gang, are terrorizing U.S. neighborhoods and communities with unspeakably horrific violence.
And so-called "sanctuary" communities remain determined to protect illegal aliens, despite outbreaks of violence in their schools and neighborhoods.
In the latest case, a 31-year-old illegal alien – who has admitted to being a member of MS-13 – has already been deported four times and is now accused of a horrific sex attack on a 2-year-old child in Long Island, New York.
The criminal case involves Tommy Alvarado-Ventura, who is also accused of brutally stabbing a woman in a parking lot. And using a knife to assault and slash his girlfriend. All in five hours.
The case is "probably the most heinous criminal act I've ever seen," said Acting Nassau County Police Department Commissioner Thomas Krumpter, according to NBC New York. "It really is nauseating."…
MORE
.
—————————————————————————————
.
Ukrainian Arms Depot Explodes In Act Of Sabotage – Deutsche Welle
.

.
A series of explosions has hit a warehouse storing tank ammunition and other weapons in eastern Ukraine. The blasts sparked a massive fire, prompting the evacuation of surrounding villages.
Ukraine's military said unknown saboteurs blew up the arsenal in the eastern city of Balaklia in the early hours of Thursday morning.
"According to preliminary data… as a result of sabotage… fire and explosions caused the detonation of ammunition at several sites storing rockets and artillery weapons," chief military prosecutor Anatoly Matios wrote on Facebook.
The 368-hectare site, one of Ukraine's largest military depots, contained some 138,000 tons of ammunition, he added…
MORE
.
—————————————————————————————
.
Federal Judge Sides With President Trump, Refuses To Block Travel Ban – Daily Caller
A federal judge in Virginia ruled Friday against blocking President Trump's executive order that called for temporarily stopping the entry of immigrants from six majority-Muslim nations and refugee admittance overall.
The decision against the injunction comes after federal judges in Maryland and Hawaii blocked the implementation of Trump's executive order nationwide. The ruling in Maryland is set to be heard before an appeals court in May. These two past decisions keep the order at bay.
Judge Anthony Trenga of the U.S. District Court for the Eastern District of Virginia found that Trump was within his legal rights to impose the travel ban and that it was not discriminatory toward Muslims. The injunction had been brought forward by Palestinian activist Linda Sarsour, who was represented by an attorney from the Council on American-Islamic Relations.
Trenga, a George W. Bush appointee, wrote in his opinion that "the President has unqualified authority to bar physical entry to the United States at the border."…
MORE
.
—————————————————————————————
.
Ryancare Bill Pulled Due To Lack Of Support – Daily Signal
.

.
House Speaker Paul Ryan abruptly withdrew the GOP's bill to repeal and replace Obamacare Friday afternoon after it became clear Republicans didn't have the votes to pass the plan.
The news came just minutes before the lower chamber was expected to vote on the bill, called the American Health Care Act, and after Ryan, R-Wis., huddled with President Donald Trump at the White House. The bill also faced Republican opposition in the Senate.
"I don't know what else to say, other than that Obamacare is the law of the land," Ryan said in a press conference. "It will remain the law of the land until it's replaced."
Trump and Ryan spent the better part of the past two weeks trying to court conservative lawmakers and centrist Republicans, who had doubts about the proposal and planned to vote against it…
MORE
.
—————————————————————————————
.
Leftist Insanity Update: Pre-School Suspends 4-Year-Old For Bringing .22 Shell Casing To Class – Hot Air
Americans have a constitutional right to bear arms. Perhaps in this day and age of confused fear of violence, some Americans like, oh, say, school teachers should have an official obligation to know a little something about firearms.
Here's the latest chapter in scary school silliness. In deep southern Illinois this week, Kristy Jackson went to pick up her four-year-old son Hunter from pre-school. She was greeted by an extremely unhappy teacher who said the little boy had brought to school a dangerous "shotgun bullet."
Never mind there's no such thing. Jackson was shocked, but also puzzled because her son had just spent a bonding afternoon learning the beginnings of gun safety from his grandfather, a police officer.
The stern teacher led Hunter's Mom to the principal's office. There, she was handed the evidence that had condemned her son, a tiny empty .22 shell casing.
According to Jackson's reasoned account on Facebook, she was also silently handed a piece of paper…
MORE
.
—————————————————————————————
.
In Wake Of Rockville Rape, Leftist School Superintendent Accuses Parents Of Racism – Townhall
.

.
In the wake of an alleged brutal rape at Rockville High School in Maryland by two illegal aliens last week, Montgomery County Superintendent Dr. Jack Smith is accusing parents of racism and xenophobia. He also claims threats are being made against students and schools.
"While I know this tragic incident has become part of a national political debate, I want to remind community members that the lives of real students have been forever affected," Smith sent in an email Thursday morning. "While many have chosen to engage civilly in the conversation, far too many have crossed the line with racist, xenophobic calls and emails. MCPS is working with law enforcement to identify those who are making threats toward our students and schools. This behavior will not be tolerated in our community."…
MORE
.
—————————————————————————————
.
California Brewery Now Making Beer Out Of Recycled Human Sewage Water – Natural News
Stone Brewing, the country's ninth largest brewery based in Southern California, has recently introduced a beer made with treated sewage water. The company unveiled five barrels of their latest brew, called Full Circle pale ale, at an event Thursday last week to the approval of curious customers. The craft beer was made with 100% recycled water from San Diego's Pure Water demonstration plant in Miramar.
"This particular water will just help us not require so much natural water to come in and give us a more reliable source. So for us to be able to reuse, that's part of our mantra, that's part of what we do," said Stone Brewing's chief operating officer Pat Tiernan.
The recycled water used in the beer only required some salts prior to the brewing process. The craft beer was made with three malts and three hops. Full Circle features a clean beer taste with a hint of caramel and tropical fruit notes. Full Circle is currently not available to the public…
MORE
.
—————————————————————————————
.
Trump Approves TransCanada's Keystone XL Pipeline – Zero Hedge
.

.
It's official: moments ago TransCanada said the U.S. Department of State issued a presidential permit for the construction of the Keystone XL Pipeline, ending a multi-year controversial, at times acrimonious debate over the future of the pipeline.
The pipeline linking Canadian oil sands to U.S. refiners had been blocked by Barack Obama, who said the pipeline would do nothing to reduce fuel prices for U.S. motorists and would contribute emissions linked to global warming.
"This is a significant milestone for the Keystone XL project," said Russ Girling, TransCanada's president and chief executive officer, said in a statement. "We greatly appreciate President Trump's administration for reviewing and approving this important initiative and we look forward to working with them as we continue to invest in and strengthen North America's energy infrastructure."…
MORE
.
—————————————————————————————
.
Leftist Immigration Lawyer Sentenced To 15 Months In Prison For Asylum Scam – Breitbart
A federal judge sentenced an Illinois immigration lawyer who cheated the immigration system to make sure his clients were granted asylum in the U.S. to 15 months in prison Wednesday.
Prosecutors say Robert Dekelaita, who called himself "Robin Hood" for refugees, would forge the names of his clients seeking asylum on application papers and fabricate their life stories with horrific anecdotes of kidnappings, bombings, and religious persecution that were all false, drawing inspiration from news stories he collected, CBS Chicago reported.
U.S. District Judge Matthew Kennelly sentenced Dekelaita to 15 months in prison for conspiracy to commit asylum fraud a year after Dekelaita was convicted, noting that even if he broke the law with noble intentions, he would "have to be willing to pay the price for it."
Kennelly encouraged Dekelaita, 54, of Glenview, to file a motion to remain free while he appeals his conviction…
MORE
.
—————————————————————————————
.
CNN And MSNBC Caught Using The Same "Live" Guest At The Same Time – Gateway Pundit
Oops! Looks like very fake news CNN and MSNBC were caught interviewing the same guest simultaneously while claiming to be live on air.
A channel surfer caught two different 'news' stations, CNN and MSNBC claiming to be live while they were interviewing the same guest.
This is great! More proof that the mainstream media is indeed 'fake news'.
Of course, this isn't the first time they have been caught manipulating live shots and crime scenes as you will see.
Video from Mark Dice YouTube channel…
.

.
MORE
.
—————————————————————————————
.
Muslim Arrested For Trying To Drive Car Loaded With Liquid Gas, Assault Rifle, Knives Into Crowd In Antwerp, Belgium – Daily Mail
A French -Tunisian has been arrested after trying to drive a car loaded with liquid gas, assault rifles and knives into a crowd of shoppers in Antwerp in an attempted terror attack.
Belgian police, who confirmed the bomb squad had been sent to the area, said the car was being driven at high speed and that pedestrians had to jump out of the way to avoid being injured.
Authorities found knives, a shotgun and a gas can with an unknown liquid in the car prompting officers who usually deal with extremist attacks to take over the case.
It comes just hours after three people were killed in London by a terrorist who mowed down pedestrians and cyclists outside the House of Commons before stabbing a policeman to death.
Belgian police arrested a man named as Mohamed R, 39, on Thursday after he tried to drive into a crowd at high-speed in a shopping area in the port city of Antwerp at around 11am.
The suspect, who has not been confirmed as a Muslim but is named after the religion's prophet and is said to be of North African descent, was wearing camouflage when he was arrested…
MORE
.
—————————————————————————————
.
100-Year-Old Ohio Man Credits Vodka And Dancing For Longevity – PJ Media
.

.
What's the secret to living a long, happy life? One Army veteran from Copley, Ohio, seems to have a hunch. Joe Saiani, who served in World War II, just celebrated his 100th birthday. His secret? According to NewsNet 5, "dance as much as you can, enjoy olive oil and a nightly drink won't hurt you."
Saiani only takes one daily blood pressure pill. Beyond that, he cooks with olive oil, makes himself a nightly vodka and tonic, and doesn't stress about getting old.
"I just don't think about how old I am. I really don't. It doesn't bother me," he said.
Saiani, who was born when Woodrow Wilson was President, sold meat and fish for most of his life and retired from a Cleveland company at the age of 95…
MORE
.
—————————————————————————————
.
Israeli-American Teen Arrested For Anti-Semitic Hate Crime Hoax Spree – Breitbart
Israeli authorities have arrested a 19-year-old suspect in connection with dozens of hoax bomb threats to Jewish community centers in the United States and around the world. ABC News reports that the unnamed suspect is a dual U.S.-Israel citizen.
Other reports indicate that the suspect is Jewish.
The arrest was "part of an ongoing international investigation that has been taking place for several months with other police and security agencies in America and Europe," Arutz Sheva reports.
Israeli police spokesman Mickey Rosenfeld said the suspect was "the guy who was behind the [Jewish Community Center] threats," according to CBS News' New York affiliate. The threats were also made in Europe, Australia, and New Zealand, as well as the U.S.
The suspect allegedly used technology in an attempt to hide his location. No motive for the hoax threats has yet been reported. The Jerusalem Post reports that the suspect is thought to be responsible for "most" of the threats…
MORE
.
—————————————————————————————
.
Noted Assclown Threatens To Filibuster Trump's Supreme Court Nominee – Zero Hedge
.

.
Moments ago, Senate Democratic Leader Charles Schumer said he would oppose the nomination of Supreme Court nominee Neil Gorsuch and urge fellow Democrats to do the same. Schumer's opposition comes minutes after Sen. Bob Casey said he would also oppose Gorsuch.
"After careful deliberation, I have concluded that I cannot support Judge Neil Gorsuch's nomination to the Supreme Court" Schumer said, adding the Supreme Court nominee "was unable to sufficiently convince me that he'd be an independent check" on Trump.
Schumer also said that Gorsuch is "someone who almost instinctively supports the powerful over the weak."
The Senate Democrat leader also announced that Democrats will filibuster Gorsuch and force Republicans to muster 60 votes to advance him to a final up-or-down vote…
MORE
.
—————————————————————————————
.
Muslim Child Rapist Is Appealing His Sentence Of 40 Hours Community Service – Gateway Pundit
.A Muslim youth in Sweden was sentenced to 40 hours of community service after raping a child and filming the attack.
"Ali" is appealing the sentence.
He spread the video to friends after the assault.
Via Fria Tider (translated):
Ali was sentenced to 40 hours of youth service for the rape of children in a schoolyard. Both he and his parents are now challenging the judgment of the Court of Appeal.
16-year-old Ali was convicted in February of child rape after he pinned a 13-year-old girl against a wall at Toleredsskolan in Gothenburg and forced her to oral sex. The crime took place in July, 2016.
During police interrogation, the girl has told me that Ali was weird and nagged that he wanted to have sex. He pushed her against a wall and tried to pull down her pants several times. She says that she pulled up his pants and told him she was not interested…
MORE
.
—————————————————————————————
.
Chelsea Clinton Blames Diabetes On… Wait For It… Climate Change – Twitchy
.

.
Wait Chelsea, you mean it's not diet and heredity that causes diabetes? It's the WEATHER?!
GET OUTTA HERE! Now we have ANOTHER reason to hate the snow.
Oh wait, global warming… hrm. Is that the same thing as climate change? This is so confusing.
=============================================
Chelsea Clinton @ChelseaClinton
Horrifying research shows correlation between global warming & rise in diabetes cases: http://lat.ms/2nMYAu2
5:06 PM – 22 Mar 2017
=============================================
Horrifying research; one degree Celsius increase could cause a bunch of people to get diabetes.
Right…
MORE
.
—————————————————————————————
.
Eco-Terrorists Burn Holes In Dakota Access Pipeline – Washington Times
The next activists who try to burn a hole through the Dakota Access pipeline may find that carbon pollution is the least of their problems.
The $3.8 billion project is expected to begin running oil this week, as authorities investigate two separate incidents of vandalism in Iowa and South Dakota involving holes torched in pipes located at above-ground valve sites.
No oil was flowing through the pipes, but if there had been, the consequences could have been disastrous, said Brigham A. McCown, former acting administrator of the Pipeline & Hazardous Materials Safety Administration.
"If they had tried to utilize a torch to burn through the sidewall, they would have likely ignited the oil inside and been killed instantly," said Mr. McCown, now an infrastructure consultant. "This is a serious safety issue and cannot be justified under any basis. Those responsible should face severe criminal penalties."…
MORE
.
—————————————————————————————
.
WikiLeaks Vault 7 Leak Claims CIA Bugs 'Factory Fresh' iPhones – Heavy
.

.
A new WikiLeaks Vault 7 leak titled "Dark Matter" claims, with unreleased documents, that the Central Intelligence Agency has been bugging "factory fresh" iPhones since at least 2008. WikiLeaks further claims that the CIA has the capability to permanently bug iPhones, even if their operating systems are deleted or replaced.
The documents are expected to be released after a 10 a.m. EDT "press briefing" that WikiLeaks promoted on its Twitter account.
A summary of the documents has been released on the WikiLeaks website. It reads:
Today, March 23rd 2017, WikiLeaks releases Vault 7 "Dark Matter", which contains documentation for several CIA projects that infect Apple Mac Computer firmware (meaning the infection persists even if the operating system is re-installed) developed by the CIA's Embedded Development Branch (EDB)…
MORE
.
—————————————————————————————
.
Aussie Veterans Pissed After PC-Nazism Infects Sacred War Memorial – Heatstreet
Mateship. It's a term that embodies loyalty, solidarity and camaraderie, so why are people finding this sign so offensive?
A sign along the Kokoda Track, a sacred military site in Papua New Guinea, has long been etched with the word "mateship" but it has now been changed to "friendship", causing fury among Australian war veterans.
As we lead up to the 75th anniversary of the Kokoda Track campaign, part of the Pacific War of WWII, veterans feel as though they're forgotten as "mateship" disappears from the memorial sign at the Kokoda Track's Owers Corner.
The memorial was to describe the "mateship" between the Australian and Papua New Guinean military.
Veterans are concerned the change in the sign, which is one of four memorial signs on the Kokoda Track – courage, mateship, endurance, sacrifice – could take away from the trail's military history…
MORE
.
—————————————————————————————
.
London Attacker Was UK-Born Islamist, Previously Investigated By MI-5 For "Violent Extremism" – Zero Hedge
.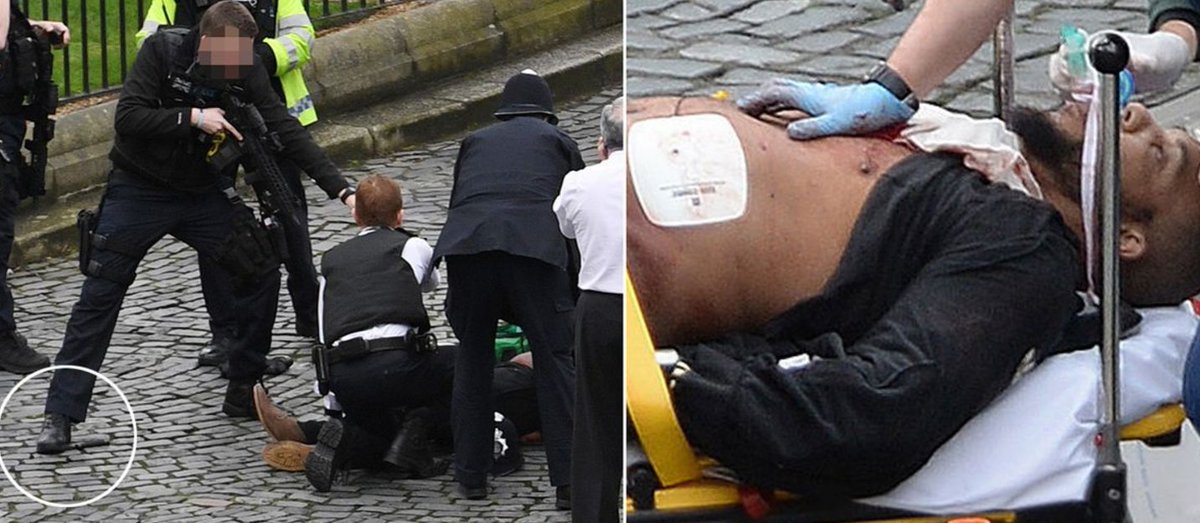 .
U.K. Prime Minister Theresa May told British lawmakers that one attacker was responsible for the deadly Westminster terror incident in London on Wednesday, and that the attacker had been investigated by security services in the past. "It's still believed that this attacker acted alone," May told lawmakers in the House of Commons.
May said that a British-born man inspired by Islamist ideology, who had been previously investigated by MI-5 is responsible for the attack.
"His identity is known to the police and MI-5 and, when operations allow he will be publicly identified. He was British born and some years ago he was investigated by MI-5 in relation to concerns about violent extremism," May said…
MORE
.
—————————————————————————————
.
Fake News: AP Touts Anti-Trump Poll With Warped Demographics Conducted By Soros-Backed Organization – Breitbart
The Associated Press on Monday released a news making story with a glaring headline claiming that "Most young Americans don't see Trump as a legitimate leader."
A closer look at the survey finds it was conducted by a group financed by billionaire George Soros whose activist arm demands reparations for slavery and "mass incarceration," and has engaged in anti-police activism.
In addition, the survey was not representative of the racial and ethnic profiles of young adults. Instead it focused heavily on demographic samples of populations that voted overwhelmingly against Donald Trump.
The AP story, which was published in major news media outlets, claimed a "majority of young adults – 57 percent – see Trump's presidency as illegitimate, including about three-quarters of blacks and large majorities of Latinos and Asians, the GenForward poll found."…
MORE
.
—————————————————————————————
.
House Ready To Change Health Care Bill After Learning Senate Rules Might Let Them Repeal More Of ObamaCare – Hot Air
.

.
A good time to familiarize yourself with critical procedural rules in the other chamber while you're trying to pass the most momentous bill of Trump's presidency is obviously the night before you bring it to the floor, I think we can all agree.
I mentioned the reconciliation problem in this morning's post. The GOP's dilemma, and the reason for the weird "three stage" repeal that Trump and Ryan keep mentioning, is that they can only use the 51-vote reconciliation process in the Senate to repeal budgetary provisions. Anything that doesn't count as "budgetary" – like the regulations that set forth ObamaCare's "enhanced health benefits" (EHBs) – must be excluded and repealed separately, either by Tom Price rescinding those regs via an HHS order or by the GOP somehow finding 60 votes in the Senate for a second bill that would repeal them…
MORE
.
—————————————————————————————
.
Hackers Threaten To Wipe Up To 300 Million iPhones Unless Apple Pays Ransom – Metro
A mysterious group of hackers claim to be threatening to wipe up to 300 million iPhones and iCloud accounts – unless Apple pays a ransom in Bitcoin by April 7.
The group – who describe themselves as 'Turkish Crime Family' – claim to have demanded $75,000 in Bitcoin or Ethereum cryptocurrency, according to Motherboard.
A hacker said, 'I just want my money and thought this would be an interesting report that a lot of Apple customers would be interested in reading and hearing.'
They claim to have credentials which would allow them access to hundreds of millions of users' accounts, according to the report in Motherboard – and are threatening to wipe a number of them unless they are paid.
Screenshots of supposed discussions with Apple show Apple's security team requesting that the gang delete a YouTube video where they supposedly access an elderly woman's iCloud account.
MORE
.
—————————————————————————————
.
Nunes 'Unmasking' Report Vindicates Trump Claims On Surveillance – Breitbart
.

.
House Intelligence Committee chair Rep. Devin Nunes (R-CA) announced on Wednesday that he had learned that members of President Donald Trump's transition team had been under surveillance by the Obama administration, that individual names had been "unmasked" by the intelligence community, and that those names had been leaked to the media.
Nunes's information – which he said he would deliver to the White House later – vindicates the bulk of Trump's claims earlier this month.
Nunes said that while there was no direct "wiretap" by President Barack Obama of Trump Tower, there was indeed surveillance – perhaps collected incidentally – of people close to Trump, possibly including Trump himself…
MORE
.
—————————————————————————————
.
"Asian" Man Kills 4, Wounds 20 In London With Car, Knife – Daily Telegraph
A police officer and a terrorist are among four dead following a major terrorist incident just yards from the Houses of Parliament.
Around 2:40pm, an attacker mowed down about a dozen pedestrians on London's Westminster Bridge in a grey Hyundai i40 leaving one woman dead and several others with "catastrophic injuries".
The vehicle then crashed into railings just yards from the Houses of Parliament and the attacker was seen running through the gates of the Palace of Westminster with a knife. He reportedly stabbed a policeman before being shot by armed officers.
Paramedics fought to save his life and that of his victim on the floor of the cobbled courtyard just yards from the House of Commons. Both the policeman are the attacker were later confirmed dead.
Two large knives could be seen at the scene…