.
SpaceX Successfully Lands Its Third Falcon 9 Rocket On Solid Ground – The Verge
.

.
SpaceX pulled off another successful rocket landing this morning – and this time during the day on the coast of Florida. A Falcon 9 rocket successfully touched down at SpaceX's ground-based landing zone at Cape Canaveral after launching to space. It's the third time that SpaceX has landed its rocket on solid ground post-launch, but the first time a ground landing has been done during the daytime. The success means that the company now has eight landed Falcon 9s in its possession.
The Falcon 9 took off from the Cape at 9:39AM ET, lofting the company's Dragon cargo capsule into space for NASA. The Dragon is filled with nearly 5,500 pounds of supplies and science experiments for the astronauts on the International Space Station…
MORE
.
—————————————————————————————
.
Israeli Hospital Helps 16 Deaf Palestinian Children Hear For First Time – Times Of Israel
Sixteen deaf Palestinian children were able to hear for the first time after undergoing a procedure at an Israeli hospital to repair their hearing, Hebrew media reported Saturday.
The operations to repair the children's hearing, known as cochlear implant surgery, were performed by doctors at Hadassah Hospital Ein Kerem in Jerusalem over the course of the past several months, according to the Ynet news website.
The last six surgeries took place over the course of just a few days.
Dr. Michal Kaufmann, who performed the surgeries, told Ynet that being able to perform the operations was quite difficult due to the "logistical challenge[s]."
"Many authorizations were required from the Defense Ministry," she said, adding that "some of the children arrived without a medical record and required extensive tests at Hadassah alongside emotional and psychological treatment."
The surgery involves a small electronic implant being directly inserted into the cochlear hearing nerve in the ear to stimulate the auditory senses, with an external microphone then transferring the sounds to the internal part of the device and allowing the patient to hear, according to John Hopkins Hospital…
MORE
.
—————————————————————————————
.
Free-Speech-Hating, Leftist FEC Bureaucrat Resigns – Washington Free Beacon
.

.
A Democratic Federal Election Commission official who pushed to regulate the internet and has been absent from public meetings for months is resigning, according to an announcement.
Ann Ravel, who wanted to regulate political speech on the internet from websites such as the Drudge Report, announced Sunday that she is stepping down from her post.
"It's been an honor to serve the FEC. I'm committed to transparency – here's my resignation letter to Donald Trump," Ravel tweeted on Sunday morning.
Ravel attached her resignation letter to President Donald Trump, which focused on asking Trump to prioritize campaign finance reform…
MORE
.
—————————————————————————————
China Is Finally Putting The Screws To North Korea – Daily Caller
China is preparing to deliver a crushing blow to the weak North Korean economy.
It is suspending all coal imports from North Korea, the Ministry of Commerce said Saturday, without going into specifics as to why it was taking action.
Coal exports are a primary source of income for the reclusive state. Following North Korea's fourth nuclear test in February last year, the United Nations Security Council passed UNSC Resolution 2270, which placed restrictions on North Korea's coal exports but made exceptions through the "livelihood purposes" clause. China has been accused of exploiting this loophole to continue importing North Korean coal in order to reduce international pressure on Pyongyang.
China agreed to reduce its coal imports from North Korea last April, yet by August, coal imports had surged. In August, China imported 2.47 million tons of coal from the North. In 2016, China imported 22.48 million tons of coal, a year-on-year increase of 14.5 percent.
After the North conducted its fifth nuclear test in September last year, the UNSC passed UNSC Resolution 2321, which put a cap on North Korean coal exports, reducing its annual coal export revenue by an estimated $700 million…
MORE
.
—————————————————————————————
.
Leftist "Fact-Checking" Website Snopes Proven Wrong… Again – Federalist Papers
.

.
The so-called "fact-checking" website Snopes managed to get the facts wrong when trying to debunk claims that Planned Parenthood has abortion quotas that their clinics have to meet.
The pro-life group Live Action posted an interview with two former employees of Planned Parenthood. One of them, Sue Thayer, who is openly pro-life, said every clinic has a "goal" and that employees were rewarded with incentives for meeting the abortion goals.
Planned Parenthood's abortion services make up a significant portion of their non-government revenue business. There are no such incentives for non-abortion services, Thayer said.
Another employee confirmed Thayer's account, saying she was told "You have a quota to meet to keep this clinic open."…
MORE
.
—————————————————————————————
.
Chinese Using Flame-Throwing Drones To Clean Power Lines – Popular Mechanics
Incredible new pictures show that a power company in Xiangyang, China has a creative solution to the problem of garbage hanging on power lines: flame-throwing drones.
.

.
The drones are deployed to fly up alongside hard-to-reach stretches of wire and burn off garbage like plastic bags with giant plumes of flame. Shooting fire at a power line may seem dangerous, but it's a whole lot less dangerous than a human being pulling stuff off a wire 30 feet up in the air.
The photos have a pretty dystopian aesthetic – he unmanned eight-bladed copters look more than a little like flying, flame-shooting spiders. But not to worry, these drones are used for improving our infrastructure, not destroying it…
MORE
.
—————————————————————————————
.
Publishers Now Hiring 'Sensitivity Readers' To Ensure Political Correctness – American Thinker
.

.
If you ever worried about what the student snowflakes at American universities would be qualified to do after graduation, this is the perfect job for them.
Publishers are hiring "sensitivity readers" to check book manuscripts to make sure they adhere to politically correct standards.
From the Washington Post:
These days, though, a book may get an additional check from an unusual source: a sensitivity reader, a person who, for a nominal fee, will scan the book for racist, sexist or otherwise offensive content. These readers give feedback based on self-ascribed areas of expertise such as "dealing with terminal illness," "racial dynamics in Muslim communities within families" or "transgender issues."…
MORE
.
—————————————————————————————
.
50 Rhino Poachers Shot Dead After India Unleashes 'Zero Tolerance' Conservation Policy – Zero Hedge
As TheAntiMedia's James Holbrooks reports, to protect rhinos, this national park shoots poachers, and has killed over 50 so far.
"The instruction is whenever you see poachers or hunters, we should start our guns and hunt them."
"You shoot them?"
"Yah, yah. Fully ordered to shoot them. Whenever you see the poachers or any people during night-time we are ordered to shoot them."
This exchange took place between journalist Justin Rowlatt and a wildlife preserve guard in India and highlights a practice that's produced both encouragingly positive and heartbreakingly negative effects – all in the name of conservation.
Last week, BBC detailed a story unfolding at Kaziranga National Park, a wildlife conservation area in east India. Since 2014, the Indian government has granted the power to park guards to shoot and kill any and all suspected poachers with little worry they'll face legal consequences afterward.
"Kill the unwanted," M.K. Yadava, then-director of the park – and the man who introduced the controversial policy – recommended in a 2014 report. He also stated his belief that environmental crimes such as poaching are more serious than murder, as "[t]hey erode the very root of existence of all civilizations on this earth silently."…
MORE
.
—————————————————————————————
.
Imaginary News – Scott Adams
.
I think we can all agree that there has been plenty of fake news coming from both sides. Fake news is usually intentional, although in some cases it is the result of honest mistakes. But lately we are seeing an entirely new type of untrue news. I call it Imaginary News. Here's a good example from the Huffington Post.
.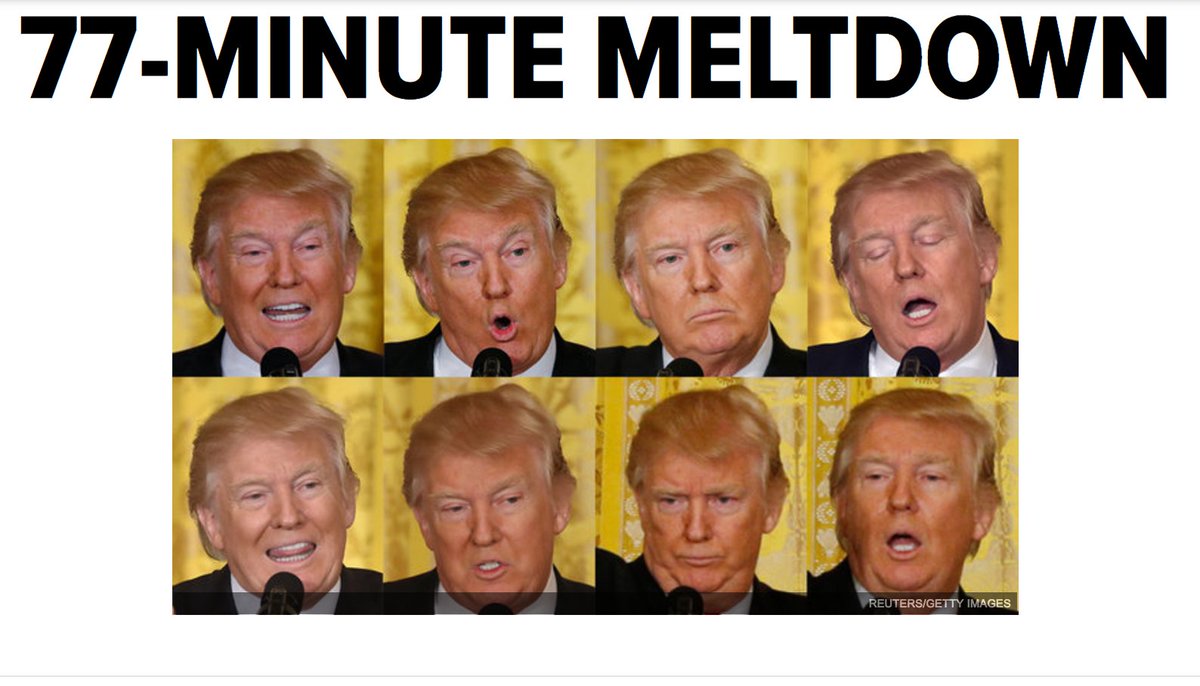 .
I watched President Trump's press conference with the alleged "meltdown," and all I saw was Trump talking the way he normally talks. The Huffington Post watched and apparently saw some other set of circumstances. That means we have three possibilities to consider:
1. Huffington Post saw the situation accurately while I was hallucinating.
2. My version of events is accurate and Huffington Post hallucinated.
3. Both the Huffington Post and I were hallucinating…
MORE
.
—————————————————————————————
.
A Day Without Jobs: 18 Tennesseans Fired For Taking Part In 'A Day Without Immigrants' Protest – KGTV
A total of 18 people were fired from a Tennessee business after joining the nation-wide protest "A Day Without Immigrants."
The 18 employees at Bradley Coatings, Incorporated in Nolensville, Tennessee told their supervisors on Wednesday they'd be taking part in the nationwide movement. Then, on Thursday, they were told they no longer had jobs.
"We are the team leaders directly under the supervisors and they informed us last night that we could not go back to work and the boss said we were fired," one employee said.
The former employee asked to remain anonymous but had this message to his former boss.
"I would tell him he was unfair, after working for them for so many years, giving him our best. They could not understand that it was just one day. We were going to make up that day on a Sunday, but they didn't understand that, and it was not the best way. They didn't give us an opportunity and just told us we were fired," he said.
"Tennessee is an employment-at-will state which basically means an employer can end your employment at any time without reason or cause. Of course there are a lot of different stipulations, civil rights issues that could stop them from doing that," Department of Labor and Workforce Development spokesman, Chris Cannon said…
MORE
.
—————————————————————————————
.
A Day Without Jobs: 12 Oklahomans Fired For Taking Part In 'A Day Without Immigrants' Protest – KTUL
.

.
A dozen workers at a Catoosa restaurant are without a job after getting fired for skipping work as a show of support for "A Day Without Immigrants."
The restaurant workers are all Hispanic and say it was important to them to participate in the national protest.
But they didn't think it would cost them their jobs.
"They feel like they've been unfairly terminated," said a friend, translating for the employees.
The group worked at I Don't Care Bar and Grill in Catoosa. They talked to us after they were fired for not showing up to work. They asked us not to show their faces or give their names…
MORE
.
—————————————————————————————
.
A Day Without Jobs: 21 South Carolinians Fired For Taking Part In 'A Day Without Immigrants' Protest – WLTX
Twenty one people were fired after taking part in the Day Without Immigrants Protest.
The movement closed restaurants and shops across the country to show the contributions immigrants have on the American workforce.
Juvenito Quintana and 20 other all missed work on February 16th. The next day, they got a letter from Encore Boat Builders LLC in Lexington, saying they were being terminated for no show/ no call in.
Quintana says some employees got calls from management the day before telling them not to miss or else they'd lose their job. That's why he said a lot didn't call in, for fear.
Most of the employees had been working there for years and have small children. Quintana is a permanent resident and feels like the termination was unfair.
News19 reached out to Encore Boat Builders on Friday but the company had no comment at the time. On Monday, we called them again, and they said the employees accounted for about 20 percent of their workforce. They're now looking to hire their replacements. .
They said this was all done following protocol: if someone doesn't call in, they can get fired.
Melissa Burnette is an employment attorney. and says South Carolina is a Right To Work state where employers can make those kinds of decisions…
MORE
.
—————————————————————————————
.
Former Obama Campaign Manager Fined $90,000 For Unethical Lobbying For Uber – Breitbart
.

.
David Plouffe, Barack Obama's 2008 campaign manager, was fined $90,000 by the Chicago Board of Ethics in a 5-0 vote for improperly lobbying Mayor Rahm Emanuel on behalf of Uber Technologies.
The San Francisco resident was fined $1,000 a day for the 90 days he used personal email accounts without being a registered lobbyist to lobby Mayor Emanuel, former Chief of Staff to President Barack Obama, to allow Uber to make unlimited ride-share pick-ups at Chicago's Midway and O'Hare airports. Plouffe and Emanuel had worked together during Obama's first campaign.
The City of Chicago had operated a lucrative business auctioning off taxi cab medallions for a minimum of $360,000 per medallion. That explained why the base fare for a Chicago taxi ride was $ 3.25 for the first mile and $ 2.25 for each additional mile…
MORE
.
—————————————————————————————
.
Too 'Politically Incorrect': Students Want Dalai Lama Banned From Campus – Red Alert Politics
Social justice warriors can find a way to be offended by anything. Even the Dalai Lama's words are too controversial for their delicate ears.
Students at the University of California, San Diego (UCSD) are protesting their school's announcement that the Dalai Lama will speak at their commencement ceremony in June. Chinese students studying at the American campus said he was an oppressive figure given his stance on Tibetan independence. Meanwhile, left-wing students are angered by his criticism of the Communist Party of China, Quartz Media reported.
A few hours after the announcement, the Chinese Students and Scholars Association (CSSA) released a note in Mandarin on WeChat saying it had communicated with the Chinese consulate.
"UCSD is a place for students to cultivate their minds and enrich their knowledge. Currently, the various actions undertaken by the university have contravened the spirit of respect, tolerance, equality, and earnestness – the ethos upon which the university is built," the note stated. "These actions have also dampened the academic enthusiasm of Chinese students and scholars…
MORE
.
—————————————————————————————
.
Pussy Of The Week: Shepard Smith – Clash Daily
.

.
Well, SOMEBODY was going to fill the vacuum that she left behind…
If you were wondering who would play the role of resident unhinged Trump-basher that Megyn Kelly left vacant, that role is now filled.
Shep was NOT happy about Trump bashing CNN as fake news. (Did he also object when Obama treated Fox like fake news? Because if he didn't… THAT would be awkward)
Watching this, we were half-expecting Shep to break into a Meryl Streep crying fit.
Shep is interested in any 'connection' team Trump had with Russia. But not any role CNN had with propping up Hillary. Or the finger DWS used tipping the scales against Bernie before leaving the DNC and joining Hillary's campaign…
MORE
.
—————————————————————————————
.
Leaked Emails: Dem State Leaders Think Obama's New Organizing Army Is 'Grade A Bullshit' – Daily Beast
It is difficult to overstate just how enraged state Democratic activists and leaders are with Organizing for Action (OFA), the political and community-organizing army that grew out of Barack Obama's presidential campaigns.
The nonprofit, which functions as a sort of parallel-Democratic National Committee, was founded to mobilize Democratic voters and supporters in defense of President Obama's, and the Democratic Party's, agenda. Instead, the organization has drawn the intense ire, both public and private, of grassroots organizers and state parties that are convinced that OFA inadvertently helped decimate Democrats at the state and local level, while Republicans cemented historic levels of power and Donald J. Trump actually became leader of the free world.
These intra-party tensions aren't going away, especially now that OFA "relaunched" itself last week to protect the Affordable Care Act, boost turnout at congressional townhalls, and train grassroots organizers gearing up for the Trump era.
"This is some GRADE A Bullshit right here," Stephen Handwerk, executive director of the Louisiana Democratic Party, wrote in a private Democratic-listserv email obtained by The Daily Beast…
MORE
.
—————————————————————————————
.
Fake News: AP Blows It Badly On National Guard Deportation 'Scoop' – Townhall
.

.
One day after President Trump savaged the media over inaccurate reporting about his nascent administration, the Associated Press helped prove his point by stepping in it… big league.
Cortney ran through the basics earlier, but let's contemplate what a mess the AP made here. In case you missed it, here was their reported bombshell, which spread like wildfire within minutes, fueled by the oxygen of liberal outrage:
=============================================
The Associated Press
@AP
BREAKING: Trump administration considers mobilizing as many as 100,000 National Guard troops to round up unauthorized immigrants.
10:12 AM – 17 Feb 2017
=============================================
The Trump administration is considering a proposal to…
MORE
.
—————————————————————————————
.
Judicial Watch Planning To Sue FBI, NSA And CIA For Flynn Records – Breibart
Conservative foundation Judicial Watch is planning to sue several government agencies if they do not hand over records related to the wiretapping of former National Security Adviser Michael Flynn.
The group filed Freedom of Information Act requests for the records weeks ago but are planning to sue by next week for the records if they do not receive anything by then.
Judicial Watch filed the requests with the FBI, NSA, CIA, and Treasury Department, according to the group's Director of Investigations and Research Chris Farrell.
The group is aiming to find out whether there was ever a warrant allowing the U.S. government to wiretap Flynn's phone calls, and if so, who requested it and why.
"If you have a warrant, attached to the warrant 99 percent of the time, there is an affidavit, a sworn declaration normally by a law enforcement officer or senior official," said Farrell.
Such a warrant could be classified, depending on the case, he said.
A wiretapped phone call between Flynn and Russian Ambassador Sergey Kislyak was leaked to the Washington Post and revealed in a Feb. 9 story.
The leak, which took place in December, contradicted public assertions by Vice President Michael Pence that Flynn had never discussed sanctions with Kislyak, and led to Flynn's eventual resignation on Monday…
MORE
.
—————————————————————————————
.
Scott Pruitt Confirmed As EPA Chief Despite Democrat Obstruction – Washington Times
.

.
Scott Pruitt won confirmation Friday to be administrator of the EPA, foiling Democrats' attempts to hold up his nomination until the former Oklahoma attorney general complies with a judge's order and releases thousands of emails between his office and oil-and-gas companies.
In a highly contentious vote that came on the heels of a last-ditch delaying effort from Democrats, Mr. Pruitt was approved to head the agency by a vote of 52 to 46.
The vote broke largely along party lines, though two Democrats – Sen. Joe Manchin of West Virginia and Sen. Heidi Heitkamp of North Dakota – backed Mr. Pruitt.
Republican Sen. Susan Collins of Maine voted against him, saying she does not believe he's fit to head the EPA. She was the only member of the GOP caucus to vote against Mr. Pruitt…
MORE
.
—————————————————————————————
.
House Oversight Committee Pursues Charges Against Architect Of Hillary's Illegal Email System – Dailer Caller
The House Oversight and Government Reform Committee is pursuing charges against Bryan Pagliano, the architect of Hillary Clinton's email system who ignored subpoenas to testify in front of Congress last year.
Utah Rep. Jason Chaffetz, the Republican chairman of the committee, asked Attorney General Jeff Sessions in a letter Thursday to convene a grand jury to pursue charges against Pagliano in the matter.
"The authority to compel witnesses is integral to Congress's and the Committee's investigative powers," Chaffetz stated in the referral.
"Allowing Mr. Pagliano's conduct to go unaddressed would gravely harm Congress's ability to conduct oversight. This letter details the Committee's significant efforts to work with Pagliano and his attorneys to avoid the necessity of a criminal referral – including giving Pagliano a second opportunity to show up after first failing to appear."
Pagliano was subpoenaed by Congress to testify on Sept. 13 and Sept. 22 but failed to up to the hearings. The Oversight Committee then voted to hold Pagliano in contempt of Congress.
Pagliano worked for Clinton at the State Department. There, he set up and maintained her secret email system, on which classified information was stored…
MORE
.
—————————————————————————————
.
Harvard Geneticists On The Brink Of Resurrecting The Woolly Mammoth – IBT
.

.
Geneticists from Harvard University claim that they are on the brink of bringing the woolly mammoth back to life. The mammoth lived in Africa, North America, Asia and Europe before they vanished 4,500 years ago, towards the end of the Pleistocene period. The geneticists say that they are now just two years away from resurrecting the extinct animal.
The team of researchers led by Professor George Church plan to come up with a revolutionary research by using frozen DNA of the mammoth preserved in Arctic permafrost.
"We're working on ways to evaluate the impact of all these edits and basically trying to establish embryogenesis in the lab," Professor Church, head of the Harvard Woolly Mammoth Revival team, was quoted as saying by The Telegraph…
MORE
.
—————————————————————————————
.
It's A Bloodbath At The State Department – New York Post
Secretary of State Rex Tillerson is cleaning house at the State Department, according to a report.
Staffers in the offices of deputy secretary of state for management and resources as well as counselor were shown the door Thursday, according to CBS News.
Many of those let go were on the building's seventh floor – top-floor bigs – a symbolically important sign to the rest of the diplomatic corps that their new boss has different priorities than the last one.
The staffing changes came as Tillerson was on his first foreign trip – attending a G-20 meeting in Bonn, Germany.
"As part of the transition from one administration to the next, we continue to build out our team. The State Department is supported by a very talented group of individuals, both Republicans and Democrats," State Department spokesman RC Hammond told CBS.
"We are appreciative to any American who dedicates their talents to public," he added.
This week's round of firings marks the second time State Department personnel have been cleared out since President Trump took office last month…
MORE
.
—————————————————————————————
.
Black Trump Supporter Goes Off On Leftists At 'Sanctuary City' Town Hall Meeting – Mad World News
.

.
After opening a public forum for members of the community to speak about their sanctuary city for illegal immigrants, a few politicians realized they bit off more than they could chew. That was proven to be the case when a black woman approached the podium – and she left the panel in complete shock after dropping eight badass words.
Most of America is aware of the Democrats' tactics to hinder President Donald Trump's efforts at every turn, but at this point, they're just putting the lives of their constituents at risk. In fact, as we continue to see more sanctuary cities pop up, we're also seeing a spike in crime that comes along with it – but not everyone is taking it lying down.
In fact, residents of Cudahy, California, were so outraged over the decision to let criminals roam free within their town limits that local politicians were forced to open their doors to hear everyone out…
MORE
.
—————————————————————————————
.
President Trump Visits South Carolina Boeing Plant – USA Today
Conducting his first visit beyond the Beltway since his inauguration four weeks ago, President Trump on Friday stressed his "America First" trade and economic policies during a campaign-like visit to an airplane plant operated by Boeing – a company he has criticized in the past.
"We are going to fight for every last American job," Trump told employees at Boeing as the company rolled out its latest model, the 787-10 Dreamliner ("Dreamliner… great name," the president said).
During a speech in which he referenced last year's presidential election several times, Trump repeated a policy approach that has drawn opposition from congressional Democrats and some Republicans.
While alluding to his dispute with Boeing over the costs of a new Air Force One model, Trump said he and his administration have persuaded global companies to keep or increase jobs in the United States. In many cases, Trump took credit for corporate plans that were already in the works when he won election in November.
The president also echoed pledges to change trade deals and reduce regulations that he said have encouraged companies to move jobs to other countries; congressional critics say Trump's approach would lead to less trade and higher prices for products at home…