.
Obama Has Refused To Deport 820,000 Illegal Aliens Guilty Of Murder, Rape, Drug Offenses, And Other Crimes – Breitbart
A new report estimates that there are up to 820,000 illegal aliens in the U.S. who have escaped deportation under Obama's regime despite that many of them have been convicted of serious crimes including murder, rape, drug offenses, and other crimes.
While some estimates say there are up to 2 million criminal illegal aliens in the U.S., a new report from the Center for Immigration Studies finds there are at least 820,000 which, as the Washington Examiner's Paul Bedard notes, is still larger than the populations of four states: Alaska, North Dakota, Vermont, or Wyoming.
The study finds that as many as 690,000 of the 820,000 have very serious convictions, while the others have lesser crimes to their record.
Bedard also quotes CIS fellow David North who discounts dividing the illegal immigrants into separate categories based on lesser or greater crimes saying, "an illegal alien with a shoplifting record, for example, is an illegal alien who does not belong here in the first place."
During his last four years in office, the number of illegal immigrants Obama deported plunged from his first term. In fact, during 2015, the number of deportations have cratered even over those of 2014 and measured in at his lowest number thus far in his presidency.
According to numbers supplied by the Department of Homeland Security, Obama deported 333,000 illegal immigrants (of which 140,000 were convicted of various crimes) in 2015 which is less than the 414,000 from 2014 (with 168,000 those being convicted of major crimes)…
MORE
.
—————————————————————————————
.
It's All Over But The Crying: Fascist Left's Attempted Electoral College Coup Fails – Edward L. Daley
.

.
One final, desperate effort by moonbat Hillary supporters to subvert Donald J. Trump's legitimate victory in this year's presidential election has come to an end, resulting in yet another spectacular defeat for 'Her Thighness'.
Yes, the left's much-ballyhooed electoral college coup attempt crumbled to ashes at approximately 5:30 pm (EST) on Monday when the great state of Texas handed 'The Donald' 36 of its 38 electoral votes, thus lifting his total for the day above the 270 mark required for the Republican candidate to be officially declared TRiUMPhant.
According to the latest live update posted on KIRO 7's state-by-state electoral vote count page:
Texas cast all but 2 of their 38 Electoral votes for Donald Trump.
Dec 19, 2016 5:30 PM EST Donald Trump has been elected president as he passes 270 Electoral votes.
MORE
.
—————————————————————————————
.
Obama Becomes First Nobel Peace Prize Winner To Bomb 7 Countries – Your News Wire
Barack Obama, the president who promised change, actually provided more of the same. As the 44th President of the United States prepares to exit stage left, he can congratulate himself on becoming the first Nobel Peace Prize winner to bomb seven different countries back to the Stone Age.
The president who preached hope also kept the military-industrial complex in fine fettle, selling a record $115 billion in weapons to Saudi Arabia, the world's most repressive regime, and destabilized entire regions, creating vacuums for terrorists to thrive.
As the United States renews a bombing and propaganda campaign in Syria, it seems like America's penchant for waging war knows no bounds. During Barack Obama's presidency, the U.S. bombed seven countries while supporting other destabilizing military actions throughout the Middle East.
Here's a look at these seven countries and the effects of bombing. MPN reports:
Afghanistan – Despite the announced "end" of the Afghanistan War, significant U.S. military presence in Afghanistan remains. Drones are a frequent presence in Afghan skies. One strike earlier this month killed 12 people, according to Iran's PressTV.
Iraq – The Obama administration has conducted over 5,000 airstrikes in Iraq and Syria in just the past year, David Lerman reported for Bloomberg Business. Despite ongoing U.S. military involvement, terrorism continues to be a deadly presence in Iraq's cities.
Libya – While the European Union and its allies carried out many of the airstrikes during Libya's civil war, the U.S. was instrumental in destabilizing that country through both military aid and direct support…
MORE
.
—————————————————————————————
.
Russian Ambassador To Turkey Assassinated As Gunman Shouts 'Aleppo, Revenge' – Daily Telegraph
.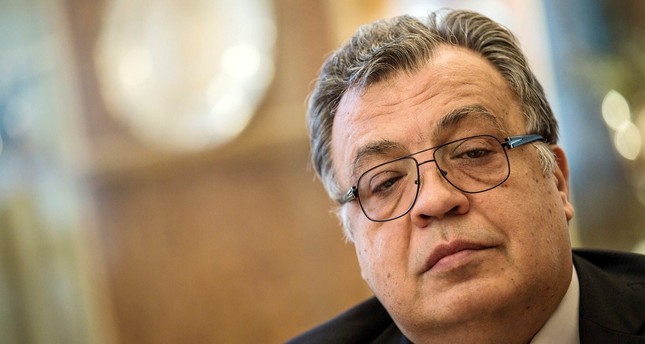 .
Russia's ambassador to Ankara has been killed in a gun attack while visiting an art exhibition opening in the Turkish capital, television reports said.
Russia's state news agency said Andrey Karlov had died at the scene of gunshot wounds.
Earlier it was reported Mr Karlov had been hospitalised and several other people wounded, NTV and CNN-Turk televisions said.
The attacker has been 'neutralised,' according to Turkish media.
The attack came after days of protests in Turkey over Russia's role in Syria, although Moscow and Ankara are now working closely together to evacuate citizens from Aleppo.
Pictures published by the Hurriyet daily showed at least two men in suits lying flat on the ground as another man brandished a gun…
MORE
.
—————————————————————————————
.
EPA Let Pollution Fester At 302 Sites For Years, Sometimes Decades – Daily Caller
People living near up to 302 highly-contaminated sites controlled by the Environmental Protection Agency (EPA) have faced health hazards from pollution for years or sometimes decades, a Daily Caller News Foundation investigation has found.
Those sites are part of the EPA's Superfund program, which is intended to clean the most dangerous and polluted places in America. But the agency has either been unable or unwilling to decontaminate many of the locations, allowing pollution to fester, a DCNF analysis of more than 1,300 active Superfund sites found.
Health hazards still either threaten humans or are unknown at 117 – or nearly one-quarter – of the 480 Superfund sites added before 1987, TheDCNF's analysis found. Those locations have waited for more than 30 years for decontamination or an adequate analysis to determine risks.
"You're not going to find a Superfund site where there weren't feet dragging in the process," Karen Gogins told TheDCNF. Gogins is a policy staffer with Citizens for a Health Bay, an advocacy group for the Commencement Bay Superfund site in Washington state, which was added when the program began in 1983.
Both the EPA and the site's polluter – Occidental Chemical – have slowed cleanup progress, Logins noted.
"We're starting to get to the cusp of things where decisions will be made," she said. "We're still looking at decades more work."…
MORE
.
—————————————————————————————
.
Trump Picks Vincent Viola As Army Secretary – Sun-Sentinel
.

.
Florida Panthers majority owner Vincent Viola has been nominated to serve as the Secretary of the Army by President-elect Donald Trump.
Viola, a 61-year-old native of Brooklyn, N.Y., graduated from the U.S. Military Academy at West Point in 1977 and later graduated from the U.S. Army Airborne, Infantry and Ranger Schools. He served in the 101st Airborne Division.
After the terrorist attacks on Sept. 11, 2001, he founded and funded the Combating Terrorism Center at West Point.
The former chairman of the New York Mercantile Exchange and founder of Virtu Financial Inc., he bought the Panthers on Sept. 27, 2013 for about $250 million.
"Whether it is his distinguished military service or highly impressive track record in the world of business, Vinnie has proved throughout his life that he knows how to be a leader and deliver major results in the face of any challenge," Trump said in a statement…
MORE
.
—————————————————————————————
.
The Blue State Depression – Stephen Moore
People are leaving the Hillary-supporting states in droves
When I say the blue states are in a depression, I don't mean the collective funk they are in because they lost the election to Donald Trump.
I'm talking about an economic depression in the blue states that went for Hillary. Here is an amazing statistic. Of the 10 blue states that Hillary Clinton won by the largest percentage margins – California, Massachusetts, Vermont, Hawaii, Maryland, New York, Illinois, Rhode Island, New Jersey, and Connecticut – every single one of them lost domestic migration (excluding immigration) over the last 10 years (2004-14). Nearly 2.75 million more Americans left California and New York than entered these states.
They are the loser states. They are all progressive. High taxes rates. High welfare benefits. Heavy regulation. Environmental extremism. Super minimum wages. Most outlaw energy drilling. The whole left-wing playbook is on display in the Hillary states. And people are leaving in droves. Day after day, they are being bled to death. So much for liberalism creating a worker's paradise.
Now let's look at the 10 states that had the largest percentage vote for Donald Trump. Everyone of them – Wyoming, West Virginia, Oklahoma, North Dakota, Kentucky, Tennessee, South Dakota, and Idaho – was a net population gainer.
This is part and parcel of one of the greatest internal migration waves in American history as blue states especially in the northeast are getting clobbered by their low tax, smaller government rivals in the south, southeast and mountain regions…
MORE
.
—————————————————————————————
.
Multiple States Now Confirm Obama's DHS Hacked Into Their Election Servers – Freedom Daily
.

.
Well isn't this something. No wonder Democrats are trying to say that the Russians "hacked" and stole the election.
Turns out Obama's administration was the one doing all the hacking. And guess who their targets were?
You got it. Red states that they knew would go for Trump.
WSB-TV Georgia is reporting that the Secretaries of State from West Virginia and Kentucky confirmed their elections systems were hacked by the Department of Homeland Security in November. Georgia had also reported that their systems were hacked a total of 10 times by the DHS earlier in the year.
Via WSB-TV:
ATLANTA – Channel 2 Investigative Reporter Aaron Diamant has learned two more states' election agencies have confirmed suspected cyberattacks linked to the same U.S. Department of Homeland Security IP address as last month's massive attack in Georgia…
MORE
.
—————————————————————————————
.
Washington Post: Rape Victims Offended By Virgin Mary's Purity – Breitbart
This year the Left's annual War on Christmas has taken a bizarre turn with a Washington Post op-ed claiming that the Virgin Mary's purity is offensive to victims of rape.
In an article titled, "Our culture of purity celebrates the Virgin Mary. As a rape victim, that hurts me," Ruth Everhart explains that especially in the Advent lead-up to Christmas, Mary becomes a problem for many Christians because of her pristine purity.
Mary "set an impossibly high bar," Everhart writes. "Now the rest of us are stuck trying to be both a virgin and a mother at the same time."
As a rape victim, this has been especially difficult for the author, she says, which led to her becoming a pastor, in order "to come to terms with Mary's story."
Everhart writes that she doesn't blame her sense of ruin "entirely" on the Virgin Mary. In fact, it isn't really Mary's fault, she states; it's the Church's for manipulating Mary into a model of purity.
"Mary is not responsible for what we've done to her story," she writes. "Church culture has overfocused on virginity and made it into an idol of sexual purity. When it comes to female experience, the church seems compelled to shrink and distort and manipulate."
To some people, "vaginas are inherently dirty," she states. "They can never be purified."
"And isn't that the definition of hopelessness? Does it bother you that half of the human population is condemned to hopelessness because their body parts can never be pure?" she asks rhetorically.
Never mind that you can attend a thousand Christian church services without ever hearing a sermon on purity…
MORE
.
—————————————————————————————
.
University Offering Course On 'The Problem Of Whiteness' – Washngton Free Beacon
.

.
The University of Wisconsin is offering a course this spring on the "Problem of Whiteness," which is taught by a radical assistant professor who believes America is a terrorist state.
The course will cover institutional racism and "what it means to be #woke."
Damon Sajnani, an assistant professor in UW-Madison's African Cultural Studies department, is teaching the course.
"Have you ever wondered what it really means to be white?" the course description states. "If you're like most people, the answer is probably 'no.' But here is your chance!"
"In Frantz Fanon's famous White Skin Black Mask (1952), his chapter 'Look, a Negro!' interrogated the meaning and experience of coming to know oneself as Black under the constant scrutiny of the white gaze," the course description continues…
MORE
.
—————————————————————————————
.
Medicaid Blew $26 Million On Health Coverage For Dead People – Judicial Watch
The government spent a breathtaking $26 million to provide dead people – who were poor when they were alive – with health insurance in one state alone, according to a new federal audit. The benefit was administered through Medicaid, the federal-state health insurance program for the needy and the astonishing multi-million-dollar figure applies to just Florida but similar atrocities are likely occurring in other states.
American taxpayers may wonder how this could possibly happen, though fraud and corruption are rampant in government, especially in welfare programs. First let's explain how Medicaid, jointly funded by federal and state governments, functions. The Centers for Medicare & Medicaid Services (CMS) administers the program at the federal level. States must create CMS-approved plans to run their Medicaid programs, which provide low-income residents with medical coverage. In some states, such as Florida, the government contracts with insurance companies and makes fixed monthly payments to provide coverage. In Florida 37 insurance companies have contracts to provide coverage.
In this case, the government continued making payments to the insurance companies long after the beneficiaries had passed away. In other words, the government doled out huge sums to provide dead people with medical insurance for years. The astounding figures were made public recently in a report issued by the Health and Human Services (HHS) Office of Inspector General, which blamed the outrageous waste on lack of collaboration between various state agencies and outdated information in databases…
MORE
.
—————————————————————————————
.
Walmart Now Selling Domestic Terrorists' Merchandise – Blue Lives Matter
.

.
The retail giant Walmart jumped on the Black Lives Matter train and has begun selling their branded apparel and other related items. The items range from ball caps, t-shirts and hoodies, to check planners.
On the heels of a tumultuous 2016 for the mega store, Walmart has made their agenda quite clear to its consumers. They have made no attempt to explain, excuse or rescind their partnership with the group that many would label as a terrorist organization. Reverend Jesse Lee Peterson, Bill O'Reilly, Rush Limbaugh and Sheriff David Clarke have all blasted Black Lives Matter for their obviously terrorist like behavior. Members of Black Lives Matter are even facing lawsuits for their hateful rhetoric, which many believe has incited violence against law enforcement…
MORE
.
—————————————————————————————
.
China Steals U.S. Underwater Drone In South China Sea – Fox News
A Chinese Navy ship stole an American underwater research drone while a U.S. crew was watching, in a South China Sea area contested by the Chinese and the Philippines, U.S. defense officials told Fox News on Friday.
The incident occurred around noon Thursday local time approximately 40 miles west of the Philippines and about 150 miles from Scarborough Shoal. For days, the Chinese ship had been shadowing the American ship USNS Bowditch, which deployed the drone, a Slocum Glider.
"This is an act of war against the United States," Gordon Chang, analyst and author of "The Coming Collapse of China," told Fox News' "Happening Now." He said the move was an act of war because U.S. military property was stolen.
The research ship is owned by the U.S. Navy but operated by Military Sealift Command, with a crew of contracted civilian mariners and scientists.
The American crew watched the Chinese take the underwater drone from a short distance away. The Chinese Navy ship was only a quarter of a mile away, a defense official told Fox News.
The Chinese have been regularly shadowing U.S. Navy vessels in the South China Sea for months, Fox News was told. The Center for Strategic and International Studies, a Washington think tank, reported Wednesday that China apparently set up anti-aircraft guns and close-in weapons systems designed to guard against missile attacks on all seven of its man-made islands in the strategically vital area…
MORE
.
—————————————————————————————
.
Coast Guard Reels In More Than 26 Tons Of Cocaine Worth More Than $2 Billion – Inside Edition
.

.
More than 26 tons of seized cocaine – worth more than $2 billion on the streets – was brought ashore in Florida Thursday in what officials are calling "one of the largest drug offloads" in history.
The flight deck of 418-foot Coast Guard Cutter Hamilton was covered in more than three dozen pallets of seized cocaine, offloaded in Port Everglades with a crane, as a result of a joint effort between the U.S. Coast Guard and the Royal Canadian Navy in the eastern Pacific over the last three months.
"Today we'll be offloading 53,000 pounds. That's equivalent to about 24,000 kilograms of cocaine […] with an estimated wholesale value of $715 million," Vice Admiral Karl Schultz, Coast Guard commander in the Atlantic area, said in a Thursday press conference. "That's probably equivalent to $2-plus billion on the streets of America."…
MORE
.
—————————————————————————————
.
9th Circus Court Of Schlemiels Backs California's 10-Day Waiting Period For Gun Purchases – Washington Examiner
The 9th Circuit Court of Appeals has upheld a California law requiring a 10-day waiting period for gun purchases.
Judge Mary M. Schroeder, an appointee of President Jimmy Carter, wrote the opinion of the three-person panel that reversed a federal trial court that found the 10-day "cooling off" period was unconstitutional.
"Because we agree with the state that the 10-day waiting period is a reasonable safety precaution for all purchasers of firearms and need not be suspended once a purchaser has been approved, we reverse the district court's judgment," Schroeder wrote. "We do not need to decide whether the regulation is sufficiently longstanding to be presumed lawful. Applying intermediate scrutiny analysis, we hold that the law does not violate the Second Amendment rights of these plaintiffs, because the 10-day wait is a reasonable precaution for the purchase of a second or third weapon, as well as for a first purchase."
Schroeder also wrote that the 10-day waiting period would have a deterrent effect on crime because gun owners looking to buy additional firearms may be dissuaded not to.
"An individual who already owns a hunting rifle, for example, may want to purchase a larger capacity weapon that will do more damage when fired into a crowd," Schroeder wrote. "A 10-day cooling-off period would serve to discourage such conduct and would impose no serious burden on the core Second Amendment right of defense of the home."…