.
Charity Paying People To Give One-Star Amazon Reviews To Culturally Appropriative Halloween Costumes – Heatstreet
DoSomething.org's "1 star for hate" campaign is giving out $1,500 scholarships for people who spam one-star, copy/pasted reviews on Amazon listings they believe are "culturally appropriated." The more one star reviews users submit, the greater chance they have of winning the scholarship cash.
Last year they set their ire on a Caitlyn Jenner Vanity Fair costume they felt was transphobic, getting people to write reviews like, "Wearing this costume on Halloween but enjoying cisgender privilege the other 364 days of the year is a pretty sh*tty thing to do. Stop selling this costume."
The campaign was able to get two retailers to drop the costume.
This year they're targeting Native American, Saudi, and "Dia de los Muertos" outfits, getting people to mass produce fake reviews for one costume each week.
The copy/pasted text this week for these Dia de los Muertos costumes is intentionally misleading, claiming the reviewer had purchased the costume in the past, before getting woke and realizing it was racist. This practice clearly violates Amazon's review policy, prohibiting paid reviews.
When scrolling through the reviews (which are 90 percent one star), it's pretty clear all the positive ones come from actual costumers while the negative are overwhelmingly copy/pasted from DoSomething.org.
The tastefulness of these costumes is certainly up for debate, but is spamming misleading reviews to an impartial website really the best way to get a point across?…
MORE
.
—————————————————————————————
.
Ed Klein: Hillary Has A Bad Heart Valve, Turned Down Surgery – Newsmax
.

.
Hillary Clinton has a heart valve problem and turned down advice from her doctors to have surgery in order to avoid any public fallout from it, author Ed Klein said Monday night.
Klein, the author of "Guilty as Sin: Uncovering New Evidence of Corruption and How Hillary Clinton and the Democrats Derailed the FBI Investigation" spoke with Sean Hannity on Fox News regarding his new book about the Clintons.
After confirming Clinton has an irregular heart beat, Klein said her health problems are far worse.
"She has a heart valve problem. The doctors wanted to replace the valve and she didn't do it," Klein said.
When Hannity followed up by saying a doctor would discuss with a patient fixing a heart valve condition via surgery, Klein said that conversation took place…
MORE
.
—————————————————————————————
.
12,587 Syrian "Refugees" Admitted In FY 2016: 12,486 Muslims, 68 Christians, 24 Yazidis – CNS
The administration admitted a total of 12,587 Syrian refugees during the just-ended fiscal year, exceeding the target President Obama declared last fall by 2,587 (20.5 percent).
Of the 12,587, the vast majority are Sunni Muslims – 12,363 (98.2 percent) – while another 103 are identified in State Department Refugee Processing Center data simply as Muslims and a further 20 as Shi'a Muslims.
Sixty-eight of the 12,587 Syrian refugees (0.5 percent) are Christians. They comprise 16 Catholics, eight Orthodox, five Protestants, four Jehovah's Witnesses, one Greek Orthodox, and 34 refugees self-identified simply as Christians.
The remainder of the Syrian refugees resettled in the U.S. in FY 2016 are 24 Yazidis, eight refugees with religion given as "other," and one with "no religion."
The final month of the fiscal year followed the pattern of previous ones: 1,847 Syrian refugees were admitted, of whom 1,812 were Sunnis, 13 were other Muslims, 12 were Christians, seven were Yazidis, and three were "other" religion.
Throughout the year, the numbers of Christians and other religious minorities among the Syrians granted refugee status in the U.S. were dwarfed by those of Sunni Muslims.
Although the majority of Syrians are Sunnis, the number of Sunnis among the refugees was still disproportionately high, and the number of Christians disproportionately low, when compared to the overall population makeup…
MORE
.
—————————————————————————————
.
Hillary's H-1B Outsourcing Program Has 100,000 Foreign Workers In Midwest White-Collar Jobs – Breitbart
.

.
Hillary Clinton has strongly backed the unpopular H-1B outsourcing program since at least 2005, even as it has gradually sent 100,000 foreign professionals into Michigan, Wisconsin, and Pennsylvania to compete for jobs against white-collar American professionals and young college graduates.
That could be a 2016 problem for Clinton because it is a direct economic threat to one of her strongest constituencies – university educated professionals. In fact, there are so many foreign workers in those three states that there's a semi-hidden job network to help them apply for jobs ahead of American professionals.
The huge extra supply of foreign university labor, according to the law of supply and demand, pushes down the salaries earned by American professionals in those states. Nationwide, this so-called "immigration tax" annually transfers $500 billion away from blue-collar and white-collar Americans towards employers, Wall Street, and new immigrants, according to a Harvard analysis….
MORE
.
—————————————————————————————
.
Clinton Staff Panics As Journalists Capture Video Of Gurney Being Wheeled Backstage – Government Slaves
Clinton staffers looked concerned after Infowars reporters captured a gurney being wheeled backstage at a Hillary rally in Akron, Ohio last night.
.

.
Footage captured by Millie Weaver shows the hospital bed being moved as Clinton supporters wait patiently for Hillary to appear.
Moments later, a Clinton staffer is seen looking nervous while taking photos of Weaver and her cameraman.
The video then shows an EMS worker exiting the backstage area with a stressed look on his face. Hillary's security staff also look nervous before Clinton finally appears.
"They're trying to get a feel for the crowd to see if the crowd is getting upset or impatient," remarked Weaver.
Video from earlier in the day in Toledo showed Hillary popping another lozenge, suggesting her coughing problems have not gone away.
As we reported last month, the gurney was also spotted during Hillary's event in Cleveland, Ohio, which was notable for the fact that Clinton suffered a 4 minute coughing fit during her speech.
MORE
.
—————————————————————————————
.
Gun Sales Hit 17th Straight Monthly Record, Up 27 Percent – Washington Examiner
.

.
Gun sales hit the 17th consecutive monthly record in September according to FBI data released on Monday, and overall sales are up 27 percent compared to the same period last year.
A total of 1,992,219 background checks were processed through the bureau's National Instant Criminal Background Check System for the month of September, higher than the 1,795,102 conducted in September 2015.
The number of checks run through the FBI's NICS system is a reliable indicator of how firearm sales are trending, though there is no precise correlation between the number of checks and the number of guns being sold. Licensed dealers are required to run a check in the database every time they make a sale, but sometimes turn buyers down…
MORE
.
—————————————————————————————
.
Fuming Czech Leader Orders Brussels To Deport Economic Migrants – Daily Express
Economic migrants arriving in Europe should be immediately deported from the continent in a tough new crackdown on the refugee crisis, a fuming EU leader demanded today.
Furious Czech leader Milos Zeman ordered Brussels to send all failed asylum seekers to "empty places" in North Africa or "uninhabited Greek islands" to deter further mass migration to Europe.
The outspoken president said EU nations should provide refuge to people fleeing war and persecution in Syria, but insisted anyone found to be an economic migrant should be sent home.
His strident intervention comes as European states continue to bicker over the best way to bring the spiralling migrant crisis under control, with big cracks opening up in the 28-member bloc.
German leader Angela Merkel has recently called for the roll-out of deals similar to the one Brussels has with Turkey – whereby all economic migrants are sent back across the Aegean – to North African countries like Egypt.
And Mr Zeman blasted: "I am for deportation of all economic migrants.
"Of course I respect the cruelty of civil war in Syria, Iraq, and so on. But we do not speak about those people, we speak about economic migrants.
"We are in Greece, and Greece has plenty of uninhabited islands, and big foreign debt.
"So if you have 'hotspots' in Greek islands, this would be a sort of payment of foreign debt."…
MORE
.
—————————————————————————————
.
Leftist Senator Introduces Resolution To Honor Notorious Baby-Killing Organization Founded By Racist Eugenicist – CNS
.

.
Sen. Ron Wyden (D-Ore.) introduced a resolution last week to "recognize the importance of Planned Parenthood's contributions to women's health care and reproductive rights in America over the last 100 years."
The resolution voiced strong support for the nation's largest abortion provider, declaring that "the organization remains an essential thread in the fabric of society, and it will be key in the next century to assisting millions of women, men, and young people in accessing the health care they need and deserve, no matter who they are or where they live."
"Planned Parenthood should not be defunded, attacked, or discriminated against for their role as a vital women's health care provider across the country," the resolution stated…
MORE
.
—————————————————————————————
.
Remember That Time When Clinton's State Department 'Misplaced' $6 Billion – Townhall
Hillary Clinton is one of the biggest opponents of big business, especially of The Trump Organization. In 1996, Donald Trump found himself being challenged the same way most American risk takers are challenged when he overextended his business. The Taj Mahal, the Trump Shuttle airline, and the purchase of a megayacht eventually led to the company being $1 billion in debt. In a situation where most businessmen give up and lose their drive, Trump doubled down and nearly tripled his net worth over the next 10 years, which was the motivation for his 1997 book The Art of the Comeback.
Clinton laughs at this type of entrepreneurial hardship and says that such risks are anti-American. She applauds herself for never taking risks in business. She knows she cannot be held accountable for any personal failures because there are none. Her failures are instead the American people's failures.
So why isn't she held accountable for losing $6 billion of U.S. taxpayer dollars in the State Department from 2008 to 2014?
According to a report by the Inspector General, Clinton simply lost the $6 billion through "improper filings."
The State Department misplaced and lost some $6 billion due to the improper filing of contracts during the past six years, mainly during the tenure of former Secretary of State Hilary Clinton, according to a newly released Inspector General report…
MORE
.
—————————————————————————————
.
FBI Allowed Hillary Aides To Destroy Laptops In Newly Exposed Side Deals – Zero Hedge
.

.
Just when you think the Hillary email scandal can't get any more bizarre and corrupt, it does. According to a just released letter from the Chairman of the House Judiciary Committee, Bob Goodlatte (R – Virginia), to Attorney General Lynch, the FBI apparently struck "side agreements" with both Cheryl Mills an Heather Samuelson to "destroy" their "laptops after concluding its search."
In the attached, Goodlatte questioned why the destruction of the laptops used to sort Clinton's emails was included in immunity deals that already protected Mills and Samuelson from prosecution based on the records recovered from their computers. Furthermore, we learn that according to the immunity agreements, FBI agents limited their search to documents authored before Jan. 2015…
MORE
.
—————————————————————————————
.
Portland Elementary School Authorizes Satanic Temple To Create After-School Club For Kids – News With Views
If this isn't proof positive of the demise of America, then what is?
The Portland chapter of the Satanic Temple – a reference that's significant in itself, as it shows a plurality and therefore, growth of organized Satanism in America – has just won an accommodation from school officials to offer an after-school club for children.
It's called the "After School Satan Club." How nice. It's aimed at attracting the elementary-age crowd.
Beginning Oct. 19, Sacramento Elementary School will open doors to the satanic activity, which is being billed as lessons "on science and rational thinking," according to one of the temple's local chapter heads, Finn Rezz.
Rezz kindly explained to the Oregonian it's not that the members of the Satanic Temple are truly Satanists, worshiping some sort of spiritual or supernatural entity of the dark side. Rather, he went on, most are simply atheists who view Satan "as an allegory for free thought," the newspaper said.
The club is solely to foster in its participants a sense of "benevolence and empathy for everybody," Rezz said.
He also said the After School Satan Club is intended to provide students an option to the "Good News Club," a get-together arranged by the Child Evangelism Fellowship – a Bible-based group – that's allowed to meet at the school once a month.
As if the two groups are morally equivalent.
This is the Child Evangelism group's stated mission, on its webpage: "Child Evangelism Fellowship is a Bible-centered, worldwide organization composed of born-again believers whose purpose is to evangelize boys and girls with the Gospel of the Lord Jesus Christ, disciple them in the Word of God and establish them in a Bible believing church for Christian living…
MORE
.
—————————————————————————————
.
Exposed: The Corrupt Clinton Foundation You've Never Heard Of – Richard Pollock
.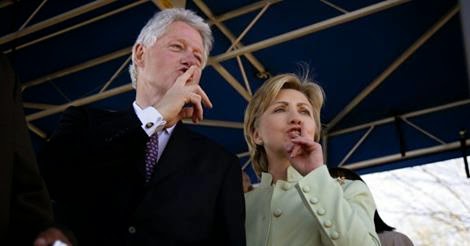 .
Three months after leaving the White House in 2001, former President Bill Clinton arrived in India to cheering throngs to help those who had just lost a million homes in the aftermath of a massive earthquake that killed 20,000 and injured 166,000.
In classic Clinton style, he solemnly promised that his new nonprofit – called the American India Foundation (AIF) – would rebuild 100 villages. Rajat Gupta, his millionaire co-chairman, pledged $1 billion for the victims.
It never happened. Years later, AIF's annual reports were reviewed by the Daily Caller News Foundation and show only seven villages were partially rebuilt by Clinton's group, and a mere $2.7 million of $53 million raised over a decade went to the earthquake victims…
MORE
.
—————————————————————————————
.
Flashback: Reuters Audit Finds Clinton Charity Hiding Foreign Donations On IRS Tax Filings – Conservative Treehouse
With all the MSM banter about taxes today in the headlines, here's a report that was conveniently dismissed by the same pearl-clutching media. In April 2015 Reuters reported on Hillary Clinton's family charities falsifying tax filings to the IRS and not reporting donations from foreign governments…
(Reuters) Hillary Clinton's family's charities are refiling at least five annual tax returns after a Reuters review found errors in how they reported donations from governments, and said they may audit other Clinton Foundation returns in case of other errors.
[…] The charities' errors generally take the form of under-reporting or over-reporting, by millions of dollars, donations from foreign governments, or in other instances omitting to break out government donations entirely when reporting revenue, the charities confirmed to Reuters.
The errors, which have not been previously reported, appear on the form 990s that all non-profit organizations must file annually with the Internal Revenue Service to maintain their tax-exempt status. A charity must show copies of the forms to anyone who wants to see them to understand how the charity raises and spends money.
[…] For three years in a row beginning in 2010, the Clinton Foundation reported to the IRS that it received zero in funds from foreign and U.S. governments, a dramatic fall-off from the tens of millions of dollars in foreign government contributions reported in preceding years.
Those entries were errors, according to the foundation: several foreign governments continued to give tens of millions of dollars toward the foundation's work on climate change and economic development through this three-year period…
MORE
.
—————————————————————————————
.
NY Times Raises Questions Now About Trump In 1995, But They Actually Praised Him Then As "Comeback Kid" – Weasel Zippers
.

.
Crowning The Comeback King – NY Times
October 25, 1995
Though there are still four years to go in the 90's, business and government leaders in New York honored Donald J. Trump yesterday for pulling off what they called "the comeback of the decade."
Mr. Trump, the developer who came to epitomize opulent wealth during the 80's before tumbling into deep financial trouble, has managed to erase much of his debt and is moving ahead with major projects at a time other developers are idling.
Judging from the attention showered on him yesterday at the Union League Club, some of New York's civic and business leaders are quite captivated by Mr. Trump, despite the financial uncertainties that still surround some of his properties…
MORE
.
—————————————————————————————
.
Flashback: NY Times Finds Clintons Took Improper Whitewater Tax Deductions – American Thinker
The Clintons took improper tax deductions for losses and expenses in the Whitewater land deals. Then, at the instruction of their attorney, in 1996, the Clintons had to amend their tax returns to pay the IRS for the improper and excessive deductions related to Whitewater.
Jeff Gerth reported in the NY Times on 05/25/96:
White House disclosed today that President Clinton and his wife, Hillary, paid the Government $2,910 in back taxes and interest earlier this month as a result of incorrect income tax filings in the 1980's relating to their Whitewater real estate investment.
The payment was made on May 1, after outside experts had reviewed the Clintons' tax returns at the request of the couple's personal lawyer, David E. Kendall.
Mr. Kendall had requested the review in response to a report issued last August by Representative Jim Leach, the Iowa Republican who is chairman of the House Committee on Banking and Financial Services. In that report, Mr. Leach contended that the Clintons owed $13,272 because of what he described as eight tax errors stemming from their Whitewater investment.
Note that the Clintons amended their tax returns only after the Republicans questioned the Whitewater deductions, and David Kendall, attorney for the Clintons, had the tax returns reviewed and advised them to pay the tax. This was strictly a CYA operation by Kendall on behalf of the Clintons.
The Clintons, and the MSM, have no shame. They took deductions for Bill's used underwear and for improper and excessive Whitewater losses and expenses, but now the Clintons, and their cheerleaders in the MSM, are questioning Trump's deduction 20 years ago of a legitimate business loss of about $900 million…
MORE
.
—————————————————————————————
.
Clinton Campaign Admits Hillary Used Same Tax Avoidance "Scheme" As Trump – Zero Hedge
.

.
Well this is a little awkward. With the leaked 1995 Trump tax returns 'scandal' focused on the billionaire's yuuge "net operating loss" and how it might have 'legally' enabled him to pay no taxes for years, we now discover none other than Hillary Rodham Clinton utilized a $700,000 "loss" to avoid paying some taxes in 2015.
The Clinton Campaign was quick to jump on the leaked Trump tax filing with Robby Mook tweeting:
— Trump "apparently got to avoid paying taxes for nearly two decades while tens of millions of working families paid theirs." —
And Hillary following up, adding Trump "apparently got to avoid paying taxes for nearly two decades – while tens of millions of working families paid theirs."
However, a look back at Hillary Clinton's tax returns from 2015 (here), proudly displayed by the campaign proving she has nothing to hide – shows something awkward on page 17…
MORE
.
—————————————————————————————
.
State Department-Funded Nonprofit That John Kerry Had 'No Role' In Was Founded In His Home – Daily Caller
A nonprofit created in Secretary of State John Kerry's upscale Boston home and managed by his daughter Vanessa Kerry has received more than $9 million from the Department of State, a Daily Caller News Foundation investigation has found.
Seed Global Health was founded at 19 Louisburg Sq in Boston's Beacon Hill, tax forms indicate. News reports show that's Kerry's home address, which Zillow estimates is worth nearly $18 million. Kerry's wife, Teresa, is an heir to the Heinz family fortune.
Beacon Hill is the most expensive block in Boston, with median home values estimated at $6.7 million in 2015, a Boston Globe affiliate reported. The Boston Business Journal ranked Kerry's house the third most valuable home in the city in 2013.
The Department of State has funneled more than $9 million through the Peace Corps to Seed since 2012, TheDCNF previously revealed. The money is awarded under the Global Health Service Partnership (GHSP) – a Peace Corps-run and State Department-funded program that Vanessa Kerry created in conjunction with officials from both agencies.
Seed has never been required to compete with other organizations for the funding. It recruits medical volunteers for overseas service.
"As we have made clear, Secretary Kerry played no role in this decision making while in the Senate or subsequently while at the State Department," Department of State spokesman John Kirby told TheDCNF. "There was – and remains – no conflict of interest here."….
MORE
.
—————————————————————————————
.
Illegal Foreign Voting In Virginia Covered Up By Soros-Backed Democrat Officials – Breitbart
.

.
Virginia's election officials are enabling illegal registration and voting by foreign citizens, according to an extensive new study, titled "Alien Invasion in Virginia," by a former Department of Justice civil rights lawyer.
"Virginia election officials don't seem to care that thousands of [foreign] aliens have corrupted their voter rolls," by illegally registering to vote, said J. Christian Adams, the former Department of Justice lawyer, and now the president of the Public Interest Legal Foundation. "Even worse than doing nothing about it, they are trying to cover it up," he told Breitbart News.
Even small amounts of illegal voting can make a decisive difference – Democratic Virginia Attorney General Mark Herring defeated Republican Mark Obenshain in 2013 by a mere 165 votes out of 2.2 million votes cast…
MORE
.
—————————————————————————————
.
Muslim Man Shot His Daughter Twice In The Head While She Slept, Claims It Was An Accident – WorldNetDaily
Police say they can't figure out the motive behind an Ohio father's horrific crime of violence against his own daughter, and the media won't touch the topic, but some say the answer lies hidden in plain view.
Jamal Mansour, 63, of Rocky River, Ohio, walked into his adult daughter's bedroom at 1:15 a.m. Tuesday and shot her twice in the head while she slept. His daughter, Tahini Mansour, 27, died about 10 hours later at a local hospital.
"We don't have a solid motive other than an argument occurred between a father and his daughter," said Lt. George Lichman with Rocky River Police.
Islam experts and former Muslims say the suspect's behavior is rife with clues but don't look for the police or media to flesh them out and share those clues with the public.
Mansour is a Muslim immigrant from Jordan and his alleged execution-style killing of his daughter bears the hallmarks of Islamic honor violence, says Daniel Akbari, a former top Shariah lawyer in Iran who defected to the U.S. several years ago and now lives in Texas.
"Mr. Mansour might have assimilated to Western culture sufficiently to shave his beard and wear jeans but not to accept his daughter behaving like western girls," said Akbari, author of "Honor Killing: A Professional's Guide to Sexual Relations and Ghayra Violence from the Islamic Sources."
After shooting Tahini in the forehead, twice, Mansour stood before a judge later that day and said it was an "accident."…
MORE
.
—————————————————————————————
.
German Mayor Beaten Unconscious After Announcing Plan To Accept "Refugees" – Zero Hedge
.

.
Over the past several months, the German people have become increasingly frustrated with Merkel's "open-border" policy that has allowed over 1mm migrants to flow into the country from the Middle East and North Africa. The flood of migrants has brought with it a wave of violent crime including sexual assaults resulting in a rising nationalist tension as people have turned their backs on Merkel and her Christian Democratic Union party in recent elections.
The most recent example of backlash over the migrant crisis comes from the small German town of Oersdorf in Northern Germany. The Mayor of Oersdorf, Joachim Kebschull (61), was recently beaten unconscious outside of the city's Town Hall where the construction committee was meeting to discuss a new housing development for migrants. The mayor was apparently struck with a club from behind as he stepped out the Town Hall building to get a laptop from his car.
According to The Telegraph, just hours before the committee meeting Kebschull received a threatening letter saying:
"He who will not listen will have to feel."
"Oersdorf for Oersdorfers"
According to DW, Kebschull had been receiving threats for months. In fact, the committee meeting had already been postponed twice over bomb threats.
The controversy surrounded a local subsidized housing revitalization where the mayor wanted to offer apartments to asylum-seekers. "If we could also offer a family of refugees a new home in our village, we would like to take this opportunity and make a small contribution to people who had to flee their homes," the association said in a statement on its website…
MORE
.
—————————————————————————————
.
Parents Pull Son From School Because 'Hateful' Third Graders Don't Think He's A Girl – Daily Caller
The parents of an 8-year-old Texas boy pulled their son out of school after his "hateful" third grade classmates wouldn't treat him like a girl.
Marilyn Morrison began the school year at Cannon Elementary School in Grapevine, Texas identifying himself as a transgender girl for the first time, a local Fox affiliate reported.
Marilyn said his classmates were bullying him and not accepting of his new identity, which made him feel uncomfortable. "It makes me feel like I'm my old self when I was a boy," he explained.
"It's hard to have to speak up and out my daughter, but I don't have a choice," said the boy's mom, Chelsea Morrison. "I feel like it's the only way that I can protect her. It kills me to know the kids could be so hateful."…