.
Crowd Reacts With Boos, Laughter After Charlie Crist Calls Hillary Clinton Honest – Washington Free Beacon
.

.
Former Florida governor and current congressional candidate Charlie Crist (D.) received laughter on Monday evening when he said that Democratic presidential nominee Hillary Clinton is "honest."
Crist was debating against Rep. David Jolly (R., Fla.), the incumbent congressman in the Florida's 13th congressional district.
"Are you voting for your party's nominee, governor?" the moderator asked.
Crist responded by saying that he was going to vote for Clinton as the next president of the United States and that he was proud of her.
"I think she's been a very good secretary of state, a very good senator from the state of New York. The thing I like most about her is she is steady. I believe she is strong. I believe she is honest," Crist said…
MORE
.
—————————————————————————————
.
Hillary Cancels California Event Due To "Pneumonia" Relapse – USA Politics Now
Democratic candidate Hillary Clinton has again cancelled an event in California as a result of her health and the campaign is claiming she is being treated for pneumonia. The cancelation marks the third day – following Monday and Tuesday of last week – that the candidate's health has pulled her from the campaign trail.
Questions surrounding her health ramped up after she collapsed at the 15th memorial service for the September 11, 2001 terror attacks.
On Sunday, Mrs. Clinton gave spoke to reporters on her campaign airplane to response to her rival Donald Trump regarding the terror attacks in Minnesota, New Jersey and New York. She appeared to be heavily sedated, which kicked off the hashtag #ZombieHillary on Twitter.
The development comes after a new YouGov Poll
There were approximately 330 polls analyzed in the assessment of PPD Pollster Scorecard Grade for the YouGov Poll. Worth noting, not all polls conducted and analyzed are pertinent to the specific data and results.
Predictive Value
The YouGov Poll predicted the correct outcome more than 90% of the time over its lifetime before 2014. From 2014 to 2016, YouGov was not a particularly accurate pollster, missing the eventual winner and the margin in several key battleground states, including North Carolina.
After consistently favoring incumbent Democrat Kay Hagan, their final poll found her leading Republican challenger Thom Tillis 44% to 41%. Now-Sen. Tillis defeated then Sen. Hagan by a 48.8% to 47.3% margin…
MORE
.
—————————————————————————————
.
Hillary Suddenly Goes Cock-Eyed Several Times During Philly Speech – American Mirror
.

.
During a speech in Philadelphia, Pennsylvania, on Monday, Democratic presidential nominee Hillary Clinton appeared to have something quite off about her appearance.
Check it out here:
.

.
Hillary's eyes appeared not in-sync with one another, as the left eye looked to be cock-eyed and displaced, especially as she looked towards the left.
MORE
.
—————————————————————————————
.
Governor Moonbeam Considering Bill To Allow Jailed Felons To Vote – CNS
The California state Legislature sent a bill to Gov. Jerry Brown's desk last month that would allow felons serving time in county jails the right to vote.
Current California law only allows felons the right to vote after they have completed parole.
The California constitution states that "The Legislature shall prohibit improper practices that affect elections and shall provide for the disqualification of electors while mentally incompetent or imprisoned or on parole for the conviction of a felony."
The legislation addresses this language in the state's constitution by defining imprisoned as "currently serving a state or federal prison sentence."
Cory Salzillo, legislative director for the California State Sheriffs' Association, pointed out to the Daily Signal that "the bill would create an odd circumstance in which inmates out of prison on parole are prohibited from voting, but felons behind bars in county jails could vote."
Brown has until September 30th to consider signing the bill into law.
He previously signed the Criminal Justice Realignment Act in 2011, which allowed officials to move low-level offenders who are denied probation to county jails to address overcrowding in the state's prisons.
The American Civil Liberties Union (ACLU) supports the legislation, pointing out that "three out of every four men in California prisons are men of color," concluding, "felony disenfranchisement laws are a legacy of Jim Crow."…
MORE
.
—————————————————————————————
.
Houston University Providing Wimpy Students With 'Emotional First Aid' Kits – Daily Caller
.

.
An adviser and an assistant professor at the University of Houston showed support for providing students with an emotional first aid kit that would contain a baby blanket and candy among other things.
Their backing of the emotional first aid kit is revealed in a Project Veritas video first obtained by The Daily Caller. James O'Keefe went undercover in late August as a member of the "99.9 percent" group and spoke to University of Houston psychology department advisor Bobbie Sue Schindler.
"The stress of school gets to them. Like a bad grade, a missed class, being late, a microaggression, uhh whatever," Schindler said to O'Keefe about the emotional distress University of Houston students face.
Schindler expressed a liberal point of view when talking to O'Keefe and bemoaned that in her philosophy department there were "a bunch of white dudes running white dude things."…
MORE
.
—————————————————————————————
.
Ahmad Khan Rahami Is Deadbeat Dad Who Was Previously Arrested For Stabbing Family Member – Daily Mail
The 28-year-old man suspected of planting bombs in Manhattan and New Jersey over the weekend was previously arrested for stabbing a person in the leg and possession of a firearm in 2014, DailMail.com has learned.
But a grand jury let him walk, despite a warning from the arresting officer that Rahami was likely 'a danger to himself or others.'
Ahmad Khan Rahami, who was arrested on Monday in Linden, N.J., after a manhunt ended in a shootout with police, was also a deadbeat dad who didn't like America and hated gays, according to the mother of his young daughter.
Rahami is accused of planting multiple homemade bombs in the Chelsea neighborhood of Manhattan, which injured 29 on Saturday night, as well as explosives near a train station in Elizabeth, N.J. that were disarmed by law enforcement on Sunday.
This was not the first arrest for Rahami, a New Jersey resident who emigrated from Afghanistan and became a naturalized U.S. citizen.
Criminal court filings obtained by DailyMail.com show he has previous arrests for assault and gun charges.
However, in that case a grand jury failed to indict Rahami and he was let back out onto the streets.
On August 22, 2014, Rahami was arrested for aggravated assault and unlawful possession of a knife after allegedly stabbing an individual named Nasim Rahami in the left leg in an 'attempt to cause serious bodily injury.'…
MORE
.
—————————————————————————————
.
Reddit Posts By Hillary's IT Guy Proves She Ordered Emails To Be Stripped – Red State Watcher
.

.
Twitter users have discovered a startling revelation after the user name of Hillary Clinton's IT specialist, Paul Combetta was traced. The computer specialist was given immunity by the U.S. Department of Justice when news broke out that he had deleted Clinton's emails from her private server. Combetter claims he was not ordered to tamper with the emails even though the FBI had previously ordered him not to.
Combetter continued to work for the Clintons 6 months after the original story broke. During the six months while investigations were brewing Combetter allegedly posted numerous questions on Reddit asking how to strip out "VIP (VERY VIP)" email addresses out of archived emails and how to configure email retention policies.
In the following message posted to Reddit, Combetter said he was "facing a very interesting situation" requiring him to "strip out or replace the email address in the to/from fields in all of the emails"…
MORE
.
—————————————————————————————
.
Clinton Foundation AIDS Program Distributed 'Watered-Down' Drugs To Third World Countries – Daily Caller
Former President Bill Clinton and his Clinton Health Access Initiative (CHAI) distributed "watered-down" HIV/AIDs drugs to patients in sub-Saharan Africa, and "likely increased" the risks of morbidity and mortality, according to a draft congressional report obtained by The Daily Caller News Foundation.
The congressional report,"The Clinton Foundation and The India Success Story," was initiated by Rep. Marsha Blackburn, a Tennessee Republican and vice-chair of the House Energy and Commerce Committee.
The CHAI program to help AIDS victims is considered one of the Clinton Foundation's most important contributions and is probably its best known initiative.
The congressional report focused on Clinton's decade-long relationship with a controversial Indian drug manufacturer called Ranbaxy, which CHAI used as one of its main distributors of HIV/AIDS drugs to Third World countries.
It also highlighted the work of Dinesh Thakur, a former Ranbaxy employee who became a star whistleblower and permitted the U.S. government to launch a landmark lawsuit against the Indian firm. The company was vulnerable to U.S. prosecution because it also sold its generic drugs on the U.S. market.
Ranbaxy ultimately pleaded guilty in 2013 to seven criminal counts with intent to defraud and the introduction of adulterated drugs into interstate commerce.
The Department of Justice further levied a $500 million fine and forfeiture on the company…
MORE
.
—————————————————————————————
.
Kmart Closing 64 Stores, Firing Thousands Across 28 States – Daily Mail
.

.
Kmart is to close 64 stores across 28 states. Employees were told of the closures on Friday and stores will begin liquidation sales by the weekend before being closed for good in December.
Sears Holdings, which owns Sears and Kmart, says the closures are the only way it can 'accelerate its transformation and its return to profitability'.
Moody's analysts say Sears and Kmart don't have enough money, or access to cash, to stay in business.
Last week, analysts downgraded Sears' liquidity rating, saying the company is losing cash fast and will have either rely on outside funding or start to sell off assets, such as real estate, to sustain operations.
In the spring of this year, 78 stores – 68 Kmart units, and 10 Sears stores – were shuttered as part of the drive to stem the bleeding…
MORE
.
—————————————————————————————
.
Anger Over 'Graveyard Of Lifejackets' Propaganda Stunt In London's Parliament Square – Daily Mail
A demonstration in Parliament Square that was given special permission by Labour London Mayor Sadiq Khan has provoked anger today.
Around 2,500 lifejackets have been laid out across the site usually reserved for military memorials in an all-day protest – despite a three-hour limit on such events imposed by the Mayor's office.
It was organised by charity the International Rescue Commission – whose president is former Labour MP and foreign secretary David Miliband – urging the UK to do more to help those fleeing war torn countries by giving them a home here.
But many have criticised the 'misjudged' display and said it will encourage more people to risk their lives in dangerous crossings to Europe.
It came just hours after Theresa May warned Britain has the right to turn away tens of thousands of economic migrants posing as refugees.
Peter Bone, Conservative MP and former chairman on the All Party Group on Human Trafficking, said the protest was counter productive as it would 'condemn more people to death' by encouraging them to risk their lives coming to Europe.
He said: 'If this protest is highlighting the fact that there are these evil criminal gangs out there giving people fake life jackets then that is fine and an important point.
But if it's saying we should bring more people to the UK then it is just going to encourage more and more people to put themselves in danger and more men, women and children will lose their lives.'…
MORE
.
—————————————————————————————
.
New Jersey Terror Suspect Ahmad Khan Rahami Captured In Linden After Shootout With Cops – WABC
.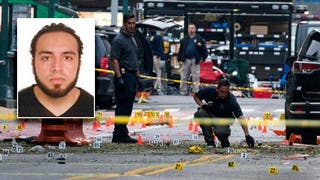 .
Eyewitness News captured exclusive video of the man believed to be behind weekend bombings in Chelsea, Seaside Park and Elizabeth being taken into custody following a incident with police in Linden, New Jersey.
Monday night, officials in New Jersey had charged Rahami with five counts of attempted murder of a law enforcement officer. He was also charged with second-degree unlawful possession of a weapon and second-degree possession of a weapon for an unlawful purpose.
He is being ordered held on $5.2 million bail.
And another stunning development, ABC News reports that there were more devices discovered inside Rahami's apartment in New Jersey.
Law enforcement sources say Ahmad Khan Rahami was captured following a shootout and is alive but wounded…
MORE
.
—————————————————————————————
.
Texas Police Sergeant Sues 'Black Lives Matter', Obama For Igniting Race War – Newser
A Texas police sergeant has filed a federal lawsuit against the leaders of the Black Lives Matter movement and President Obama, among others, for "igniting a race war."
The Dallas Morning News reports Sgt. Demetrick Pennie, a 17-year veteran of law enforcement and president of the Dallas Fallen Officer Foundation, filed the lawsuit Friday seeking more than $500 million in damages.
In addition to Black Lives Matter and the president, the lawsuit names Hillary Clinton, George Soros, Rev. Al Sharpton, the New Black Panthers Party, and more.
The lawsuit claims they "have repeatedly incited their supporters and others to engage in threats of and attacks to cause serious bodily injury or death upon police officers."
In a press release that makes mention of Colin Kaepernick refusing to stand for the "Pledge of Allegiance," Pennie's lawyer, Larry Klayman, accuses the named parties of "igniting a race war that will ultimately totally destroy the freedoms that our Founding Fathers bequeathed to us."
He hopes the lawsuit will teach the country a lesson that law enforcement must be respected. "Sgt. Pennie and I feel duty-bound to put ourselves forward to seek an end to the incitement of violence against law enforcement," Klayman says in the press release…
MORE
.
—————————————————————————————
.
Gary Johnson Glad 'Nobody Got Hurt' In Terrorist Attacks Over Weekend After 38 People Reported Injured – Mediaite
.

.
Libertarian candidate Gary Johnson appeared on CNN on Sunday, where he had a conversation about the three violent events that took place over the weekend. Unfortunately, the former New Mexico governor slipped up when he considerably undercounted the number of people who were harmed.
Johnson is still coming off of his "what is Aleppo" gaffe from a few weeks ago, and Stelter asked for his thoughts about the attacks.
"[I'm] just grateful that nobody got hurt," said Johnson. "Secondly, law enforcement is on the scene, responders are on the scene. If there's anything I learned having been governor of New Mexico for eight years is that these people really do care, they are really qualified."
Twenty-nine people were harmed by the bombing in New York City, while 9 more were stabbed by a knifeman at a mall in Minnesota…
MORE
.
—————————————————————————————
.
Clinton Foundation Spent Millions More On Travel Than Charitable Grants – Daily Caller
The Clinton Foundation spent significantly more money on travel costs than it did on charitable grants in 2014, the organization's tax filings show.
The foundation spent $7.8 million on travel in 2014, while spending less than $5.2 million on charitable grants over the same time span, according to the foundation's 2014 IRS filings.
More than $6 million of the $7.8 million spent on travel was marked as "Program service expenses."
Approximately $566,000 of the travel money was marked as "Management and general expenses." The remaining almost $1.3 million spent on travel was marked as "Fundraising expenses."
As previously reported by The Daily Caller, the Clinton Foundation spent just 5.7 percent of its massive 2014 budget on charitable grants.
The less than $5.2 million spent on charitable grants in 2014 pales in comparison to the $34.8 million the foundation spent on salaries, compensation and employee benefits.
The lion's share – $50.4 million – of the money spent by the Clinton Foundation in 2014 was marked as "other expenses."
Charity Navigator, a non-profit watchdog that has received favors from the foundation, gave the foundation a four star rating…
MORE
.
—————————————————————————————
.
Trump Shatters GOP Records With Small Donors – Politico
.

.
Donald Trump has unleashed an unprecedented deluge of small-dollar donations for the GOP, one that Republican Party elders have dreamed about finding for much of the past decade as they've watched a succession of Democrats – Barack Obama, Bernie Sanders and, to a lesser extent, Hillary Clinton – develop formidable fundraising operations $5, $10 and $20 at a time.
Trump has been actively soliciting cash for only a few months, but when he reveals his campaign's financials later this week they will show he has crushed the total haul from small-dollar donors to the past two Republican nominees, John McCain and Mitt Romney – during the entirety of their campaigns.
All told, Trump is approaching, or may have already passed, $100 million from donors who have given $200 or less, according to an analysis of available Federal Election Commission filings, the campaign's public statements and people familiar with his fundraising operation…