.
Texas New Black Panther Party Leader: Blacks 'Are Being Pimped Like Prostitutes' By Democrats – Breitbart
.

.
The leader of Houston's New Black Panther Party said blacks "are being pimped like prostitutes" by Democrats and should listen to the message from Republican presidential candidate Donald Trump. Trump reached out to members of the black community last week during a speech following riots in Milwaukee, Wisconsin.
Houston's New Black Panther Party leader Quanell X addressed Trumps Milwaukee speech on a Fox 26 Faceoff with conservative radio talk show host Matt Patrick. "Let me say this to the brothers and sisters who listened and watched that speech," he said. "We may not like the vessel that said what he said, but I ask us to truly examine what he said."
"It is a fact, that for 54 years we have been voting for the Democratic Party like no other race in America," Quannel continued. "They have not given us the same loyalty and love that we have given them. We, as black people, have to re-examine the relationship where we are being pimped like prostitutes and they're the big pimps – pimping us politically, promising us everything, and we get nothing in return."…
MORE
.
—————————————————————————————
.
DC Minimum Wage Hike Linked To Largest Loss Of Restaurant Jobs In 15 Years – Daily Caller
The minimum wage hike in Washington, D.C, is already devastating employment in the region and is linked to the largest loss of restaurant jobs in the last 15 years.
Officials raised the minimum wage in July of 2015 to $10.50 per hour, up from $8.25 since 2014. The Employment Policies Institute revealed in a May report that 48 percent of District businesses had already reduced staff or cut hours to deal with the increases since 2014. In the first six months of 2016, the restaurant industry in D.C. lost roughly 1,400 jobs, a historic drop for a six-month period, according to the American Enterprise Institute (AEI).
The restaurant industry in the suburbs outside D.C. grew by 2,900 jobs over the same period. The minimum wage rose again in the District July 1 to $11.50 per hour, and will continue to rise over the next four years to $15 per hour by 2020.
"This new report should serve as a warning to cities and states considering major minimum wage hikes like D.C.'s," Jeremy Adler, AEI communications director, said in a statement. "The statistics don't lie – they show a clear correlation between big minimum wage increases and jobs losses. It's a reminder that there are serious consequences to these misguided labor policies, and that following D.C.'s example puts workers' economic future at risk."
Despite District officials flooring the gas on minimum wage increases, local business owners are very wary of the possible effects. Many are anticipating the law will result in higher consumer prices and less hours for employees. They also say employees will be laid off to factor in the higher costs to businesses…
MORE
.
—————————————————————————————
.
Axe-Wielding ISIS Jihadi Attacks Priest In Indonesia After Trying To Blow Up Hundreds Of Worshippers – Daily Mail
.

.
An ISIS suicide bomber today attacked a Catholic priest with an axe as he tried to blow up hundreds of worshippers at a church during Sunday Mass.
Priest Albert Pandiangan, 60, was holding the holy ceremony at the altar when the 18-year-old fanatic rushed towards him with a backpack bomb and tried to blow himself up.
But the bomb burned without setting off the explosives, so the jihadi pulled an axe from his bag and slashed the priest's arm at St Yoseph Church in Medan, the capital of North Sumatra in Indonesia.
The congregation then stepped in and managed to wrestle the axe from his grasp, detaining him until the police arrived…
MORE
.
—————————————————————————————
.
How Obamacare Destroyed The Middle Class In One Chart – Zero Hedge
Ever wonder how politicians and bureaucrats can go out and deliver the same misleading propaganda to various media outlets each day and keep a straight face while doing it? Are these folks so detached from the real world that they go back to the "safe space" of their offices in Washington D.C. and pat themselves on the back thinking they've actually duped the American people into believing some alternate set of facts that have no basis in reality? Or, are they so immersed in the false narratives day in and day out that they actually start to believe their own rhetoric?
No matter the reason, one narrative we've found particularly misleading this week comes to us courtesy of Marjorie Connolly, of the Department of Health and Human Services, who has the brutally difficult job of defending the "success" of Obamacare as it literally on the verge of collapse from soaring premiums and declining insurer participation. While we certainly don't envy the position of Connolly, we do find some of her comments to the press "slightly" misinformed.
Just to provide an illustrative sample:
Reuters (8/2/16) – "Consumers coming back to shop for 2017 will continue to have a robust set of choices."
New York Times (8/19/16) – "A number of steps remain before the full picture of marketplace competition and prices are known. Regardless, we remain confident that the majority of marketplace consumers will have multiple choices and will be able to select a plan for less than $75 per month when Open Enrollment begins Nov. 1."
The Tennessean (8/25/16) – "Consumers in Tennessee will continue to have affordable coverage options in 2017. Last year, the average monthly premium for people with Marketplace coverage getting tax credits increased just $2, from $102 to $104 per month, despite headlines suggesting double digit increases."…
MORE
.
—————————————————————————————
.
1,500 Mostly-Drunk Americans Accidentally Invade Canada – Buzzfeed
.

.
About 1,500 Americans accidentally invaded Canada this weekend when strong winds pushed them off course during an annual float down the St. Clair River separating Michigan from Ontario.
Each year during the Port Huron Float Down, people climb aboard inflatable rafts, inner tubes, and other vessels and float down the river for a day – aided by plenty of alcohol.
But this year, the weather intervened and many of them ended up on the wrong side of the international border in Sarnia, Ontario.
The whole thing was a huge headache for Canadian authorities, who suddenly had a bunch of dubiously sober Americans and their watercraft to deal with…
MORE
.
—————————————————————————————
.
Private Helicopter Pilot Performs Heroic Mountain Rescue After Emergency Service Fails – Daily Mail
This is the incredible moment a private helicopter pilot performs a jaw-dropping rescue of a stranded tourist – after the professional team could not complete the mission.
In an 'extreme and intense' manoeuvre heroic pilot Constantin Apăvăloaei saves a severely injured 44-year-old woman stuck 2000 metres up on the Carpathian Mountains.
Another walker on the Piatra Craiului range was able to capture the impressive sight on camera.
It shows Mr Apăvăloaei, from the private company Corbex Helicopters in Brasov, expertly steering the aircraft into position.
With astonishing skill he reverses the helicopter backwards towards the hiker, from Bucharest, with its tail facing the mountainside.
Staying completely stable despite the strong updraft he slowly moves into position, allowing rescuers to drop down to the stranded tourist, who had fallen 30m down a crevasse.
Smoothly they pick her up in under a minute, before the pilot flies her off to safety.
The viral video, which has hundreds of thousands of views, was posted on the National Dispatch Rescue Facebook page.
It transpires, according to Romanian news site Digi 24, that a SMURD rescue team had arrived much earlier but could not finish the mission.
An investigation has now been launched by the Department for Emergency Situations, after Mr Apăvăloaei was at first denied from carrying out the rescue himself…
MORE
.
—————————————————————————————
.
ACLU Loses Court Ruling In Fight Against Wisconsin's Voter ID Law – Western Journalism
.

.
A federal appeals court on Friday declined to soften Wisconsin's strict voter ID law, ending several weeks of legal jousting over the measure first approved by lawmakers in 2011.
The ruling is "a significant victory for the people of Wisconsin and ensures that Voter ID will be in place for the upcoming election in November," said Rebecca Ballweg of the Wisconsin Department of Justice.
In July, a federal district court had ruled against the law, saying that voters who did not have the required ID could sign an affidavit attesting to their identity.
Wisconsin appealed that ruling. Initially, a three-judge panel of the U.S. Court of Appeals for the 7th Circuit overturned the lower court…
MORE
.
—————————————————————————————
.
Entire Facebook Trending News Team Fired Following Breitbart Coverage – Breitbart
Facebook has fired its Trending News team, responsible for curating the social media network's "Trending News" list, after Breitbart Tech began to reveal their progressive biases last month. The team is set to be replaced by a team of engineers managing an algorithm.
Facebook's Trending News feature is supposed to present users with the most popular news topics being discussed across the platform. But a Gizmodo exposé in May revealed that Trending News operated much like a traditional newsroom, with a team of "curators" selecting stories they considered newsworthy.
It was later revealed that the team artificially injected stories that were not trending into the Trending News feed, and routinely suppressed topics that were of interest to conservatives. In response, Republican Senator John Thune, Chairman of the Senate Commerce Committee, sent a letter to CEO Mark Zuckerberg demanding answers.
Eager to avoid further congressional action, Facebook launched an internal investigation, which found themselves not guilty. However, in their report they did acknowledge that the "unintentional biases" of its overwhelmingly progressive workforce might have led to bias in its Trending News curation.
Last month, Breitbart Tech decided to show the world just how biased Facebook's Trending News team were, with a series of articles documenting the wacky progressive views of some of its leading team members.
Now, according to Quartz, Facebook has laid off its entire Trending News staff as they move towards a more algorithm-focused process. Descriptions for trending news topics, which Facebook says was the primary reason for employing news curators, will be removed…
MORE
.
—————————————————————————————
.
Turns Out Colin Kaepernick Is A Douchebag – NFL Network
.

.
San Francisco 49ers quarterback Colin Kaepernick has willingly immersed himself into controversy by refusing to stand for the playing of the national anthem in protest of what he deems are wrongdoings against African Americans and minorities in the United States.
His latest refusal to stand for the anthem – he has done this in at least one other preseason game – came before the 49ers' preseason loss to Green Bay at Levi's Stadium on Friday night.
"I am not going to stand up to show pride in a flag for a country that oppresses black people and people of color," Kaepernick told NFL Media in an exclusive interview after the game. "To me, this is bigger than football and it would be selfish on my part to look the other way. There are bodies in the street and people getting paid leave and getting away with murder."…
MORE
.
—————————————————————————————
.
State Department Dragging Its Feet, Says Clinton Calendars Won't Be Released Until After Election – Associated Press
Seven months after a federal judge ordered the State Department to begin releasing monthly batches of the detailed daily schedules showing meetings by Hillary Clinton during her time as secretary of state, the government told The Associated Press it won't finish the job before Election Day.
The department has so far released about half of the schedules. Its lawyers said in a phone conference with the AP's lawyers that the department now expects to release the last of the detailed schedules around Dec. 30, weeks before the next president is inaugurated.
The AP's lawyers late Friday formally asked the State Department to hasten that effort so that the department could provide all Clinton's minute-by-minute schedules by Oct. 15. The agency did not immediately respond.
The schedules drew new attention this week after the AP analyzed the ones released so far. The news agency found that more than half the people outside the government who met or spoke by telephone with Clinton while she was secretary of state had given money – either personally or through companies or groups – to the Clinton Foundation. The AP's analysis focused on people with private interests and excluded her meetings or calls with U.S. federal employees or foreign government representatives.
The AP's reporting was based on official calendars covering Clinton's entire term plus the more-detailed daily schedules covering roughly half her time as secretary of state…
MORE
.
—————————————————————————————
.
Maine Governor Calls Leftist State Rep. A "Socialist Cocksucker" For Accusing Him Of Racism – Daily Caller
.

.
Republican Maine Gov. Paul LePage left an expletive-filled voicemail for a state lawmaker who called his recent comments about drug dealers racist, the Portland Press Herald reports.
LePage called the lawmaker a "socialist cocksucker" and later said he would like to have an armed duel.
"Mr. Gattine, this is Gov. Paul Richard LePage," the governor said on a voicemail to Democratic State Rep. Drew Gattine. "I would like to talk to you about your comments about my being a racist, you cocksucker. I want to talk to you. I want you to prove that I'm a racist. I've spent my life helping black people and you little son-of-a-bitch, socialist cocksucker, you – I need you to, just friggin' – I want you to record this and make it public because I am after you. Thank you.".
LePage then let local media know that he had left a voicemail and invited them to his house to speak with him…
MORE
.
—————————————————————————————
.
'Black Men For Bernie' Founder To End Dem 'Political Slavery' Of Minority Voters By Campaigning For Trump – Breitbart
Black Men for Bernie founder Bruce Carter's mission to restore black communities didn't end when Vermont Senator Bernie Sanders lost to Hillary Clinton in the Democratic primary. He opposed Hillary Clinton and the Democratic establishment then because he knew that they didn't represent the minority communities he engaged in politics to fight for.
After the leak of internal DNC emails, Carter is convinced that the Democratic Party "rigged" the primary against his candidate and that Hillary Clinton's Democratic Party has no intention of changing the policies that led to the destruction of the communities he's working to improve.
Bruce Carter still believes that Hillary Clinton is the poster child for the kind of cronyism, corruption, and evil that the Bernie revolution was built to overthrow. He doesn't believe Hillary Clinton when she labels Donald Trump and his supporters as racists because he knows she falsely labeled her opponents in the primary as sexist "Bernie Bros." Carter's preparing to take the experience, knowledge, and contacts his group built during the primary to campaign against Hillary Clinton and for Donald Trump and other Republicans in battleground states across the country.
Bruce Carter and Black Men for Bernie are at war with the Democratic establishment, whom he says pander for votes but haven't delivered meaningful results to minority communities for decades. Carter became politically active to support Bernie Sanders, who taught him how the establishment's only real constituency was the donor class. When he paired that knowledge with what he knew about the decline in the black and minority neighborhoods he loves, he realized Democratic politicians and the media had been lying…
MORE
.
—————————————————————————————
.
General Flynn: Terror-Linked Nations Cutting Deals With Mexican Cartels To Enter U.S. – Breitbart
.

.
Retired Lt. Gen. Michael Flynn, the former head of the Defense Intelligence Agency (DIA), tells Breitbart News Daily on SiriusXM that countries that are known to support radical Islamic terrorism are "cutting deals" with Mexican cartels for access to human smuggling routes into the United States.
Citing photos from the U.S. Border Patrol component of the Customs and Border Protection (CBP) agency on Friday, Gen. Flynn also told Washington Political Editor Matthew Boyle, host of Breitbart News Daily, that there are signs in Arabic posted along human smuggling routes at the section of the border that lies in Texas providing directions for how to sneak into the United States.
Moreover, the former DIA chief said that the Shiite Lebanese narco-terrorist group Hezbollah, an Iranian proxy, is illegally trafficking humans, drugs, and other contraband into the United States…
MORE
.
—————————————————————————————
.
Update: Police Stood Back As Trump Supporters Were Assaulted, Robbed And Spit On By Pro-Hillary Mob – Gateway Pundit
Republican presidential nominee Donald Trump was in Minneapolis Friday night for a fundraiser held at the city's convention city that was besieged outside by violent liberal protesters.
Trump supporters attending the rally were punched, spit on and robbed while Trump's Secret Service motorcade was blocked by protesters who jumped on one of the vehicles.
Update: Protests at Donald Trump event turn unruly late. Police: No arrests, minor damage. https://t.co/T6fT3A7dk1 pic.twitter.com/RbJLBZK024 – Star Tribune (@StarTribune) August 20, 2016
Now this…
The Trump supporters said the police stood back at they were assaulted, robbed and spit on. No arrests were made.
PJ Media reported:
A week ago in Minneapolis, Republican donors attending a Trump fundraiser were assaulted, robbed and spat upon by a violent leftist mob as they were leaving the event. Attendees say that even though there was a strong law enforcement presence at the convention center downtown where the fundraiser was held, they were not afforded any police protection when coming to and leaving the event – and even more incredibly, there were no arrests.
Many people who attended the event told Fox 9 that police seemed to back down from intervening, but the Minneapolis Police Department insists there was no stand-down order…
MORE
.
—————————————————————————————
.
Clinton Global Initiative Moderator Describes Group's Events As 'Creepy', 'Disgusting', 'Gross' – Daily Caller
.

.
A liberal journalist who has moderated forums hosted by the Clinton Global Initiative offered a brutal takedown of the organization on Friday, describing it as "creepy," "disgusting" and "gross."
Adam Davidson, who hosts a show for NPR and has written for New York Magazine, also said during an appearance on Slate's "Political Gabfest" podcast, that the Bill and Hillary Clinton-controlled group's events are "all about buying access."
And later in the podcast, he said that the Clinton Foundation has made the Clintons "beholden to scumbags."
Davidson's harsh critique comes as Hillary Clinton faces accusations that her family charities are massive pay-for-play schemes…
MORE
.
—————————————————————————————
.
Fact-Check: Top 20 Lies In Hillary's 'Alt-Right' Speech – Breitbart
Andrew Breitbart would have been proud: on Thursday, his website became Hillary Clinton's number one target.
In his book, Righteous Indignation: Excuse Me While I Save the World!, Andrew recalled how he warned the Tea Party what lay ahead for them: "I said that they'd be labeled racists and hate mongers and violent criminals, that they'd be depicted as the dregs of society, people to be excluded from dinner parties because of their made-up closet KKK status. They were about to be targeted."
Andrew added: "They need to marginalize and demonize those that would stand up to their hardball, toxic, and antidemocratic tactics… But it won't work. Given a fair hearing, given just the slightest exposure – and the American people will rise to the occasion. They see these tactics for what they are."
Conservatives will never be "given" a fair hearing. But I made sure I was personally on hand in Reno to hear Hillary Clinton's lies, wearing my Breitbart shirt.
Here are the 20 worst lies in her speech, in chronological order.
1. [Trump's rhetoric] is like nothing we've heard before from a nominee for President of the United States. On the contrary, Barack Obama has specialized in divisive rhetoric, both as a candidate ("bitter clingers," "typical white person") and as president. And, of course, Hillary Clinton often uses racist language. In 2008, she pandered to "hard-working… white Americans"; in 2016, she borrows from Black Lives Matter, talking about "white privilege" and "systemic racism."…
MORE
.
—————————————————————————————
.
Two Nuns Found Slain In Mississippi Home – NBC News
.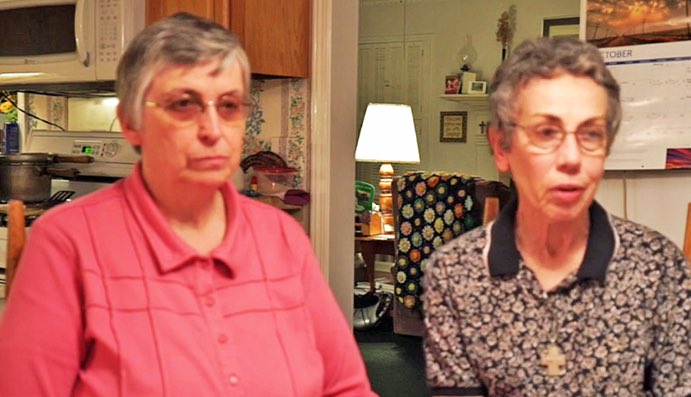 .
Two nuns who worked as nurses and helped the poor in rural Mississippi were found slain in their home, perhaps victims of a break-in and vehicle theft, officials said Thursday.
Authorities would not say if they have a suspect or what kind of vehicle was taken from the nuns' home. The car was found and towed to a crime lab for analysis, officials said Thursday night.
No official cause of death was given, but the Rev. Greg Plata said police told him the sisters were stabbed.
The nuns were identified as Sister Margaret Held and Sister Paula Merrill. Their bodies were taken to a state crime lab for autopsies…
MORE
.
—————————————————————————————
.
Hillary's Own Hometown Newspaper Goes For Her Jugular – Red State Watcher
In a new move, Hillary Clinton's hometown newspaper "The Arkansas Democrat-Gazette" has called out crooked Hillary and her "Corrup" Family Foundation.
ArkansasOnline.com reported: "Those of us who watched her rise here in Arkansas will know she's been getting away with ethical shortcuts for a long, long time…" – Arkansas Democrat-Gazette Editorial Board.
Then there's something called the Clinton Foundation, without the "Family" part in the title. And the Washington Post reported last week that more than half of the big donors to that outfit – those who have given a million dollars or more – are corporations or foreign groups or governments. The Post tallied them up in a feat of investigative journalism the other day. Among the big givers were the governments of Saudi Arabia, Barclay's Bank in Britain, and American companies like Coca-Cola and ExxonMobil. Not to mention the United Arab Emirates, Qatar, Kuwait, Oman, Brunei and Algeria.
But why wait till now to announce these supposed reforms? Weren't they just as much an ongoing conflict of interest when Hillary Rodham Clinton was "only" secretary of state? And why wait to announce that they won't go into effect until just after election day? Which means donors could rush to give the Foundation big money just before November's election, when it would matter most.
(…) Those of us who watched her rise here in Arkansas will know she's been getting away with ethical shortcuts for a long, long time and the lower she sinks, the higher she rises in the esteem of her fans – or just of those who have benefited from her largesse…