.
Hillary Drafts Illegal 'Dreamers' To Get Immigrants To Vote – Washington Examiner
.

.
Hillary Clinton's campaign on Sunday announced a program to recruit undocumented "Dreamers" into a voter registration army even though they are not allowed to vote.
Celebrating the four-year anniversary of President Obama's Deferred Action for Childhood Arrivals program, Clinton launched "Mi Sueno, Tu Voto" (My Dream, Your Vote), to rally and "secure commitments" from immigrants who can vote.
The DACA program created so-called "Dreamers," the children of illegal immigrants who the president has offered renewable two-year work visas and deportation deferral. The goal for many in the program is amnesty.
On Monday, the Democratic National Committee also heralded the DACA anniversary and said that Clinton will go further than Obama as president…
MORE
.
—————————————————————————————
.
Clinton Campaign Scrubs 'You Have A Right To Be Believed' Anti-Rape Statement From Website – Breitbart
.

.
Hillary Clinton's presidential campaign deleted her comment on the campaign website assuring rape victims that they deserved to be believed.
"I want to send a message to every survivor of sexual assault: Don't let anyone silence your voice. You have the right to be heard. You have the right to be believed, and we're with you," Clinton said in September 2015.
.


.
That quote was featured on the campaign website, according to Reddit user "goonsack" but the line "you have the right to be believed" has since been deleted.
"Goonsack" asked Bill Clinton rape accuser Juanita Broaddrick to comment on the edit during a Reddit AMA.
"Do you think the fact that Hillary's people changed the quote on her Campus Sexual Assault issue website had anything to do with you and other women who have credible claims against her husband?" the Reddit user asked.
"Definitely. They all knew she had goofed," Broaddrick replied…
MORE
.
—————————————————————————————
.
U.S. Nuclear Bombs In Turkey At Risk Of "Seizure By Terrorists Or Other Hostile Forces – Zero Hedge
.

.
In early August, we reported that in the latest effort to spend the US defense budget the Pentagon was preparing to upgrade the US nuclear bomb arsenal, at a cost that had been estimated to range between $355 billion an up to $1 trillion.
On Monday, a US-based think tank, The Stimson Center, responded to this proposal when it released a report titled "B61 Life Extension Program: Costs and Policy Considerations" which slammed the planned upgrades to the U.S. tactical nuclear bomb program as an "egregious" waste of money and said deployment overseas is risky.
The report added that Washington could make Europe safer by withdrawing the nuclear bombs from bases in foreign nations, particularly envisioning recent events in Turkey and specifically the 50 or more US B61 nuclear bombs held at Incirlik air base…
MORE
.
—————————————————————————————
.
Governor Walker Activates National Guard In Milwaukee Following BLM Riots – Politistick
After a night of anarchy and mayhem in Milwaukee on Saturday night, including lighting buildings and cars on fire, Republican Governor Scott Walker announced that he was activating the Wisconsin National Guard following a request from Milwaukee County Sheriff David Clarke.
Walker tweeted both his official statement and the executive order to put the National Guard on alert Sunday morning.
It should be noted that the police officer who shot the criminal was black, making it more difficult for terrorist groups like Black Lives Matter to claim that the shooting was racially motivated.
Milwaukee police reported that photo evidence shows that the black man shot be police was "without question" holding a gun in his hand and that the man, identified as Sylville K. Smith had a "lengthy police record."
As we reported earlier, utter chaos broke out following the shooting of an armed black man in a mostly black neighborhood Saturday night in Milwaukee:
On Saturday, police in Milwaukee shot and killed an armed man who evaded arrest and led police on a foot chase. When police caught up with the 23-year-old, as yet unidentified, they ordered him to drop the gun. According to Milwaukee Mayor Tom Barrett, the suspect did not comply and ended up being shot several times by police.
The suspect died at the scene. The whereabouts of a second suspect have not been disclosed. The officer involved in the shooting, who is 24 years old with six years on the force, is on administrative leave pending investigation. He was wearing a body cam…
MORE
.
—————————————————————————————
.
FBI To Finally Hand Over Notes From Hillary's Email Scandal Interview To Congress – Washington Times
.

.
The FBI plans to hand over to Congress notes taken during the agency's interview with former Secretary of State Hillary Clinton over her exclusive use of a private email server to handle classified documents, according to a Sunday report.
CNN anchor Jake Tapper cited sources who said that notes taken by an FBI agent during the interview would be turned over to Congress, adding: "This email story, it's just not going away."
Rep. Jason Chaffetz, the Utah Republican who heads the House Committee on Oversight and Government Reform, has asked for all documents related to Mrs. Clinton's FBI interview, including transcripts, notes and analysis.
Former Arizona Gov. Jan Brewer, a Republican, applauded the FBI's decision, citing Mrs. Clinton's reputation for not being truthful…
MORE
.
—————————————————————————————
.
'Black Lives Matter' Leader Arrested Multiple Times For Impersonating Police Officer – Law Officer
An outspoken member of the Black Lives Matter movement in Atlanta is on probation for perhaps the last reason one might imagine. Fox5Atlanta.com reports Tyree "Sir Maejor" Page, has been arrested multiple times in the past few years for impersonating a police officer.
According to the report, Page was first charged with impersonating an officer after an incident in December 2014 where he allegedly handcuffed an African American woman while "wearing a replica of the Atlanta police officer uniform." A police report obtained by the news station says Page was also armed with a .45 semi-automatic pistol at the time of the incident. Page told officers he was working as a security guard at the time.
Page was reportedly at it again in October 2015 when he was arrested outside a MARTA station after demanding to see identification from an individual who happened to be an Atlanta Police Department sergeant. At the time of that arrest, police say Page was in tactical gear and was wearing a bulletproof vest.
The news station uncovered court records indicating another arrest after a particularly brazen incident in January of 2016 where Page allegedly impersonated an FBI agent to get past security at a state office building. Page was allegedly armed during this incident as well, with one witness telling police, he "had more weapons than I ever seen an officer wear."
In addition to claiming he was a security guard, Page also reportedly told police he was dressed in tactical gear because he was bounty hunter. However, neither the Fulton County Sheriff's Office or the DeKalb County Sheriff's Office had any record of Page registering as a bounty hunter…
MORE
.
—————————————————————————————
.
Michael Phelps Wins Amazing 23rd Gold Medal, Says It's His Last – CNS
.

.
Standing atop the medal podium for the 23rd time, Michael Phelps teared up, bit his lip and gave a little nod.
This was how he really wanted to go out.
On top of his game in the water.
Totally content away from the pool.
"It turned out pretty cool," Phelps said, another gold medal around his neck. "It's just a perfect way to finish."
Phelps put the United States ahead to stay on the butterfly leg of the 4×100-meter medley relay, giving the most decorated athlete in Olympic history his 23rd career gold medal Saturday night…
MORE
.
—————————————————————————————
.
'Black Lives Matter' Rioters Target Whites For Beat Downs – InfoWars
Video footage shows violent mobs of 'Black Lives Matter' rioters targeting white people for brutal beat downs during last night's unrest in Milwaukee.
The clip shows angry rioters chanting "black power!" before asking "is they white?" as cars slowly drive past.
"Yeah they white!" states someone else, prompting the mob to run towards the vehicle.
"Yeah they white, get their ass!" screams another.
"Hey they beatin' up every white person!" exclaims another rioter.
"He white – beat his head – bitch!" he adds.
The footage appears to show the mob attacking cars and trying to drag out the drivers.
The footage then cuts to an upper floor window before the person shooting the video states, "I think they just beat some white bitch ass for no reason – they bust open the window."
Local reporters were also targeted for violent assaults, including a Milwaukee Journal-Sentinel reporter, who was "thrown to the ground and punched".
WTMJ was forced to pull its reporters from the ground altogether because of violent threats from the mob.
In another clip, rioters are seen burning down a gas station while chanting "black power!"
Another clip shows a man trying to justify the violence by claiming that rich people don't give blacks enough money…
MORE
.
—————————————————————————————
.
Hillary's Running Mate: Whites Need To Put Ourselves In Place Where We're The Minority – Politics Now
.

.
Democratic policies will bring down white, middle class Americans. Those are the words espoused by Hillary Clinton running mate, Sen. Tim Kaine.
Also, Kaine says white people need to know what it's like to be the minority in this country. Because, of course he does.
In a Freudian slip, the Democratic vice-presidential nominee appeared to inadvertently admit Thursday that Democratic policies are inherently harmful to white Americans.
While speaking to a group of black Baptists in New Orleans, Tim Kaine seemed to suggest that in order to achieve "equity" between the races, white people need to willingly submit themselves to a state of repression similar to what black Americans have experienced…
MORE
.
—————————————————————————————
.
Cost Of Obamacare Medicaid Expansion 49% Higher Than Previously Estimated – CNS
A government report finds that the cost of expanding Medicaid to millions more low-income people is increasing faster than expected, raising questions about a vital part of President Barack Obama's health care law.
The law provided for the federal government to pay the entire cost of the Medicaid expansion from 2014 through the end of this year.
Obama has proposed an extra incentive for states that have not yet expanded Medicaid: three years of full federal financing no matter when they start. But the new cost estimates could complicate things.
In a recent report to Congress, the Centers for Medicare and Medicaid Services said the cost of expansion was $6,366 per person for 2015, about 49 percent higher than previously estimated.
"We were told all along that the expansion population would be less costly," said health economist Brian Blase with the Mercatus Center at George Mason University in Virginia. "They are turning out to be far more expensive." Blase previously served as a GOP congressional aide.
The new estimates could be a warning light for Democrat Hillary Clinton, who has promised that if elected president she would work to expand Medicaid in the remaining 19 states that have not done so. Higher costs would make it harder for a President Clinton to sell Obama's full-financing plan to Congress…
MORE
.
—————————————————————————————
.
Physician Believes Hillary Clinton Has Parkinson's Disease – Danger & Play
.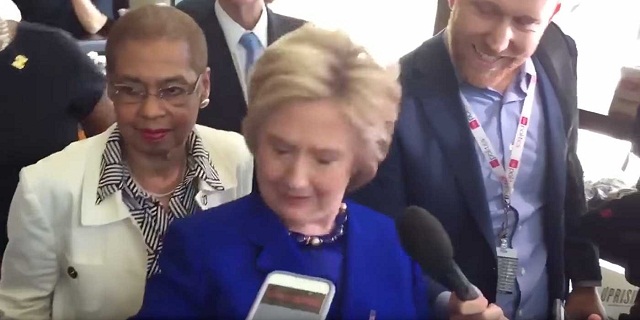 .
Hillary's health is declining, as anyone who has looked at her can see. The question is: What condition does she have? A board certified Anesthesiologist has written a memo of Hillary's health. Feel free to pass it along to doctors and to analytics and criticize it.
Intro: Hillary Clinton (HRC) has suffered a variety of health issues. Unfortunately, she has declined to make her medical records public. In July of 2015 her personal physician released a letter asserting her "excellent physical condition."
Unfortunately, multiple later episodes recorded on video strongly suggest that the content of the letter is incorrect. This discussion is designed to sort through the known facts and propose a possible medical explanation for these events. In keeping with Occam's Razor, a single explanation that covers everything is preferred…
MORE
.
—————————————————————————————
.
Thomas (Hotch) Gibson Fired From 'Criminal Minds' For Kicking Writer – Hollywood Reporter
Thomas Gibson's time on CBS' Criminal Minds has come to an end.
"Thomas Gibson has been dismissed from Criminal Minds. Creative details for how the character's exit will be addressed in the show will be announced at a later date," producers ABC Studios and CBS Television Studios said in a statement.
The dismissal follows news that the actor – who had been on the veteran procedural since its start – kicked a writer on-set. As of Thursday, Gibson was facing a two-episode suspension following the incident. His character was to be written out of both episodes, with that now turning into being written out of the series on which he has starred for 11 seasons.
The incident occurred while Gibson was directing an episode of the drama's upcoming 12th season when he had a dispute with the hour's writer, who also happened to be on-set. Insiders say they got into an argument and tempers on both sides flared, with Gibson said to have instinctively reacted to aggression and kicked the writer.
"I love Criminal Minds and have put my heart and soul into it for the last 12 years," Gibson said in a statement to THR on Friday. "I had hoped to see it through to the end, but that won't be possible now. I would just like to say thank you to the writers, producers, actors, our amazing crew, and, most importantly, the best fans that a show could ever hope to have."
Gibson had been under contract for the ABC Studios/CBS Television Studios co-production for all of season 12…
MORE
.
—————————————————————————————
.
Obama Regime Gives Green Light For Iran To Build Two New Nuclear Power Plants – Washington Free Beacon
.

.
Iran is permitted to pursue the construction of two newly announced nuclear plants under the parameters of last summer's nuclear agreement, Obama administration officials informed the Washington Free Beacon, setting the stage for Tehran to move forward with construction following orders from President Hassan Rouhani.
Ali Salehi, Iran's top nuclear official, announced on Thursday that Iran has invested $10 billion into the construction of two new nuclear plants after receiving orders from Rouhani, according to reports in Iran's state-controlled media.
A State Department official said to the Free Beacon following the announcement that Iran is allowed to move forward with this venture under the nuclear agreement, which does not prohibit this type of nuclear construction…
MORE
.
—————————————————————————————
.
Guccifer 2.0 Publishes Cell Phone Numbers, Private Emails For Most Democrat House Members – Smoking Gun
The "Guccifer 2.0" Twitter account has been restored. But his WordPress account has been stripped of the recently posted documents. A WordPress statement noted that the removal came "upon receipt of a valid complaint regarding the publication of private information."
8/13 UPDATE: The hacker's Twitter account (@GUCCIFER_2) has been suspended in the wake of the latest document dump. However, his WordPress blog – to which "Guccifer 2.0" uploads his stolen goods – remains online.
After disappearing for a couple of weeks, the hacker "Guccifer 2.0" returned late this afternoon to provide a new headache for Democrats.
In a post to his WordPress blog, the vandal – who previously provided nearly 20,000 Democratic National Committee e-mails to Wikileaks – uploaded an Excel file that includes the cell phone numbers and private e-mail addresses of nearly every Democratic member of the House of Representatives.
The Excel file also includes similar contact information for hundreds of congressional staff members (chiefs of staff, press secretaries, legislative directors, schedulers) and campaign personnel.
In announcing the leak of the document, "Guccifer 2.0" reported that the spreadsheet was stolen during a hack of the Democratic Congressional Campaign Committee. "As you see I wasn't wasting my time! It was even easier than in the case of the DNC breach," the hacker wrote…
MORE
.
—————————————————————————————
.
96% Of Clintons' 2015 Charitable Donations Went To Their Own Foundation – Mediaite
.

.
96 percent of the roughly one million dollars given to charity by Bill and Hillary Clinton in 2015 was given to the Clinton Family Foundation, a tax-exempt charity controlled by the Clintons.
According to the tax return released by the Clinton campaign Friday, Desert Classic Charities received $42,000 from the Clintons while the Clinton Family Foundation received a cool million. But as the Daily Caller points out, The Desert Classic Charities in turn contributed $700,000 to the second Clinton charity, the Bill, Hillary and Chelsea Clinton Foundation.
The Clintons' charitable work has been the source of controversy ever since the publication of the 2015 book Clinton Cash, which alleged that many of the other Clinton Foundation's big donations from foreign and domestic actors coincided with beneficial decisions by Hillary Clinton's State Department…
MORE
.
—————————————————————————————
.
Egyptian Judo Fighter Refuses To Shake Israeli's Hand After Losing Match To Him At Olympics – New York Post
An Egyptian judo star refused to shake hands with his Israeli opponent after a controversial match at the Olympics, according to reports.
Islam El Shehaby left Or Sasson hanging – by backing away and shaking his head – when Sasson put out his hand Friday, CBS reported.
El Shehaby had lost in the final two minutes of the first round – and the handshake snub sparked loud booing, CBS reported.
His rebuff was a breach of judo etiquette, in which competitors typically bow or shake hands at the beginning and end of a match as a sign of respect.
The disrespectful gesture came after weeks of pressure on El Shehaby from Islamic extremists to pull out of the match with his Jewish opponent, according to reports.
On Thursday, Mataz Matar, an Islamist network TV host, demanded that El Shehaby withdraw.
"My son watch out, don't be fooled, or fool yourself thinking you will play with the Israeli athlete to defeat him and make Egypt happy. Egypt will cry; Egypt will be sad and you will be seen as a traitor and a normalizer in the eyes of your people," he said, according to CBS.
But international judo experts called the match a sign of progress.
"This is already a big improvement that Arabic countries accept to [fight] Israel," International Judo Federation spokesman Nicolas Messner told CBS…