.
Cops: Tennessee Shooter Targeted White Victims, Similar To Dallas Ambush – CBS News
The Tennessee Bureau of Investigation has released the name of the suspect behind Thursday morning's random shooting in Bristol, TN that claimed the life of an area newspaper carrier and injured three others, including a local police officer.
The TBI says 37-year-old Lakeem Keon Scott was armed with at least two weapons, an automatic-style rifle, a pistol and a large amount of ammunition, reports CBS statation WJHL in Tennessee.
According to the TBI, the victims were:
* Jennifer Rooney ( A Bristol Herald Courier newspaper carrier) : Deceased after being shot driving in her vehicle on Volunteer Parkway.
* Deborah Watts: In serious, but stable, condition at Bristol Regional Medical Center after being shot while working at the Days Inn.
* David Whitman Davis: Received minor injuries at the scene after being injured by flying glass resulting from the gunfire.
* Officer Matthew Cousins: Sustained a superficial wound to the leg. Was subsequently treated and released from BRMC.
Preliminary findings indicate Scott may have targeted people and officers after being troubled by recent events involving African-Americans and law enforcement officers in other parts of the country.
Investigators spoke with Scott Friday morning. Agents say "the work to develop a thorough understanding of his motivation for this incident remains central to the ongoing investigative work."…
MORE
.
—————————————————————————————
.
Protesters Loot 7-Eleven, Dance And Mock Dallas Cops In Wake Of Deadly Ambush – BizPac Review
.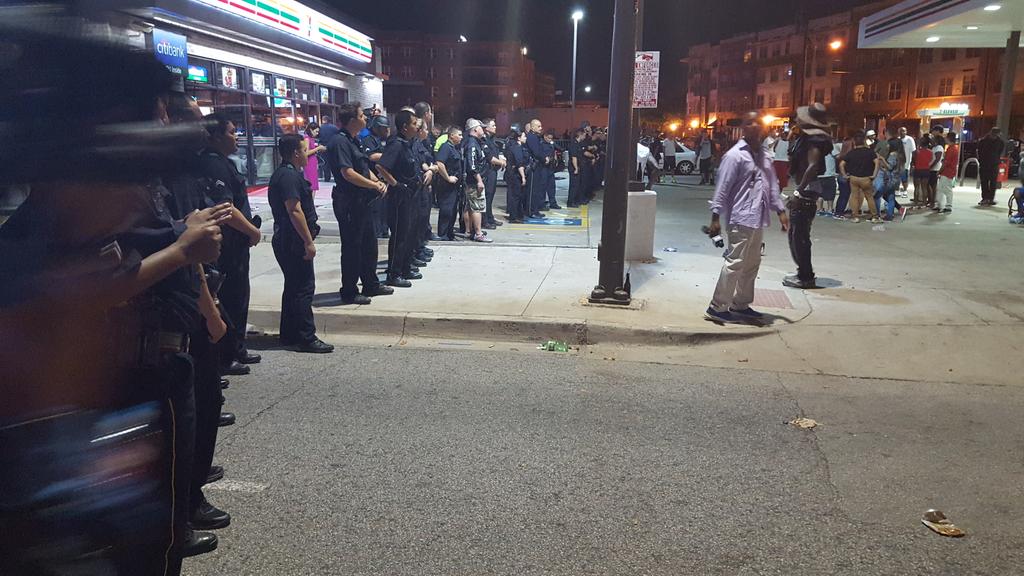 .
Protesters without a conscious took advantage of the chaos that followed the deadly Dallas attack on police by looting a nearby 7/11 convenience store.
The protesters ended up at that location only because they were pushed to safety by police.
They took advantage of the chaos by looting beer and alcohol from the establishment.
The thugs even assaulted the vehicles of the WFAA-TV news crew who was on hand to report about the incident.
"The reason we got to this location so late is because our vehicles were parked in this parking lot and we had a very hard time getting our vehicles out because there were so many people surrounding it," WFAA reporter Jobin Panicker said…
MORE
.
—————————————————————————————
.
BlackLivesMatter Protester Describes How Dallas Police Saved His Life During Shootings – Gateway Pundit
On Thursday night FIVE Dallas police were killed during a Black Lives Matter protest.
Footage captured one of the killers taking pot shots at police from behind a downtown Dallas pillar.
The Black Lives Matter protesters were blocking the street and taunting police before the shooters unloaded on police.
One protester described to reporters how the Dallas police saved his life.

…………………Click on image above to watch video.
.
Protester: We started hearing rapid fire. One police officer standing there pushed me out of the way because it was coming our direction. Like you can see my legs are scarred up because he pushed us out of the way…
MORE
.
—————————————————————————————
.
Marine To Use Clinton's Non-Indictment As Defense In Classified Information Case – Russia Today
.

.
A Marine Corps officer who is facing discharge for the mishandling of sensitive information is demanding the same treatment that Hillary Clinton received when the FBI chose not to indict her over her storage of classified emails.
Maj. Jason Brezler has been locked in a battle with the Marine Corps since he used an unclassified Yahoo email account to send a classified message warning fellow service members of a potentially corrupt Afghan police chief in July 2012.
Seventeen days after that email was sent, a servant of that police chief killed three Marines and severely wounded a fourth when he opened fire with an assault rifle.
Brezler was punished with a potentially career-ending fitness report for sending the warning over improper channels, and brought a lawsuit challenging that finding in December 2014…
MORE
.
—————————————————————————————
.
Why Hillary Clinton Must Go To JailTop 30 Things 'More Trusted Than Hillary' – Daniel Greenfield
In 1994, Hillary Clinton took questions under a portrait of Abraham Lincoln. Wearing a pink pantsuit, she offered what would become her customary mix of lies and defensiveness, admitting to something and then trying to shift the blame, denying that she had broken the law and then claiming ignorance.
It was an act that we would see over and over again for the next few decades, but back then it was still new when Hillary Clinton claimed that she couldn't remember anything, that the whole Whitewater affair was an invasion of her privacy and that she had never meant to do anything wrong.
Some twenty years later, we have spent the past few months witnessing the same performance.
She blamed sexism for Whitewater. "It's a little difficult for us as a country, maybe, to make the transition of having a woman like many of the women in this room, sitting in this house." Her supporters claim that her email scandal is caused by sexism rather than her blatant violation of the law.
"I do feel like I've always been a fairly private person leading a public life," Hillary Clinton whined about the examination of her shady investments. This time around she claimed that her whole rogue email server filled with classified documents was an attempt at protecting her classified yoga routines.
The truth, then and now, is that Hillary Clinton is a public figure who claims that her private life is being invaded whenever she gets caught violating the law.
Then there are the vague statements that almost sound like apologies, but aren't. "I'm not in any way excusing any confusion that we have created," she said of Whitewater…
MORE
.
—————————————————————————————
.
Snipers Murder 5 Cops, Wound 7 More In Dallas BlackLivesMatter Protest – Chelsea Schilling
.

.
What's more trusted than Hillary Clinton?
Well, everything – including former President Bill Clinton on "Take Your Daughter to Work Day."
And Anthony Weiner with a selfie stick.
And even drinks made by Bill Cosby.
That's according to Twitter's trending hashtag #MoreTrustedThanHillary, which has exploded since FBI Director James Comey announced his decision not to recommend charges against Hillary over her handling of classified information on a private email server…
MORE
.
—————————————————————————————
.
House Republicans Push For New Hillary Clinton Investigation – Wall Street Journal
House Republicans said Thursday they would seek a new Federal Bureau of Investigation examination into Hillary Clinton, this one focused on whether she lied to Congress about her handling of classified information, raising the likelihood the controversy over her private email system will continue through the fall elections.
The announcement came as FBI Director James Comey appeared before Congress to forcefully defend his recommendation to the Justice Department earlier this week against charging Mrs. Clinton. Mr. Comey said that only once in the past century had charges been levied against someone for handling classified information negligently but without malign intent.
Conduct like Mrs. Clinton's could lead to administrative penalties if the individual were still in the government, Mr. Comey told the House Committee on Oversight and Government Reform, but he doesn't believe the former secretary of state should be prosecuted.
"We don't want to put people in jail unless we can prove they knew they were doing something they shouldn't do," Mr. Comey said.
The FBI director suggested Mrs. Clinton reasonably assessed that some of the disputed emails were unclassified because they weren't properly marked. He added that she may not have been "sophisticated" about the treatment of classified information. Those are potential obstacles for a push to prosecute her for lying to Congress about whether particular emails were classified.
The nearly five-hour back-and-forth between Republicans, Democrats and Mr. Comey marked an extraordinary moment, as top lawmakers grilled an FBI director over a prosecutorial decision regarding a presumptive presidential nominee…
MORE
.
—————————————————————————————
.
Snipers Murder 5 Cops, Wound 7 More In Dallas BlackLivesMatter Protest – New York Post
.

.
Snipers gunned down five police officers and injured seven others during protests over two fatal police shootings of black men – an explosion of violence described as the deadliest day for law enforcement since 9/11.
One suspect died after a tense standoff with cops in an El Centro College garage, law enforcement sources said. It was unclear if the suspect was killed or had shot himself.
Two civilians also were wounded, including Shetamia Taylor, 37, who was shot in the calf and was undergoing surgery Friday morning, Mayor Mike Rawlings said.
Four of the slain cops were members of the Dallas Police Department and one was a Dallas Area Rapid Transit cop, officials said…
MORE
.
—————————————————————————————
.
State Department Reopens Hillary Clinton Email Probe – The Hill
The State Department is restarting its internal investigation of Hillary Clinton's private email server now that the Department of Justice has decided not to pursue charges against her.
"Given the Department of Justice has now made its announcement, the State Department intends to conduct its internal review," State Department spokesman John Kirby said in a statement.
The State Department had suspended its investigation into its former secretary to avoid interfering with the FBI and Justice Department reviews.
Attorney General Loretta Lynch announced this week the DOJ would not press charges against Clinton, following FBI Director James Comey's recommendation.
Kirby said he can't provide specific information about what the department is evaluating, and he could not give a timeline for the process.
"Our goal will be to be as transparent as possible about our results, while complying with our various legal obligations," he said.
State's probe will likely include top Clinton advisers including Cheryl Mills, Huma Abedin and Jake Sullivan.
Kirby said earlier this week that former officials could still face "administrative sanctions" for past actions, according to the Associated Press…
MORE
.
—————————————————————————————
.
Sanders Booed By House Democrats – Politico
.

.
Sen. Bernie Sanders is still talking like a guy who's running for president. But frustrated House Democrats – who booed him at one point during a morning meeting – say it's time to stop.
With the Democratic convention just weeks away, Sanders still hasn't endorsed one-time rival Hillary Clinton and dodged questions about when he would during a tense meeting Wednesday morning with House Democrats.
Sanders also stunned some of the Democrats in attendance when he told them that winning elections isn't the only thing they should focus on. While they wanted to hear about how to beat Donald Trump – and how Sanders might help them win the House back – he was talking about remaking the country.
"The goal isn't to win elections, the goal is to transform America," Sanders said at one point, according to multiple lawmakers and aides in the room…
MORE
.
—————————————————————————————
.
FBI's Comey To Testify Before Congress On Clinton Email Probe – New York Post
FBI Director James Comey will testify before Congress on Thursday to explain how he concluded that an "extremely careless" Hillary Clinton should not be prosecuted for sending top secret messages over a private email server while serving as secretary of state.
Comey will get grilled by angry Republican members of the House Oversight Committee.
The House Judiciary Committee, meanwhile, announced that Attorney General Loretta Lynch will be appearing before its members on Tuesday, after a week of questions about her private meeting with former President Bill Clinton on an airport tarmac in Phoenix.
"The FBI's recommendation is surprising and confusing. The fact pattern presented by Director Comey makes clear Secretary Clinton violated the law. Individuals who intentionally skirt the law must be held accountable," Oversight Committee Chairman Jason Chaffetz said in a statement.
The Utah Republican added: "Congress and the American people have a right to understand the depth and breadth of the FBI's investigation. I thank Directory Comey for accepting the invitation to publicly answer these important questions."
The FBI is supposed to be insulated from partisanship, with directors appointed to serve 10-year terms under legislation passed in 1976 following J. Edgar Hoover's extraordinary 48-year tenure.
Comey is a Republican first nominated to a senior Justice Department post by President George W. Bush, and tapped to lead the FBI in 2013 by President Barack Obama.
But Comey's declaration that "no charges are appropriate" against Clinton is drawing a deluge of GOP criticism, even though Comey prefaced it by calling Clinton "extremely careless" in her handling of highly sensitive information…
MORE
.
—————————————————————————————
.
Trump Beats Expectations, Raises $51 Million With GOP In June – Washington Post
.

.
Donald Trump raised more than $26 million through online and mail solicitations in June and another $25 million at events with the Republican National Committee, his campaign announced Wednesday, a hefty haul that his allies hope will put to rest anxieties in the party about his fundraising prowess.
The combined $51 million falls short of the $68.5 million that Democratic contender Hillary Clinton and the Democratic Party collected in June, which included $40.5 million she raised directly for her campaign. But it was the biggest monthly take by far for the presumptive GOP presidential nominee, who did not begin to hold fundraising events until late May. And it suggests Trump has the ability to quickly inject large sums of money into his campaign coffers by tapping into the fervor of his supporters.
Much of the campaign's money appears to have come in during the final 10 days of the month, when Trump's operation began aggressively soliciting money online for the first time. The Trump campaign announced Wednesday that more than 400,000 supporters made donations in June, with more than $3 million coming in just one day…
MORE
.
—————————————————————————————
.
Obama Calls Clinton 'Diligent' Hours After FBI Director Calls Her 'Extremely Careless' – Weekly Standard
President Obama says Hillary Clinton "could not have been more diligent" as secretary of state in a video her campaign released mere hours after FBI director James Comey accused her of being "extremely careless" in her handling of classified materials during her tenure.
"She could not have been more diligent, more tireless, more loyal, and more committed to making sure that around the world, diplomatically, we were promoting the interests and goals of the American people," says Obama in the two-minute promotional spot the Clinton camp characterized as an "interview".
Earlier Tuesday, Comey announced the findings of the FBI's investigation into Clinton's use of a personal email system during her time at the State Department. While stopping short of recommending an indictment, the Bureau criticized her behavior and "the security culture of the State Department in general."
"Although we did not find clear evidence that Secretary Clinton or her colleagues intended to violate laws governing the handling of classified information, there is evidence that they were extremely careless in their handling of very sensitive, highly classified information," Comey said at a press conference.
"While not the focus of our investigation, we also developed evidence that the security culture of the State Department in general, and with respect to use of unclassified e-mail systems in particular, was generally lacking in the kind of care for classified information found elsewhere in the government."
The FBI's conclusions include:
From the group of 30,000 e-mails returned to the State Department, 110 e-mails in 52 e-mail chains have been determined by the owning agency to contain classified information at the time they were sent or received…
MORE
.
—————————————————————————————
.
Darrell Issa: 'We Are In A Crisis,' And Hillary Clinton Is A 'Criminal Involved In A Criminal Enterprise' – Breitbart
.

.
Congressman Darrell Issa (R-CA), chairman of the House Oversight Committee, talked with Breitbart News Daily SiriusXM host Stephen K. Bannon about President Barack Obama's willful disregard for the law as president and the FBI's decision not to charge Hillary Clinton for her actions involving top secret emails.
Issa said:
We are in a crisis because Hillary Clinton, if the voters do not stop her, will be the next President of the United States. She will, in fact, on Day One say, "Pardon me," and she'll mean it. She'll have pardoned herself. She will have, in fact, gone from being a criminal involved in a criminal enterprise – obviously, Clinton Cash depicted that – and somebody who flaunted the security laws, the privacy laws, the presidential and the Federal Records Act, and gotten away with it…
MORE
.
—————————————————————————————
.
Professor: Pledge And National Anthem Are Racist, "Nationalistic Indoctrination" – Red Alert Politics
Dr. Gerald Horne of the University of Houston isn't a fan of American symbols, as evidenced by his interview with Sharmini Peries for The Real News Network. Despite this distaste, he holds the John J. and Rebecca Moores Chair of History and African-American Studies.
Horne blasts the flag and Pledge of Allegiance, which came about because "it was thought that this artificially-constructed former slaveholders' republic needed some kind of glue to help to bring disparate elements together."
There's also a tie-in to how harshly African Americans have been treated, with added emphasis:
And once again, the issue of national unity was at play, not least because a substantial percentage of the citizenry, particularly those of African descent, were subjected to routine atrocities, and it was felt that they would not necessarily be enthusiastic about shedding their blood and making the ultimate sacrifice for this so-called Republic. And so therefore you had the installation of the Pledge of Allegiance, particularly in schools, because it was thought that you had to get U.S. nationals at an early age in order to inculcate in them some sort of identification with the United States of America.
"The Star-Spangled Banner" is also problematic.
According to Horne, it speaks to "reprimanding, reproving, and denouncing black people for not standing alongside the star-spangled banner, but instead aligning, as the black population tended to do, with the real and imagined enemies of the United States of America."
Peries did more than just agree. As she began her interview, "July 4 Independence Day celebrations are underway. It's a weekend heavily adorned by national symbols of the U.S. flag everywhere, and all kinds of other nationalistic paraphernalia. It is a good time to analyze these [altruistic] national symbols, how they evolved, should we be pledging allegiance to them."….
MORE
.
—————————————————————————————
.
Trump Releases Damning Video Contrasting Clinton, Comey Statements – American Mirror
.

.
This morning's damning analysis of Hillary Clinton's actions related to her personal email server and her now disproven claims are the subject of a brutal new video released by the Donald Trump campaign.
"I did not send or receive any information that was marked classified at the time," Clinton says in an ABC News interview featured in the ad.
"From the 30,000 emails returned to the State Department in 2014, 110 emails in 52 email chains have been determined by the owning agency to contain classified information at the time they were sent or received," Comey said this morning – a direct contradiction of Clinton's previous statement.
After repeating Clinton's clip, the shows Comey saying, "Eight of those chains contained information that was 'top secret' at the time they were sent."…
MORE
.
—————————————————————————————
.
2015: DOJ Prosecutes A Naval Reservist For Mishandling Classified Info Without Malicious Intent – Daily Caller
During a Tuesday press conference, FBI Director James Comey recommended that Hillary Clinton not be charged for mishandling classified information while serving as secretary of state.
Comey argued that based on "the strength of the evidence, especially regarding intent… and how similar situations have been handled in the past," "no reasonable prosecutor" would even consider bringing a case like Clinton's to court.
Only, that isn't exactly accurate.
Less than one year ago, Assistant US attorneys Jean M. Hobler and Lee S. Bickley successfully prosecuted Naval Reservist Brian Nishimura in a strikingly similar case.
Back in 2012, Nishimura admitted to handling "classified materials inappropriately" while deployed to Afghanistan from 2007-2008.
Nishimura served as a Regional Engineer and, according to the FBI's investigation into the incident, "had access to classified briefings and digital records that could only be retained and viewed on authorized government computers."
"Nishimura, however, caused the materials to be downloaded and stored on his personal, unclassified electronic devices and storage media," wrote the FBI. "He carried such classified materials on his unauthorized media when he traveled off-base in Afghanistan and, ultimately, carried those materials back to the United States at the end of his deployment."…
MORE
.
—————————————————————————————
.
James Comey And The Road To Tyranny – Bruce Thornton
.

.
FBI Director James Comey has decided not to recommend that Hillary Clinton be indicted for violating security laws concerning the handling of classified information, among other offenses. By doing so he has compromised a fundamental principle of consensual government: that the laws apply equally to everybody, including those entrusted with the people's power. Now it is up to voters come November to reaffirm that we are a nation of laws, not men.
Comey chose to do what I suggested on May 20 as a possible scenario: "There are any number of ways the Bureau could spin such a recommendation [not to indict] in a way to let Hillary off the hook: no proof of intent, evidence of carelessness but not criminality, or throwing some staffers and aides under the bus." Comey in his announcement chose two out of three. He scolded Hillary for being "extremely careless," but said there was no evidence of intent.
Both statements raise suspicions. First, the statute in question proscribes "gross negligence." How is "extreme carelessness" different from "gross negligence"? Is there a firm legal distinction between these two? Black's Law Dictionary defines "negligence" in law as "The omission to do something which a reasonable man, guided by those considerations which ordinarily regulate the conduct of human affairs, would do, or doing something which a prudent and reasonable man would not do."…