.
Prime Minister Mariano Rajoy's Conservative People's Party Wins Spanish General Election – EuroNews
.

.
The conservative People's Party (PP) of acting Prime Minister Mariano Rajoy won most seats in Spain's parliamentary election on Sunday, increasing the number from the last election in December.
With most votes counted the PP has at least 137 seats in the 350-strong parliament, compared to 123 seats last time, but it is still short of the 176 seats needed for an absolute majority.
Unidos Podemos, ("Together We Can"), a coalition led by anti-austerity party Podemos, was hoping to knock the Socialists into third place but appears to have failed taking only 71 seats. The Socialists won 85.
Liberal Ciudadanos, meanwhile, would repeat its fourth-place showing in December with 26 to 30 seats, the exit poll showed.
Hours earlier, asked what they think would happen, voters in Madrid sounded a note of weariness…
MORE
.
—————————————————————————————
.
Iceland's Stunning Election Of Anti-Establishment Political Novice Should Have Hillary Shaking In Her Pants Suit – 100PercentFedUp
The anti-establishment tide is rolling across Europe. You really can't blame the citizens for being furious at their leaders for allowing the invasion of Muslim immigrants into their hometowns and major cities. If this sentiment catches fire in America this summer, it will not likely bode well for Crooked Hillary at the polls in November, given that Trump is the ultimate non-establishment politician…
History professor Gudni Johannesson won Iceland's presidential election after riding a wave of anti-establishment sentiment, final results showed Sunday, although the vote was eclipsed by the country's eagerly-anticipated Euro football match.
The political newcomer, who won with 39.1 percent of votes, was trailed by businesswoman Halla Tomasdottir, also without party affiliation, who took 29.4 percent, according to results announced on public television channel RUV.
Johannesson only decided to run for the presidency after the so-called Panama Papers leak in April which detailed offshore accounts and implicated several senior Icelandic politicians, including the prime minister who was forced to resign.
Throughout the campaign, Johannesson emphasised his non-partisan vision of the presidency, and vowed to restore faith in the political system after years of public anger toward politicians over scandals and financial woes.
The victory was especially sweet for the history professor and political commentator, who has never held public office and has no party affiliation, as he celebrated his 48th birthday Sunday.
David Oddsson, a former conservative prime minister who had been Johannesson's closest rival throughout most of the campaign, garnered just 13 percent of votes…
MORE
.
—————————————————————————————
.
UN Official Killed In Weightlifting "Accident" Was Set To Testify Against Hillary Same Day – Hidden Americans
.

.
Ashe was due in court Monday with his Chinese businessman co-defendant Ng Lap Seng, who is charged with smuggling $4.5 million into the US since 2013 and lying that it was to buy art and casino chips.
Ng was identified in a 1998 Senate report as the source of hundreds of thousands of dollars illegally funneled through an Arkansas restaurant owner, Charlie Trie, to the Democratic National Committee during the Clinton administration. (Ng was not charged with any crime.)
Ng and Trie had visited the White House several times for Democratic fund-raising events and were photographed with then-President Bill Clinton and First Lady Hillary Clinton.
One source told me, "During the trial, the prosecutors would have linked Ashe to the Clinton bagman Ng. It would have been very embarrassing. His death was conveniently timed."…
MORE
.
—————————————————————————————
.
Clinton White House Was Den Of Coke, Mistresses: Ex-Secret Service Officer – New York Post
Gary J. Byrne has devoted his life, and risked it, to serve his country – as a member of the US Air Force, a uniformed White House Secret Service officer, and a federal air marshal.
And he believes it is his patriotic duty to do anything he can to prevent Hillary Clinton from becoming president of the United States.
As someone who guarded the Oval Office during the Clinton presidency, Byrne, in an exclusive interview with The Post, tells how he witnessed "the Clinton machine leaving a wake of destruction in just about everything they do."
He says he has also seen Hillary's "dangerous," abusive, paranoid behavior.
"It's like hitting yourself with a hammer every day," says Byrne, pounding a fist into his open hand, of the former First Lady's explosive anger.
In his new book, "Crisis of Character: A White House Secret Service Officer Discloses His Firsthand Experience with Hillary, Bill, and How They Operate," out Tuesday, Byrne makes no apologies for his anti-Clinton motivations.
" 'America first' is in my blood," he writes, sounding very similar to another presidential hopeful.
Byrne says he wants Americans to "vote [their] conscience," but pledges to make sure "they have all the information that they need."…
MORE
.
—————————————————————————————
.
Keystone XL Company Sues Obama And U.S. For $15 Billion Under NAFTA – Daily Caller
.

.
The company behind the Keystone XL pipeline filed a $15 billion lawsuit Friday against the Obama administration under the North American Free Trade Agreement (NAFTA).
TransCanada claimed that Obama spent seven years using "arbitrary and contrived" analyses and justifications to delay the pipeline for political reasons. TransCanada's suit also says that the company had reason to believe that the pipeline would be approved before it was rejected by the Obama administration in November.
"None of that technical analysis or legal wrangling was material to the administration's final decision," TransCanada said in its lawsuit. "Instead, the rejection was symbolic and based merely on the desire to make the U.S. appear strong on climate change, even though the State Department had itself concluded that denial would have no significant impact on the environment."…
MORE
.
—————————————————————————————
.
Anti-Gun Senator Arrested With A Loaded Gun – TruthFeed
With all the talk of Gun Control, here is a blast from the past we'll never forget.
Guess who got arrested Monday night after she refused to get up off the ground out in the middle of the road in front of the Ferguson Police Department?
And not only arrested, but arrested while her breath reportedly reeked of alcohol and she just so happened to be carrying a fully loaded 9mm with extra ammo?
Why none other than Anti-gun Missouri Senator Jamilah Nasheed (D-St. Louis), who has herself sponsored multiple gun control bills.
"Sen. Nasheed, along with another male, entered the street, were told numerous times by not only by the St. Louis County commander, but other officers on scene, that they needed to leave the street or they were subject to arrest," St. Louis County Police Sgt. Brian Schellman said. "They failed to comply, and they were taken into custody."
Here she is below chanting in the street in protest of the Michael Brown shooting – which the autopsy has now revealed happened after Brown went for Police Officer Darren Wilson's gun – prior to her arrest. Police gave the Senator and her companion numerous warnings to get out of the street and back on the sidewalk before they arrested her but she refused to budge.
According to police accounts, Sen. Nasheed reeked of intoxicants, and upon booking and being formally charged with Failure to Obey Lawful Order of Police and Manner of Walking in the Roadway, she refused a breathalyzer…
MORE
.
—————————————————————————————
.
Your ObamaCare Fail Of The Day – PJ Media
.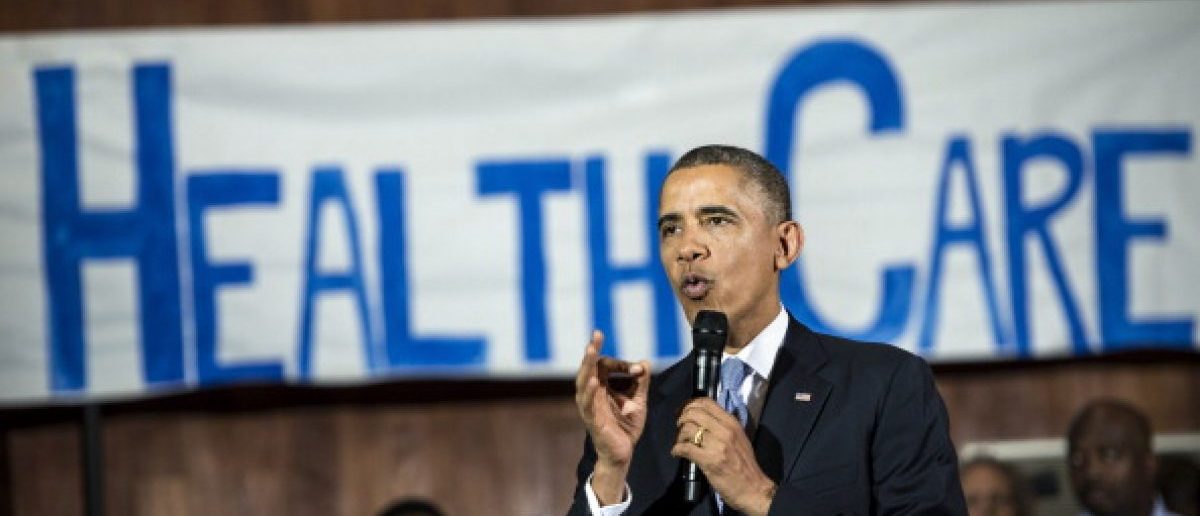 .
Not even insurance giant Blue Cross Blue Shield can make a go of selling ObamaCare plans in a relatively healthy state like Minnesota; it is pulling out of the individual market there:
"Based on current medical claim trends, Blue Cross is projecting a total loss of more than $500 million in the individual [health plan] segment over three years," BCBSM said in a statement.
The Blues reported a loss of $265 million on insurance operations from individual market plans in 2015. The insurer said claims for medical care far exceeded premium revenue for those plans.
"The individual market remains in transition and we look forward to working toward a more stable path with policy leaders here in Minnesota and at the national level," the company stated…
MORE
.
—————————————————————————————
.
Obama Invites 18.7 Million Immigrants To Avoid Oath Of Allegiance, Pledge To Defend America – Breitbart
It's not only illegal aliens who are escaping enforcement of the nation's immigration laws.
Under the Obama administration's expansive interpretation of executive authority, legal immigrants seeking citizenship through the nation's Naturalization process are now exempt from a key part of the Oath of Allegiance.
Immigrants seeking to become citizens no longer have to pledge to "bear arms on behalf of the United States." They can opt out of that part of the Oath. Nor do they have to cite any specific religious belief that forbids them to perform military service.
According to the Naturalization Fact Sheet on the US Citizenship and Immigration Service (USCIS) website, In the fiscal year ending June 30, 2015, the nation welcomed 729,995 Legal Permanent Residents into full citizenship.
* Over the past decade 6.6 million have been naturalized through a process that ends with the Oath of Allegiance.
* In the decade 1980-1990, the average number completing Naturalization was only 220,000 annually, but from 1990 to 2000 that number jumped to over 500,000 annually.
* 1,050,399 new citizens were welcomed in the year 2008.
* 18.7 million immigrants are eligible to eventually become citizens, and 8.8 million already meet the 5-year residency requirement.
The pledge to help defend America was good enough for the 6.6 million immigrants naturalized since 2005 and good enough for the over 15 million naturalized since 1980, but Obama's appointees at the USCIS think that is too much to ask of the 18.7 million estimated legal immigrants eligible today for eventual naturalization or the 750,000 who will be naturalized in the coming year…
MORE
.
—————————————————————————————
.
Nigel Farage: Britons Voted For Brexit Because Obama Told Them Not To – The Hill
.

.
A leading figure in the British push to exit the European Union says President Obama accidentally helped the Brexit cause.
Nigel Farage on Friday said Obama's calls for the United Kingdom to stay in the EU caused people to vote to leave.
"Threatening people too much insults their intelligence," the United Kingdom Independence Party head said.
"A lot of people in Britain said, 'How dare the American president come here and tell us what to do?' " Farage continued on Sirius XM's "Breitbart News Daily," citing Obama's U.K. trip in April.
"It backfired. We got an Obama-Brexit bounce, because people do not want foreign leaders telling them how to think and vote."…
MORE
.
—————————————————————————————
.
Muslim Child Sex-Assault Suspects Back On Streets Of Idaho – WorldNetDaily
The two Muslim migrant boys from Sudan who were arrested last week on charges of sexually assaulting a 5-year-old girl in Idaho were released into the custody of their parents following a hearing Thursday afternoon, WND has learned.
They were reportedly released from the Snake River Juvenile Detention Center in Twin Falls pending their next hearing.
According to witnesses on the scene, the boys' families were seen smiling and hugging after the hearing ended shortly before 3 p.m. Thursday.
"They were waving their arms to the heavens, smiling and throwing their arms around each other," an eyewitness outside the detention center told WND.
The two Sudanese boys, ages 10 and 14, were reportedly ordered by the court to have no contact with the victim, a 5-year-old special-needs girl, whom they allegedly assaulted in the laundry room of their apartment complex on June 2. They were not arrested until late last week. A third boy, age 7, was also involved but was never arrested. The younger boys allegedly urinated on the girl and one of them inappropriately touched her but the extent of that violation is not known. The case has been sealed by the prosecutor, which is standard procedure in juvenile offenses.
The older boy, 14, allegedly filmed the entire incident.
The two older boys are from Sudan and the 7-year-old is from Iraq.
The boys and their families have been evicted from the Fawnbrook Apartments where the incident allegedly took place…
MORE
.
—————————————————————————————
.
Brexit Spreads Across Europe: Italy, France, Holland And Denmark All Call For Referendums – Daily Express
.

.
Italy's anti-establishment 5-Star movement has now officially called for a referendum on whether to keep the Euro.
Buoyed by big gains in local elections, Luigi Di Maio, a vice president of the lower house of parliament, said: "We want a consultative referendum on the Euro.
"The Euro as it is today does not work. We either have alternative currencies or a 'Euro 2'.
The 5-Star movement has called for two different currencies in Europe, one for the rich northern countries another for southern nations.
While any such referendums on the EU or the Euro would be merely test public opinion because Italian law does not allow referendums to change international treaties, a victory would send a clear signal to the government, especially in the wake of Brexit…
MORE
.
—————————————————————————————
.
Fear Government: More Armed Bureaucrats Than Marines – Universal Free Press
The Obama government has declared that you are the safer now than you have been at any time. Well that may be his opinion, but a new report shows that due to spending on weapons under his administration, there are now more non-military and non-law enforcement federal government employees who carry guns than there are U.S. Marines. Now I don't know about you, but that doesn't make me feel safe.
A taxpayer watchdog group, Open the Books, released a study this week that finds domestic government agencies are continuing to grow their stockpiles of military-style weapons, even as fellow Socialist Democrats sat on the House floor calling for more restrictions on the Second Amendment rights of American citizens. An act that is a blatant attack on the very reason that the Second Amendment was placed into the Bill of Rights in the first place by our founders.
The report, "Militarization of America" found civilian government agencies spent $1.48 billion on guns, ammunition, and military-style equipment between 2006 and 2014. Examples include IRS agents with AR-15s, and EPA bureaucrats wearing camouflage. "Regulatory enforcement within administrative agencies now carries the might of military-style equipment and weapons," Open the Books said, the very actions our founders warned us about and made it possible to defend against.
"For example, the Food and Drug Administration includes 183 armed 'special agents,' a 50 percent increase over the ten years from 1998-2008. At Health and Human Services (HHS), 'Special Office of Inspector General Agents' are now trained with sophisticated weaponry by the same contractors who train our military Special Forces troops."
Open the Books found there are now over 200,000 non-military federal officers with arrest and firearm authority, surpassing the 182,100 personnel who are actively serving in the U.S. Marines Corps…