.
Obama Doesn't Think Rapists, Armed Robbers, Drug Dealers Are Criminals – New York Post
.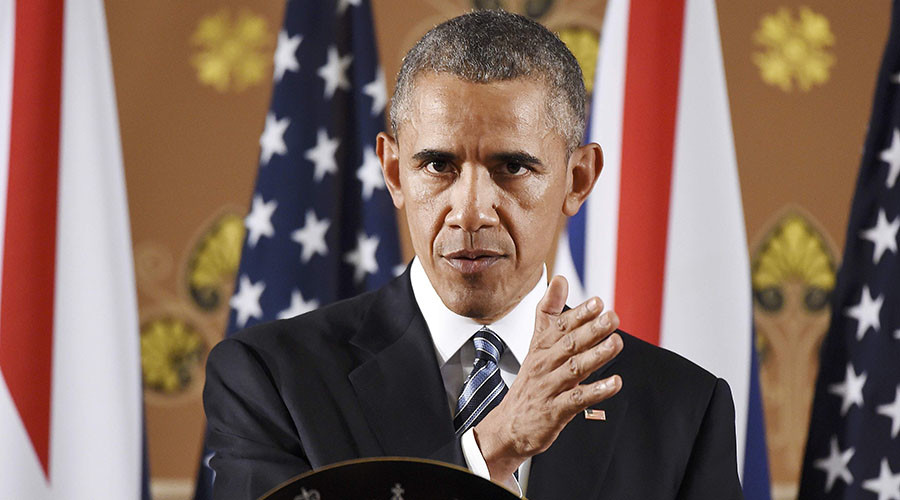 .
It's only May, but I think I've found the euphemism of the year: According to Team Obama, criminals should now be declared "justice-involved individuals."
The neo-Orwellianism comes to us from the bizarre flurry of last-minute diktats, regulations and bone-chilling threats collectively known to fanboys as Obama's Gorgeous Goodbye.
In another of those smiley-faced, but deeply sinister, "Dear Colleague" letters sent to universities and college this week, Obama's Education Secretary John King discouraged colleges from asking applicants whether they were convicted criminals.
An accompanying pamphlet was called "Beyond the Box: Increasing Access to Higher Education for Justice-Involved Individuals."…
MORE
.
—————————————————————————————
.
London's New Mayor Warns Trump: Let In Muslims Or They Will Attack America – Daily Caller
The new Muslim mayor of London has issued a warning to Donald Trump: Moderate your stance on Muslims, or they will launch more attacks against America.
Trump recently praised Sadiq Khan for winning London's mayoral race, and said he would be willing to create an exception in his policy restricting Muslim entry into the United States in order to allow Khan to visit. But in a statement Tuesday, Khan dismissed Trump's invitation, and also denounced his views on Islam as "ignorant," suggesting Trump's policies would increase the terrorist threat in both the U.S. and U.K.
"Donald Trump's ignorant view of Islam could make both of our countries less safe – it risks alienating mainstream Muslims around the world and plays into the hands of extremists," he said. "Donald Trump and those around him think that Western liberal values are incompatible with mainstream Islam – London has proved him wrong."
While Khan touted the liberal values of British Muslims, some polls have found worrying indicators that their assimilation is incomplete. A poll in April, for instance, found that two-thirds of British Muslims would not tell the government if a friend or family member became involved with extremists. Half of them said homosexuality should be illegal and over 20 percent supported establishing sharia in the U.K…
MORE
.
—————————————————————————————
.
'We Need A Medic!' Hillary, Bernie Delegates Clash At NV Dem Convention – American Mirror
.

.
Supporters of Hillary Clinton and Bernie Sanders clashed in Las Vegas on Saturday and it got so out of hand, cops descended on the ballroom and threatened arrests.
Convention attendee and YouTube user Anie H. posted several photos of the action, as announcements were made over the loud speaker to leave the Paris Hotel or risk being arrested.
She said Las Vegas Metropolitan police entered from the back of the room and went to the front, and "they are literally going to force us to leave the room."
As she spoke, people could be seen shouting and waving their fists and signs…
MORE
.
—————————————————————————————
.
'Wiped Out': Air Force Losing Pilots And Planes To Cuts, Scrounging For Spare Parts – Fox News
It was just a few years ago, in March 2011, when a pair of U.S. Air Force B-1 bombers – during a harsh winter storm – took off from their base in South Dakota to fly across the world to launch the air campaign in Libya, only 16 hours after given the order.
Today, many in the Air Force are questioning whether a similar mission could still be accomplished, after years of budget cuts that have taken an undeniable toll. The U.S. Air Force is now short 4,000 airmen to maintain its fleet, short 700 pilots to fly them and short vital spare parts necessary to keep their jets in the air. The shortage is so dire that some have even been forced to scrounge for parts in a remote desert scrapheap known as "The Boneyard."
"It's not only the personnel that are tired, it's the aircraft that are tired as well," Master Sgt. Bruce Pfrommer, who has over two decades of experience in the Air Force working on B-1 bombers, told Fox News.
Fox News visited two U.S. Air Force bases – including South Dakota's Ellsworth Air Force Base located 35 miles from Mount Rushmore, where Pfrommer is stationed – to see the resource problems first-hand, following an investigation into the state of U.S. Marine Corps aviation last month…
MORE
.
—————————————————————————————
.
House Republicans are Bringing Impeachment Hearings Against IRS Commissioner For 'Lying Under Oath' – Daily Insider
.

.
IRS Commissioner John Koskinen may be facing impeachment after the House Judiciary Committee announced Friday that it will be holding hearings in the next few weeks concerning his alleged misconduct.
When it was discovered in 2013 that under Lois Lerner, the IRS' Exempt Organizations Unit had allegedly been targeting conservative groups as they applied for tax-exempt status, John Koskinen was appointed as the spokesman for the agency.
However, according to Fox News, Koskinen is accused of allowing thousands of emails and backup tapes to be deleted after a subpoena was issued ordering him to preserve those records…
MORE
.
—————————————————————————————
.
Obama's Teen 'Dreamers' Sentenced For Brutal Gang Rape Of Long Island Teen – 100PercentFedUp
THIS is what's happening across America with Obama's "dreamers" aka teen illegals who come to America and do whatever the hell they want to. Yes, it's happening and is mostly being done by one of the thousands of MS-13 gang members who're brutal heartless criminals. The media wants you to have sympathy for the young kids and teens who're crossing our border but in reality many of these teens are criminals. The number of MS-13 gang members in America has exploded of the past few years. You can thank Obama and his open borders buddies for animals like the three who brutally raped a Long Island teen.
A teenage gang member was sentenced to 12 years in prison Wednesday for raping a teenage girl on a Long Island golf course last year.
Joel Escobar, 18, was the second teen to be sentenced in what Suffolk County District Attorney Thomas Spota called the 'brutal' robbery, rape and sodomy of a 16-year-old girl on May 29, 2015.
Spota said Escobar and Jose Cornejo, 17, who is serving a 15-year prison sentence in the same case, took turns raping the girl while a third teen, Bryan Larios, allegedly acted as a lookout.
Larios is awaiting trial, Spota said in a press release.
Spota said the mother of the victim spoke in court prior to the sentencing…