.
Federal Judge Rules Obamacare Is Being Funded Unconstitutionally – Los Angeles Times
.

.
A federal judge ruled for House Republicans on Thursday in their suit against President Obama and declared his administration is unconstitutionally spending money to reimburse health insurers without obtaining an appropriation from Congress.
The judge's ruling, though a setback for the administration, was put on hold immediately and stands a good chance of being overturned on appeal.
But the 38-page opinion highlights the repeated complaint from Republicans that Obama and his administration have ignored constitutional limits on their authority…
MORE
.
—————————————————————————————
.
Milton Berg: "We Are On The Cusp Of A 30 Year Bear Market" – Zero Hedge
At the SALT conference, MB Advisors founder and CEO Milton Berg gave an epic interview with Erik Schatzker in which Berg predicted that we are on the verge of a 30 year bear market in both equity and fixed income, and he also gave some sage advice to the average retail investor on what to do with their money at this point.
This is how Milton Berg explains his prediction
"I think we're at the cusp of a bear market in both stocks and bonds that will last up to thirty years. This is on a real basis, not on a nominal basis, inflation adjusted basis."
Here is the reason why Berg believes you can invest in the market today, go to sleep, wake up thirty years later and have made no money…
"Well, it is not unheard of in history. As you know there was a bear market in bonds lasting maybe forty years that began in the mid-40's and ended in 1980. We've had a twenty, twenty five year bear market in Japan going back to 1989. We're the most overvalued market in history, there's more leverage throughout the world than there's ever been in history, central banks have lost all their ammunition, basically because there is so much credit outstanding throughout the world. It's not unheard of to have a long-term bear market. There will be a lot of money to be made both on the downside and the upside within the bear market."…
MORE
.
—————————————————————————————
.
Steelers' DeAngelo Williams Returns Daughter's Participation Ribbon – USA Today
.

.
In August, James Harrison of the Pittsburgh Steelers set off a firestorm in youth sports circles when he returned the participation trophies for his 6 and 8 year old sons.
Harrison wrote at the time, "I'm not about to raise two boys to be men by making them believe that they are entitled to something just because they tried their best… cause sometimes your best is not enough, and that should drive you to want to do better."
Steelers running back DeAngelo Williams took to Twitter on Wednesday night to say he had returned the participation ribbon that daughter had earned at her field day. Williams has two daughters, Rhiya and Reyna…
MORE
.
—————————————————————————————
.
'Controversial' Signs Send LGBT Supporters Bawling And Showing Their 'Tolerance' – Mad World News
The nationwide debate over gender and access to restrooms has the LGBT community up in arms. As they protest and scream about "tolerance" and "acceptance," all it took was one display of free speech and three simple, yet "controversial" signs to send them bawling and begging for a safe place before showing how truly "tolerant" they are.
University of California, Los Angeles (UCLA) is the most recent battlefield for "hate" and "bigotry." LGBT students lost their minds on Wednesday and decided to hold their own signs of support to counter what they're calling intolerance, ABC7 reports. They posted a sign saying, "Bathrooms are a RIGHT not a privilege," on social media in response to a picture posted by three Bruin Republican Club board members on Facebook.
So, what did the signs say that sparked such a reaction? According to the news source, the three Bruin Republican Club board members independently attended an event at University of California, Santa Barbara (UCSB) and held three posters that said, "Get your agenda out of our restroom!," "There are only two genders!" and "Transgenderism is a mental disorder!" That was all it took for the LGBT students to literally begin crying foul.
According to Raja Bhattar, director of the UCLA LGBT Resource Center, the posters and social media posts have distressed LGBT students at UCLA, as he explained, "It's been from students crying to students feeling like they're not safe on campus with people sharing these types of perspectives and negating their existence."…
MORE
.
—————————————————————————————
.
Germans Find 369 Suspected Islamic State Terrorists Among Arriving Migrants – Pamela Geller
.

.
This begs the question – how many are there who they haven't identified? A small army and getting larger. The Brussels and Paris jihad attackers posed as migrants.
"Germans Find 369 Suspected Islamic State Terrorists Among Arriving Migrants," by Thomas D. Williams, Ph.D., Breitbart, 12 May 2016:
According to German federal crime office, a number of Islamic terrorists have entered Germany by hiding amongst recent flows of migrants from the Middle East, and since last year 369 people with suspected ties to the Islamic State have come into the country in this way…
MORE
.
—————————————————————————————
.
Britain 'Sleepwalking To Catastrophe' Over Race – Trevor Phillips
Britain risks "flames" of racial and religious conflict because of a "liberal self-delusion" over the impact of mass immigration, the former head of the equality watchdog Trevor Phillips claims today.
In a startling assault on decades of official multiculturalism and diversity policy, the founding chair of the Equality and Human Rights Commission argues the UK is being allowed to "sleepwalk to catastrophe" by leaders too "touchy", "smug", "complacent" and "squeamish" to talk about race.
Drawing a direct parallel with Enoch Powell's notorious "rivers of blood" speech, he likens Britain's politicians, media and educated elite in general to the Emperor Nero fiddling while Rome burned, unable even to recognise the "dark side of the diverse society".
Ominous "muttering in the pub or grumbling at the school gate" about foreigners could, he insists, be the first signs of a backlash many thought could not happen in Britain because of a history of relative success in integrating new arrivals.
Significantly, he claims the arrival of some Muslim groups in particular who are actively "resistant to the traditional process of integration" threatens to shake the foundations of "liberal democracy" itself…
MORE
.
—————————————————————————————
.
Brazil's Rousseff Vows To Fight On After Senate Vote To Suspend Her – Reuters
.

.
Suspended Brazilian President Dilma Rousseff vowed on Thursday she would fight to prove her innocence after the Senate voted to put her on trial for breaking budget laws, a historic decision fueled by deep recession and a sprawling corruption scandal.
Rousseff, a leftist in office since 2011, was replaced by her vice president, centrist Michel Temer, who took over as interim president for the duration of a Senate trial that could take up to six months.
Speaking shortly before she left Brasilia's Planalto presidential palace, Rousseff told supporters she was notified of her suspension on Thursday morning. She reiterated what she has maintained since impeachment proceedings were launched against her last December by the lower house of Congress…
MORE
.
—————————————————————————————
.
Persian Gulf Sheikhs Gave Bill & Hillary $100 Million – Daily Caller
A Daily Caller News Foundation investigation reveals that Bill and Hillary Clinton received at least $100 million from autocratic Persian Gulf states and their leaders, potentially undermining Democratic presidential candidate Hillary's claim she can carry out independent Middle East policies.
As a presidential candidate, the amount of foreign cash the Clintons have amassed from the Persian Gulf states is "simply unprecedented," says national security analyst Patrick Poole.
"These regimes are buying access. You've got the Saudis. You've got the Kuwaitis, Oman, Qatar and the UAE. There are massive conflicts of interest. It's beyond comprehension," Poole told TheDCNF in an interview.
Overall, the Clinton Foundation has received upwards of $85 million in donations from five Persian Gulf states and their monarchs, according to the foundation's website.
Activist groups have charged the five states – Saudi Arabia, Kuwait, Qatar, Oman and the United Arab Emirates (UAE) – committed numerous human rights abuses…
MORE
.
—————————————————————————————
.
Target CEO Defends Pro-Transgender Policy, Stocks Crash Down Another $2 Billion – Breitbart
.

.
The CEO of retail giant Target is zig-zaging between the many customers who are angered by his decision to open single-sex bathrooms to the other sex, the gender-identity progressives who pushed for the disastrous transgender policy, and the Wall Street stock-pickers who have chopped roughly $4.5 billion off the company's value.
"We're going to continue to embrace our belief in diversity and inclusion, just how important that is to our company,"CEO Brian Cornell said in a May 11 appearance on CNBC's "Squawk Box" business show. "But we're also going to make sure our focus on safety is unwavering," he added.
To mollify the public angered by his removal of single-sex restrooms and changing rooms, the company will add family bathrooms to all of its stores, he said…
MORE
.
—————————————————————————————
.
Barack Obama's Deeply Demoralizing "You Didn't Build That" Commencement Speech At Howard – Scott McKay
One wishes that after seven-plus years of demoralizing, ugly, incompetent and divisive leadership, there would be at long last something one might find in Barack Obama that an average American could make peace with.
But in one of the latter speeches of his presidential tenure, a commencement address at historically black Howard University over the weekend, Obama showed himself incapable either of uniting the country he's misgoverned since January of 2009 or even giving its citizens reasons to believe they can improve their own stations.
According to Obama's Howard speech things are terrific – both in comparison to when he took office and also in comparison to the time of a far more successful president than he.
Obama opened the speech by warning that he was going to give what he called a "hot take," and then suggested that the country is in every way better than it was "when I was in college," and picked 1983, the year Ronald Reagan's presidency took off as well as the year Obama graduated from Columbia, as his benchmark.
"But think about it," he said. "I graduated in 1983. New York City, America's largest city, where I lived at the time, had endured a decade marked by crime and deterioration and near bankruptcy. And many cities were in similar shape…
MORE
.
—————————————————————————————
.
Kerry Tries To Drum Up Some Business In Europe For Iran – Wall Street Journal
.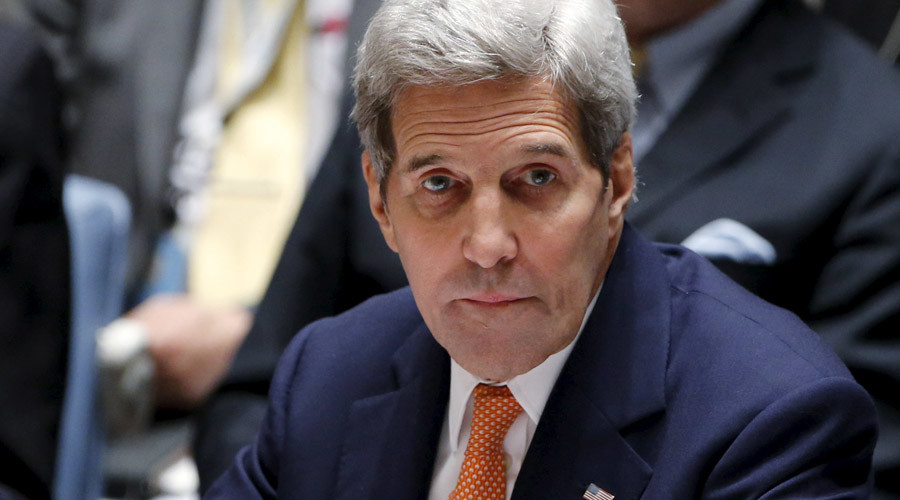 .
U.S. Secretary of State John Kerry said Tuesday that European businesses should not use U.S. sanctions on Iran as an excuse for avoiding business with Tehran.
Mr. Kerry's comments, just ahead of meetings with European banking leaders here Thursday, were part of the Obama administration's moves recently to help integrate Iran into the global economic system after decades of punitive sanctions.
Six world powers agreed last year to lift international sanctions in return for curbs on Iran's nuclear program. But since the deal formally took effect in January, Iranian officials have complained that they are not seeing the results of the sanction relief swiftly enough. Although the U.S. played a major role in the nuclear deal, U.S. sanctions related to human rights and terrorism remain in place on broad sectors of Iran's economy…
MORE
.
—————————————————————————————
.
No Equal Pay At Clinton Foundation: Male Execs Make 38% More Than Female Execs – TruthFeed
Male executives at the Bill, Hillary and Chelsea Clinton Foundation earn 38 percent more than women executives, according to a Daily Caller News Foundation review of the foundation's latest IRS tax filings.
The foundation's 2013 IRS form 990 reveals that nearly three times as many men as women occupy the executive suites at the Little Rock, Arkansas-based foundation.
On average, top male executives at the foundation earn $109,000 more than the top female executives with positions in the C-suite.
The numbers were in stark contrast to former Secretary of State Hillary Clinton's campaign-oriented "Equal Pay Day" speech, which she delivered in Silicon Valley Tuesday. She charged that equal pay for women was "long overdue."
"I feel like [equal pay] is something that's long overdue," she told an event organized by Glassdoor, which compares salaries and working conditions at corporations…