Dead Comet With Skull Face To Hurtle By Earth On Halloween – Yahoo News
.
…………….
.
A massive space rock that will shave by Earth on Halloween looks like a dead comet with a skull face, NASA said after gaining a closer look at the spooky space object.
Astronomers initially thought the object was an asteroid when they spotted it in early October, and named it Asteroid 2015 TB145.
But using the US space agency's Infrared Telescope Facility (IRTF) on Mauna Kea, Hawaii, experts "have determined that the celestial object is more than likely a dead comet that has shed its volatiles after numerous passes around the sun," NASA's Jet Propulsion Laboratory said in a statement late Friday.
Scientists have also spotted an eerie skull-like resemblance on the face of the rock, based on radar data from the National Science Foundation's 305-meter (1,000-foot) Arecibo Observatory in Puerto Rico.
.
————————————————————————————————–
.
French Police Claim Mr. T, Evil Clown Disguises Too Scary – International Business Times
.

.
Authorities in southeast France were putting some spooky rules in place Thursday ahead of weekend Halloween celebrations. In a statement and a series of tweets, the National Police in Alpes-Maritimes urged residents to "have fun, be imaginative, scare people – but don't terrorize," the Local reported. The officers banned toy weapons and sent out guidelines on appropriate costumes.
For example, dressing up as the Joker, a villain from the Batman comic book series, was fine. But wearing full armor to appear like a medieval knight was not. Wearing a wig and face paint to be the movie ghost Beetlejuice was OK, but putting on military fatigues and carrying a fake gun was prohibited.
"The department is still in vigilant mode, and it is desirable to adopt a disguise that doesn't increase anxiety among the population," the police told 20 Minutes, according to a loose translation. Officers tweeted, "Your Halloween should not end in jail."
.
————————————————————————————————–
.
Boy, 13, Dresses Like Donald Trump To Take U.S. Oath Of Allegiance At Halloween-Themed Citizenship Ceremony – Daily Mail
.

.
One of the newest citizens of the United States dressed up as Republican presidential candidate Donald Trump during a Halloween-themed citizenship ceremony near Washington D.C. on Friday.
Razvan Godja, 13, was one of 27 children from 19 countries to take part in the special ceremony that was held by US Citizenship and Immigration Services (USCIS) at its Washington field office.
The Romania native took the oath of allegiance and received a certificate of US citizenship along with the 26 other children, aged seven to 14, during the ceremony in Fairfax, Virginia.
Other kids who took part in the ceremony and then went trick-or-treating afterward dressed as Anna from Frozen, a hot dog, a butterfly and even Barack Obama, according to the Huffington Post.
USCIS director León Rodríguez addressed the children while dressed as Fred Flintstone.
.
————————————————————————————————–
.
Colleges Designating Official Halloween Costume Sensitivity Consultants – National Review
.
…………….
.
It's about time! Colleges are hanging flyers around campus with phone numbers of officials that students can call to consult with about whether or not their Halloween costume is perfectly politically correct.
"Unsure if your costume might be offensive?" asks a poster that's been hung around campus at State University of New York at Geneseo. "Don't be afraid to ask questions."
The poster contains the phone numbers and e-mails of five (five!) campus officials that students can contact and discuss the very important issue of whether or not what they will dress up as to get drunk in will be advancing social-justice causes.
Wesleyan University has been hanging similar posters around the school – but with six (six!) numbers listed.
.
————————————————————————————————–
.
2 People Arrested In Halloween Horror Nights Attacks At Universal – WPLG
.

.
Two people have been arrested for attacks on Universal Orlando team members at Halloween Horror Nights, police said.
One of the employees told police he was working as a scare actor in "The Walking Dead House." According to an arrest affidavit, William Nunnally, 28, punched the actor in the face.
The actor told police that Nunnally turned and looked directly at him after he performed his scare. The actor said he did not make contact with any guest and Nunnally turned, faced him, clinched his fist and punched him in the face, according to police.
Police said the actor needed medical treatment and was treated at the scene.
Nunnally told police he might have "accidentally hit" an actor but denied punching, according to the arrest affidavit.
.
————————————————————————————————–
.
Halloween Retailer Branded 'Racist' For Stocking Blackface Makeup – Russia Today
.
……………………..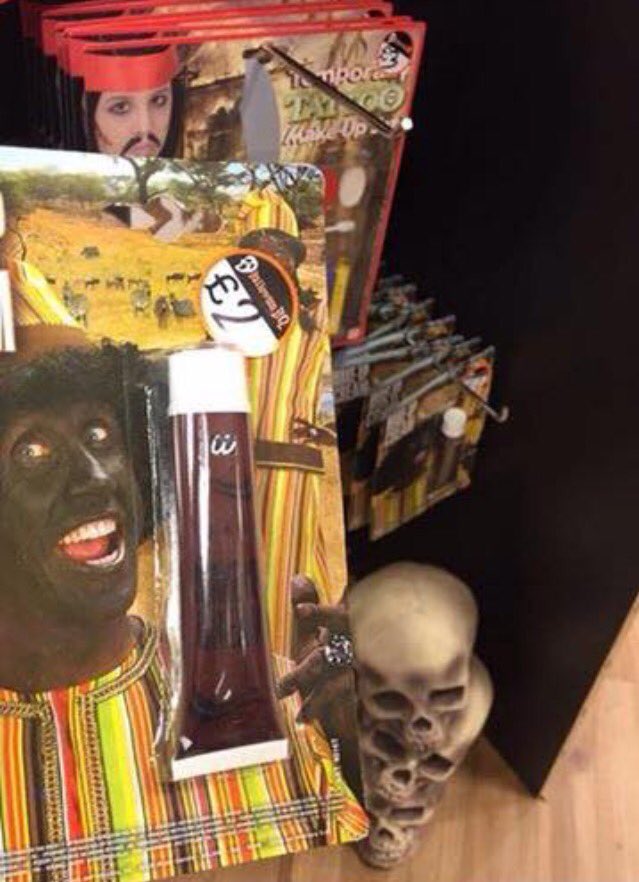 .
Fancy dress retailer Halloween HQ has been branded racist for selling blackface makeup as part of a culturally insensitive costume in one of its branches in Northern Ireland.
Two days before the spooky holiday weekend, controversy erupted on social media after an image of a "racist" blackface costume being sold in Halloween HQ's Northern Ireland branch went viral.
The retailer, which calls itself Europe's leading Halloween store for "all things scary," has been criticized by anti-racism campaigners.
When human rights activist Megan Fearon was shopping for costumes on Wednesday she was "disappointed" to discover a black face costume among a rack of Halloween accessories.
Fearon immediately shared her anger on social media, where she tweeted: "Halloween is no excuse for ignorance or racism."
The social justice campaigner also said she was "disappointed" to see this product in the Newry shopping center. "Culture and race is not a costume," she added.
.
————————————————————————————————–
.
Giant Pumpkin Attacks Arizona Town – New York Post
.

.
It's the great pumpkin!
A giant inflatable pumpkin making a bid for freedom was caught on video nearly squashing pedestrians and drivers as it rolled through the streets of Arizona.
The footage shows the 25-foot-tall, 350-pound jack-o-lantern crossing multiple lanes of traffic in Peoria on Thursday before briefly getting stuck beneath a streetlight.
The faux gourd soon broke free, and continued its rampage another quarter mile – bouncing off of a wall, careening through parking lots, and finally stopping in a neighborhood where it again became stuck, local NBC affiliate 12 News reported.
The owners of the pumpkin, Big AZ Promotions, were alerted by authorities their pumpkin was on the loose.
.
————————————————————————————————–
.
School Bans Hispanic Student's "Racist" Mariachi Halloween Costume – Infowars
.

.
A Hispanic high school student was banned from wearing his Mariachi Halloween costume to school because it's "very offensive" to Latin Americans.
Joshua Sewerynek, who attends St. Thomas Aquinas Secondary School in Brampton, Ontario, sent a photo of his costume to school officials to ask if he was allowed to wear it, to which the officials said no.
"Sorry, that costume will not be approved as it is very offensive," a school official told him.
When Sewerynek claimed mariachi as part of his Colombian culture, the school told him that "culture was not a costume" and to "feel free not to participate in the Halloween fun if you can't accept the rules."
"…The social justice movement has gone too far when kids can't even represent their own culture," Sewerynek told MRCTV. "Although mariachi didn't begin in Colombia, it has become a huge part of their culture."
"Every year my grandfather still hires a mariachi band to play for his birthday, because he had such fond memories of them when he was back in Bogota."
.

.