RFRA: How A Local TV Station Ruined A Business And Threatened A Family's Safety – Daily Caller
.

.
There were no complaints nor denials of service to anyone ever, but because of their religious beliefs, Memories Pizza stands in ruin and the family who owns it has had their lives threatened countless times. How did the O'Connor family, owners of Memories, find themselves in this situation? They were honest with a reporter in search of a story to fit the media's narrative.
Alyssa Marino is a reporter with ABC 57 News in South Bend, Indiana. With her state in the center of a hurricane over religious freedom, Marino must've thought she'd had a coup – a devout Christian business owner willing to speak on camera about their religious beliefs and how it impacts the operations of that business.
The issue of gay marriage is not one that generally comes up when talking about a pizzeria. Neither is straight marriage, for that matter. Local pizza joints aren't generally hotbeds of wedding receptions. Yet, Marino found herself wandering into Memories Pizza to get the unsuspecting owners to weigh in on an emotional issue which has never come up in the course of the business's nearly 10 year existence.
When owner Crystal O'Connor told Marino, "If a gay couple came in and wanted us to provide pizzas for their wedding, we would have to say no," she had to know she'd struck gold.
Marino had her headline, "RFRA: Michiana business wouldn't cater a gay wedding." O'Connor's quote was in paragraph three. The chyron on the screen for the report read, "Restaurant denies some services to same-sex couples."
Buried in the second to last paragraph of Marino's report:
The O'Connor family told ABC 57 news that if a gay couple or a couple belonging to another religion came in to the restaurant to eat, they would never deny them service.
So how did Marino find Memories Pizza? Brian Dorman, the ABC 57 anchor, opened the broadcast by saying, "We went into small towns tonight for reaction to the Religious Freedom Restoration Act. We found one business just 20 miles away from a welcoming South Bend with a much different view." (Emphasis added.)
For Dorman's introduction and the fact that Memories Pizza is the only business featured in the story, it gives the impression that the ABC 57 news team had an idea of what they were looking for, and they found it.
The Daily Caller reached out to Marino to ask how many businesses she approached for "reaction" to the law and whether or not she was tipped off to the fact that the O'Connor family are devout Christians. She did not answer our inquiry.
She did, however, respond to a man named Marc Goldberg on Twitter. He asked her how Memories managed to come to her attention, and if they'd ever denied anyone service for their wedding.
Marino's response was, "I just walked into their shop and asked how they feel. They've never been asked to cater a same-sex wedding."
So a hypothetical situation that has never occurred was enough for Marino to do a remote outside the business on the ABC 57 nightly newscast and make citizens who've never been accused of harming anyone the top story of the night.
The story went viral, as it obviously would, and Memories Pizza is now closed and the O'Connor family is receiving death threats. Crystal O'Connor told Marino, "We're not discriminating against anyone, that's just our belief and anyone has the right to believe in anything." She was right on the first part, her and her family are learning, thanks to "journalists" like Alyssa Marino and Brian Dorman, that she was woefully wrong on the second part.
.
————————————————————————————————————————–
.
Related articles:
.
Indiana High School Teacher Calls For Burning Down Pizza Shop Over Christian Beliefs On Gay Marriage… Update: Suspended By School, Opens Investigation – Weasel Zippers
Jess Dooley, who teaches at Concord High School in Elkhart, wants everyone to grab the pitchforks.
.

.
Concord High School
Athletic Director: David Preheim
59117 Minuteman Way
Elkhart, IN 46517
Phone: (574) 875-4804
Fax: (574) 875-0103
But don't worry, it's those crazy conservatives who are the intolerant ones.
.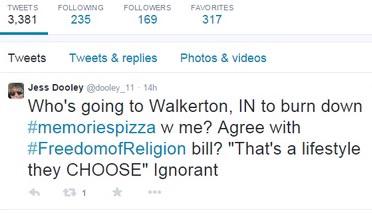 .
Update: Let me guess… with pay?
Via ABC57:
Concord High School girl's golf coach Jess Dooley has been suspended from coaching for a Tweet she allegedly posted Tuesday evening.

The Tweet under @dooley_11 said "Who's going to Walkerton, IN to burn down #memoriespizza w me? Agree with #FreedomofReligion bill? "That's a lifestyle they CHOOSE" Ignorant"

The account has since been deleted.

On Tuesday night, the owner of Memories Pizza said they would not cater a gay wedding, but would not deny service to gay customers.

Concord Schools Superintendent Wayne Stubbs wouldn't speak on camera, but said Dooley has been suspended from coaching until further notice pending an investigation.
.
————————————————————————————————————————–
.
Thank You: Over $45k Raised For Persecuted Pizzeria In Indiana – Dana Loesch
And that number continues to increase.
I just wanted to say thank you to everyone out there who stood in the gap for business owners persecuted for their faith. We had the idea to create this GoFundMe account about 15 minutes before the show after I spoke with Crystal O'Connor, 21, and heard how she is worried that the intensity of the hatred over their stand for faith may make it impossible to continue to keep their doors open. The O'Connors were already dealing with hardship and it would have been easy for them to deny Christ for earthly gain and say what they thought the local affiliate wanted to hear. They could have avoided controversy, taken the easy way out. They didn't. They stood up for their faith and explained that while they serve all customers, for the particular function of a same sex ceremony they cannot as that ceremony is at odds with their faith. We just put up the page, you actually made it happen. We were blown away by the number of donations, the amounts; some gave $100, some gave $5. Every bit matters to these folks who can't earn a living because the world has gone mad and their at the epicenter of this particular storm.
.

.
This isn't a social issue and don't pay any mind to those who want to obfuscate the real matter at hand with the "social issues" veneer. Those who are protesting against religious freedom are demanding that the government determine the sincerity of a religious belief, that government determine when someone can practice their faith, and for the government to determine where someone can practice their faith. That's not the free excercise of religion.
Thank you all for standing in the gap. This is the real culture war. Never leave someone on the field when they're standing for faith. Never let them stand alone.
.

UPDATE:
As of 2pm eastern time, over $190,000 has been raised online to offset the financial losses suffered by the proprietors of Memories Pizza.
Click HERE if you would like to make a donation to these innocent victims of leftist, anti-Christian bigotry.
————————————————————————————————————————–
.
The War On The Private Mind – Kevin D. Williamson
There are two easy ways to get a Republican to roll over and put his paws up in the air: The first is to write him a check, which is the political version of scratching his belly, and the second is to call him a bigot. In both cases, it helps if you have a great deal of money behind you.
Tim Cook, who in his role as chief executive of the world's most valuable company personifies precisely the sort of oppression to which gay people in America are subjected, led the hunting party when Indiana's governor Mike Pence signed into law the Religious Freedom Restoration Act, while Walmart, a company that cannot present its hindquarters enthusiastically enough to the progressives who hate it and everything for which it stands, dispatched its CEO, C. Douglas McMillon, to head off a similar effort in Arkansas, where Governor Asa Hutchison rolled over immediately.
There are three problems with rewarding those who use accusations of bigotry as a political cudgel. First, those who seek to protect religious liberties are not bigots, and going along with false accusations that they are makes one a party to a lie. Second, it is an excellent way to lose political contests, since there is almost nothing – up to and including requiring algebra classes – that the Left will not denounce as bigotry. Third, and related, it rewards and encourages those who cynically deploy accusations of bigotry for their own political ends.
An excellent illustration of this dynamic is on display in the recent pronouncements of columnist and gay-rights activist Dan Savage, who, in what seems to be an effort to resurrect every lame stereotype about the shrill, hysterical, theatrical gay man, declaimed that the efforts of those who do not wish to see butchers and bakers and wedding-bouquet makers forced by their government at gunpoint to violate their religious scruples is – you probably have guessed already – nothing less than the consecration of Jim Crow Junior. "Anti-black bigots, racist bigots, during Jim Crow and segregation made the exact same arguments that you're hearing people make now," Savage said. Given the dramatic difference in the social and political position of blacks in the time of Bull Connor and gays in the time of Ellen DeGeneres, this is strictly Hitler-was-a-vegetarian stuff, the elevation of trivial formal similarities over dramatic substantial differences. The choices for explaining this are a.) moral illiteracy; b.) intellectual dishonesty; c.) both a and b.
Adlai Stevenson famously offered this definition: "A free society is a society where it is safe to be unpopular." We do not live in that society.
Barack Obama can run for office as an anti-gay-marriage candidate – which he did, more than once – and that is a ho-hum business, because nobody believed him to be sincere. Brendan Eich was driven out of the company he helped found for holding a substantially identical view sincerely – and that sincerity is an unforgivable sin in a society in thrall to the teapot-totalitarian temptation. When there is no private property – the great legal fiction of "public accommodation" saw to its effective abolition – then everything is subject to brute-force politics, and there can be no live-and-let-live ethic, which is why a nation facing financial ruination and the emergence of a bloodthirsty Islamic caliphate is suffering paroxysms over the question of whether we can clap confectioners into prison for declining to bake a cake for a wedding in which there is no bride.
The people who have hijacked the name "liberal" – the étatists – always win when social questions are decided by the state rather than in private life, because the expansion of the state, and the consequent diminution of private life, is their principal objective. The self-styled progressive sets himself in rhetorical opposition to Big Business, but the corporate manager often suffers from the same fatal conceit as the economic étatist – an unthinking, inhumane preference for uniformity, consistency, regimentation, and conformity. It is no surprise to see Apple and Walmart joining forces here against the private mind. There is a reason that the atmosphere and protocols of the corporate human-resources office are a great deal like those of the junior-high vice-principal's office: All reeducation facilities have a little something in common.
The ancient rival to étatism in the Western world is the church militant, both in its formal institutional expression and in the relatively newfangled (and thoroughly American) choose-your-own-adventure approach to Christianity. For the culture warrior, bringing these nonconformists to heel is a strategic priority. Gay couples contemplating nuptials are not just happening into cake shops and florists with Christian proprietors – this is an organized campaign to bring the private mind under political discipline, to render certain moral dispositions untenable. Like Antiochus and the Jews, the game here is to "oblige them to partake of the sacrifices" and "adopt the customs" of the rulers. We are not so far removed in time as we imagine: Among the acts intended to Hellenize the Jews was a ban on circumcision, a proposal that is still very much alive in our own time, with authorities in several European countries currently pressing for that prohibition.
"I expect to die in bed," Francis Eugene Cardinal George famously remarked. "My successor will die in prison, and his successor will die a martyr in the public square. His successor will pick up the shards of a ruined society and slowly help rebuild civilization, as the church has done so often in human history." Perhaps it will not come to that. But we already are on the precipice of sending men with guns to the homes and businesses of bakers to enforce compliance with dictates undreamt-of the day before yesterday.
Yes, render unto Caesar, and all that. But render only what is Caesar's – and not one mite more.
.
————————————————————————————————————————–
.
Related video:
.

.

.