Obama-Supporting Immigration Attorney Arrested For Fraud; Forged Visa Application Forms – Gateway Pundit
Irving immigration lawyer and Obama supporter, Sherin Thawer, was arrested on federal fraud charges and for forging applications of illegal immigrants.
Sherin Thawer was invited to the Obama White House last year to discuss immigration reform.
=============================================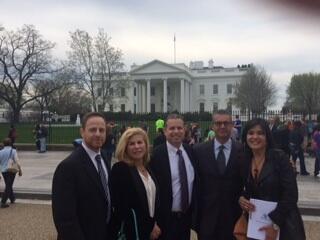 Meeting with the White House Policy Council today in Washington DC regarding #immigration reform.
12:03 PM – 11 Apr 2014
=============================================
Dallas.com reported:
An Irving immigration lawyer was arrested Friday morning on federal fraud charges for allegedly forging visa applications for illegal immigrants she represented, the U.S. attorney's office said.

Sherin Thawer, 45, was arrested by agents with U.S. Immigration and Customs Enforcement's Homeland Security Investigations at her Coppell home, authorities said.

She made her initial court appearance Friday and was released.

The seven-count indictment, issued earlier this week and unsealed on Friday, charges Thawer with one count of conspiracy to commit fraud in connection with immigration documents; one count of mail fraud; one count of transfer or use of the means of identification of another person; and four counts of aggravated identity theft.

Thawer represented immigrants who were applying for various visas to enter or remain in the U.S., officials said. That included U Nonimmigrant Status, known as a U-Visa.

To qualify for a U-Visa, an immigrant must have been a victim of a certain crime and helped law enforcement with the investigation or prosecution. Applicants must submit a form completed by the law enforcement agency that worked on the case.
Sherin Thawer is quite the Barack Obama supporter.
.

.

.